There's nothing better than cookies during the holidays! Here at Threadless, we even have an epic annual office cookie exchange. And this year, we asked a few members of the Threadfam if they'd be willing to share some of their go-to cookie recipes! Here are 6 cookie recipes to try out this holiday season that will please everyone at the table from the carnivore, to the vegan, to Santa himself (even if that's just your Grandpa who looks a little like Santa)!
Don't forget to pair your cookie-baking with a perfect ugly sweater and holiday playlist!
.     .     .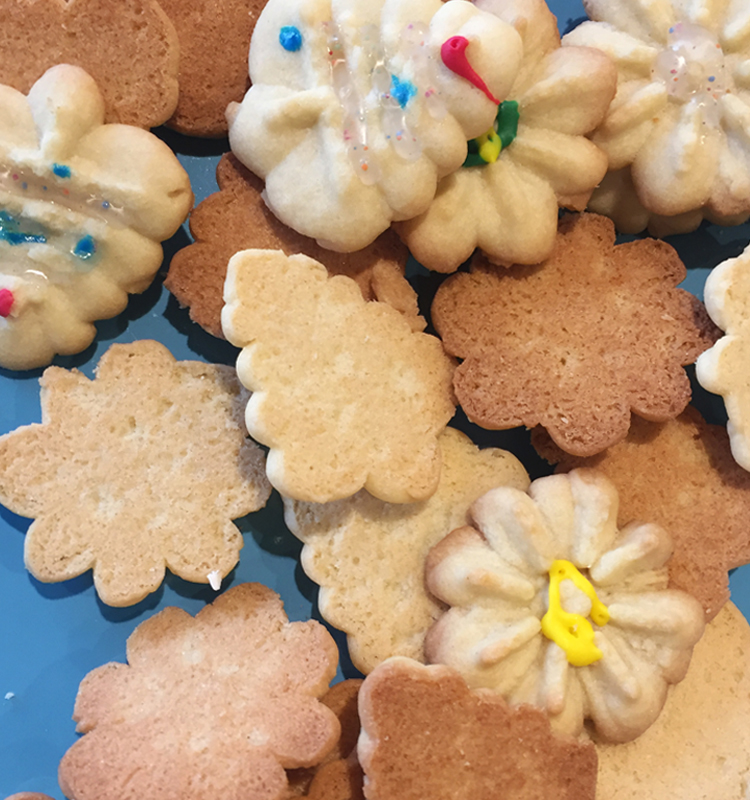 Spritz Cookies
(Masha – Help Team Ambassador)
These are our fave cookies to make at home cause there are all these shapes you can do with a lil press machine. We use it so much that we broke the cookie press this time! My daughter helped me decorate them, so it's more of a pointillism inspired Spritz Cookies.
INGREDIENTS
2 cups all-purpose flour or cake flour
1/2 cup white granulated sugar
A pinch of salt
1 teaspoon almond or vanilla extract
1 egg
1/2 pound unsalted butter, at room temperature and cut into small cubes
DIRECTIONS
Heat oven to 400°F.
Combine all ingredients except flour in bowl. Beat at medium speed until creamy. Then add flour. Mix well.
Place dough into cookie press fitted with template. Form desired shapes, 1 inch apart, onto un-greased cookie sheets.
Bake 6-8 minutes or until edges are lightly browned.
Decorate as you like.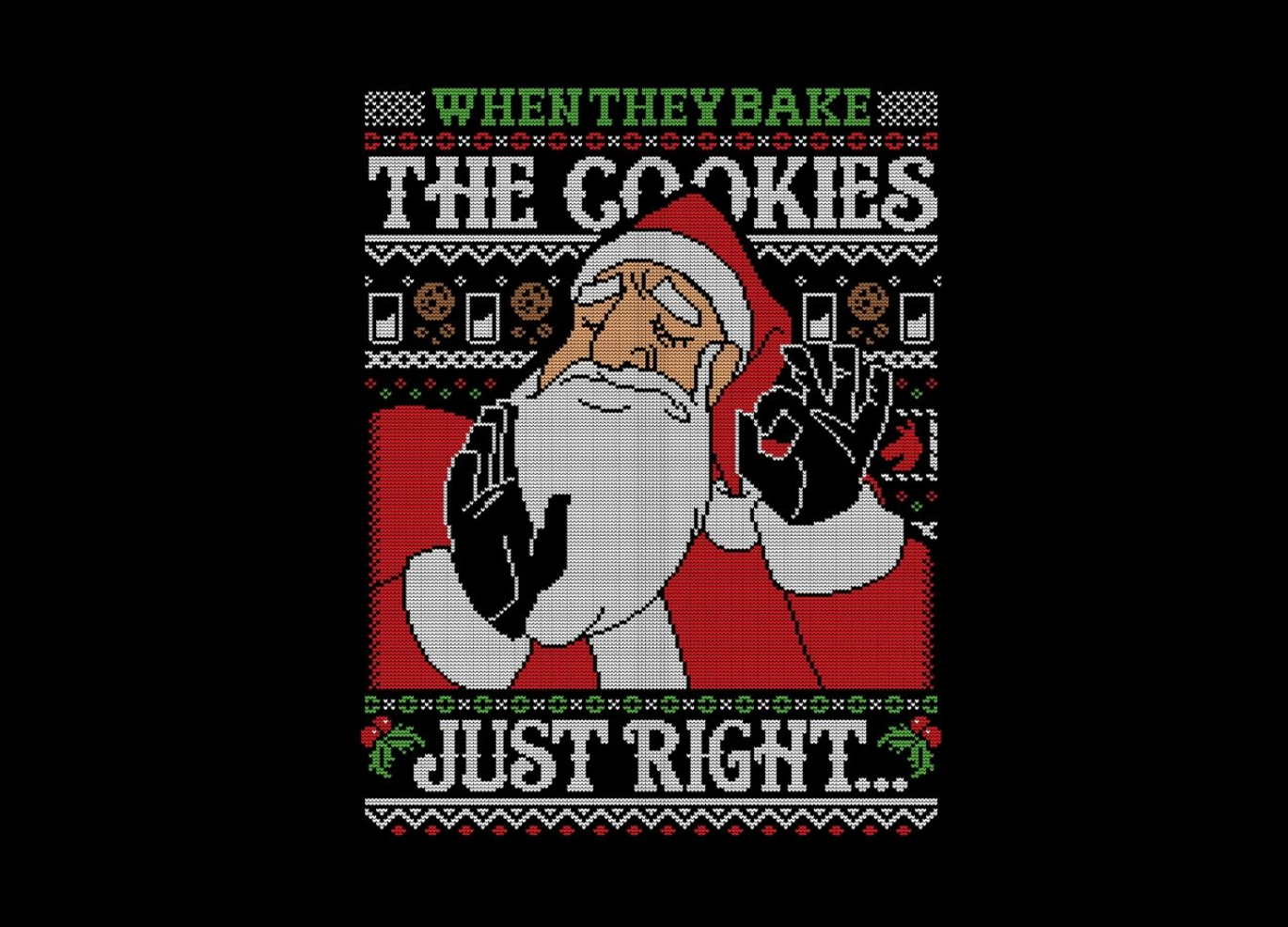 (Brianne – Community Experience Director | Recipe from ibakeheshoots)
Yield: Makes sixteen 1 3/4 inch cookies
Serves: 8
INGREDIENTS
5 pieces crispy bacon, separated
1 stick of butter, room temperature, 113 grams
1/4 cup pure maple syrup, 50 mL
3 tablespoons granulated sugar, 36 grams
1/4 teaspoon salt
2 tablespoons cornstarch, 16 grams
1 1/4 cups flour, 151 grams
1/2 cup chocolate, melted, 85 grams
DIRECTIONS
Line 2 baking sheets with silpat or parchment paper. Set aside. Chop 4 pieces of crispy bacon, set aside.
In a small bowl, mix flour, cornstarch, and salt. In a mixer bowl, place butter, maple syrup, and sugar. On medium speed combine until creamy, about 90 seconds. Reduce speed to slow and add the flour mixture. Mix until fully combined. Do not overmix. Stir in chopped bacon by hand.
Place dough between two sheets of parchment paper or plastic wrap and pat into a disc, 1/2 inch thick. Chill in the freezer for 20-30 min. While the dough is chilling, preheat oven to 350 Fahrenheit.
Remove dough from freezer and using a 1 3/4 inch cookie cutter, cut out several cookies. Place cookies on prepared sheet pan and bake for 20-22 minutes.
Remove and let cookies cool on sheet pan. While waiting, melt chocolate in a shallow cup or glass in the microwave for 30 seconds at a time. Stir every 30 seconds until the chocolate is completely melted.
Dip the shortbread about halfway in the melted chocolate. Place dipped cookies on parchment. Finally, chop one piece of bacon and sprinkle the cookies while the chocolate is wet.
Store in the refrigerator for up to 1 week. Enjoy!!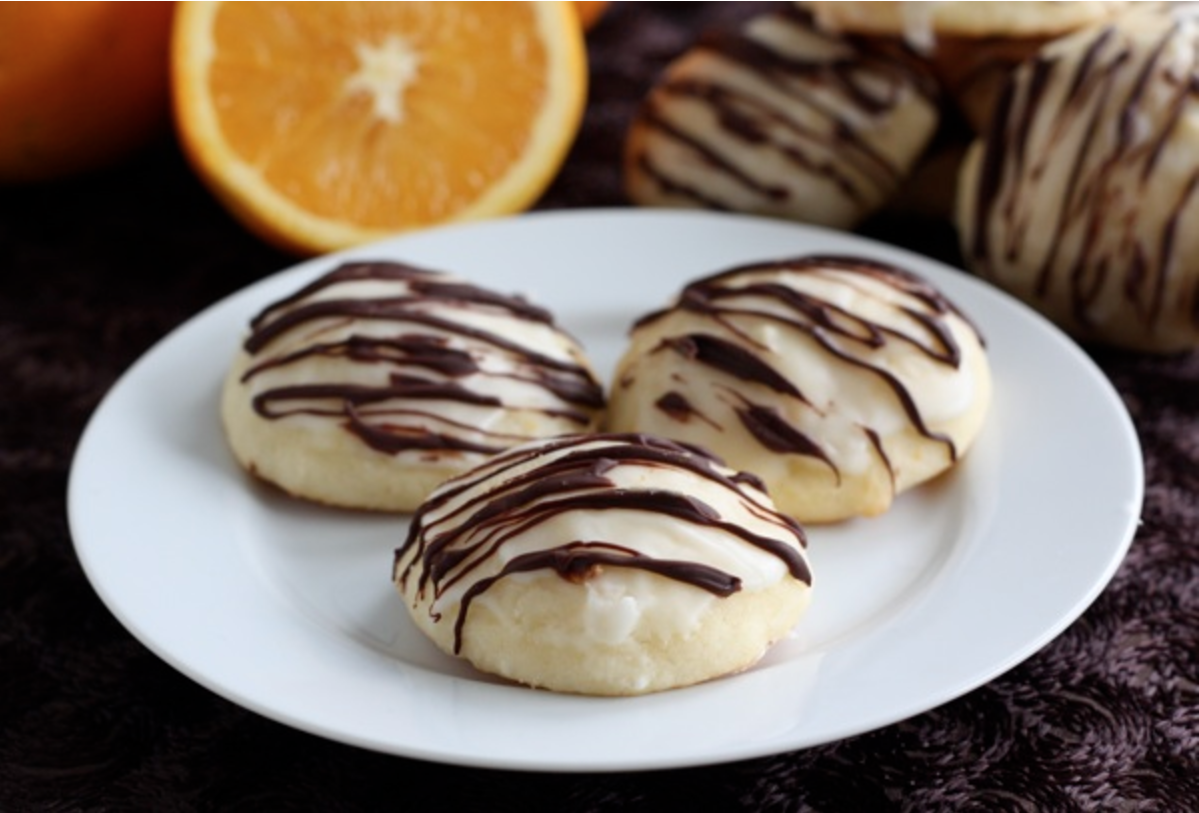 (Michelle – Threadfam member | Recipe from twopeasandtheirpod)
When Rob (on the Threadless digital team!) and I lived in Amsterdam, we loved to see how the seasonal flavors compared with our favorites back home (speculaas cookies filling in for gingerbread and so on). At Starbucks one year, they featured a Dark Chocolate Orange Mocha, which to this day Rob still thinks about. We have always been a huge fan of Terry's Chocolate Oranges (the ones you smash to separate the slices), so this was a natural flavor combination for us. I have been searching for the perfect recipe to capture this combo in cookie form, and I think I finally found it!
Yield: 4 dozen cookies
Cook Time: 12-15 minutes
INGREDIENTS
Cookies:
2 1/2 cups all-purpose flour
1 teaspoon baking powder
1 teaspoon salt
1/2 cup unsalted butter, softened
2 cups granulated sugar
2 large eggs
2 cups ricotta cheese
3 tablespoons fresh orange juice
1 orange, zested
Glaze:
1 1/2 cups powdered sugar
3 tablespoons orange juice
1 cup chopped dark chocolate, melted
DIRECTIONS
Preheat the oven to 375 degrees F. Line a large baking sheet with parchment paper or a silicone baking mat. Set aside.
In a medium bowl combine the flour, baking powder, and salt. Whisk until ingredients are combined. Set aside.
In the bowl of a stand mixer, combine butter and the sugar. Beat until light and fluffy, about 3 minutes. Add the eggs, one at a time, until incorporated. Add the ricotta cheese, orange juice, and orange zest. Beat to combine.
Stir in the dry ingredients. Spoon the dough (about 1 tablespoon for each cookie) onto the baking sheets. Bake for 12-15 minutes, until slightly golden at the edges. Remove from the oven and let the cookies rest on the baking sheet for 2 minutes. Transfer to a wire rack and cool completely.
To glaze the cookies: combine the powdered sugar and orange juice in a small bowl and whisk until smooth. Spoon about 1/2-teaspoon onto each cookie and use the back of the spoon to gently spread. Let glaze harden for about five minutes. Drizzle cookies with dark chocolate and let the cookies set.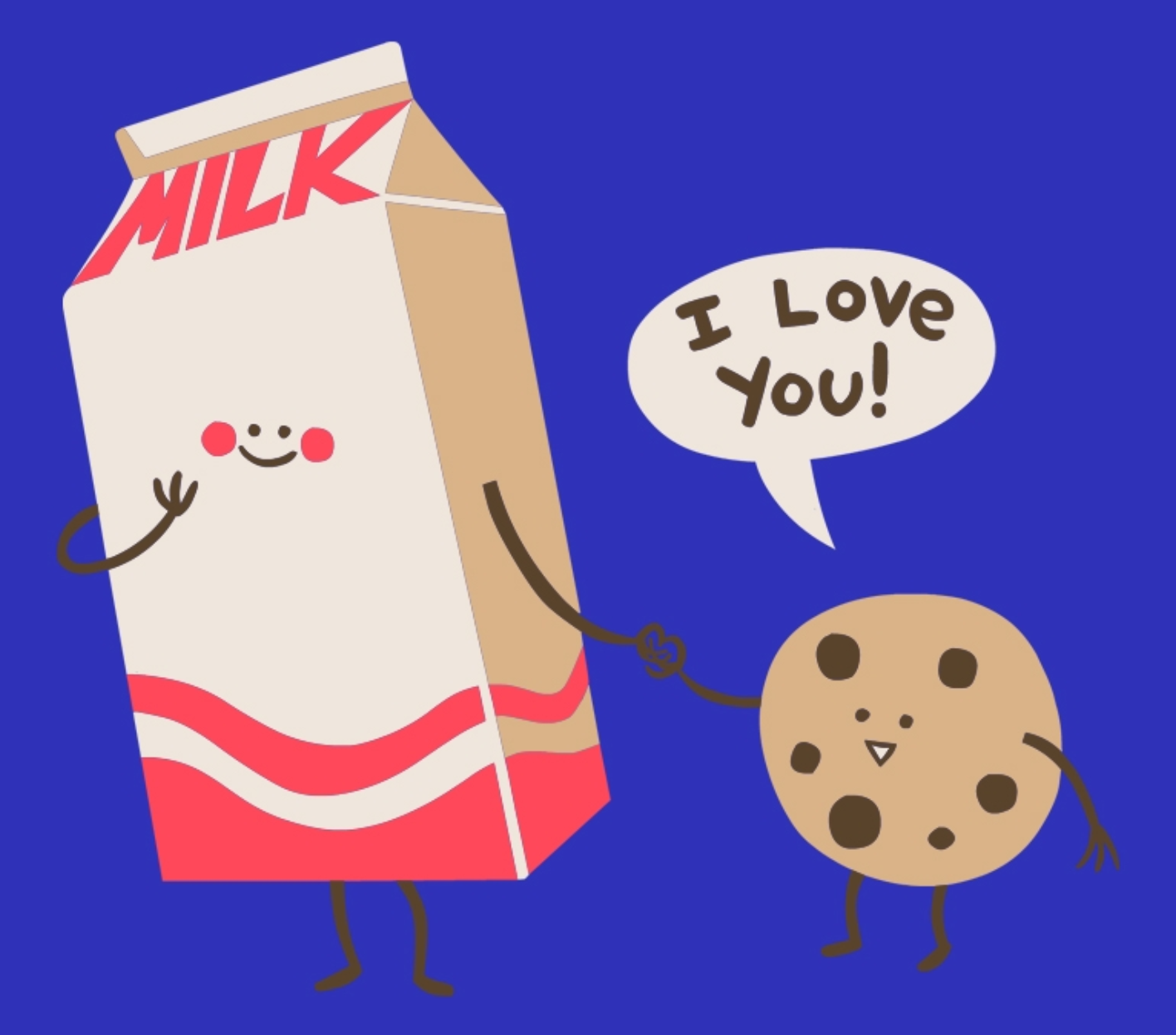 Maple Pecan Eazys
(Petey – Threadless Help Ambassador, and his pup, Eazy!)
INGREDIENTS
Cookies: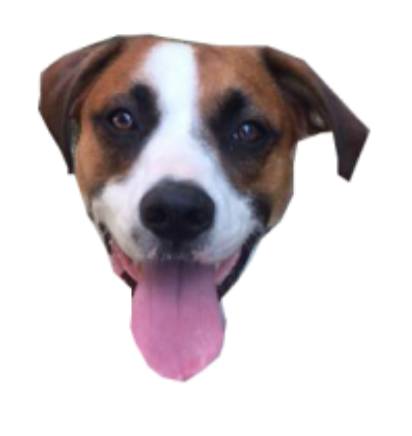 1 cup butter or margarine, softened
½ cup granulated sugar
½ cup packed light brown sugar
1 large egg
1 tsp vanilla
2 cups flour
½ tsp baking soda
¼ tsp salt
½ cup finely chopped pecans
Frosting:
1 cup packed light brown sugar
½ cup milk or cream
1 tbsp butter or margarine
1 ½ – 2 cups powdered sugar, sifted (depending on desired thickness)
1-2 tbsp Maple Syrup (depending on desired level of maple taste)
Topping:
Chopped and Whole Pecans
DIRECTIONS
Cookies:
In the bowl or mixer, beat butter and sugars until light and fluffy. Add in egg and vanilla and beat until combined. Add in flour, baking soda, and salt beat until combined. Stir in chopped pecans.
Cover and refrigerate 30 minutes (or more).
Preheat oven to 350 degrees F. Shape into 1″ balls and place a couple inches apart on lightly greased cookie sheets. Bake 10 minutes or until set (not glossy at all in the middle) and lightly browned at the edges. Cool before frosting.
Frosting:
Combine brown sugar and milk in a small pot over medium heat. Bring to a boil and simmer 3-4 minutes, stirring constantly. Remove from heat and stir in butter. Stir in 1½ cups powdered sugar and whisk or beat with a mixer until smooth.
Frosting mixture should be somewhat thin, so you can dip top of cookies into the glaze/frosting. Top with pecans before frosting hardens. 
Make sure frosting is set before you store.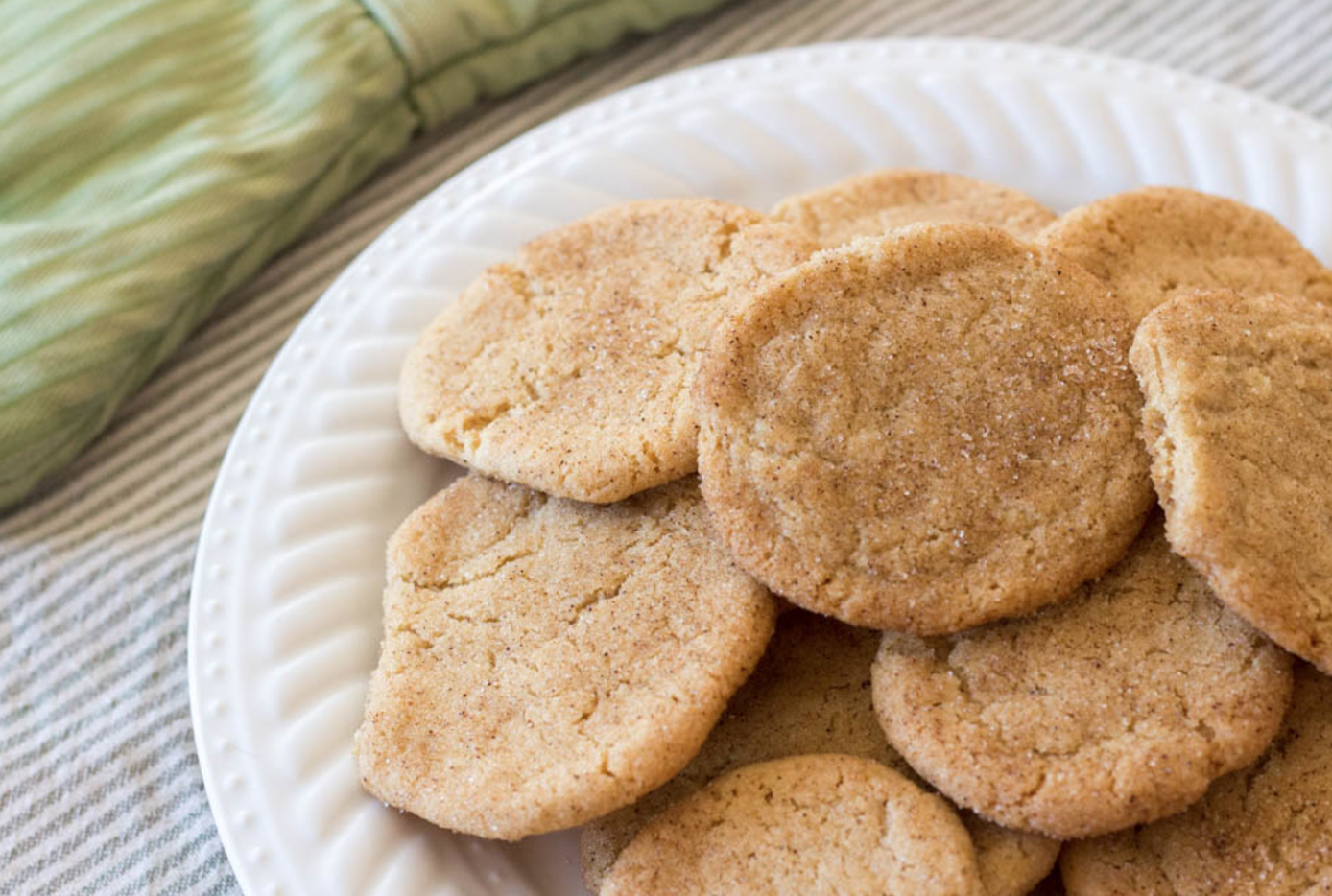 Vegan Option: Chai Spice Snickerdoodles
(Carlyn – writer and content manager | recipe from Big Oven, via Post Punk Kitchen)
My cousins make the best cookies every year for the holidays. It doesn't even matter what kind of cookie it is – if they make it, it's gonna be good. Recently, a bunch of them became vegan and vegetarian, and their vegan recipes are just as good as any other of their cookie recipes, particularly these Chai Spice Snickerdoodles!
(Serving's Original recipe makes 1 Servings)
For the Topping
1/4 cup sugar
1/4 tsp ground ginger
3/4 tsp cardamom
1/4 tsp cinnamon
Pinch cloves
For the Cookies
1/2 cup canola oil
1 cup sugar
1/4 cup pure maple sugar
1/4 cup non-dairy milk
2 tsp pure vanilla extract
2 cups flour
1 tsp baking soda
1/4 tsp salt
1/2 tsp ground cinnamon
DIRECTIONS
Preheat oven to 350 F. Line 2 large baking sheets with parchment paper.
Mix the topping ingredients together on a dinner plate. Set aside. In a medium mixing bowl, use a fork to vigorously mix together oil, sugar, syrup, and milk. Mix for at least a minute, until it resembles applesauce. Then mix in vanilla.
Sift in remaining ingredients, stirring as you add them. Once all ingredients are added, mix until you've got a pliable dough. Get in there with your hands to mix, it's the easiest way to get the dough to come together.
With clean, moist hands, roll dough into walnut sized balls. Pat into the sugar topping to flatten into roughly 2 inch discs. Transfer to baking sheet, sugar side up, at least 2 inches apart (they do spread a little). This should be easy as the the bottom of the cookies should just stick to your fingers so you can just flip them over onto the baking sheet. Bake for 10 to 12 minutes, they should be a bit browned on the bottoms. Remove from oven and let cool for 5 minutes, then transfer to a cooling rack to cool completely.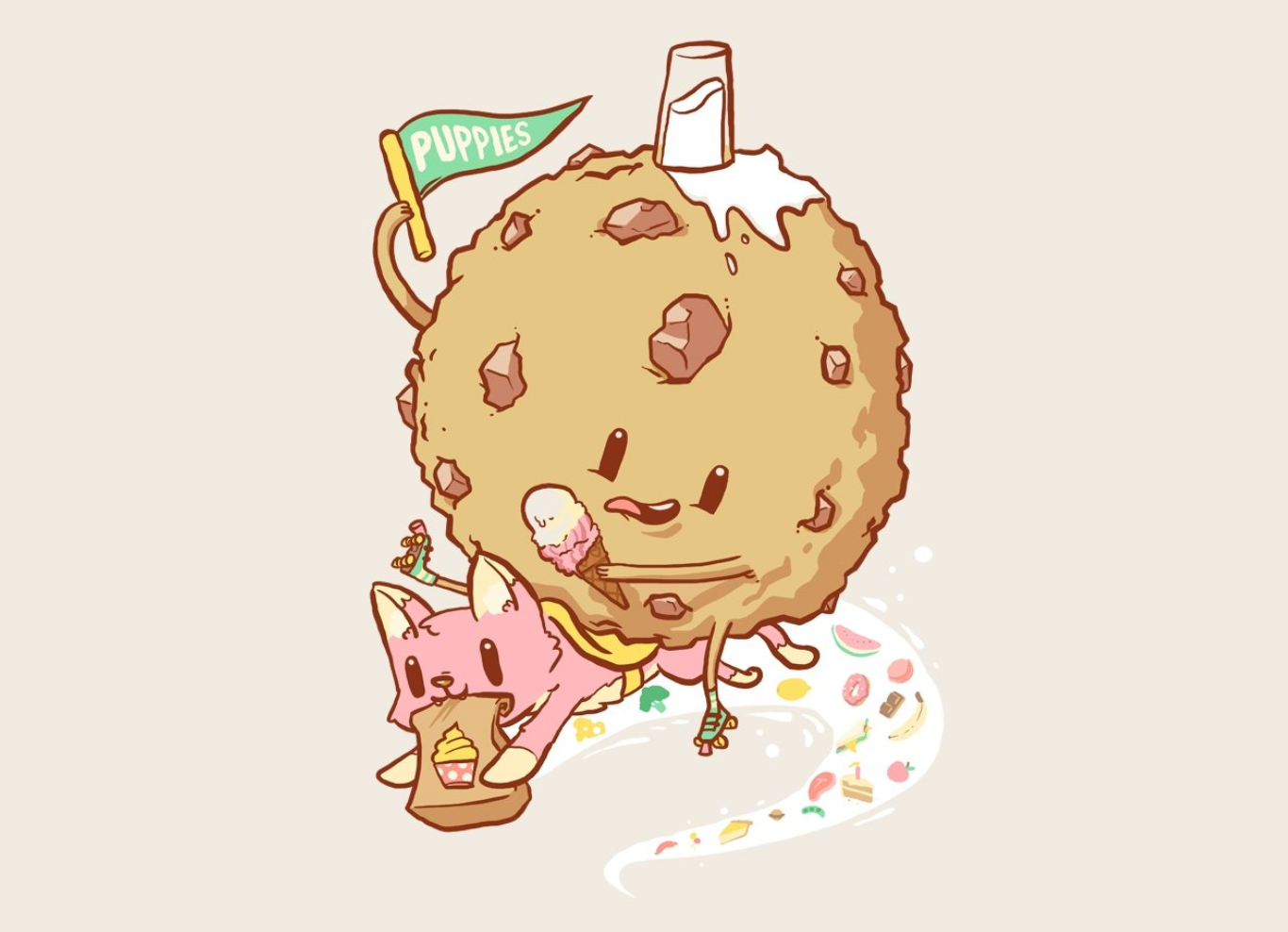 Craisins Oatmeal Chocolate Chunk Cookies
(Stacie – Help Team Ambassador | Recipe from Ocean Spray)
Yields: 2.5 dozen cookies
INGREDIENTS
2/3 cup butter or margarine, softened
2/3 cup brown sugar
2 large eggs
1 1/2 cups old-fashioned oats
1 1/2 cups flour
1 teaspoon baking soda
1/2 teaspoon salt
1 5-ounce package of Craisins
2/3 cup white or semi-sweet chocolate chunks or chips (Stacie subbed in dark chocolate chips)
DIRECTIONS
Preheat oven to 375 degrees Fahrenheit.
Using an electric mixer, beat butter or margarine and sugar together in a medium mixing bowl until light and fluffy. Add eggs, mixing well. Combine oats, flour, baking soda, and salt in a separate mixing bowl. Add to butter mixture in several additions, mixing well after each addition. Stir in dried cranberries and chocolate.
Drop by rounded teaspoonfuls onto ungreased cookie sheets. Bake for 10-12 minutes or until golden brown. Cool on wire rack.
Do you have a favorite go-to cookie recipe? Leave it in the comments if you're willing to share! 
Featured image is "Stupid Raisins, Stay Out of My Cookies!" by Ross Sharkey
Shop all food designs here!