With Labor Day around the corner, fall's not far off. Even though we love pretending like summertime will last forever (you know, beaches, barbecues, festivals, and fun), there's power in mentally preparing for that eventual nip in the air. No need to get doomsday happy and pull out the winter jacket, we're just saying it doesn't hurt to get the gears turning for fall outfits. Let's be honest, a few simple tweaks to your wardrobe and a handful of thoughtful accessories are all it takes to gracefully move from beach bum to harvest chic.
So place your pumpkin spice latte order (okay, not yet, but soon) and get in the fall spirit with these simple style tips.
Prints, please!
This may seem like a no-brainer, but ditch those cut-off shorts and pair jeans with a graphic tee. You can also spice up your graphic tees with fall themed designs for more seasonally relevant vibes. Include darker, deeper colors to your wardrobe like navy blue and black (if you're already wearing all-black all day, you're ahead of the game). Use olive green, gold, red, and light blue to add a pop of color in your look.
Totes Magotes
What's our favorite fall activity when we're not hard at work? Grabbing our bags and adventuring! Whether it's frolicking through apple orchards, exploring different parts of town, or wandering our city's parks, there's plenty to do outside before winter hits. Packing a bag is key—mostly because we love snacks, but also for our sweatshirts, water bottles, and knickknacks.    
Fleece First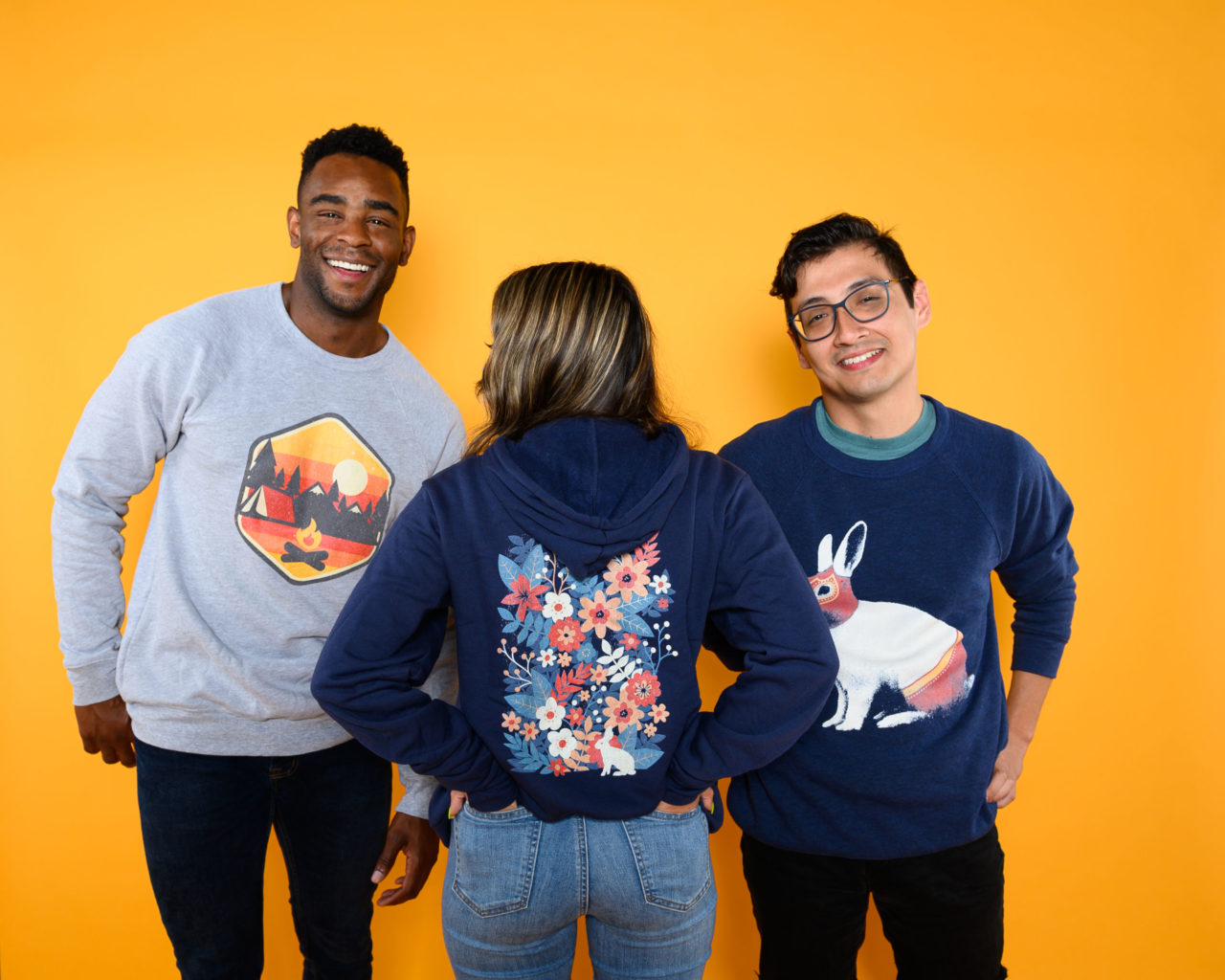 It doesn't matter what style you rock; hoodies, crewnecks, and zip-up sweatshirts are all excellent choices to cozy up when temperatures start to drop. Want to be fully prepared for fall? Stock up on every sweatshirt style like the good Girl or Boy Scout you are. Layer those fleece-lined favorites on top of graphic tees, so you can cool down at high noon then warm up when the sun drops. Don't get caught without a sweatshirt, seriously, fall weather can be fickle. 
Raglan Love
Hey, who doesn't love a raglan? Okay, we didn't know what raglans were either before we started living the tee life. A raglan sleeve is made of one continuous piece of fabric that extends from the collar down to the underarm. Our 3/4 raglans are super comfy, great for movement, and add a bit of extra warmth to your shirt game. Rotate raglans into your t-shirt lineup this fall.  
Blanket Me Up, Scotty
It goes without saying that colder weather means snuggle season. Cuddle up with autumnal-inspired designs on our fleece blankets. Grab a steaming mug of coffee, cocoa, or tea and pass the afternoon in complete and snuggly bliss. 
How Do You Hoodie?
Fall's way more fun when you jump wholeheartedly into the spirit of the season. Transitioning your wardrobe with autumnal tones, fall-themed designs, warmer materials, and longer sleeves are some easy ways to embrace the chillier weather. Another way to feel good about fall? Celebrate the shift in seasons with friends. Everything's better with friends, and together, you'll stay cozy and in good spirits, crunching through those crispy leaves in style.