First "Trash Dolphin", now "Garbage Party"…there seems to be a recurring theme in some of our favorite Artist Shops. But make no mistake, the designs in the "Garbage Party" Artist Shop don't stink! Jillian Fisher – the artistic mastermind behind this Shop and life-changing characters like "Party Bat" up above – used to work as a designer right here at Threadless! So we admit, we're a liiittle biased. But we know you'll love her and her art just as much as we do.
We talked to Jillian all about her work at GIPHY (and, of course, her favorite gif), the amazing characters and designs that dwell in her Shop, and where she got the name "Garbage Party" from. Read all about her below!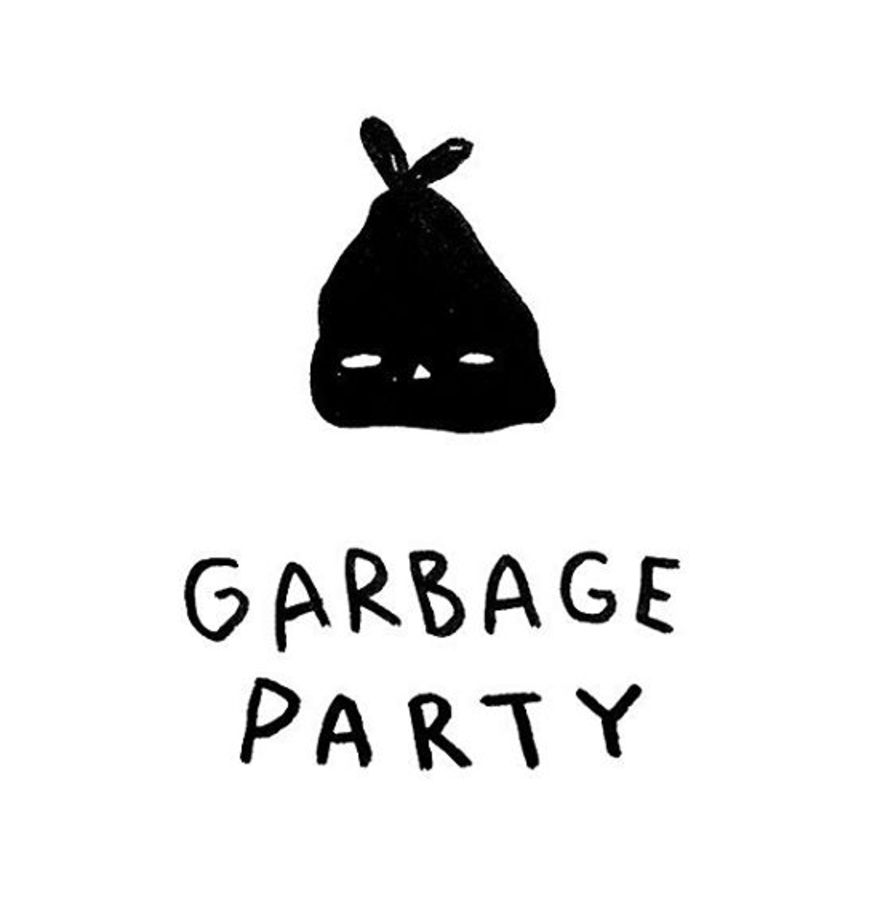 A Threadless alum! Woo hoo! What's the biggest thing you took away from your time working at Threadless?
Yes yay hi! In terms of art and design, I got to spend a ton of time drawing type and playing with color, which opened up a new world for me and my illustration style. I've probably since slipped back into my old habit of black and white caveman drawings, but it was a fun period of exploration that I feel like I can still tap into when I feel like it. Mostly though, and this is crazy cheesy so I'm sorry, but I left Threadless with some really solid friendships and super weird hangout times that I will take with me straight into my gravehole, and I'm really grateful for that.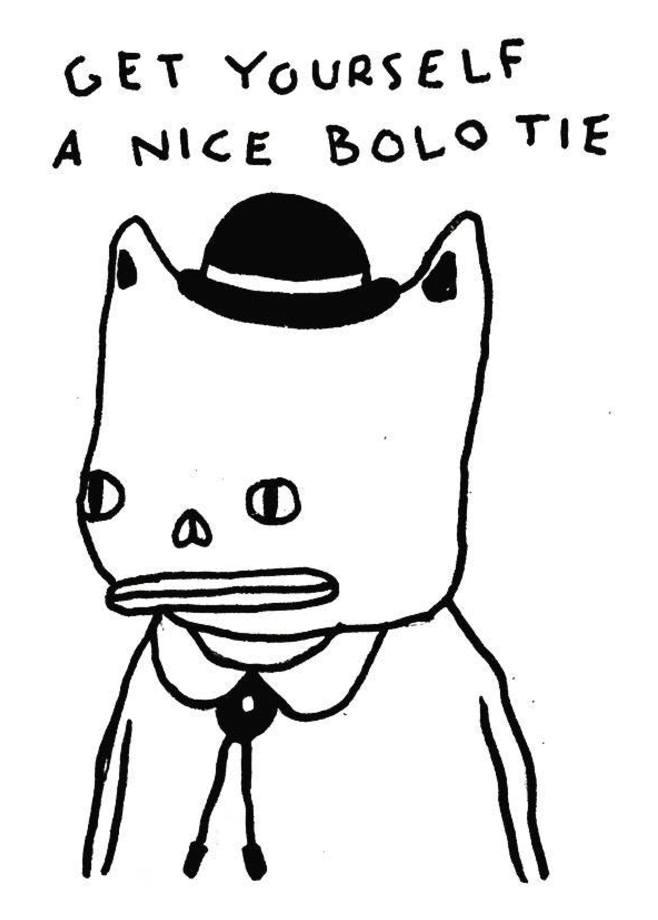 Tell me a little bit about what you do at GIPHY! Do you have a favorite gif of all time?
I started at GIPHY a couple years ago as a visual designer working on mobile apps, but these days I spend less time designing and more time just managing the product as a whole…basically making sure it does what it's supposed to do, when it's supposed to do it. I could go on for a while about that transition because it was hella hard and f'real a whole thing to go from a designer to a product person, but it's been fun fucking up and trying to figure it all out. It's how you learn!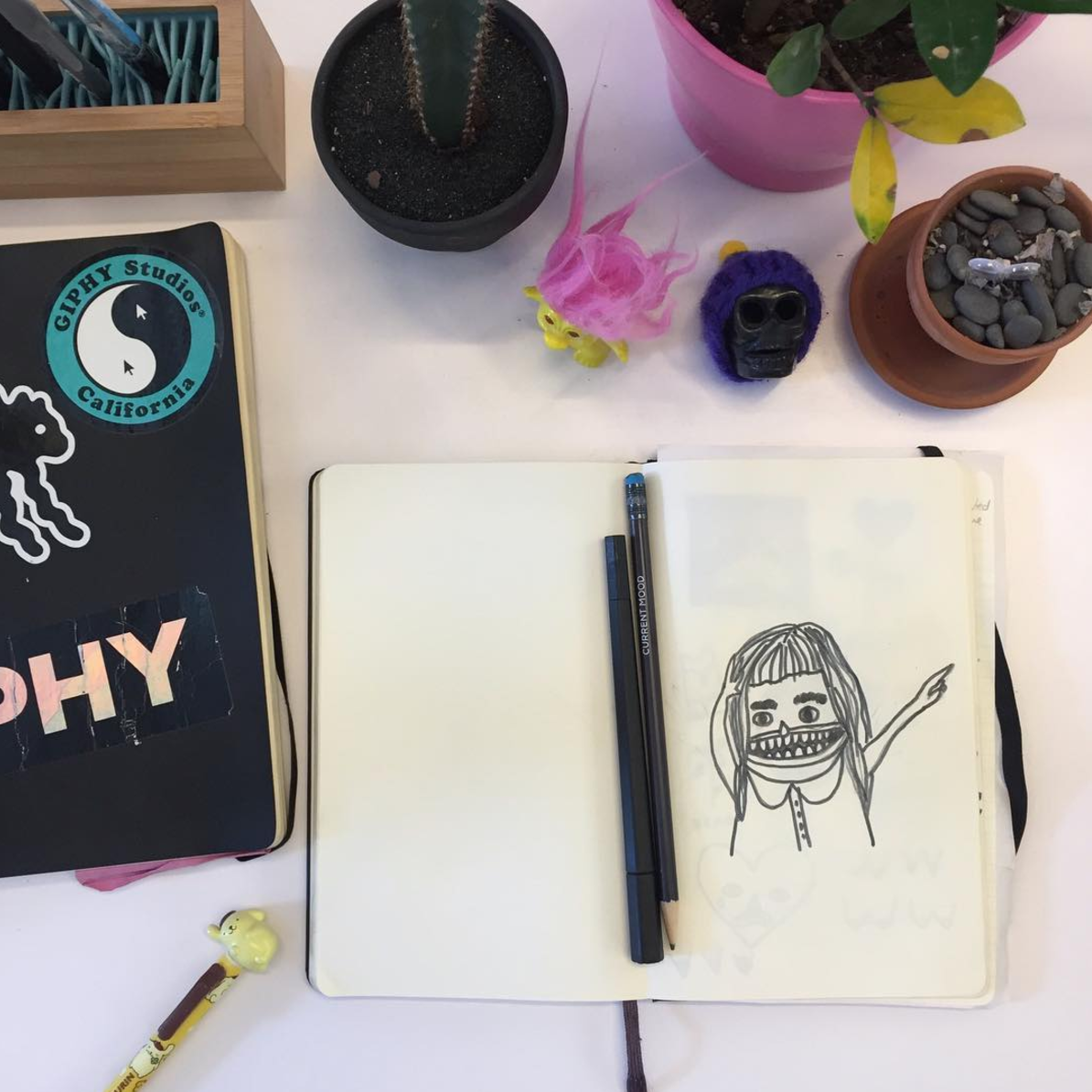 I have so many favorite GIFs but here's one I love of Guy Fieri putting sunglasses and a pickle mouth on a pastrami sandwich. I hate that guy but it kills me how happy this sandwich makes him.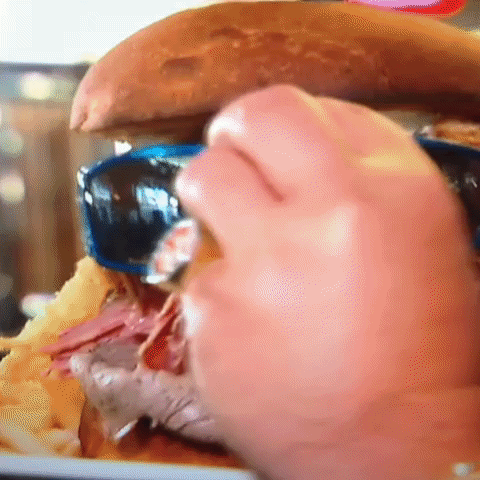 What's been the biggest adjustment moving from Chicago to New York?
There's just so many more people, which can be a lot for someone who isn't really that into people. That being said, I've started to find comfort in the crowds, and the hustle has actually been really exciting.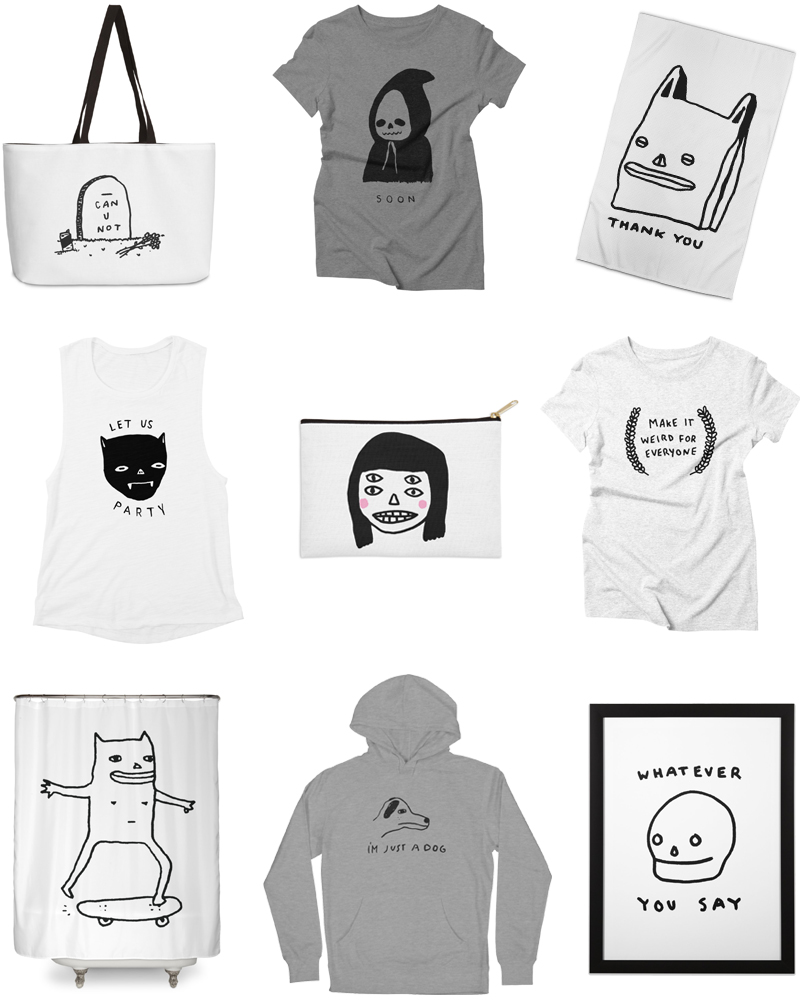 Tell us a little bit about your Artist Shop! How did you select which designs you wanted in your Shop?
I originally planned to do only black designs on white shirts but it turns out everyone is afraid to buy white shirts, so I had to switch things up a little. Other than that, I just grab a doodle that made me laugh at some point or that I think won't be too polarizing on a t-shirt and go with that. It's kind of too easy not to just throw some up there and see what happens.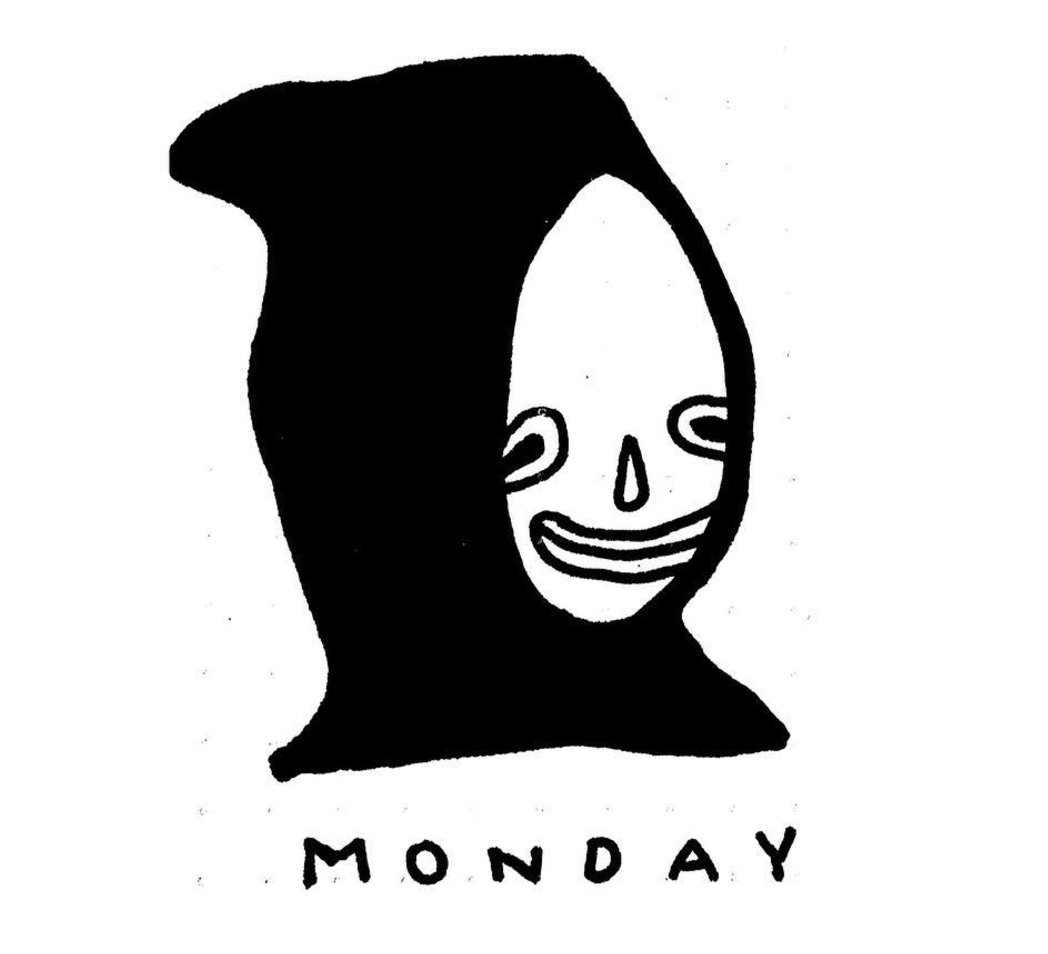 If you could pick one design in your Shop that sums up you or your style, which would it be and why?
Maybe this guy (right) because it's basically death with a clown face and a nonsensical caption that probably doesn't need to be there. Pretty sure I've never made a sale on this design, which
also makes sense.
How did you come up with the name Garbage Party? Do you have any favorite recurring characters?
A pretty boring story but I was at Dimo's with some (Threadless!) friends and we were talking about domain names we wanted to buy. I suggested garbageisland.com but everyone decided it was too depressing, because, you know, the actual trash mass in the Pacific ocean. So I changed 'island' to 'party' and it stuck.
Definitely a lot of recurring characters (been really stuck on grim reapers and cute skulls lately) but for a while there was "Party Bat" and Mr. Stick 'em Up.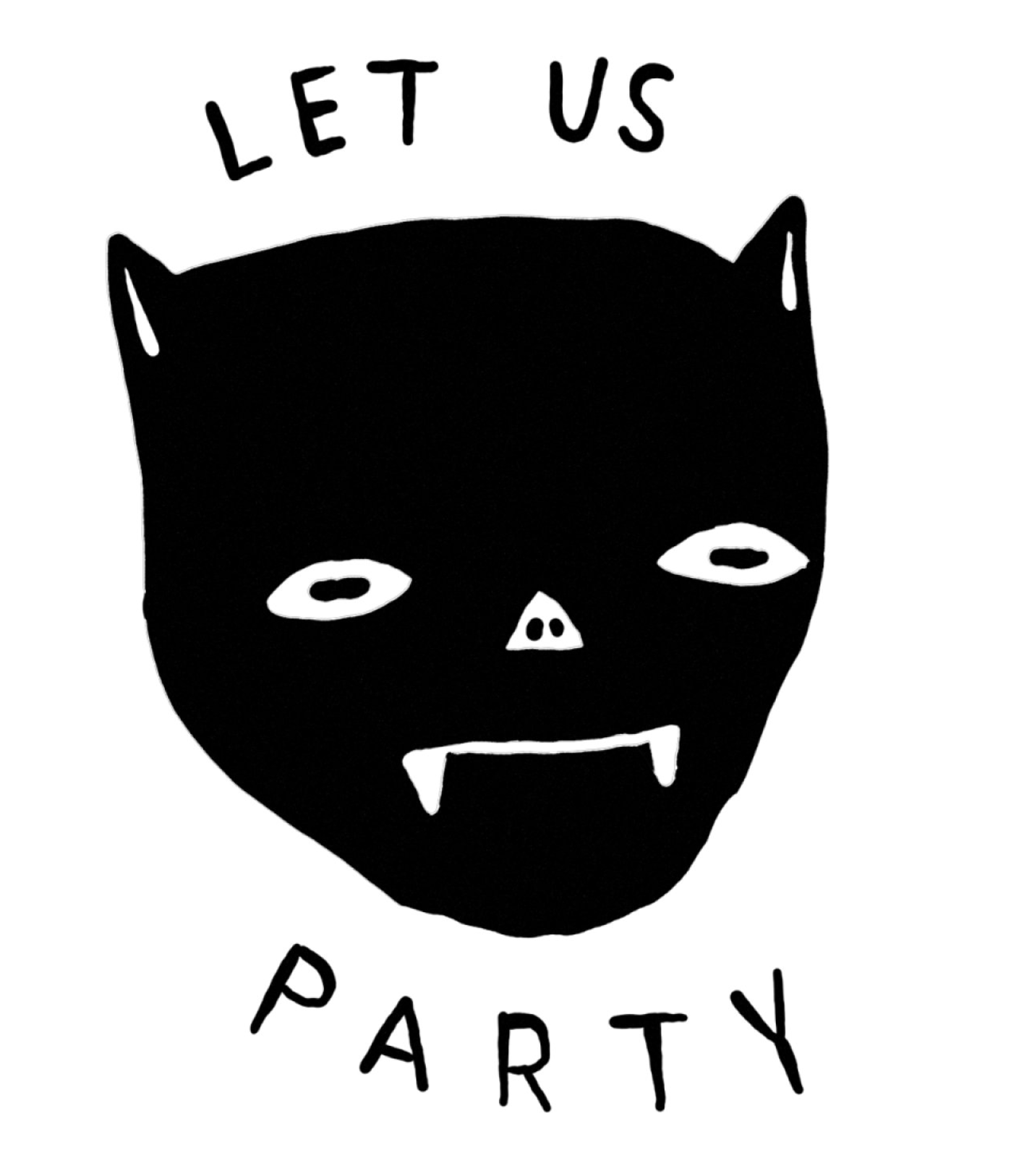 Has anyone gotten a Garbage Party tattoo?
So far just one that I know of, and I don't know the guy. He did a stick and poke of this grim reaper on his own hand, which is rad 'cause I can't think of a better place for any of my drawings to end up.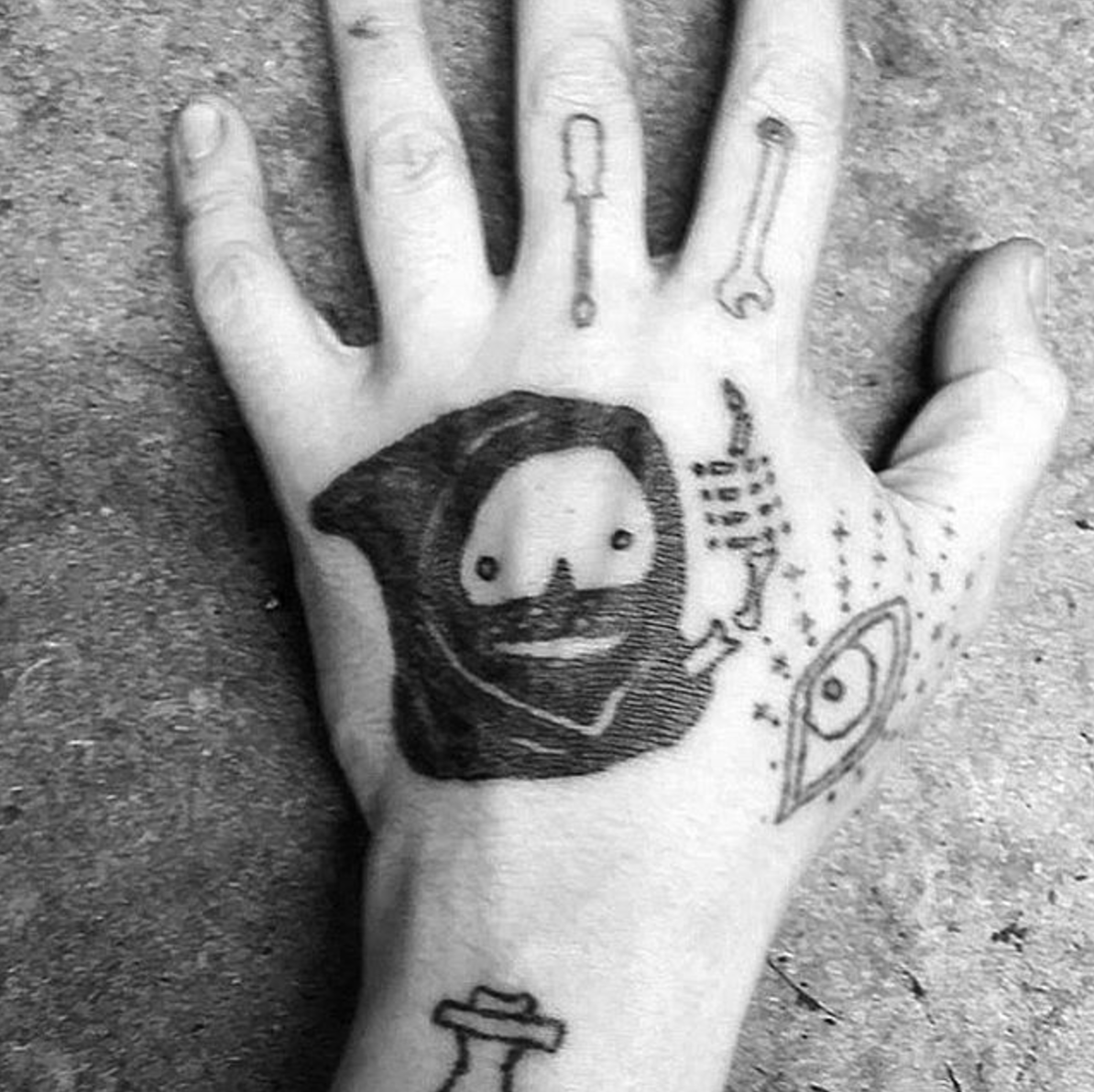 Real quick…do you have an all-time favorite Threadless tee?
Out of the OG Threadless designs I always loved "Dog Drunkard", and I have a lot of favorites coming out of the Artist Shops. Really any April Fools design does it for me.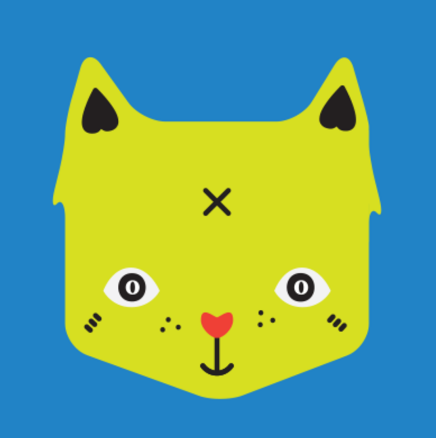 Your brother is also an artist! What's it like having a sibling who's also a creative? Do you guys ever collaborate?
He is! We make really different stuff these days so we don't collaborate a lot, but we did paint a piece on the wall of our friends' basement together once, years ago. That came out weird and I think I tried to paint over it later, but whenever we're together we make a few exquisite corpses that make us laugh. It's definitely fun having a sibling who's creative, but it also helps that we don't take ourselves too seriously and can make stupid things that really only exist to giggle at and then tuck away to find later.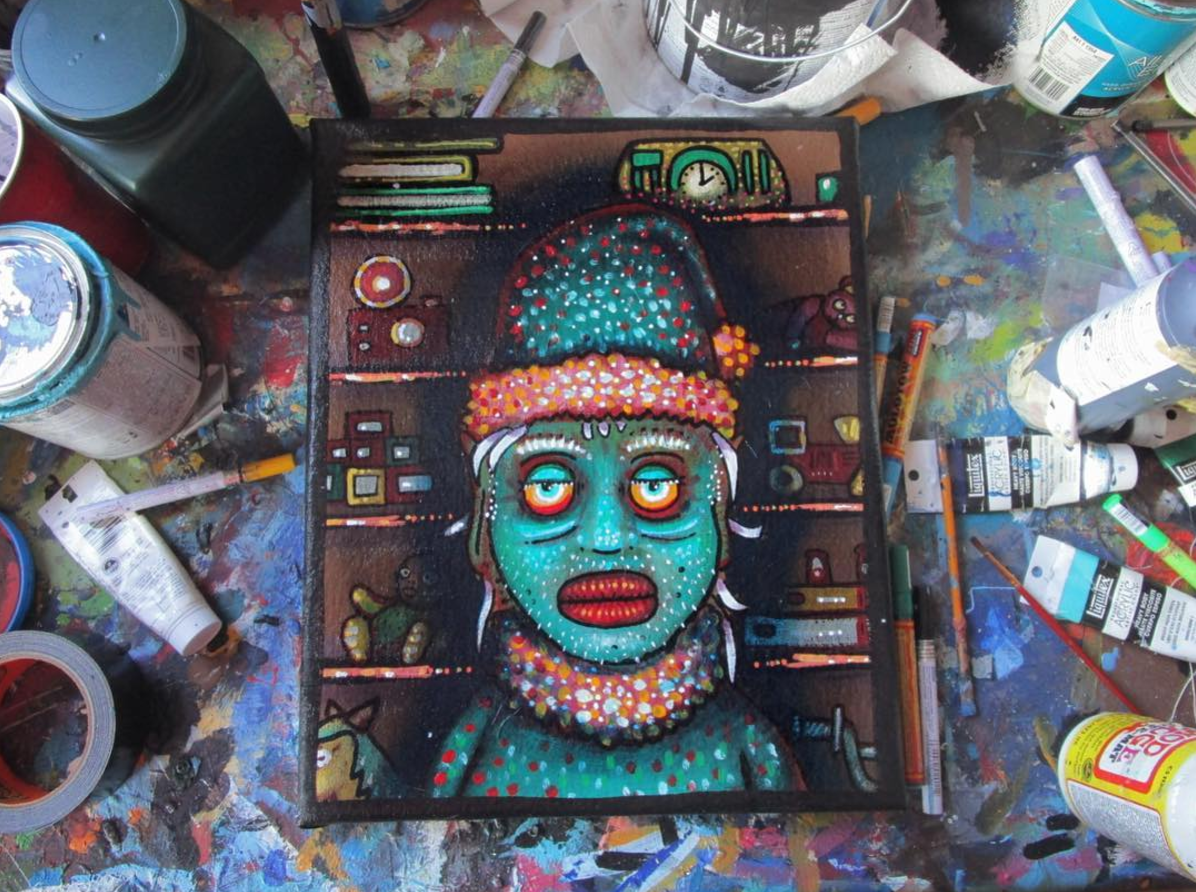 What artists and art styles inspire you most?
Lowbrow stoner art all the way. Stuff that doesn't take itself too seriously or seriously at all. Silly art about having fun and making bad decisions. I recently came across the Japanese term or movement "Heta-Uma" ("Bad-Good") and that struck a cord. Misaki Kawai makes amazing, weird, cute-ugly stuff, but then there's Neckface and Killer Acid doing grungier stuff that I dig. I'm also a sucker for the super simple, clean, intentionally cute stuff that you'd find on Japanese candy packages. Put a stupid face on it and I'll like it.
Anything else you'd like to share?
This was scary and fun, so thank you!
Open your own artist shop now!