Urban art has seen a huge rise in popularity. And as more and more murals have painted cities (and our office walls!), it's become more widely recognized by art connesiuers as the true art form that it is. But Jack Honey Art Beats + Lyrics has recognized this for awhile, and has created a rad traveling art show that mixes street art and underground hip-hop artists to create a wholly unique experience.
Getting its start in Atlanta, this curated art and music show combines emerging as well as big name hip-hop artists (even featuring Kendrick Lamar right before he got big) and a curated collection of urban art to create a cohesive and different vibe for every show. AB+L was just here for their Chicago show, and they've since moved on to Miami where they're at the "olympics of art", Art Basel.
We talked to one of the minds behind Art Beats + Lyrics, Dubelyoo, to find out more about it, how they curate their art and music selections, and what music and street artists they can't get enough of right now. Check out the interview below!
.     .     .
How did Jack Honey Art Beats + Lyrics get its start?
Jack Honey Art, Beats + Lyrics started out as a local art show in Atlanta. Jabari Graham, my business partner, left the marketing department at a circus and wanted to do something that tied in his passions for art and music. I was an artist in the first show in 2004. After that show, we teamed up to produce an event that sold out the High Museum of Art in 2 hours. A few years later we partnered with Jack Daniel's and began taking the exhibition across the US.
What's the core mission and goal of AB+L?
The core of AB+L's mission is to create unique art experiences that help move the culture forward. We aim to promote contemporary urban art and hip-hop culture while providing a platform to feature not-so-mainstream artists.
With Atlanta's tie to the hip hop scene (Childish Gambino comes to mind right away with his new show Atlanta), it seems like the perfect place for Art Beats + Lyrics to come out of! What's the hip hop scene like in Atlanta? How has the music and art scene there evolved?
The hip-hop scene in Atlanta has been growing for decades. We have more festivals and events that take place throughout the year, that showcases everything from the classic hip hop to trap and all points in between.
On the art side, I have witnessed the street art scene beginning to evolve and really take off. Artists are expanding their skill set to include large-scale public works which can be a good look for the city.
Do you try to match the musicians featured in an AB+L show with the vibe of the selected art?
Absolutely. The musical acts tie into the overall feel of the show and they are the driving force that sets the vibe for the event. We like the energy to gradually build up throughout the night so that by the time the final act hits the stage the crowd is already at 10.
How do you curate each show?
When we start planning out the tour we focus on ways to enhance the overall experience of the exhibition. Musically we blend legends with up and coming acts and visually we became an installation driven show. Installations give artists a chance to create beyond the canvas and develop an environment for their work to be viewed.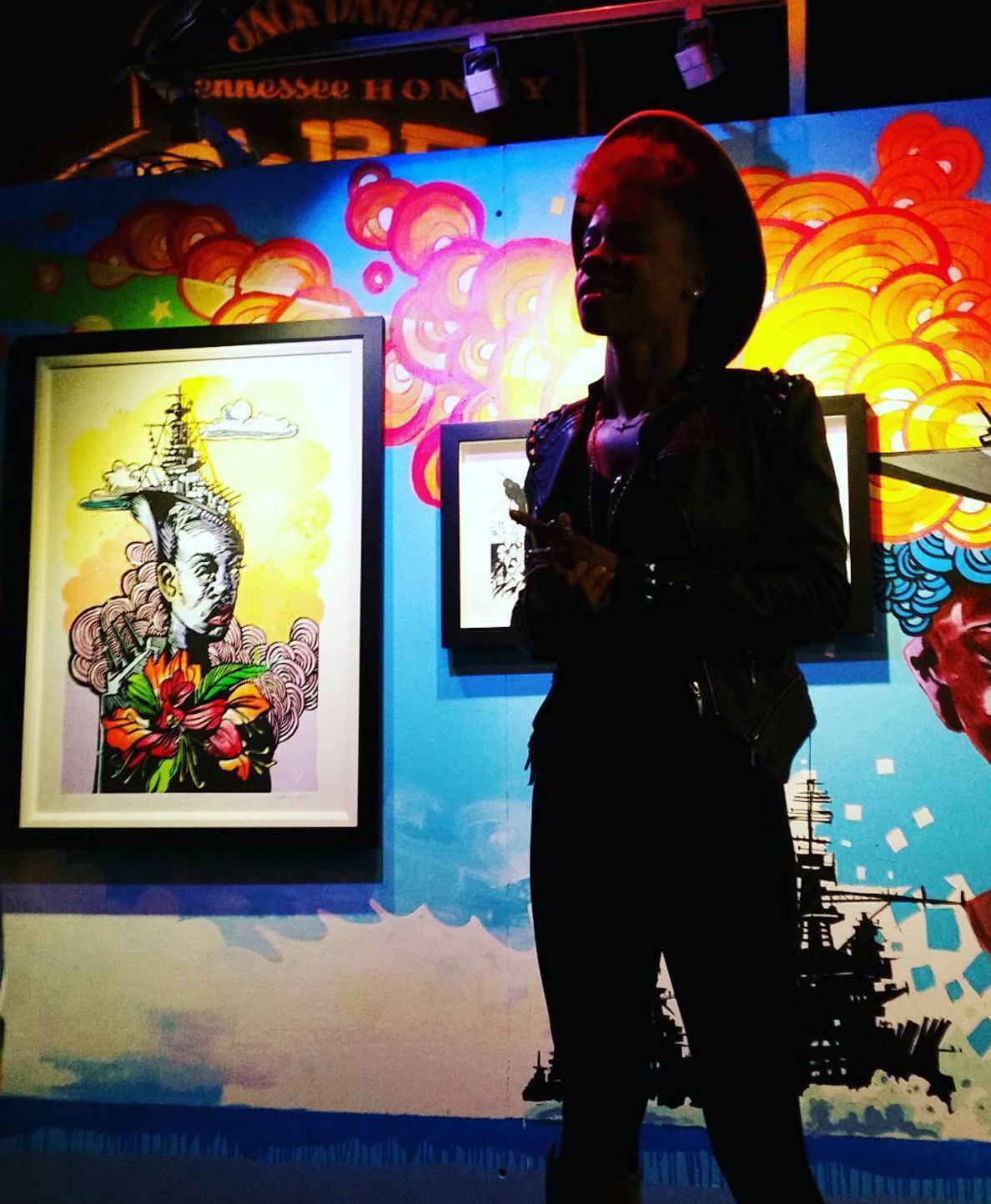 Urban art seems like it's becoming more widely appreciated as an art form – we actually have lots of street artists who have painted parts of our office and who have Artist Shops with us. What has this shift been doing for the scene and for events like Art Beats + Lyrics?
It has helped us widen our audience. There was a time where there weren't too many places that featured the type of art and artists in our show. Street art has become more accepted by galleries and institution but most important it has been growing in the streets. More artists are being commissioned to do murals, which aid in street art's popularity. Another major factor for the art scene and events like AB+L is social media and technology. These two things have given artists a chance to share their work and develop fan bases locally and internationally. Becuase of social media, we can find artists that may have gone under our radar in the past.
I gotta ask, what was the Kendrick show like!
We had Kendrick early on, right after Dr. Dre put it out there that he is an artist to watch out for. It was cool to see how the crowd reacted to someone who would go on to be a megastar. The audience appreciated him then but I think they would really appreciate the show he puts on now.
What artists – both in music and art – can you not get enough of right now?
Jabari is the official music cool hunter with ABLRadio.com and he was the first person to put me on to Anderson .Paak. I'm really digging the music he is putting out.
On the art side, a dope Illustrator named Dres13 out of Orlando. He did a piece for the show that helped set the scene for the event as you walk in.
You're an artist yourself – how did your own experience in the art world fuel Art Beats + Lyrics?
One of the benefits to touring is we get a chance to see what is going on in the art scenes around the country. Some of the cool ideas we come across inspire elements that we add to the show. Outside of the tour, I participate in art shows with artists who I end up bringing into AB+L
You're currently at Art Basel – what does Art Beats + Lyrics have going on at the festival? Anything you're particularly stoked about?
Art Basel is like the art Olympics. You get to see the best art from around the world all in one city. My favorite part has to be the Scope Art Fair and checking out the street art in Wynwood. A few years back we did an event during Basel and we had a great response. This year we are doing and event the Saturday after Basel during Wynwood's Art Walk December 10th at Maps Backlot. For this show, we have DJ Jazzy Jeff headlining so we are definitely stoked.
Anything else you'd like to share?
We will be on tour well into 2017 make sure to check out artbeatsandlyrics.com to keep up with the exhibition and make sure to follow us on Instagram @artbeatsandlyrics.
To get a preview with an audio guide tour of the works in show, download the izi.travel app and search Art, beats, and lyrics. Also, make sure to follow me as well on Instagram @dubelyoo.
Thanks Again.
.     .     .
Feeling street art inspired? Check out Brainkiller's Artist Shop, Elloo Elloo's Artist Shop, and Glass Cuisine's Artist Shop!
Photo Credit: Kat Goduco