The last thing you'd ever expect to become a symbol of hate would be a cartoon frog meme. But for Pepe the frog, a "peaceful cartoon frog-dude" created by Matt Furie, that's exactly what happened. A reaction meme known for saying, "feels good/bad, man", Pepe's image was adopted by the alt-right during the 2016 presidential election. And while reaction memes more or less 'belong' to the internet and can be used to react to anything, creator Matt Furie, who created Pepe as a symbol of love, peace, and chillness, wasn't about to stand for it.
Artist Matt Furie combated the hate by spreading the love with the hashtag #SavePepe, where people have been creating their own positive Pepe art to help reclaim Pepe's image. And recently, Matt Furie teamed up with SAVE THE FROGS! on an Artist Shop that donates all proceeds to help save both cartoon and real frogs alike.
We talked to Pepe creator Matt Furie and to Michael Starkey of SAVE THE FROGS! about their combined causes, the Pepe ordeal, and about how their Artist Shop is bringing good vibes to humankind and frogkind alike. Check out the interview below and find out more about how you can #savepepe and #savethefrogs!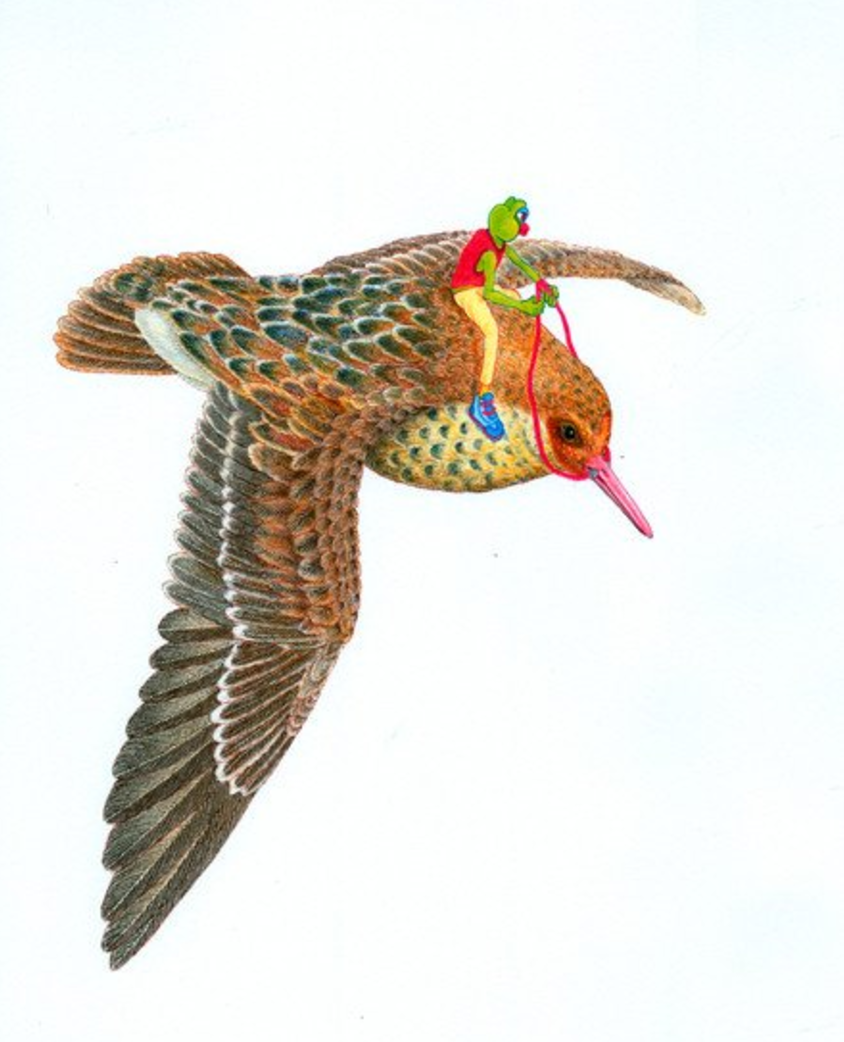 First things first. Matt, what is Pepe's origin story?
Matt: Pepe began as an artwork titled "Flight of the Peacefrog" that I made in 2004. It featured Pepe – an anthropomorphic frog in a colorful tracksuit – riding on the back of a bird. He came from my continued interest in drawing animal/human hybrids. People can relate to the frog because frogs are for everybody. They are a unique and beautiful cosmic wonder.
Matt, you said in an interview with The Guardian that Pepe, along with your other characters, is an extension of yourself – did Pepe's use in hate groups feel more personal than the use of a meme typically might?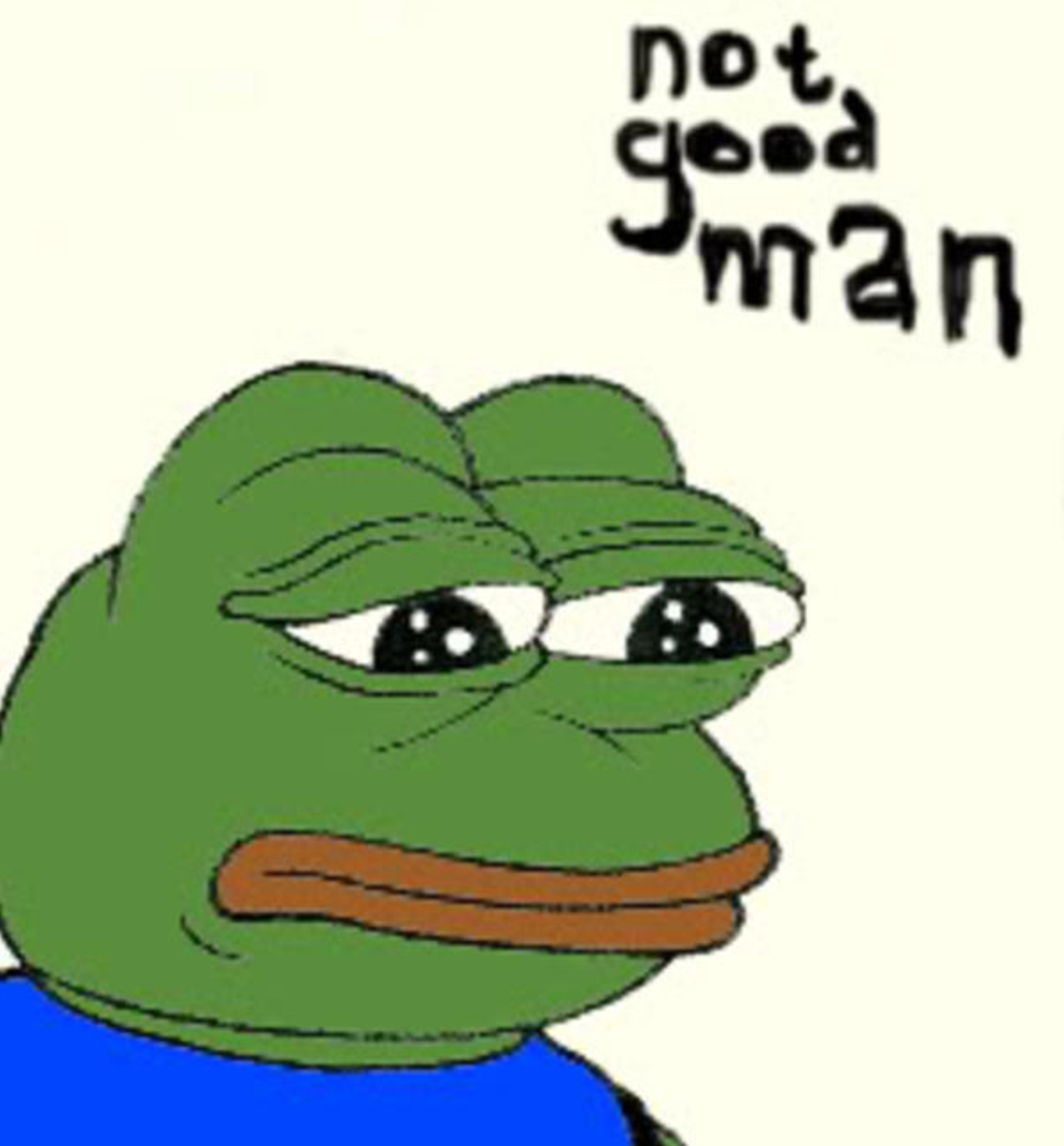 Matt: It's a great reminder that we have a lot of work to do. I, along with many others, was living in a reality that celebrates American diversity and creates peace and love in our day to day lives. Pepe is a symbolic reminder that we still have a long way to go to help others along the path.
Michael, tell me a little big about SAVE THE FROGS!
Michael: SAVE THE FROGS! is a worldwide movement dedicated to protecting the world's rapidly disappearing amphibian species. Our mission is to protect amphibian populations and to promote a society that respects and appreciates nature and wildlife.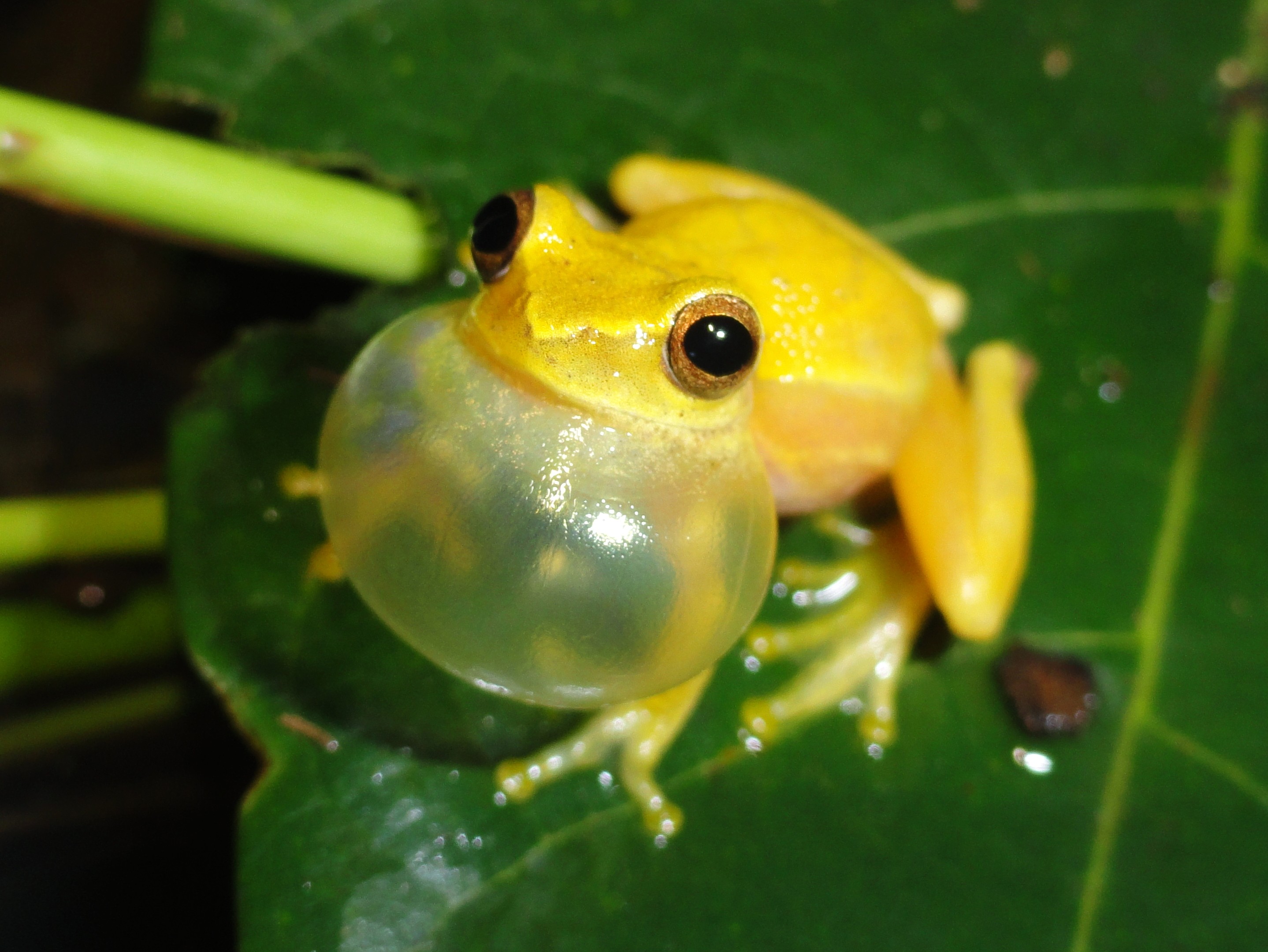 We have held protests at government agencies to ban harmful pesticides and to protect wetlands, assisted with and led the construction or restoration of 29 wetlands, gotten frog legs out of 77 supermarkets and two restaurants, ended frog dissections at 18 schools, given 500+ live presentations, and stopped the destruction of endangered amphibian habitats in Canada, New Zealand and the USA. SAVE THE FROGS! has awarded over $74,000 in grants to conservationists in 15 countries.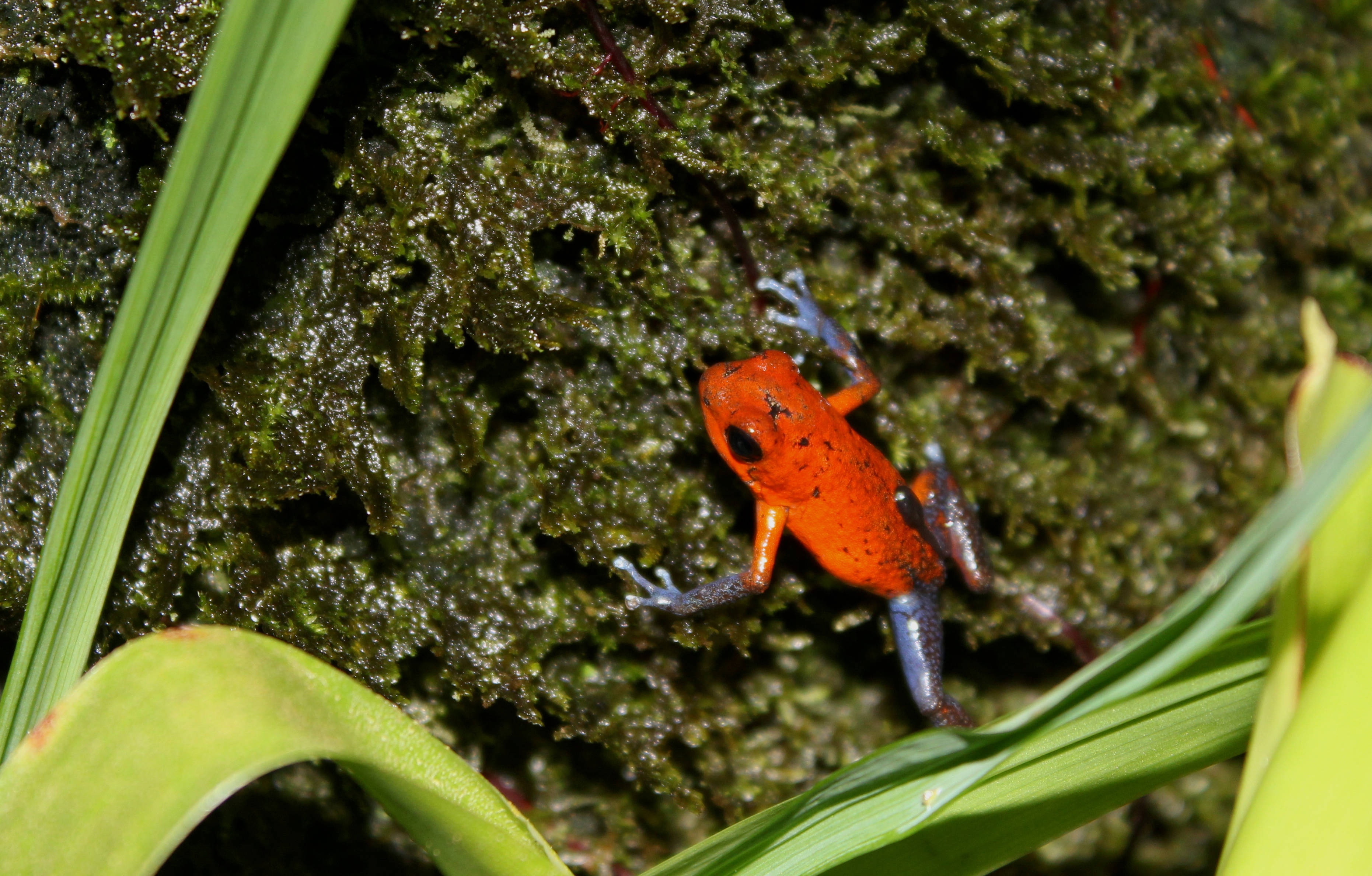 What kinds of expeditions has SAVE THE FROGS! gone on?
Michael: Since 2008, SAVE THE FROGS! scientists and volunteers have held over 1,800 educational events in 62 countries to educate people about the plight of frogs and teach them ways to protect amphibians. SAVE THE FROGS! also has international chapters in Argentina, Bangladesh, Colombia, Mexico and Paraguay. We also lead ecotours to Central and South America, have introduced over 60 of our supporters to tropical ecosystems, and contributed over $50,000 to local economies, enabling communities to better protect their wildlife.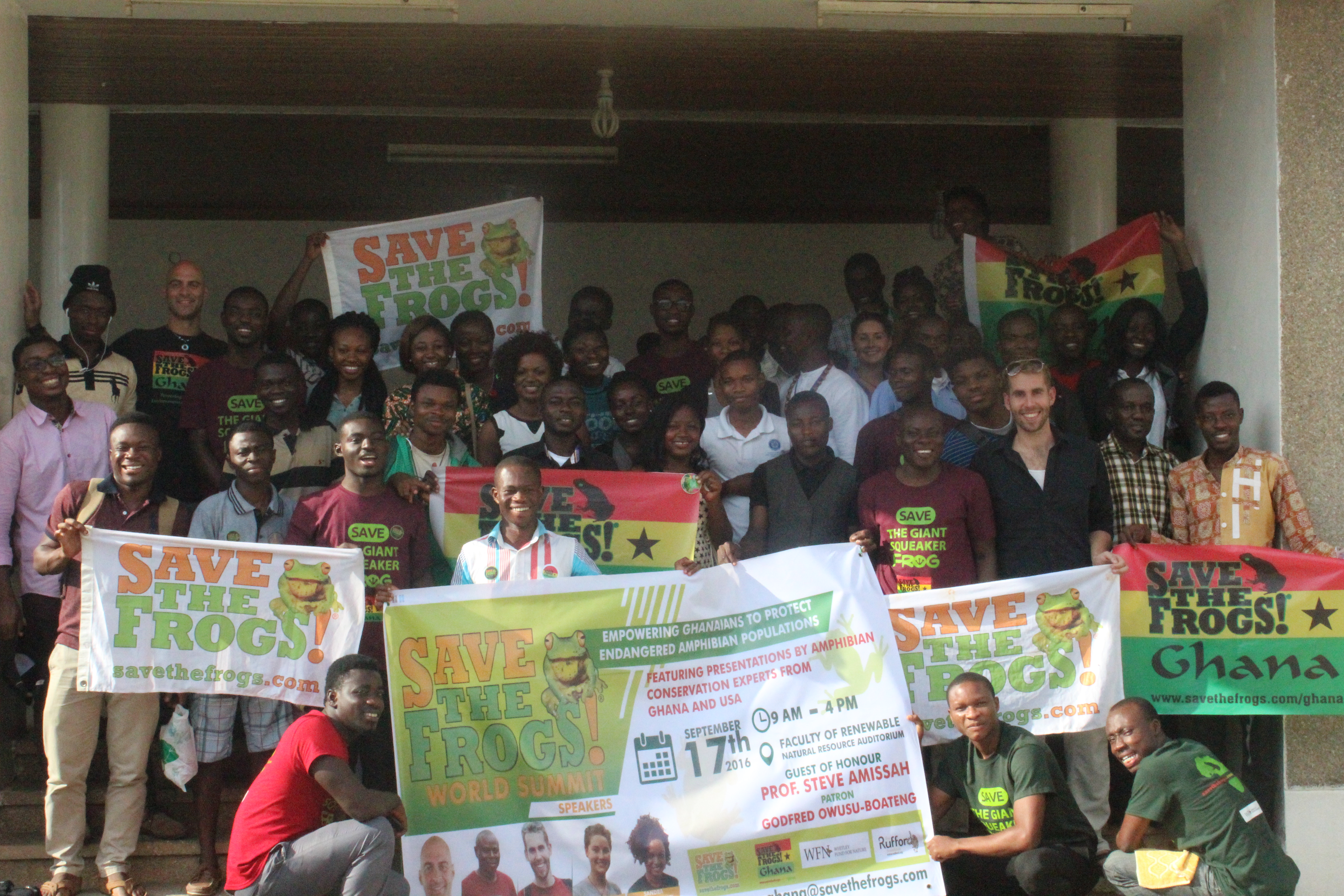 In 2011, we founded Africa's most effective amphibian conservation group and first international chapter. Ghana, which has planted over 15,000 trees to reforest habitat for critically endangered Giant Squeaker Frogs, trained numerous undergraduates in amphibian biology and field techniques, trained villagers in beekeeping so they don't have to chop trees to collect wild honey, and campaigned for the creation of a new national park to protect the Togo Slippery Frog, which is known to survive on only two streams.
I just want to make some sweet shirts with cool art and help tip the scales in a positive way for both symbolic and actual frogs.

– Pepe creator, Matt Furie
Tell me about the SAVE THE FROGS! / Save Pepe Artist Shop. How did you choose which designs to feature in the Shop?
Matt: This is just the tip of the iceberg, I chose more bold and graphic images that were simple and looked good on the shape of a t-shirt. I will add more as they come along.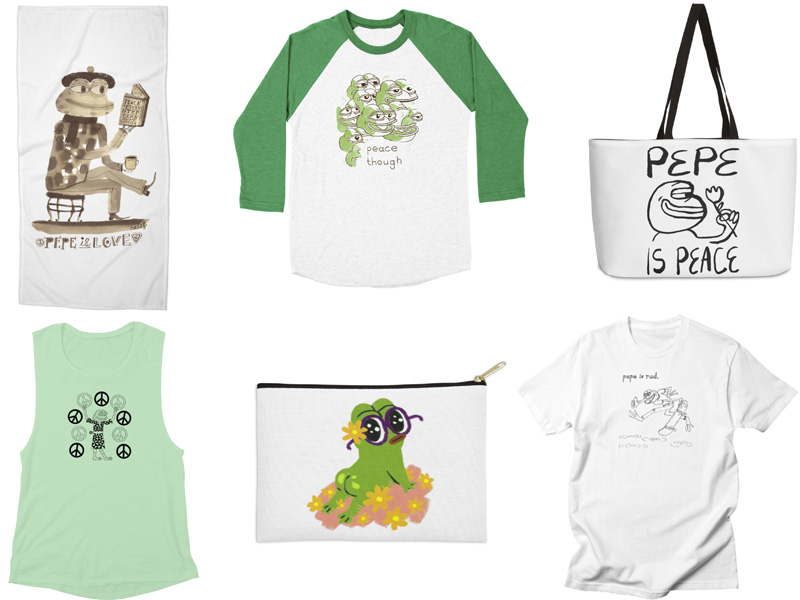 Michael: When our Team learned about Pepe the Frog being used as a symbol for hate, we were appalled. SAVE THE FROGS! is proud to #savepepe and restore the positive image that this peaceful frog represents.
Up to 200 species of frogs have completely disappeared since 1980, and this is not normal. Frogs are incredibly important, playing an integral role in the food web, serving as a natural form of pest control, and frogs are bio-indicators that tell us the health of our environment. Our society must have a positive relationship with frogs if we are going to save them from extinction. The good news; most people already love frogs! Around the world, frogs are symbols of rain, fertility and even good fortune. Plus, they are cool!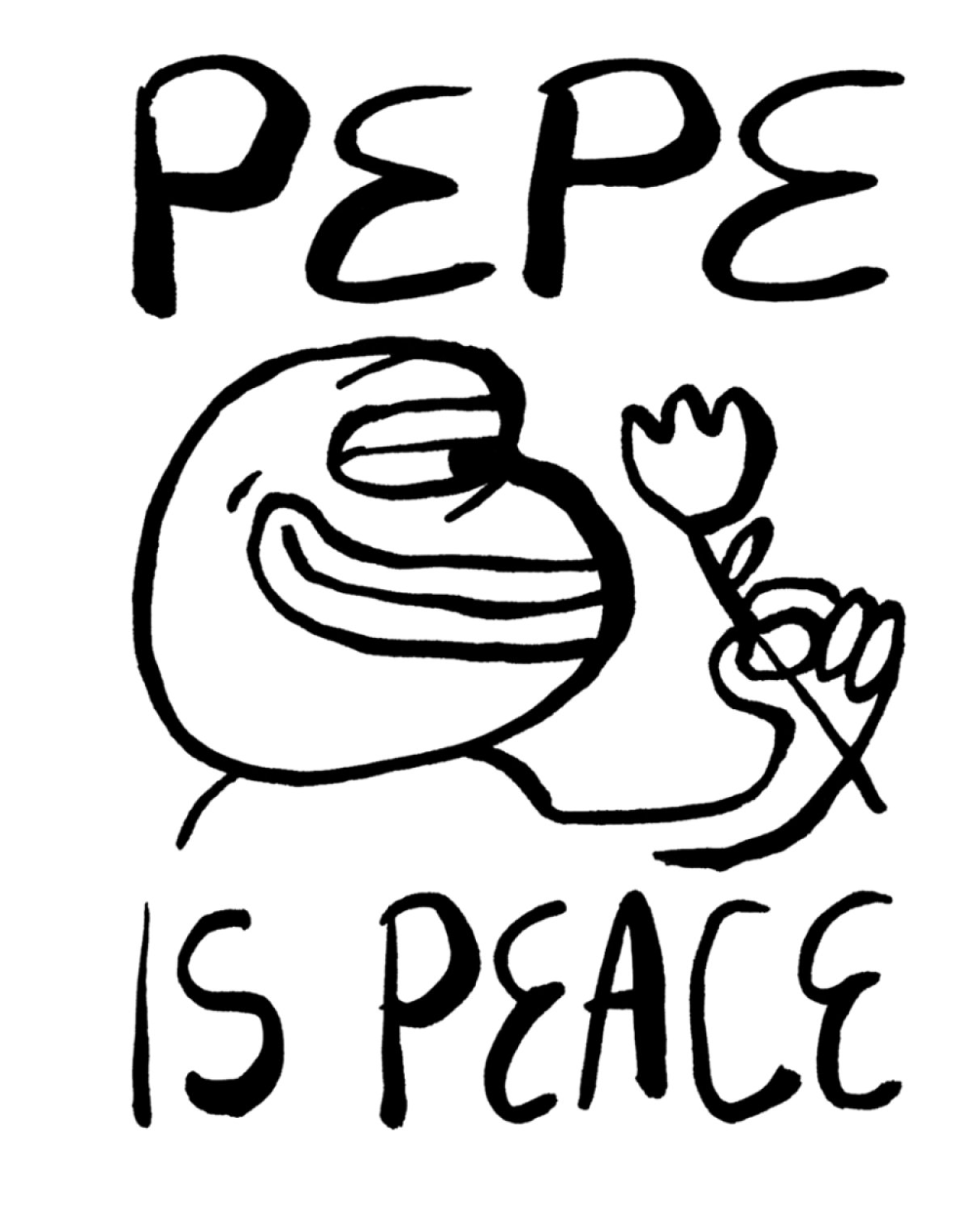 How do you hope #SavePepe and this Artist Shop will change things, for people, Pepe, and frogs alike?
Matt: I just want to make some sweet shirts with cool art and help tip the scales in a positive way for both symbolic and actual frogs.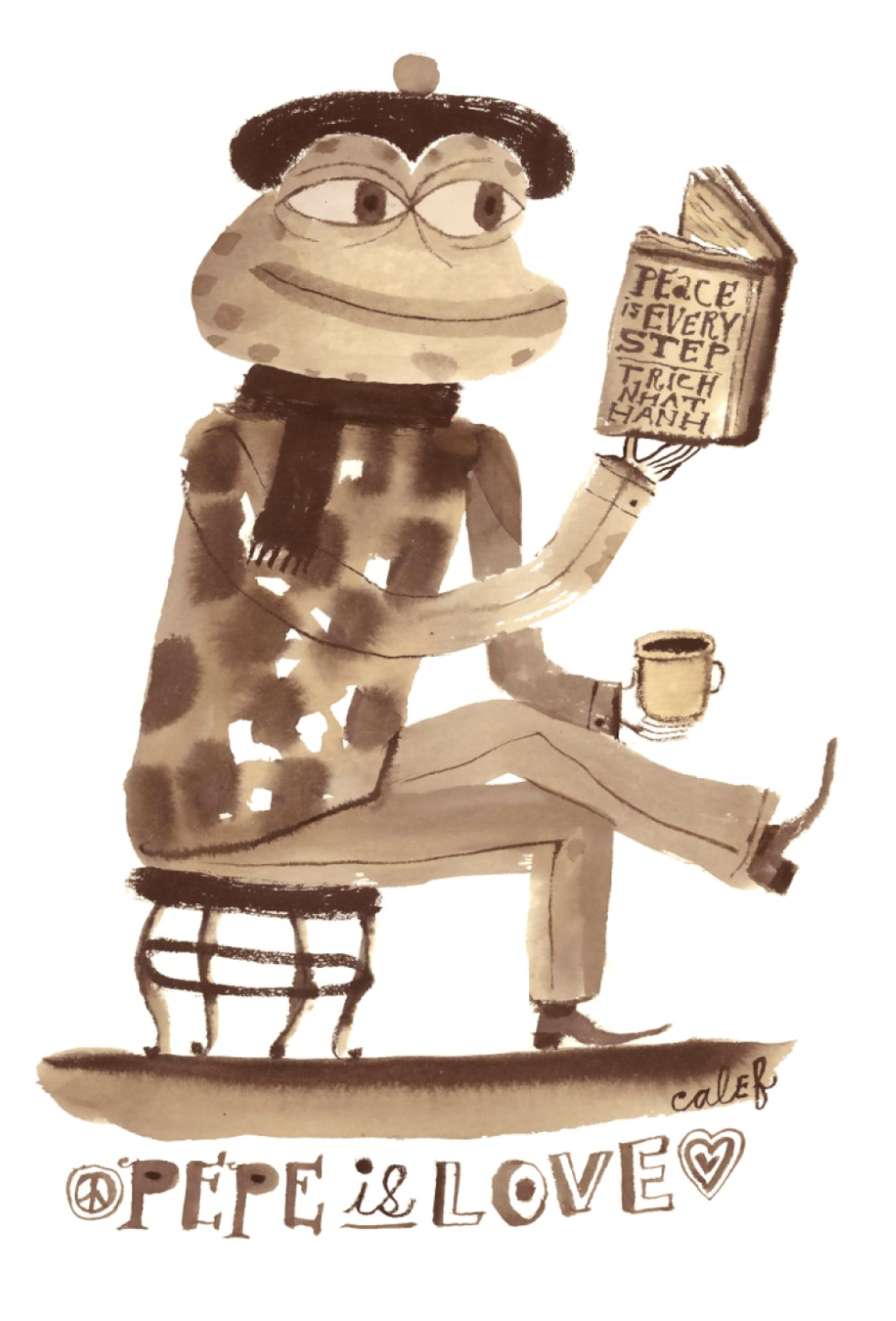 Michael: Just as SAVE THE FROGS! stands up for amphibians, it is our hope that the #savepepe campaign can inspire individuals to stand up to hate. SAVETHEFROGS! works with people around the world to protect amphibian populations and we celebrate diversity; in fact, we love it. It will take a global movement to save the frogs, and hateful/divisive rhetoric will only make our mission that much harder to accomplish. Also, this shop will put Pepe – and all frogs – back into the public's eye as a positive force for amphibian conservation!
Matt, how has this whole experience changed the way you work as an artist?
Matt: It's just the latest thing. The internet has so many unintended consequences. I never imagined people would listen to albums on Youtube. It has not changed the way I work as an artist. Art, for me, is therapeutic and meditative. It's a way to enjoy the moment and be in a happy place. As long as I can draw I'll always have that happy place, no matter what nonsense is going on on the internet. It's important to detach from all of this information and just enjoy drawing like I used to as a kid. That said, my art isn't just flowers and rainbows. I'm working on a series at the moment about factory farming that features Miss Piggies being mutilated on industrial levels by terminators. A Hell on Earth.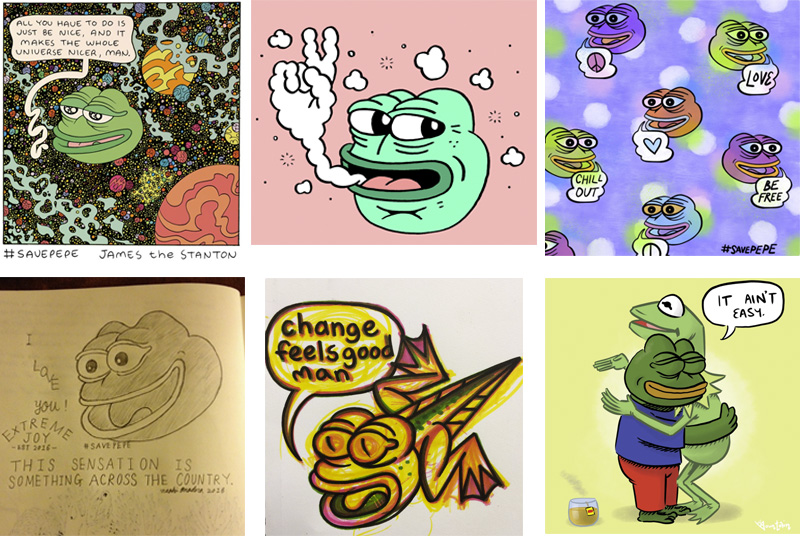 Michael, what is the crossover between art and conservation in your experience? What role does art play – or what role CAN it play – in conservation?
Michael: Art is a very powerful tool for wildlife conservation! In 2009, we created the SAVE THE FROGS! Art Contest. Each entrant must go here, learn
about amphibians becoming extinct, and make a piece of art that celebrates amphibians and raises awareness for their conservation. Between 2009 and 2016 we received over 15,000 frog art entries from 79 countries. It raises awareness by getting people involved and interested, and the artwork is used to both publicize our cause and spread the word about our amphibian conservation efforts.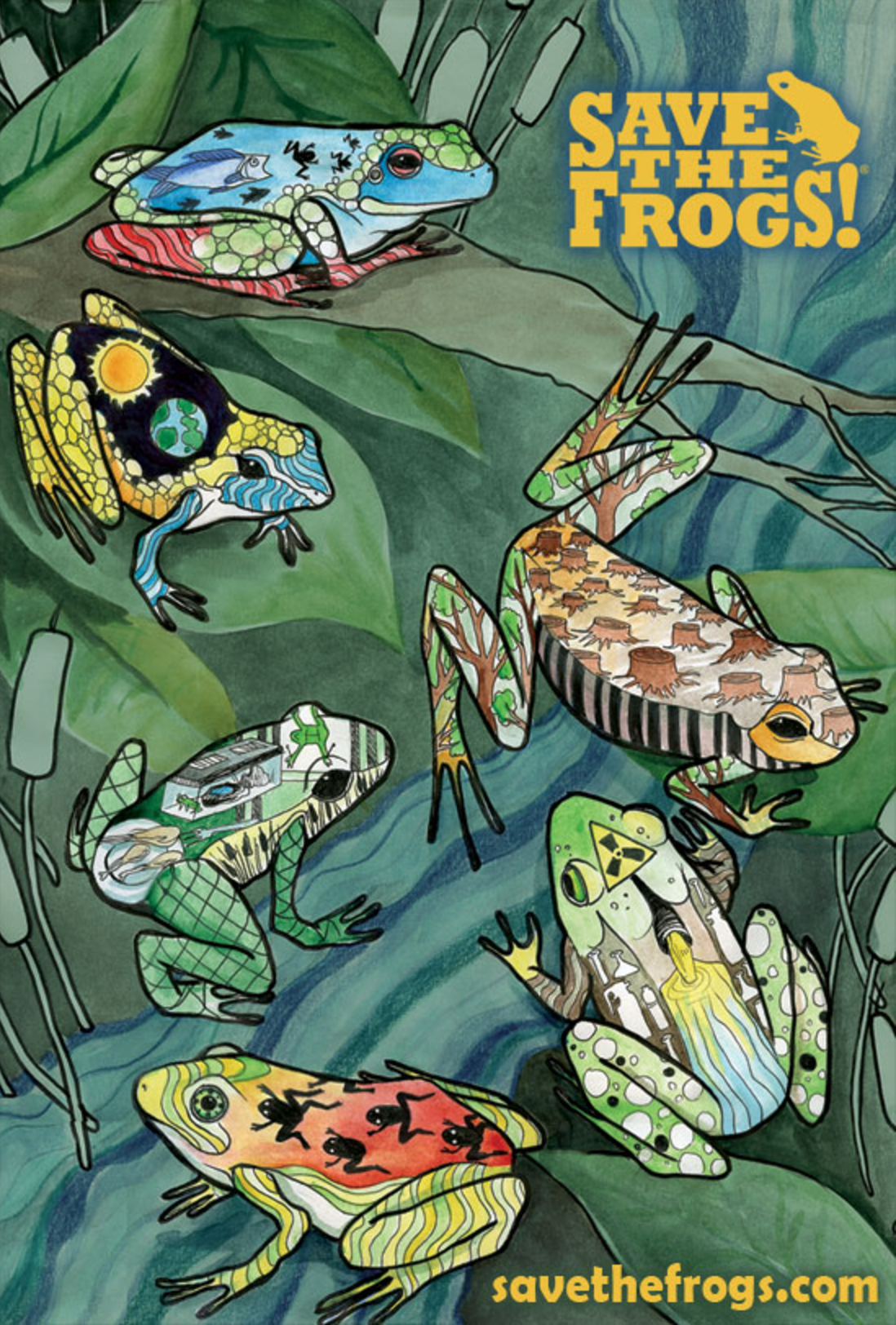 Finally, Matt: What would Pepe do? And Michael, do you have a favorite frog?
Matt: Pepe is Love.
Michael: Yes! In ephemeral marshes and ponds in Panama, the neo-tropical frog Leptodactylus insularum. Here she is seen guarding her tadpoles; she will stay with them until the tadpoles metamorphose into little froglets. What a good mom!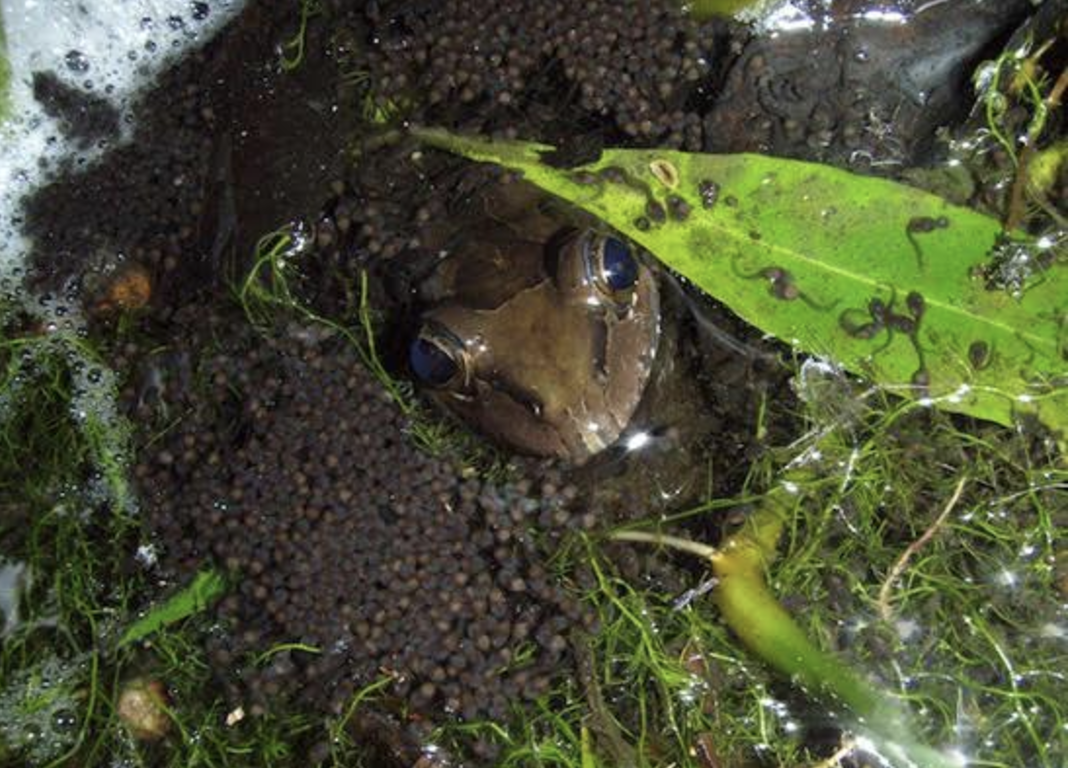 In 2008, I traveled to Panama to study these frogs and learn about their maternal care. This changed my perception of amphibians quite a bit! In the photo, this mother frog is actually growling at me in hopes of scaring me away. She is only about the size of my hand! This frog inspired me to pursue a career in amphibian conservation and help save the frogs!
Anything else you'd like to share?
Matt: You can follow me on twitter (@bigfroggreasy) to see the amazing #savepepe peace-frogs that I've collected so far. I'm looking forward to creating an "Official Peace Pepe Database of Love" that will feature all of the great art and credit the individual artists involved. Please send original peaceful Pepe's to: hashtagsavepepe@gmail.com And shoutout to my #1 gal and best friend Aiyana Udesen for helping me through all of this and helping me pick out the t-shirt designs! #savepepe
Michael: Here are more ways you can help SAVE THE FROGS!
Shop the "Save Pepe" Artist Shop!