Space Butts! Dinos of encouragement! Aliens! Combine these individually awesome things and you get the whimsical and psychedelic art of Daniel Arruda (Darruda). This Artist Shop Accelerator runner-up's philosophy "Stories can give you superpowers" comes across bright and clear in his designs and the fantastical worlds they're set in. Besides taking the viewer on a psychedelic ride, this Rio de Janeiro based artist has also created the visual equivalent of inspiring pep talks through his always positive art designed to lift you out of any rut. From fun animated GIFs – like an encouraging T-Rex flexing its little arm (f'real, scroll and enjoy) – to happy little cosmic designs to designs inspired by his love of sci-fi, Daniel's our kind'a dude. We talked to this artist all about his process, some super inspiring quotes that drive him, his animations, and more!
.     .     .
Icebreaker: tell us a little bit about yourself! Your Instagram bio says "Originally from space" – where in space would you want to be from? 
I am a graphic designer and illustrator from Rio de Janeiro, passionate about science fiction and obsessed with my work. I imagine that life on Earth is just the beginning of everything. A preparation for what is to come. This "new" place would be on another planet in space where people renew themselves all the time. Everyone must go through a process of purification and learn from their mistakes. In this way, they return to their normal lives more powerful, ready to face new obstacles. And the cycle does not stop. Life does not stop. I live every day as if it were the last of my life on Earth.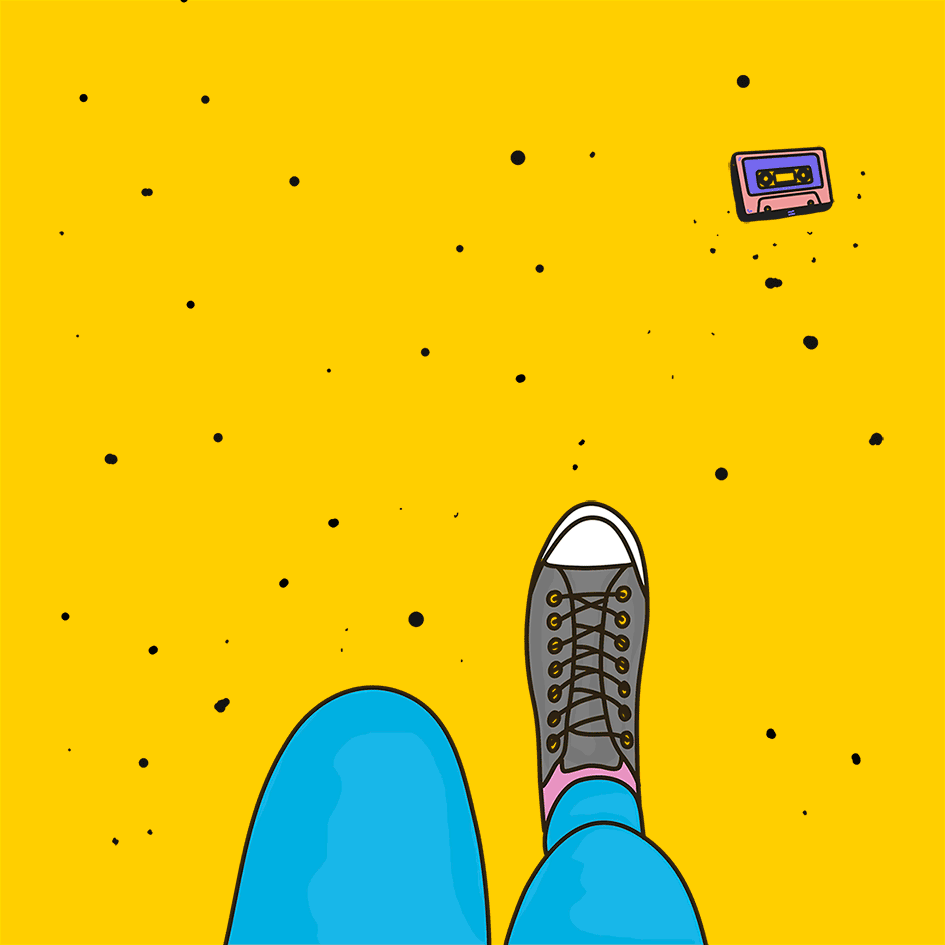 You create some awesome animations! Are you self-taught?
Yes! I've always been searching for tutorials, blogs, and videos on the internet and learning from the masters. This gave me a good base to start working and learning from my mistakes. All of my animations are created in Photoshop.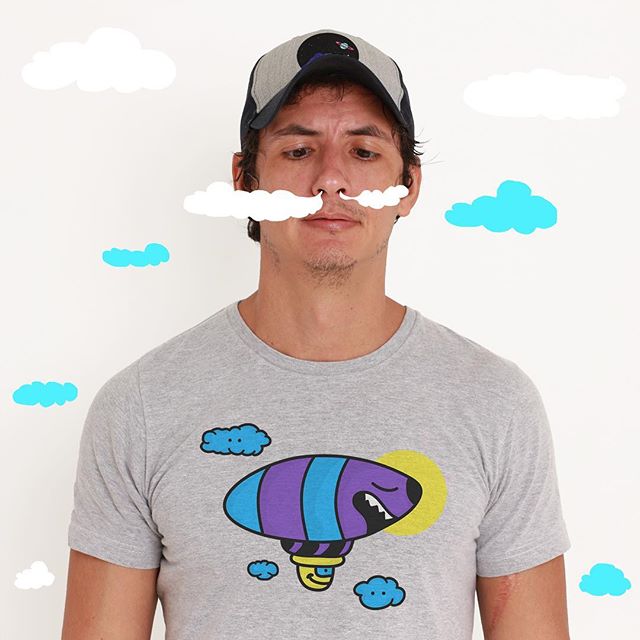 You talk on your blog about overcoming creative fear and having courage. How do you personally build up your creative courage? 
I live in complete terror… lol. All my creation process, business, and weekly goals are driven by fear. I try to control my emotions by working hard and improving myself every day – like a craftsman, carving piece by piece. It's so nice to look backward and see some evolution. I'll tell you a secret; a little treasure I have in my studio. A big pot with messages from friends and cool things that happened during my career. When I'm down and feeling powerless or uninspired, I read some of these messages. It's like a thunderbolt of energy!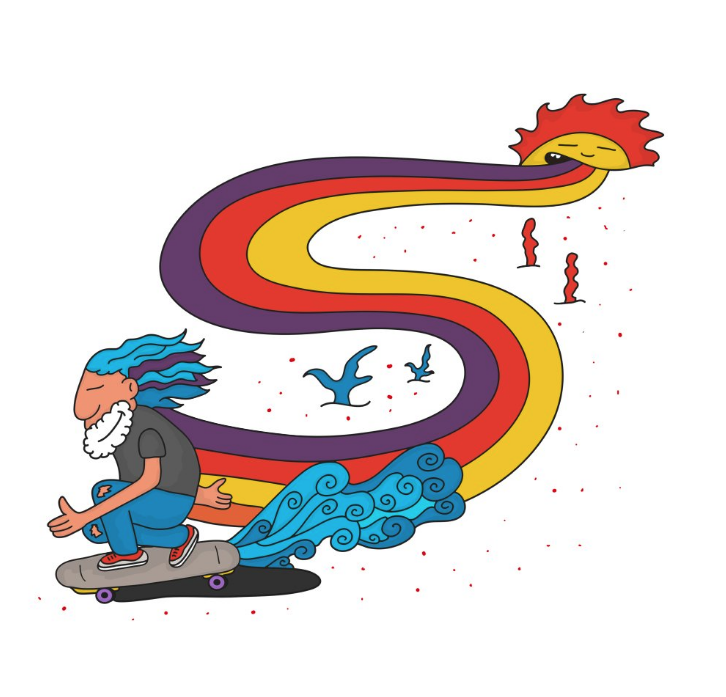 You also talk about the fact that your art and stories provide refuge for you from increased violence in your hometown – has art been a good way for you to escape that a bit? 
Illustration and music have been great partners in recent years. With the increase of violence in my city, I started to dedicate myself even more to my work, in the 99% introspective mode… lol. My art is a way to bring some joy and more smiles to the world. When I'm not drawing, I'm always with my bulldog Ozzy and playing my electric guitar. They are so inspiring! At home, I am always with friends, family, and people I love.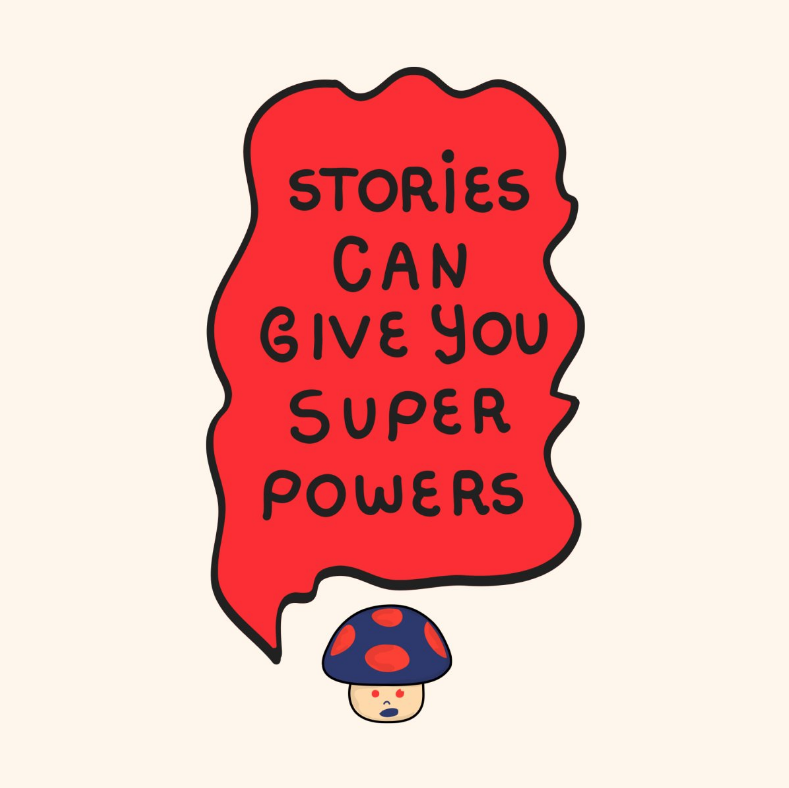 You often say that you tell stories with your art – what kinds of stories do you like to tell? 
Stories that can inspire and amuse you. Invite you to fly and visit new planets and weird worlds. It's a kind of refuge for the battle of life. Let's get out of this world! We need to explore new horizons. I have a submission for Dark Humor challenge called "Take me Please" joking with this. Check it out!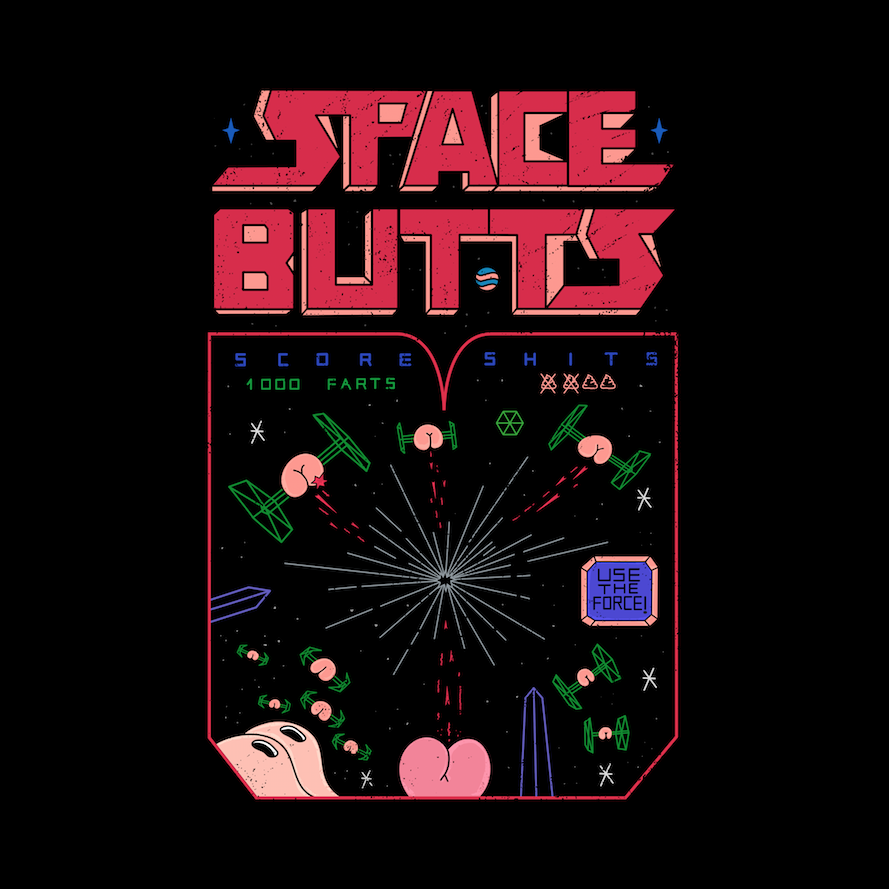 So many of your designs and blog posts seem like they aim to inspire – do you have some words of wisdom for us and for artists? 
Never, never, never give up. Always look forward. Listen to your heart. Find some truth in what you're doing, be yourself. Don't worry about what your mother will say… lol. "If you hear a voice within you say you cannot paint, then by all means paint, and that voice will be silenced" – Vincent Van Gogh.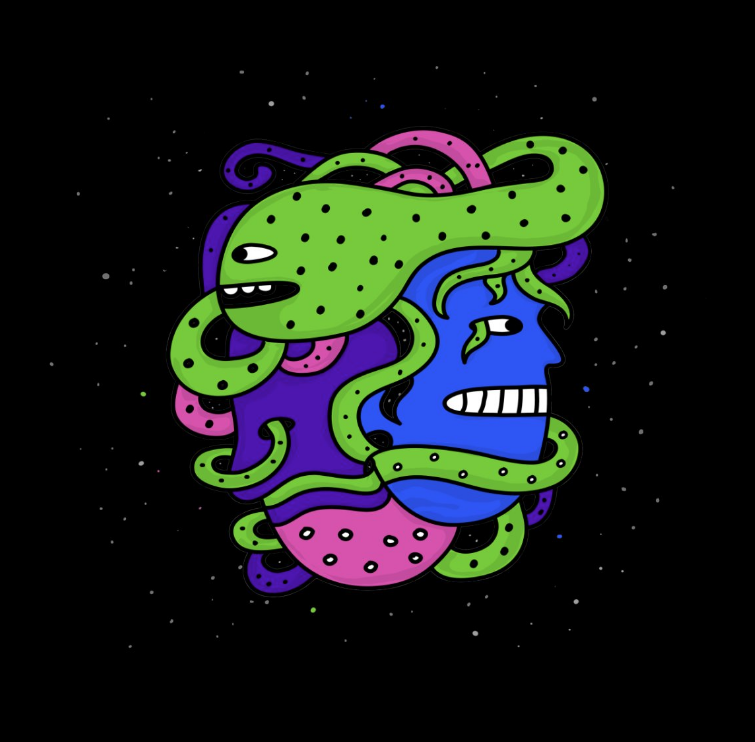 Your work is kind of like a mashup of retro meets modern meets psychedelic art – what inspires you?
All kinds of art around me. Music, cinema, contemporary art, cartoons, comics, and graffiti. I'm obsessed with retro stuff like '80s games, comics, cartoons, toys, and cult movies, especially the classics.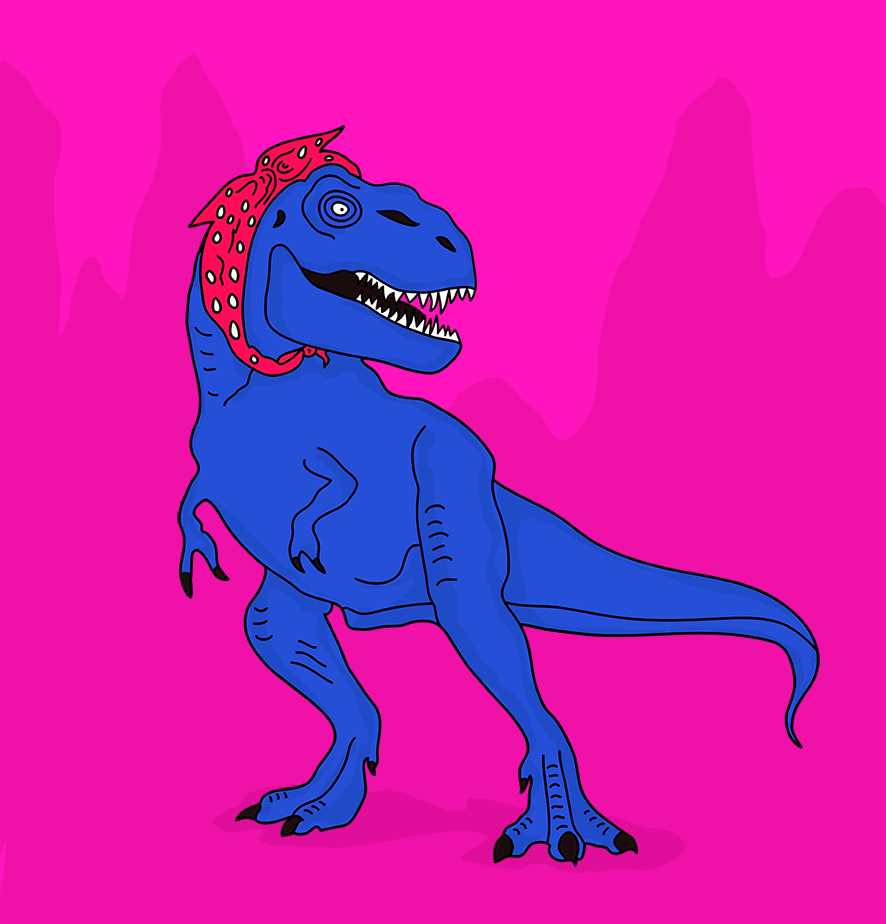 Looking at your colorful and psychedelic art and site, you seem like a super positive person! How do you stay so positive?
I'm always making jokes, no matter the situation. I think it helps me stay positive. I live a healthy life with a balanced diet, practicing physical exercises and daily meditation. Start being with positive people that you love is also the key to happiness. "You're the average of the five people you most relate to"
– Jim Rohn.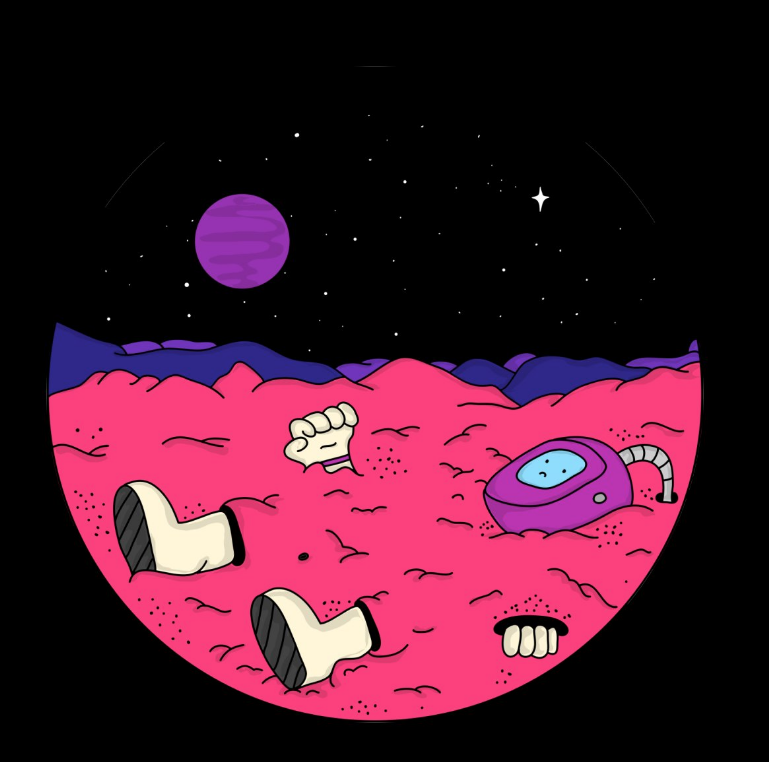 What's your creative philosophy?
Put positive energy into the world. Make you smile… I try.
Anything else you'd like to share?
It's amazing to be part of this family. Thank you all for the love. Check out my blog! 
Discover more of Darruda's art!