From artists like Lauren Asta and Sick Fisher making the new Threadless HQ rad, to Chicago street artists like Elloo Elloo and Brainkiller rockin' Artist Shops with us, we love our street artists. And there are two Chicago street artists with Artist Shops fresh off the virtual presses that we wanted to feature: introducing Glass Cuisine and T-Money!
Glass Cuisine – chef, 'adhesive fiend', and street artist with an affinity for Jerry Garcia – recruited the art and assistance of T-Money – best recognized as the cheeky green dinosaur character he's painted the city with – to fully deck out the Men's Bathroom here at Threadless HQ, covering the stalls and walls with hundreds of amazing stickers and wheat paste posters, an ambitious job that took a good chunk of the summer to complete.
We talked to Glass Cuisine about this project, his Artist Shop, and how Chicago influences him, and he talked to T-Money about his prehistoric character, his origins, and his favorite music. Check out the interview(s) below!


Tell me a little bit about yourself! What do you do? Where are you from? Favorite band?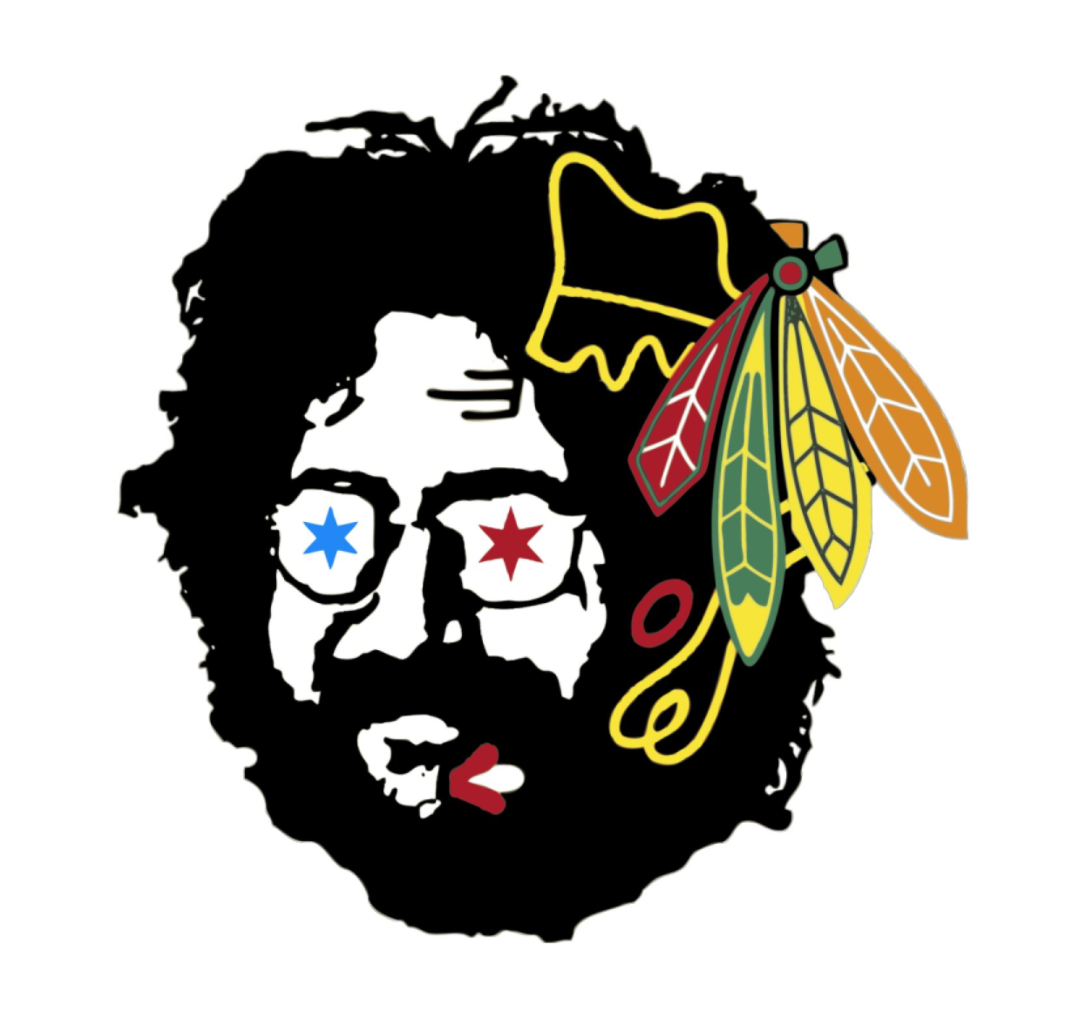 Hey there, I go by Glass Cuisine & I am a Chicagoland Adhesive Fiend! By trade I am a chef and love to create using my cuisine as its own canvas whenever possible. When not cooking I typically find myself creating stickers, posters, wood works, etc. and trying to get them up as often as possible. I have a need and desire to create in life whenever possible!
I originally hail from the amazing wilderness that is Minnesota but I have been in the Chicagoland area for over 25 years and love it here! This city & its amazing people have a big piece of my heart.
The Grateful Dead are one of my all time favorites but I am also a huge fan of old school Jazz and funk and I love hip-hop. Lettuce is definitely one of my favorite modern bands; I don't miss a show when they come to town.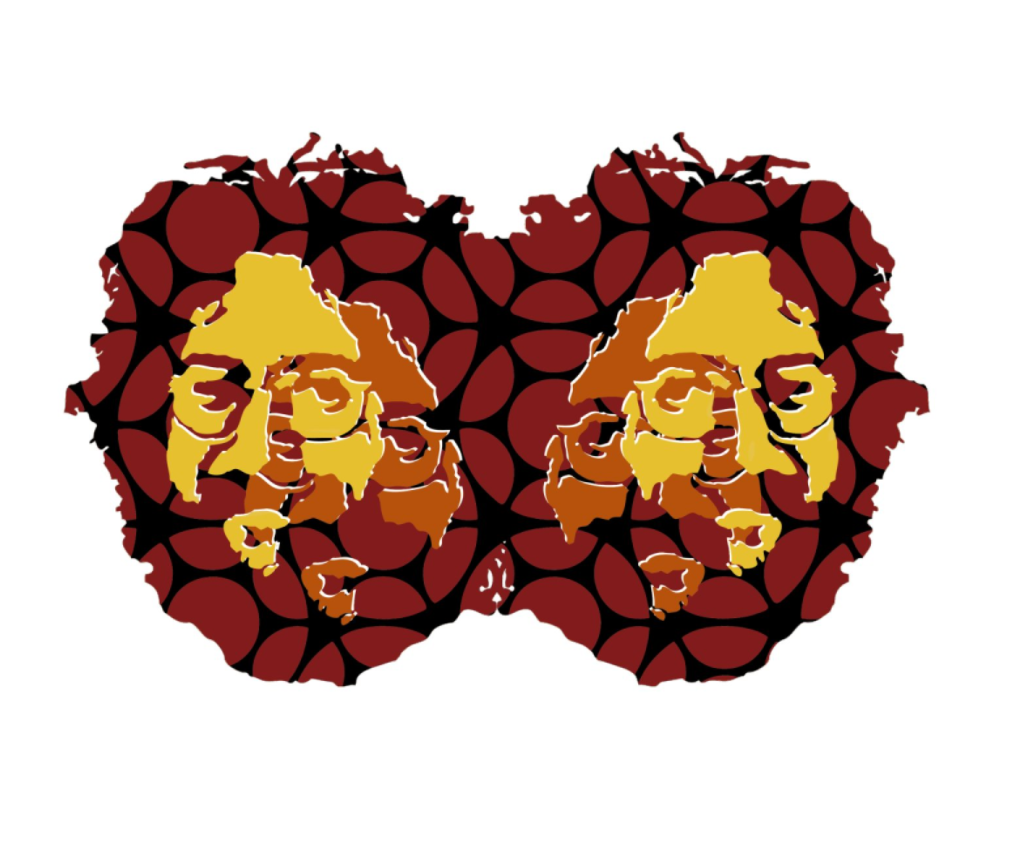 I've seen your work all around the city! I gotta ask, why Jerry Garcia?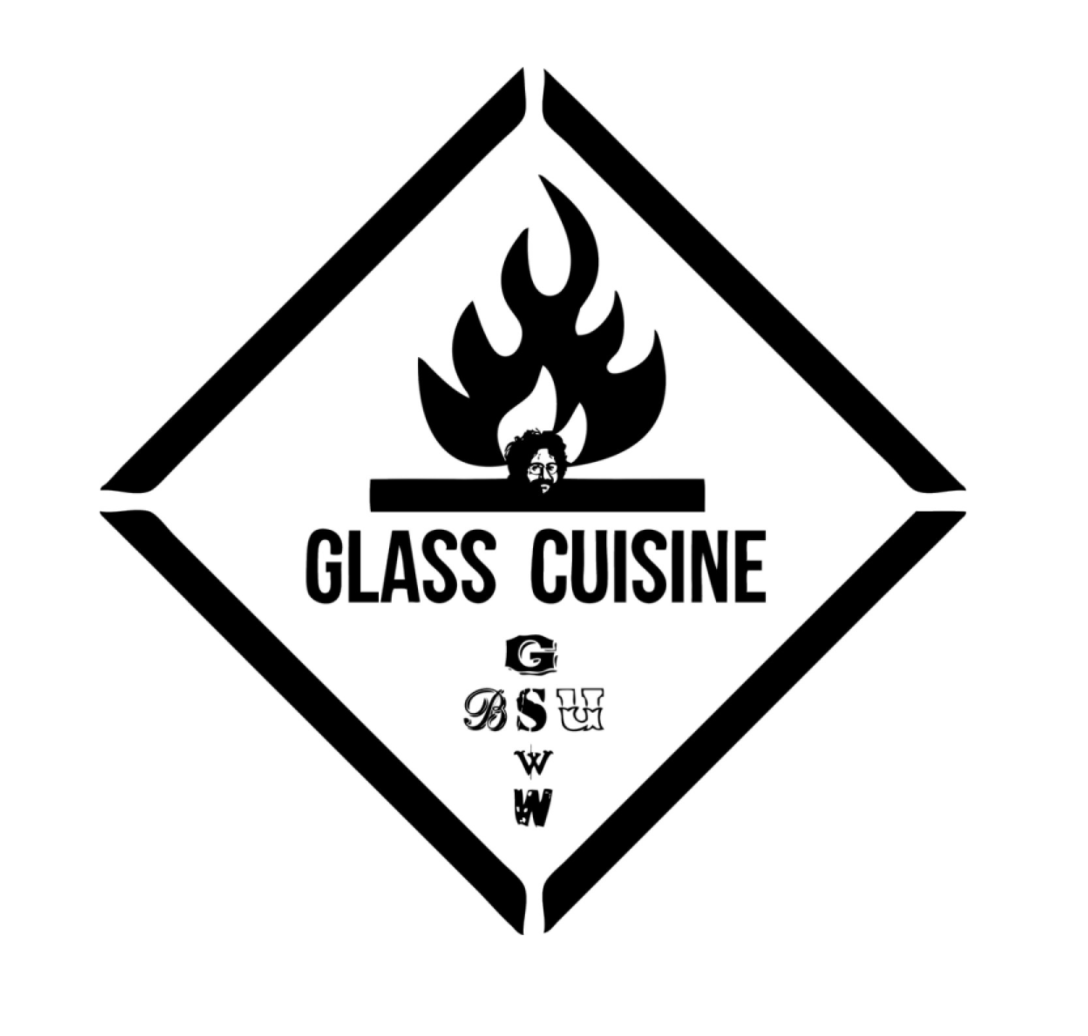 Why Jerry? Jerry Garcia was a two faced individual so it gives me perfect duality between good & evil as a platform to use when creating. He was an addict, a lover, a misogynist, a creator, a flawed man, a regular guy. As someone who has had his fair share of ups & downs in life I have always been able to relate with Jerry.
Where does the name 'Glass Cuisine' come from?
Glass Cuisine is actually a nickname that was given to me by my buddy G when we used to be heavily active members of the Borosilicate Glass Community. It just stuck over the years and combines two of my favorite things: Glass Art & Food!!!
You have a lot of Chicago love in your work! What do you find most inspiring about Chicago? How's the art scene here?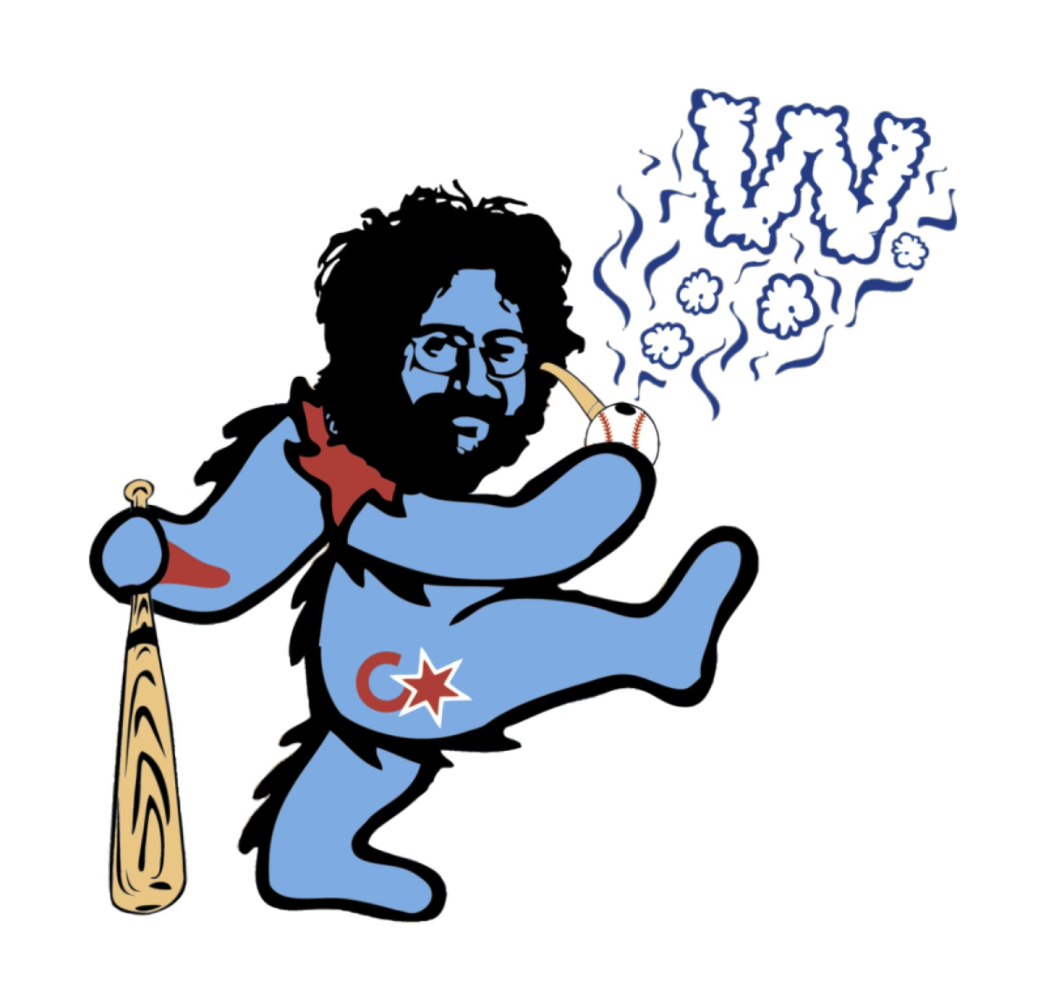 Easier question is what doesn't inspire me about this city. I learned how to cook in some of the city's best restaurants. All of my inspiration and love for street art and graffiti has come from this city. I met my wife here; I have a lot of family and friends in and around this city and the Midwest. I definitely love Chicago but I think it would be accurate to say I have love for the entire Midwest. There is a different vibe and pace in Chicago than I have found elsewhere, and that definitely leads to there being a unique melting pot of individuals and voices. I love the art scene here in Chicago and it is just starting to grow; I don't feel like the rest of the world truly understands yet how much talent we have in all artistic mediums. I have made some of my closest friends through these scenes and continue to be inspired by the amazing members that make up Chicago's diverse artistic community…nothing but LOVE!!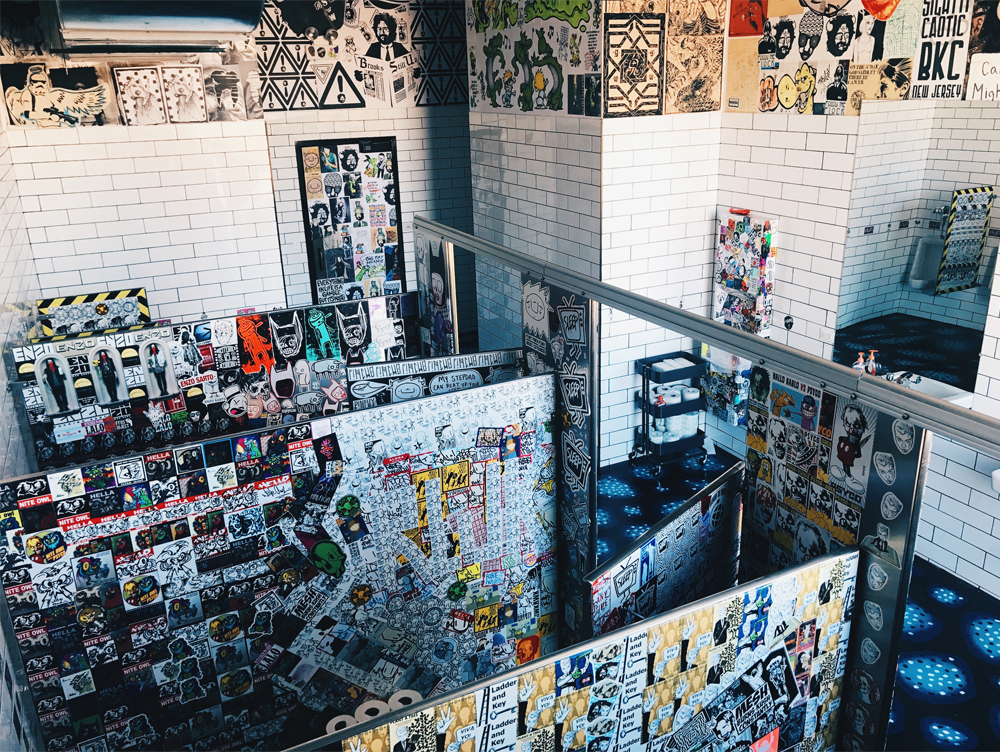 The install you put together here is amazing! How often do you do large projects like that? What's the biggest art piece you've ever done?
Well thank you, it was a lot of work but it was tons of fun to use your guys' bathroom as a canvas. I typically get the opportunity to do one or two large-scale sticker/poster installs per year. To date my largest art piece is at MADE gallery in West Town, it is a 4 ½ foot tall Berry (Jerry Bear) Stencil Painted Wooden Cutout. My largest install was a traveling month and a half long Street Art Expo & Charity Shows titled "Adhesive Fiends" that my buddy Mr. Switch and I curated! We covered the former Paper Crown Gallery space and the original location of Chicago Truborn with stickers and wheat paste posters as well as selections of art from some of the world's top street artist and sticker-makers.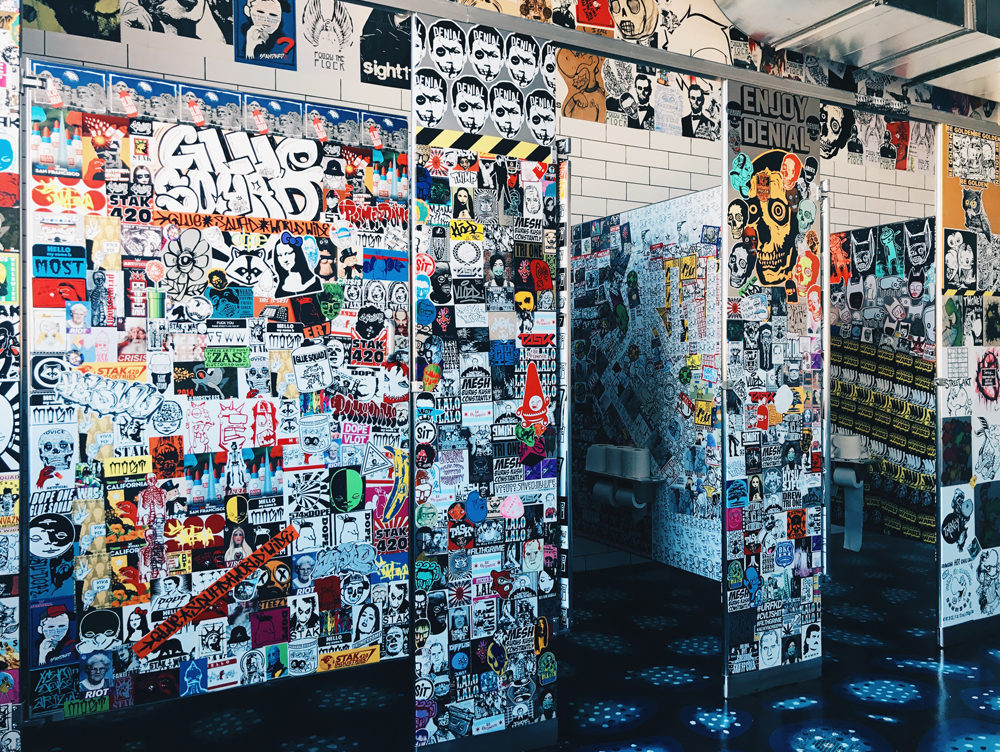 Tell me a little bit about your Artist Shop! How did you pick which designs to include?
I communicated with a bunch of my supporters to put clothing options together that they wanted to see and wanted to wear.
Very cool! What made you decide to open an Artist Shop? Have you put your work on apparel before?
Simple answer is Lance (Artist Shops Director): we had been talking about it, but I have always wanted to have shirts as part of my line up, so it was a natural fit to partner with you guys. I have had a lot of fun working on these designs.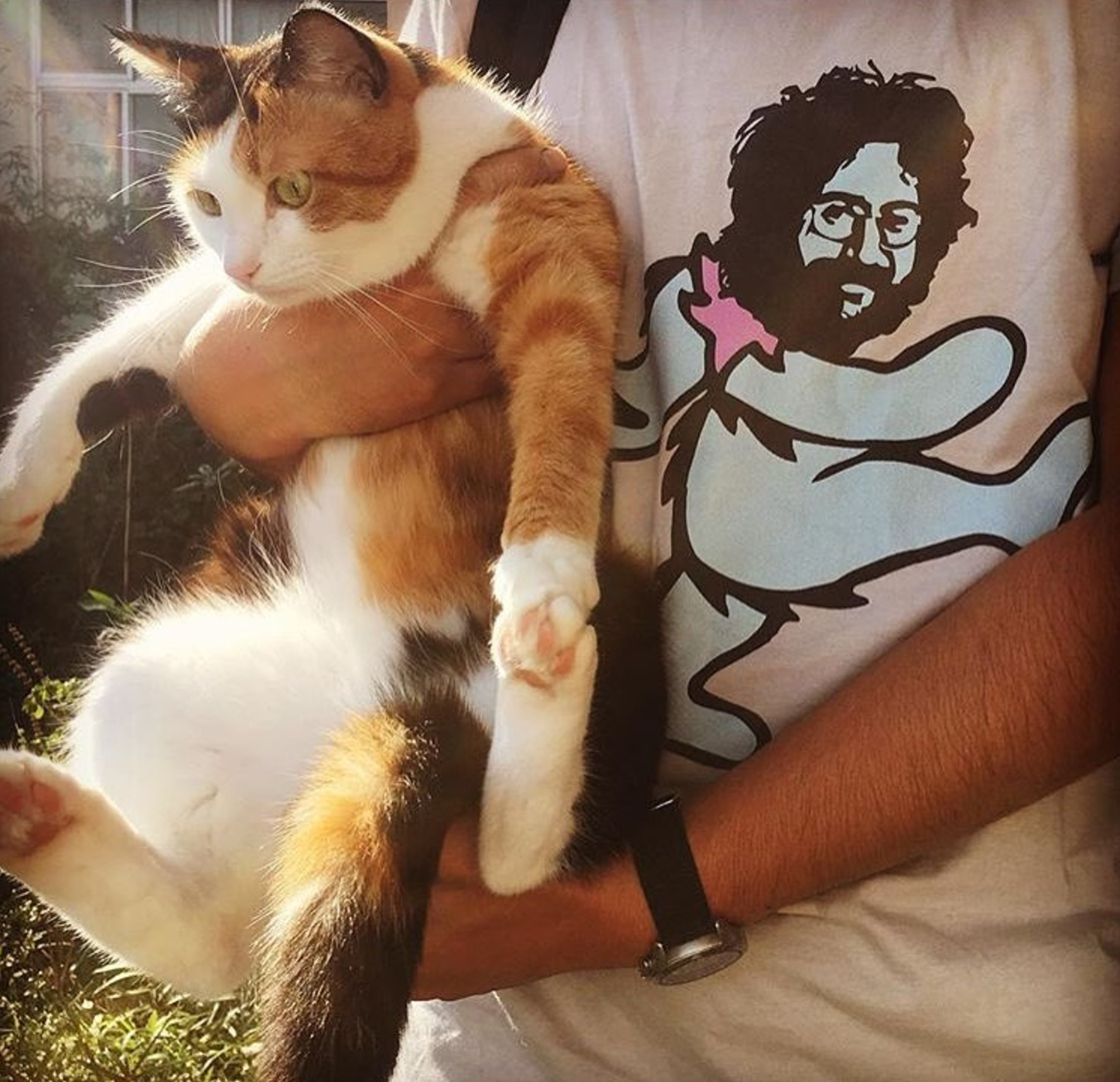 Other than yourself, whose art is in our bathroom?
So many people to thank and make mention of but this install would not have been possible without my buddy T-Money, who stepped up and helped me out!! He spent 3 days in there with me putting up all of the wheat paste posters, some stickers, and helping to round out the overall finished look!! Thank you so much brother!!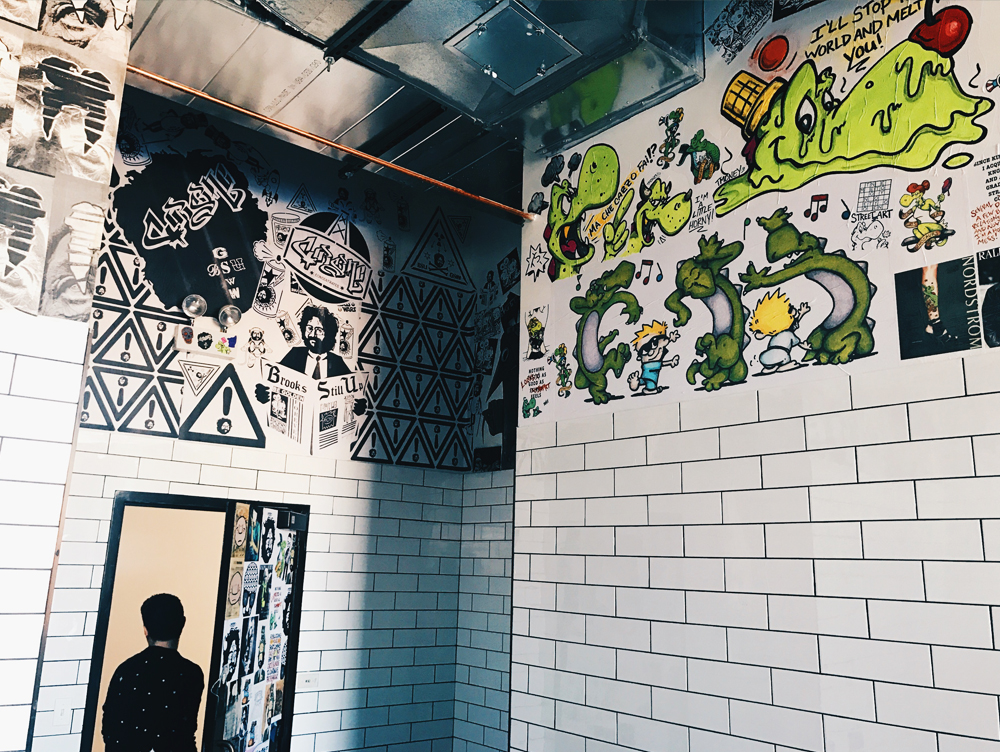 Interview Inside An Interview: Now A Few Questions For T-Money

Where are you from?
A long time ago in a barrio far, far away…my white trash Romulus and Remus mash up began. I was forged in the fires of mount adversity, nurtured by the melodic sounds of '80s hair metal bands, and nourished by the modernist cuisine of microwave cooking, government cheese, and Hostess Ninja Turtle pies. My backstory is much too long and convoluted to unpack in one sitting. My friends tell me that the origin of my species is often better left to conjecture and speculation. It's often better to imagine that my genesis traces itself back to a pile of congealed muck found in a dark alley on a hot summer's day in Ohio. The punchline for any joke that one of my besties tells about me is the mere fact that I'm from Ohio. That's it. Are you laughing yet?  But I take her with a grain of salt knowing that she's a diehard Michigan fan, suffers from post-traumatic election disorder, and has difficulty resisting the urge to add an expletive to any sentence that contains the word Ohio in it. That said, I've lived in Chicago most of my life and consider Chicago to be my home.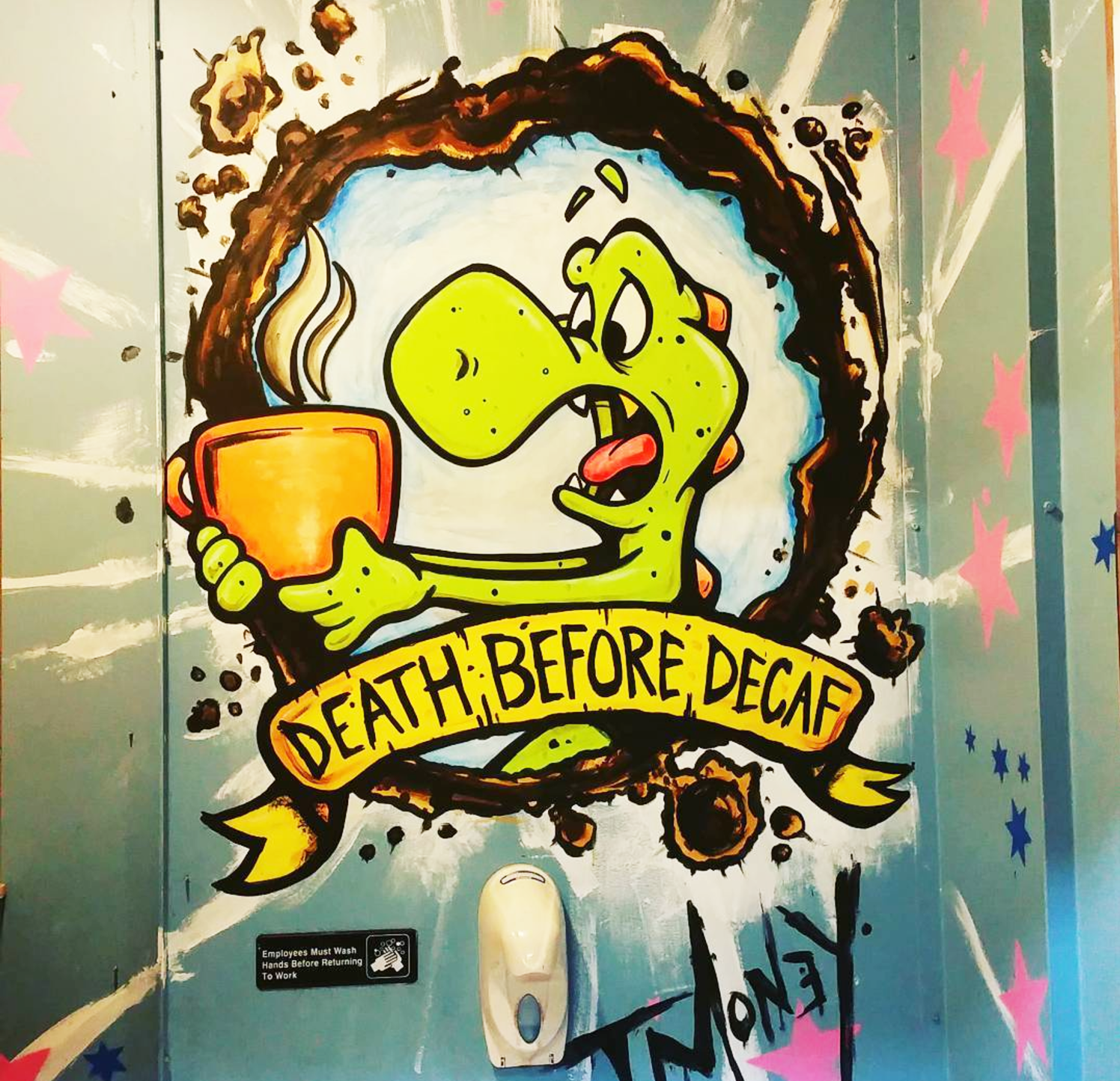 What's your favorite music?
I don't have a favorite genre of music. Come to think of it, I would be hard pressed to pick a favorite in any category, music or otherwise.  I have an overactive mind that's highly susceptible to sensory overload. To keep that in check, I constantly shuffle through my library of 20+ stations on Blandora/Shitify.  My friends have a hard time figuring out the mix.  Is that a Gregorian chant? Sex Pistols? Muddy Waters? Classic Indian sitar?  It's often better if someone else picks the music because I can roll with that too.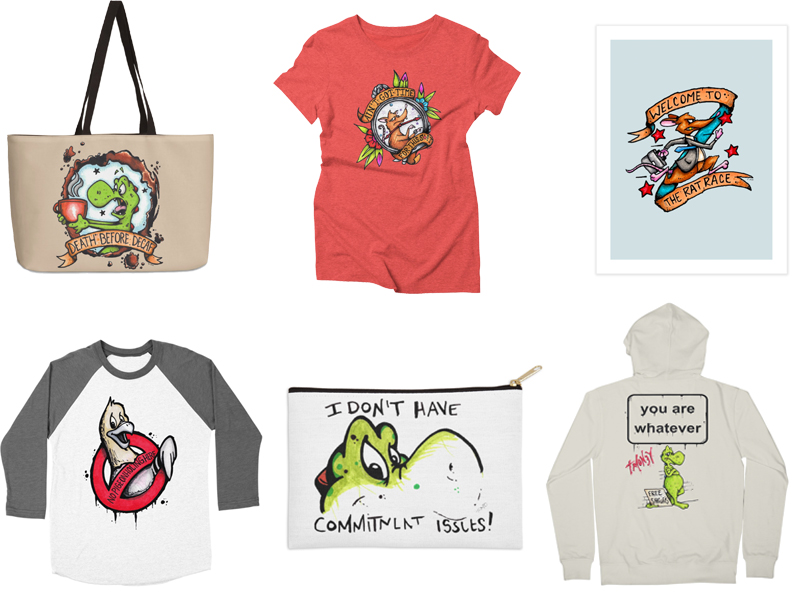 Why is T-money a dinosaur?
I am not a Dinosaur! I am human and I need to be loved just like everybody else does! I do, however, see life through the eyes of a cartoon character. That's why I typically draw in a cartoon style and adopted the perspective of an animated rat, pigeon, or dinosaur. Cartoon characters also mask my terrible, horrible, no good, very bad handstyle. Think 'letter to Santa.'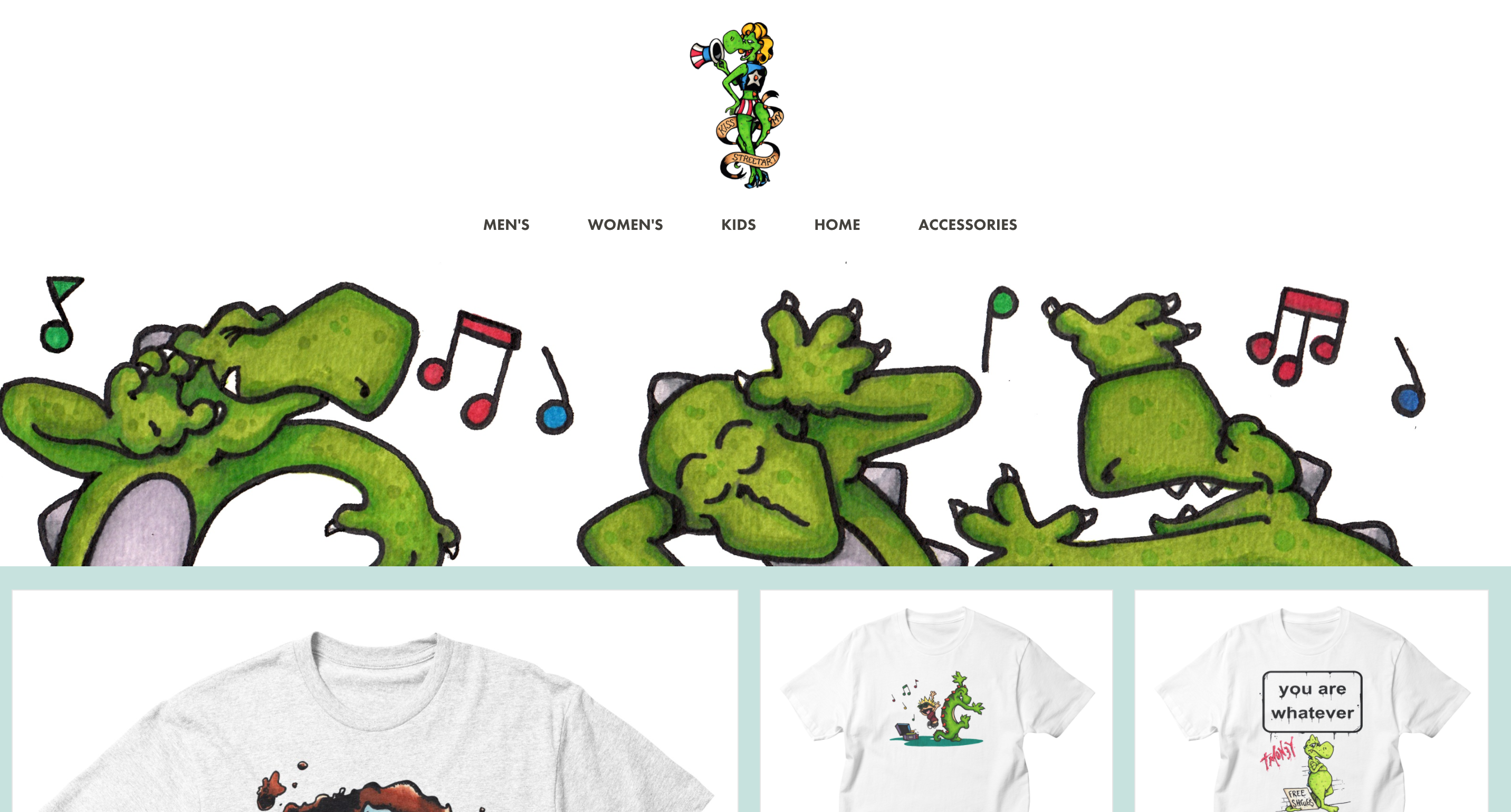 Where does T$ money come from?
Initially, I didn't sign my work. But then a friend picked a fight with me about that lack of ownership. So I adopted my cat's name as a pseudonym but quality control squashed that as well. Finally, I settled on T$ which was the nickname former coworkers gave me in a prior life. But these days, I prefer T-Mo or T-Mommy as I am affectionately called by my streethearts.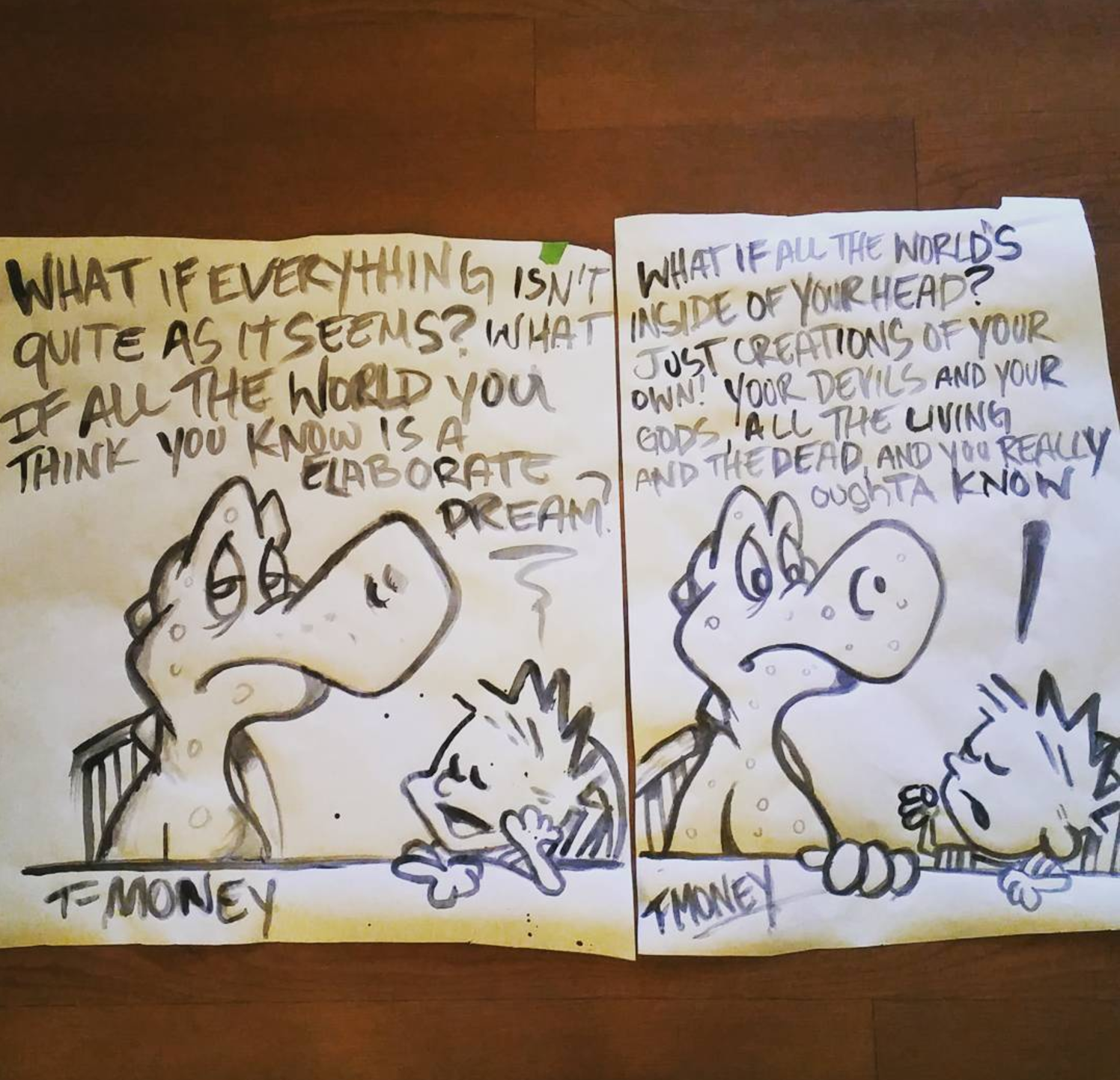 Threadless Install Credit:
This install took thousands of stickers and involved over 60 international sticker artist's works. I can not forget to mention the amazing cast of featured International sticker artists that submitted work, trusted me and allowed me to create this awesome install with there images:
Glass Cuisine (Chicago), 
Penny Pinch (Chicago),
 T-Money (Chicago), 
Rx Skulls (Portland), 
Biafra Inc (Minneapolis), 
Nite Owl (Oakland), 
Robots Will Kill (NYC), 
SKAM (Portland), 
Enzo Sarto (NYC), 
DENIAL (Canada), 
VOXX ROMANA (Portland), 
Starheadboy (Seattle), 
Psyco Zrcs (Russia), 
Sleep (Texas), 
Priority (New Jersey), 
Homo Riot (San Francisco), 
Fuxus (Cali), 
Sore Infest (Long Island, NY), 
Serch (Cali), 
Sticker Wars (Denver), 
Doctor Rasterbator (Portland), and *
Glue Squad World Wide.
* Glue Squad World Wide Is an International Street Art Crew & Artist Collective with its roots set in Potenza, Italy. I am proud to say I am a member and I put a larger feature section together with some of our members!  Which Includes: 
Glass Cuisine (Chicago), 
ER7 (Italy), 
VLOT (Japan), 
SUROH (Italy), 
MOST (Cali), 
HUNNO (Italy), 
NVAZN (Cali), 
SIT (Germany), 
Artificial (Cali), 
Priority (New Jersey), 
WAS (Cali), 
Fuxus (Cali), 
Primerdome (Denver), 
Hilo (Cali), 
ZAS (Canada), 
STAK (Cali), 
JustOne (Portland), 
DOPE (Arizona), 
Hello Mona (Kentucky), 
Steezy (Oklahoma)
In between each featured artist section is a random assortment of stickers from some favorites and friends of The Sticker Vault over the years which includes:
MESH (Cali), 
The Lost Cause (Portland),
Nox In (Florida), 
Eddie Colla (Oakland), 
Phil B (Australia), 
Filth Grime (Oakland),
Jice One (NYC), 
Hesher Park (Portland), 
CY Ghost (Chicago), 
Klozr (Colorado), 
Halfiga (Germany), 
Tri-One (Cali), 
CEEZ (Chicago), 
Dead Red Dingus (Portland), 
Bio Em / Diffus Project (Switerland), 
Be Optimistic (Chicago),
Lame (Portland), 
TASK (UK), 
Thimp (Ohio), 
Ebenholz (Germany), 
Lalo (Chicago), 
Cvntnundrum (Portland).
Many thanks to the whole Threadless crew for letting me take over your spot for the whole summer…I had a blast!!!
Glass Cuisine: Threadless Artist Shop / online store / Instagram / Facebook 
T-Money: Threadless Artist Shop / online store / Instagram / Email
Open your own artist shop now!