For many people art is a release; a form of expression that allows us to connect even if we're worlds apart. Miles Tsang knows this all too well. The Toronto-based illustrator and printmaker has been creating concert posters since 2008 using bold, psychedelic linework, incredibly detailed characters, and intense, emotional atmospheres. His unique style has led to collaborations with The Avett Brothers, Nine Inch Nails, Queens of the Stone Age, and Kanye West.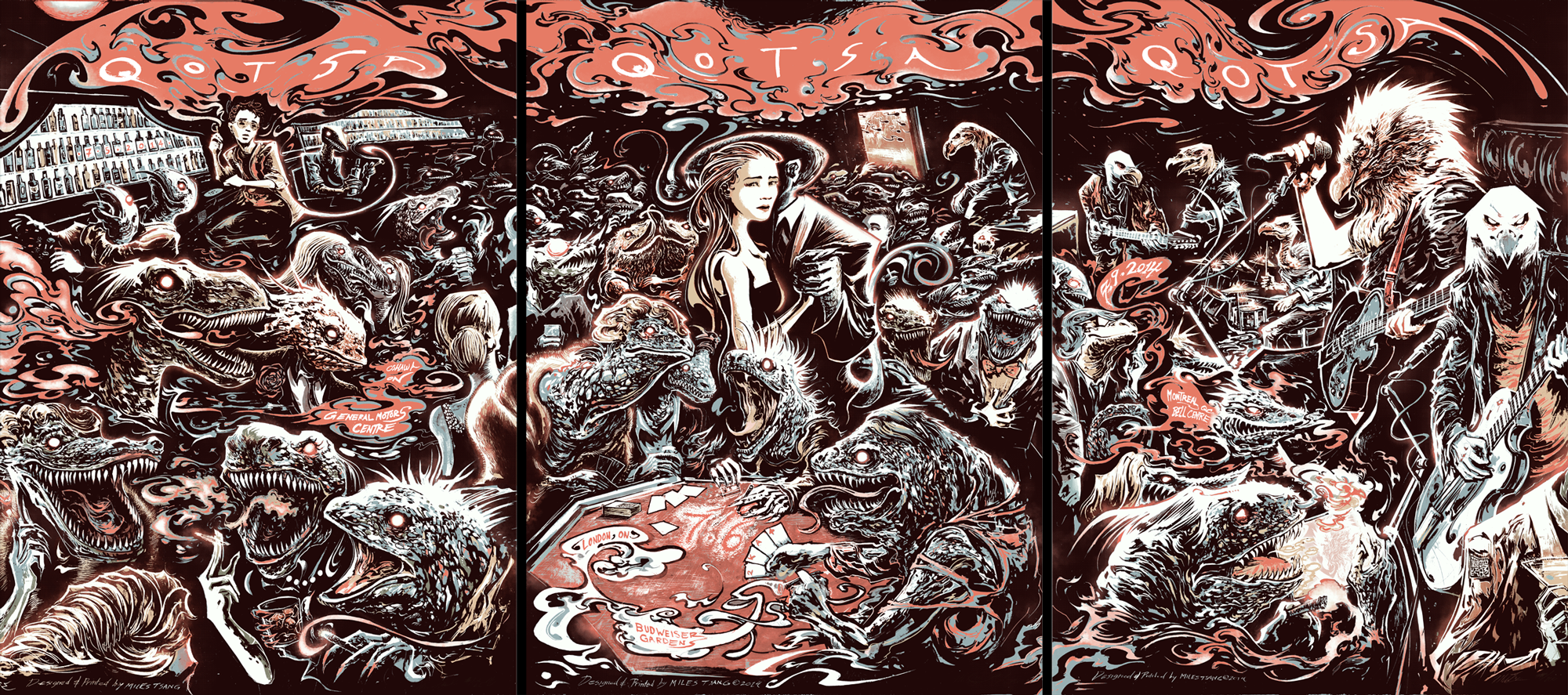 As a concert poster collector (I own 71 and counting, including four from Miles), I was curious to learn about his process, inspiration, and how he became an award-winning artist in the industry. Read on to discover more about this fascinating guy!
Why don't you start by telling us a bit about yourself?
I was born in 1989 in Scarborough, Ontario to Chinese immigrants originally from Hong Kong. I have Asperger's syndrome and visual art is my obsession, so I've been using drawing as a means of entertaining myself and soothing social frictions since I could hold a pencil. I don't understand or speak Cantonese or Mandarin (since it was hard enough to communicate meaningfully in English), so I found solace in hiding in a space composed of my own visual language.
How long have you been creating art?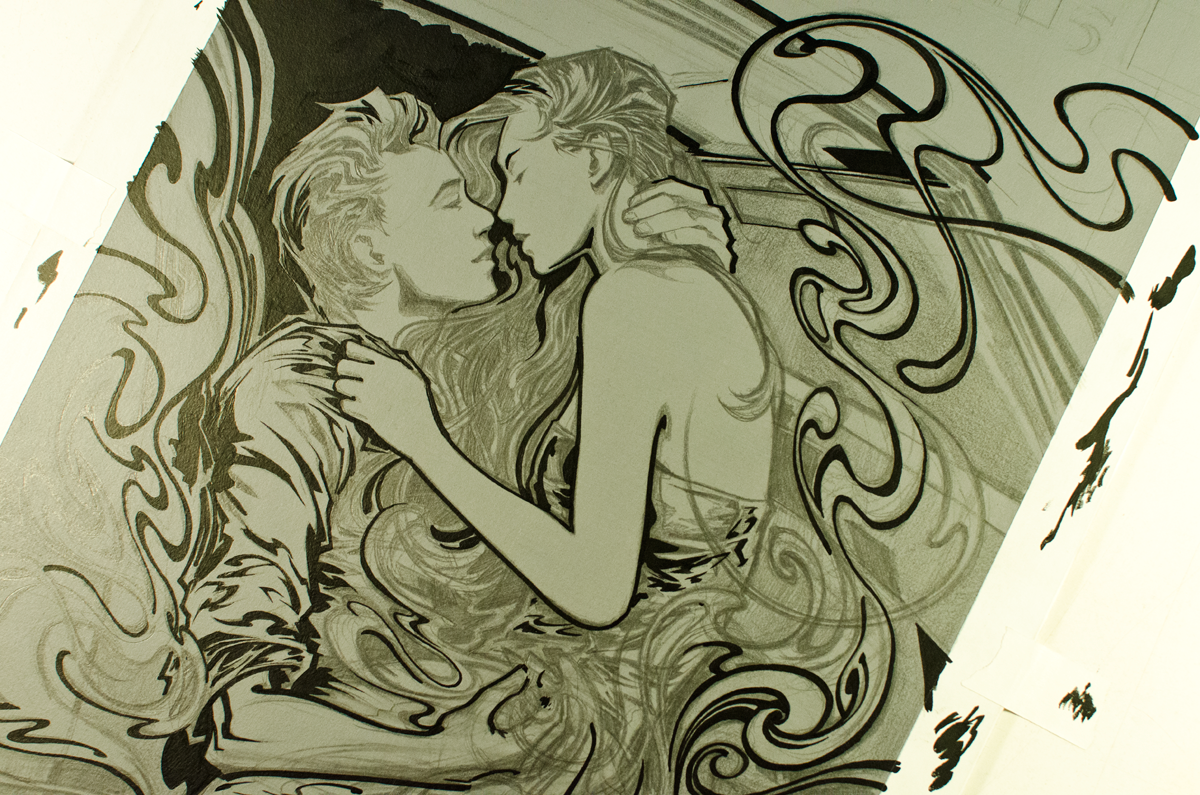 For as long as I can remember. In kindergarten and elementary school, I'd copy illustrations out of dictionaries, encyclopedias, and photography books, and any time I saw a movie (particularly ones that featured aliens, monsters, and psychopaths), I'd rush home to my room and try to draw what I'd seen. By middle school age, I was transcribing scenes from my favorite comic books, TV shows, and video games (Ahhh! Real Monsters, Final Fantasy, Ren & Stimpy, Spawn, Street Fighter, etc.) into comic strips and vignettes, and making up my own characters on paper. By high school, I became interested in the social aspects of music as I took up an interest in digital art and mixed media and began crafting interpretations of my favorite albums and songs.

Was there someone, or something that inspired you to be an artist?
Childhood and family laid the foundation and life after college lit the fire under my ass. My father is an industrial designer with experience in motion graphics and toy design and my mother was a fashion designer before learning graphic design and illustration. My sister (who is now a tattoo artist) and I watched them grow their small business from the ground up (literally; from our basement in the suburbs to an external office in the city), so we've always had art as a backdrop. Making a living with art has always just been a big part of our upbringing.
How did you get into designing posters?
By chance. During my second year of college, I happened upon an internship fair and got taken on by a local music promoter. I did grunt work for a couple of weeks before the company took notice and had me doing gig posters for visiting bands in my off time from school. I was introduced to the music business and the world of gig posters through that channel and kept the connection going for several years with inconsistent output as I learned how to screenprint and finished school. In late 2012, almost a year after graduating, I took a chance, quit the day job at the shirt shop, moved back to Canada, and went full-time freelance with poster design and manufacturing as my forefront specialty.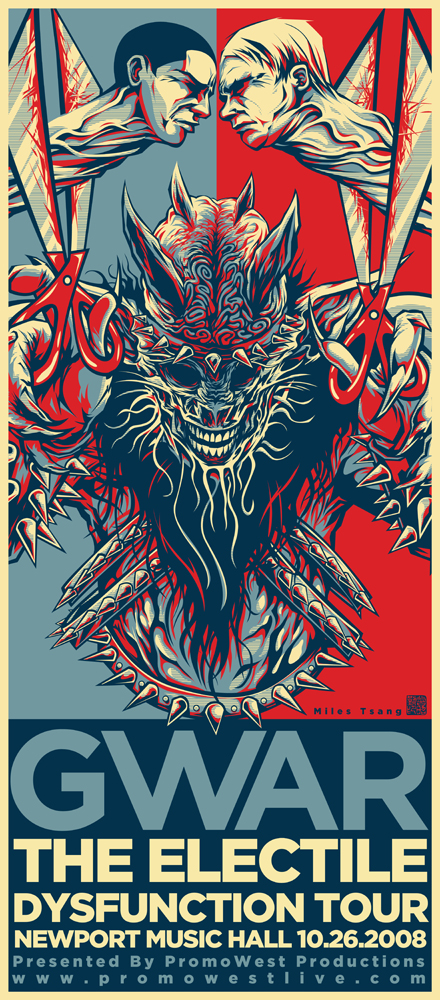 Have you always used glow-in-the-dark ink? Why?

I got into the habit after putting out my 2013 Black Keys poster, which was kind of my first big break in the poster business. Aside from being able to hide extra imagery in the dimension of darkness, I found that an extra glow layer laid on top of the white space subtly unifies disparate colors with a hazy, milky glaze, like a kind of selective varnish. It takes the edge off of harsh, dark, or more chromatic areas and reinforces softer, more subtle ones. I do my own printing so a final translucent layer isn't too much hassle for the extra effects it lends to the physical print.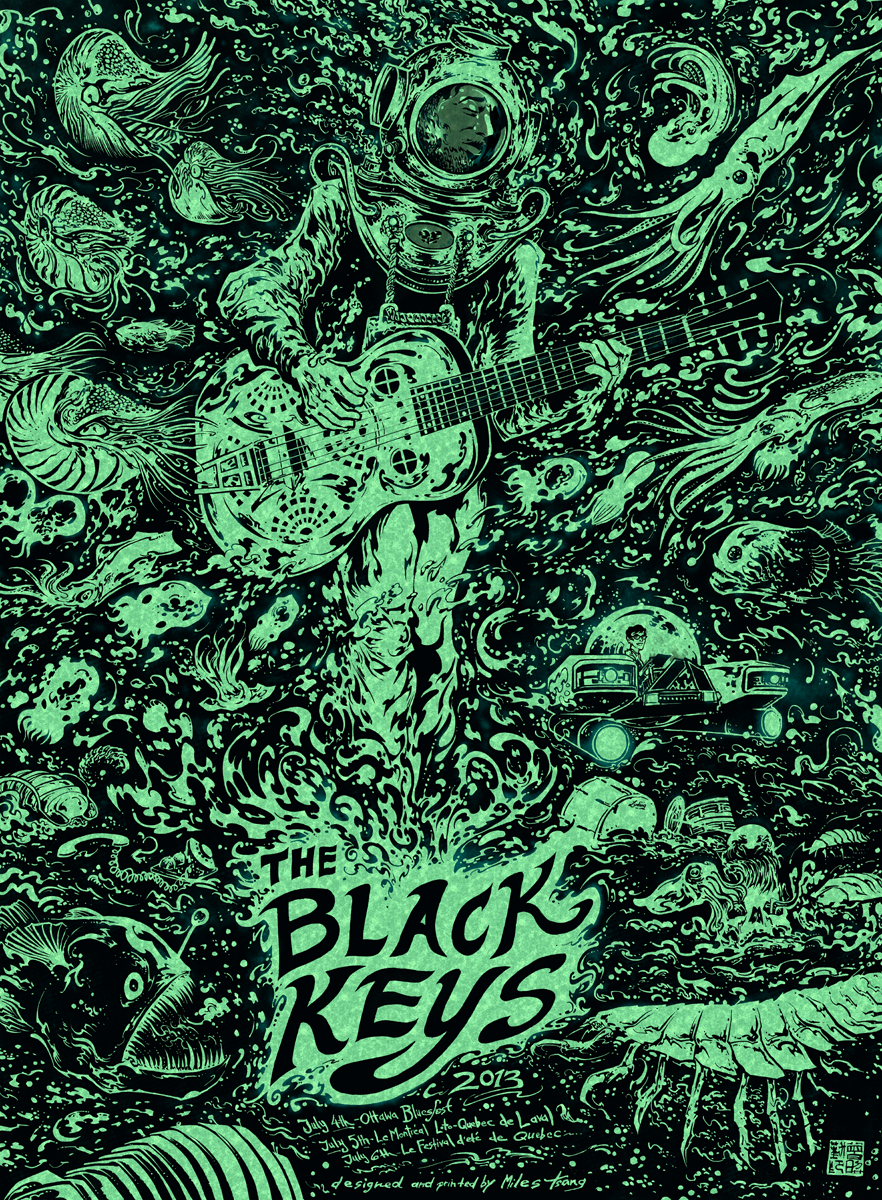 How much does the band, or their music, inspire the final image?
I try to let the image and its treatment assume the form most appropriate for the vibe of the artist(s) in question. For example, The Dillinger Escape Plan are all about extreme tension and release, and feature a very violent sound punctuated by sections of clear singing and groove, so that poster has a lot of gnarled, measured, sharp areas rounded out with big, fiery shapes. The image is explosive and in-your-face, like the band's live performances.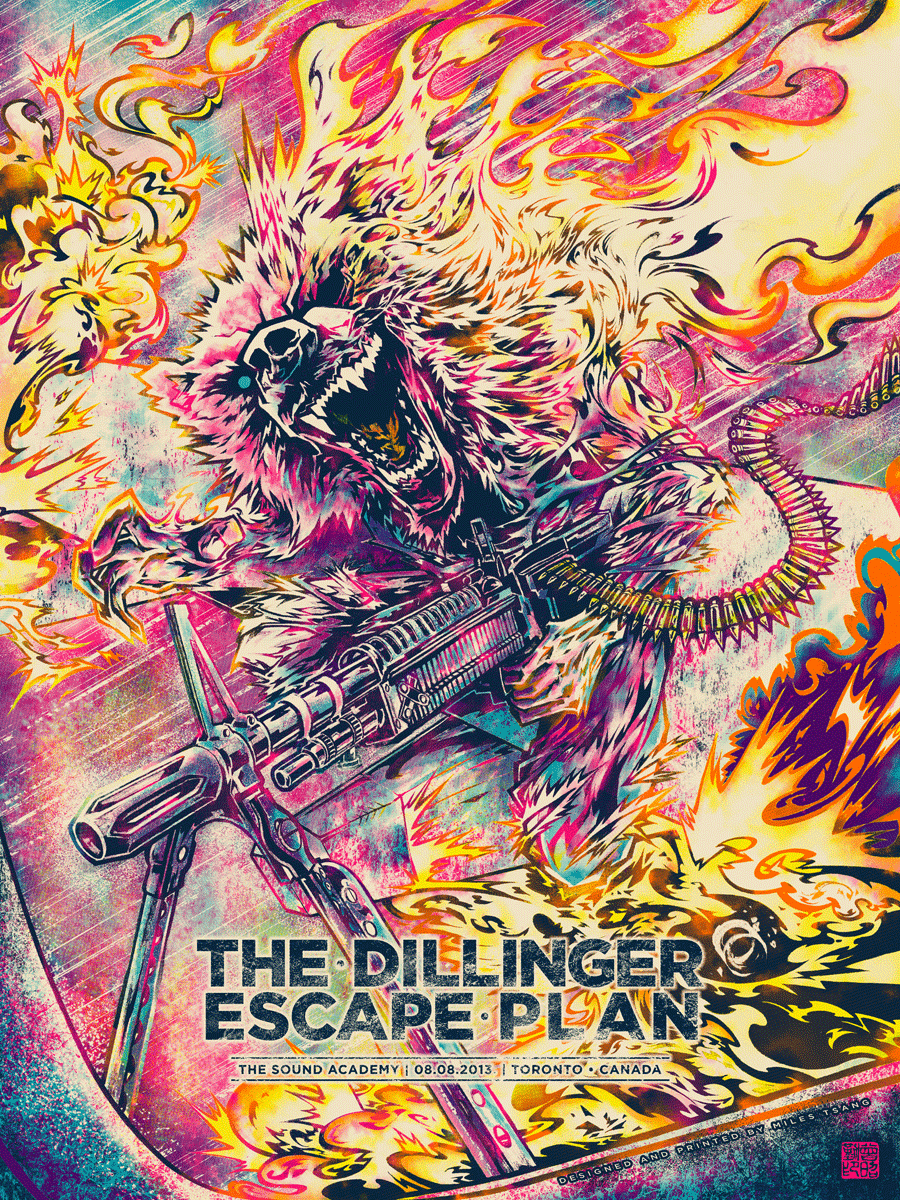 By contrast, the poster I did for Kanye West came about as a synergy between the artful, almost religious theatrics of his Yeezus tour and the cinematic production values of a larger-than-life Struzan-style composition, with a discernible hierarchy and an emphasis on clarity and flow. In gig posters, I basically try to find a middle ground, triangulating between my desires and interests, what I know the audience or the fans want, and the established brand or feel of the musicians and their product.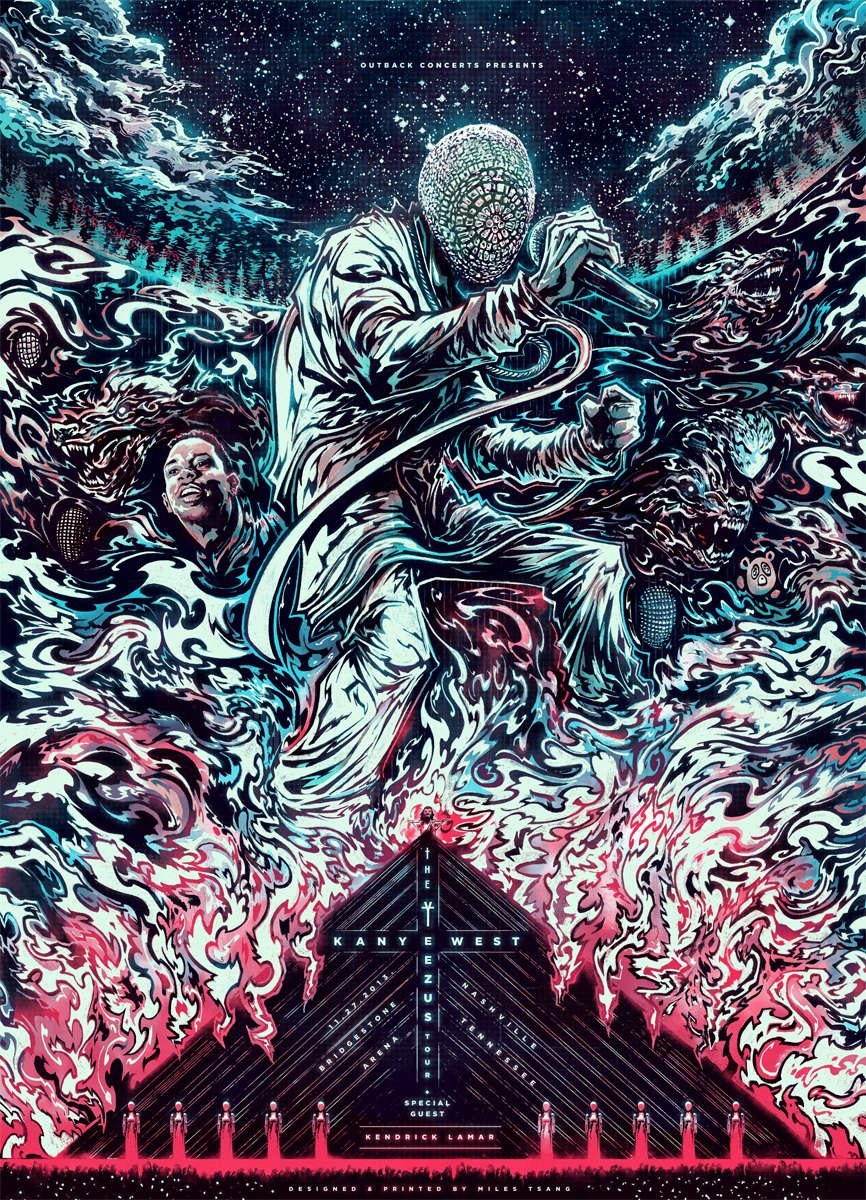 What band/artist are you dying to work with?
I've had the extremely good fortune of being able to do posters for some big names in the industry already, so I'm not really aching to do any one in particular. I now know that you can't really predict what waves are going to come your way, just that you'd better be ready to surf them when they do. At the end of the day, I hope the bands I've worked with in the past keep coming back, and that work continues to find me organically, as it seems to have so far.
Any advice to new illustrators?
Be good at making friends (and keeping them), try to have a good attitude, and always be self-aware. There will always be someone who is better at drawing, more connected, or wealthier than you, so resist the Zeitgeist's predilection towards external/instant gratification and try to figure out what makes you tic, and how you're going to turn that tic into a career worth prolonging. Aspire to be happy, healthy, and unapologetic, and if you're serious and realistic about your art and identity, you will find your footing.
Watch the video below to see Miles in action, from initial sketch to final product, as he creates his recent work for The Black Keys!