Think hard about this one, what is your biggest fear? Is it spiders? Maybe flying in airplanes? Or is it something strange like mayonnaise? Our Fear Design Challenge winner Daniel Stevens has a more modern-day fear: the comment section. We can relate! We sat down with Daniel and asked him more about the thing that scares us all.
Why did you decide to enter the Fear Design Challenge?
I decided to enter the Fear Design Challenge because I try to enter every Threadless challenge, if I find the time. There's also plenty to be afraid of and that seemed like a fun concept to play with.
What was your approach to making this design?
I wanted to take this challenge in a different direction and mix in a little tongue-in-cheek internet humor. Since everyone always has their face in a screen and the scariest things lurk on the internet, I thought this would be the best approach.
Is there anything or anyone in particular that you draw your creative inspiration from? Do you have a favorite scary movie? What's one of your greatest fears?
Saying I draw inspiration from everything is cliche, but it's also true. When I get an idea, I write it down so I don't forget. I was going to make a Scream joke but I couldn't think of one, but my favorite scary movie just might be Slither. It's a great mix of humor and gore, and I love James Gunn as a director. The Hills Have Eyes and The Ring are also pretty good. My greatest fear is probably not being able to create. Like, if my hands were chopped off.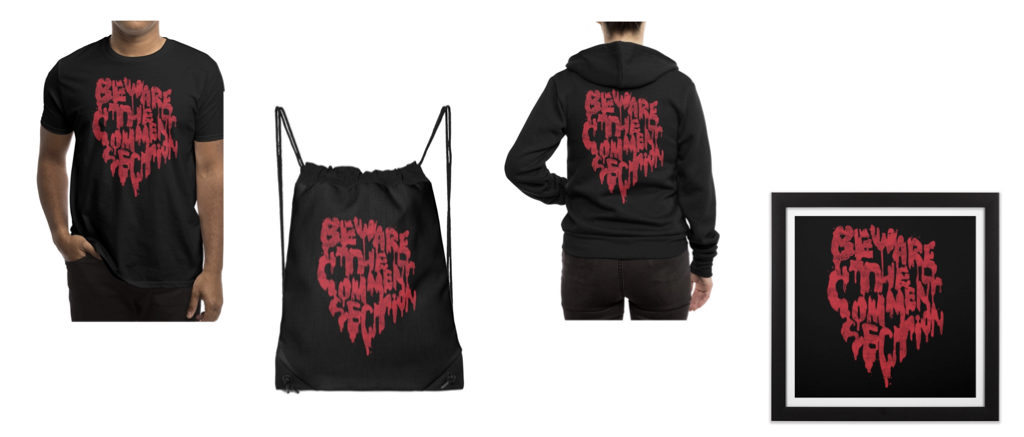 What does your creative process look like?
My creative process is all over the place. I get an idea. I do some research. I make until I'm satisfied. It's not always in that order.
Are you working on any cool projects right now? If so, tell us more about it.
I'm working on a lot of things right now, it's crazy. I wrote and illustrated a book called "Not Nice, Donny!" that I'm trying to market right now. My brother and I are working on a comic. I've been designing funky furniture and home decor items, and I've been getting back into painting. I like to stay busy, lol.
What is your favorite product to print your winning design on?
Tees or the drawstring bags. I really love the drawstring bags!
Anything else you'd like the readers to know?
I would love for everyone to follow me on Instagram to stay updated on all my projects: @das__design.