Close your eyes for a second: you're on a tropical island. Hear the waves, lapping gently against the shore. Feel the breeze causing palm leaves to flow gently in the wind against a cloudless sky. Oh hello, what's that in your hand? A decked out tropical drink in a tiki-themed cup? "Don't mind if I do," you say.
I would say, "now open your eyes," but why would you want to come back from that island getaway?? Luckily, graphic designer Cody Weiler (@csweiler) will make you feel like you're saying 'Aloha' to a tropical vaca with his winning design for our Tiki Challenge, "Freaky Tiki"! We talked to Cody about his winning design, his favorite kind of getaway, and about his art philosophy. Check out the interview below!
.     .     .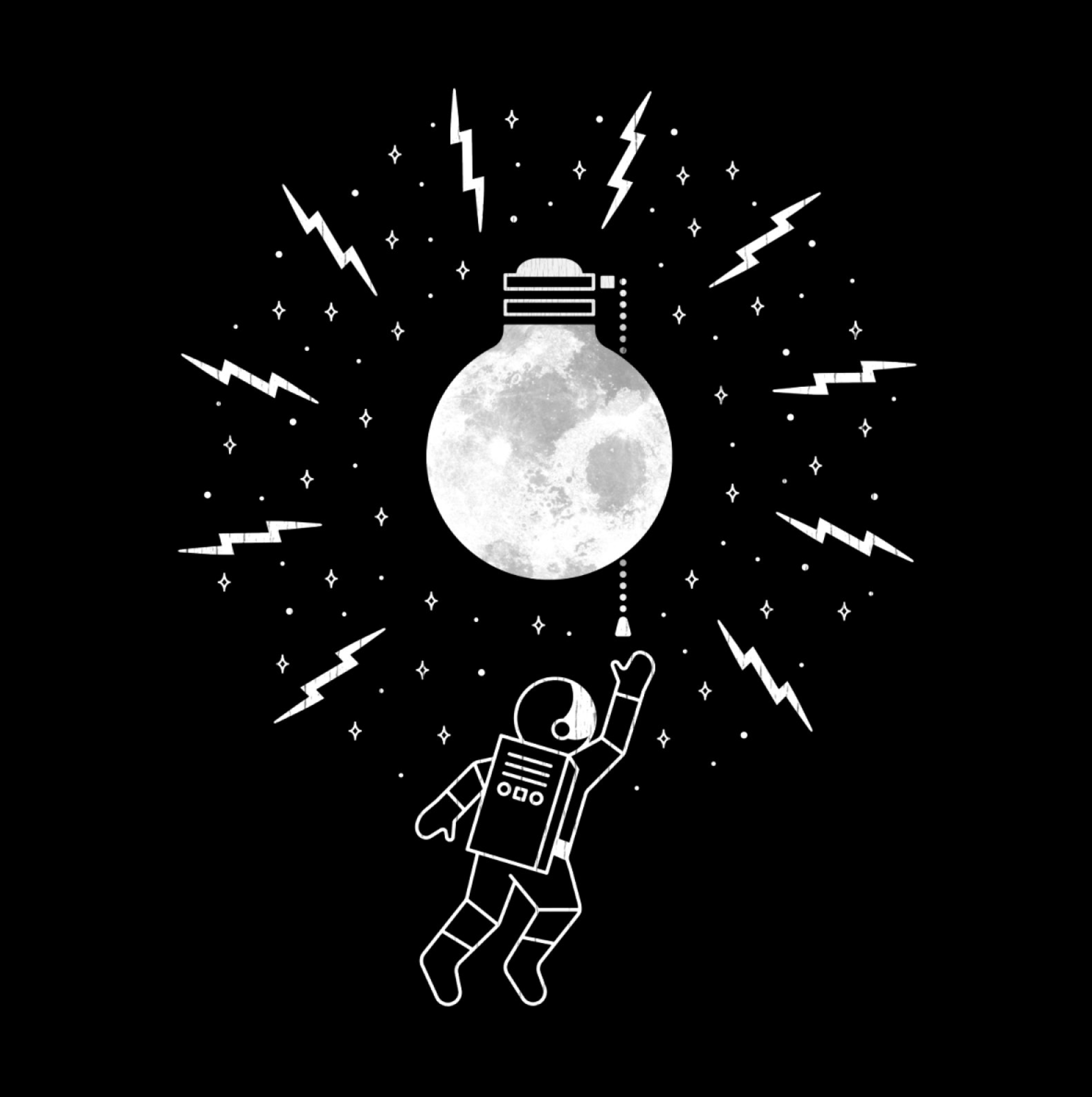 Tell us about yourself! What do you do? Where are you from? What's the coolest place you've ever traveled to?
I'm a 25 year old graphic designer from Buffalo, NY, currently working in-house as Art Director for a private university. I also do design and logo work on a freelance basis, but it's secretly my dream to support myself solely as an illustrator.
Unfortunately, I've never really been on any truly extravagant vacations, but some of my favorite cities to travel to are: Toronto, Pittsburgh, Washington DC, and of course New York.
Congratulations on your first win and print! How does it feel! 
Thanks so much! It feels reeeeeeeeally great to finally get a print, and even better that it's a contest win as well. I'm not sure that I can put my exact feelings into words, so this gif will have to do: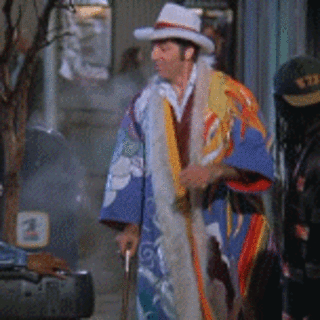 You seem to have refined your specific style since you started submitting here at Threadless – how have you narrowed down that style?
When I first started submitting designs I would just take some of my drawings, color them in and call it a day. After some tough love from the forums, I realized that concept plays a key role here. Since then, I've turned my focus to more concept driven designs and I try to pay attention to every detail, including the name of the design and mockup image.
Visually, I think that much of my work looks similar because I (compulsively) refine my designs over and over until everything is clean, balanced, and evenly spaced.
Tell me about this design! What attracted you to this challenge? What was your process for putting this design together? 
Lately I've been trying to enter contests that are a bit out of my wheelhouse, and Tiki would fall into that category. I started by doing some research into the types of tiki masks and such, and ultimately landed on surf culture as my focus. The idea for this design actually hit me while at work, so I scribbled something down on a post-it and went from there.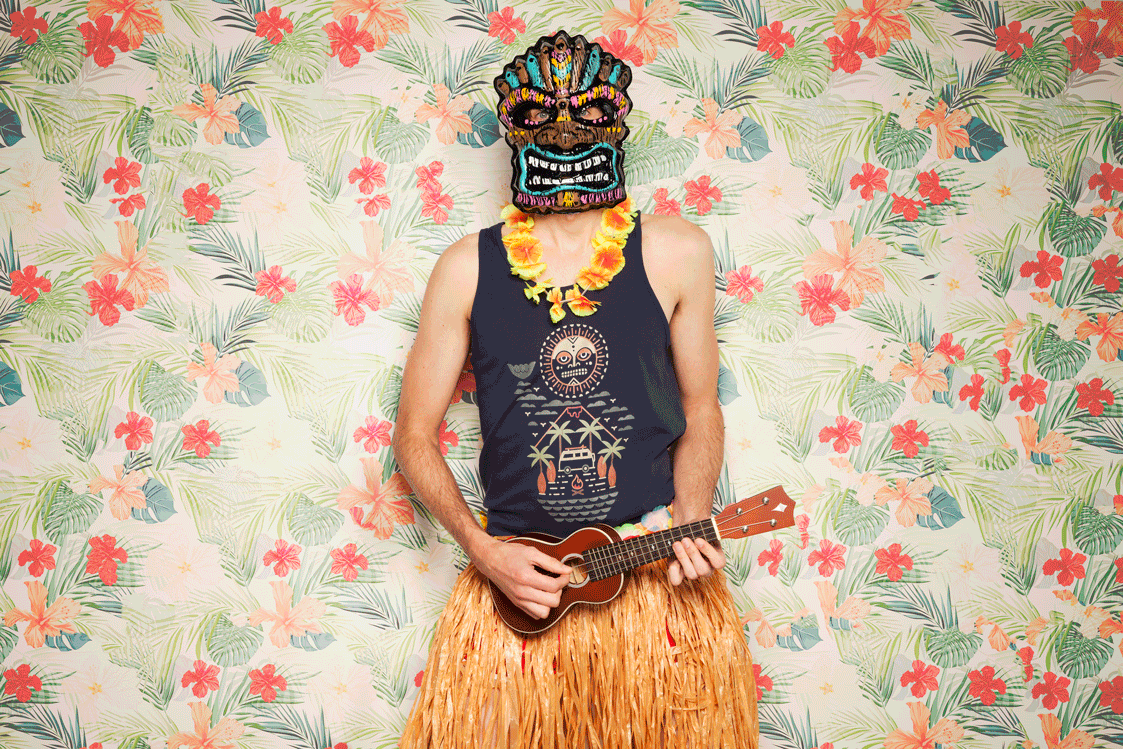 Side note: a few months back my friends and I started doing the 'hang loose' hand sign nonstop – in a half ironic sort of way. When I saw the Tiki contest I knew that it would have to make an appearance in my design.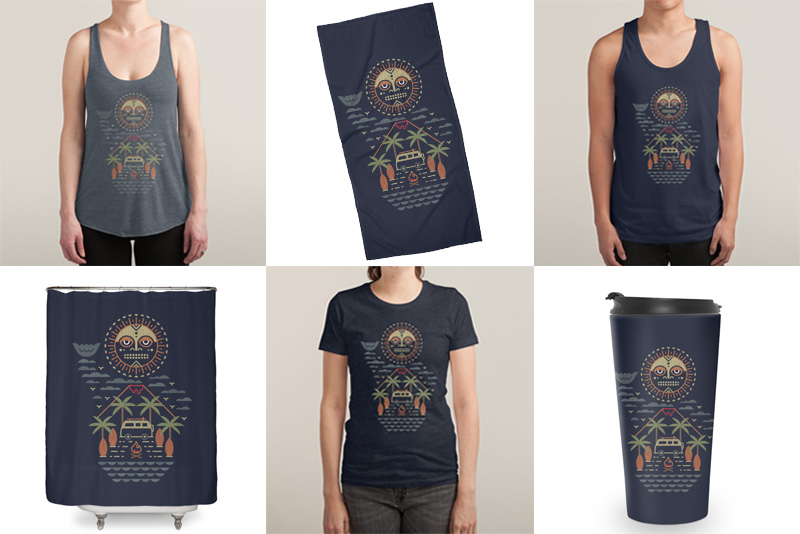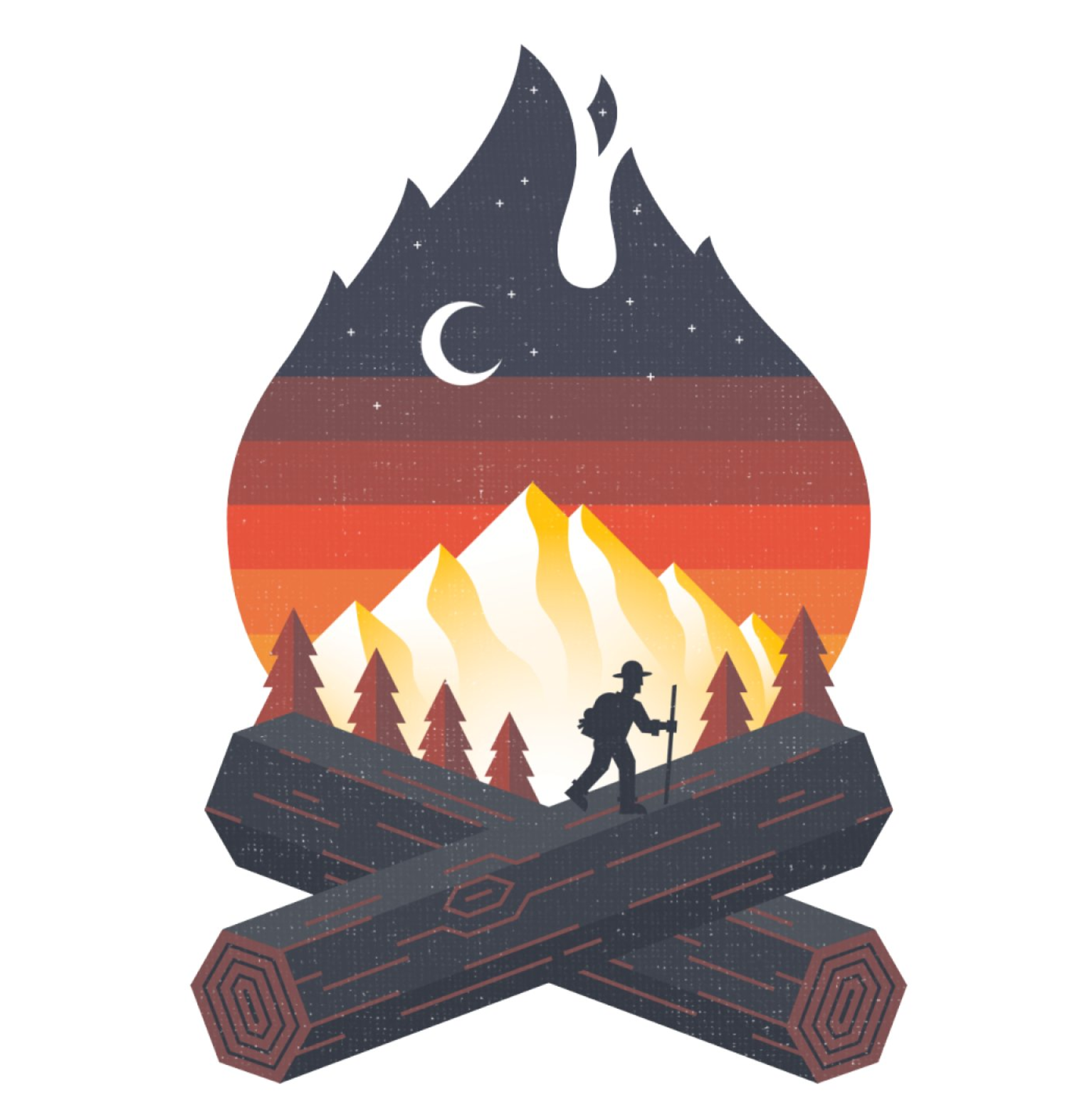 Most of your other outdoorsy designs are a little more wildernessy – would you rather explore tiki beach territory or go on a forest hike?
Yeah, it was fun to work on an "outdoorsy" design that wasn't the typical pine trees and mountains. Given the choice though, I would much rather be in the woods than at the beach. I try to go hiking as much as possible (during the summer months) to offset the fact that I live and work in the city. However, sometimes during a long Buffalo winter the beach does start to sound appealing.
Who or what inspires you?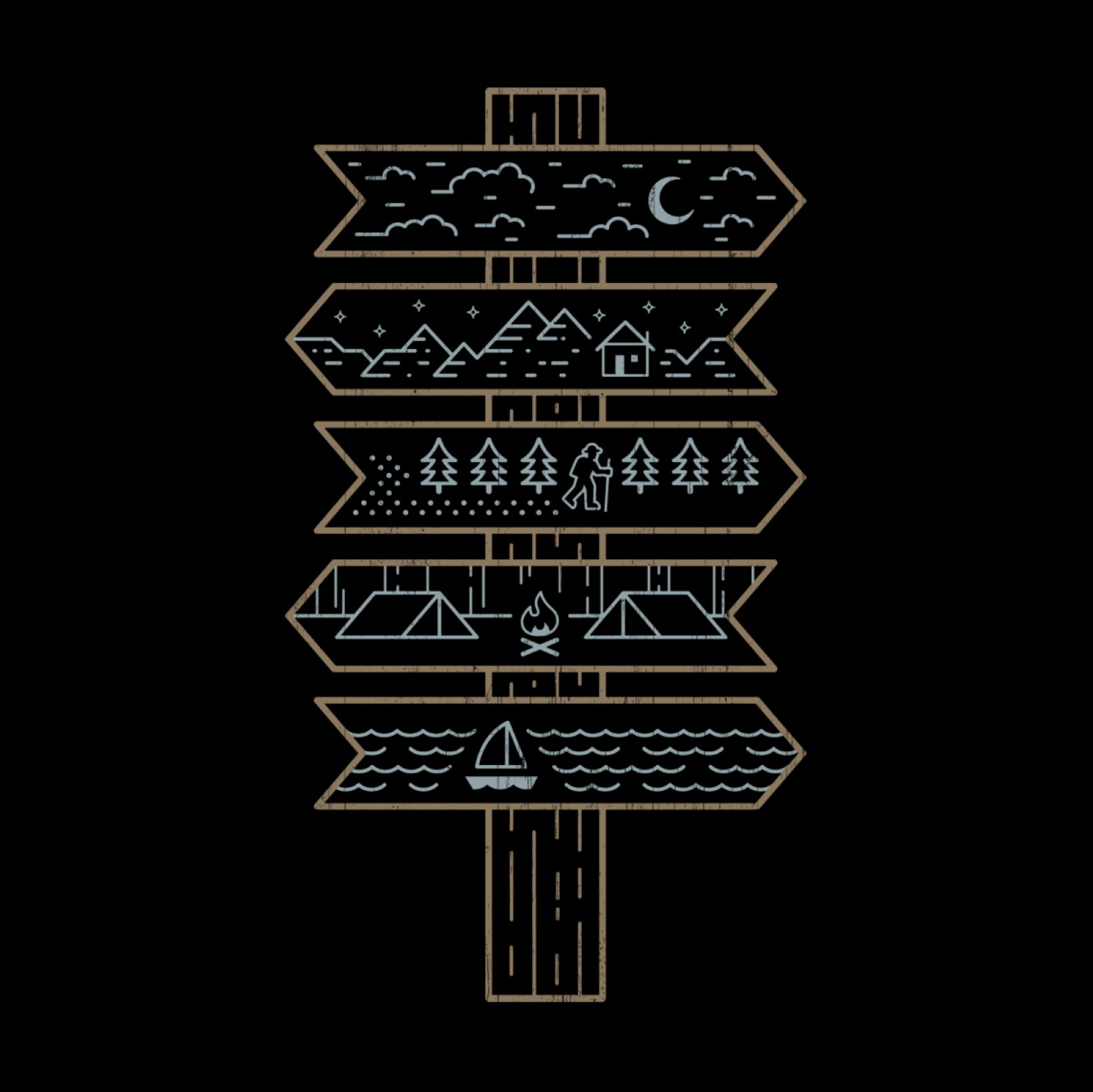 Obviously there are a ton of amazing artists on Threadless and other social
media that inspire me and push me to do better work. But honestly, I seem to find inspiration in the strangest places. I'm always thinking about potential shirt designs in the back of my mind, so the smallest thing can trigger that process for me. Whether it be a scene from a movie, a vintage piece of advertising, a line in a song, the back of a cereal box, etc.
You've been really active in reaching out for creative criticism in the forums, which is awesome! It can be scary to ask for help – did it help you in the end?
I think that criticism is unpleasant for everyone, but it's awesome to have a pool of people that are willing to offer their opinions and suggestions. Just when I think that a design is about finished, that's when I post it in the forum looking for feedback. Other artists will challenge my decisions and ultimately it pushes me to look at my design from a different perspective. I think that the forums are a great tool for anyone looking to improve their work (or have conversations consisting entirely of reaction gifs).
I seem to find inspiration in the strangest places. I'm always thinking about potential shirt designs in the back of my mind, so the smallest thing can trigger that process for me.
What's your design philosophy?
Hmm…this might be a little too deep, but here goes. One of my favorite quotes is from a 16th century Japanese swordsman named Miyamoto Musashi. He says "Once you understand the way broadly, you can see it in all things".
Basically meaning that once you experience success in one area of your life, you will be able to find the way to success in other areas. In my attempt to succeed as a graphic artist, I have learned how to do so many other things along the way. I feel incredibly lucky to be able to use my artistic talents to make a living, and I'm looking forward to a lifetime of trying to apply what I've learned to all areas of my life.
Anything else you'd like to share?
Mostly I'd just like to thank the staff and all of the people I've met in the forums. Everyone has been really encouraging and helpful, so I'm happy to be a part of this community. The thing I'm looking forward to most I think is getting an 'ALUMNI' tag on my photo haha. I will wear it with pride.
Shop the winning design!