Want to throw a 'Friendsmas' gathering but don't want to deal with a big complicated dinner? This year, to save yourself from party host tears, throw a hot chocolate party! Whether you're cocooned in 12 billion layers to brave the winter cold, or you live somewhere where you string your holiday lights up on palm trees, the holiday season just isn't the same without some steamy hot chocolate. And creating a DIY hot chocolate bar is an easy, fun, and delicious way of throwing a party that your friends and family will love during the holidays.
Here's everything you need to throw the perfect hot chocolate party!
.     .     .
The Hot Chocolate!
Duh, right? But you get creative with it! Mix it up with regular hot chocolate and get "pinky out" fancy and throw some flavored hot chocolates into the mix! Personally, I like variety packs that contain flavors like caramel, mint, and raspberry hot chocolate, which are deceptively delicious twists on the classic recipe. Or you can get extra fancy and make it from scratch!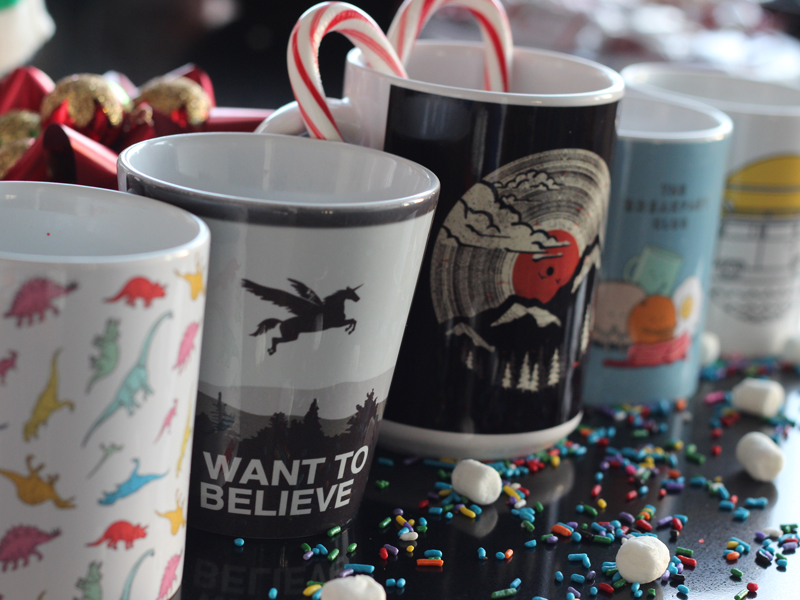 Fun Mugs
Styrofoam or red solo cups for your guests may be easier to clean up, but there's nothin' quite like sipping hot chocolate out of a hardy mug. Set out a collection of cute graphic mugs – that way, your guests won't have to label which mug is theirs! They just have to look for the mug donning the design they picked.
Get in on the Mug Life. Shop all mugs here! 
Hot Water at the Ready
Have hot water ready to go in a classic or electric kettle at the table to avoid traffic by the microwave or sink!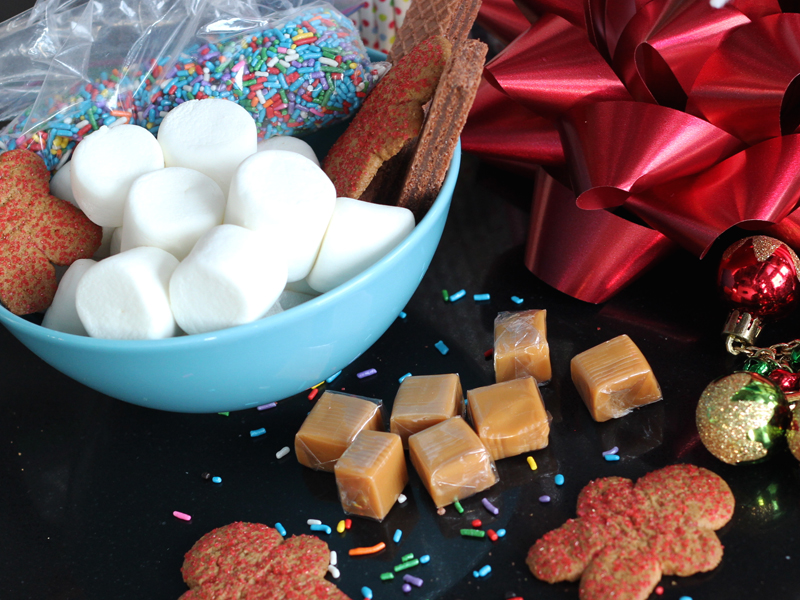 ALL the Garnishes
Whether you have flavored hot chocolate or plain hot chocolate, the thing that really brings it all together (and makes every cup super Instagrammable, just sayin') are the garnishes. Have a cute setup of garnishes of your choosing! And don't forget the five essentials:
Candy canes
Marshmallows
Sprinkles
Pirouettes
Some peppermint schnapps or Irish Cream Liqueur for some spiked hot chocolate
Whipped Cream Station
(A.k.a the fridge!) One does not simply have hot chocolate without some whipped cream. After all, what better way to hold all the garnishes you want than a fluffy cloud of whipped cream?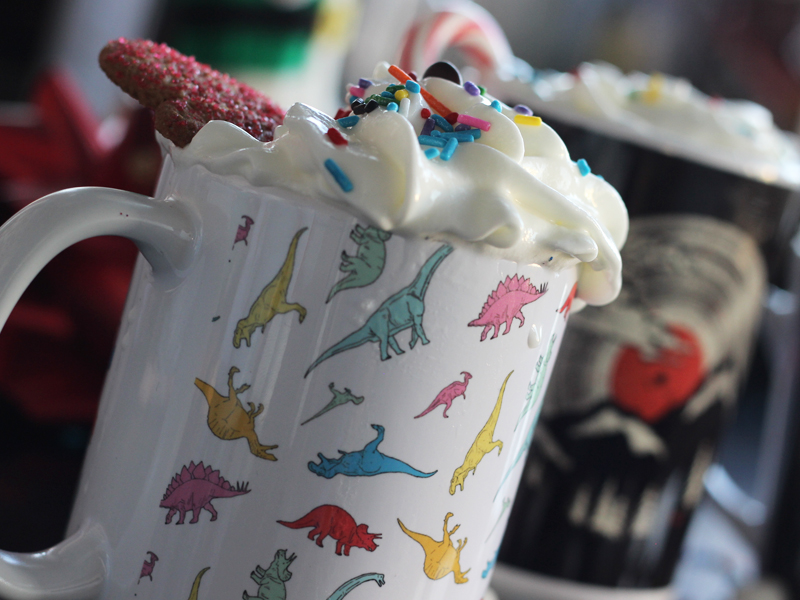 Enjoy!
There you have it! Your hot chocolate creation station is complete! And don't forget to bake some holiday cookies for your guests too!
Happy holidays!
Latte mug in the featured image is "7 Sins" by Lucian
Shop all mugs now!