Are you guys ready to see a whole bunch of seriously epic designs? Well, you're in the right spot: today we're launching the top contending designs from the Masters of the Universe design challenge – all a part of a totally exclusive MOTU Artist Shop!
 Blowing past all expectations, the submissions for this challenge had us sweeping our jaws right off the floor – so much so that we need your help to choose the grand prize winner. To help you narrow down your favorites amongst those in the running, we asked each artist to name the inspiration behind their MOTU design, as well as why it deserves to be the victor. Read on to find out their answers, and don't forget to snag their tees (and share your faves like crazy!) here!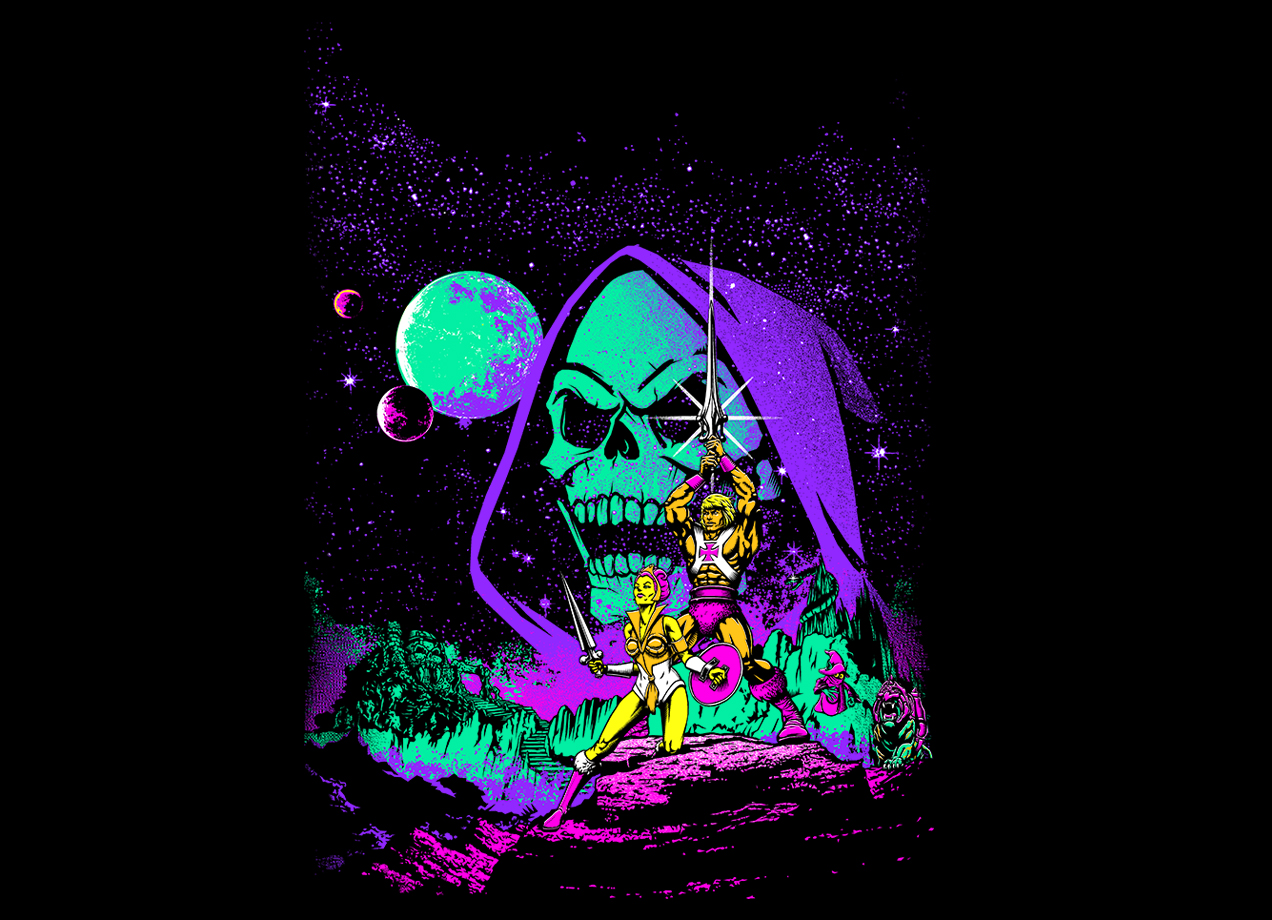 "Since MOTU is all about buff dude wizards and warrior type stuff, with a colorful, spacey, sci-fi twist, I figured a classic '70s, black light, rock poster look would be fitting inspiration for my design.  The general layout and title are inspired by the original Star Wars movie posters and the setting and characters are, of course, inspired by the classic cartoon.
Why should it deserve to be named winner?  Hmmm, I don't know, there were a lot of great entries for this challenge.  Maybe the trippy rock poster vibe might make it slightly more appealing to the casual He-Man fan – those who are into velvet paintings, van murals, and general late '70s/'80s nostalgia stuff – as well as the diehard MOTU geeks." – "A Universe Far, Far Away" artist franx, from Toronto, Ontario, CA
"A childhood memory of my dad drawing MOTU art on my mom's big blackboard (she was a teacher at the time) inspired me for this challenge. I can still clearly remember what he drew that day: a very huge Skeletor in an epic battle with He-Man and his friends. It was so awesome, and made me realize I wanted to make something like that someday. So, when Threadless announced a MOTU challenge, I became instantly pumped up and very happy and all the memories from that day came back to me! I called and told my dad, and he was very excited to see what I came up with, and he also can't wait to wear it If I win this contest. For me it's all worth it… win or lose! :)" – "Greatest Hero of Eternia" artist Pykee Lambaco, Cebu City, Philippines
"MOTU has so many interesting characters! We tried to incorporate all of them together (or at least our most favorite), into one epic battle between good and evil." – "Rivals" artist Glitch Co., Brazil
"Well, Skeletor is a really heavy metal villain, right? He deserved a heavy metal inspired t-shirt!
Honestly, we don't know if we DESERVE to will the competition, but we surely do want to win! He-Man played a big role in our childhood, and back then we could never ever imagine that an opportunity to design something official would happen. Winning this would make our inner child really proud!" – "Lord of Destruction" artist Glitch Co., Brazil
"Aside from having a major crush on She-Ra/Adora, I have always felt that between her and her twin brother Adam, she is the stronger of the two. I mean, learning that you have been kidnapped and raised by the Evil Horde is heavy stuff, man! Also, princesses have to relax as well, and what better way for '80s folk to relax than to put on your gnarly kicks and wayfarers, skate, and be RAD!" – "She-Rad" artist Joe Conde, Manila, Philippines
"With my design "MYAAAAH!" I wanted to present Skeletor's iconic look with an equally powerful message. I feel this design deserves to win because of all the characters in the MOTU universe, Skeletor is the coolest! I know I am not alone in this, and all of my fellow followers of the MYAAAAH! should have uniforms, right?" – "Myaaaah!" artist Joe Conde, Manila, Philippines
"I am John, prince of Cheshire and defender of the secrets of Castle Threadless. My cat is Meg, otherwise known as my fearless friend. Fabulous secret powers were revealed to me the day I put on my magic t-shirt and said, "By the power of Threadless! I have the power!" Meg became the mighty Sleepy Cat, and I became Quick Brown Fox, the most immature man in the universe! Only three others share this secret — our friends, the Jake, Jeff-at-Arms, and Shimala. Together we defend Castle Threadless from evil forces." – "Fabulous Secret Powers" & "Scaredy Cat" artist John Tibbott, Nantwich, Cheshire, United Kingdom
"When I first traveled back in time to the 1980's, I totally fell in love with this crazy, animated TV series, where a guy just needed to hold up his sword to transform himself into the most powerful man in the universe. So, I did the same with my magic neon pen and decided to put He-Man on the Grid. He then became – a Master of the Eighties." – "Masters of the Eighties" artist RollyRocket, Goslar, Niedersachsen, Germany
"I was inspired by He-Man's ginormous guns, obvi! My design should win because beach time is just around the corner. Like Ned Stark never says, "Summer is coming!". ;)" – "Which Way to the Beach" artist Teresa Barbara, Toronto, Ontario, CA
"I think it's funny that his mustachio doesn't match his brows. And, his name works well as a play on a certain men's facial hair coloring gel product. So, there you go…
Hmmm, I don't think this design deserves to be named challenge winner. Though, If you happen to disagree with me, first off, thank you, and secondly, could you do me a favor and just vote for my other print "Which Way To The Beach" instead? I mean, why split the votes, right? THANK YOU!!!!" – "Burnt Sienna" artist Teresa Barbara, Toronto, Ontario, CA
"I grew up watching He-Man, and wanted to do something epic; closer to how I remember it as a kid. I feel like through the internet, a lot of the show has been represented in a more humorous/parodied kind of way recently. With this design, I brought the focus back to the epicness of the show, with a more barbaric feel.
I think for that reason it deserves to be the winner, because it gives people who are new to the show the perspective that captivated me as a kid instead of an internet joke or meme."- "Masters of the Universe" artist Alex Solis, Chicago, IL
"When I was a small kid in the early '90s, a street cat gave birth to four kittens in my backyard. She was a very angry and protective mom, but since I started feeding her everyday, she eventually let me close to her babies. I spent every afternoon by their side doing my homework and using the kitties as horses for my MOTU toys, specially my He-Man action figure. This is the memory that came to my mind as soon as I read about the challenge. I think it deserves to be named winner because of: cats, nostalgia, and… cats! " – "Battle Kitten" artist Hugo Diaz Romero, Guayaquil, Guayas, Ecuador
"As a child, I had a power sword toy. Awhile ago, I learned that the power symbol is designed so that 1 "on" and 0 means "off". When I saw the contest about Masters of the Universe, I thought I must combine the power sword and the power symbol. Why should this design win? Because the power symbol is very well known and meaningful in general and, of course, for MOTU lovers." – "The Power Sword" artist Ibrahim Dilek, Konya, Selcuklu, Turkey
"I've always been fascinated by those old fauna illustrations. Those artists were like pioneers of illustration, travelling around the world to draw the wildlife, sometimes for the first time in history. So, when the MOTU challenge appeared, it just popped in my head… that and the fact that Battle Cat rules!
As for why my design should win, this is a tricky one. I've always had a bit of trouble praising my work and after browsing all the designs, it's even harder! The amount of quality is breathtaking! The thing is, almost all of them focused on the protagonist (Adam/He-Man) or the villain (Skeletor)… I always loved those stories where the underdog saved the troubled hero (Undercat! Ba dum tss!). Maybe you should give a chance for the awesome sidekick to get the spotlight! ;)" – "Pugna Cattus" artist Luis Rodrigues, Lisbon, Oeiras, Portugal
"I grew up watching the show and I really liked Skeletor. I think he is a really badass skull face villain, yet at the same time, funny too. For my design concept, I exaggerated this character by making him look really angry but adorable. I don't know if I deserve to be named challenge winner, but I had fun making it." – "Mini Myahh! artist ppmid, Merida, Yucatan, Mexico
"I was born in 1974, and when Masters Of The Universe first appeared in Argentina, I become obsessed with it. I loved the first comics illustrated by Alfredo Alcalá and those where the inspiration for this design…the original style and design of the characters, that is why I made the illustration all with brush and ink adding the flat colours in Photoshop.
I couldn't finish the complete design in time for the contest (which can be seen on my FB page), but the idea was to show the three heroes, too (He-Man, Man-At-Arms and Teela).
I think I captured the original essence of the character, the strong style of the comics, and the details and fluency of the old school technique.- "Skeletor and Friends" artist Marcello Vitacca, Buenos Aires, Argentina
"My design was inspired by a Madballs t-shirt featuring a bunch of character's faces all squeezed together. Since MOTU has one of the best cast of villains ever, I thought it would be awesome to do something similar with Skeletor and his crew. I think my design represents the original characters' style pretty well, while being modern and good-looking. We can feel the original MOTU vibe, and everyone loves some cool villains. "Evil of Eternia" has the Power to WIN!!!" – "Evil of Eternia" artist Felix LaFlamme, Drummondville, Quebec, CA
"A cute, clumsy, all powerful wizard from another dimension rocking a purple hipster scarf? What is not to like about Orko!" – "Orko" artist Daniel Saenz, Bogotá, Colombia
"I still remember how I used to play with my MOTU figures in my early years. Somehow, they inspired me to draw and recreate every type of character and environment. My favorite of all time is Skeletor (yeah, I still play… whatever!). I really don't know how to explain my passion for the yellow skull fella; I always try to find ways to make him even more epic, but it wasn't until now that I was able to combine two of my greatest hobbies, which are skateboarding and collecting figurines. The idea came to me suddenly while I was trying to customize a skateboard using the Skeletor skull in the deck with some hardcore lettering: "Skate or Die". At that point, I thought what if… Skate + skeletor sounds like… and the rest is history! :P I believe every design selected is already a winner, but I think I was able to combine both '80s MOTU phenomenon + skateboarding in one tee. What can be more epic than Skeletor riding a skateboard while kicking some ass… and epicness should win this challenge!" – "Skateletor or Die" artist Madkobra, Santo Domingo, Dominican Republic
"My "Pixel Master" design was inspired by the idea of taking something amazingly righteous and rendering it in an 8-bit video game style that would feel like a punch to your esophagus. And, I was hoping it would look good on a shirt. I like to wear good-looking shirts when I'm out playing mini-golf and hanging at the badminton court, as it intimidates my foes and makes the ladies swoon. It deserves to be the challenge winner because when it holds aloft its magic sword, it becomes The Most Pixel-ful Design in the Universe, and defeats the evil forces of boring shirts." – "Pixel Masters" artist Bradlinf
Check out the MOTU Artist Shop here!