We're living in the future. Comics that play out like movies on the page sounds like something out of a sci-fi movie or The Daily Prophet. But thanks to Augmented Reality (AR), stories are being brought to life in a whole new way. And Heavy Metal Magazine featured artist Rob Shields' sprawling cyberpunk world of Neon Wasteland is the latest in AR comics. Shields was one of the winners of our Heavy Metal challenge, and now he's returned to the magazine to create an AR cover and comic that animate issue #289's pages. Using either Shields' Neon Wasteland app or the Heavy Metal app, just hover your phone above the cover or pages and boom: robot heads explode on the page, futuristic cities light up, badass cyberpunk-meets-'80s-goodness characters bat their eyes, and more. But Shields has taken it a step further, making the shirts and accessories in his Artist Shop work with AR as well. And it doesn't get much cooler than AR tees.
We talked to Shields about the story behind his Neon Wasteland game and comic, bringing his AR comic to Heavy Metal, and how he got started in the AR world. Step into the future below.
.     .     .
First things first, tell us a little bit about yourself! Favorite cyberpunk movie, show, or book?
I'm a multimedia artist currently obsessed with interactive storytelling through animation, comics, and video games. I'm also really excited about the dawn of a 3D internet and doing my best to help populate it with better content. My favorite cyberpunk movie has to be Akira, book Hyperion, and show Bubblegum Crisis.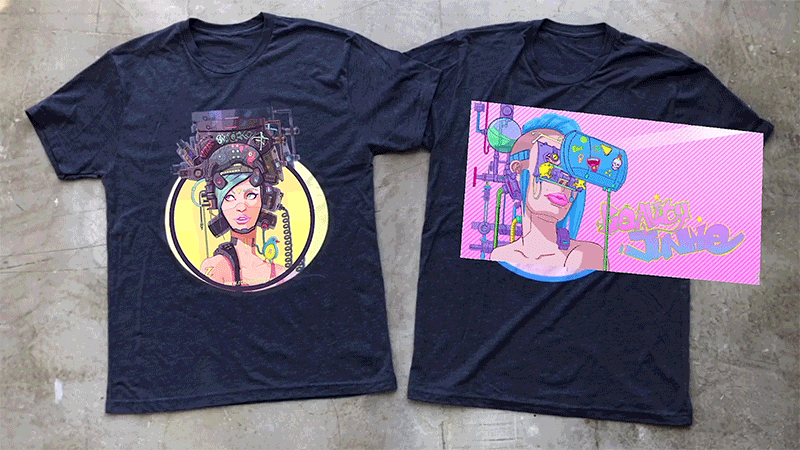 Tell us a little bit about Neon Wasteland! Where did inspiration for its world come from? What's the premise?
Neon Wasteland is an animated comic book and action-adventure video game that uses both VR and AR technology to bring the reader/player into a new universe of interactive storytelling.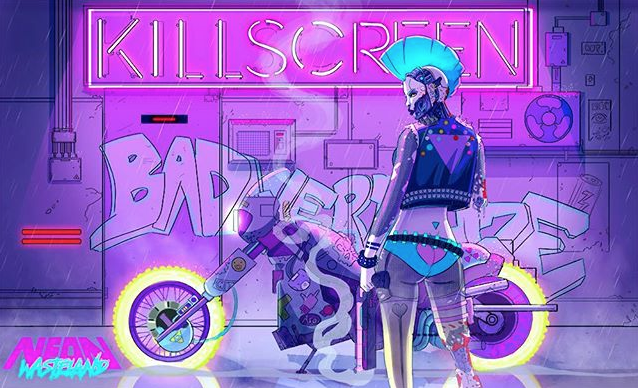 The story takes place in a post-apocalyptic future where most of the human race has abandoned their bodies to live as clusters of code inside a giant computer system called "The Omniverse". The main characters are a group of children who are still human and live on Earth inside a sprawling factory slum known as "The Body Electric". The world they live in is incredibly violent and completely indifferent to them. Through the story, you will help them decide whether or not to hold on to their humanity and suffer an untimely death or sacrifice everything that makes them human in exchange for an immortal digital afterlife of zeros and ones.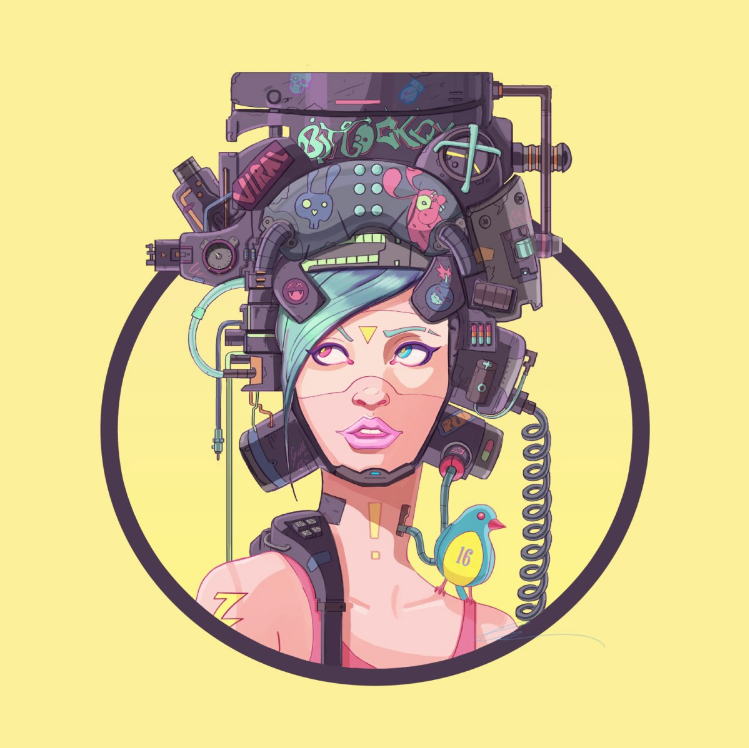 Your AR app and designs are incredible! How long does it take to develop & animate AR comics? What's that process like?
The time it takes to make an AR design or comic page really depends on how detailed the design and animation are. The most time-consuming parts for me are coloring and animating. Once those are finished, the rest falls together pretty quickly.  I would say an average time to complete a design from start to finish would be about three days.
Tell us a little bit about your Artist Shop! AR apparel is way too cool.
Thanks so much! Everything in my Artist Shop is augmented and works with the Neon Wasteland AR app, which is free to download on both iOS and Android platforms. All you have to do is download the app and point your phone's camera at the shirt and it will start to animate!
Are all of the designs in your Shop Neon Wasteland-related or are some just cool standalones?
Almost all the designs are related to Neon Wasteland. There is one called "Gamer Girl", which is more of a fan art homage to the video games of my childhood. The rest are from the Neon Wasteland universe.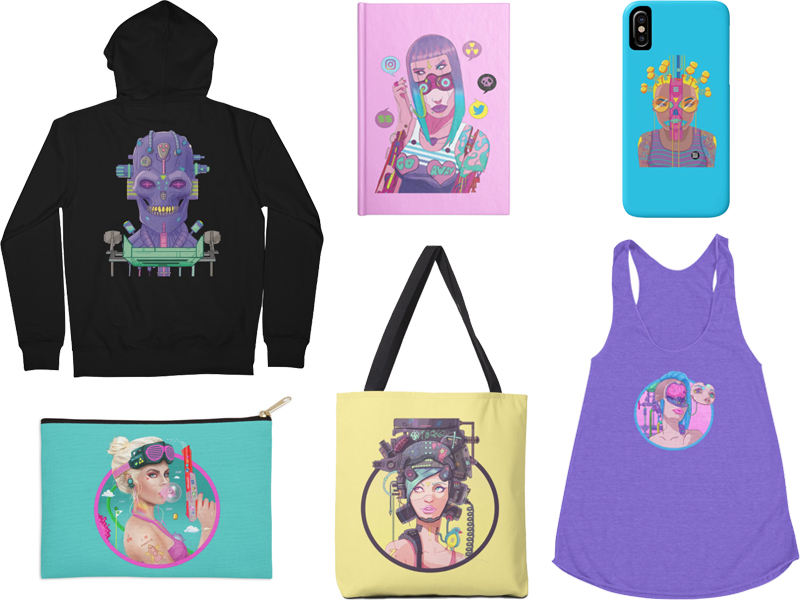 How did you first get into AR and AR comics? 
The first time I experienced AR was when I got my Nintendo 3DS about five years ago and played the AR mini-games. I was immediately hooked and started to learn more about making AR applications. The choice to use it in comics and art evolved slowly over that time. At this point, I'm really just scratching the surface of what I can do with AR and I'm really excited about how it will evolve with Neon Wasteland.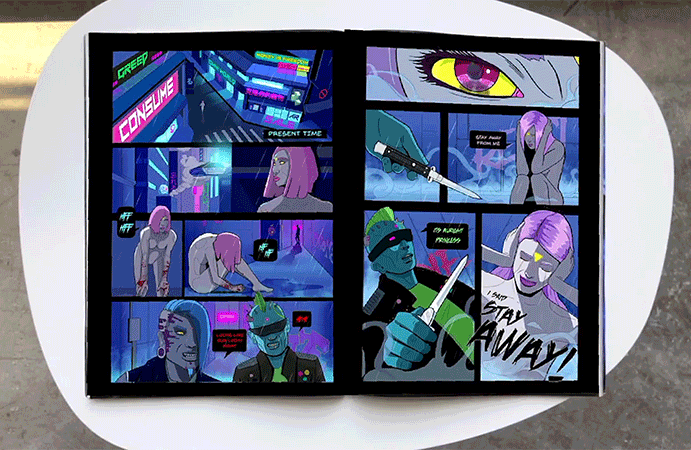 You had a winning cover for our Heavy Metal challenge! What was it like to go back and work with them again for your AR comic book?
Working with Heavy Metal has been awesome! I got to do another cover for the AR issue which is totally insane; actually seeing my name of the cover as a contributor is pretty much the coolest thing ever.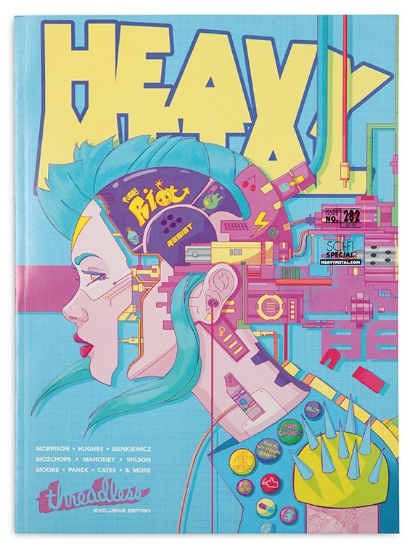 Your aesthetic is stunning. Where did you find artistic inspiration when you were first developing your style? What styles/artists are you most attracted to?
My style is a loose combination of many different influences like the books and movies listed above, but also more general things like graffiti, the late-'70s-early-'80s punk rebellion movement, and the post-'90s digital haze that is more affectionately know as Vaporware. I grew up in the '80s-'90s so I have an affinity for its stylistic choices, but rather than just treating it with rose-colored nostalgia, I want to update it with a more 21st-century sensibility that is progressive.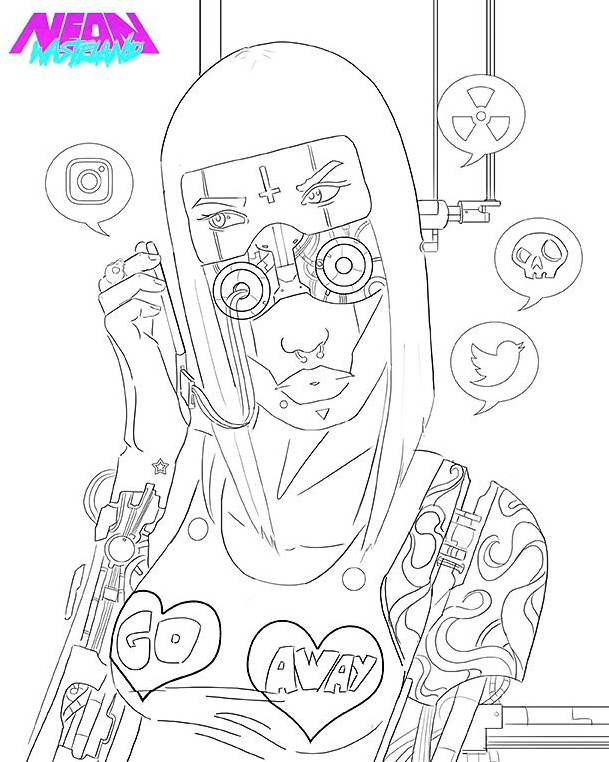 On the Neon Wasteland site, you have a disclaimer that is an "anti-nostalgia cash in guarantee". How do you skirt the line between "inspired by '80s elements" and "cashing in on nostalgia"?
Don't get me wrong, it's great to be inspired by the past and all artwork is, in some way, a derivative of what came before. The problem for me is that some people just want to reminisce or repurpose and don't really have anything new to add to the conversation. To avoid this trap, I am making the child protagonists my central focus in Neon Wasteland. These characters live in a world that has moved on without them. Their outsider perspective allows them to understand both the benefits and the flaws of our current technological obsessions. I try to imagine them as actual children from the future looking back on our world today and saying, "Seriously, people did that? Why did they do that?"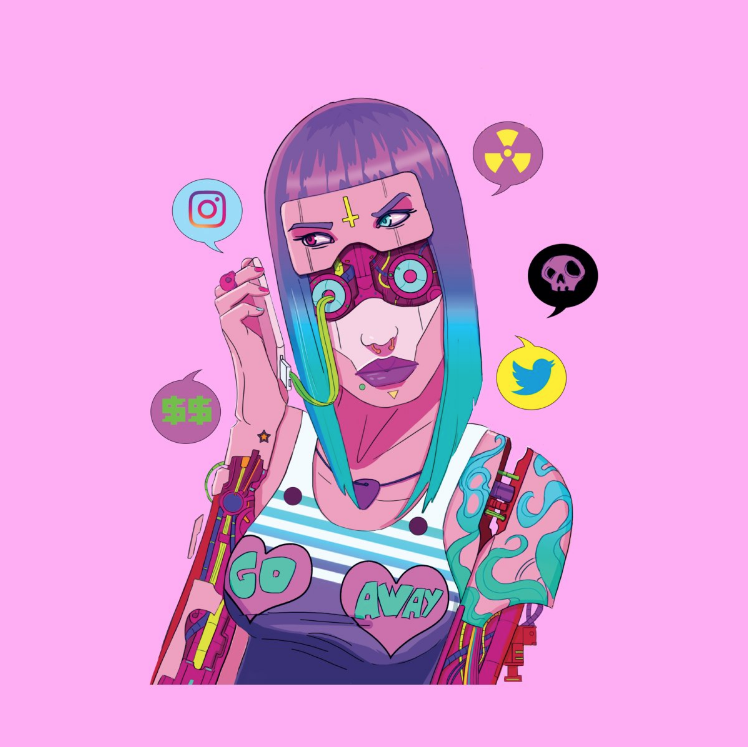 What's your creative and artistic philosophy?
My philosophy is to try as best as I can not to have one. To me, it feels like we are always only at the beginning of the beginning. There is so much that is about to happen and I want to face it all without any kind of preconceived idea of what it was supposed to be.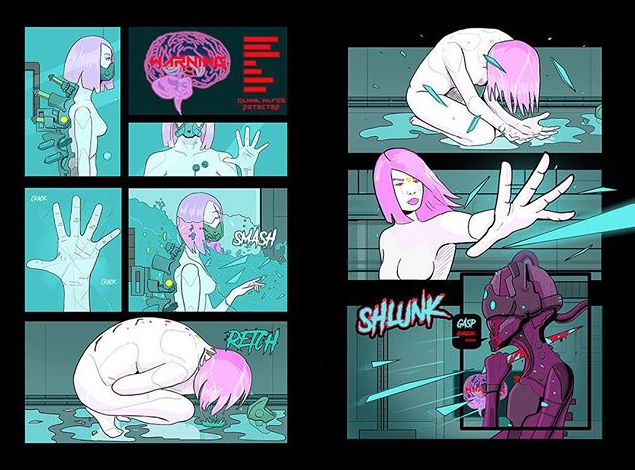 What's next for you?
I am going to be running a Kickstarter in September that will offer up the first interactive animated issue of the Neon Wasteland comic (44 pages), the first episode of the Neon Wasteland video game, a new enhanced AR app as well as plenty of other goodies. Be sure to follow any of my social media links below to stay up to date on the project!
Anything else you'd like to share?
Don't have an artist shop? Start one now!