"It would be too much effort to suppress the weird, and definitely too boring."

– Anna "sleepydolphin"
The weird. The dark. The mysterious. That's how Anna (a.k.a @sleepydolphin) describes her work in her Artist Shop bio. Sometimes the weirdest art is the best art, and Anna has carved out an artistic vibe all her own through exploring the weird, the witchcraft-y, and the expressive. With a style that resembles folk art mixed with linocut design, we had to talk to this artist about embracing the weird, expressing emotions through art, and about her ever-changing Artist Shop. Check out the interview below!
.     .     .
First things first, tell us a little bit about yourself! Do you do art for a living?
I moved from Germany to England about three years ago and have been having a hard time finding a job here. I'm an awkward person and I suck at the classic English "banter", so I kind of always blow it in the interviews; that's what I'm telling myself at least. Now I work as a nanny but without the support of my partner my art alone wouldn't be able to feed us.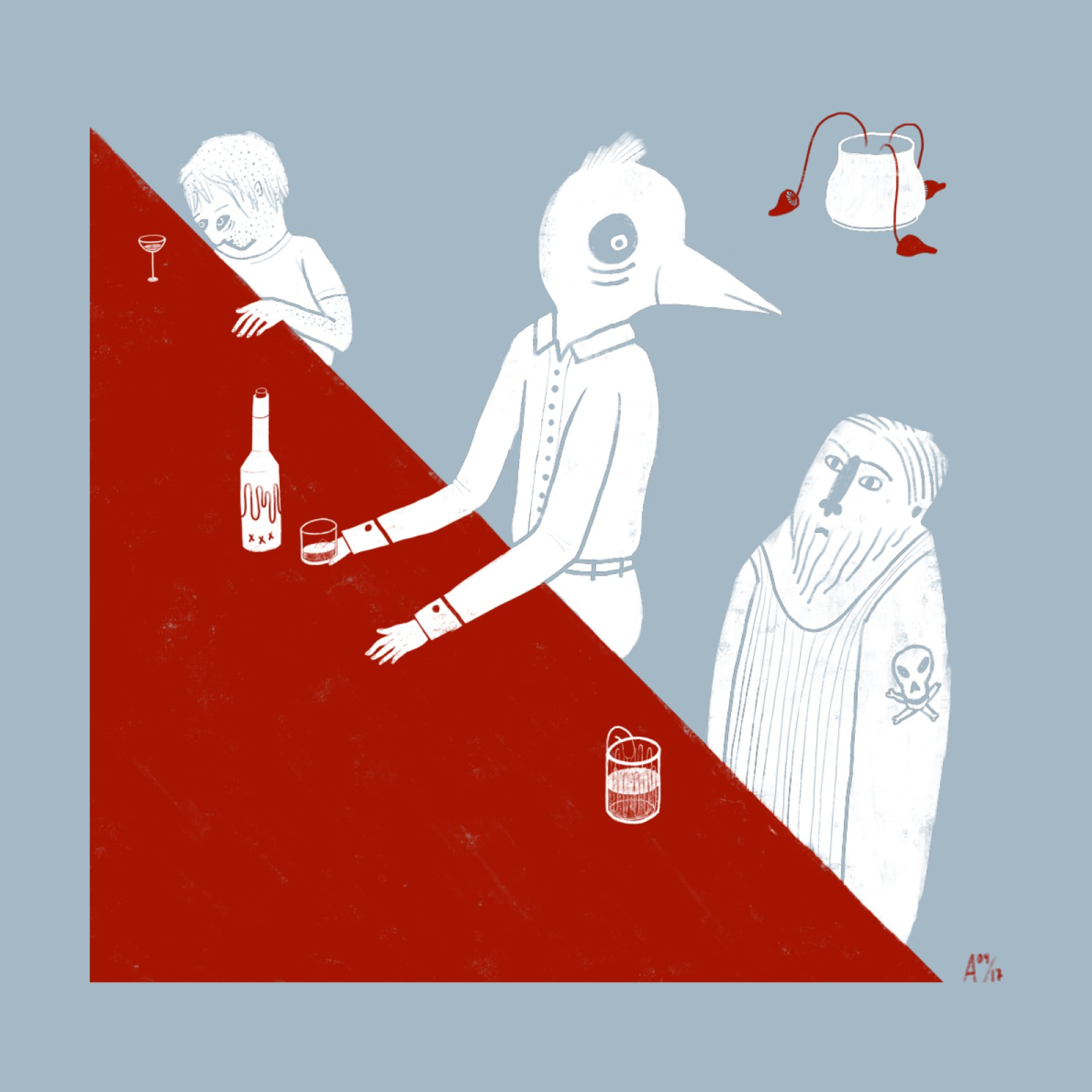 What music do you listen to when you want to get into the art zone?
I love listening to podcasts when I'm working. My favourites are horror and true crime related. I'm a longtime fan of The Nosleep Podcast and my newest crush is True Crime Garage. When I want to zone out, I like movie or video game soundtracks. My most played are Coraline and Ari Pulkkinen's Trine soundtracks. If I have a favourite song, I'm guilty of listening to it non-stop for hours. My latest obsession is "Bird Set Free" by Sia.
I love that you've embraced weird art, which is personally one of my favorite types – the surreal, the weird. Who are some of your artist influences?
Haha it would be too much effort to suppress the weird and definitely too boring. A very early influence is Yayoi Kusama and her obsessive art. It resonated a lot with me because I used to draw lines and dots for hours. During my time in graphic design college I made a series of drawings only using individual lines (see right) which sadly got lost over the years.
Dots represent obsessiveness and insanity in my art to this day. More recent influences are honestly too many to name – with Instagram I see mind-blowing art every day! To name a few very recent ones, Clair Bremner, Esthera Preda, Melodie Stacey and George Wylesol.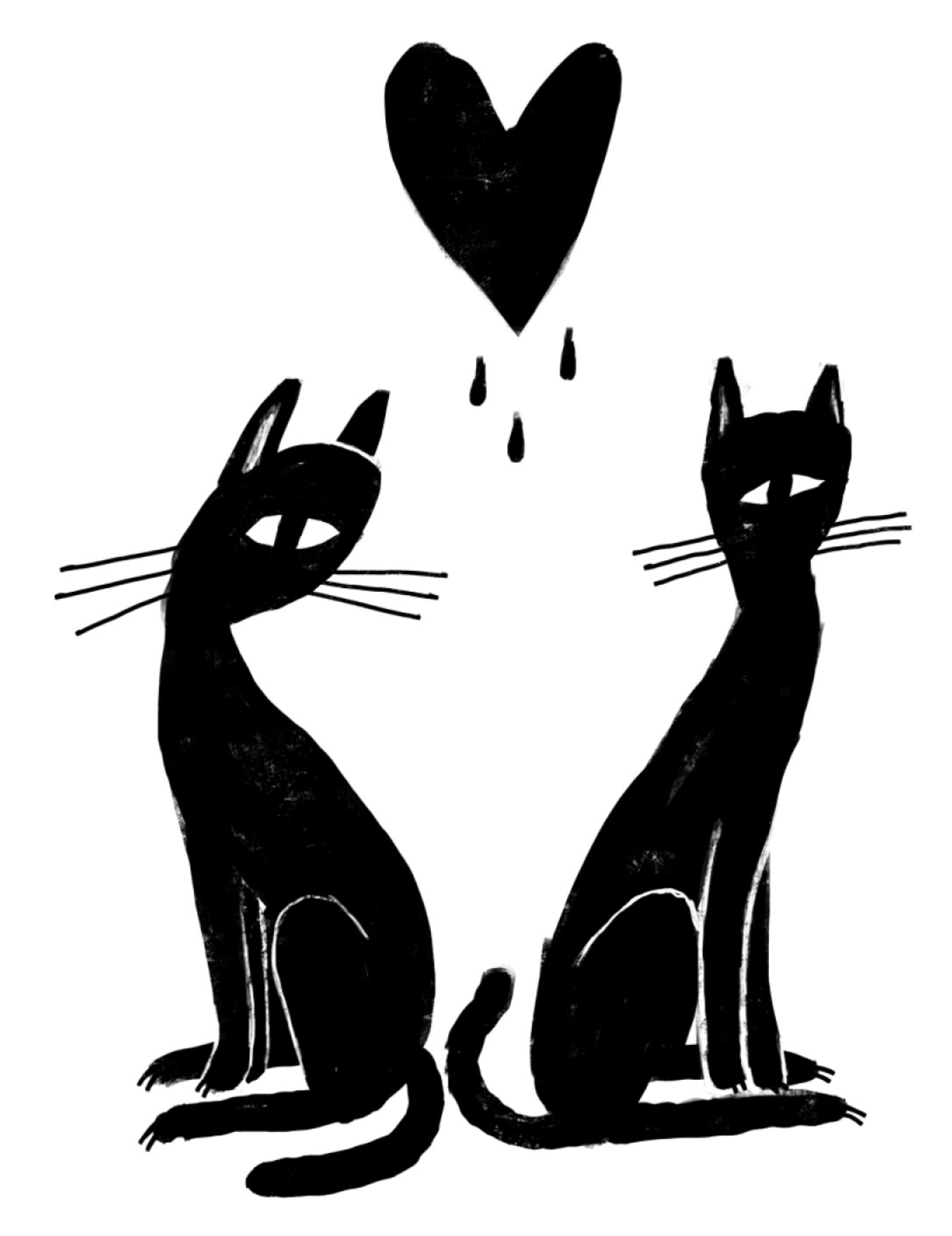 I feel like the best weird art comes from when we aren't overthinking it and we just create what we feel. How do you avoid overthinking designs and just go for it?
I have the problem that I'm not thinking enough. I have a million half-baked ideas and just go for them right away. I am the worst at finishing work once I've stopped, so I tend to stick with ideas that aren't too elaborate and can be done in a day. I should really work on my concepts, but that usually takes out a good chunk of fun and freedom and I start worrying about the whole thing and then my work becomes flat and boring.
In retrospect, I see a lot of details that could have been done differently. Just yesterday I started to work on a new version of "Brothers" for an upcoming pillow series. I don't usually re-work older designs but I think this one has great potential.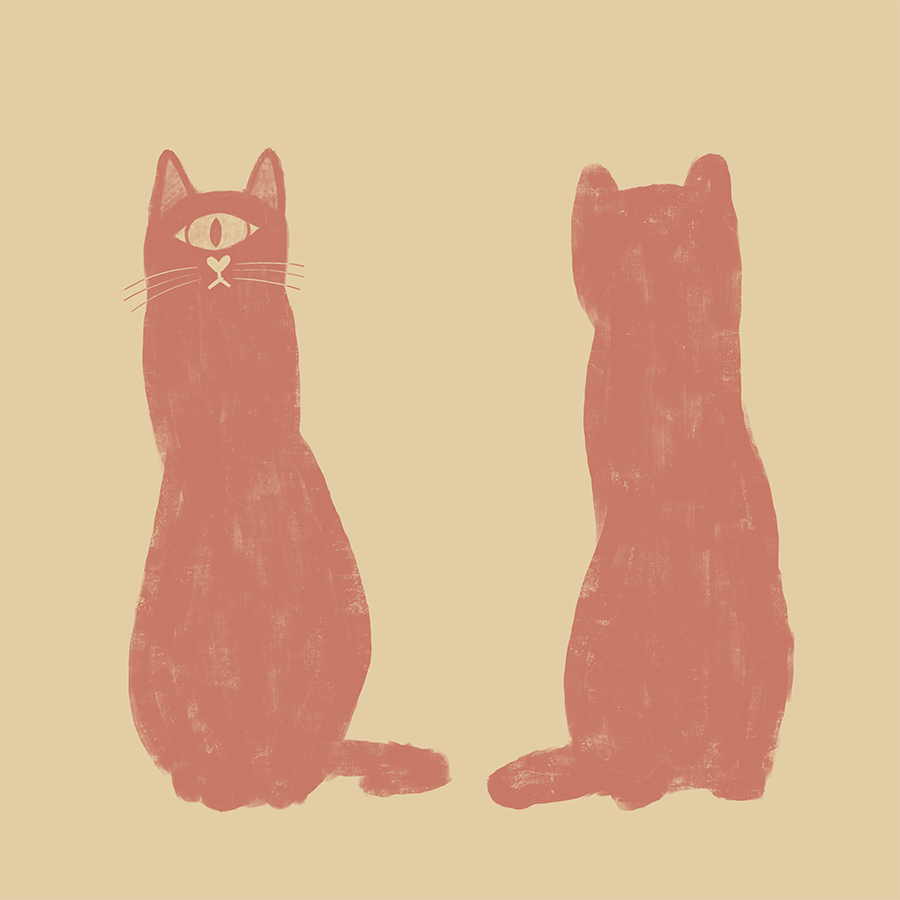 Your work is so dreamlike and much of it has a very mythological/witchcraft-y look to it – are these big influences for you? 
Fairytales and mythology are a big inspiration. As a kid, I used to listen to all sorts of classic tales and fables on cassette tapes while drawing in my colouring books. I was also big into movies like The Last Unicorn and Valhalla (a danish animated film from the '80s). In my twenties I went through a Wicca phase and I've always been into horror and ghost stories.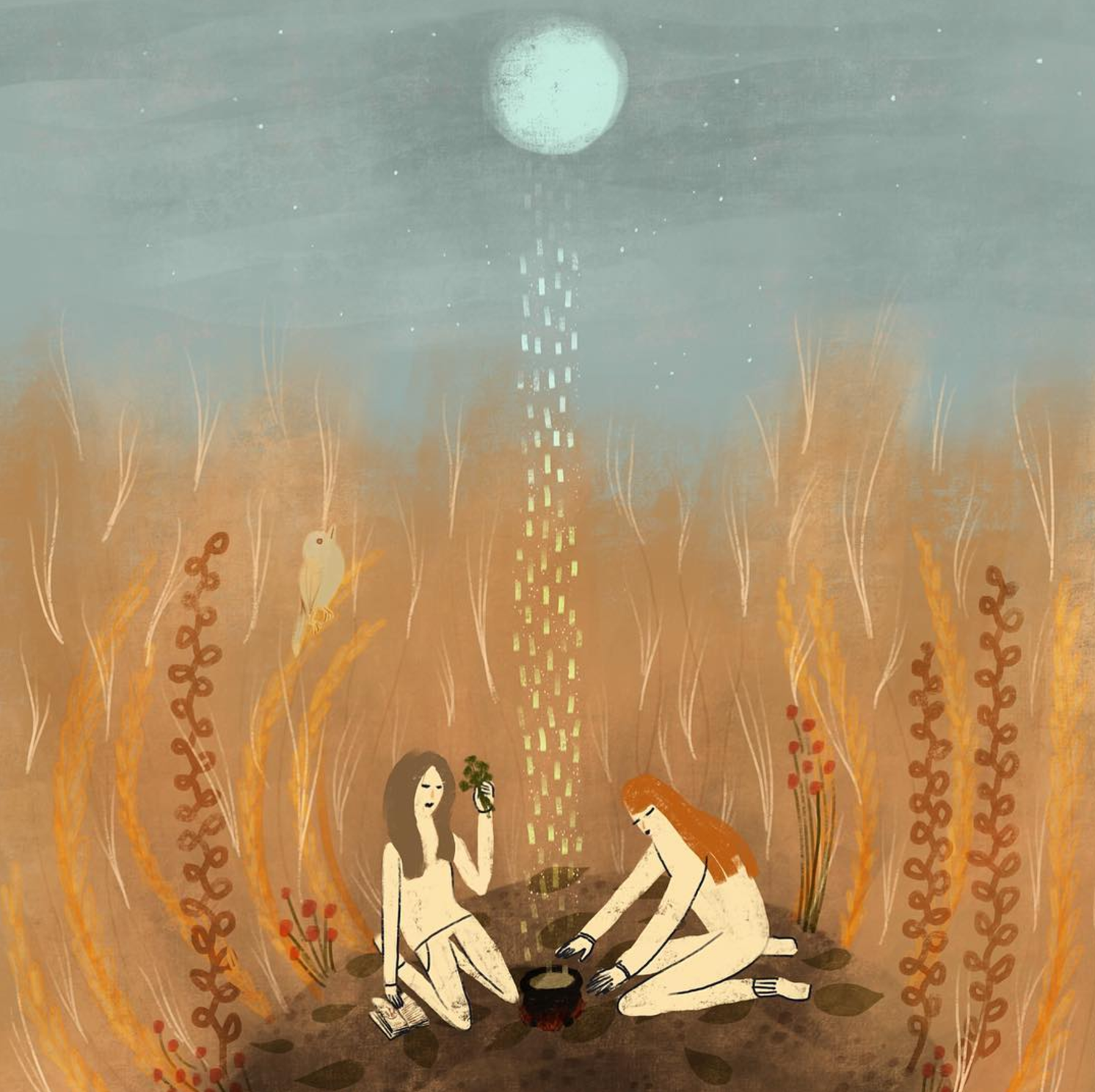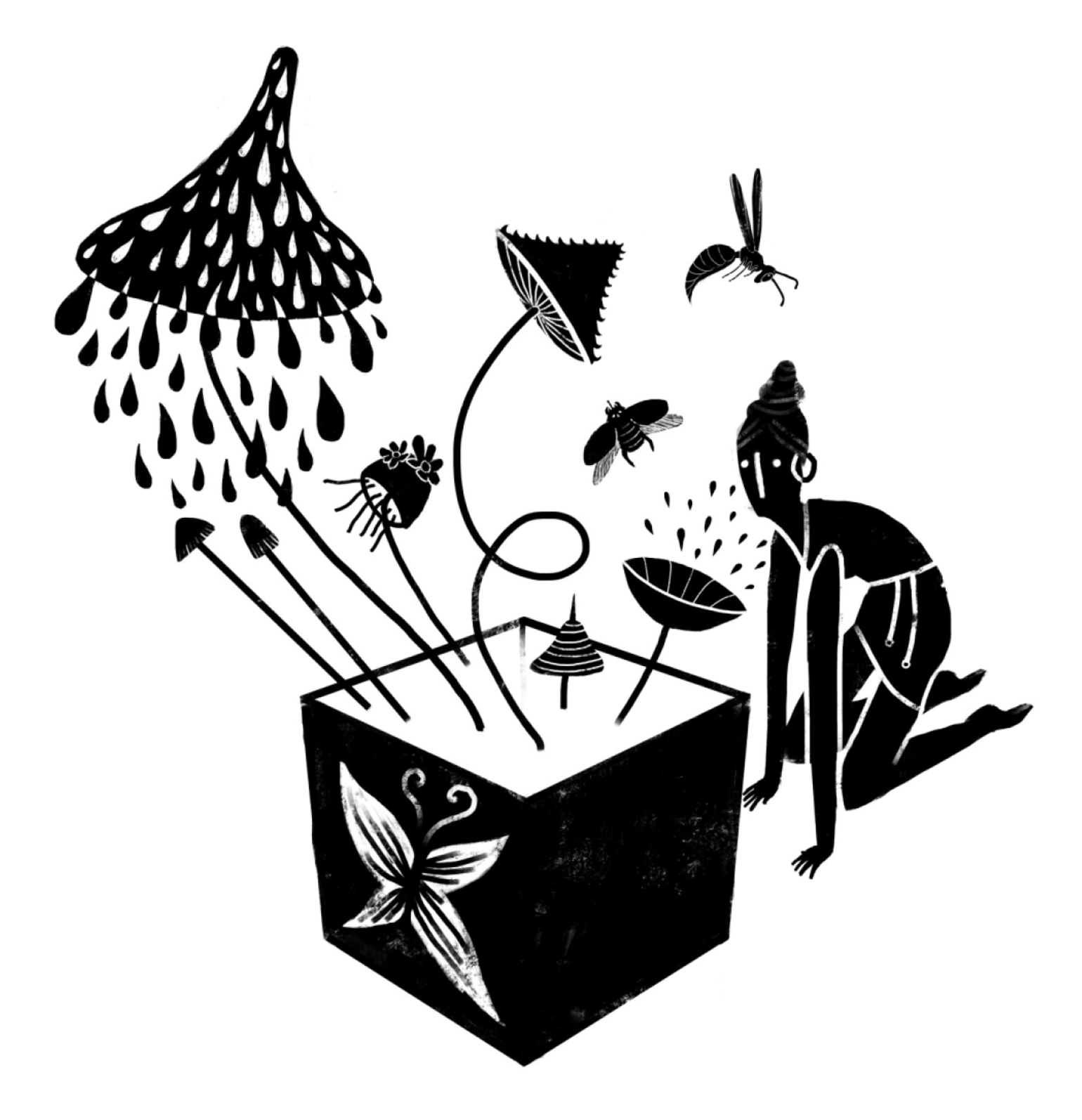 I don't really believe in the supernatural, but I really like to be spooked. I like the imagery and possibilities of a magical universe, it fires up my imagination. One of my favourite books is Ensel and Krete by Walter Moers – a German author and illustrator. It's an adaptation of Hansel and Gretel but with big evil mushrooms that will mess you up. It's hilarious and spooky and wonderfully twisted.
I love the juxtaposition between dark mysteriousness with bright colors and a bit of humor in your work. What inspires you? What themes do you like delving into?
Thank you! I really, really love colors; so much that I had to force myself to use a limited palette because without it, I will use every color possible and end up with something that only looks good to me. I guess colors are, in a way, an inspiration for me.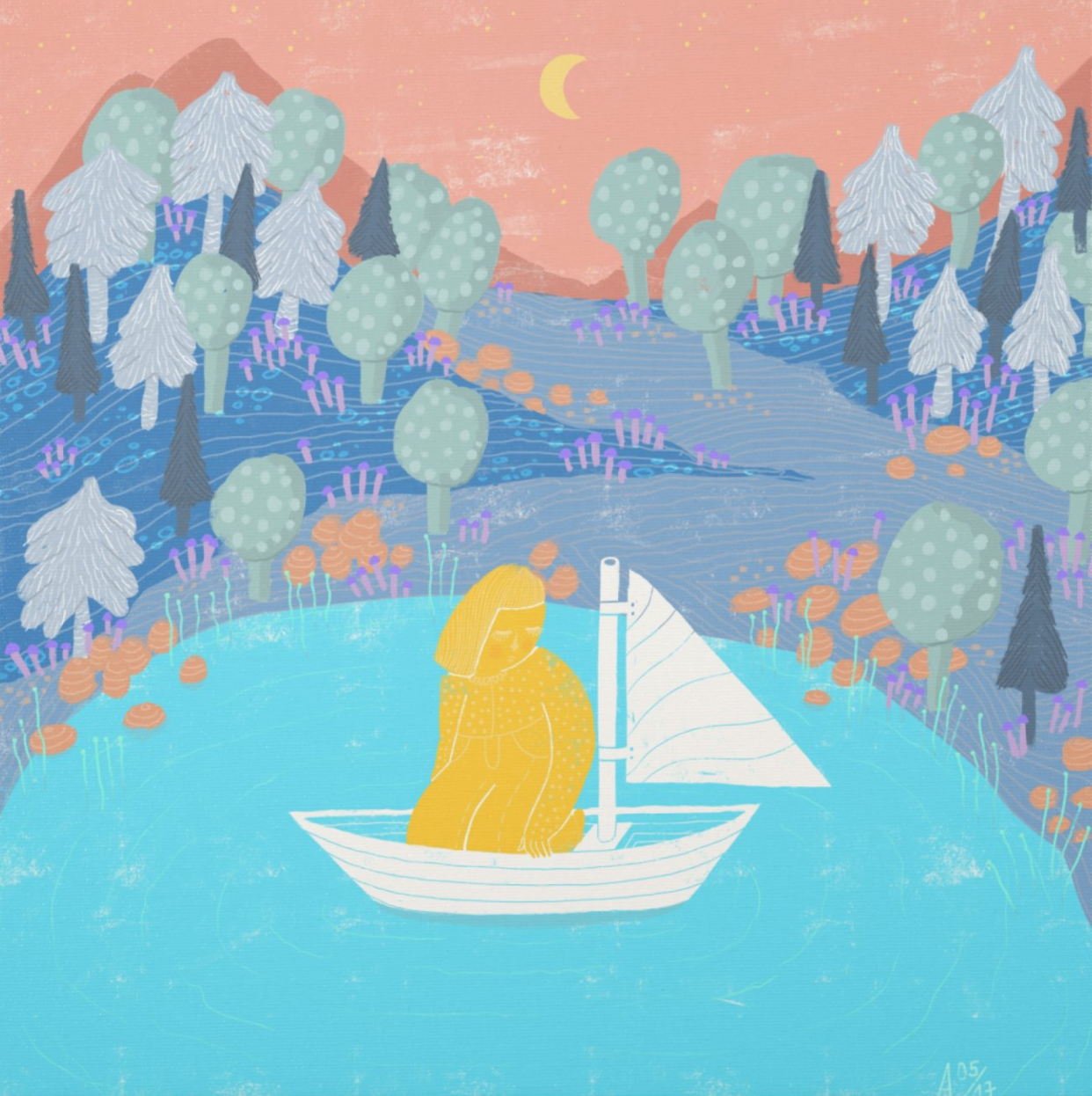 My Black and White series is a quite recent style that was actually inspired by one of your blog posts! I was thinking of ways on how to make better t-shirt designs and the featured works really struck a chord with me. Black and white simply looks great on tees.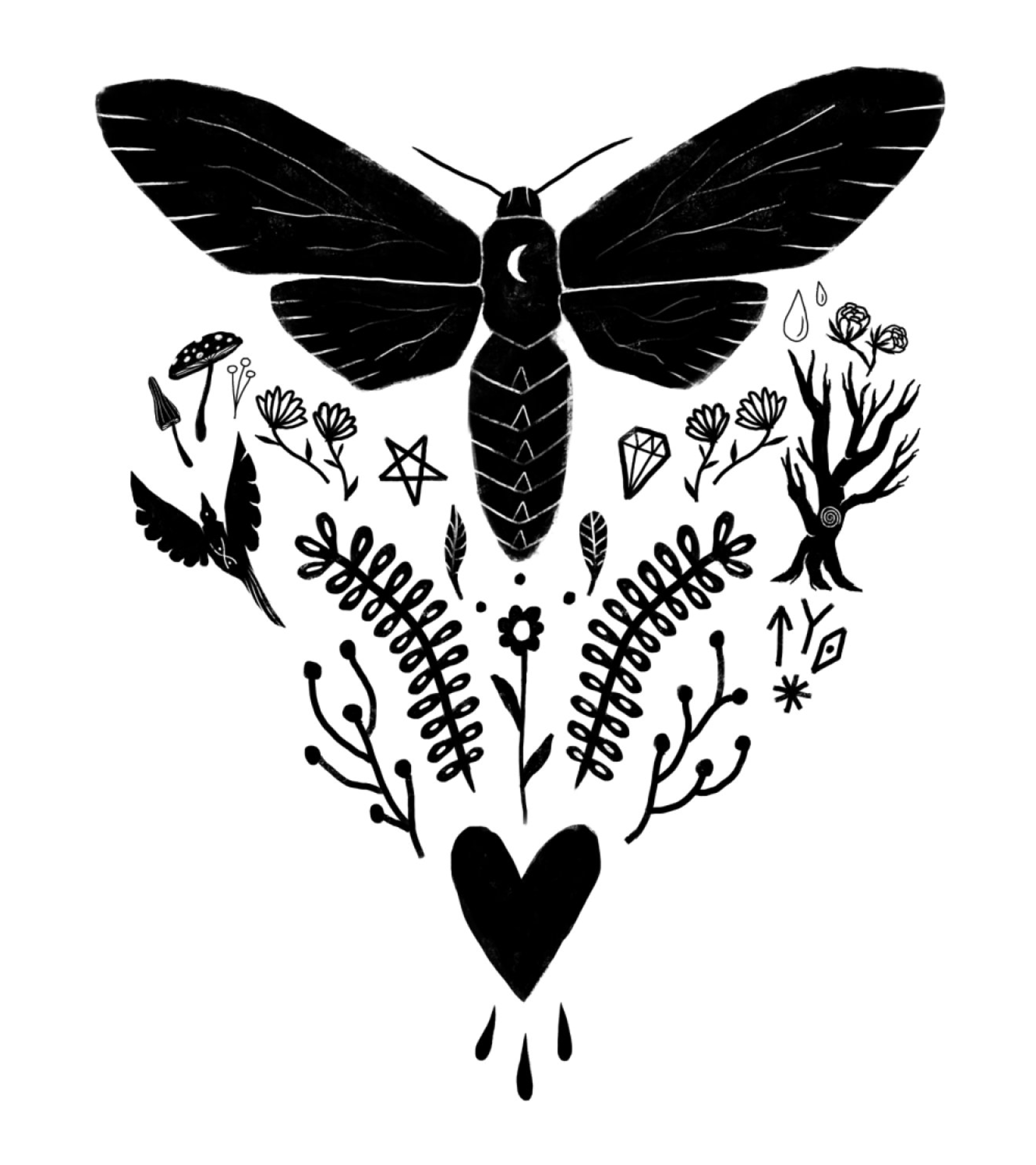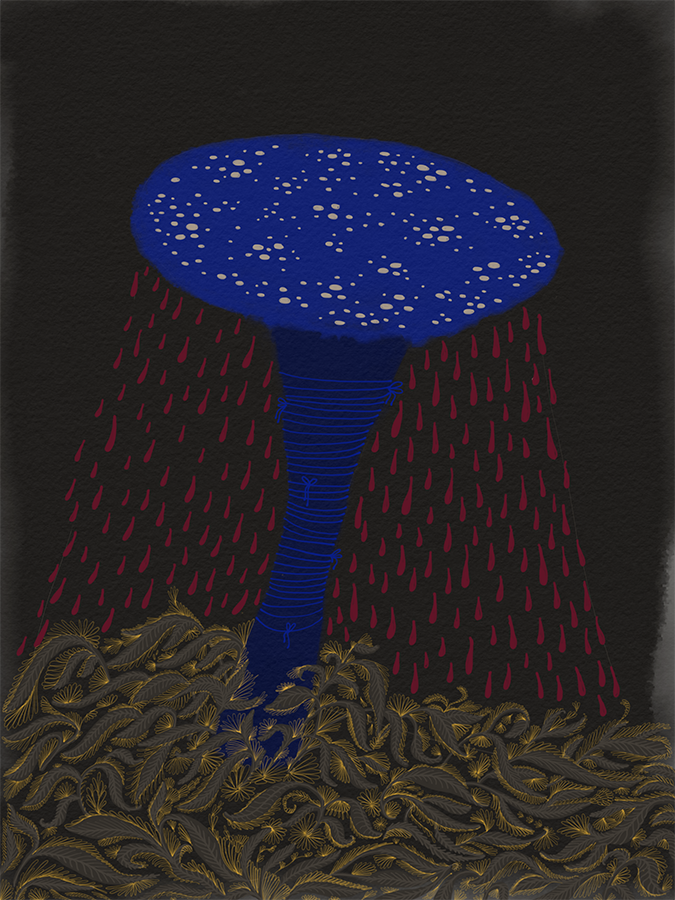 I'm immensely fascinated by the human mind and what happens if things go wrong. I had this old educational book with drawings from people dealing with severe mental issues. To this day, I keep thinking back to them because they were so striking.
Some of my pieces like "The Blue Mushroom of Depression" are directly inspired by it. I myself use art as a form of therapy, and I'm thinking about starting an art therapy project some time in the future. I would like this to be a group project, so if anyone is interested contact me!
On your Instagram you have a quote by Otto Dix about how painting is to produce order within yourself – is this what painting does for you?
Definitely. If I'm upset, drawing is a non-destructive way of channeling all my energy into something productive and maybe even beautiful. It can get pretty raw and messy, but afterwards it's like my demons are out and bound onto paper. Some emotions are hard to understand and confusing, and having a physical representation in front of you helps to distance yourself and look at them from a different angle.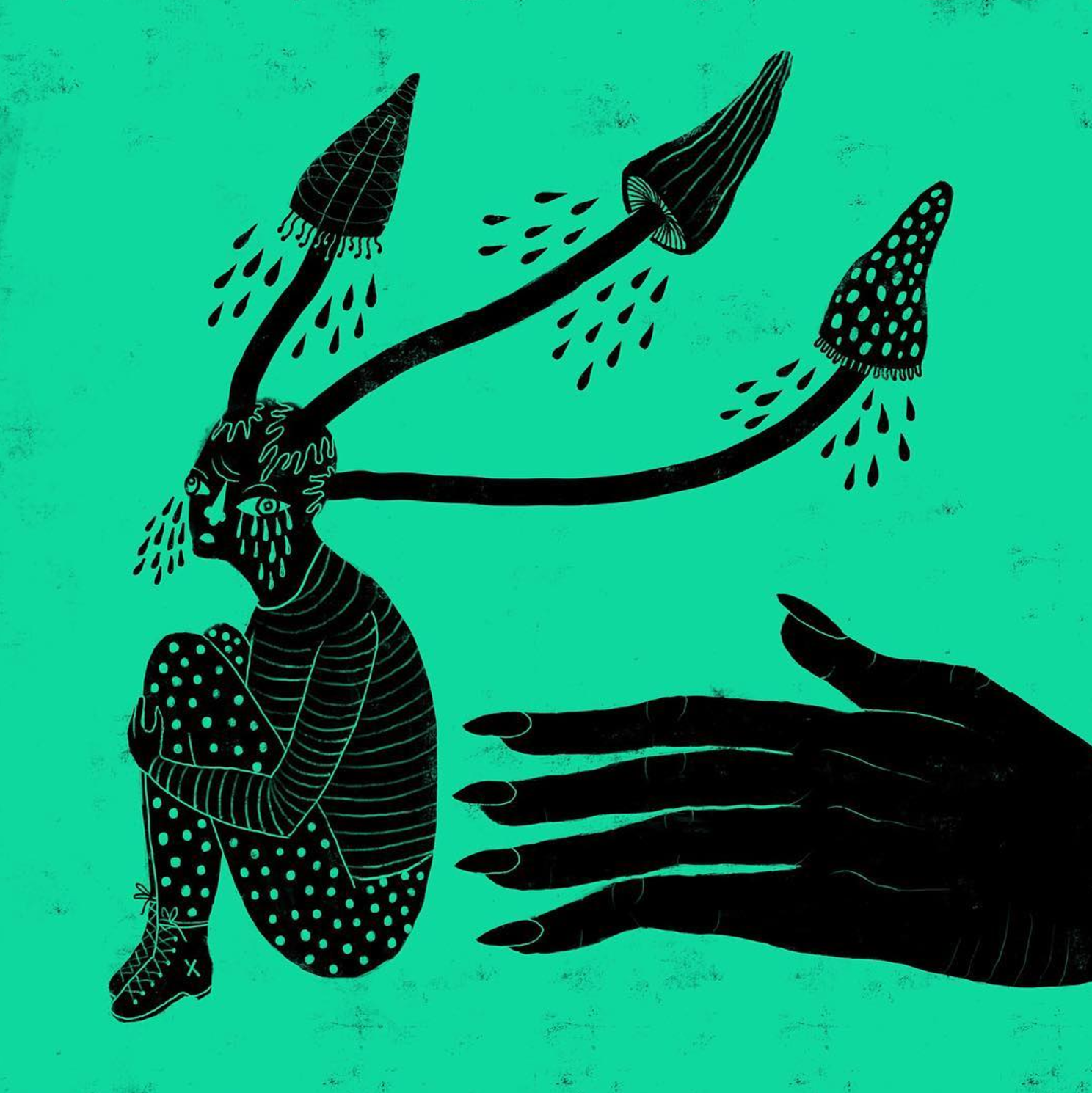 Tell us about your Artist Shop! Is there a theme with the designs you've selected for your shop?
I focus on only a couple of products, that is apparel and art prints. I used to prep my files for every single product which takes a huge amount of time. At the moment there is no need for me to do that. From what I've learned, t-shirts sell the best anyway. I do plan on adding more products, but only as part of a special series like my notebooks.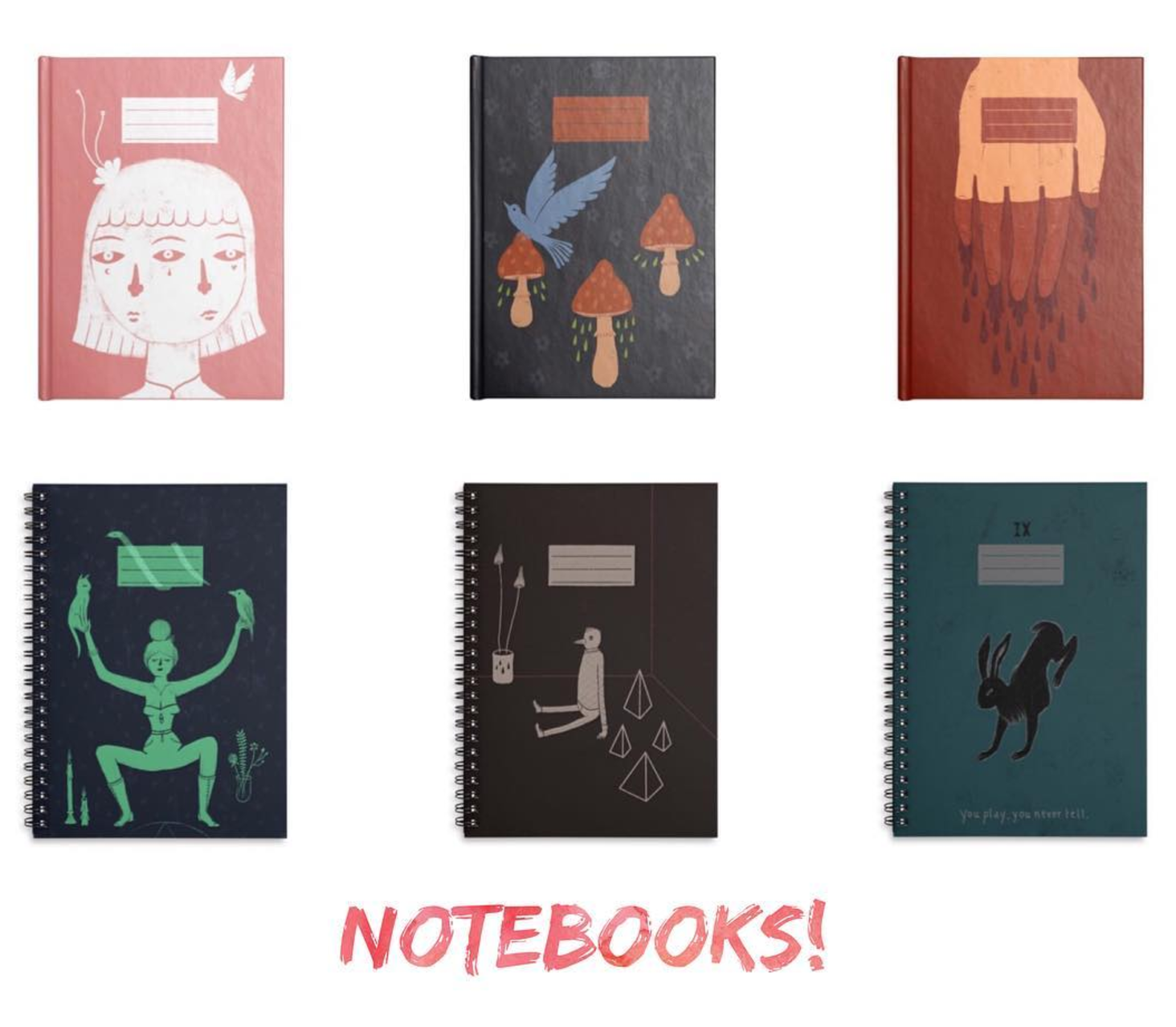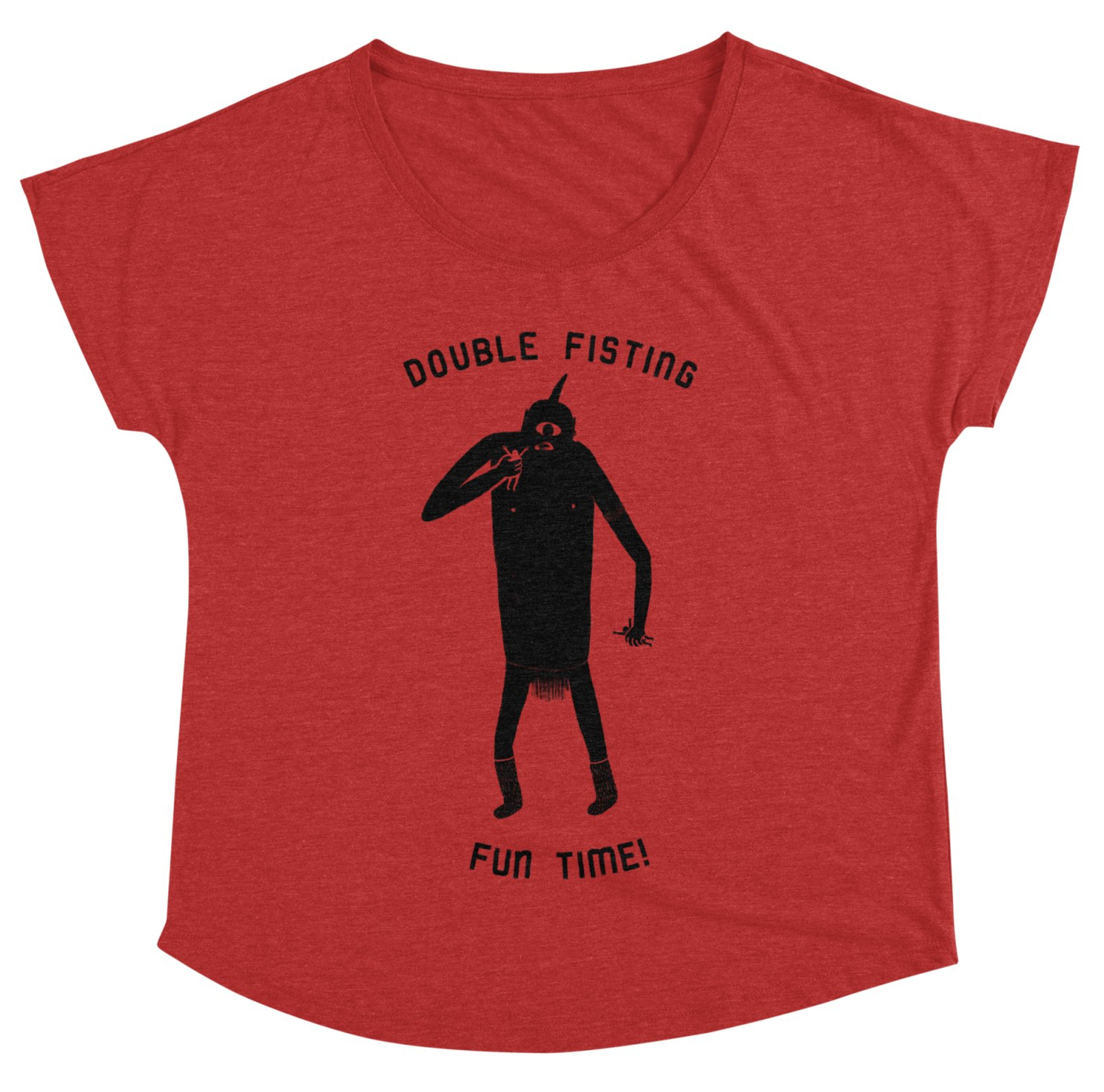 Overall I keep my shop quite curated and designs come and go all the time! Also don't be surprised if my shop looks completely different in three weeks – I can't settle very well.
Have you ever sold your work on apparel or accessories before?
I used to have shops on all popular platforms before I decided to focus on my Artist Shop. I love how it represents the artist and how individual they all are. I had some success with a Rick and Morty design on redbubble. After much debating I recently decided to re-open my shop again. It's a lot more work than one might think, but I'm still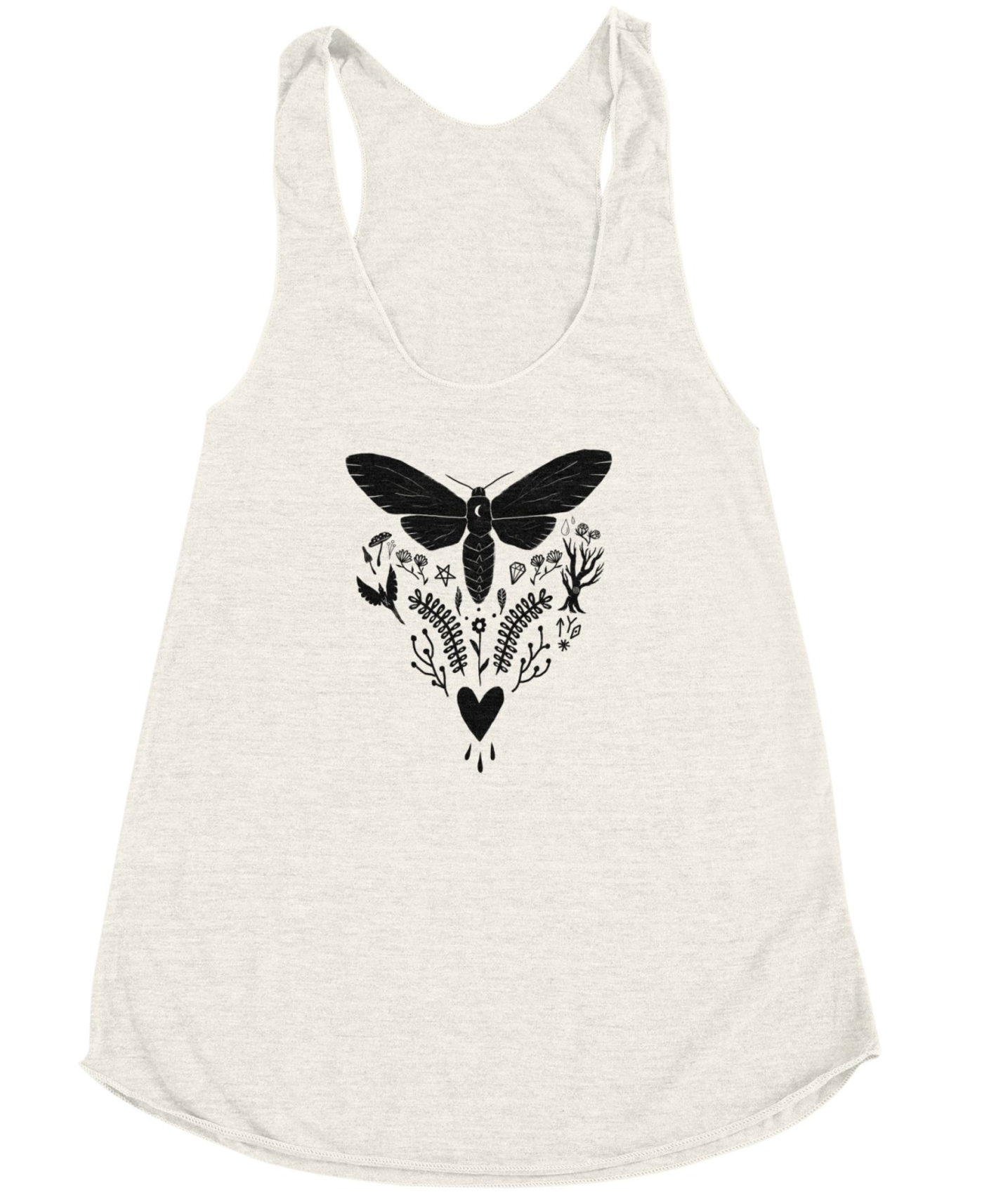 growing and hope to reach a wider audience this way.
Your art has such a unique look and texture! What medium do you use?
Thank you! I fell in love with my iPad Pro a couple of months ago. It's my first tablet and it took me quite a long time to make proper use of it. A big influence on my current style evolved thanks to the Procreate app and the Nikko Rull brush; it's a very clunky and heavily textured brush. I often start out by drawing big blobs and then erasing the drawing into them. I love how it gives my art a bit of a linocut look – something that I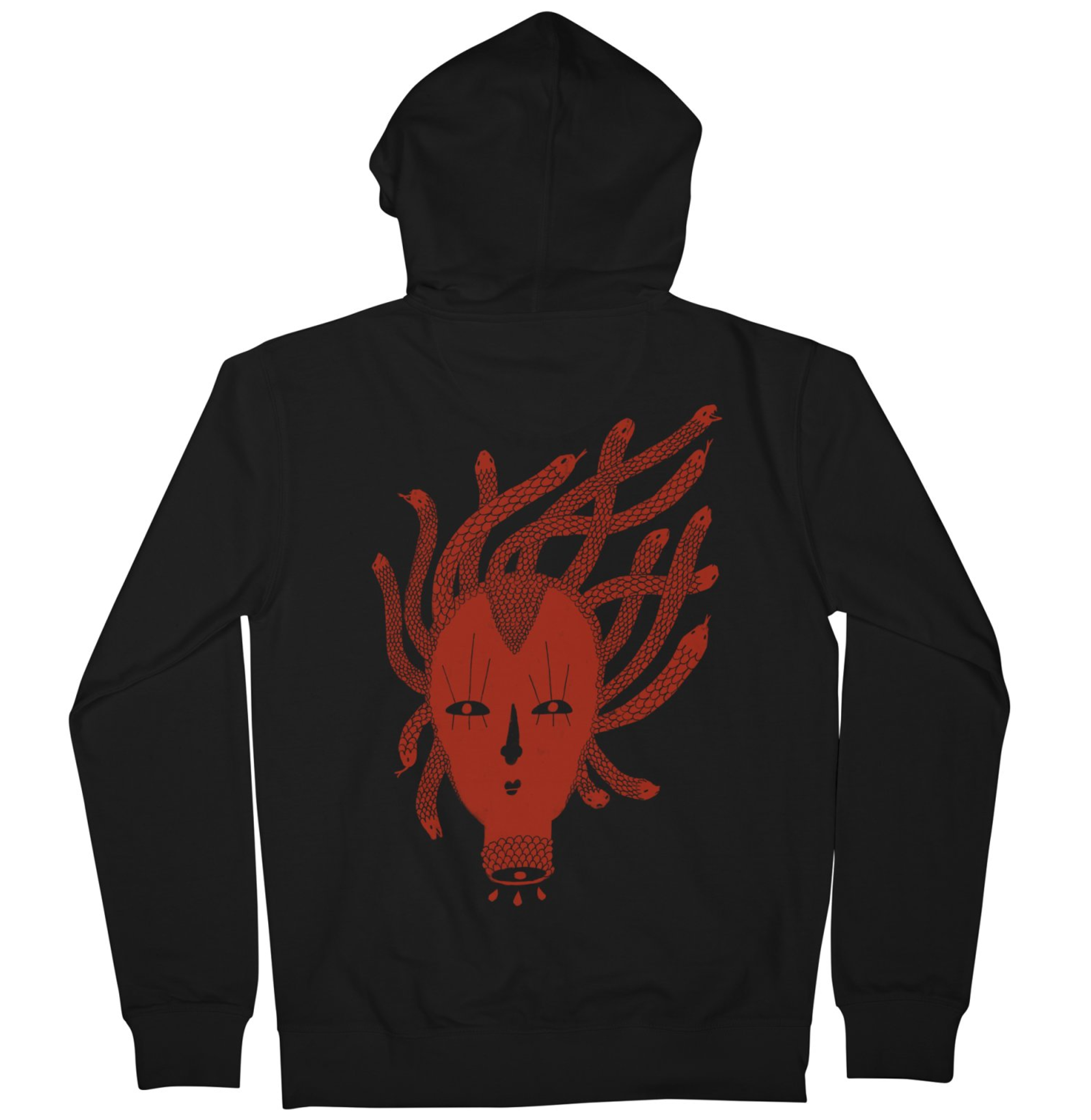 plan on taking up this year!
Fun fact: I'm probably one of the 1% who won an iPad on the Internet without being scammed. A shout-out to the amazing team of Pixite who held the giveaway on Instagram!
Anything else you'd like to share?
I'm working hard on my new website sleepydolphin.com! Keep an eye out because I plan a little giveaway on Instagram with some goodies once it goes live!
Don't have an artist shop? Start one now!