"Museums are the next punk rock…Songs used to be the place where things came together and you created something larger than the song itself—the sum total of the moments and the things that happened when you were listening to the song. That's what museums are now. That's what I'm trying to create here. A place where stories happen. Where we understand the only constant thing is change," says Martin Atkins, founder of the Chicago–based Museum of Post Punk and Industrial Music.
Originally from England, Atkins has been in the music industry for more than four decades. He was a member of Public Image Limited (PiL) from 1979 to 1985 and Killing Joke during their Extremities album period. He contributed to Ministry for the legendary 1990 Cage Tour, and to Nine Inch Nails for their "Head Like a Hole" music video and their Grammy Award–winning song "Wish." Atkins also founded the industrial supergroups Pigface and The Damage Manual. In 1988, he launched his own label, Invisible Records, which has released more than 300 albums. He has also been teaching music business for more than 20 years.
Beyond his groundbreaking musical contributions, Atkins has embarked on a new endeavor that magnifies the essence and significance of post punk and industrial music. Recently celebrating its two-year anniversary, the Museum of Post Punk and Industrial Music (PPIM) unravels the rich history of these influential genres and paints a vivid portrait of their impact on culture. Having collected so much cool stuff over the course of his decades-long music career, Atkins believes he had an unfair advantage in setting up this immersive museum.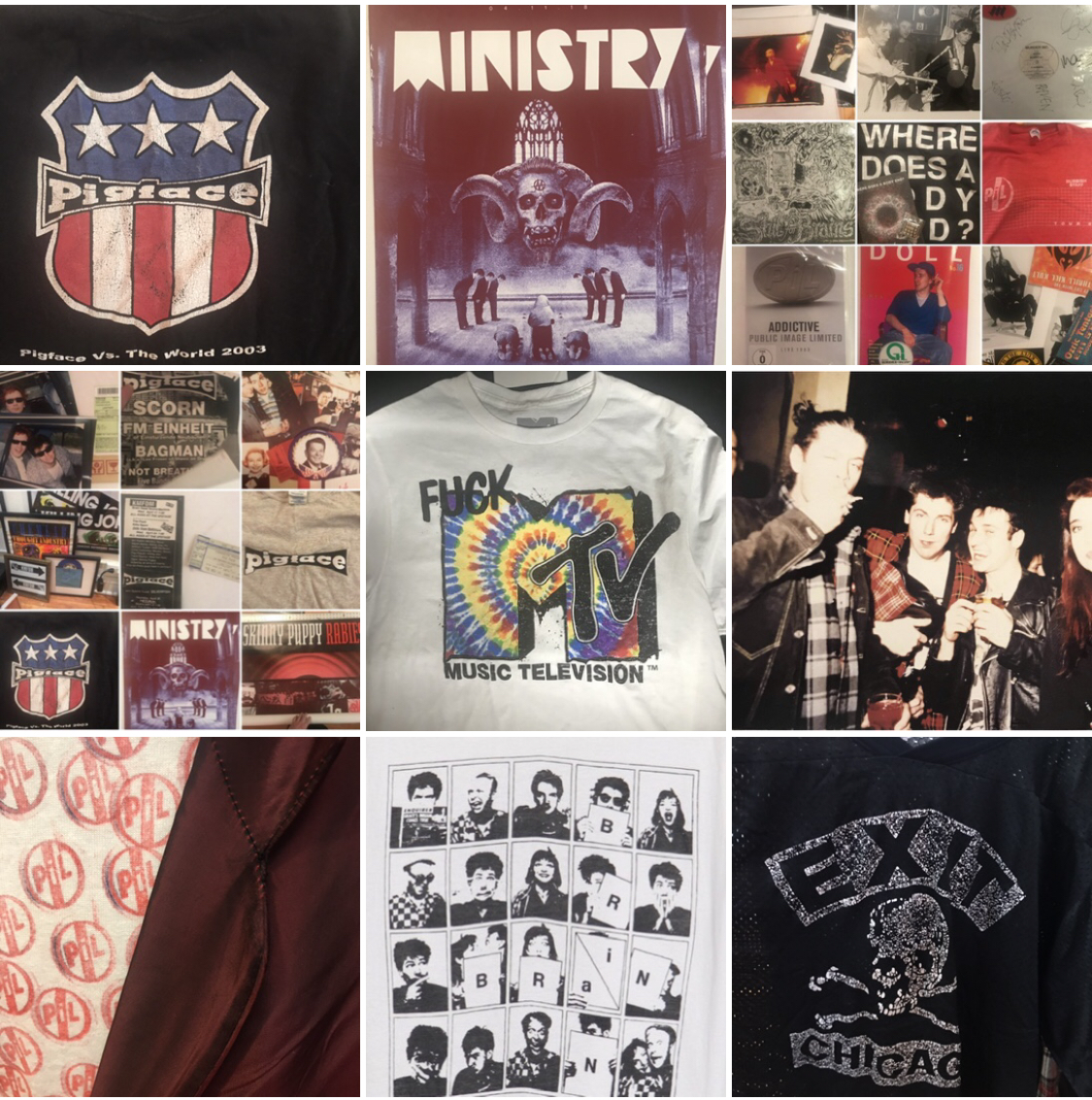 ---
We recently caught up with Atkins to talk about the genesis of the museum, how it has evolved over the first two years, and what visitors can expect. Additionally, official PPIM merch is now available in the Martin Atkins Threadless Artist Shop!
---
What inspired you to start the Museum of Post Punk and Industrial Music?
Martin Atkins: I was doing Zoom events from the basement during the pandemic and I would pull an item of scenery out of a box to change the background behind me, but then I wouldn't want to put it back. Slowly the basement turned into a mini idea of what the museum could be and, inspired by Nipsey Hussle, I launched on April 21st 2021, deciding to see if anyone cared. They did. A lot.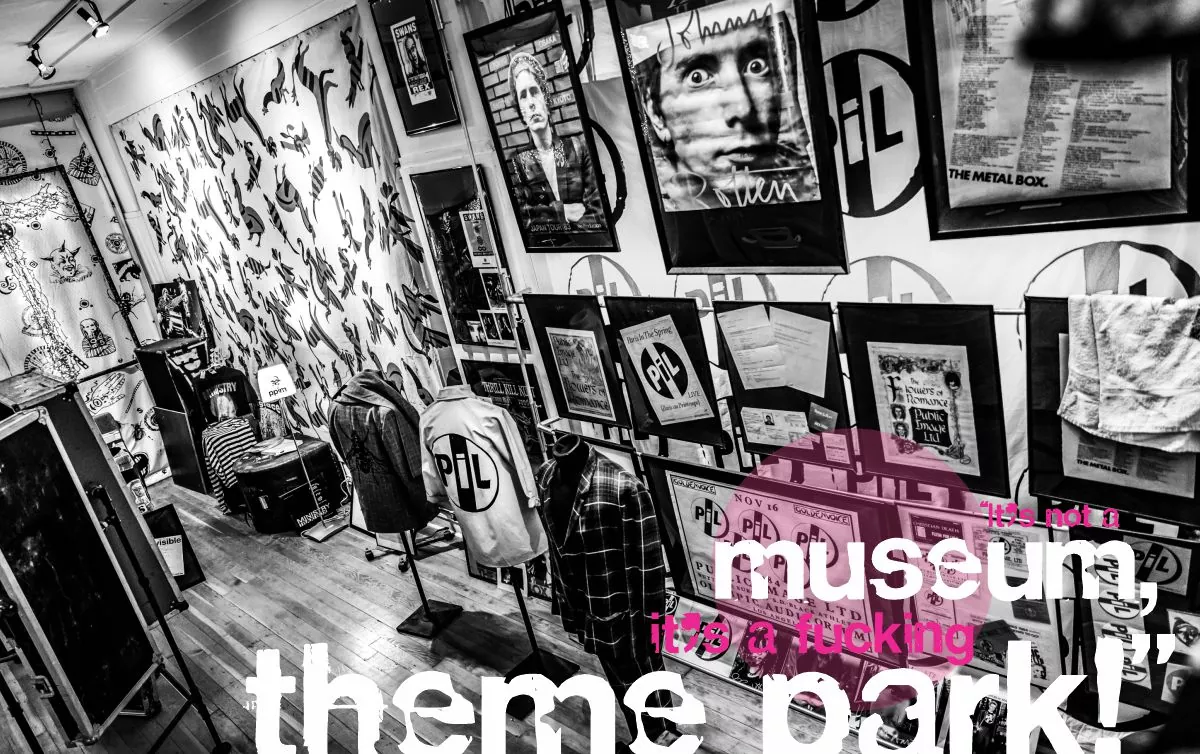 ---
In your decades-spanning music career, you've been a member of several iconic post-punk and industrial bands. What was your experience like assembling the museum's collection and reflecting on your own milestones as a musician?
MA: That's two distinct things. One, the experience of this has changed me and made me more empathetic as I see so many unexpected items be the trigger for memories and emotions from and for different people. It has made me more humble and more appreciative of all of these bands I've been involved with. It's also been educational as I learn about The Durutti Column's sandpaper sleeve album or Black Punks from James Spooner.
The other part of this is more…bureaucratic almost. I've been in a lot of bands, but I've also released over 300 albums on my label Invisible. Plus, my band Pigface has around 600 members, so it's almost an unfair advantage, the broad range of connections, and that just keeps growing.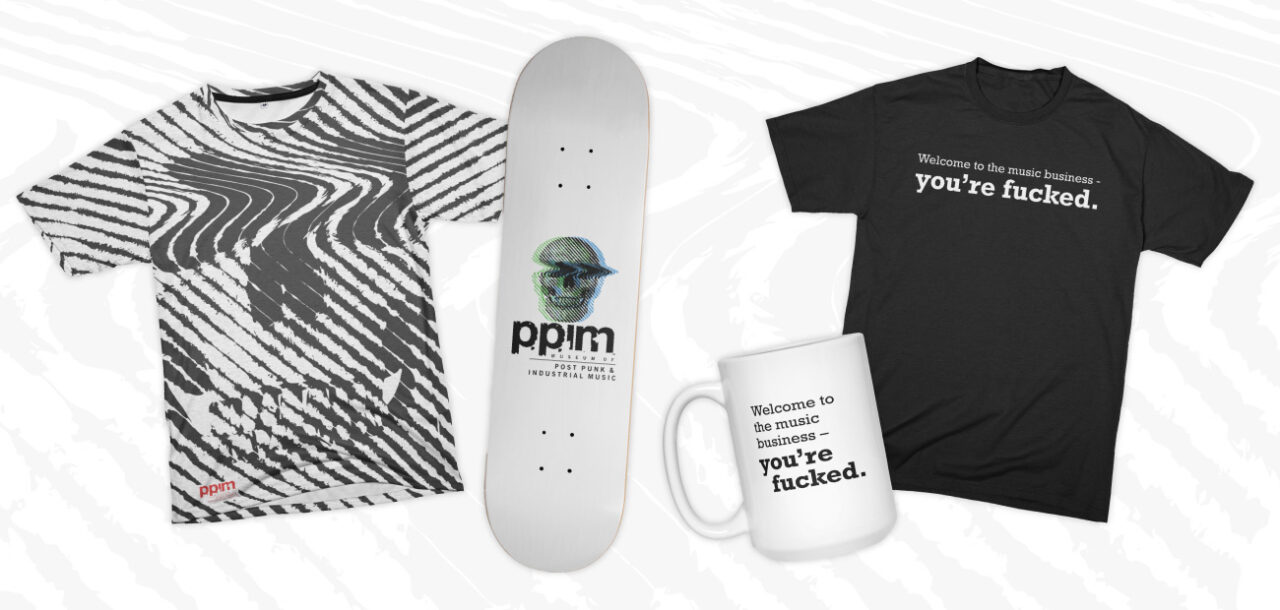 ---
In the late '80s, you came to Chicago to work with the band Ministry and to get involved with Wax Trax! Records, a highly influential label for industrial music. What do you remember most vividly about the scene in Chicago during this time?
MA: There was the same chaotic energy in Chicago that I experienced during the punk revolution in London in the mid 70's. I just knew I needed to be close to the fire. Everyone was working with everyone else—Wax Trax, Touch and Go Records, Steve Albini, Lounge Ax, and so much more everywhere. The energy was undeniable.
So, for a moment there, I was working with Ministry while still being a member of Killing Joke and started Pigface whilst on the Ministry Cage Tour. I didn't get to work with the Wax Trax label (although I have files of correspondence with Jim and Danny to see if they would be interested in Killing Joke or my new band Pigface). But that same Chicago energy enabled me to build a rehearsal space for Killing Joke that ended up being home to Pigface, Swans, Murder, Inc., Lard, Lab Report, and so much more. Touch and Go suggested I release Pigface on my own fledgling label, Invisible. That was the start of a creative explosion for me and over 300 releases.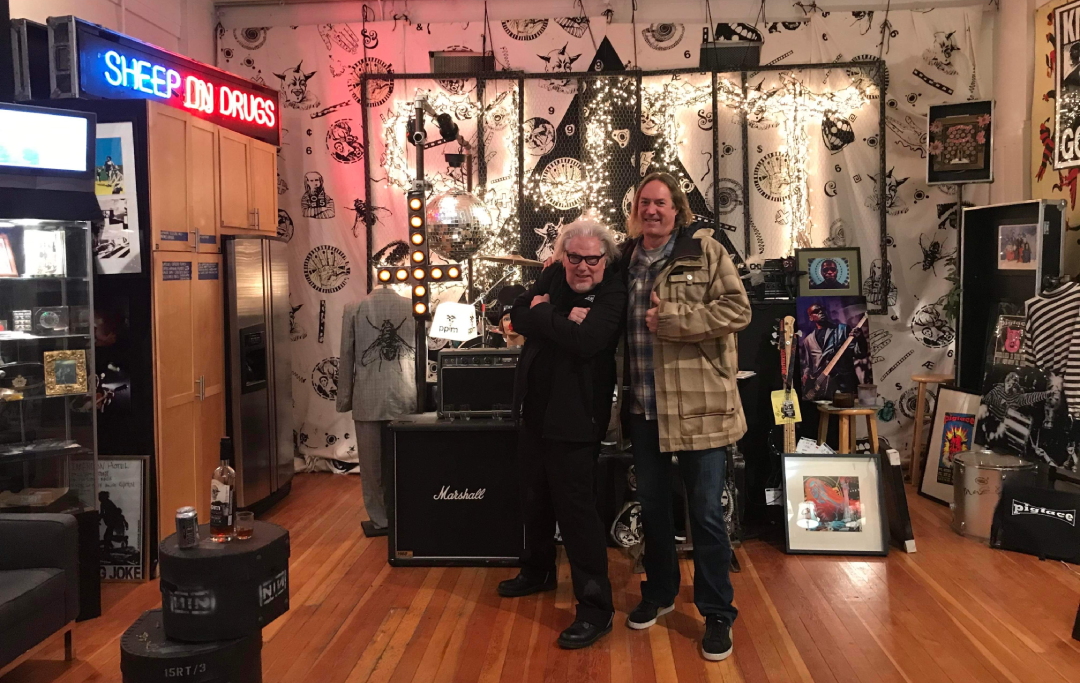 ---
PPIM's collection started with your own memorabilia and has grown significantly over the last two years. Can you describe the process of selecting items for the museum?
MA: My own collection is just ridiculous, so that was a no brainer. There are very few items I have purchased (or partially purchased as a donation) to illustrate areas of the museum, like The Durutti Column's sandpaper album on Factory Records or the Black Box [a metal-encased retrospective box set on the first 13 years of Wax Trax! Records] that was also signed by Jim and Danny, the founders of the label. That felt like an important piece to have.
As for the rest, it's left to founders [members who donate to the museum] to bring their important stuff…I am always surprised by rare, signed pieces like the Nine Inch Nails Year Zero Ammo Box (only 100 made), or the Ministry microphone skull, or Ogre's signed stage suit, or items that I don't know what they are—like the Hilt shirt or Paul Raven's bongos!
It's also the stories that go with them that really excite me. The depth, the insight is really special. Then there is the accumulation and the exponential factor. I had a meal money sign-off sheet for Killing Joke at the Ritz in NYC in 1981…Then I found the backstage pass for that specific show, then someone found a ticket stub to that show…Plus, I am sure eventually [we'll receive] a pic, a review, a recording or a video, or a short, or a story [from the show]. It becomes overwhelming sometimes.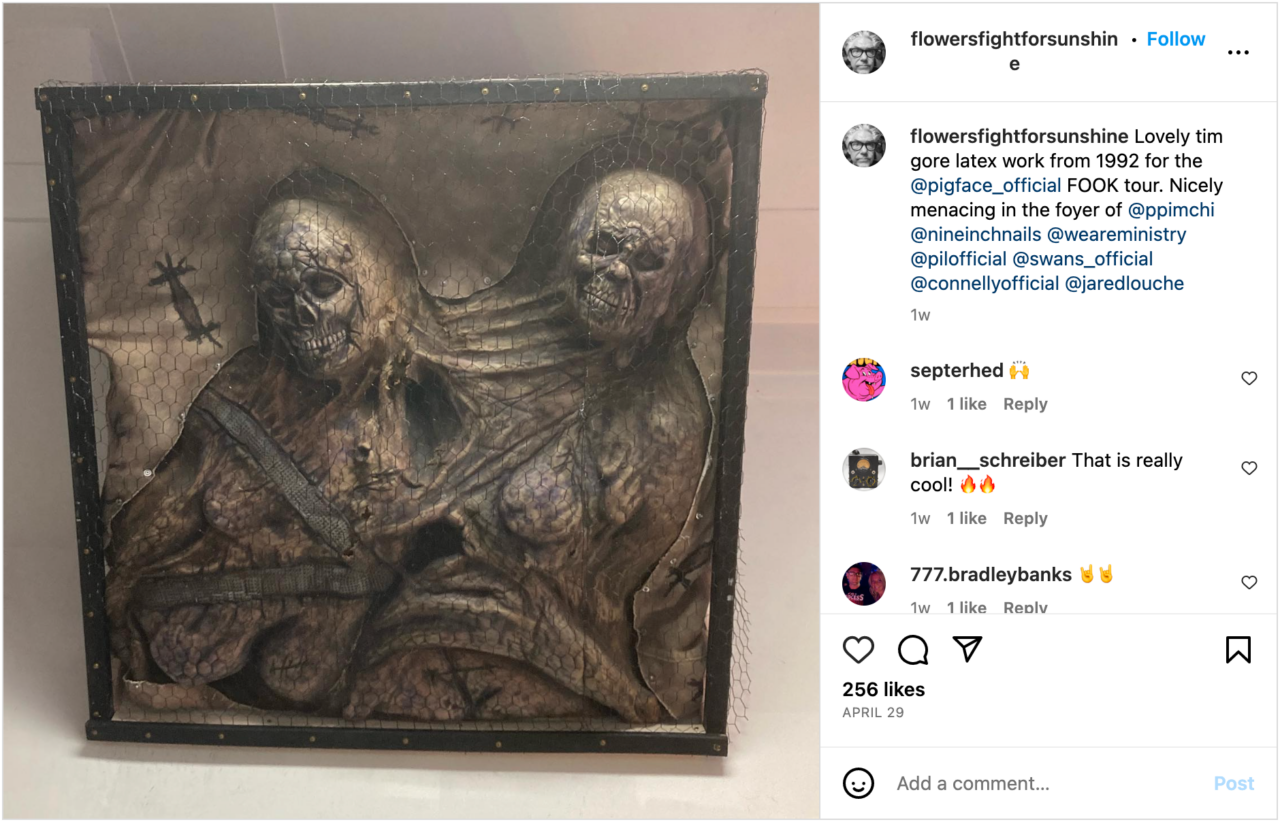 ---
The museum showcases lots of rare items from big names including Nine Inch Nails and Killing Joke. Are there any gems from lesser-known artists you wish more people knew about?
MA: Well, so much is represented from Chemlab, Psychic TV, Genesis P-Orridge, Evil Mothers, Swans, Test Department, One-Eyed Doll, Gang of Four, Lemmy, Pig, KMFDM, Einstürzende Neubauten, Pigface, Brian Brain with Margot from The Go-Go's, and so much more…Front 242, Front Line Assembly, The Durutti Column, Diatribe, Acumen Nation, The Revolting Cocks, Lead into Gold…
[We also have items from] venues like Neo and Exit, other labels like Touch and Go and Wax Trax, fashion designers, printmakers including Allan Jaeger Kozik, and more. [The museum showcases works by] photographers Jodi Sargent, Bobby Tallamine, John Brian King, and Philin Phlash, [as well as items from] studios, engineers, producers, button makers, and the theatrical latex work of Tim Gore.
Visitors at the museum will see everything from hand-written lyric sheets to literal contracts. What item were you most excited to add to the collection?
MA: There's a few. Initially, Ogre's signed stage suit from 2015, then a handmade 1980 PiL raincoat from Betsey Sherman, then a Ministry skull, 2' master tapes, autographed pieces, a smashed NiN guitar from 1990/91, the Year Zero Ammo Box (complete). Surprising stuff like the Skinny Puppy eyeball paperweight…the bench seats from The Warehouse in La Crosse, Wisconsin! They're 30 years old! The videos—I just found a copy of NiN at Helter Skelter in 1991! It just keeps on going and surprising me and fueling others. It's MAGIC! A Moog synthesizer signed by Bernie Worrell and Brian fucking Eno. That goes great with my pic of Brian's toilet!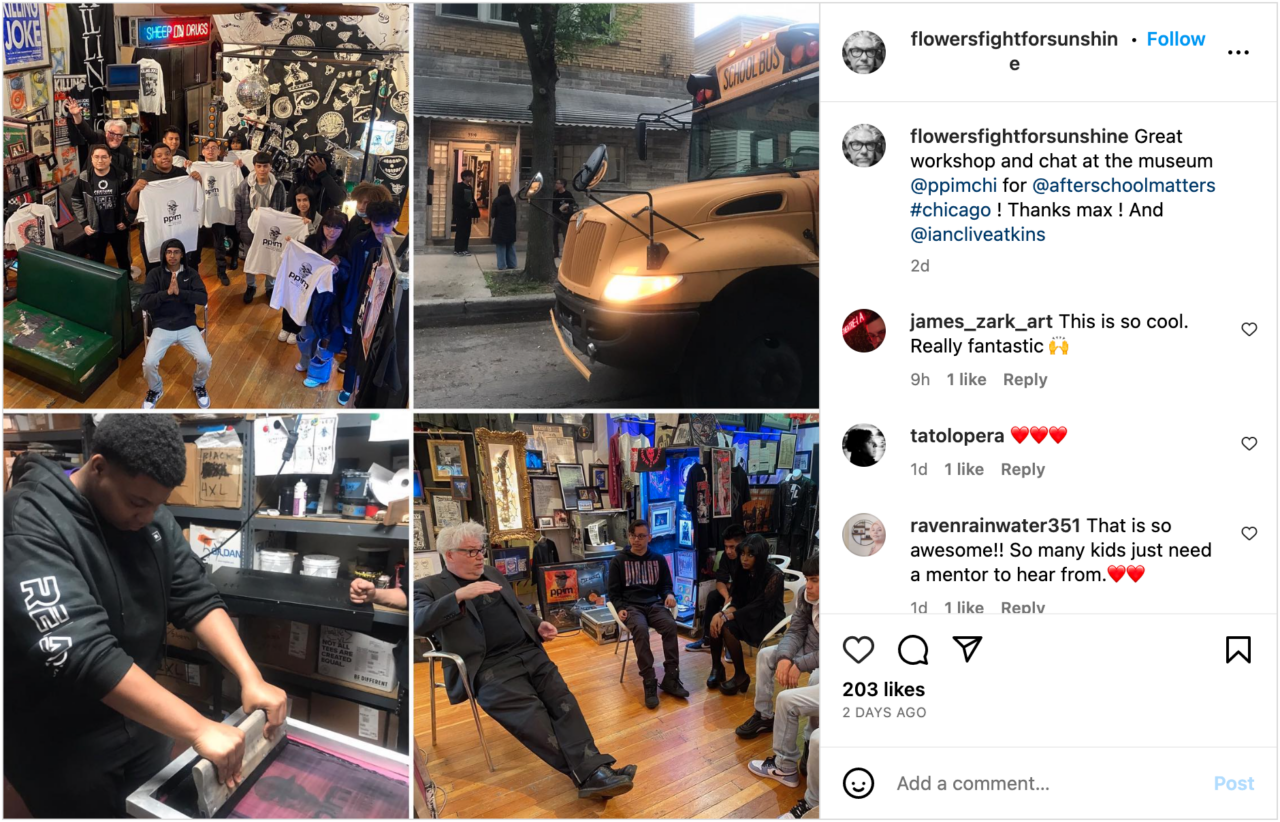 ---
In the past, PPIM has offered visitors experiences including a whiskey pancake brunch and pop-up haircuts. How has the response been to these events and what other unique activities can you imagine the museum hosting?
MA: There's something about the idea of always going deeper (not always bigger!) and—as we did in post punk and industrial—differentiating what we are doing. So, in addition to the pancakes and haircuts, we let people go down to the studio and mix Trent Reznor singing the original "SUCK" with Pigface. During the process, you can solo Trent's vocal track and hear the whirr of the 16mm film camera we had with us. It's a more intimate experience and you can take away your mix on cassette, like a Build-a-Bear workshop, but cooler.
Speaking of which, we are looking at having a workshop where people can make their own Martin voodoo doll, go downstairs and listen to unreleased material, check out the photo archives, sit behind my kit and choose backgrounds (Ministry Cage Tour, Killing Joke, Pigface, "Head Like a Hole", etc.) and shoot an Instagram post.
The building where PPIM currently resides used to be a funeral home. Have you made any paranormal pals since you've been there?
MA: No, but people seem to like this additional aspect, especially for the overnight stays we do!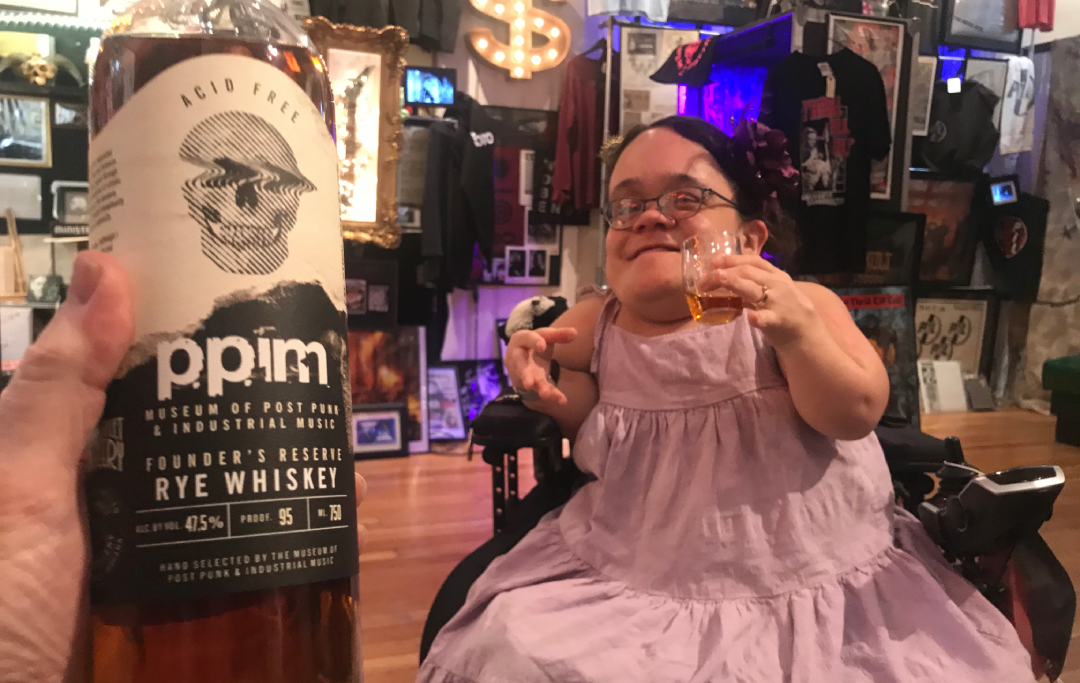 ---
There's a quote on PPIM's website that says "It's not a museum…It's a fucking theme park." What do you hope visitors take away from their experience at PPIM?
MA: It's our job, I think, to make the experience as different, unique, thought-provoking, and emotional as being involved in the first incarnation of all of this. It's a handy reference point to think about, so it's not sterile, behind glass, or remote. It is just as it should be, literally in your face. It smells, it feels, it glows in the dark! Mainly, people leave stating that they can't wait to come back to hang, to steep in all of it.
Apart from the museum, you teach at Millikin University in Decatur, IL, leading courses on industry-related topics such as touring, advanced entrepreneurship, and online marketing. Do you think aspiring musicians today should prioritize business knowledge as much as musical skill?
MA: Of course. Music Business knowledge is THE difference in your touring/event situation. I can show you how to fill a room using tried and tested strategies (and accidents) that make a difference and can sell out a room. NOT being twenty hours better as a guitarist. There are 712 million guitarists in the world. If you think that being one of the best means very much—or is even attainable or desirable—you are an idiot. It's much better, I think, to be "good enough" and develop other skills that WILL make a difference. For instance: I don't LOVE your band, but I do love the cheesy sourdough bread you make….and your mechanical skills could help with fixing my motorcycle collection or my fleet of lawnmowers—let's talk! You need seven skills to move forward. How many do you have?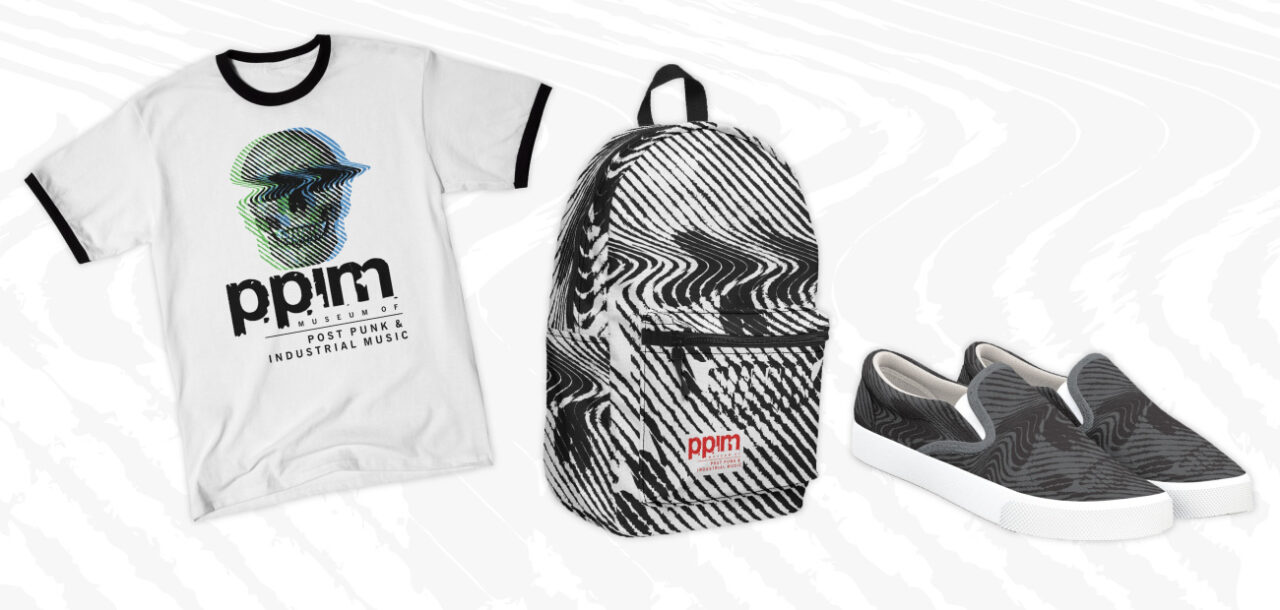 ---
You have an extensive speaking resume and have written three books on how to succeed in music (Tour: Smart, Band:Smart, and Welcome To The Music Business…..You're F*cked). What's something you know now that you wish you knew at the start of your career?
MA: I spent a lot of time thinking that my career was a quick, flash-in-the-pan affair, that I might have 6 months to a year in PiL and that would be that. (The business is volatile, there were drugs, addiction, and Johnny Rotten FFS!) But, here I am 44 years in…I would have conducted myself differently I think, especially early on. But I am grateful to still be friends with many of the people who helped along the way in so many little ways.
What do you have coming up? Any projects or events we should look out for?
MA: The museum continues to grow and take over my life and fuel it in so many unexpected ways—so, that! There's some music coming too, old (as we discover insane 25-minute dub mixes in the archives) and new as I form new relationships with artists I never thought I would be connected to. Perhaps we will record inside the museum itself! And, my new favorite thing is to give tours and to let people bid on the opportunity to spend the night at the museum!
---
---
Thanks to Martin Atkins for this in-depth look into the Museum of Post Punk and Industrial Music! Visit their website for more information, pick up merch from their Threadless Artist Shop, and follow Atkins on Instagram.
---