Secure your cosplay before helping others to AVOID FATALITY! Let's be real, it's almost impossible to not mentally caption any and all safety instruction cards with ridiculousness. And the winner of our 'Safety Card Parody' challenge, Ian Byers (@ibyes), has given us a whole new version of in-flight entertainment by changing the way we look at airplane safety cards forever! Just try to unsee the Mortal Kombat 'kosplay' twist his winning design puts on the whole 'secure your own mask before helping others' bit.
We talked to Ian about what has quickly become our new favorite safety card meme, about his process, and about some of his very own not-so-much-emergency costuming! Check out the interview below and check out his winning design here!
.     .     .
Congratulations on winning this challenge! The last time we chatted, you had just had your design "STFU" printed – what's new with you since then!
Thanks! Yes, it's been a great year for me on Threadless so far; This is the second challenge I've won in my Threadless career. I never thought I'd win once, but hopefully there are more to come. I love how that print came out.Other then that, I have been between jobs for awhile, so I have been enjoying being Mr. Mom to my 5 year old daughter.
Also let me take this opportunity to compliment the Threadstaff on their amazing promos for "STFU" and for my collaboration print, "Curiosity is a Nine Letter Word" with Daniel Arzola (@Goliath72).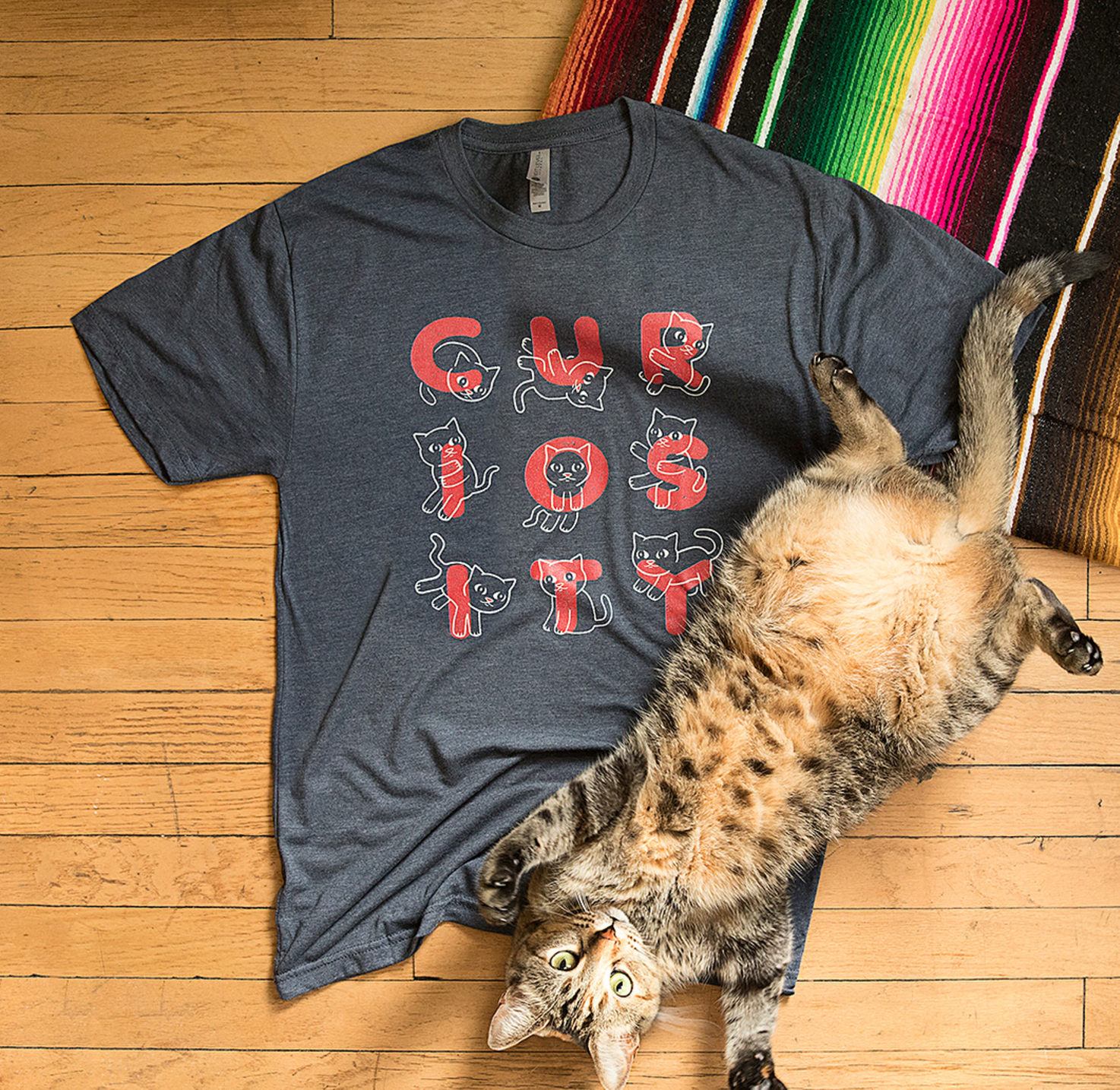 What attracted you to this challenge? What was your process?
I like the idea of making serious things absurd, so I felt like this challenge was right up my alley. My process has been the same for awhile: I brainstorm a bit, land on an idea, and start sketching. Sometimes I do rough thumbs on paper, but usually I jump on my iPad in Procreate and start sketching. If I need some visual references, I do an image search on Google. I might do 5-10 versions before I am ready to import a tight line drawing with initial colors into Photoshop. From there, I do some tweaks before I import the design into Illustrator and create outlines.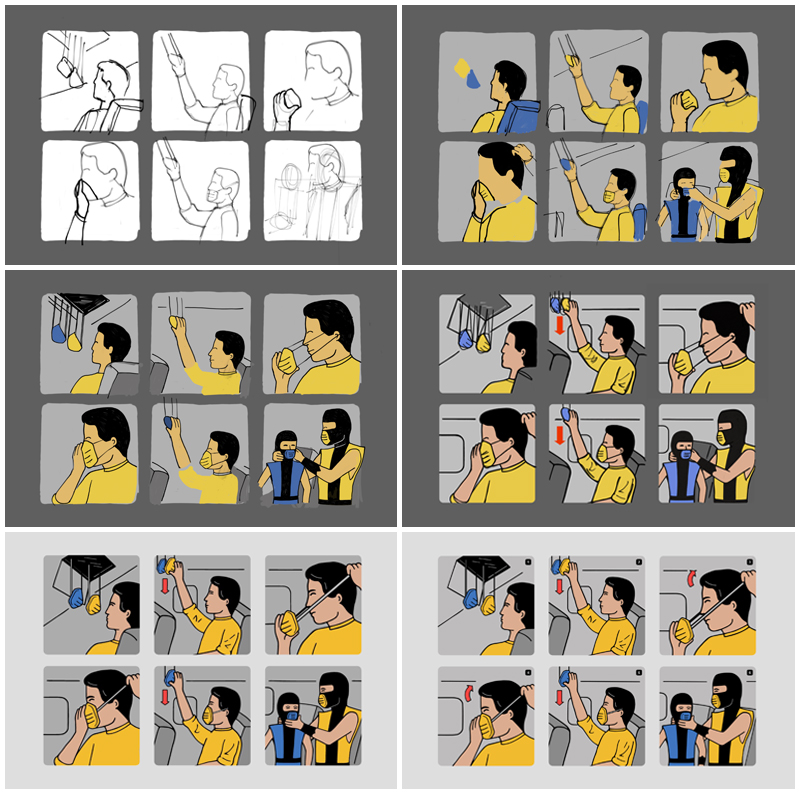 And the fun does not end there! Then I finesse the line work until I can't get it any better, and lastly I finish the coloring and sometimes add a bit of texture depending on the design.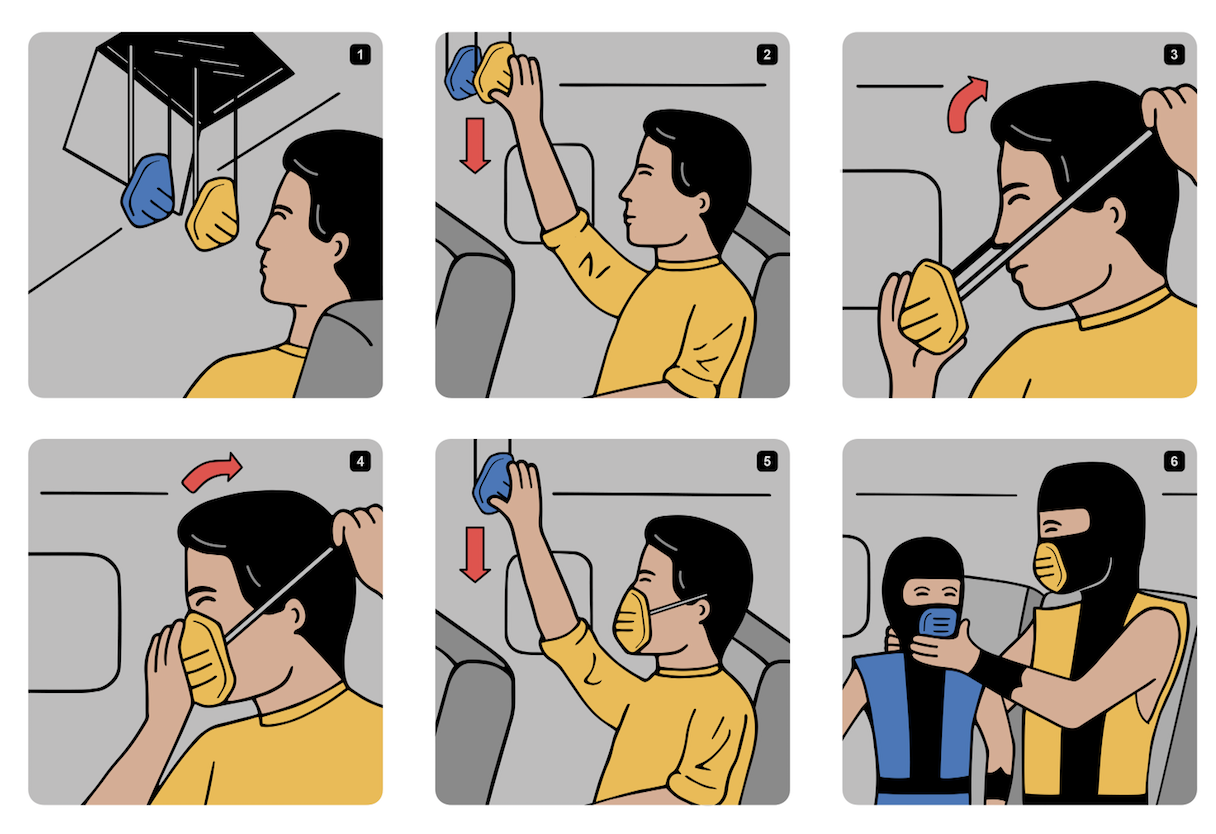 Where did you look for inspiration when brainstorming this design?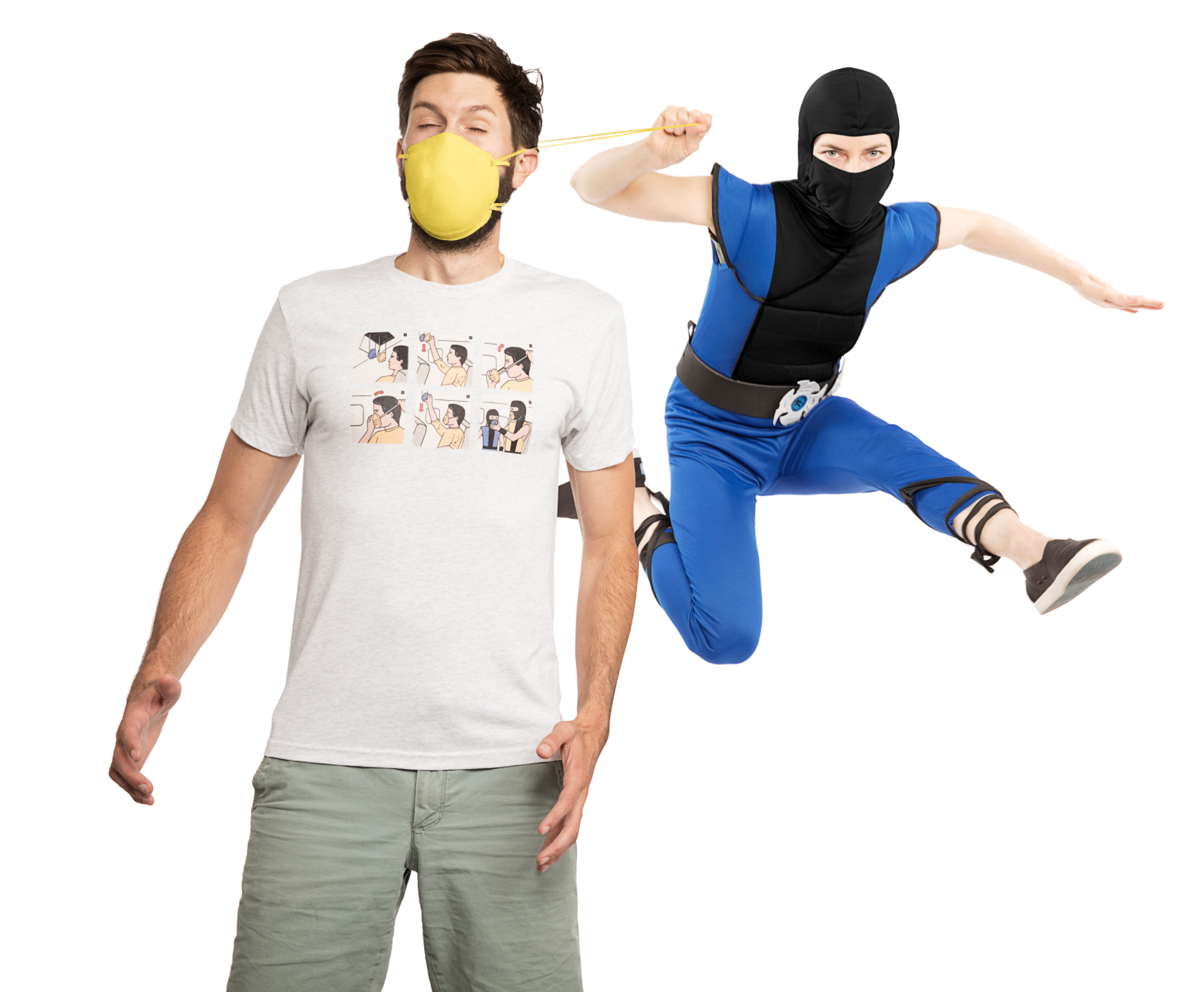 The inspiration for my idea was right in the contest description: "the key here is to just have fun with it! So sit down, secure your own mask before helping others…" After reading that, I knew right away the design had to be a play on airline safety and I knew the more ridiculous the idea was, the better it would be received.
I looked at a lot of airline safety cards just imagining how to make them silly. I kept going back to the "secure your own mask" line and settled on that iconic set of instructions. After looking at several examples, the idea that the masks looked like part of a Mortal Kombat character's costume popped into my head and the rest just fell into place.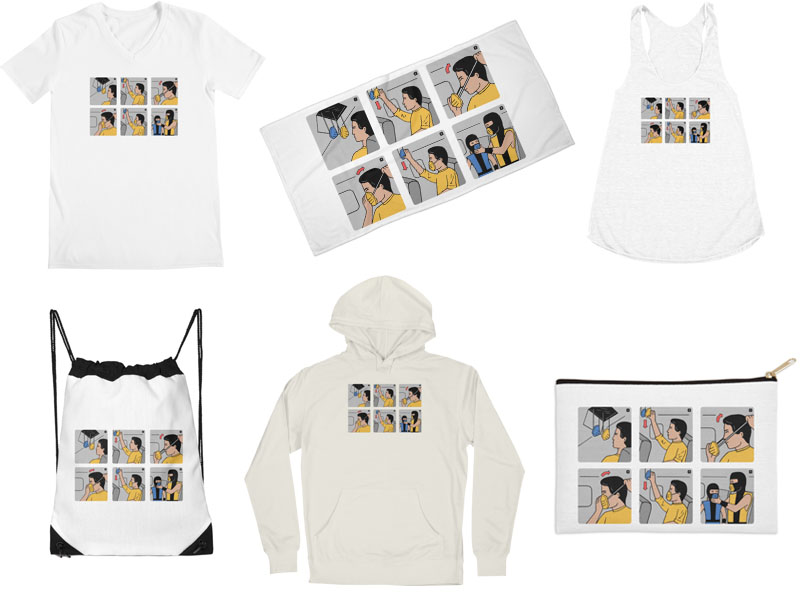 Did you have any other safety card parody ideas that you brainstormed?
Funny enough, I almost did an idea parodying the scene from Titanic where they are floating on the piece of wood at the end. Someone else ended up doing a really good job using that same reference, so I ended up not doing it.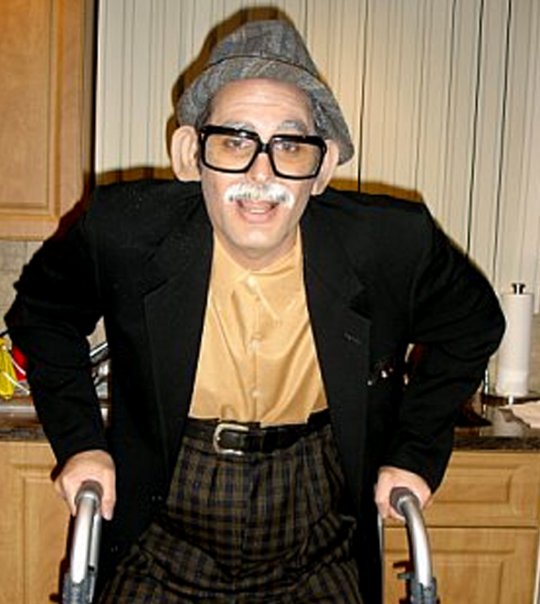 Have you ever done emergency cosplay or a last-minute Halloween costume that you have a story about?
No, I can't say that I have. When I decide to dress up, I take it pretty seriously. As you can see from these pics from my Halloween past, I don't mess around.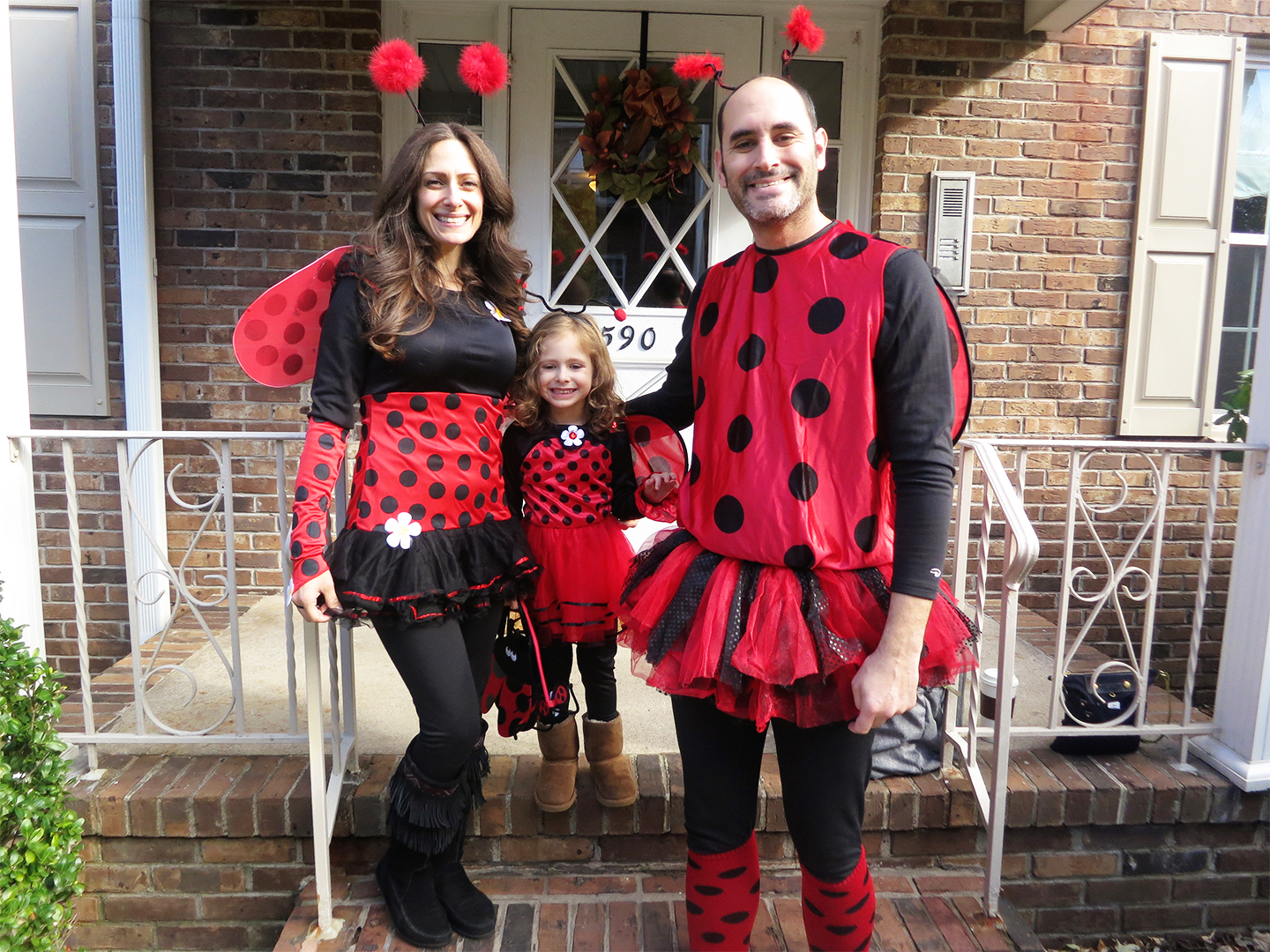 A lot of your art looks like it has an emphasis on hand lettering and playing around with type – is hand lettering your favorite go-to when doing art?
I enjoy hand lettering. It's something I wish I were better at. I think it brings an authenticity to your designs that you can't get otherwise.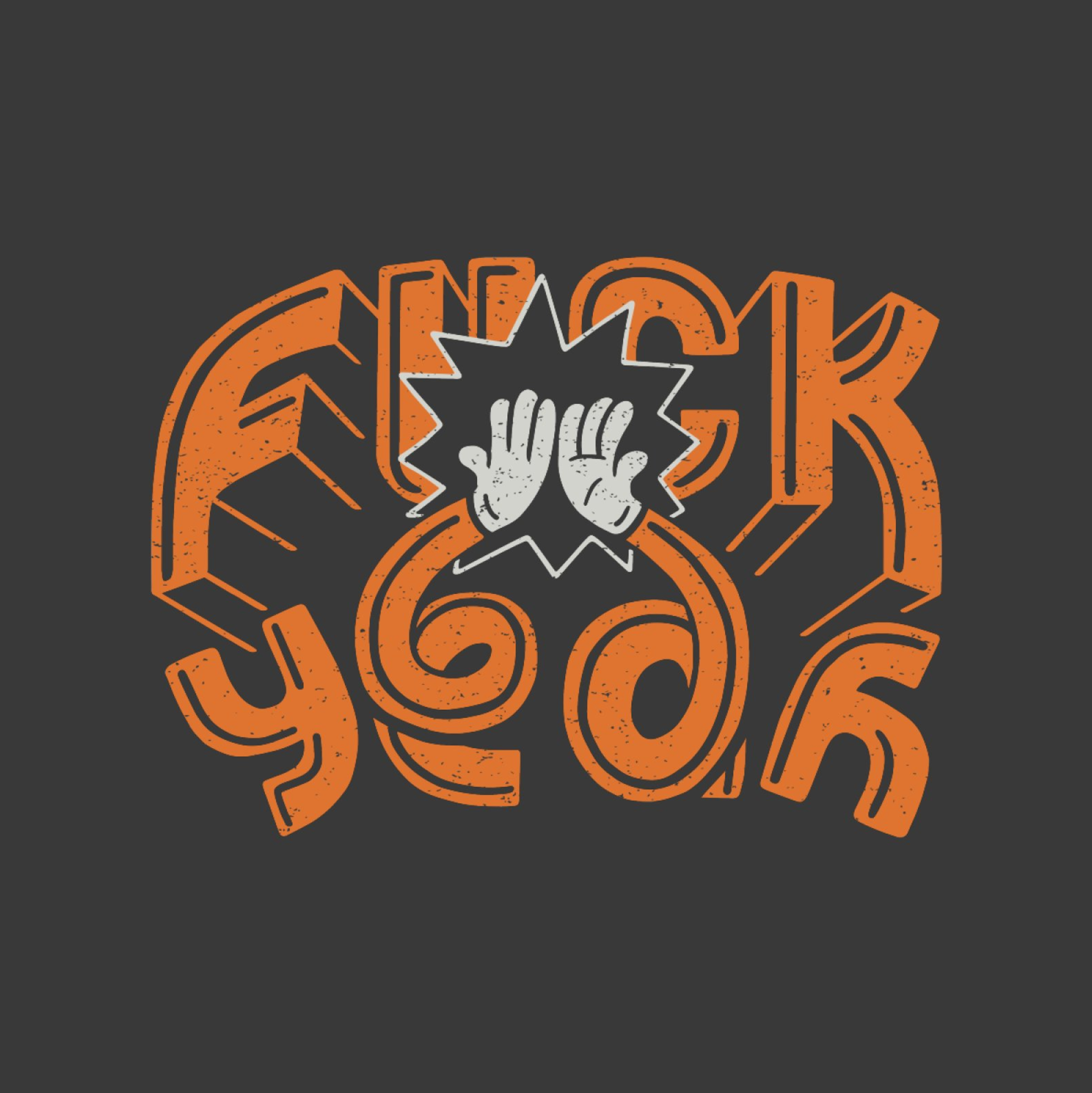 As a freelance art director/designer, how do you balance drawing for fun as well as for work?
It's pretty easy to balance because I rarely get to draw for work. I would love to be a professional illustrator, and although I have tried to make that happen on several occasions, I need the steadiness of a (freelance) day job to support my family. Threadless has helped me to keep the dream of illustrating for a living alive. I feel like the more stuff I put out there, the better chance I have to make something happen, and Threadless is a big part of that.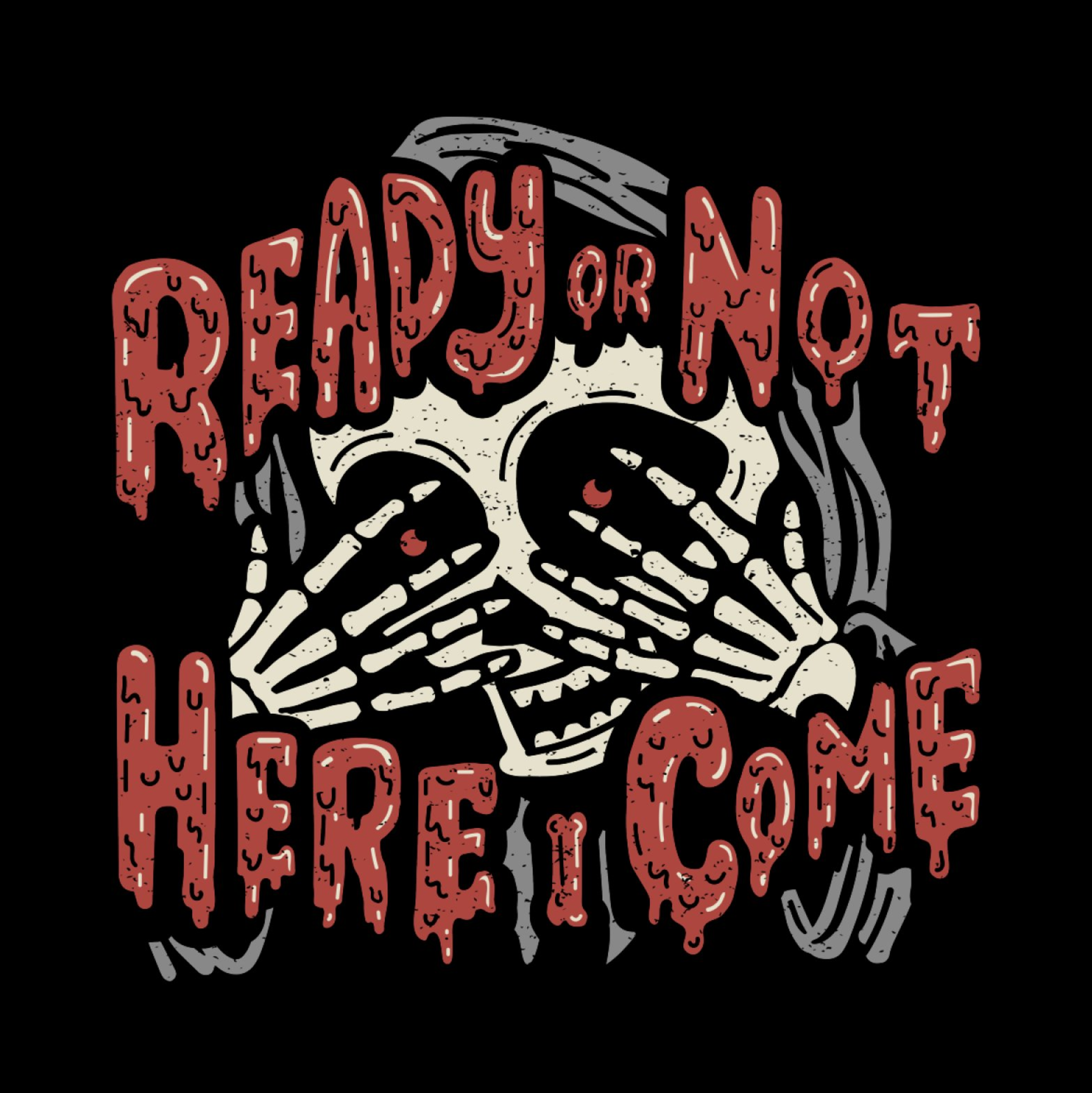 As someone who's been pretty active in the forums, do you think asking for and being open to art critique is an important thing for artists to do?
I do, especially when you are starting out and trying to hone your style. It can be hard to put yourself out there, but there are nice folks here that are willing to take their time to help you improve your designs. The mistake I see people make is that they don't put the effort into their work before asking for a critique. A critique needs a place to start; explain your idea clearly, provide sketch examples, and be humble when listening to people's feedback. My first print, "Rainbow Pasta", benefitted from a long critique that was very helpful in getting it to the final version.
Anything else you'd like to share?
We recently bought a house, so please buy my stuff: I need every cent I can get ;)
Shop the winning design here!