From rainbows, to emojis, to guacamole – anything is fair game for artist David Olenick's punny designs! Inspired by the awkwardness and anxieties of everyday life, Olenick has created a googly-eyed style and humor – sometimes all in light pun, sometimes hilariously dark – all his own. And it's impossible not to find an Olenick original that you can either relate to, chuckle at, or – most likely – both.
We talked to David about his weekly #FanartFridays posts, about his artistic process, and about his new Threadless design and Artist Shop. Check out the interview below!
.     .     .
We all know your art, but we don't know the man behind it! Tell us a little bit about yourself!
When I'm not putting the same pair of eyes on every drawing, I enjoy diners, old novels, and viciously judging people who sneeze without covering their mouths.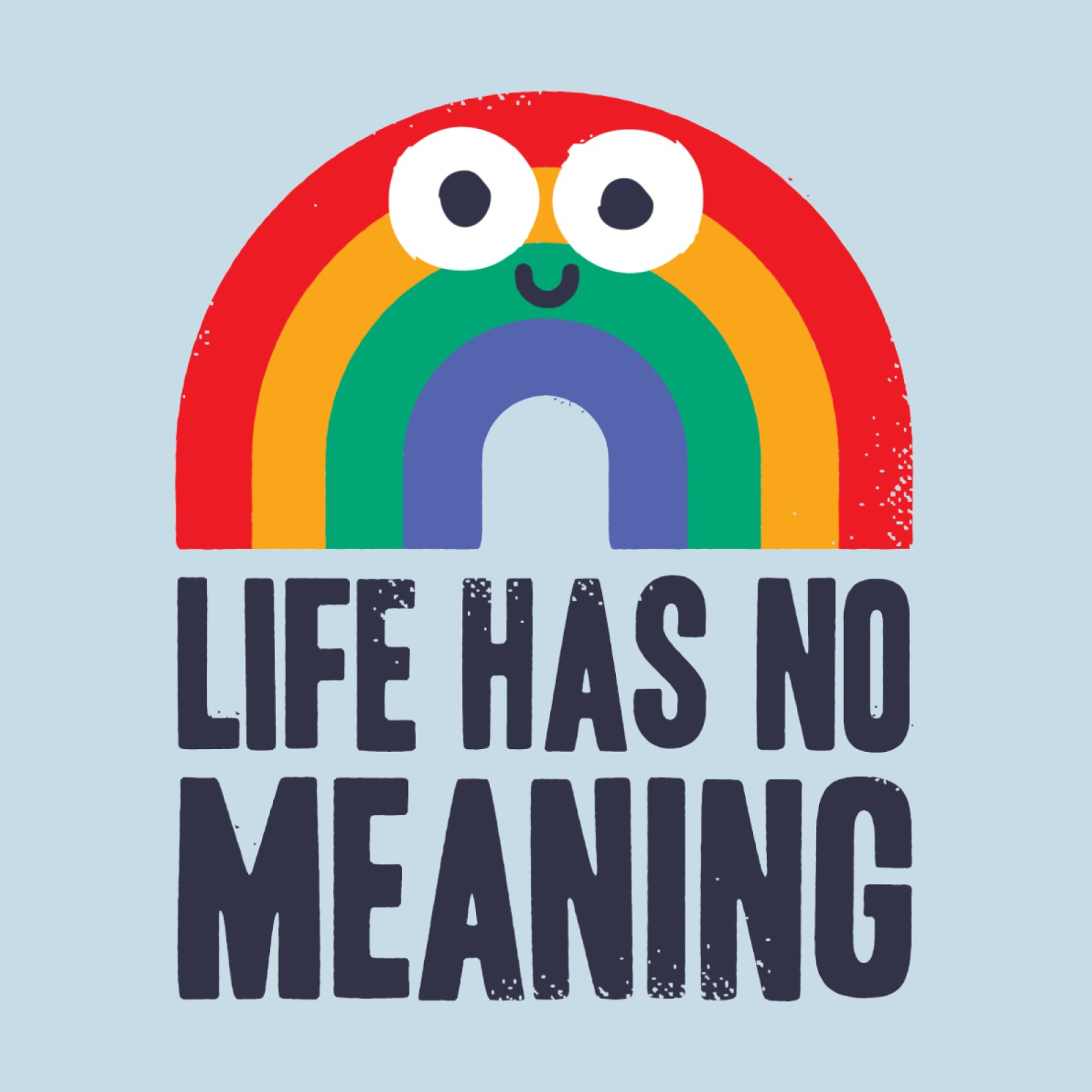 Do you do art for a living?
Yup, I pay the bills licensing my library of designs for use on all manner of cheap, disposable novelty products. That's been the case for several years now. Before that, I supplemented my income by teaching art & design courses, and before that I spent 15 years as the worst dressed designer/art director in the history of the fashion industry.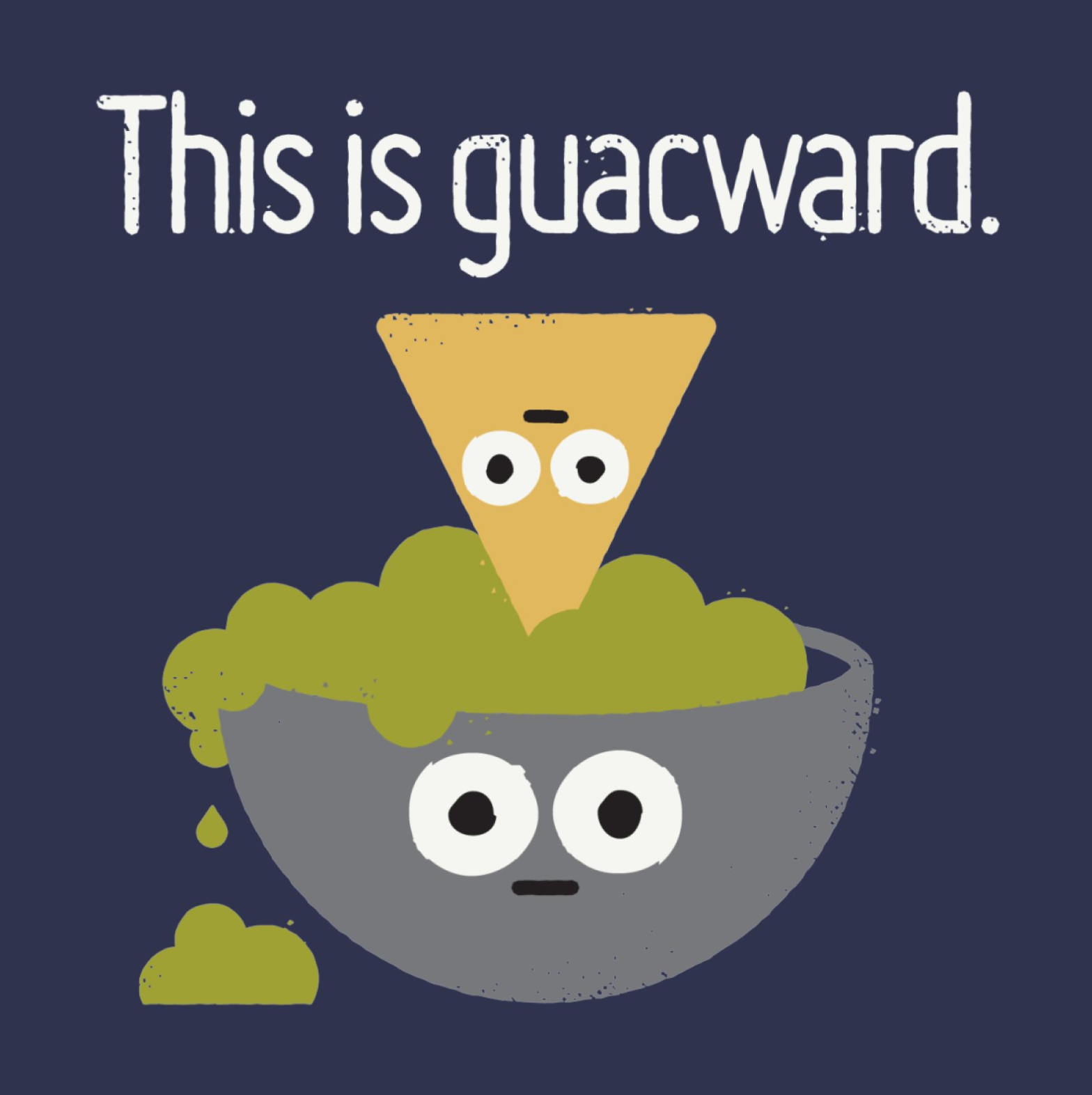 You say in your 'About' page that you come up with many ideas in bars – do you have a go-to drink for peak creativity?
I have a diagnosed sangria deficiency, so I like to brainstorm at Mexican restaurants to make sure my system maintains safe levels of red wine, chopped fruit, orange juice and brandy.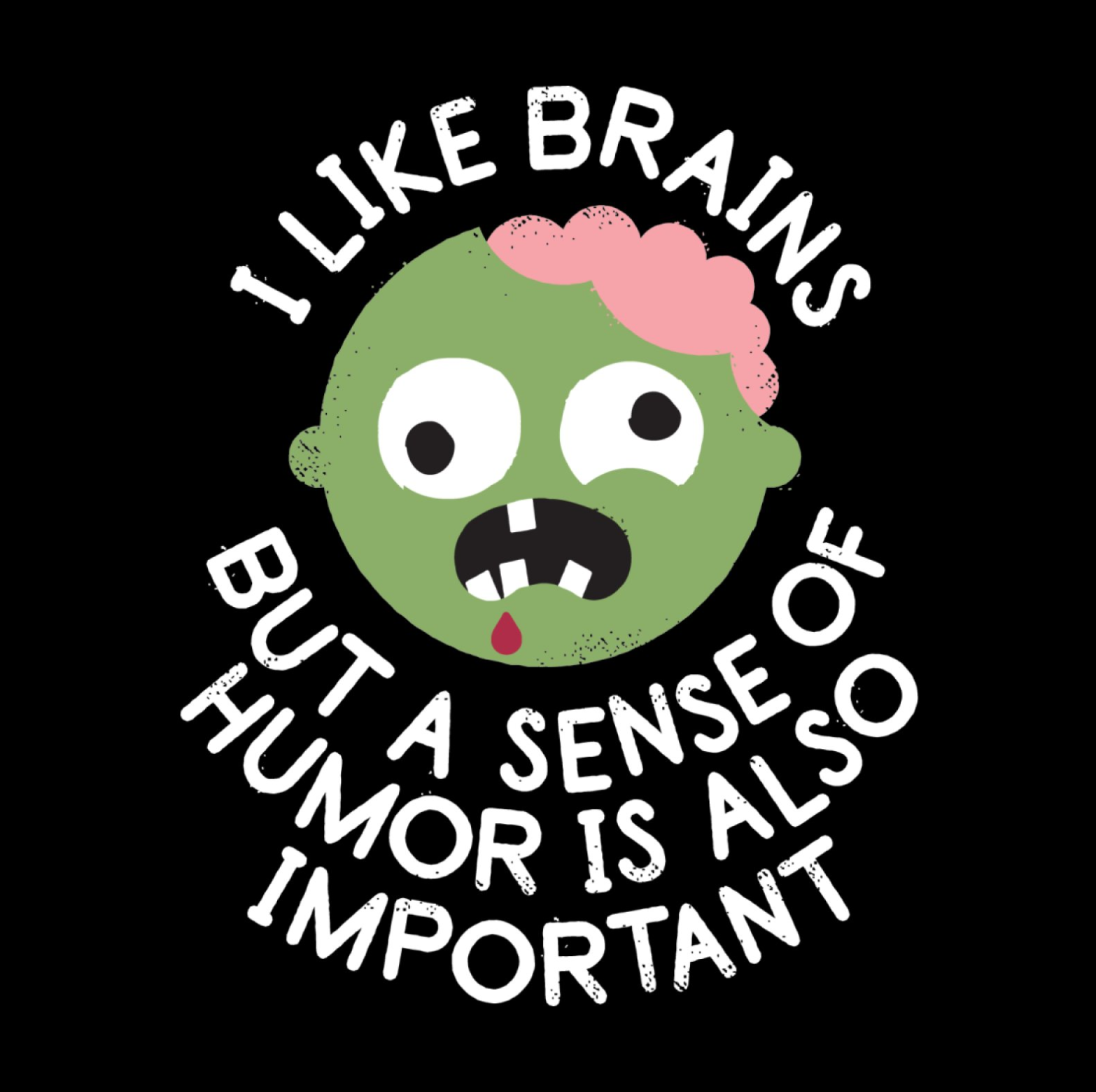 You do an awesome thing called #FanArtFridays on social media! When did you start this? Do you have a favorite piece of Olenick fanart?
About a year ago, I started searching hashtags of the verbiage in my designs. I was mostly looking for photos of my products "in the wild", but I also discovered that people were doing their own versions of my drawings in various media. I started sharing them regularly with a set of pretend-serious ground rules, culminating in "do not draw better than I do".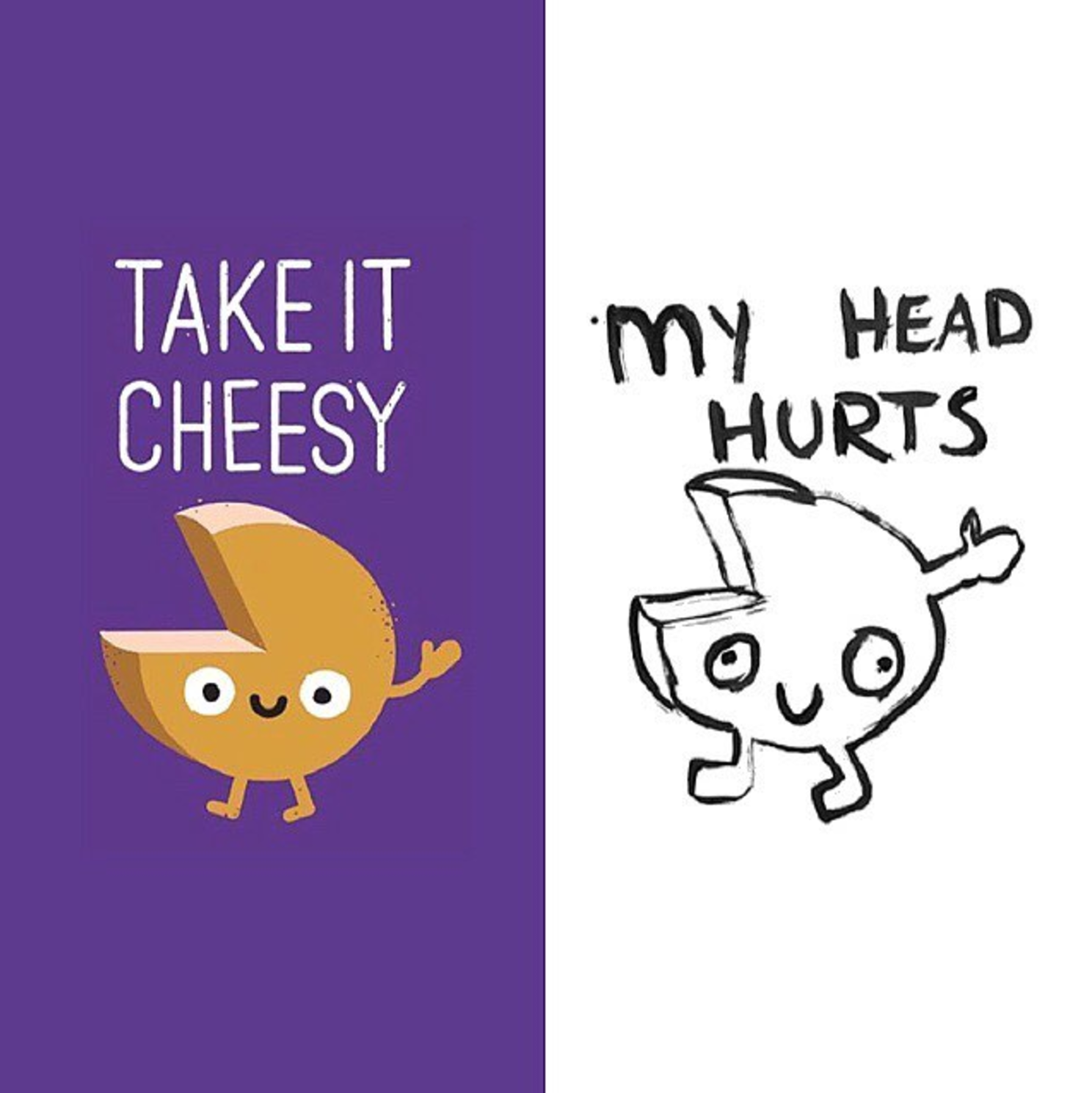 One of my favorites was by @thecontemptuousartist, who posts hilariously clumsy drawings on Instagram next to the reference photos he uses. He refers to himself as a "hyperrealist" painter, and helpfully hashtags his posts with #PaintingIsOnTheRight.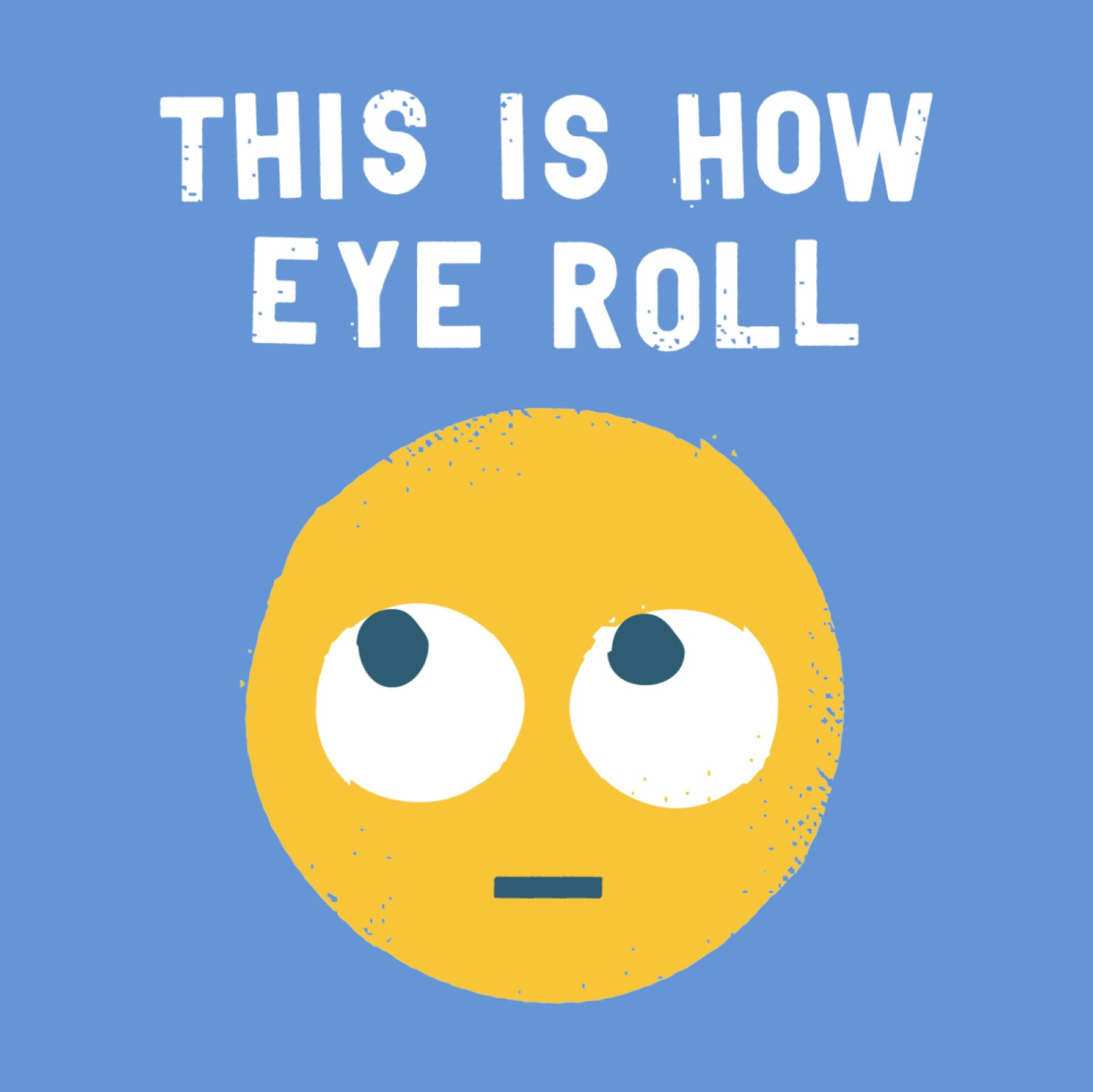 We love  your "Snide Effects" design – is there a story behind it?
"Snide Effects" started as an eyeroll emoji with the phrase "Ok, whatever." I always try to create punny titles for my designs, and "This Is How Eye Roll" was going to be the title until I realized it was funnier than the verbiage in the design. I've done a handful of emoji-based designs, and they all started with a phrase I thought would be funny on a shirt, but it wasn't obvious how to illustrate it. Generally, I'm kind of fascinated with emojis; perhaps because I would benefit from them in real life conversations when my own confusing, off-putting nonverbal cues aren't cutting it.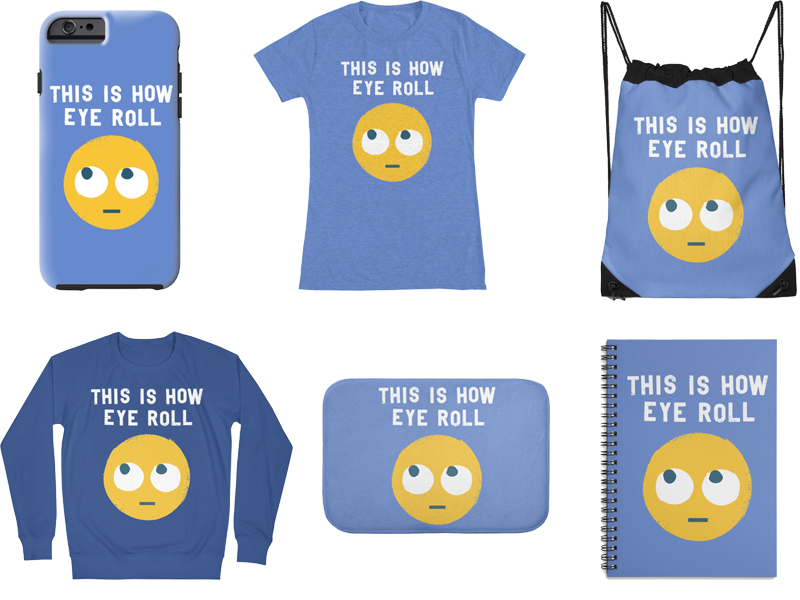 Your style is so unique and distinct – what's your artistic process? 
I start in my sketchbook. I'm primarily interested in the joke at first, so there's often more writing than drawing in there.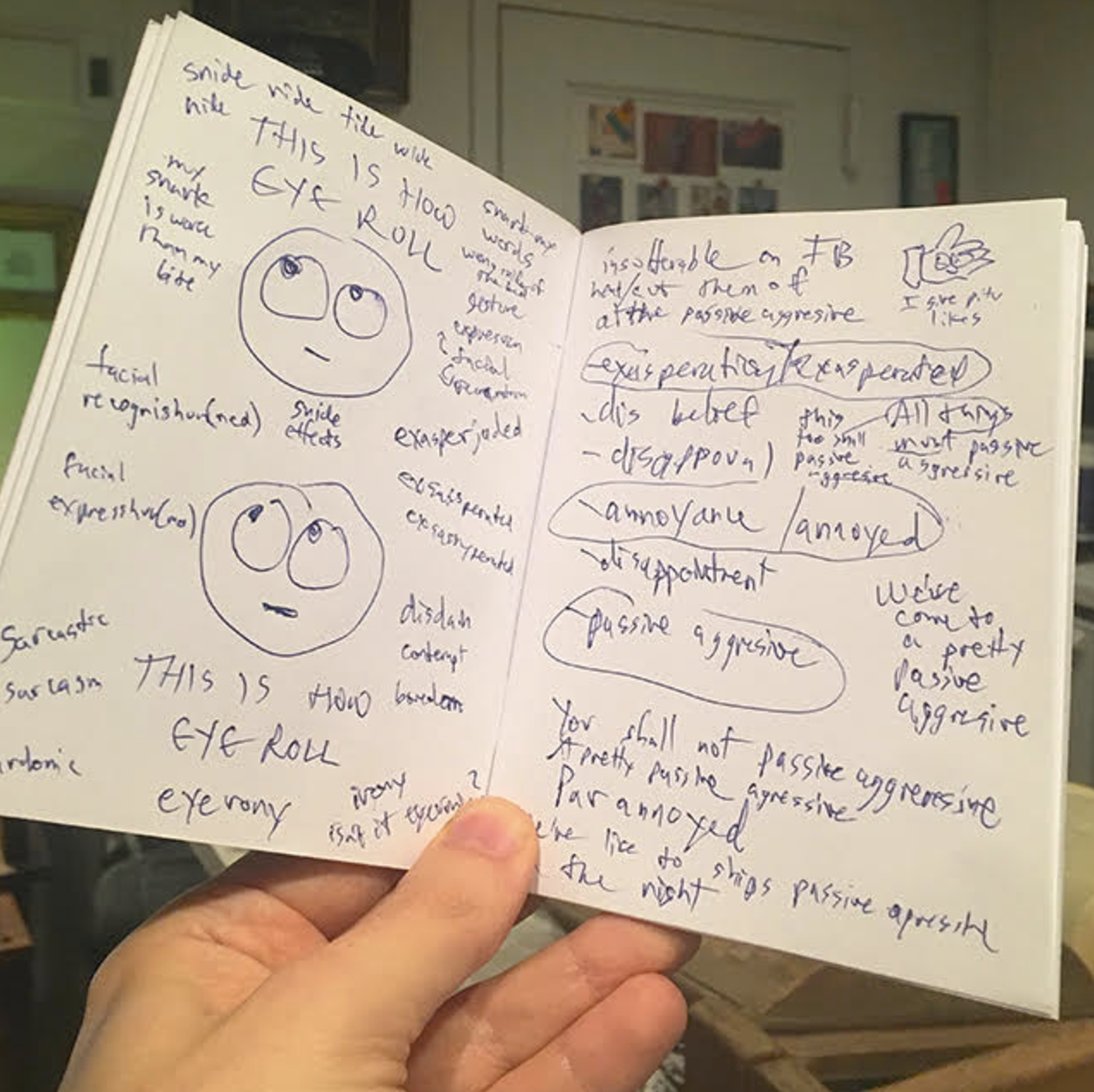 You take some amazing photos of your products, and you're #onpoint when it comes to hashtagging and social media – what are your social media tips?
I'm not a social person and I'm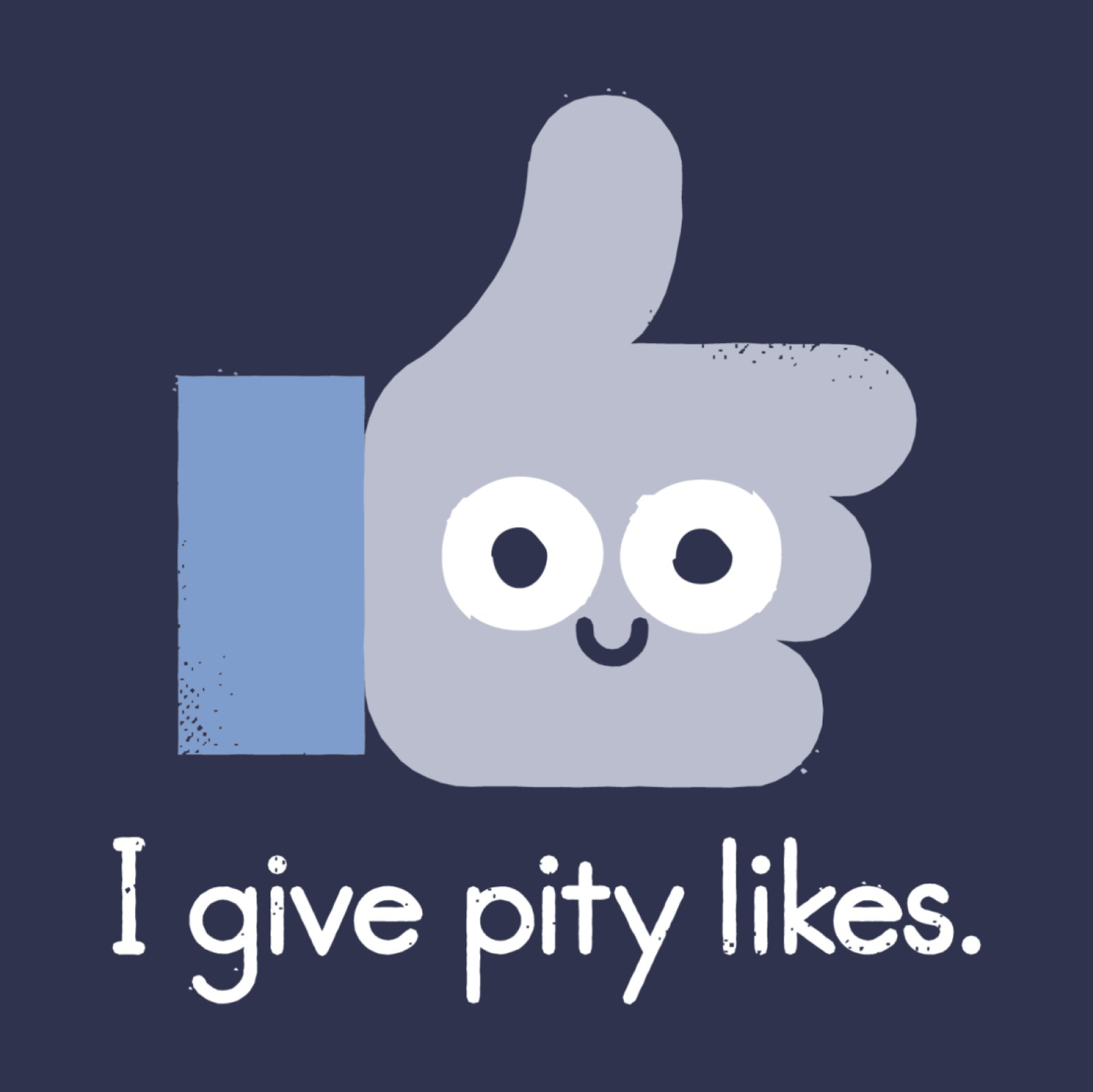 very self-aware & self-critical. If I wasn't a primarily internet-based artist for a living, there's no way in hell I'd have any social media accounts. So I'm always asking myself, "How can I make this comfortable/natural for me?" and "Why should anyone care?"
One way I answer those questions by trying to write a genuinely funny caption for pretty much every post. It's second nature for me, and hopefully offers extra incentive to look at my posts. Of course, others will have totally different ways to answer the same questions, but they're good questions to ask.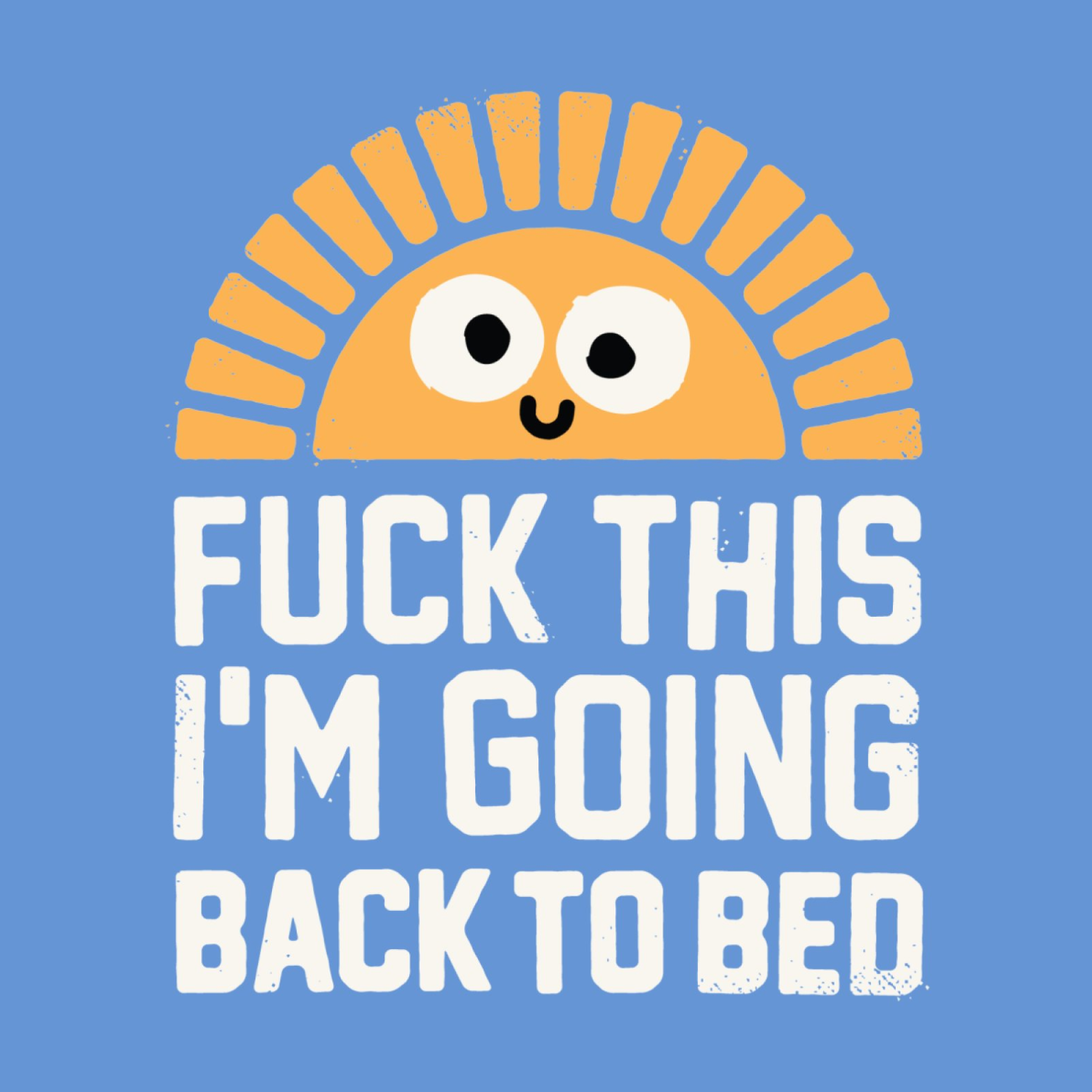 As far at photos go, I'm convinced that looking at a lot of abstract paintings has made my compositions better, and OCD motivates me to do thorough hashtagging regardless of whether there are any tangible results to justify it.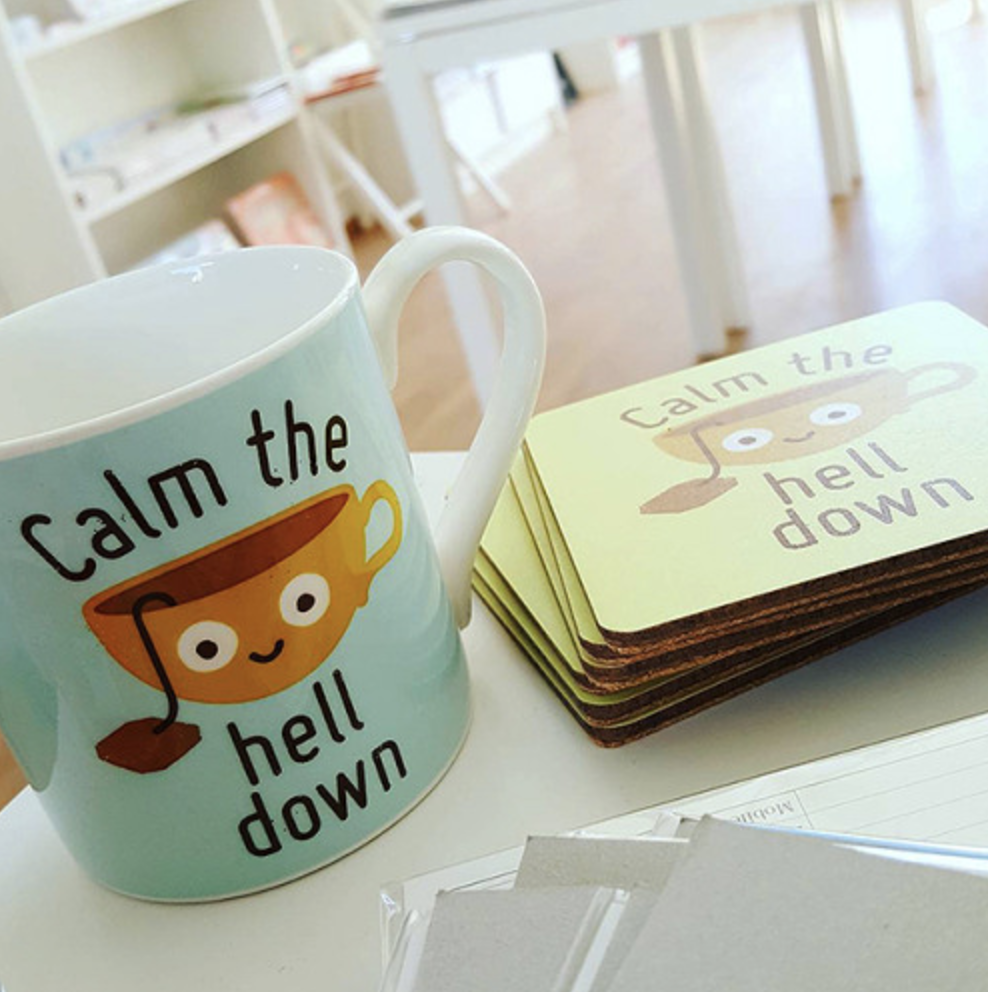 What's your artistic philosophy?
I'm interested in making art that communicates with clarity and strength, shows careful respect & consideration for the fundamentals of color & composition, and is funny enough to make milk come out of your nose whether or not you're drinking milk.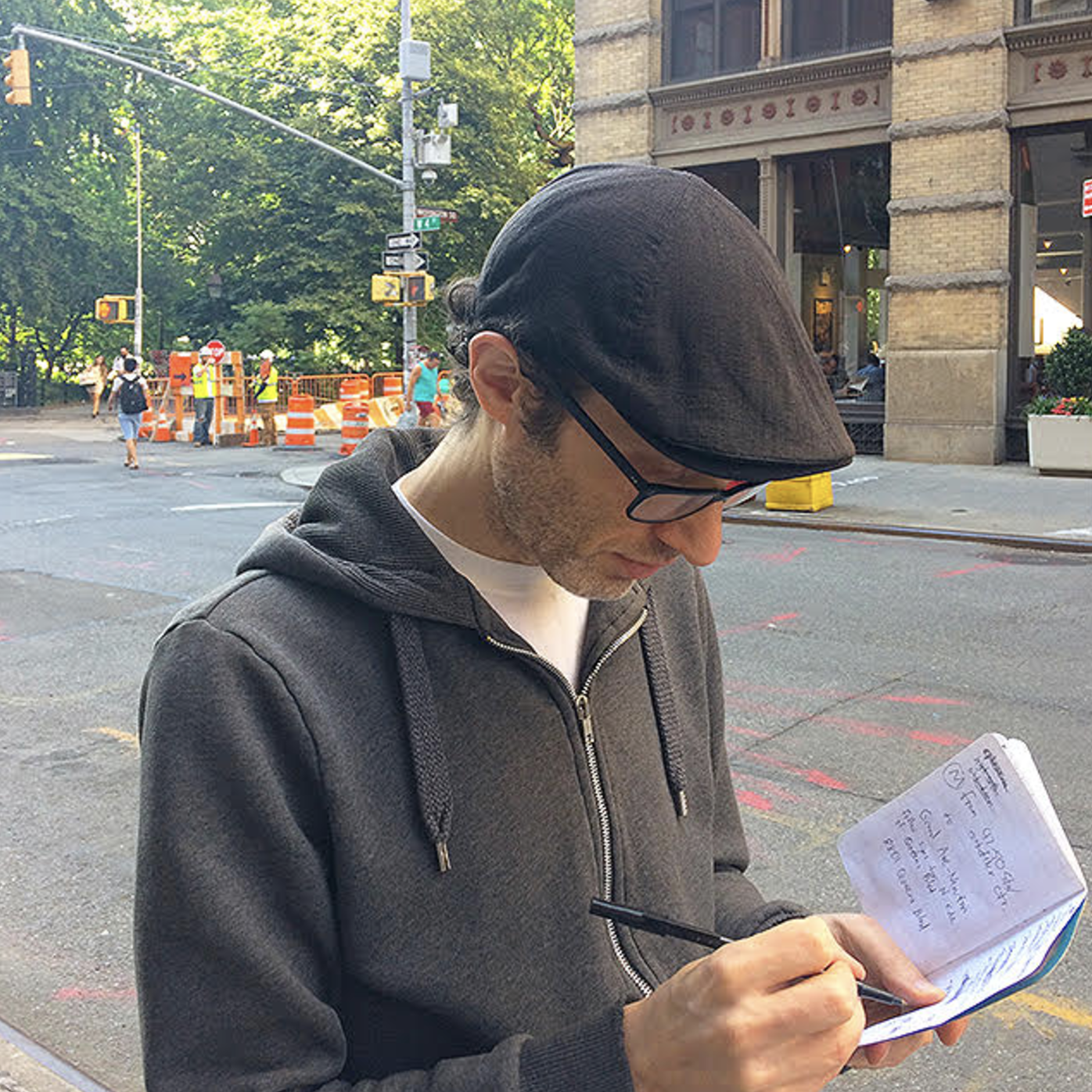 Anything else you'd like to share?
Yes, I want people to know that I've scored pretty much every Threadless submission since around 2012. I enjoy scoring submissions, and I've always appreciated that aspect of Threadless, as I do any opportunity to stand in judgement of others.
Don't have an artist shop? Start one now!