"God, do we need color and magic right now," says award-winning illustrator Lissy Marlin in the welcome video to her YouTube channel. Being able to create art out of a blank page has always felt like a magical experience for Lissy. It's also the way she's most comfortable expressing herself, connecting with the world, and finding meaning to the experiences she's lived.
Originally from the Dominican Republic, Lissy came to the United States for art school and ended up staying to forge a career as the self-proclaimed magic maker she's known as today. Earlier in her journey as a professional artist, she illustrated for Neil Patrick Harris's New York Times bestselling middle-school novel, The Magic Misfits, which earned her a Nebraska Golden Sower Award in 2020.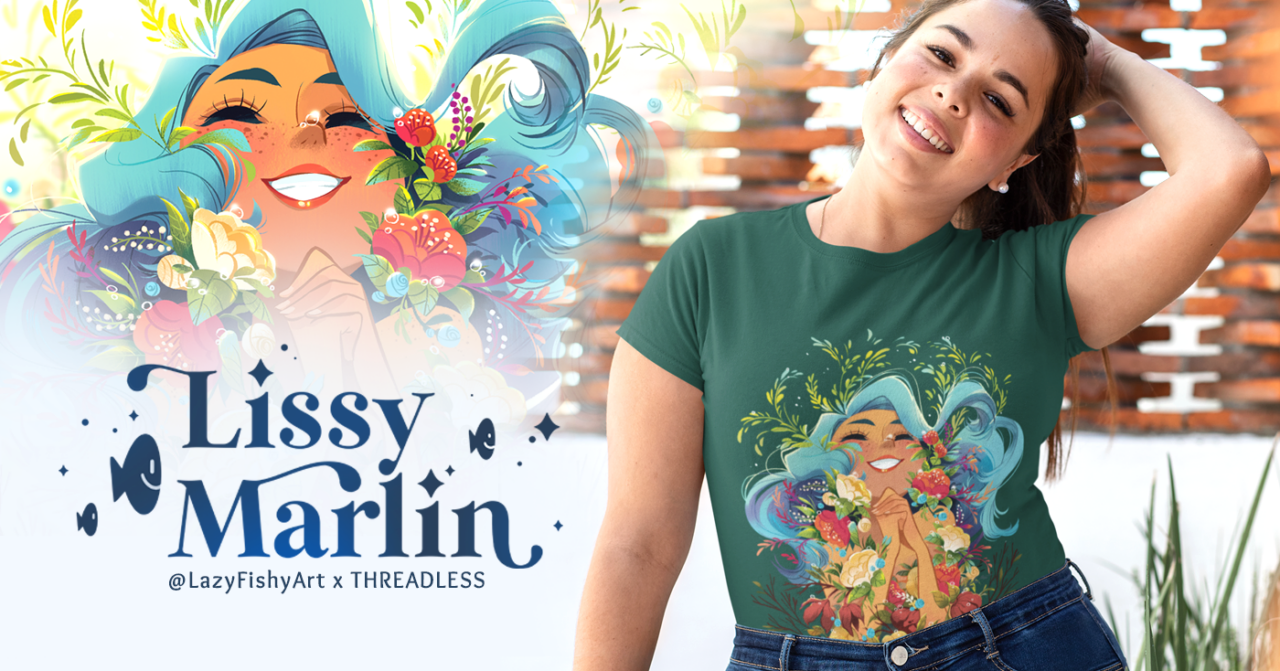 ---
She went on to become the lead artist at the toy company GoldieBlox, where she discovered the true magic that can come out of art. Her character designs and illustrations came to life as interactive toys and mobile games designed to inspire the next generation of women engineers. Today, Lissy works as a freelance illustrator and is currently putting together her first graphic novel alongside author Barbara Perez Marquez.
We recently caught up with Lissy to discuss milestones in her career, the new Lissy Marlin Threadless Artist Shop, and upcoming projects.
---
Your mission is to "to bring a little bit of magic to everyday life, one piece of art at a time." What are some of the things that bring magic to your life?
Lissy Marlin: Honestly, I have so many things that bring "magic" into my life haha, but at the moment light and color are really big for me, especially now that it is winter.
I know this is perhaps a very stereotypical answer considering that I am an artist, but I don't think I can explain just how important color is for me in my daily life. The middle of winter is especially challenging for me as the city usually becomes very gray and overcast, which drastically changes my mood. If I'm not in a place full of color and light, I feel like I lose all motivation to be creative, so I try to dress as colorful as possible and surround myself with all things colorful in order to make sure I have some visual stimulation near me at all times.
The same can be said for my work. I often work on middle-grade novels, which are often only in black and white, and thus, I need to make sure to always sprinkle in some projects (personal or for clients) that allow me to unleash what I love most about color.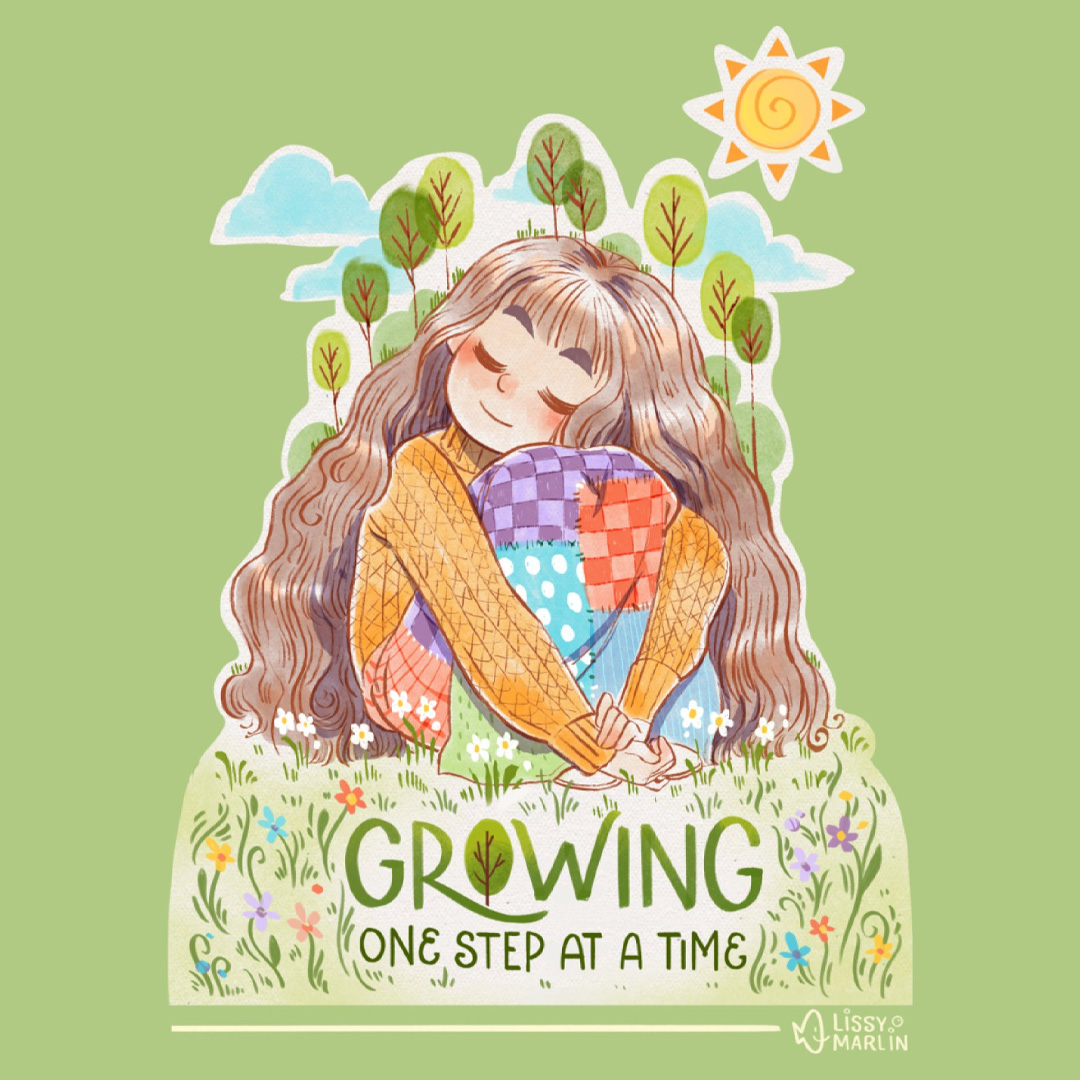 What was it like for you when you transitioned from the Dominican Republic to living and working in the United States? Were there any challenges you had to overcome?
LM: Oh yes, plenty. Moving to the United States was a rather impulsive decision. Believe it or not I had no plans or desire to do so. By all means, I always had my sights set on Japan. As a matter of fact, I studied Japanese for several years hoping to take the JLPT and study abroad.
However, this changed when I came to visit my family in Philadelphia right after high school graduation. I knew I wanted to be an artist, but my path was unclear at the time—I didn't know exactly how to make it happen. I discovered a very nice art school in the area and, impulsively, a month-long vacation became a 10-year journey.
---
Relocating alone is a task on its own, but reshaping the way you live your life entirely is truly hard. I had to teach myself English, take odd jobs, and slowly find my place in a society or culture I didn't quite belong in. It is hard to feel like you are allowed to take up space in a new place. So most of my struggles at the beginning felt more like learning to be myself and comfortable in my own skin in order to step into my own and start making friends. I'm very grateful for everyone that showed me kindness and that opened the doors into their life with open arms when I moved here, as the friends I made truly made the struggle worthwhile.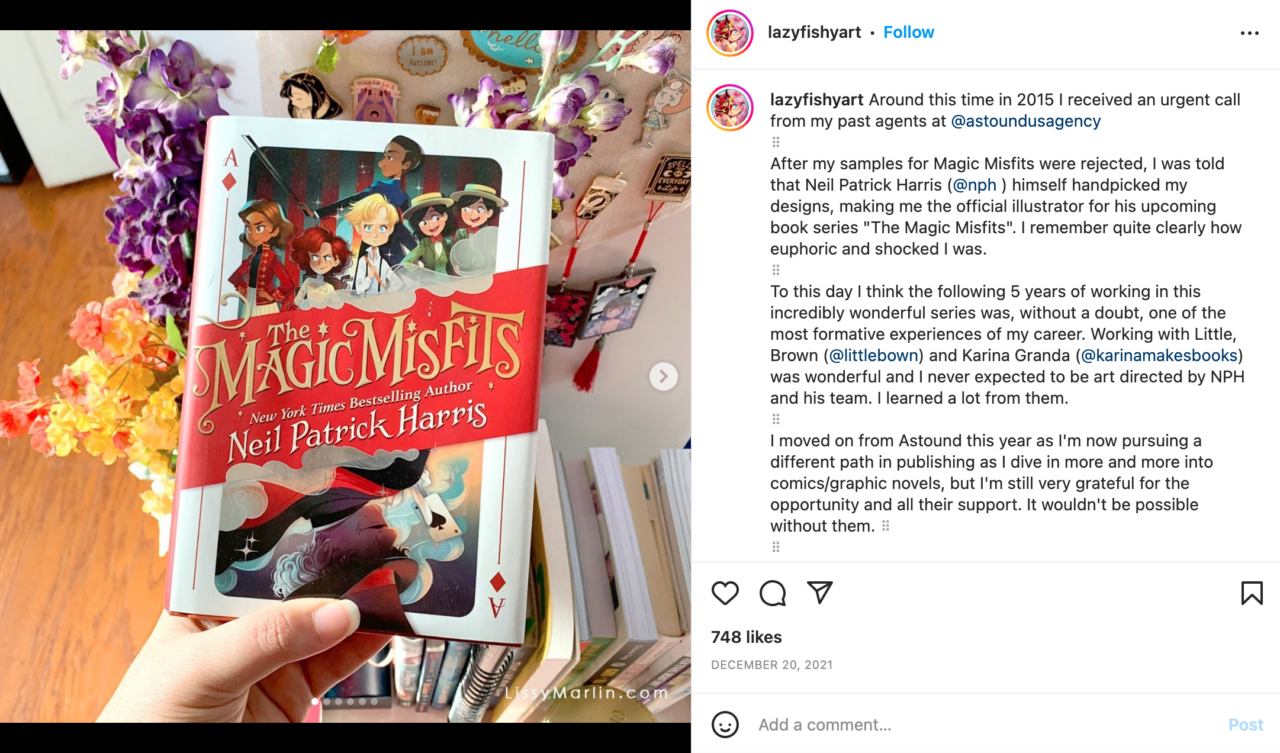 ---
You illustrated and won awards for the New York Times bestselling book The Magic Misfits by Neil Patrick Harris. What were your main takeaways from working on this project? Did it help boost your confidence in your young career?
LM: Working for Neil Patrick Harris was surreal. Even now it feels like a distant dream. I'm even worried I will blink and discover it never happened.
That said, this was a very challenging project for my (then young) career. Because of the arrangements between the publisher and Mr. Harris, this wasn't treated as a standard middle-grade novel with a timeline and fixed creative process, at least not at first. This project taught me many lessons about contracts and how to properly value and manage my time and how to create boundaries between clients and myself.
That said, I'm so incredibly grateful for the opportunity. This book is full of magic and wonder. It absolutely boosted my confidence as a creator. I hope Mr. Harris is as proud and happy as I am with how the books turned out, and I hope I get new opportunities to bring stories full of magic to life in the future.
---
Illustration is your way of communicating and connecting with the world. How much of your day is dedicated to drawing and creating?
LM: This is a bit of a hard question because to me, even if I'm not actively drawing and just resting or playing video games…I'm still creating. I'm always creating something in the back of my mind. I don't think my mind ever stops, which is rather agonizing at times.
That said, when it comes to actually illustrating or painting/drawing, I try not to spend more than 3-4 days a week doing so. I know this sounds very backwards, but being an artist is actually more mentally draining and physically demanding than you might think. I used to draw every single day, 8 to 12 hours a day for who knows how long, and my body and mind suffered the consequences of it.
As it turns out, drawing every single day has its benefits, but also some very severe downfalls, starting with creating unrealistic standards of what being a creator really means. To me, an artist is someone that lives their life and then tries to share their lived experience with those who might relate to them. So resting, having fun, trying new things, traveling, and meeting new people eventually become part of the things I create within my work. Now I try to pace myself a little more while trying to find ways to remain creative without having to sit down at my desk to draw every day.
---
During your time at the toy company GoldieBlox, you experienced significant firsts in your career, including extensive work in toy design and mobile game development. How did this experience help you grow as an artist and in your professional life?
LM: GoldieBlox actually made me realize just how amazing being an artist really is. I could draw a concept for a toy, and it would become a real thing in the world for people to see.
Through GoldieBlox I also got the title of "Magic Maker" which eventually became my identity as a creator. GoldieBlox, at the time, had a great premise of using storytelling and play to make the principles of STEM more accessible to kids. The world it was creating around its IP was very imaginative and had a lot of potential to be used for animated shorts, picture books, and so on.
I adopted the title "Magic Maker" because I discovered that the way I would personally use storytelling, color, and character design in order to link together so many different markets felt like magic. It felt like creating something that could change lives, and thus, even though I've moved on from GoldieBlox, I still carry the title because it now fully represents who I want to become.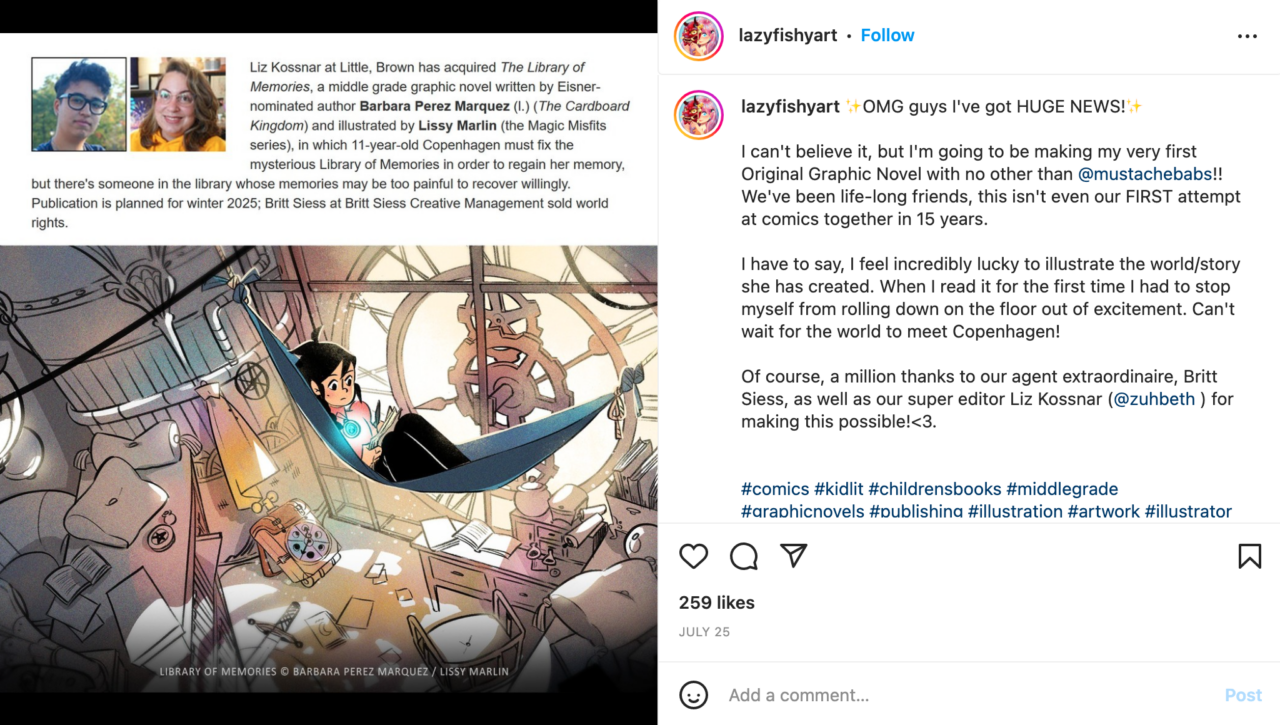 ---
You're currently working on your first original graphic novel, The Library of Memories, with Eisner–nominated author Barbara Perez Marquez. What excites you most about writing and illustrating your own graphic novels? What scares you?
LM: What excites me the most about this graphic novel is the fact that I feel I have come full circle. I've been reading Japanese manga all my life. I dreamt of following in on the steps of Rumiko Takahashi and CLAMP and I taught myself how to draw by even creating comics on my own as a teenager. They never saw the light of day of course, but it was truly something I was very passionate about when I was 15. Through all the twists and turns of life, I somehow left that dream behind me, and it is honestly so interesting how everything that once inspired you as a kid always comes back to you when you are an adult.
When it comes to what scares me…Is it weird to say I'm not scared? I do have some anxieties about this project since it is, after all, my very first graphic novel. I want to make sure the story and art is good, and I do not want to disappoint Barbara and everyone who has worked so hard to help us get so far. However, I don't feel like I'm scared. I feel like I'm meant to be doing this and so I'm taking each day one step at a time. So long as I give it my all, I will have no regrets.
---
What are some of your favorite manga and graphic novels you like to nerd out over?
LM: Oh man, where to start. I've been collecting One Piece by Eiichiro Oda since I was 15. I have about 90 volumes of the manga at the time. I love Rumiko Takahashi and CLAMP. They have been my major sources of inspiration since I was a kid, so I have plenty of their manga and artbooks. I'm also obsessing over The Witch Hat Atelier by Kamome Shirahama, which is honestly a MUST read.
However, when it comes to graphic novels, The Prince and the Dressmaker by Jen Wang, This Was Our Pact by Ryan Andrews, and the OGN Series 5 Worlds by Mark and Alexis Siegel are some of my favorite ones at the time.
Your social media comics share more personal stories, including when you got diagnosed with ADHD at 31 years old. Has this type of content strengthened your bond with your followers? Have you received any reactions that surprised you?
LM: I've never been very good with words, nor have I been someone that can easily open up, walk into a crowd, and make friends. I'm a very introverted person, so it also means I can isolate myself for long periods of time without realizing it. The idea to make these comics came from the need to find an outlet to process complex emotions and life experiences in the only way I know how: Art.
Originally, I was not going to make these comics public because sharing these personal stories meant exposing something so vulnerable to so many people, yet I honestly never expected anyone to read these comics…[or that anyone would relate to them].
I do not like social media—I do not find it enjoyable, nor do I like feeling like an entertainer now that short-form video is taking over…so having a way to share my thoughts and experiences in my own way truly helps me, and it has indeed created a bond with my followers. I feel like I can share my thoughts and experiences without holding back, and for that I'm grateful for their support.
You created Lazy Fishy Academy to share your experience and knowledge with aspiring freelance illustrators. What inspired you to help other artists?
LM: I actually always thought that I would be a terrible teacher. I actually still think I am. When it comes to teaching color, composition, or my way of illustrating a piece…I always come at a loss for words because most of my creative process is intuitive. I can't quite tell you why I do things the way I do other than say "it just feels right," so that truly helps no one.
However, after spending nearly 10 years struggling and figuring things out on my own, I realized that there are still things I could teach that could be beneficial for many. For instance: how to create daily routines for yourself, how to break down your creative process, how to get an agent, how to be mindful when creating boundaries with social media. There is so much that I had to learn on my own. I just hope anything I might be able to teach truly is useful and helpful to whomever comes across it.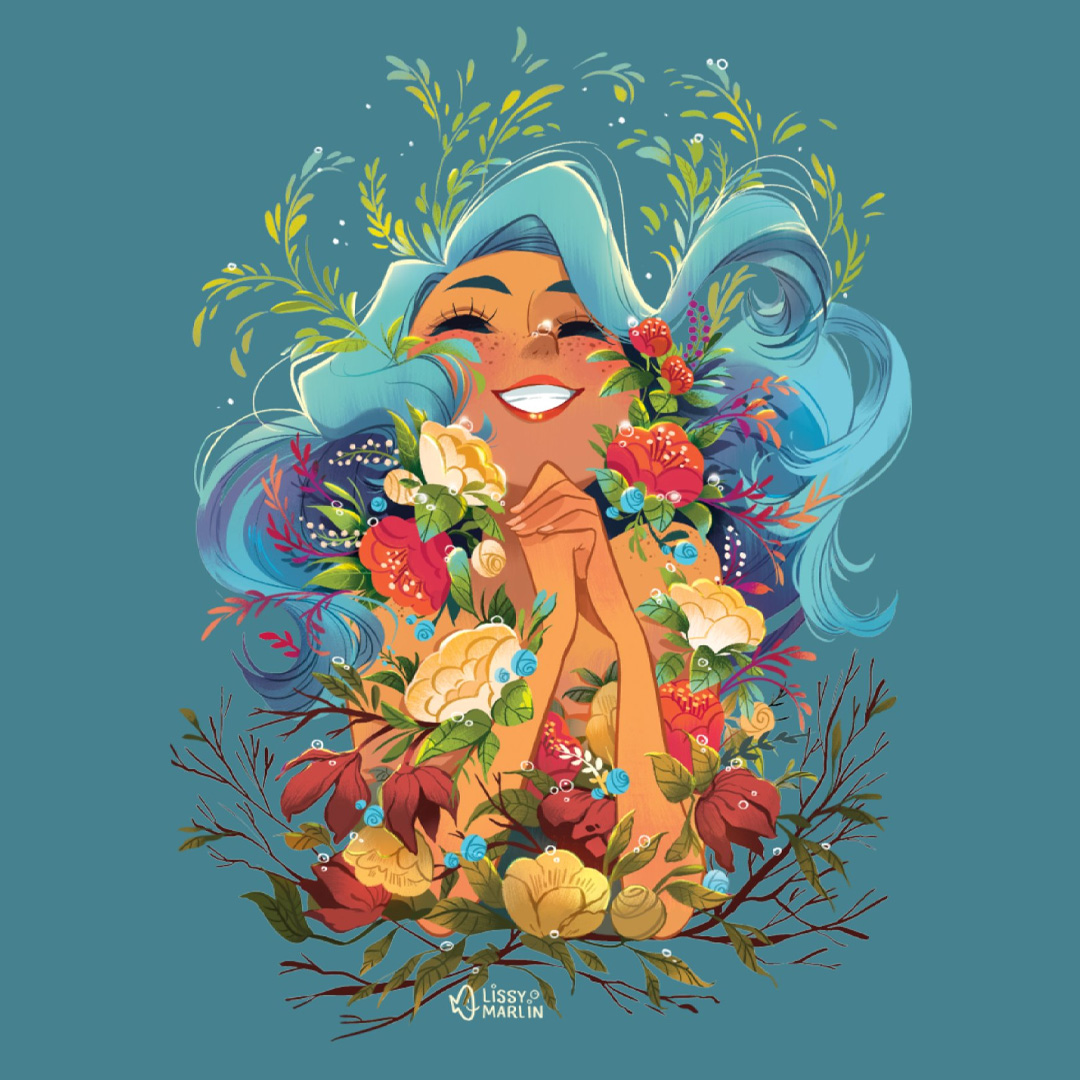 ---
You've recently been stepping out of your comfort zone and making videos for your YouTube channel. How has that been for you?
LM: Exhausting haha. I still do not know if it is the right path for me, but it has been somewhat fun and interesting to experiment with. It definitely feels more "my style" as I'm not very fond of short-form video content. I'm able to take my time, slow down and be myself, which I appreciate.
My struggle lies in the fact that I think social media is becoming a little too demanding of us creators. By the way things are shifting I wouldn't quite say that these platforms are classified as "social media" anymore as companies seem to want to embrace the "influencer market," and thus they are becoming very draining and exhausting. I still do not know what the answer to any of this is, but I hope to draw a clear line between what I want to share and how I want to share it vs what I feel like these platforms demand of me.
---
What sort of magic can your fans expect from your Threadless Artist Shop? Do you have any favorite products?
LM: Color! Lots of color, I hope! This is my very first time creating any sort of merchandise with my artwork on it, so it's been a very fun experience. It is also very scary, but I still hope to deliver things that are vibrant and full of magic.
At the moment my favorite products have to be shoes, backpacks, and tote bags. I sincerely love it. My favorite line of products so far are the ones that use the "Be Kind," "Oni," and "Rebirth" pieces. Everything is just so colorful and magical; I can't get enough of it.
Are there any new or upcoming projects we should look out for? Where's the best place for fans to keep up with your work?
LM: Yes!! I'm currently co-writing and illustrating my own original graphic novel called The Library of Memories alongside my good friend Barbara Perez Marquez. We both love this story so much and we are excited to share more about it in the coming months! Additionally, I hope to share more content, have more online lessons created next year, and even try to have more livestreams and in-person meet-ups. For any updates my website LissyMarlin.com or any of my social media channels under the handle @Lazyfishyart will do!
Thank you for the opportunity to share my work with others! I hope everyone is able to take home a little bit of Magic. <3
---
Thank you to Lissy Marlin for this illuminating discussion! Visit her website to stay up to date on her upcoming projects and follow her on social media.
---