You wouldn't necessarily put oil painting and video game art in the same category. But these two seemingly opposite disciplines – one tradish, one super modern – are actually more intertwined than you might think. Just ask the Senior Environment Artist at Whitemoon Dreams, Kris Kaufman. Kaufman graduated with a degree in not video game design but oil painting, with the dream that he would move to NYC and be a painter. Now, with the coolest job title ever under his belt he uses his painting background to create video game environments for VR and PS4 games (!!!).
We talked to Kris about what he does, about the 2D art he's experimenting with in his Artist Shop, and all about how he went from oil painting to video games.
.     .     .
First things first, tell us a little bit about yourself!
My name is Kris Kaufman and I love to create stuff. I find I am always in the middle of some process to build something; it's just a fun way to live. I also love Mexican food. The best.
You got your degree in oil painting; how did you get into CG art?? How does oil painting translate to CG art?
My first ambition was to move to New York and paint. While at MICA (Maryland Institute College of Art) I was selected to attend a painting program in New York City. It was during this stint that I discovered CG. At the time, I was primarily interested in representational painting and found that I could create more realistic scenes in a fraction of the time if I created them on the computer. I saw CG as kind of a new renaissance marrying artists, writers, programmers, and musicians to create a moving painting on the screen. I wanted to be a part of this new burgeoning field, so I stopped painting in oils and devoted 100% of my time to learning everything I could about the computer and CG art creation. That being said, the fundamentals that make any painting good apply to CG art as well. CG, like oil paint, is merely another medium.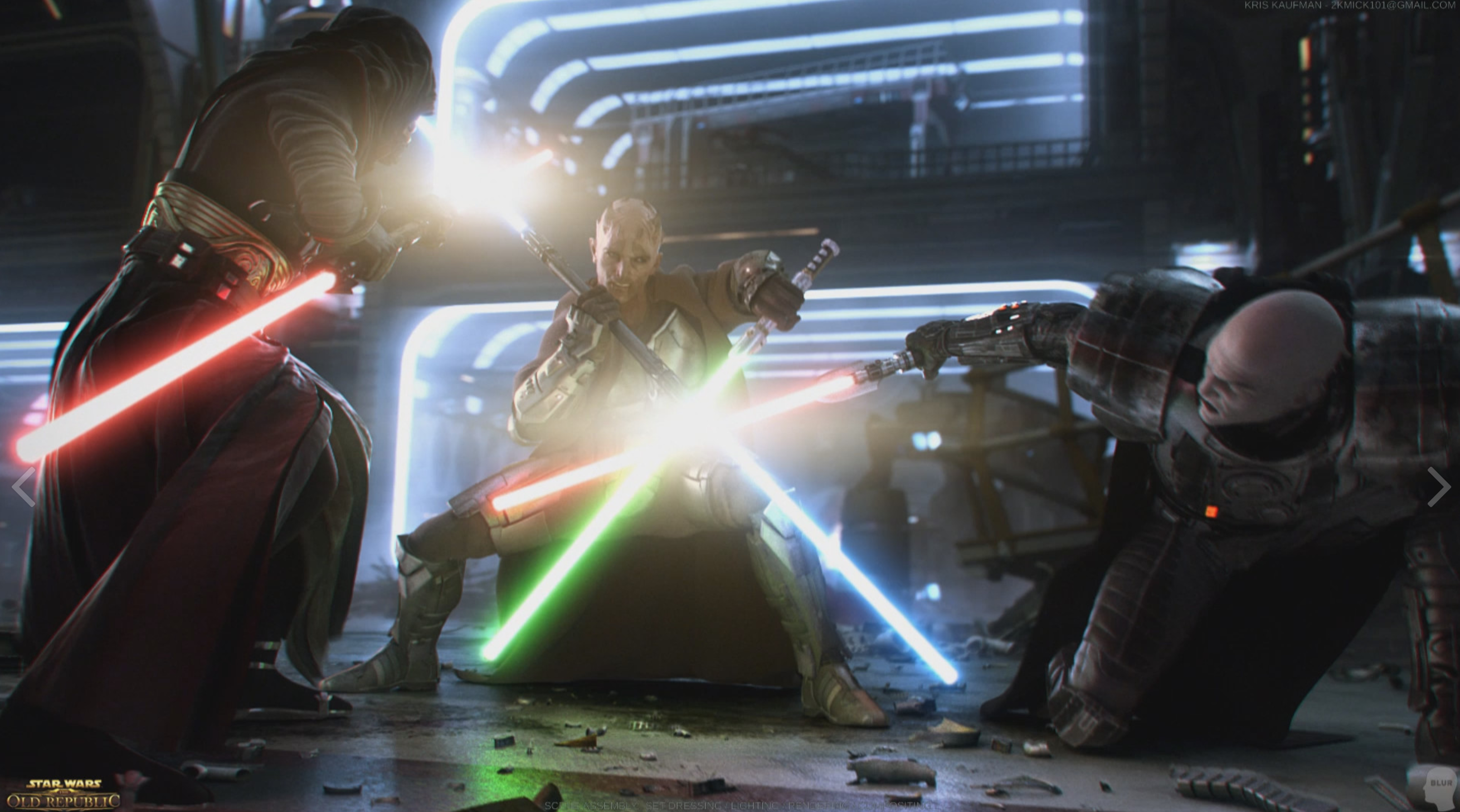 What to you makes a great artistic experience? How do you brainstorm making one come to life in a CG environment?
A great artistic experience is one that suspends the viewer's disbelief in the experience and totally immerses them in it. It doesn't matter what style a world is created in, as long as the stylistic language is executed so well the viewer can get lost within it. I work from broad strokes to fine strokes. I begin with a layout, the broadest level plan, and then flesh out details in accordance with where the path of action is. The environment is only one piece of the whole and has to be a supportive element to the story, the characters. Then there are the technical limitations that have to be considered in order to assure the gestalt of the VR or game experience is as enjoyable for the user as possible. There are multiple facets to bringing a CG experience to life. The complexity of the problem is what makes a fun, lighthearted venture like Kaufyshop so enjoyable.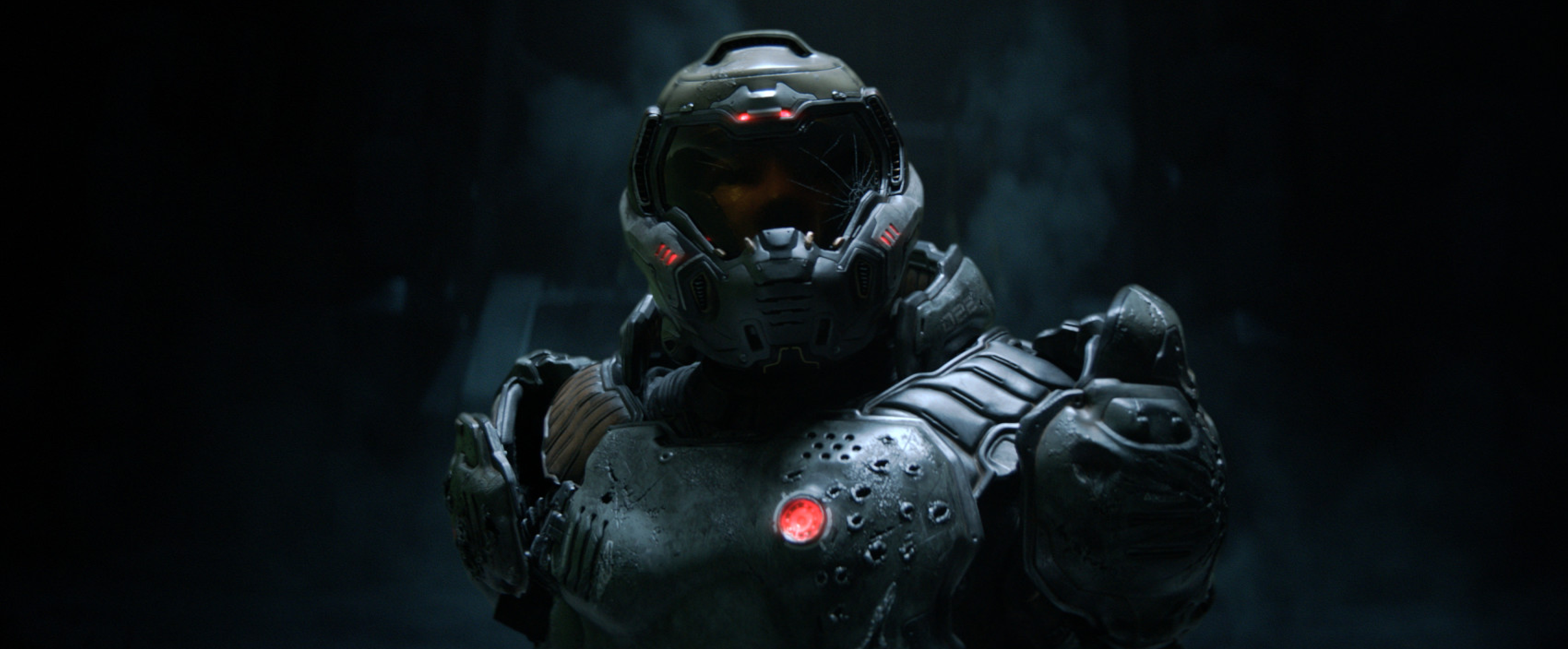 What's your favorite video game to play? Favorite video game (or show) to work on?
I love first person shooters, so I have played a huge amount of Doom, Quake, Halo, Call of Duty, Titanfall, etc. As far as a favorite show I worked on, there are so many great memories it is hard to choose. I would have to say working on the CG ESPN Then Vs Now virtual fight for Rocky Balboa was a childhood dream come true. To be a part of the Rocky franchise? Are you kidding me!? Sign me up! Currently, am working on some very cool PS4 and VR content with the team at Whitemoon Dreams, but I can't talk about it :)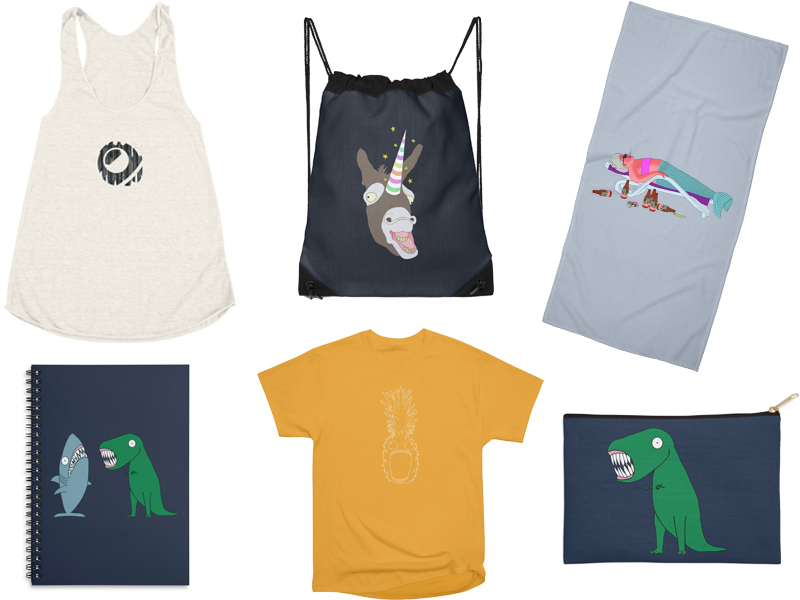 The type of art you do in your shop is super different from the video game art you do! How did you start this style? What inspired you to explore 2D?
It is super different, and that is really the point! Variety is the spice of life. I have been creating 3D art for so long now that going back to my 2D beginnings offers a new (although it is really an old) artistic outlet. The drawings are ridiculous, which I love. The style is simple and fun, and the creation process is rather quick. Creating illustrations is a refreshing supplement to the much longer and complex process of developing a 3D world that users interact with.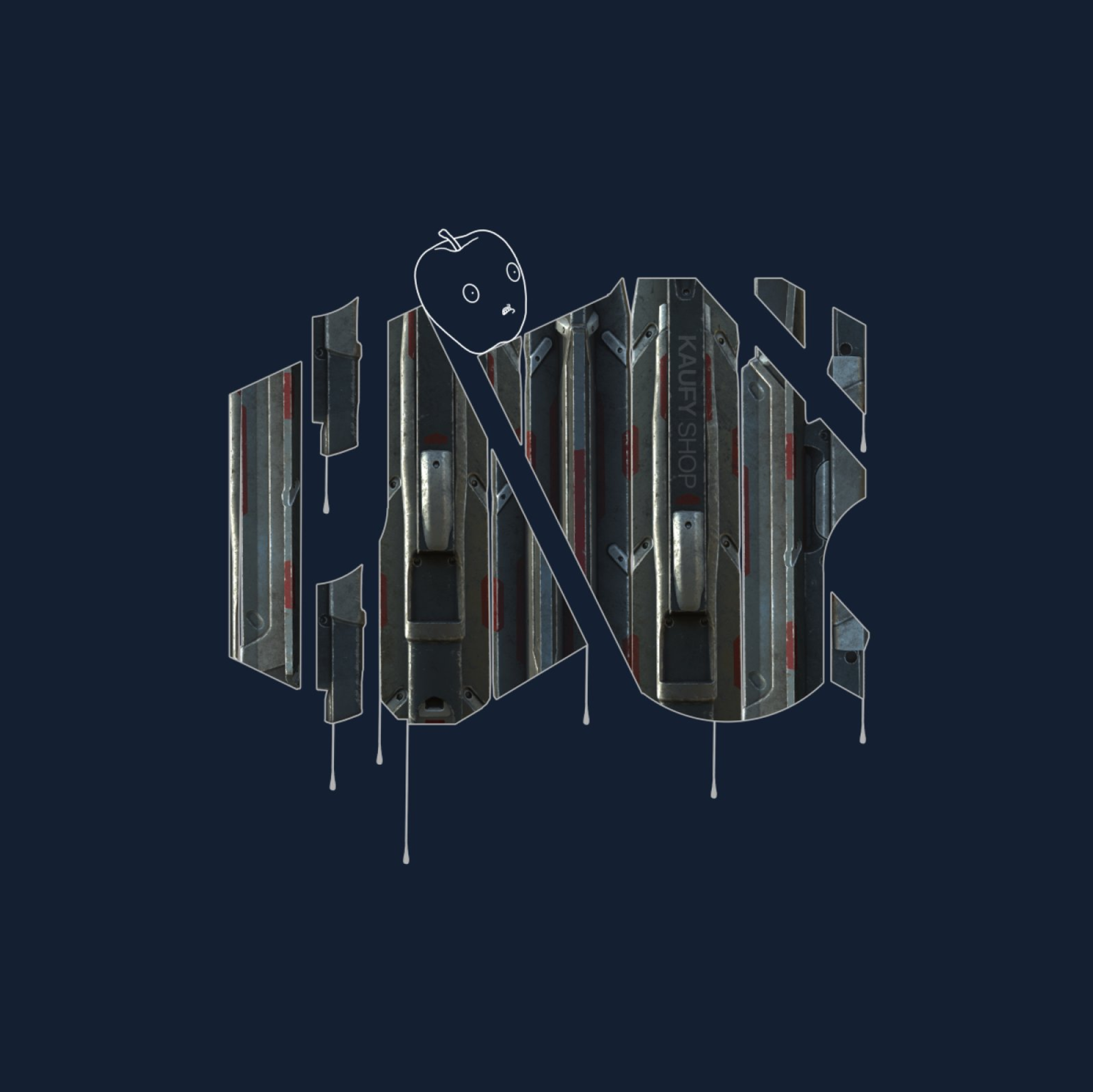 You mention that some of your shop pieces are "experiments in design and composition" – what are a few of your favorite examples of this in your shop?
I'll talk about the piece "Graphic Design 04" because that is a favorite of mine. I used to write graffiti, and the shapes in this piece are a gesture to those days. The 3D rendered shapes within the 2D graffiti-esque forms create a strange spatial inversion that I find provocative. I like the way my eye busily darts from shape to shape. And then, there is that paranoid apple sitting on top of it all, which really brings balance and a focal point to the whole piece. It's nonsense but visually it works, at least to me.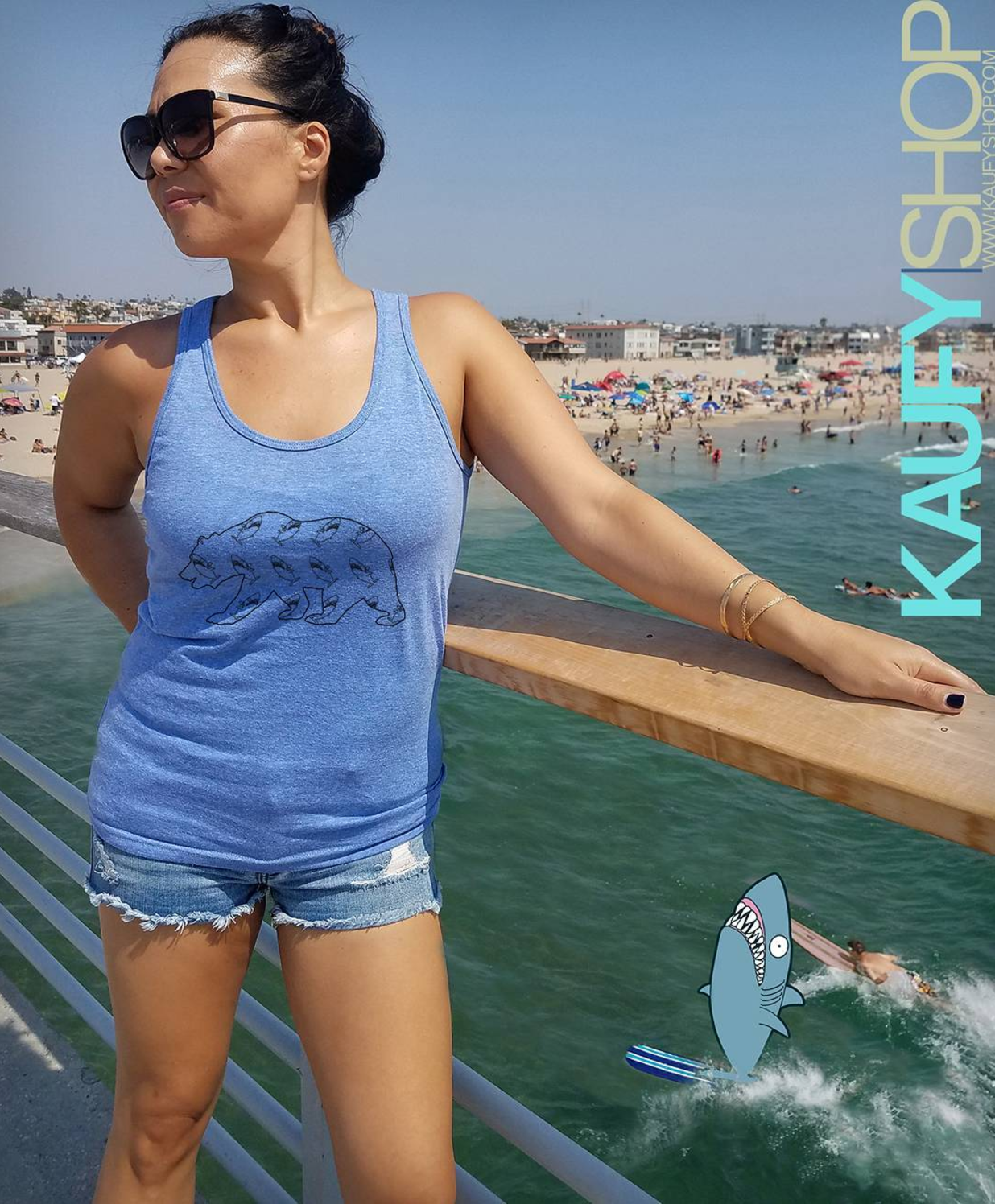 You have a t-rex and shark art piece in your shop and I gotta ask…Jaws or Jurassic Park? If you absolutely had to choose?
Jaws. Without question. When I was a child I used to draw on the church bulletin the scene where Quint is eaten by the shark. Such a good scene. I did this every Sunday in church, not sure what the other church goers thought of me. Regarding the Shark and T-rex in my shop, that is actually a portrait of my best friend and I. He is the T-rex and I am the Shark. We both earned the respective nicknames due to our personalities and how we act while drinking, which we do together often.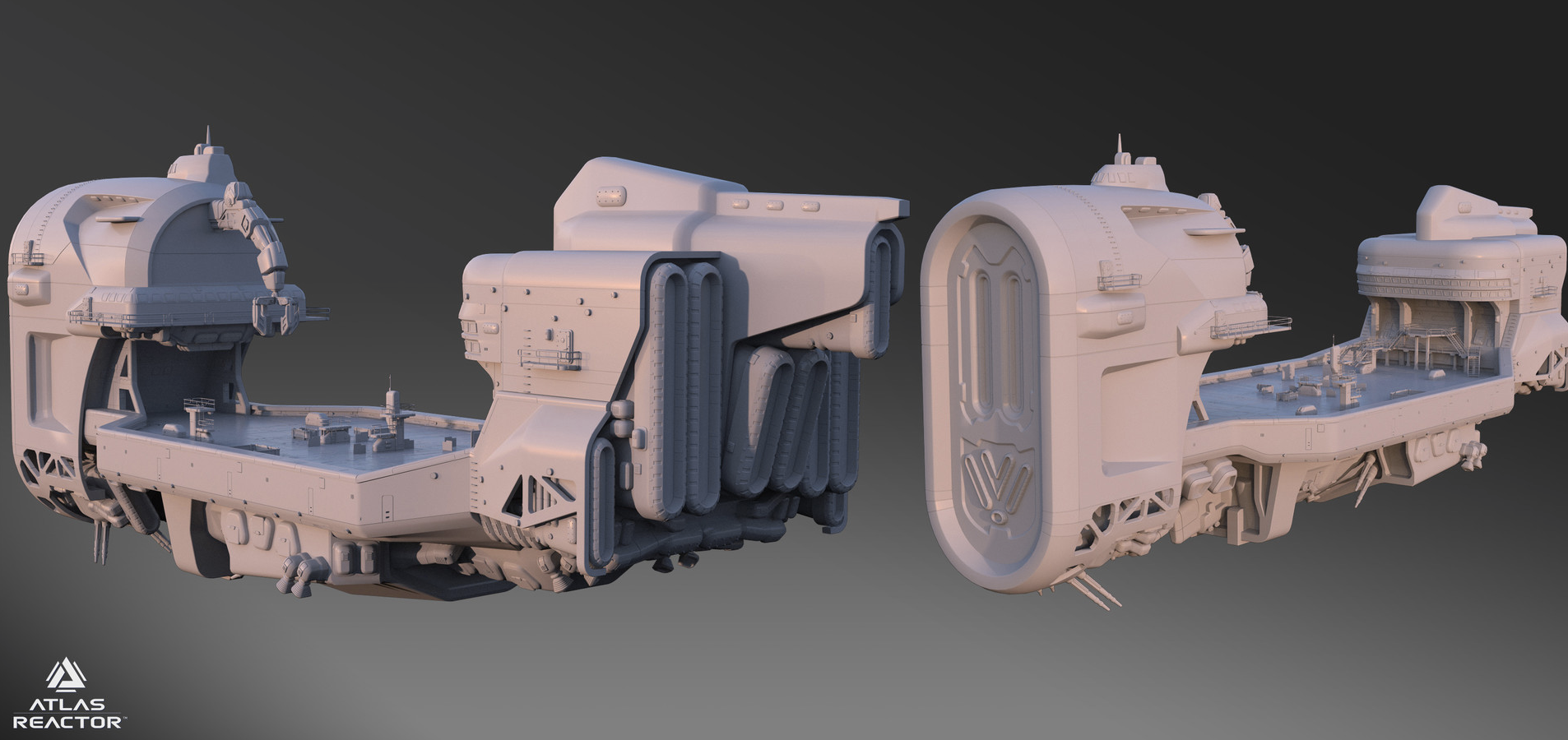 How did you get your start in the video game, TV, and VR worlds? What programs do you use?
In 2002 I started with Eyemaginations; a tiny medical animation studio in Baltimore, Maryland. We used 3D Studio Max for our 3D content creation, Brazil for rendering, and Combustion for post production. Two years later, I received a call from Blur Studio who flew me to LA and offered me a job. At Blur I worked on over 65 projects over the course of 11 years as a Scene Assembly Lead (also known as a CG Generalist). I saw many changes to the tools used at Blur, but 3D Studio Max was always the backbone of their pipeline. We used a variety of rendering engines, starting with Brazil, moving to Mental Ray, and finally ending up using Vray. All post production was first done in Digital Fusion and then the studio opted to move to Nuke. After leaving Blur, I switched my focus from pre-rendered movies to real-time 3D content creation. I first started using Unity at Swihart Studios to build environments for an experiential design project. I am now a Senior Environment Artist at Whitemoon Dreams where I help create environments for VR and PS4 games. My current tool set is primarily Zbrush for sculpting, Maya for UV layout, Substance Painter, Substance Designer for texture creation, and Unreal Engine 4 for final world building and lighting.
I love in your ArtStation "About" page how you say, "My love for creating is insatiable." What was your gateway into art when you were young? What most inspires you today?
I have drawn for as long as I can remember. I have never really gone a long period without creating some type of art. I have an insatiable creative itch. It gets kinda weird when a project is finished, actually. I almost immediately start searching for what's next. As far as what is inspiring my Kaufyshop designs, it is an unregulated flow of my aesthetic sensibilities in CG, design, illustration, and pop culture. My inspirations are pretty wide, actually.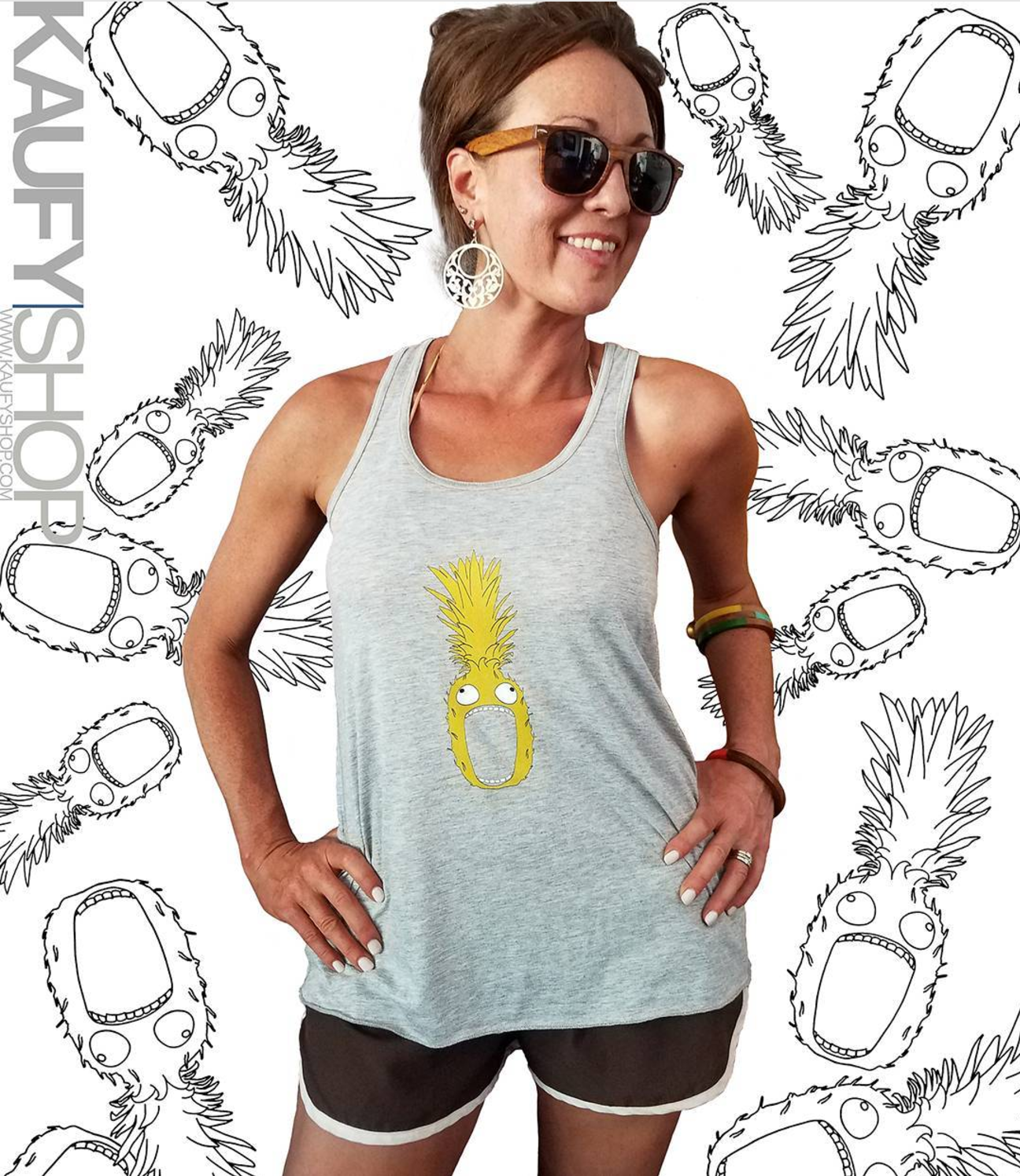 What's your artistic philosophy?
Have fun, and work hard. Life is short; if you are going to create something, make it as great as you possibly can. Even if what you create is a single line on a page, it should be an amazing line.
Don't have an Artist shop? Click here!