What happens when retro pop culture and modern tropical vibes collide? The art of Marta Zubieta, that's what. From Goosebumps designs that comment on (and spoof) millennial culture to banana fingers, this Bristol-based illustrator's designs are as nostalgia-inducing as they are wholly original. Pastel color palettes and retro pop culture throwbacks collide in waves of the multi-colored ooze & jungle-tendril backgrounds that this multidisciplinary Artist Shop artist creates. We talked to Marta Zubieta about her style, how she uses sleep paralysis as part of her creative process, and the commentary within many of her pieces. Read all about it below!
.     .     .
First things first, icebreaker! Tell us three fun things about yourself and/or your art!
Apart from being an illustrator, I am also a musician in Bristol. I play in an electrotropical band called Camo Clave, so here electro cumbia rhythms have become the soundtrack of my artistic development. I love jam sessions and jazz music as well, so when I need a break I go out to enjoy live music.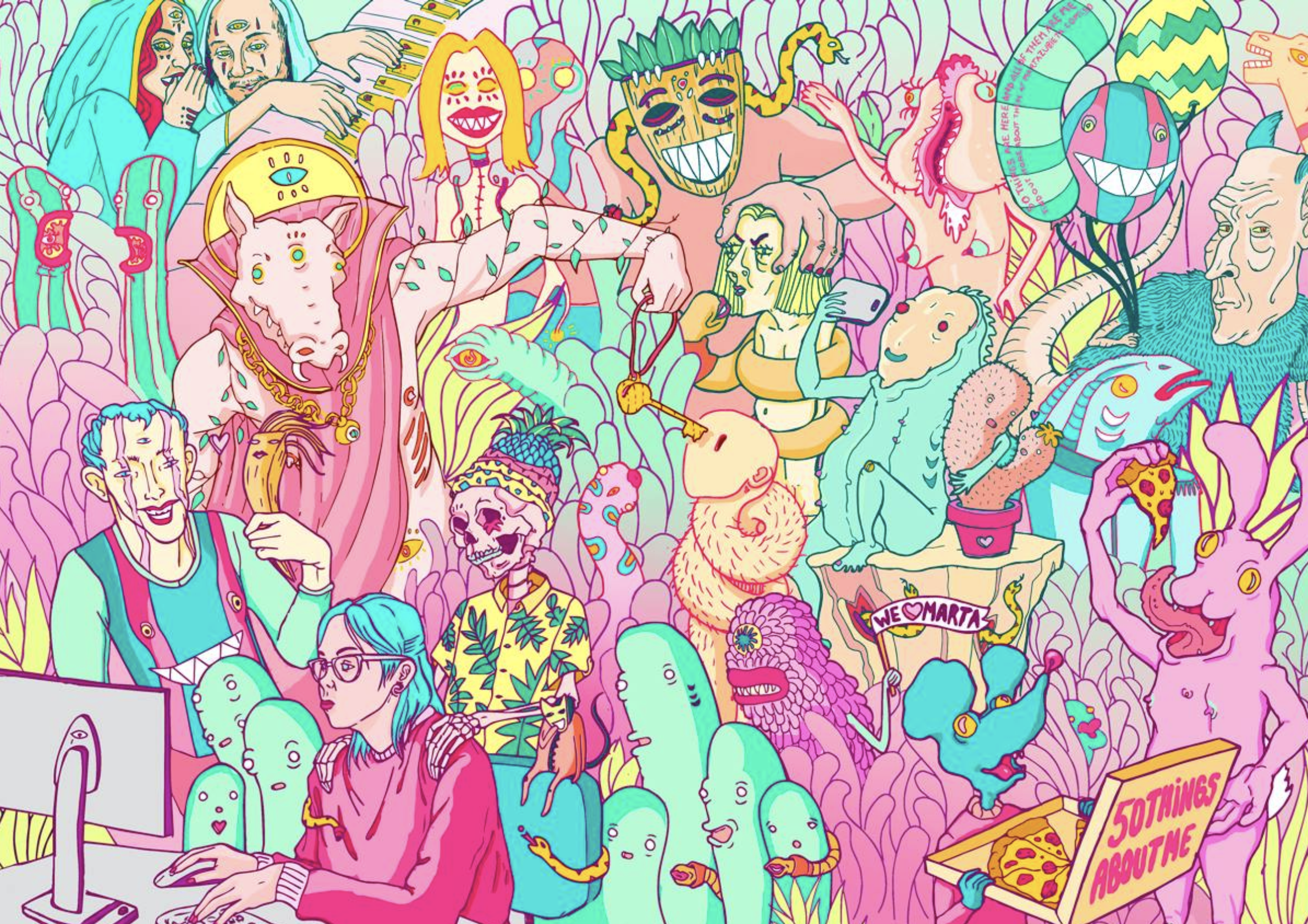 Another fun/weird fact is that I've had sleep paralysis since I was 16 years old. At first it was very scary but now it has become another tool that brings creativity into my life. I always keep a notebook close to my bed so I can write thoughts just when I wake up; you never know what can happen in a dream, or what inspiration it can bring you! At the moment I am working on a zine that talks about it and how to use it in a positive way.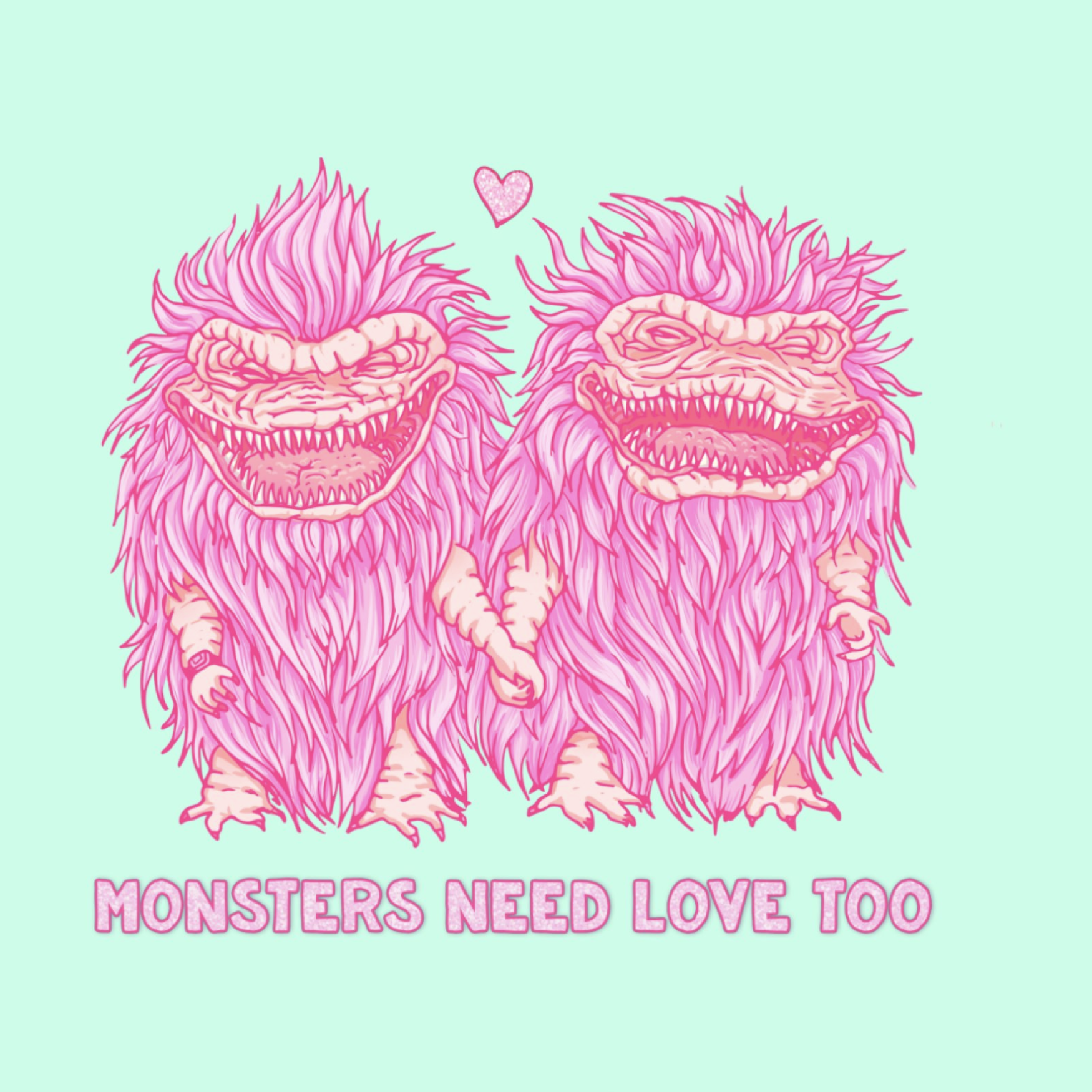 A lot of your designs seem to have a pop culture or '80s influence while others are your pure, original style. How did you first start exploring your artistic style?
This style came as a therapy in my life when I was feeling a lack of connection to my inner self. I was living in a new city full of street art and fashion but I was working so hard in my day job that I wasn't really able to enjoy it. After stopping drawing for almost a year, I was asked to do an album cover for my band so I started drawing tropical elements, mixing them with human body parts and psychedelic elements. The result was great and unexpected; a lot of ideas came to my mind and it seemed my mind was sharing with me all those ideas that had been silent for a year. I started making again, trying new colours, new shapes, then I got into platforms like Tumblr and Instagram and started sharing my new stuff.
It is amazing what creativity can bring into your life if you give yourself the chance to change and experiment.
People responded to it very well and recognized my style; it started to get known and I met more people in the industry. It is amazing what creativity can bring into your life if you give yourself the chance to change and experiment.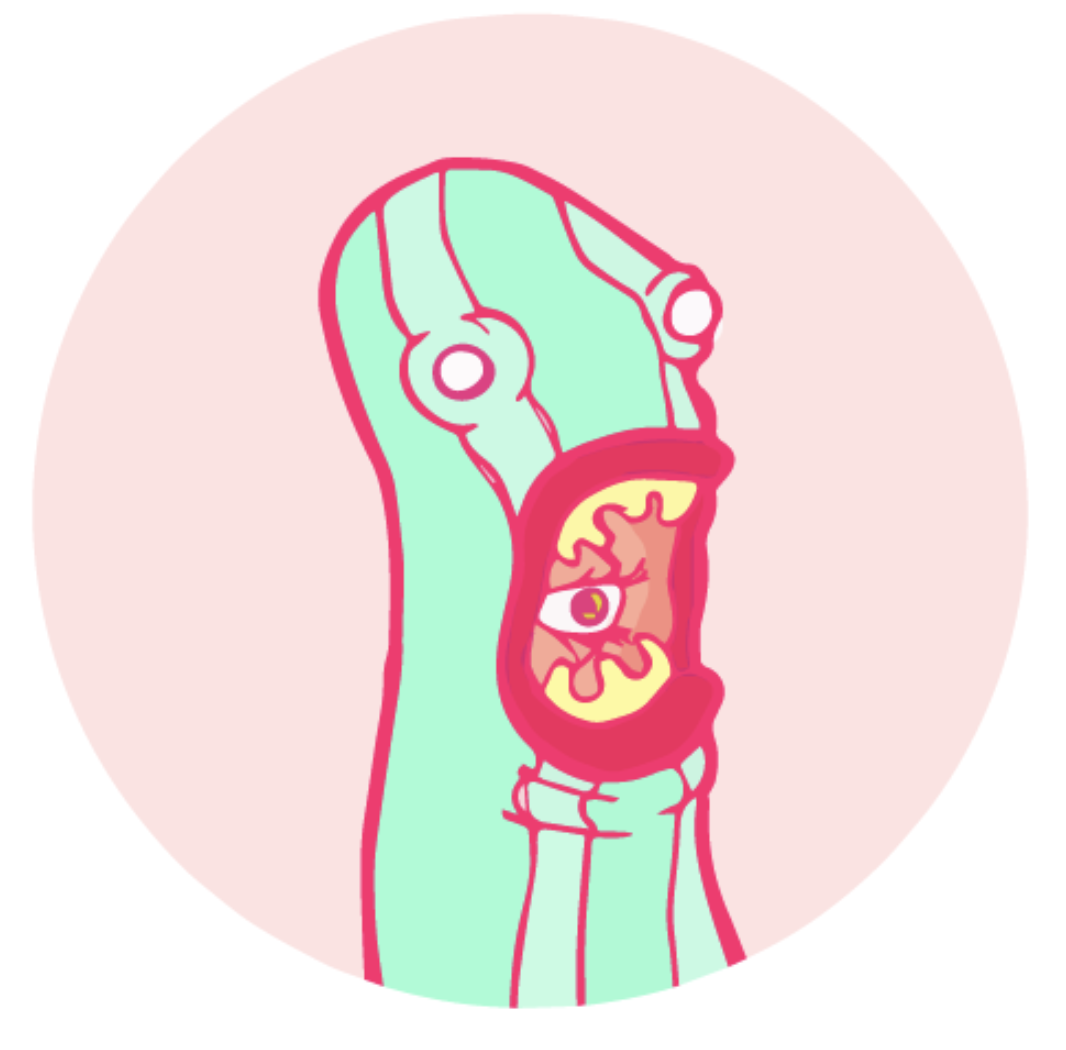 What are some things that influence you and inspire you the most?
I get more of my influences from music because I get to do a lot of commissions for bands and collectives that want really weird things (and I love it). I am also interested in science-fiction and horror movies – mostly from the '80s (they seem more real to me than modern ones) – and in pop surrealist artists like Mark Ryden or Todd Schorr, street artists like KAWN and South American artists like Paula Duro.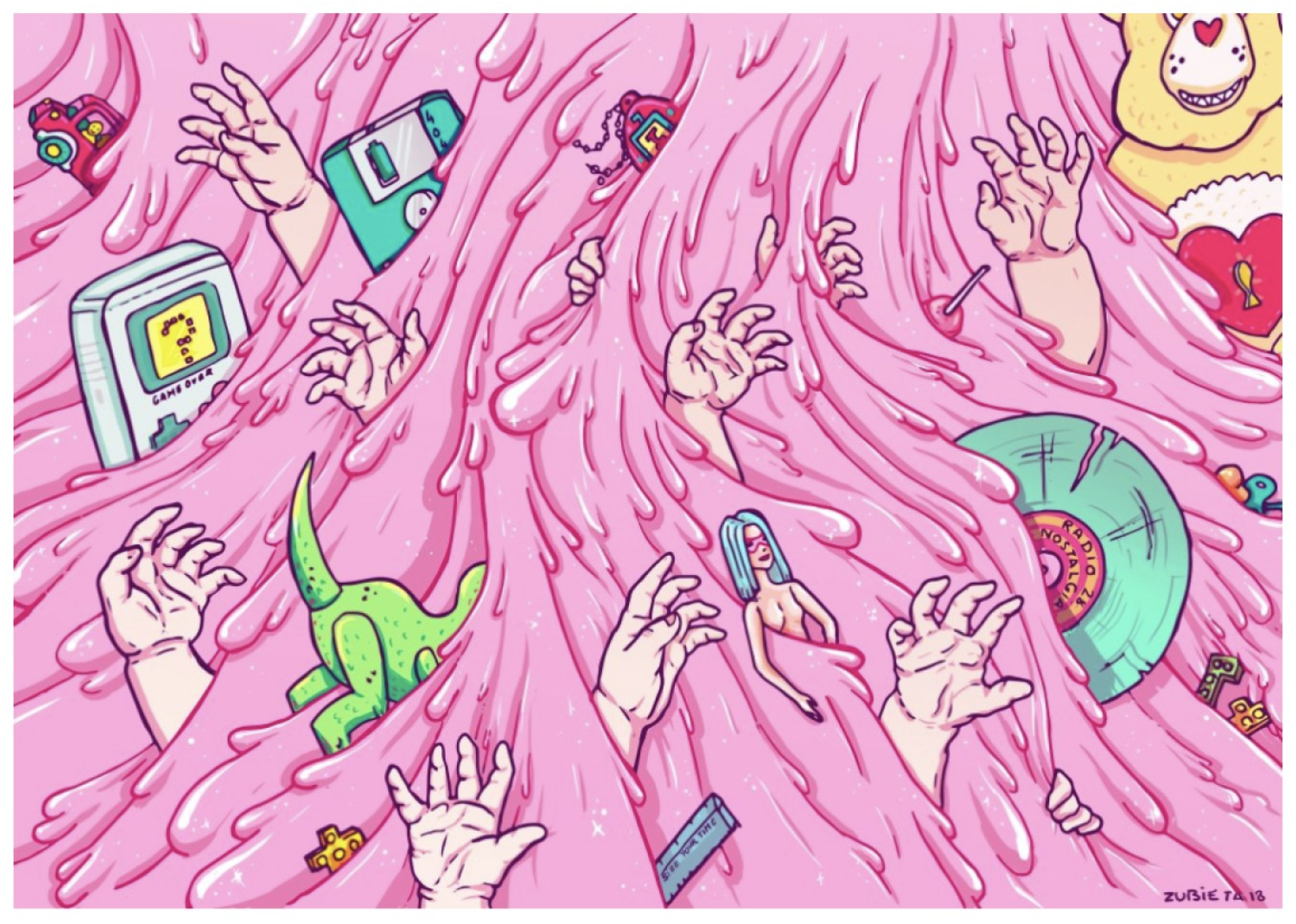 On Instagram and Tumblr I follow other creators that are having a similar speech, also combining reality and nostalgia, lost paradises and routines, to talk about themselves. It is great to see everyone working hard and putting their creativity out there.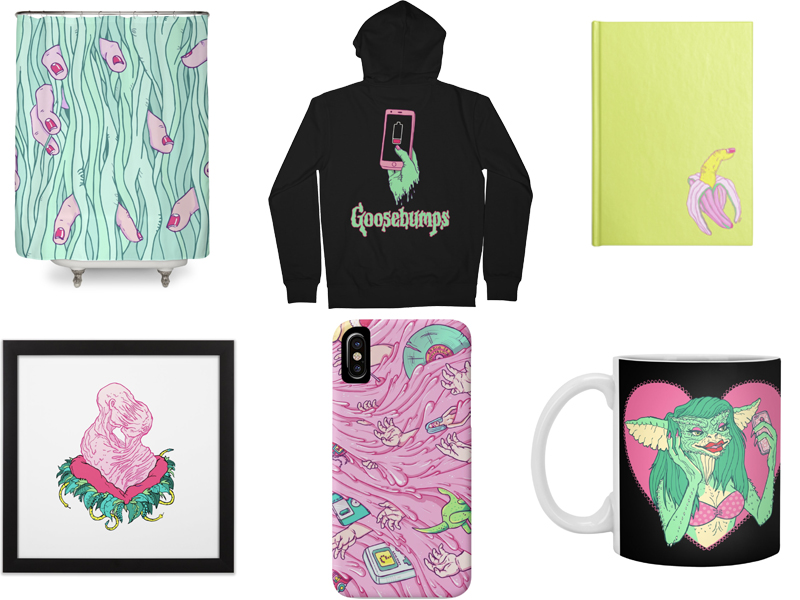 What does creating art mean to you?
Art is part of everyone's life. In my opinion, it is an expression of the self, and everybody can experiment with it. I love the Internet because it has brought democracy into art. It has become an open door for everyone to express themselves and to be heard. That is why I also think it shouldn't be categorized into bad and good art, and it shouldn't be seen as something elitist but rather something for everyone to understand, enjoy, and share. Long life to pop culture.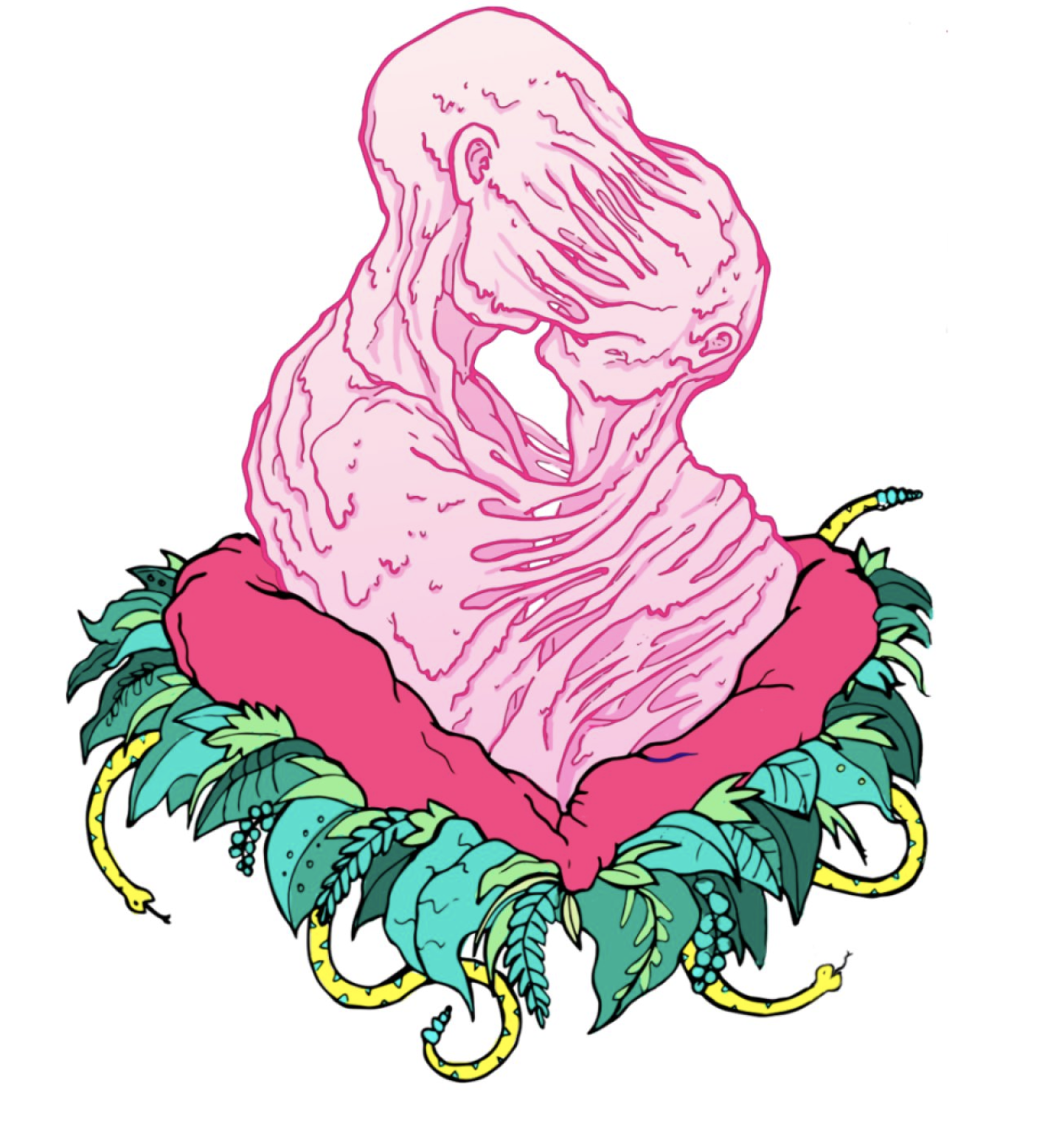 You mix traditional and digital art – what are your tools of the trade? Do you prefer working digitally or traditionally?
I always start with my pencil and notebook, taking notes and sketching ideas until I am happy with one of them. Then I do the final drawing, I ink it, scan it, clean the lines in Illustrator and colorize it in photoshop. This method works for me because it makes my illustrations very vivid and crisp and allows me to experiment a lot more with colours.
Recently, I have started to work again with the canvas and the wall; something very challenging but very rewarding because of the physical nature of the artwork.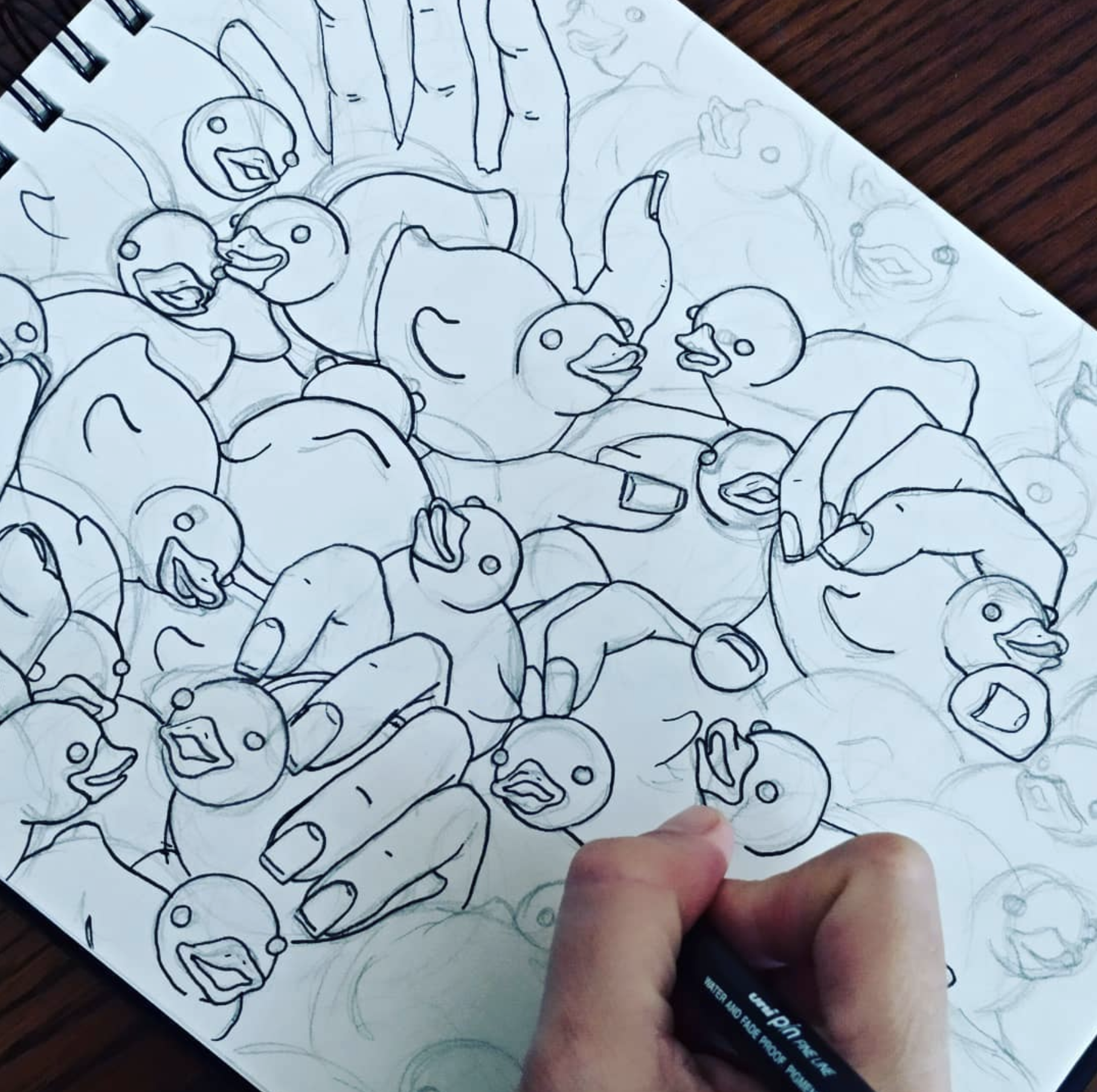 Designs like your Rubber Duck design on Instagram explore anxiety, while others of your designs explore social media – are there any designs in your Artist Shop that have a similar, deeper meaning you're exploring?  
Yes, "Nostalgia" or "Finger Jungle" are the ancestors of those two pieces and you can find all of them in my Artist Shop. I think they look great as phone cases or posters, I also have some of the designs decorating my room and laptop.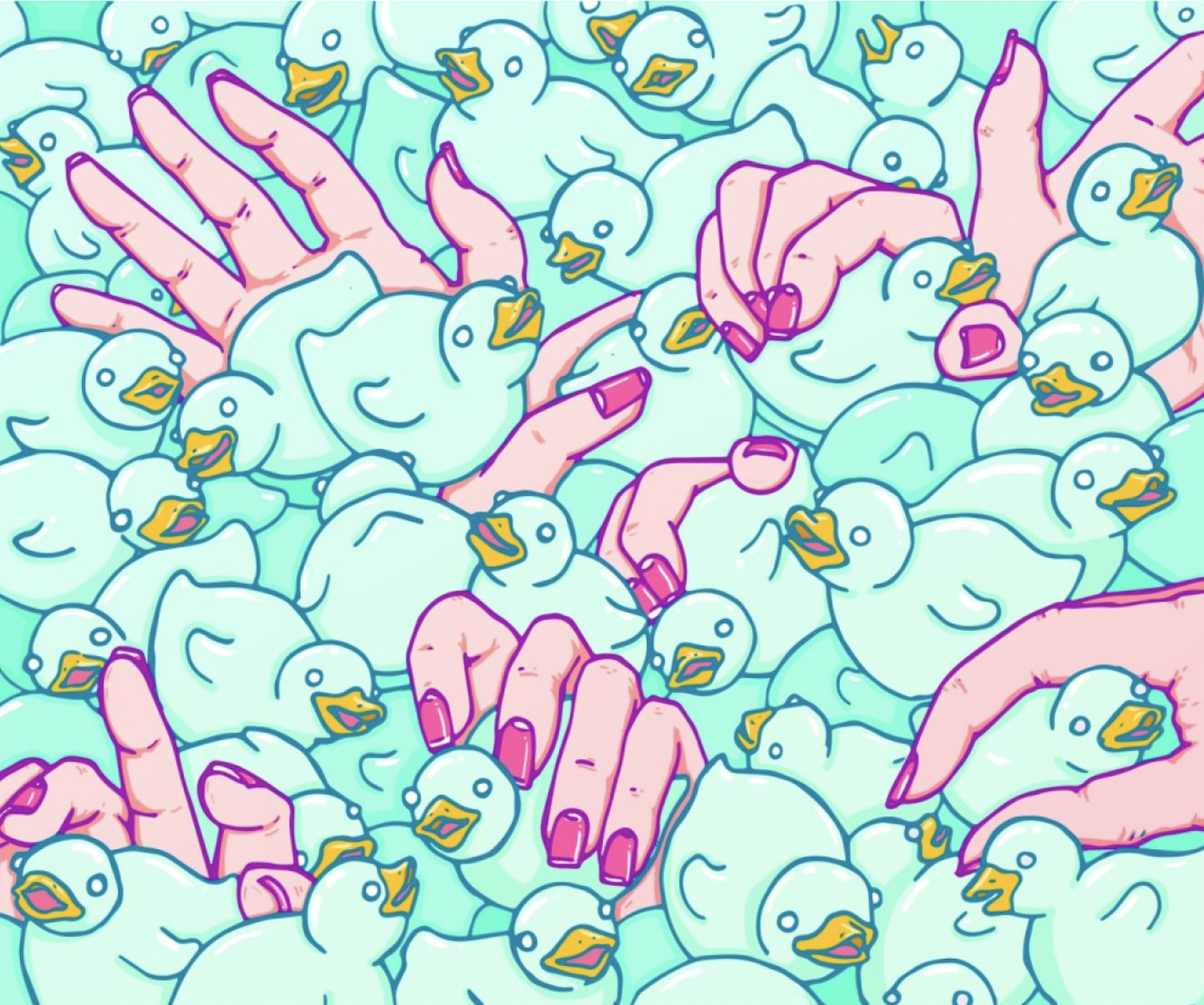 Mostly all of my works go around the same feelings that my generation has; stories of love, dreams and technology addiction. I try to reflect the world around me, combining ugliness and beauty or showing isolation, vanity, silliness or nostalgia, through neon, glitter, and cotton candy lenses.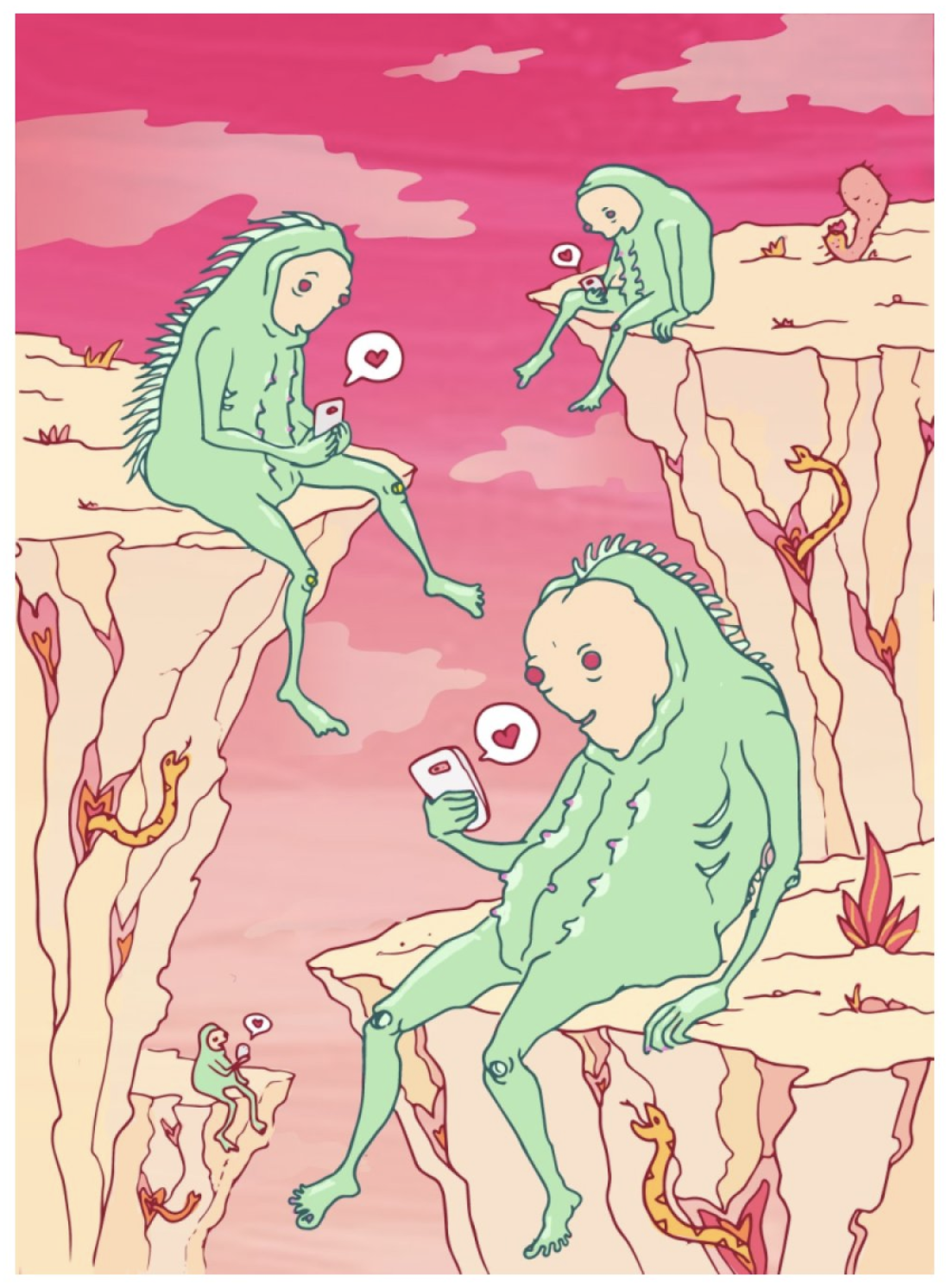 Are there any books, podcasts, or TV shows that you watch to get into the creative zone?
When I feel I need some inspiration I listen to the podcast Women in Illustration or I watch some Vlogger illustration videos on Youtube. It makes me feel I am not working alone and that there are some amazing illustrators finding their own way to work on their art. I also found it very helpful when I was going through a bad period to read articles from the blogger Ben Hardy in Medium.com. I recommend everyone that feels blue and lost to try some of the techniques he talks about to find motivation.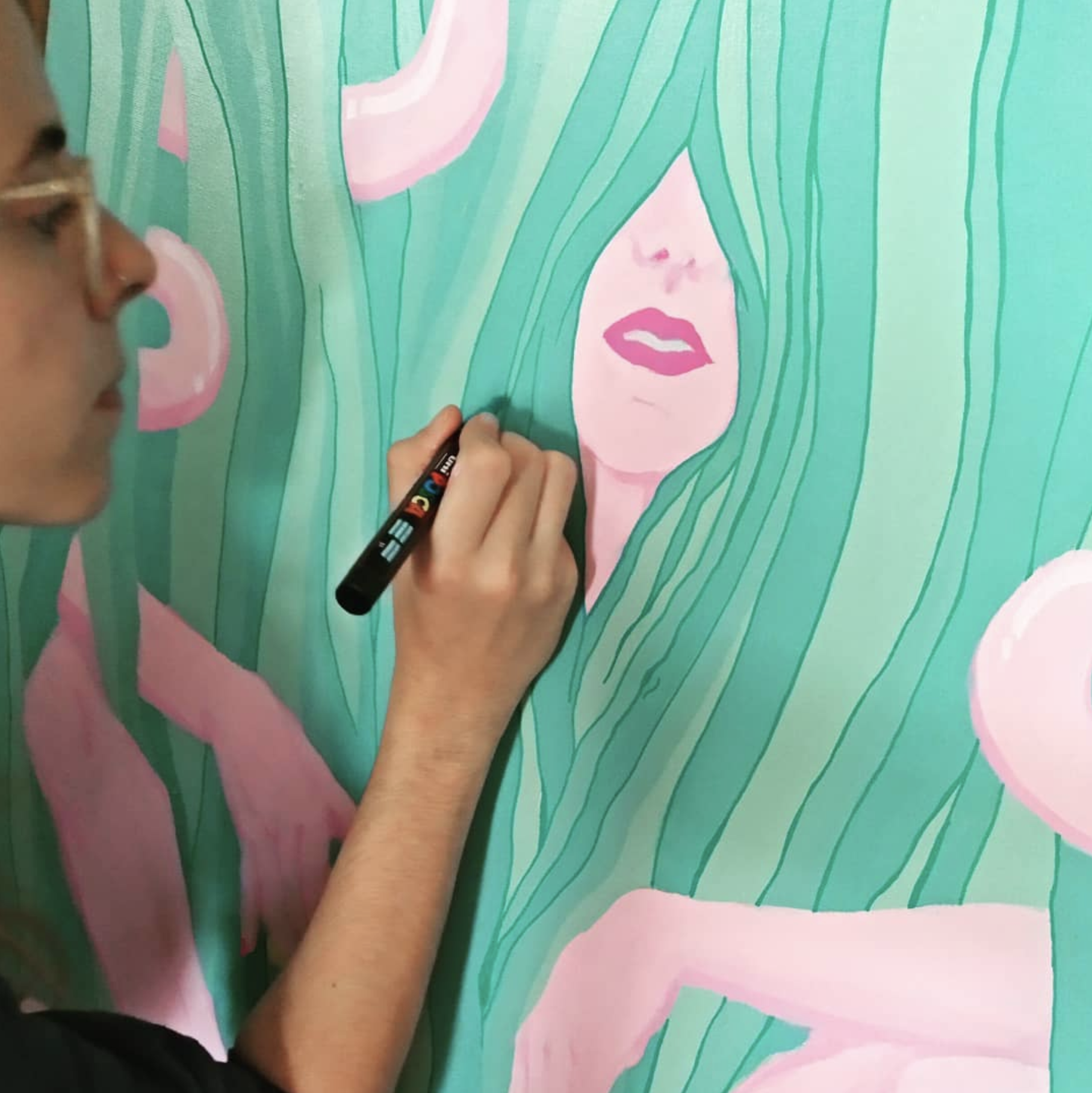 On Instagram, from murals to pins it looks like you're branching out into lots of different mediums! Is this something new you're exploring?
Yes, I think for me and for a lot of freelance artists the goal is to have more time to work on our own art and to spend less time in a day job or taking commissions. For that purpose, we have to find ways to diversify ourselves and learn to combine art and marketing. I think it's very positive to experiment with your own branding and to collaborate with platforms like Threadless. I find it a very useful tool to support independent artists and to develop passive income. It also helps me to understand which designs work better on products and which ones on art prints.
What's your creative philosophy?
I don't think I have any rules or a philosophy yet, as I am still learning from every failure and every success. (So I guess that is one rule: failure is also an important part of the trip.) I just recommend every artist keeps on working hard, to invest in themselves, and to try to do every day at least something related to what they love. Following those things, the style will talk by itself.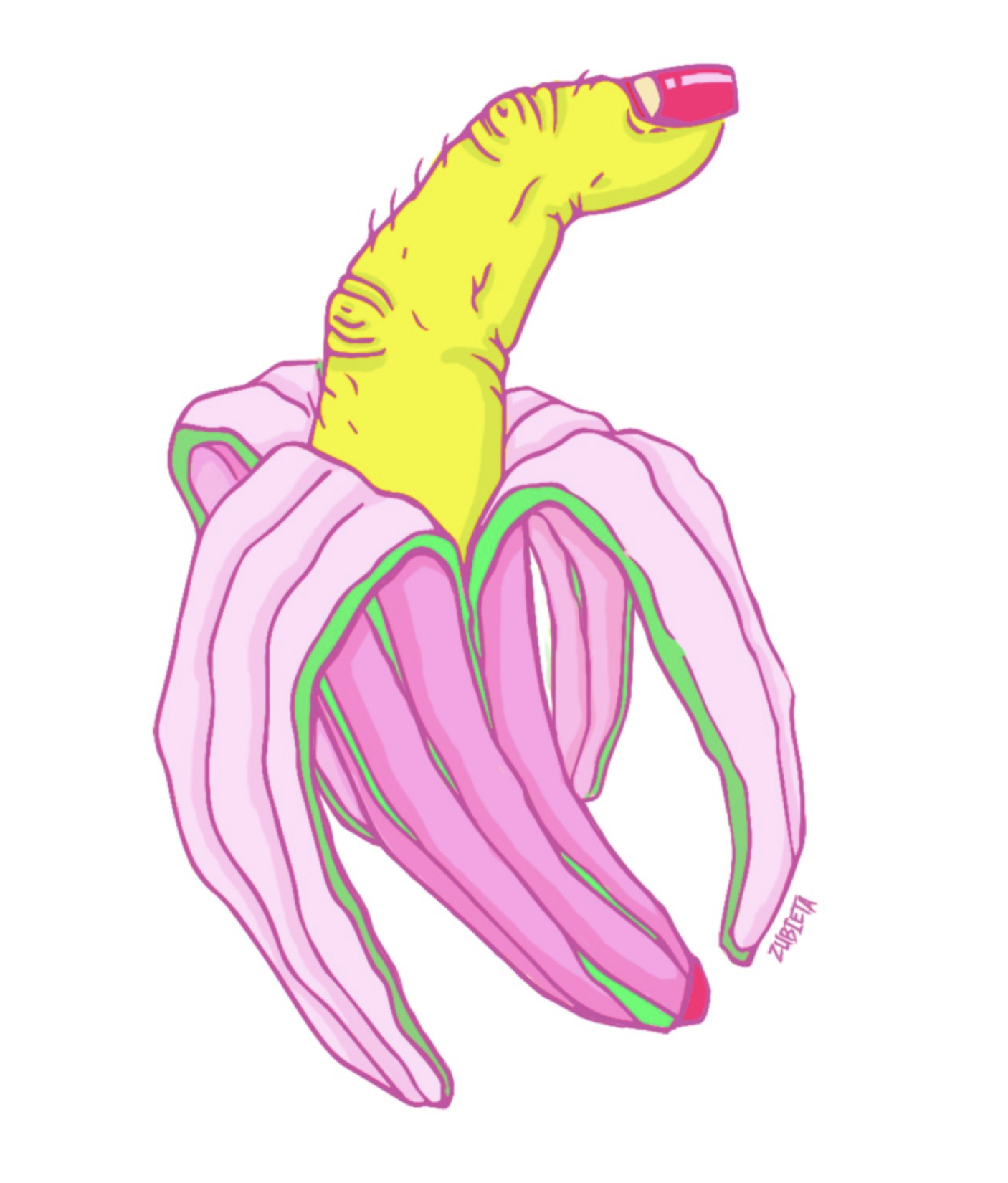 I reckon I have learnt that the best results appear when I am are not trying to make art for others but for myself. It is easy to say but hard to achieve sometimes because everyone wants to be liked and accepted; we don't realize that by trying to be "liked" we might be missing parts of our pure originality. The fact is that when a piece is done purely for joy and with a genuine idea, people can feel it and appreciate it much more.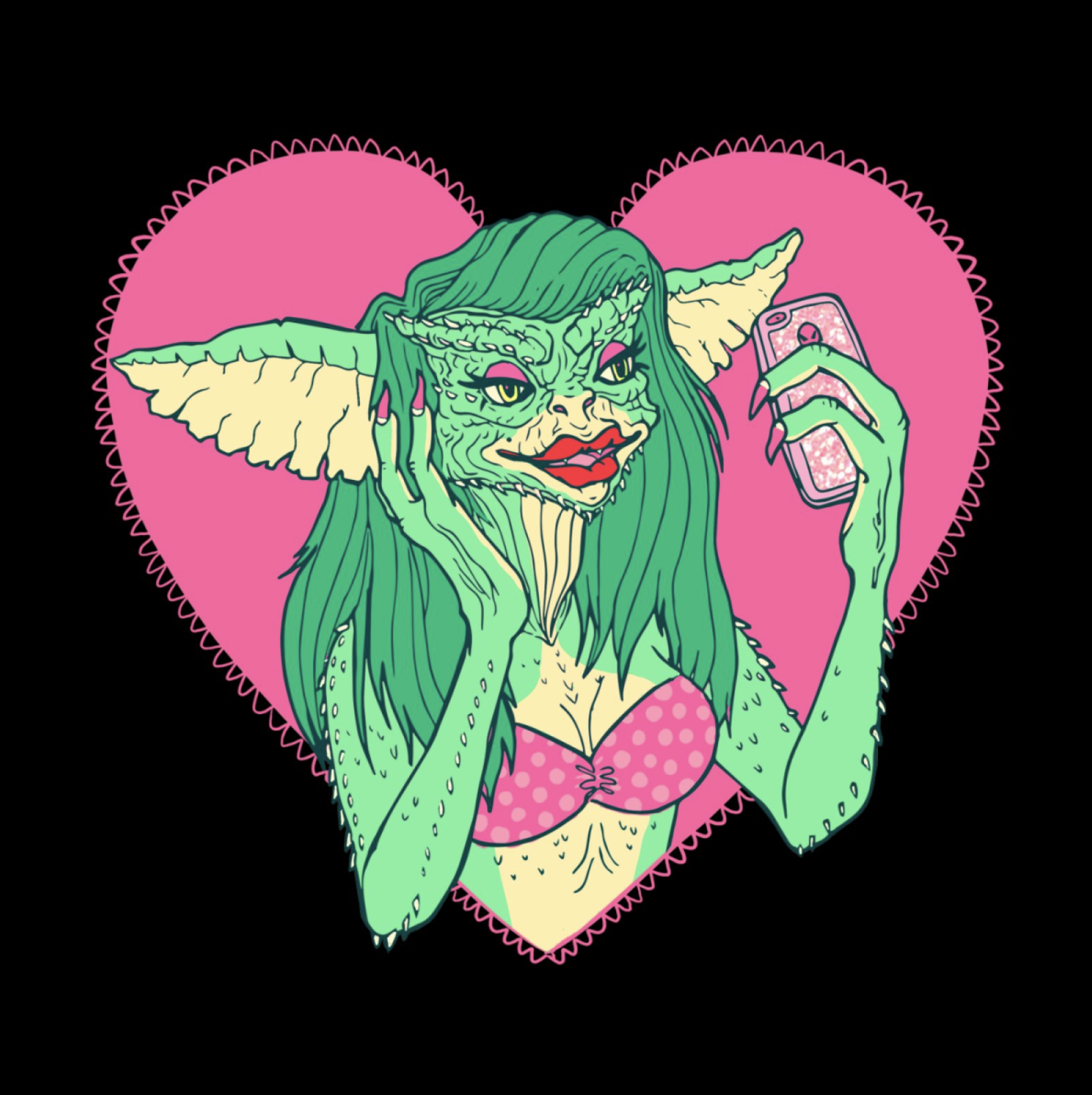 Anything else you'd like to share?
I would just like to say thank you to Threadless for the feature and thanks to every artist that is working hard to live their life in a fearless and creative way. We can do it!
Visit Zubieta's Artist Shop!