With love in the air for pride month and nerdiness in the air as comic convention season powers up, what's not to love about June! And one group of artists has combined these two vibes in their art studio, Rage Gear. Started in 2012 by Rey Arzeno and Eric Guerrero, Rage Gear Studios combines Rey and Eric's love of all things comic book with LGBTQ-positive messages – a combination that hits close to home for them. Their sometimes adorable, sometimes sexy art pieces and pop culture mashups have been featured on the likes of Nerdist, Entertainment Weekly, and MTV.
We talked to Rey, Eric, and the third addition to the tight-knit group Miguel Morales about their studio, what representation in comics means to them, and about the comics on their must-read list right now. Check out the interview below!
.     .     .
First things first: what comics are you all reading right now that everyone should add to their reading list?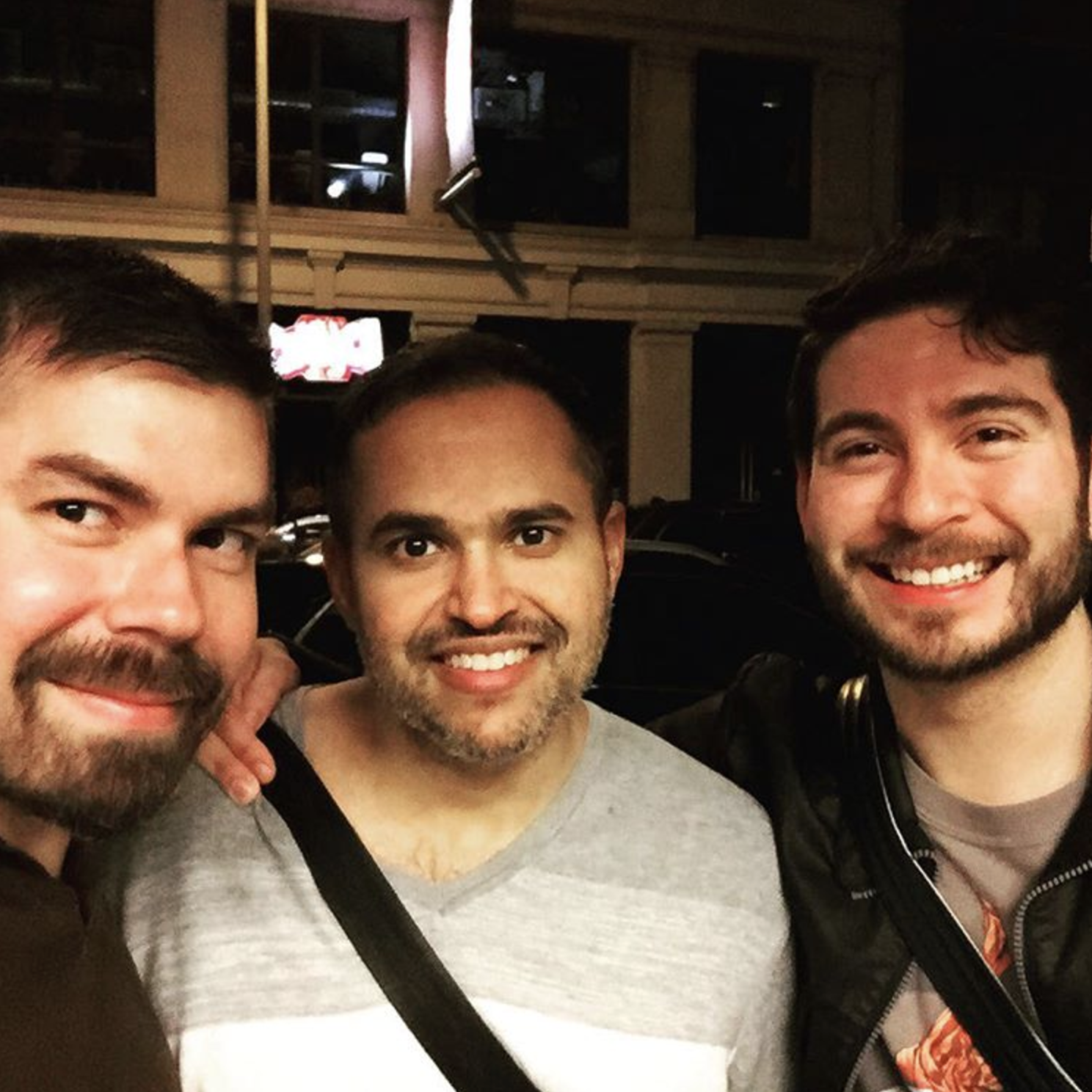 R: I'm currently reading Iceman, Jem & The Holograms, The Walking Dead, Black Panther, Uncanny Avengers (because I love Rogue) and looking forward to Astonishing X-Men (because Rogue is the bestest). I'm a sucker for nostalgia and I am really curious to see how characters – like Iceman – are going to be developed.
E: I recently developed an interest in following more character-driven comics such as Saga, The Wicked & The Divine, and Monstress. I am also looking forward to Astonishing X-Men (because Gambit is my husband).
M: All of the above and so much more, but books to which I would specifically draw attention are Black Monday Murders by Jonathan Hickman & Tom Coker and Injection by Warren Ellis & Declan Shalvey (both of which feature LGBT characters), Ms. Marvel because this title managed to capture magic in a way that nobody ever expected, and lastly, Jean Grey (because Jean Grey) who is finally seeing her time in the spotlight.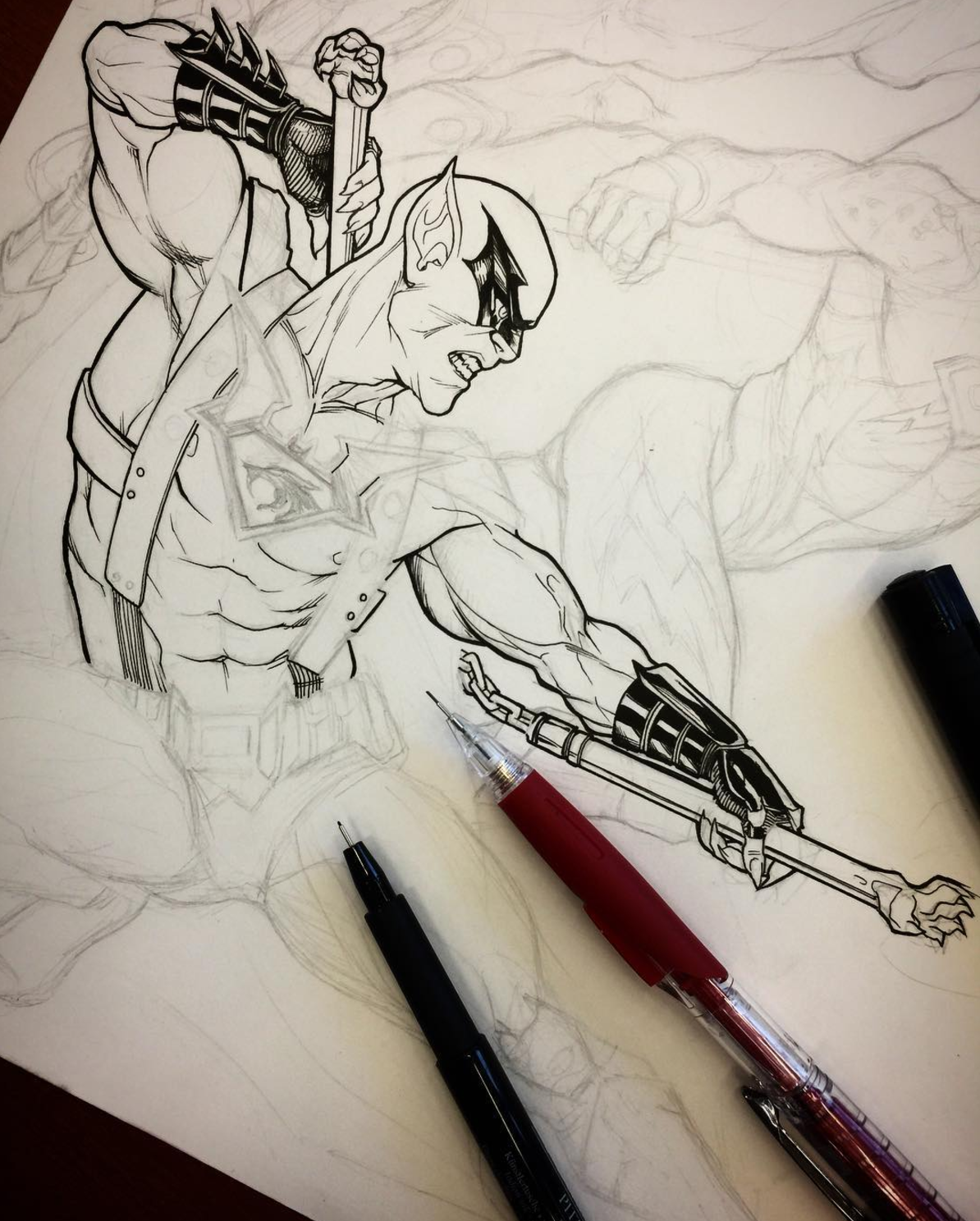 Tell us a little bit about Rage Gear Studios and what you do! Where did the name "Rage Gear" come from? 
R: The name was a last-minute creation that allowed both Eric and I to snag the last table available for the very first GaymerX. "Rage Gear" is a play on our initials: Rey Arzeno and Eric Guerrero.
When we first started exhibiting at various comic cons, we noticed a lot of art depicting women in provocative poses; why not the men as well? Our mission became to remove taboo from gay content and make it approachable, engaging and fun because being gay is more than just about sex. There is a narrative to our work that compels people to dig deeper than just the visual. We combine humor, playfulness, and pop culture, but in a way that is thought-provoking.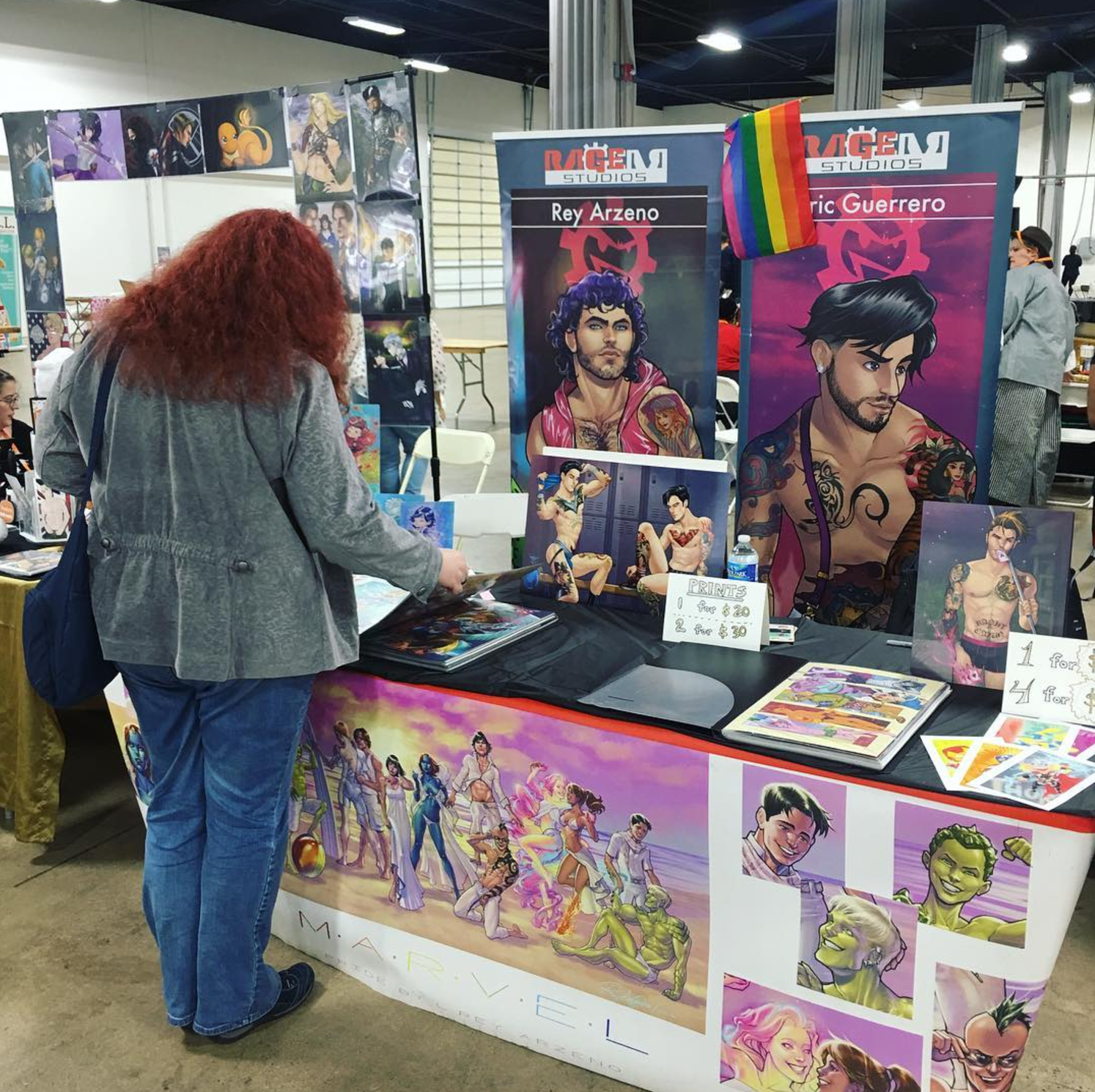 Comics have always been a great medium for social commentary. What does representation mean to you and what makes comic books such a great medium for it?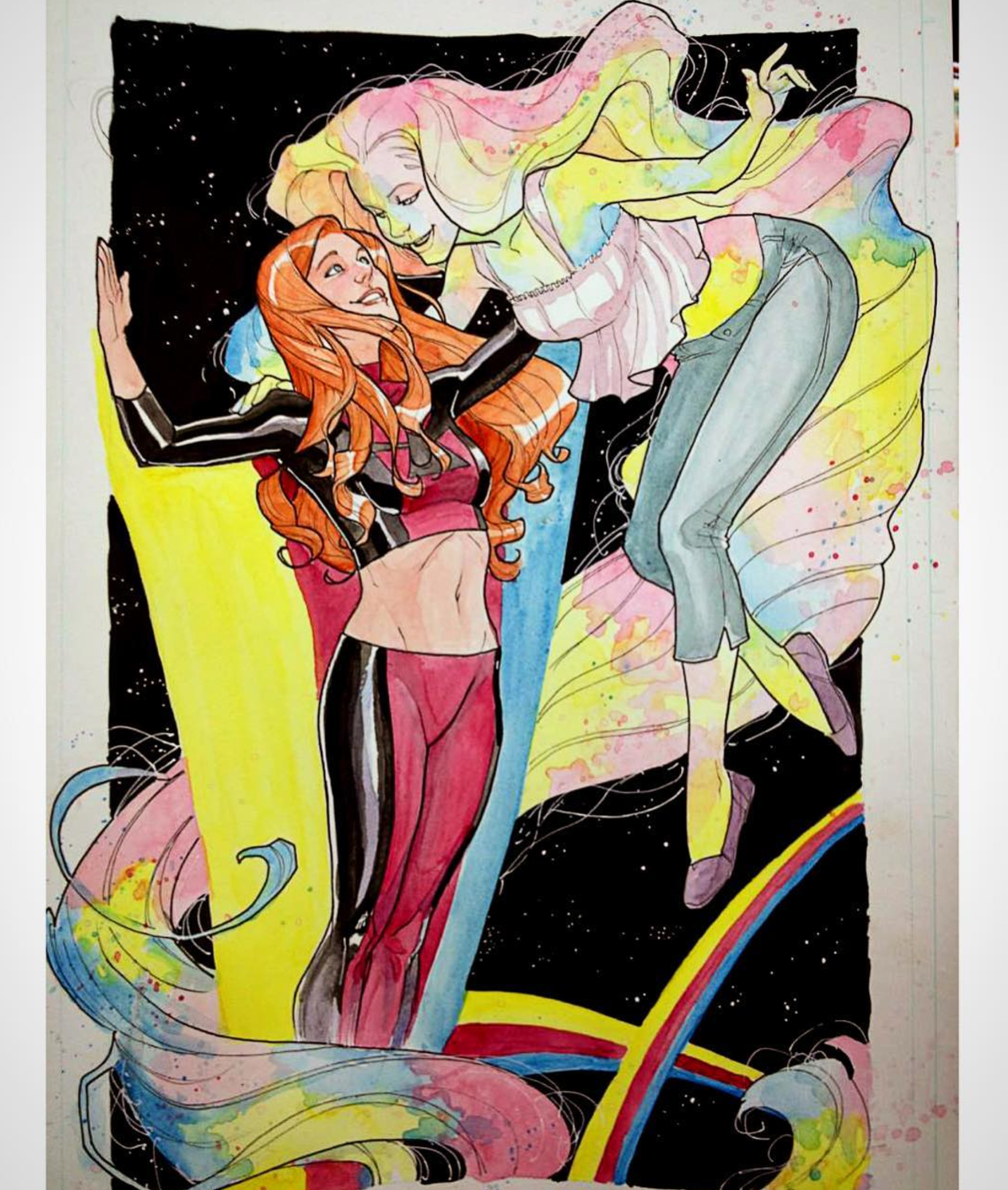 R: Comic books are a visually entertaining and accessible vehicle for early exposure to acknowledging differences and awareness of others. In the X-Men, for example, the differences are much more fantastical but the message of acceptance, coexistence, and solidarity comes across. 
E: Comic books are created by writers and artists who create worlds and characters built on personal experiences, which is why I think they can be so relatable. I think today the comic industry has also grown into a more diverse medium; there literally is something for everyone.
M: Representation is all about seeing ourselves as part of the world in which we live, as well as in the stories that we love. And while white, straight, able-bodied cis-males have no shortage of heroes to emulate, the rest of us struggle to find characters who resemble us; physically, culturally, through disability, sexual orientation or gender identity. Unless you've found yourself in this position, it's difficult to describe the joy and relief that comes from seeing a fictional avatar that could almost be you.
Representation is all about seeing ourselves as part of the world in which we live, as well as in the stories that we love.

-Miguel Morales
How did you all first get into comic book culture?
R: When I was in 5th grade a friend introduced me to comics. I was already drawing a lot and discovered that I really enjoyed the art of comics; I was pulled in by the desire to learn to draw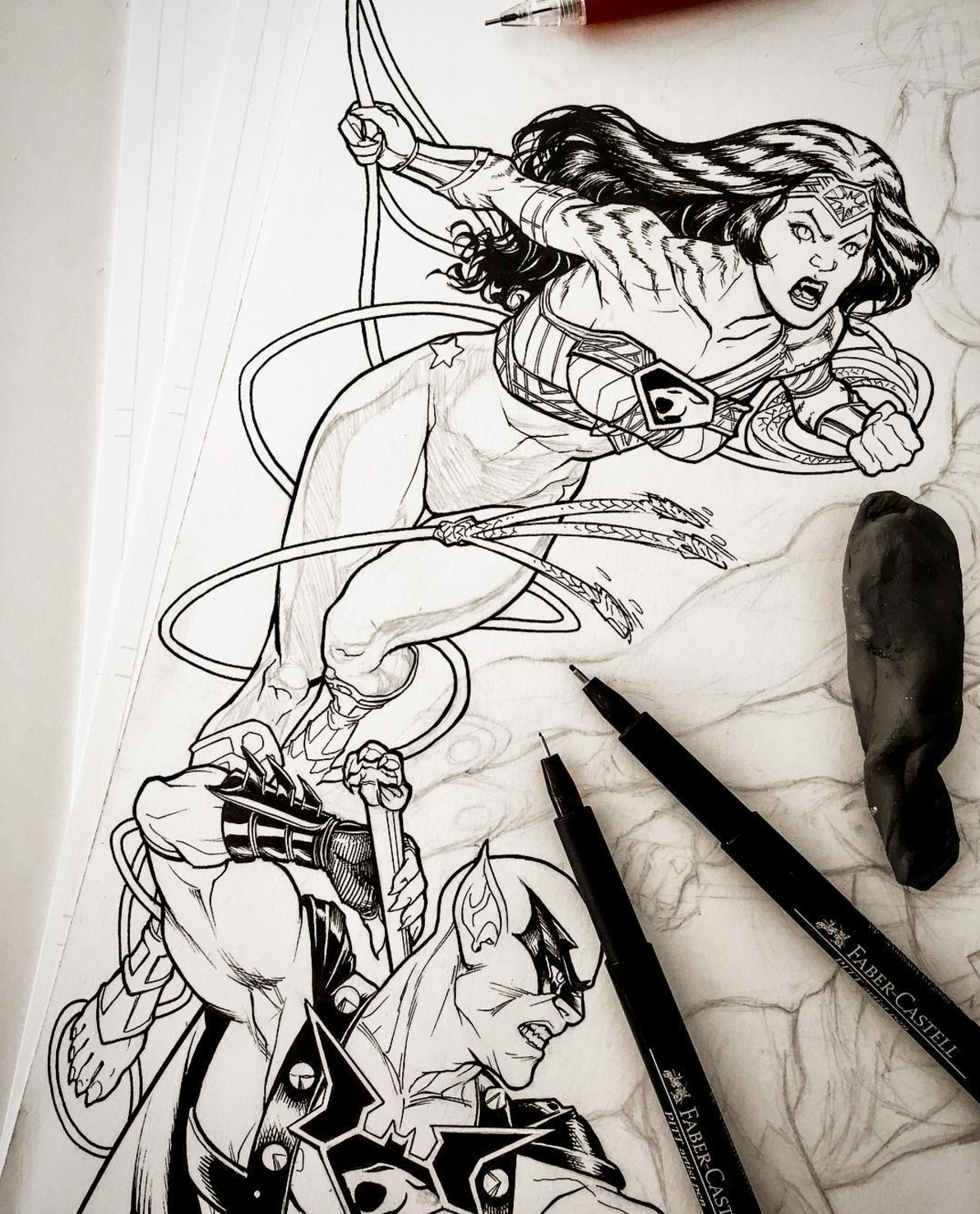 them myself.
E: I fell into the rabbit hole after watching the X-Men animated series from the '90s. I then noticed there were X-Men comics on the bookshelves at convenience stores my parents went to, and that was the beginning of my obsession
M: My father introduced me and my little brother to comics when I was 13 or so. He took us to Flea World; this huge flea market in Central Florida, where they had about two or three kiosks devoted to comic books. I fell in love with the visuals and the characters almost instantly. This was also around the time that the Marvel series cards had first come out, so there was a bit of a zeitgeist in the air.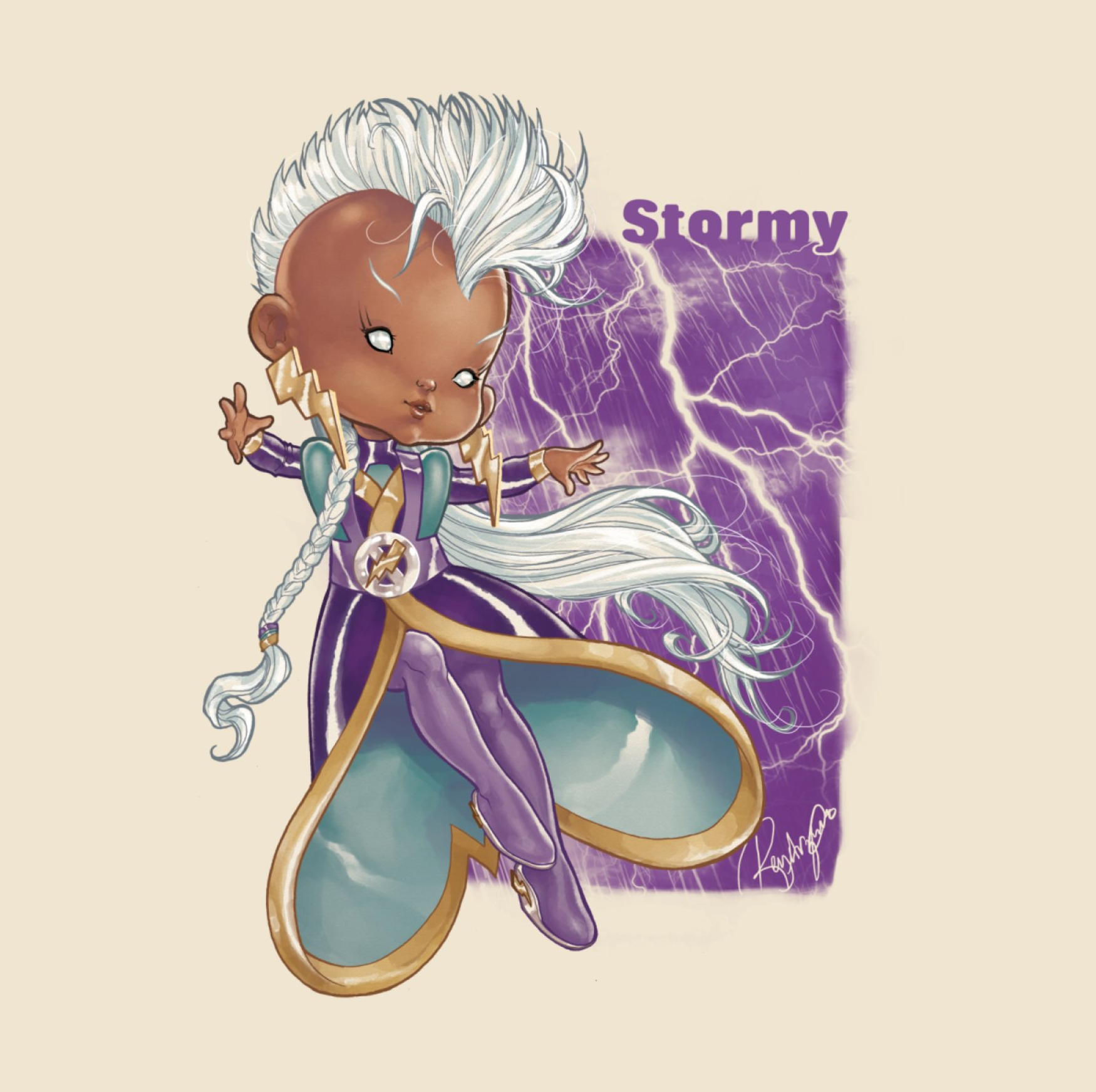 How have your personal experiences with your own intersectionality shaped your appreciation for comics? What do comic books mean to each of you?
R: How does an olive-complected, gay male, Dominican immigrant identify with an overbold, all-American, fair southern belle like Rogue of the X-Men? Talk about intersectionality! Of all of the mutants, her struggle is just so much more appealing to me. Even within her own people, she has trouble feeling comfortable in her own skin. I feel it mirrored my youth. Being part of the Latino community, already a minority, and having trouble within that community, being gay. Rogue handled her situation with strength and sass in spite her vulnerability.
E: I discovered the X-Men when I was a teenager. I am Latino and gay as well. The X-Men related to me personally because I felt I never really fit in with others; reading the struggles and adversity these mutants were going through I was able to see that I wasn't alone and they were experiencing similar situations. I view comics as a form of expression; they are a great way to view different perspectives and ideas in a fun way. They have the ability to convey deeper themes for our own interpretations.
M: For me, comics changed my life. Reading that description for Alpha Flight #106 – "Northstar comes out as gay" – was enough to flip the switch in my head and allowed me to put a name to my feelings. I determined that if a fictional character could be out and proud, then I could be. It cemented my love for this medium because it was the first in my limited experience as a 14yo to normalize gay.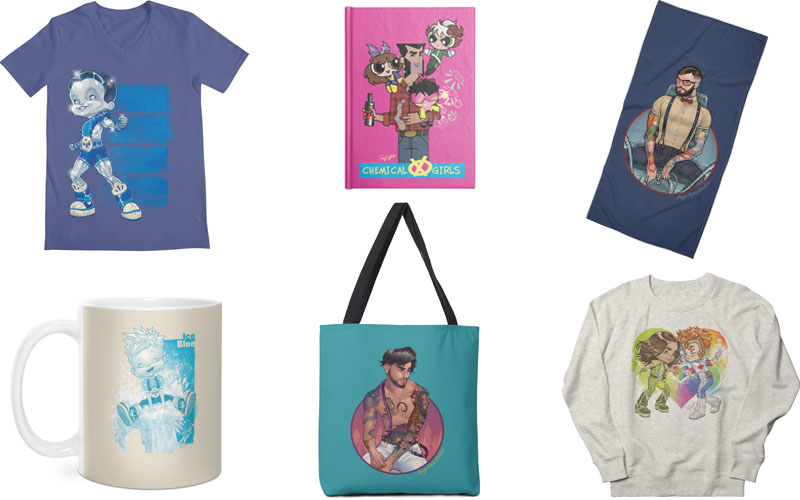 Tell me a little bit about your Artist Shop! What made you start one?
Starting an Artist shop was totally in the cards for us; we just didn't know it yet. After being featured in Entertainment Weekly, MTV.com, Nerdist, Comic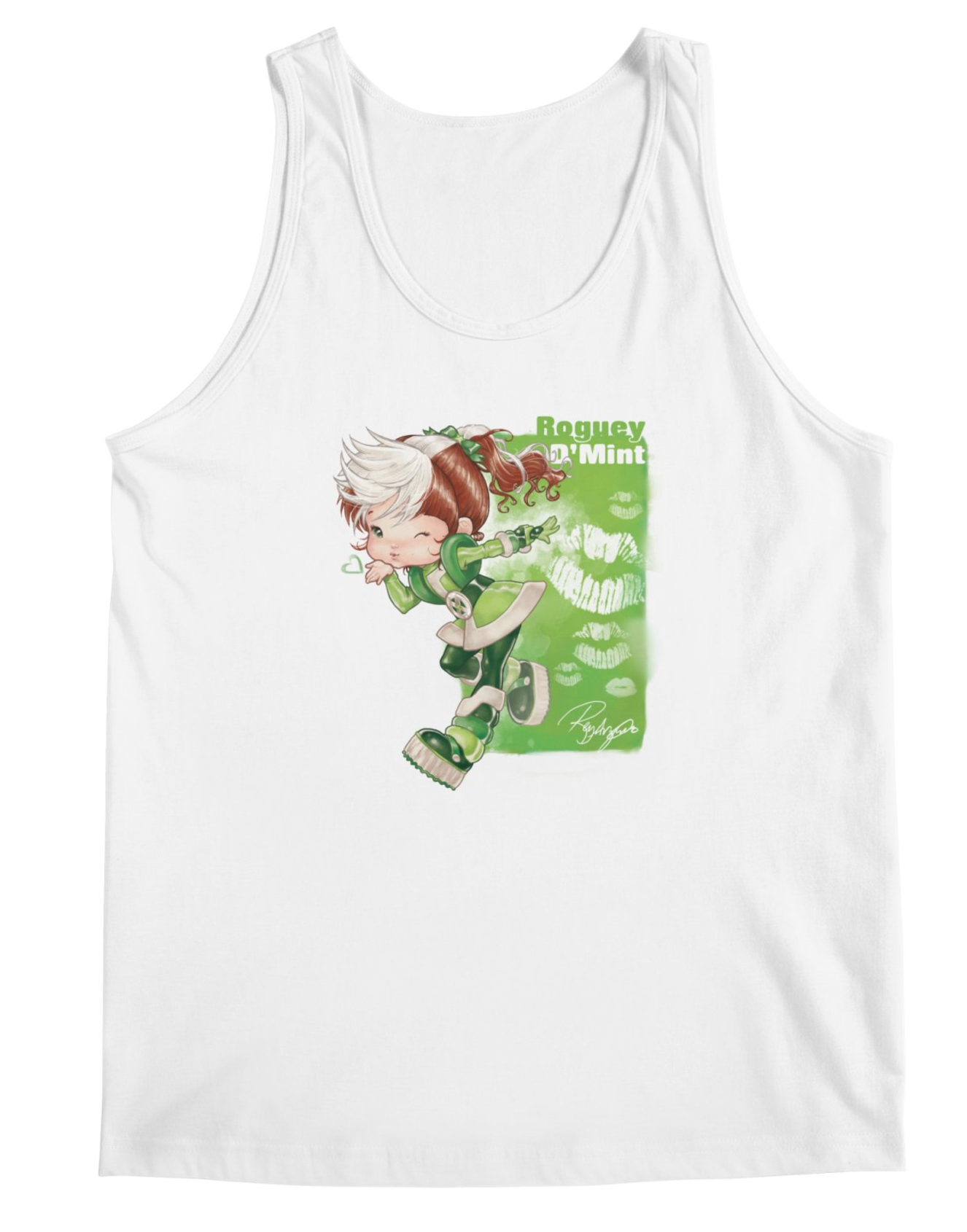 Book Resources and more; people were asking for merchandise. We needed to get to that next step and that's when Threadless hit us up! He walked into the room and all eyes were on him, but he was looking at us…oh, that Threadless! He extended his hand whilst asking us to step out of that corner and dance. How could we resist absolute kismet?
Tell me a little bit about the designs in your Artist Shop!
R: The Xolor Kids (right) are my babies. I adore nostalgia, especially when I get to rewrite it all my way. Being a little kid in the '80s was great. I hadn't quite perfected the English language yet, but the cartoons were all so colorful, happy, silly and truly outrageous! I wanted to breath some modern life into my childhood fandoms. Combining them with my current fandom seemed a really fun way to do it!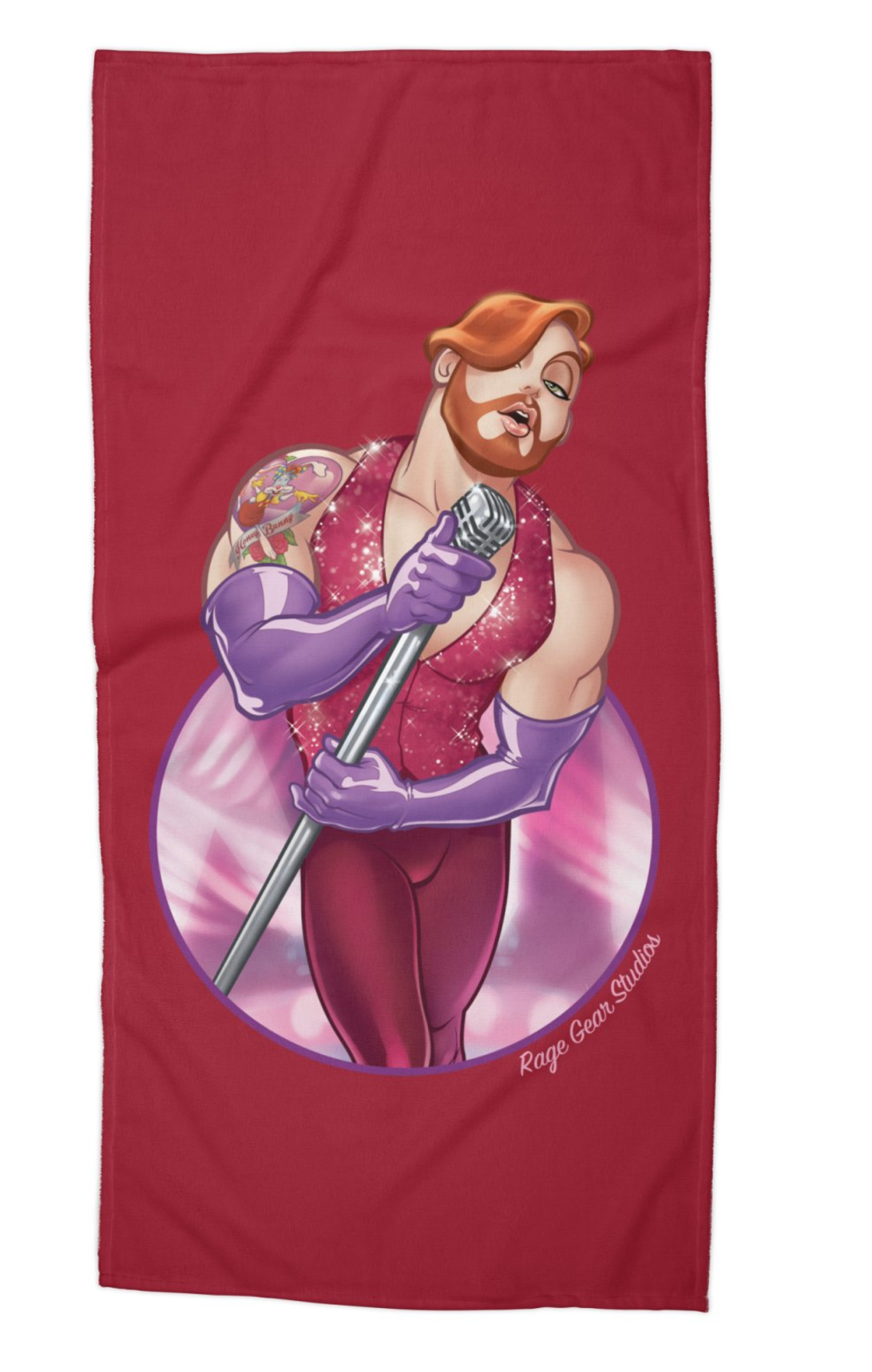 The other series in our shop is the RageЯ Boyz collaboration (left and below). The first year Rage Gear Studios exhibited at NYCC, a gentleman wearing a custom hot pink Storm Trooper noticed the rainbow flag waving at our table. He came in to take a look at the goods, and after flipping through the portfolios displayed he said, "Is this the gayest thing you guys have?!" We decided to take him up on his challenge! We collaborated on a series featuring hot guys from different genres.
When we work as a group, we divide the work up so as to speed up the process. Pencil drawing the image is the first step. The piece is then inked by another member and scanned so it can be digitally colored by another one of us. Often work goes through all three of us before being finalized. We would not call it ready and offer it to you unless we are happy enough with the piece to wear it ourselves.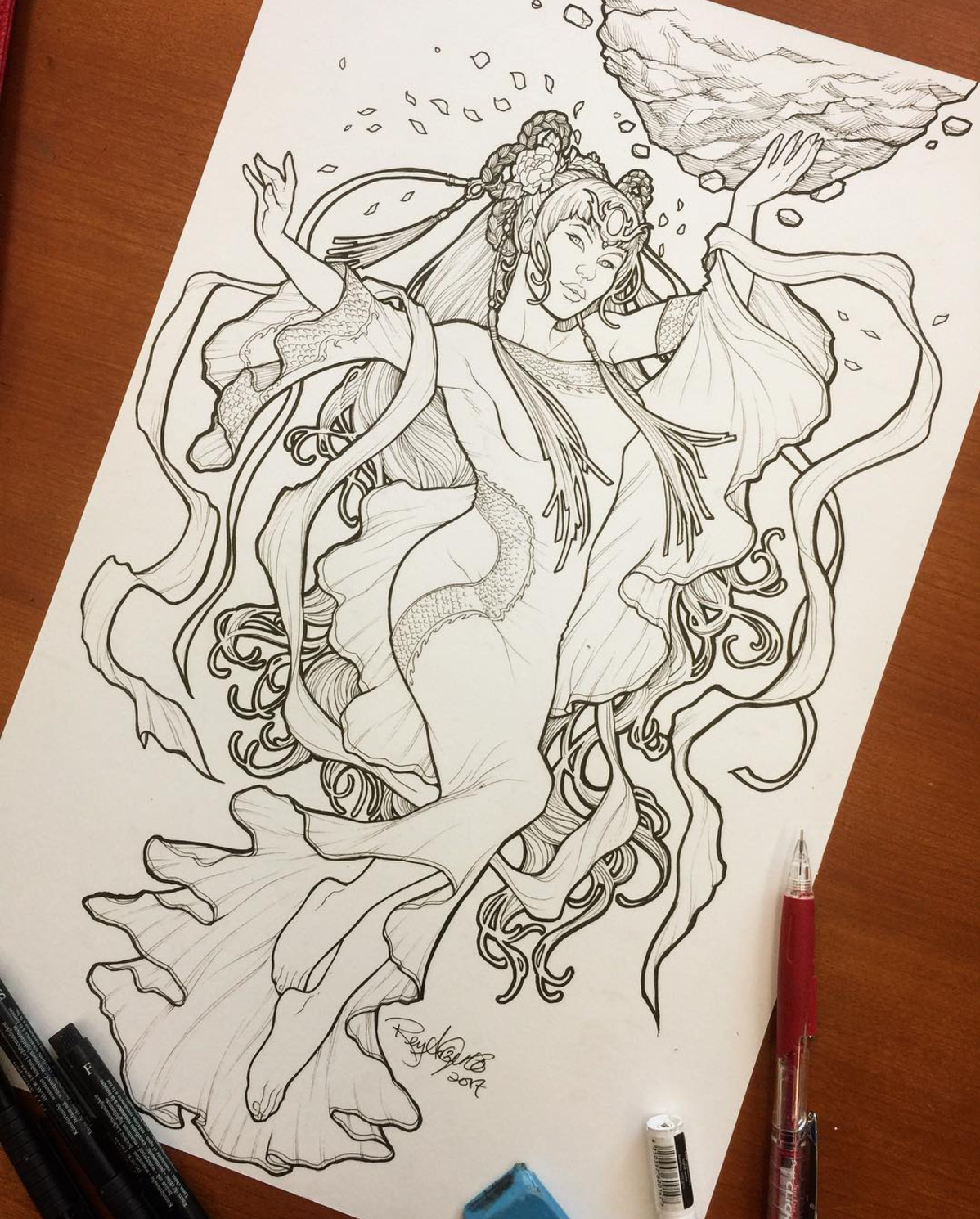 On your site, Rey talks a little bit about how art was his means of communication before mastering English. What does art and being creative mean to each of you?
R: To me, art means you're never wrong. It comes from you. You define it. You make it your own. You can decide what to share with colors and shapes. Whether it's joy, sadness, anger, or pleasure, anything you choose to convey can be understood or interpreted by others. In them, it can trigger various feelings, emotions and experiences. Being creative is a cycle of endless growth, introspection and expression.
E: Ever since I started school, art has always been my favorite subject. Early on, I found it as a form of expression and that I learned best visually. My parents saw this sparked interest in me and would enroll me in sessions at the local community center and summer art classes. I was very shy back then and mostly kept to myself, but with art, I was able to escape into my imagination and create worlds with unique characters.
M: While I began doodling at an early age, my parents never really encouraged me beyond that. It wasn't until university that I was finally able to pursue my interest in drawing and making art. The satisfaction that comes from taking a blank sheet of paper and making something of significance and beauty is what keeps me coming back.
Anything else you'd like to share?
Happy Pride 2017!! YAY!! *insert rainbow emoji*
Don't have an artist shop? Start one now!