An office just isn't complete without a giant creature lurking around in it, amirite? That's how we felt about our HQ, anyways. Something was missing, and we knew that only a giant wall creature could fill the void in our space and in our hearts. And Chicago muralist and professional beast-tamer Natalie (aka the (Sub)urban Warrior) came to our aid. Her giant creations – or 'Beasties' as she calls them – have popped up all around the city, from rocks on the beach to giant (formerly) blank walls.
We talked to Natalie about the GIANT mural she did in our office, about the super cool Pagan-fueled origin behind the look of her creatures, and about being a female in what's considered a bit of a boys club in the art work.
.     .     .
How did you get started doing murals?
I got started in murals by going with some friends to Crawford Steel Mill. It's a place you can practice legally in the city. I started small and then bigger and bigger! It's pretty addicting once you get into it, and I fell in love with cans. Painting at Soho House was my first real legit public piece and it opened a lot of doors. From there, I started doing more permanent walls and was getting asked to collab with other artists on big walls. Now I've done work for well-known companies, and am always looking for more walls to conquer!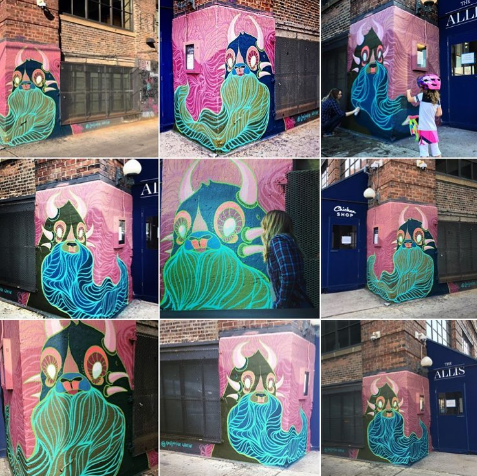 I love the creature you feature in your pieces! Is there a story behind him (her?)? How did you create it?
Thank you! They are called beasties, not totally sure how I came up with that name, but it really stuck. I think their gender is ambiguous and they are ancient, giant, nomadic creatures who wander through cities and mountains and forests – all terrain, really – spreading wisdom and beauty. They can be fierce or friendly but are very loyal. I came up with them after watching TLC late one night; there was a special on this photographer, Charles Freger, who does documentary photography. He did a series on European pagan ritual costumes and they had horns coming out of some of their faces and I just took it from there. They've become sort of bull, buffalo, seal, sometimes canine hybrids now, and usually have long beards. I really like seeing how they evolve.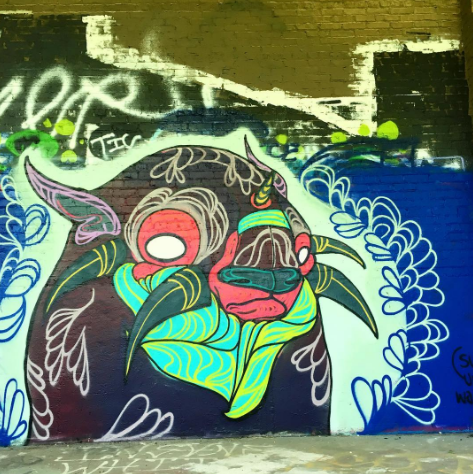 You recently did art for Nike, Google, and right here at Threadless! How do you balance your style with the feel of the brand you're creating something for?
That is always a challenge for sure. You want it to feel like you, but have to represent whatever concept it is your client wants. Sometimes I get lucky and can do my own characters, but when I can't I try to focus more on background elements, colors, or line work that is always present in my work. It keeps the spirit of my work alive in the project while fulfilling the client's needs. I always want someone to be able to recognize my work right away.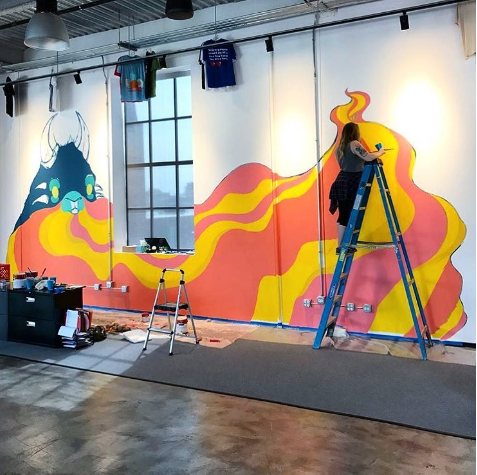 The mural you did here at Threadless is the biggest one you've done so far (and we LOVE it!!) – tell us a little bit about it!
I love it too! I came into your headquarters to drop off a painting for a charity event and casually mentioned how there were so many empty walls still. From there I was offered a wall and looking around I wanted the biggest spot I could have. Bigger is always better for murals to me. So I took the opportunity to make pretty much a life size beastie. It was a huge undertaking, especially not being able to use cans, but I really loved painting it and all the awesome snacks from your kitchen didn't hurt either! I can't wait to go even bigger.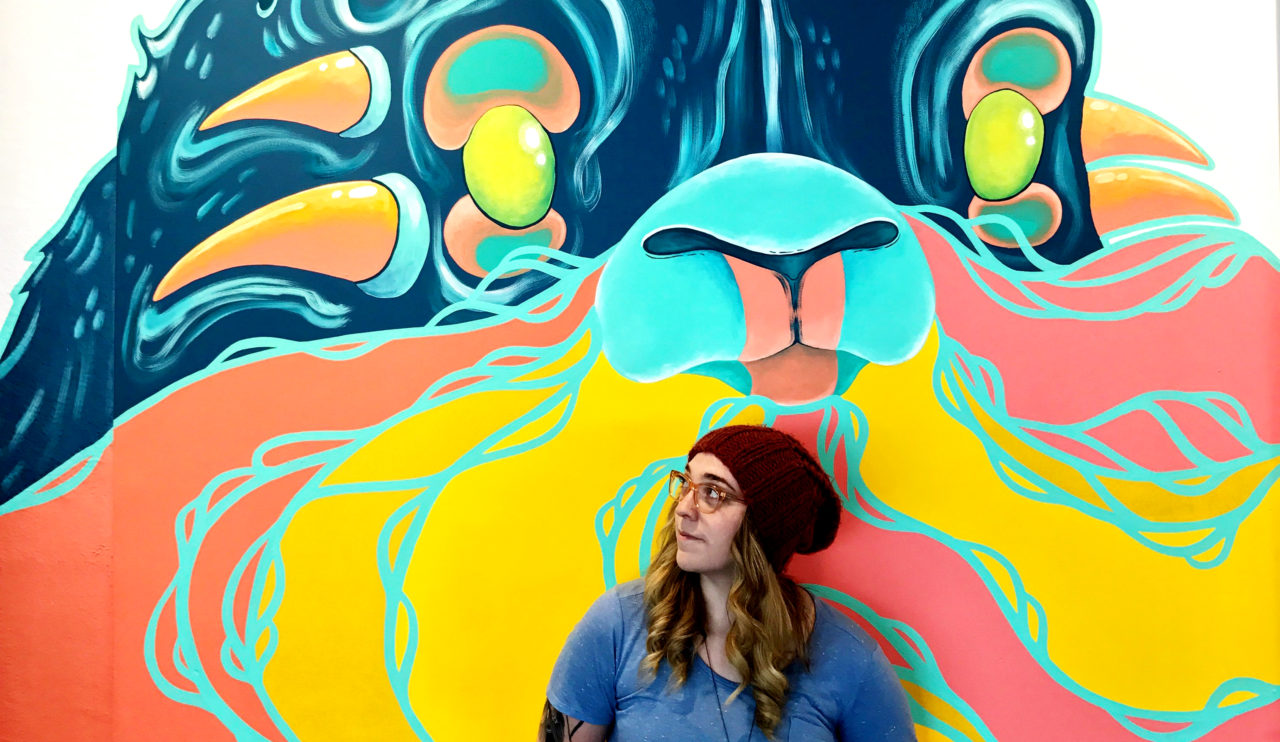 How long did it take? What was the biggest challenge?
It took probably 5-6 days altogether, and using house paint with brushes and rollers was a huge challenge. Covering that much area without cans was a big thing to overcome. That, and getting proportions right in that scale.
How did you first map out such a large mural? What's your process?
I really need to have more of a process! I kind of just go with it. Start with the eyes usually and go from there. The main thing I do is draw it out on my iPad. I upload an image of the wall I'm doing and draw right on it which is insanely helpful, real game changer.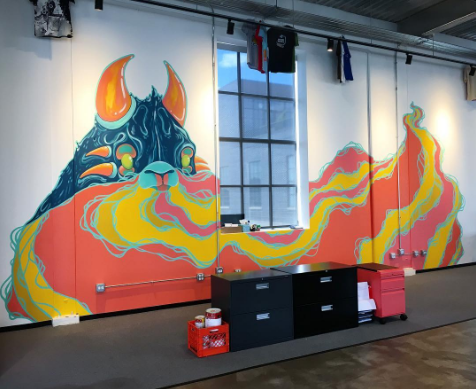 Your art style is so beautiful and detailed, both on paper and on walls! Are you self-taught? What inspires you?
So sweet of you to say that! I did go to school for art and had wonderful art teachers in my elementary and high school years, but it really is a lot of practice and trying new things. So in many ways, I am self-taught – definitely with spray paint – and I'm always trying new techniques, watching others work, or taking classes to further my skills. I never want to stop learning new ways to create. I am inspired by so many things. Nature, animals, Japanese and Asian art, pagan costumes, other artists too, like Collin van der Sluijs, Caratoes, Miss Van, Nosego, and Greg Simkins to name a few. I find inspiration all around me, and definitely like small details and lots of line work and adding unique textures and colors to my pieces.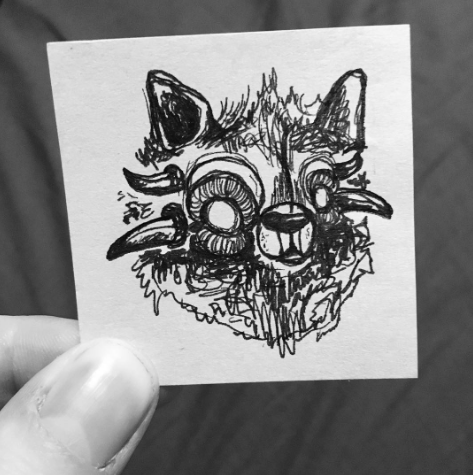 What's the mural and street art scene like in Chicago? It's seemed to just explode here in the past few years.
It's definitely blowing up for sure! It is becoming way more diverse and we are getting new artists up on walls, and that's what I love to see. The scene is very close knit and everyone knows everyone, for the most part. I love the sense of community and everyone I've worked with has been helpful and welcoming. I can't wait for it to keep expanding!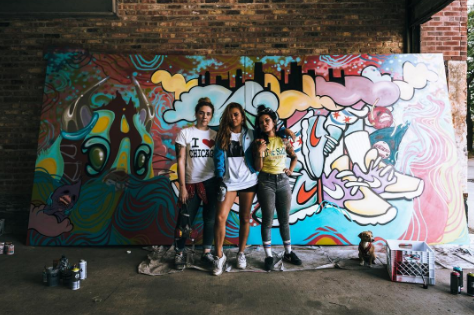 Street art and mural painting seemed like such a boy's club for a long time – is that changing with more female muralists like yourself and Elloo?
It is in many ways still a boys club, but women are making their mark now more than ever. We've been in the scene for a long time, but are really starting to be recognized and highlighted now. We have a lot more challenges, but we are just as skilled as the boys and deserve just as much praise! I have been very welcomed by the male muralists in this city, and I think that is so important. We have to work together and support each other. We are equals, and I look forward to more women coming up in the street art world and not being a novelty or token girl anymore.
You only just started doing spray painted 'beasties' about a year ago and you've come SUPER far! How does that feel? What's your advice for up-and-coming artists?
It honestly feels surreal. I really don't believe I'm doing what I'm doing sometimes, I never thought I'd be here, definitely not this quickly, and now it's all I want to do and all I think about. I finish one wall and just want to get to the next one. I'm incredibly grateful and owe huge thanks to the universe for guiding me here. For up-and-coming artists, I would tell them to just get out there and start. Practice a ton, go meet other artists, go to gallery shows, go to museums, find your own creative voice and go with it. If when you think of art not being in your life and it takes you to a dark sad place, then make sure you create all the time. That's a sign you have the passion and love to make it into something. It's truly what gets me through every day.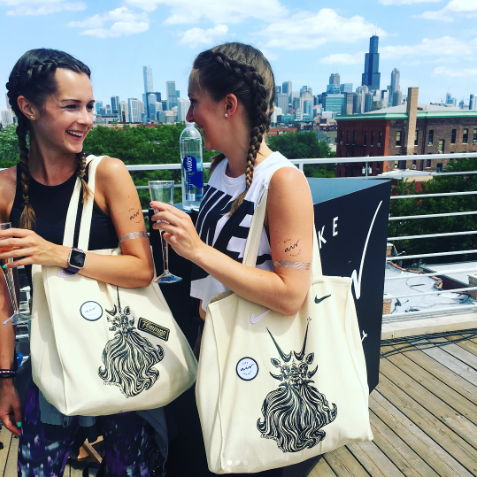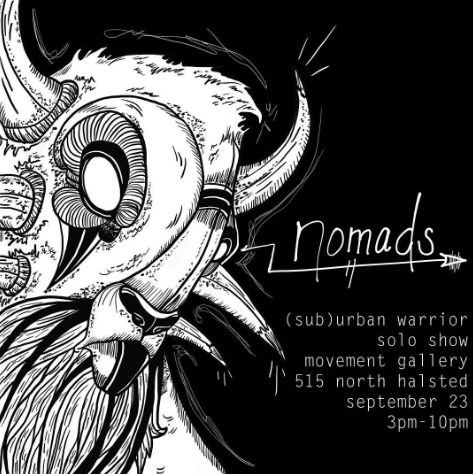 Anything else you'd like to share?
I will be painting live at Northcoast music festival in September and will also be having my first solo show, Nomads, at Grassroots Chicago on September 16th (and another September 23rd). Look out for more walls with more beasties!  
Thank you for the feature!