Throughout the history of Threadless, Design Challenges have given our artist community a fun way to get their creative juices flowing as they compete for prizes and a chance to get featured in our marketplace. Since we introduced Design Challenges, artists have submitted almost half a million original designs with eclectic themes ranging from dad jokes to ugly Christmas sweaters. We've printed more than 9,500 of those designs!
In honor of our 20th anniversary, we presented a Design Challenge to top ALL Design Challenges. With a total of $20,000 in cash prizes on the line, we asked our artist community to give us the best of their best, in any theme they wanted. The broad nature of this Design Challenge brought in an eclectic array of submissions that truly showcased the diversity and talents of our artist community. We're incredibly proud and grateful for all of the artists who participated!
Now that we've officially announced the winners of the Threadless 20th Anniversary Design Challenge, we want you to learn more about them. Each winner gave us insight into their creative process, their interests, and more! Read the winner interviews below.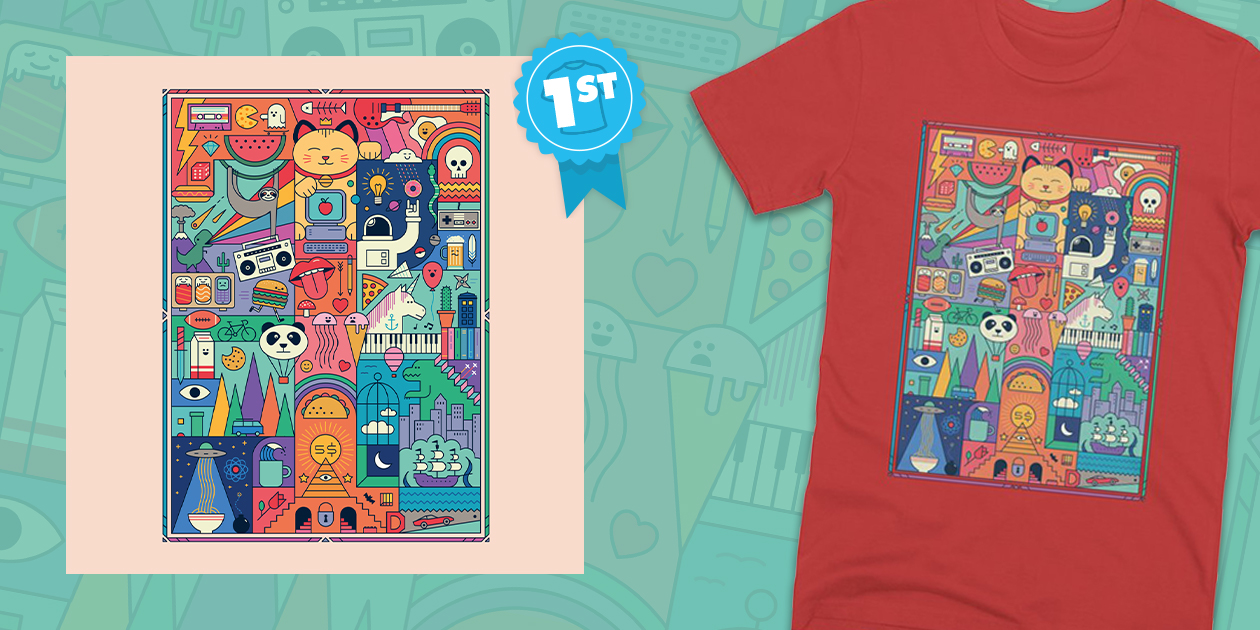 Explain the concept behind "The Big Tee" and tell us about some of the challenges of putting it together.
The Paper Crane: I came up with the idea many years ago and it was just one of those designs in my sketchbook that I never got around too. I guess it was waiting for the right opportunity to get me motivated. I first needed to do some Threadless research and compile a list of classic t-shirt subjects. Then I went straight to the computer and it just started to evolve from the bottom right corner. I would tick off and add to the list as I went. I felt it needed a central main focus and thought cats and the internet were the most logical choice. The hardest thing was knowing when to stop!
Your design is packed with a tremendous amount of detail. Are there any hidden gems that you're especially proud of? Any Easter eggs?
I had a lot of fun putting it together. While incorporating many references to classic Threadless designs, I also made some subtle references to pop culture. I included a handful of subjects that took me back to my childhood: video games, TV shows, movies, and brands that have been featured on countless t-shirts over the last 20 years. I'll leave it up to you to spot them ;)
You mention that you're a nature lover. What's the greatest outdoor adventure you've been on, and did it inspire any of your art? Maybe even a design in your shop?
I love nature, adventure, and travel (things that I really miss in this post-COVID world). About four years ago, my family and I—two adults, two kids, and two dogs—left the UK in a camper van I converted to travel across France, Spain, and Portugal. I loved the freedom and simplicity it gave us. Our only concerns were the next wild swimming spot, stopping to eat, and finding a good park for the night. My design "Keep It Simple" was clearly influenced by that lifestyle and was created on the road.
It was a much less pleasant adventure returning in a car across four countries during the pandemic! We are now settled in SW Wales, which is a great place for nature and wilderness, although the weather is not as nice.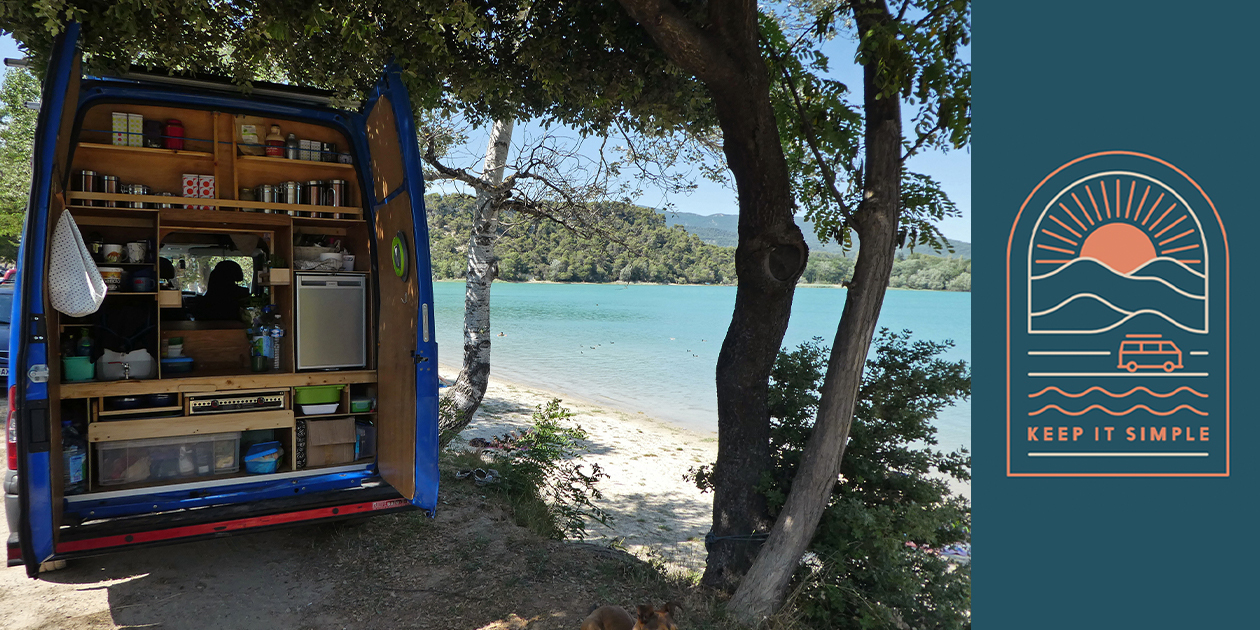 Anything else you want to share?
I am genuinely, eternally grateful to Threadless, as it has changed my life, in a sense. I submitted my first design back in 2008 after a friend bought me a t-shirt and recommended I have a go. Twelve years on, and I am now a full-time t-shirt designer.
For so many artists, Threadless has been the best place to develop our skills, connect with other creatives, establish a platform for our work, and gain financial support doing the things that we love. I can't help but miss those good old days procrastinating in the forum about (mostly) silly stuff, with (mostly) lovely people that I knew only by their avatar. A lot has changed at Threadless over the years, but it has always remained AWESOME and I hope it continues to do so for the next 20 years.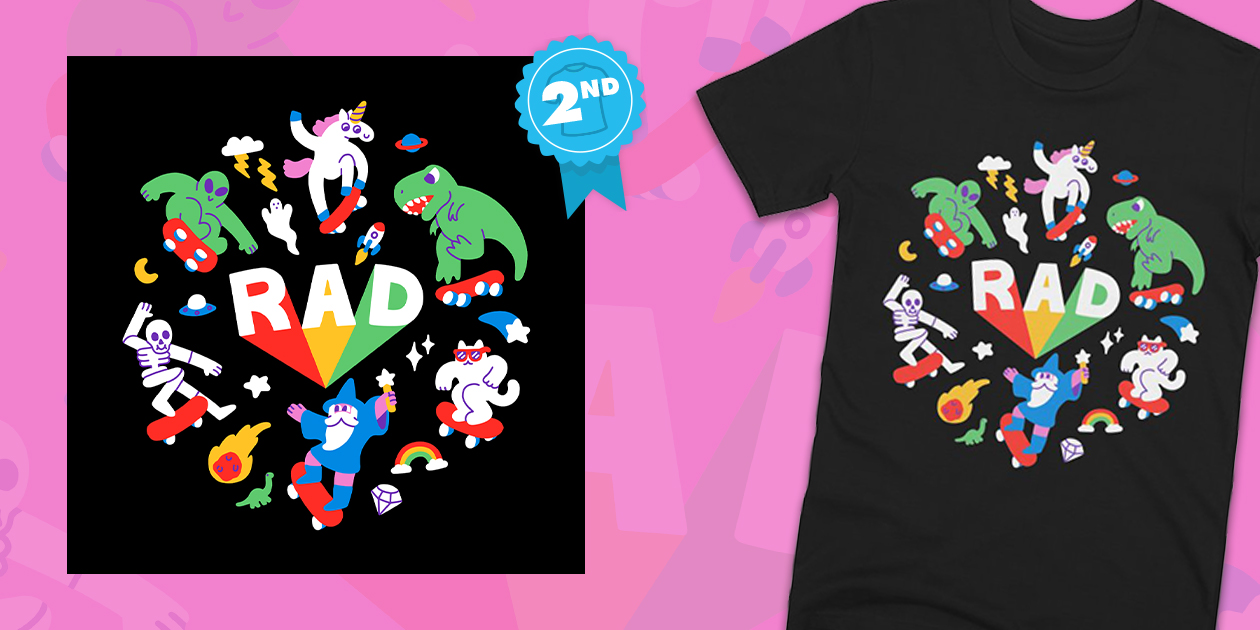 Skateboarding in space appears to be what brings all of the amazing characters in "Rad Pals" together. What are some of the interests that bring you and your friends together? Skateboarding? Astronauting?
Obinsun: Interests that bring my friends together are found both in the great outdoors and the great indoors. Outdoors, we try and go backpacking every year as a group as well as play sports (not very well) from frisbee golf to tennis. Indoors, we've been pulling video game all-nighters since 2nd grade, as well as playing countless varieties of tabletop games throughout the years. However, my favorite thing that brings us together is D&D. I love how much creativity and imagination is involved in collaborative storytelling with friends. I actually do skateboard with my friends on occasion also! I'd like to think of us like the characters in my "Rad Pals" design, only we can't do the sick tricks.
The designs in your shop do a great job of juxtaposing dark themes with cheerful, even bright imagery. What are some of the influences that helped mold your unique style and sense of humor?
That's a tough question! One thing I can point to is reading Gary Larson's The Far Side growing up. The way he subverted expectations and flipped ideas around stuck with me. I love cute things like cats, unicorns, and rainbows, and for some reason they get even cuter when they live alongside more macabre stuff. It's like how adding salt to a chocolate chip cookie enhances the flavor. A dab of nefariousness is the perfect thing to enhance a cute design.
Anything else you want to share?
Stay rad :)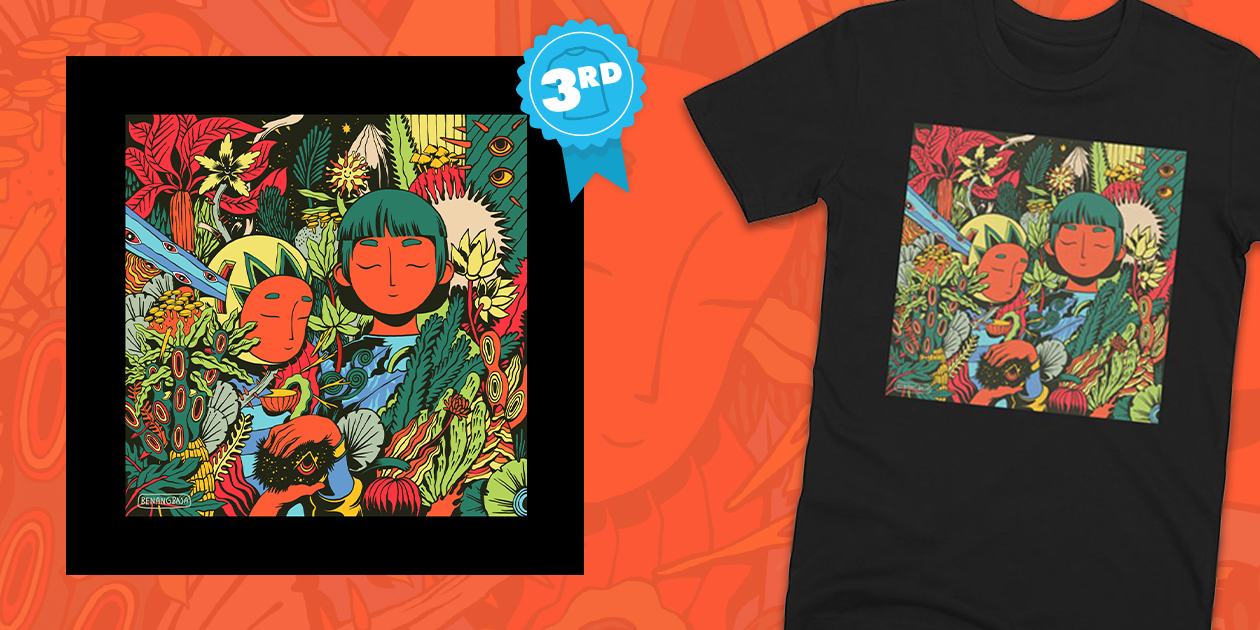 The vibrant, almost surrealist "Natural Feeling" depicts two people blissfully immersed in nature. What inspired this piece? Do you also find a connectedness with nature?
Benangbaja: "Natural Feeling" is inspired by where I live in Indonesia. It has some of the richest natural resources and is one of the most forested countries. I think people will live more happily if they coexist with nature. Since I was a kid, I have seen many natural disasters in my country. I wonder if some of those disasters were caused by humans, and I always ask myself why humans cannot live together with nature, since they really need each other. I got inspiration from that issue.
There's a good amount of sci-fi references and space-related designs in your shop. Do you believe extraterrestrials exist? If so, how long until they take over Earth?
Making art must be fun. I always come up with ideas according to what I like the most, such as anime, mythological stories, or creatures and anything weird outside of Earth—a.k.a. UFOs. I think aliens have been living on Earth for thousands of years. Perhaps they control us right now. LMAO.
Anything else you want to share?
Threadless is a nice new home. I can freely make art and pour out all of my ideas from my head.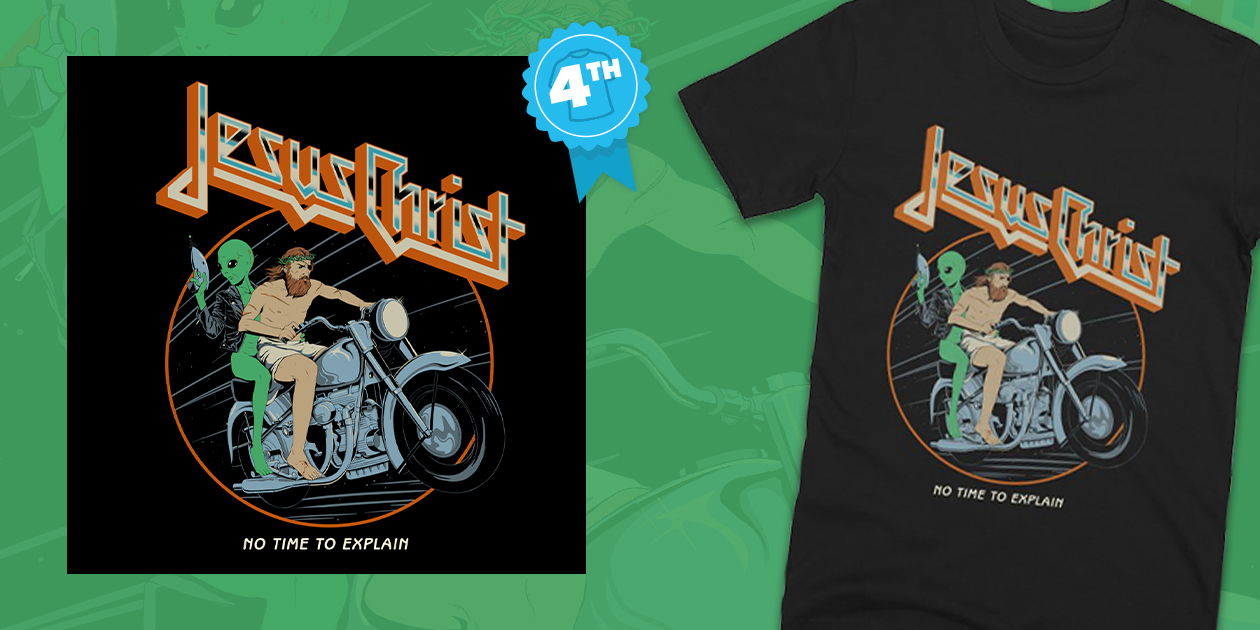 "Jesus Christ – No Time to Explain" feels like it was inspired by the absolute absurdity of 2020. In what other ways did the year inspire you to create new art?
Mathiole: Well, 2020 wasn't the most inspiring year, hehe, but in a lot of ways, the need to stay home helped me to reconnect with myself and with my work, and that made me more productive than I was in 2019. I love this kind of nonsensical concept, and I felt that it was a perfect closure for this absurd year. It's worth mentioning that Rafael Pereira assisted me in this design. We've been collaborating for 10 years now!
There's a retro feel to your work. You even have a skateboard design called "Memories From The 90s." What are some of your favorite things from the '90s?
I was born in '86, so I lived my childhood in both the '80s and '90s. I love exploring nostalgic themes and the analog aesthetics, and how goofy a lot of things were back then. My favorite thing, I guess, was the Gameboy. It was a mind-blowing thing to me at the time.
Anything else you want to share?
Just want to thank Threadless and all the users for making this place what it is. As cliche as it sounds, I hope 2021 is going to be a good year for Threadless and the community :)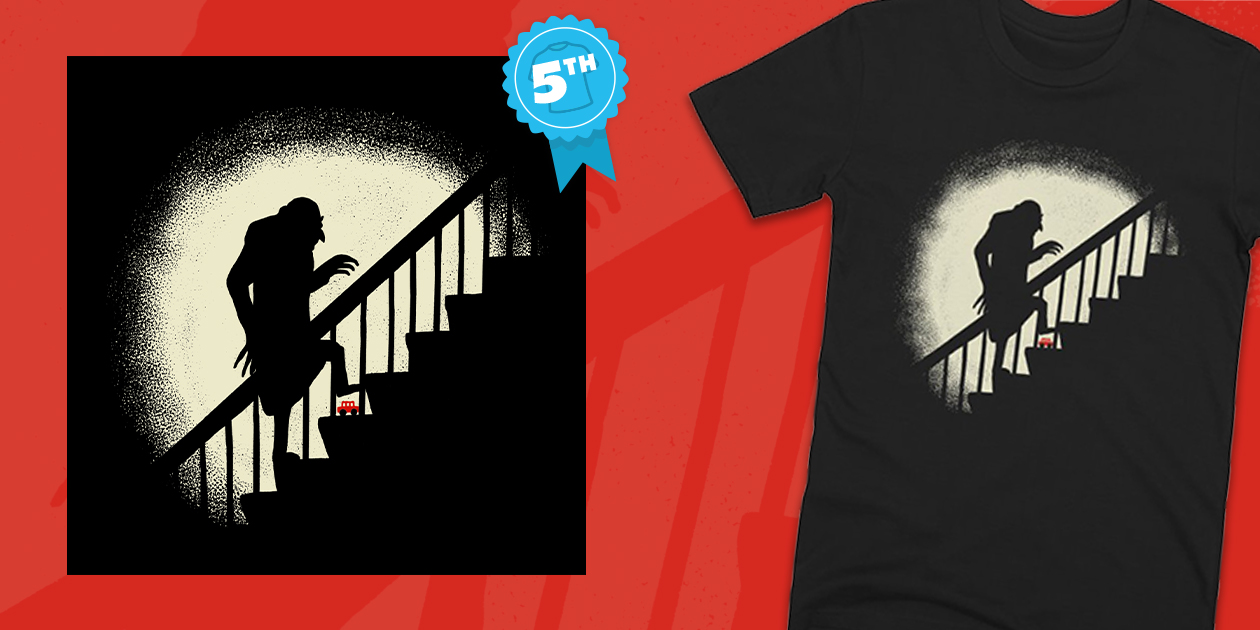 "Oh, The Horror!" shows Nosferatu on the verge of making a hazardous mistake on a staircase. How did you come up with this idea?
RodrigoBHZ: I love to make parodies and punny designs about pop-culture icons. My design "Oh, The Horror!" is sort of a sequel of another design of mine called "Oldsferatu." In this design, Nosferatu is using a stair lift to get up the stairs. I was not happy with the final result and decided to rework the whole thing when the idea of Nosferatu stepping on a toy car left on the staircase came to me. I thought this concept was a lot better and funnier, so I moved on and started drawing right away.
The Pawsome Collection in your shop is full of cat designs. Do you have pets yourself? If so, in what ways do they inspire your art?
Yes! I do have pets! Funny thing is that I have a lot of cat designs, but I don't own a cat. I think I'm more of a dog person. I have two dogs: Gael (Papillon) and Ziggy (Spitz). Also, I have 15 plants and some of them are pretty exotic—like the Begonia Maculata, my personal fave. The dogs are so much fun and they are an endless source of inspiration. I have a lot of designs inspired by Gael, like this one:
Anything else you want to share?
Yes! If you dig my work on Threadless, feel free to follow me on Instagram! Everyday there's a new design at @rodrigobhzz :)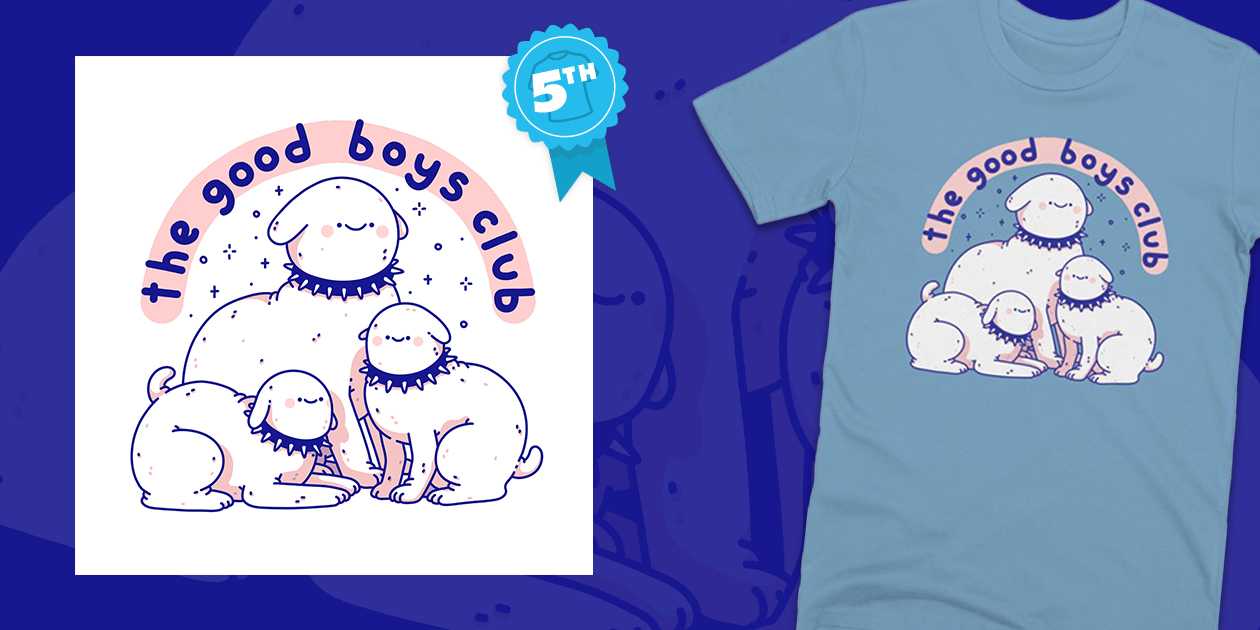 Many of the designs in your shop are animal-related. Which mythical creatures do you wish were real, and for what purpose?
Odsanyu: I absolutely love creature design–combining different animal features and merging them together into a special and unique (possibly cute) critter is one of my favorite ways to draw. A lot of my illustrations are inspired by mythical creatures and "The Good Boys Club" design was initially supposed to be a cerberus puppy (a big dog with three heads, originating from greek mythology). Honestly, having a giant puppy with three heads sounds like a dream and it has to be one of my favorite cryptids. Also, I've recently heard of a winged dog called Simargl and the cerberus's relative, Orthrus (a two-headed dog), but I could just list all the dog type mythical creatures I wish were real and acquire one of each, so we could build a dog pack and live together happily every after :)
What are the prerequisites for joining "The Good Boys Club"?
The club is as inclusive as it gets. Everyone is welcome. All you need is a certificate from your dog, confirming you are indeed a good boy (or girl or anything you feel you are).
Anything else you want to share?
Pet your dogs for me.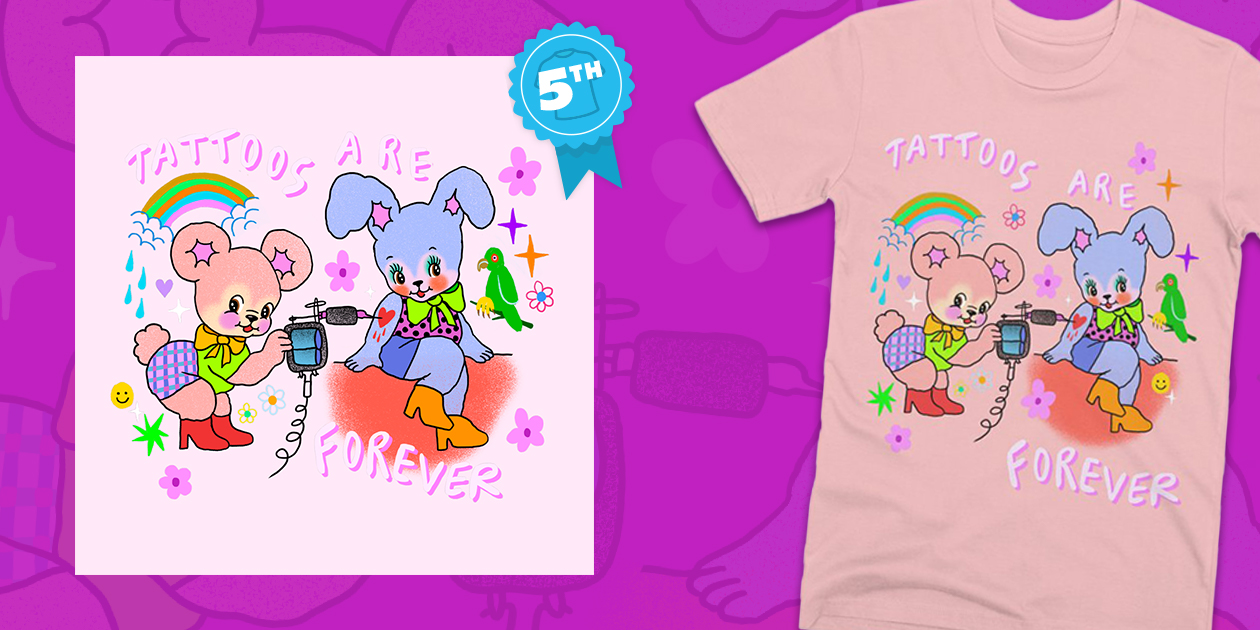 In what ways has your work as a tattoo artist inspired your t-shirt designs? Have any of your t-shirt designs made it on human skin?
Charbataille: I think being a tattoo artist has really pushed me to try drawing subjects and maybe techniques that I wasn't familiar with, because every tattoo is a collaboration with a new person, a new perspective, a new brain. So, I feel I learned to draw things out of my comfort zone since being a tattoo artist! Yes, people did ask for the designs tattooed!
The designs in your shop express themes of self love, individuality, and inclusivity. If there was one message you could convey with your art, what would it be?
I understand that objects and clothes can bring comfort to people and encourage self-determination. So I am happy imagining one of my designs bringing comfort or a sense of belonging to someone.
---
On behalf of the entire Threadless community, we'd once again like to thank all of the artists who participated in this epic design challenge! We look forward to another 20 years of incredible designs from our artist community!