It's a bird! It's a plane! It's…the world? Hot air balloons may not be the most convenient mode of travel, but who wouldn't want to leave everything behind and travel the world in one for awhile? Like Up, but with one massive balloon. Xiang "Micronisus" Zhao's winning design for our geography challenge embraces a modern desire for travel with a vintage look that harks back to the pioneers of world travel and exploration in the past.
We talked to Xiang about this beautiful design, the meaning behind the 'Micronisus" as a username (it's super cool!), and about what travel plans the future holds. Check out the interview below!
.     .     .
Tell us a little bit about yourself! Where are you from? What do you do? What's your favorite place you've ever traveled to? 
Hi everyone my name is Xiang Zhao, I'm a freelance graphic and web designer based in china, also working as a post editor sometimes.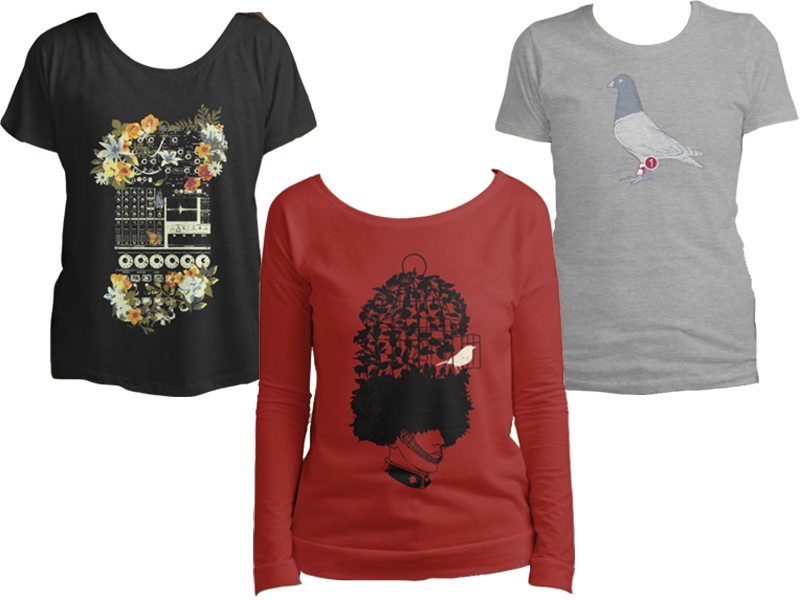 My favorite place is anywhere that has both of mountains and sea, such as Vancouver city where I studied and my hometown Qing Dao.
Your Behance says you're a concept artist! What kind of concept work do you
do?

When I was working at an animation company as a team leader two years ago, I dealt with things such as character designs, layout, and animation episode scripts. They are all involved with a concept. In tee shirt graphic category, I also would like to call myself a "concept guy" as well. All of my tee graphics are based on a unique concept, that's how my works are differ from other peoples'. I treat "concept creating" as a special talent of mine.
What attracted you to this challenge? How did you come up with this design?
I'm fascinated with vintages and surrealism. The biggest attraction and motivation of this challenge is that I can use both of them at same time. The first thing that came to mind when I saw the word "geography" is a vintage globe, that became the start point of my composition. Years ago, I had done a version of a flying globe balloon. I decided to refine it to fit in the geography topic. Then here it goes.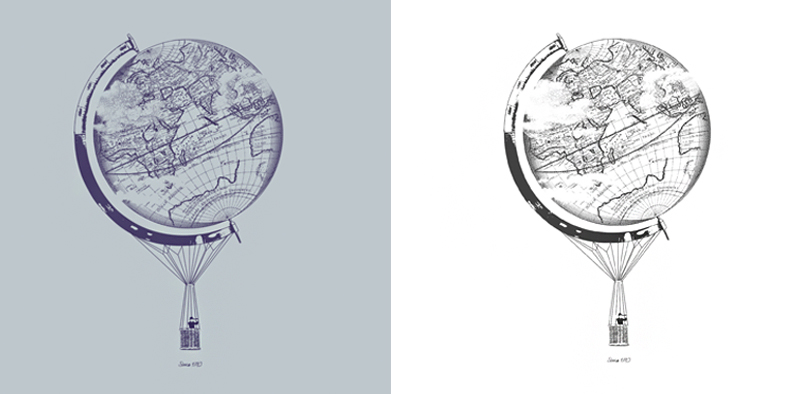 Why does it say "1783" on the bottom of this design?
Based on wiki, 1783 is the year of first recorded manned flight of hot air balloon: "The brothers Joseph-Michel and Jacques-Étienne Montgolfier developed a hot air balloon in Annonay, Ardeche, France, and demonstrated it publicly on September 19, 1783." I put it in as a part of my design since it is a important date of human aviation.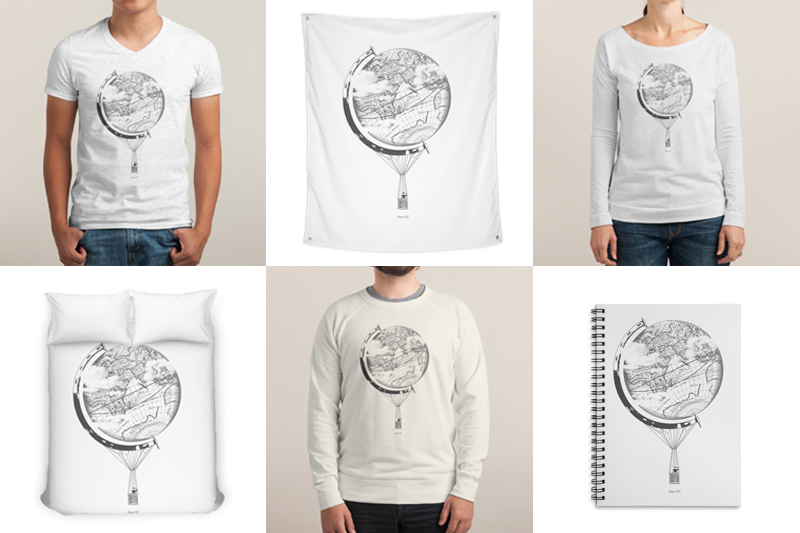 That's awesome! How about you? Do you travel a lot? Where would you most want to travel someday?
I used to when I was young and free :P Nowadays nah, since I have a little kid girl at home. I travel a lot in her world now. Playing with her has given me another kind of joy. 
Tibet is the next goal. I know it is a over-popular answer, but I still wanna say that it would be a pity if you never go there in your whole life.
I like how a lot of your designs combine technology and nature (like this one!) What inspires you? How do you create your designs?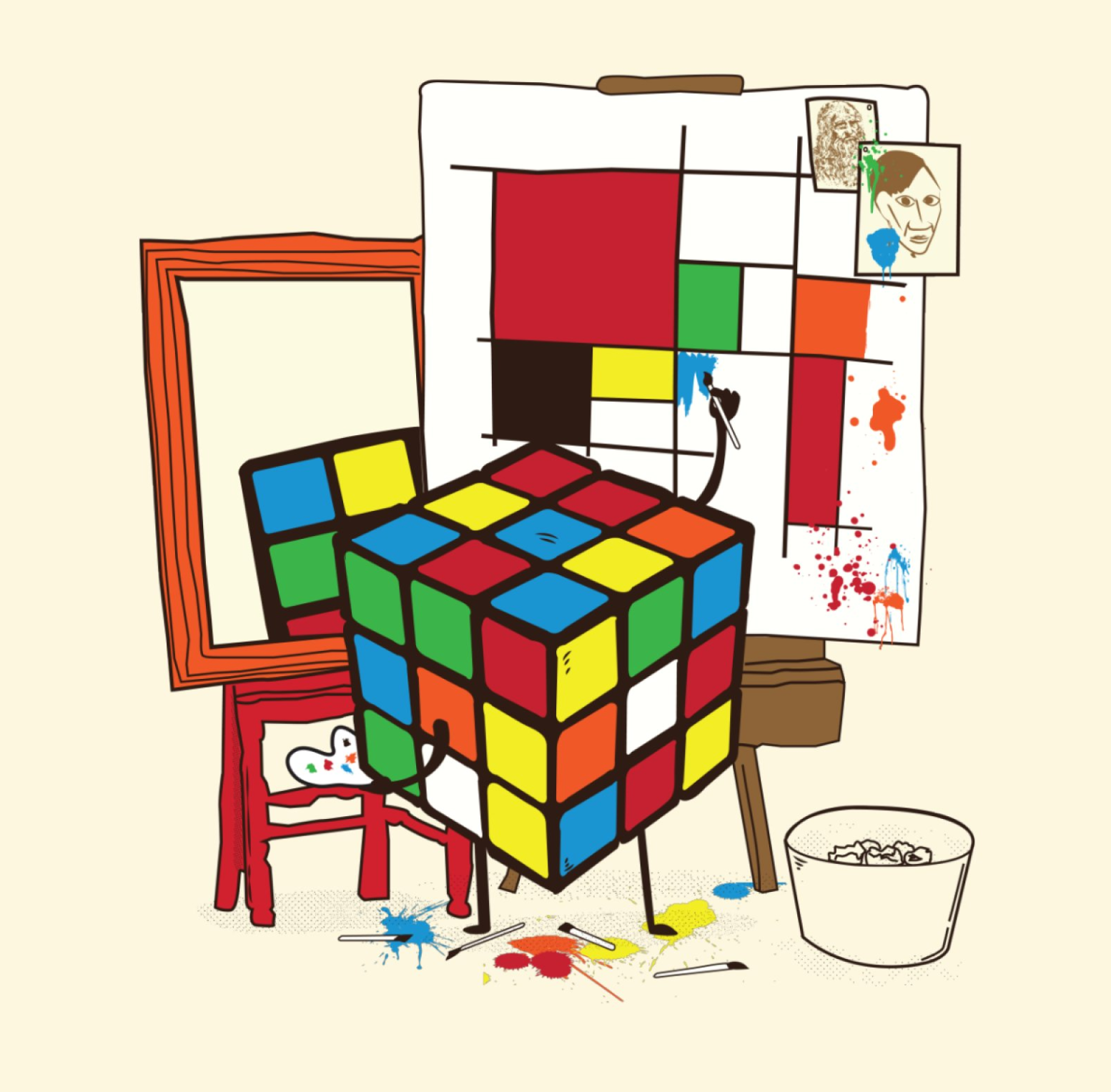 Thank you for the love of my works. You have got very sharp eyes, the successful combine of two elements is the key concept of most my designs. Those combining elements are not randomly remixed, they must have some sort of similarities or connections to bring them together, otherwise it will taste very harsh and not make sense.
However, to be honest, my inspirations usually come from
nowhere. When I maximally relaxed myself, like had couple shots in Saturday night or halfway through a warm shower, I usually have a lot of ideas come up from my head. So, the most important principle of my creation process is to not think about creation, to empty my mind first then enjoy the process of creating.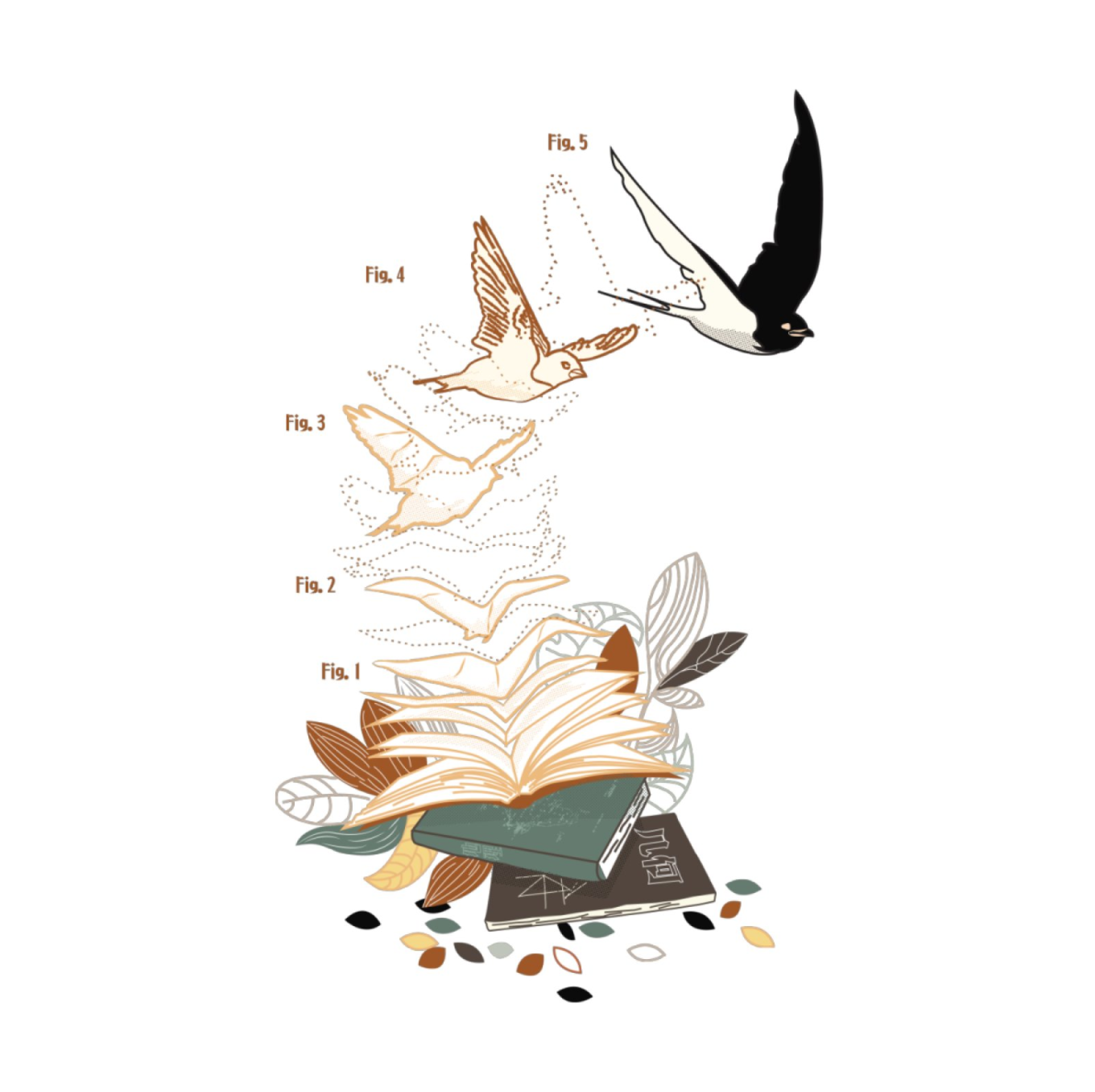 Finally, what does your username 'Micronisus' mean?
Micronisus is the scientific name of African bird of prey. Actually I was looking for a scientific name of owl to be my artist shop brand. The reason is that I used to wear a vintage frame glasses so other people call me "brother owl" as a nickname, but I found this one in the halfway. It sounds cool to me too, and available in most of social media, then yeah, it's enough to do the work.
Anything else? 
Check me out in my Artist Shop, on tumblr, Instagram, on Facebook, and at Redbubble.
Thank you Threadless for bringing such a wonderful year to me, and I would love to contribute more to the community in future. Enjoy!
Shop the winning design now!