Eleanor Davis will tell you that "making art is hard." And because Eleanor is a very direct person, she will go on to explain, "I struggled to find a personal voice, how to make art I'm proud of. Figuring out how to be my own boss without hating myself was very hard. Staying motivated was hard. Figuring out how to balance work and having a full, satisfying life that was worth living was very hard. Finally, money was always very stressful. For years it felt like no matter how hard I worked I would never be able to make enough to live on."
This ability to be open about issues that most people might be wary to discuss reflects, in many ways, why Eleanor's comics are so original and emotionally and intellectually powerful.
Eleanor writes short, stand-alone comics. Her work ranges from the highly surreal and imagistic to the fantastical to the commonplace. Eleanor is also dedicated to making art that includes a variety of body types and ethnicity, because as she says, "art that isn't true is bad art. Art that ignores the majority of the human experience because of gender or race is bad art."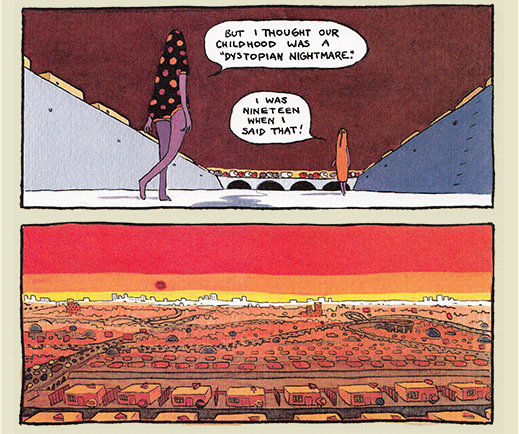 In 2015, Eleanor won the Ignatz Award for Best Comic Collection for the first and only collection of her comics, How to Be Happy, which, as Comic Alliances has stated, was a year where women triumphed.
A past Theodor Seuss Geisel Award winner for her young reader, Stinky, Eleanor also published a new young reader last year called Flop to the Top!, which she co-created with her husband (author of Set to Sea) and fellow artist Drew Weing. Eleanor's other past young reader, Secret Science Alliance, was nominated for an Eisner Award.
Eleanor was the 2015 Artist-in-Residence for the Thurber House and Columbus Museum of Art's annual graphic novelist residency program. Until recently, the Columbus Museum of Art had a special exhibit showcasing her work. At the beginning of this year, The Guardian named Eleanor's BDSM, which was released last month by Youth Decline, as "one of the comics to look forward to in 2016."
Eleanor also works as an illustrator; some of her past clients include The New York Times, The Wall Street Journal, Psychology Today, and Lucky Peach. Lastly, in 2014, Eleanor designed the Google Doodles for Spring, Summer, Fall, and Winter.  

First, do you have a go-to doodle or doodles?  
Self-portraits of myself, drawing.
That is so neat! Both Nicole and Lucy said they doodled themselves too. Lucy also went on to explain, "self-portraiture is very revealing and a constant attempt to know yourself and understand how the world perceives you, which is to understand what it's like to be someone else." Is this how you feel?  
Lucy is smart! That's a really interesting take. For me it's more of a check-in: "Here you are. What are you thinking? How are you feeling?"
The women I have interviewed so far write nonfiction and memoir. You do some nonfiction, but most people would consider you a fiction writer. Why do you enjoy writing fiction?
I don't actually consider my work to be fiction. For me, fiction storytelling is just a more yielding, plastic way of telling the truth.
My working theory is that all good art is true, whether it's fictional or not, and so the distinction, for artists, is not that important. Untrue fiction is bad because it's bad art, and untrue nonfiction is bad because it's wrong. 'Bad' is not the same thing as "unpleasurable."
In a recent interview with Jared Gardner, you stated that much of your work is you exploring aspects of your personality that you are critical about. I feel like Love Story, published last year in Hazlit, is a departure from that. It's a very sweet story about falling in love and then making a life together with someone. Do you feel you are changing the focus of your writing?
Yes, it was uncharacteristically happy! Enough so that my husband was suspicious – he thought there was a catch, some secret bitterness or joke I'd hidden inside there. There wasn't, though. It's just a happy story about folks.
I'm sorry to say that's not exactly a trend in my work, though. The three longer comics I'm working on at the moment are all very sad.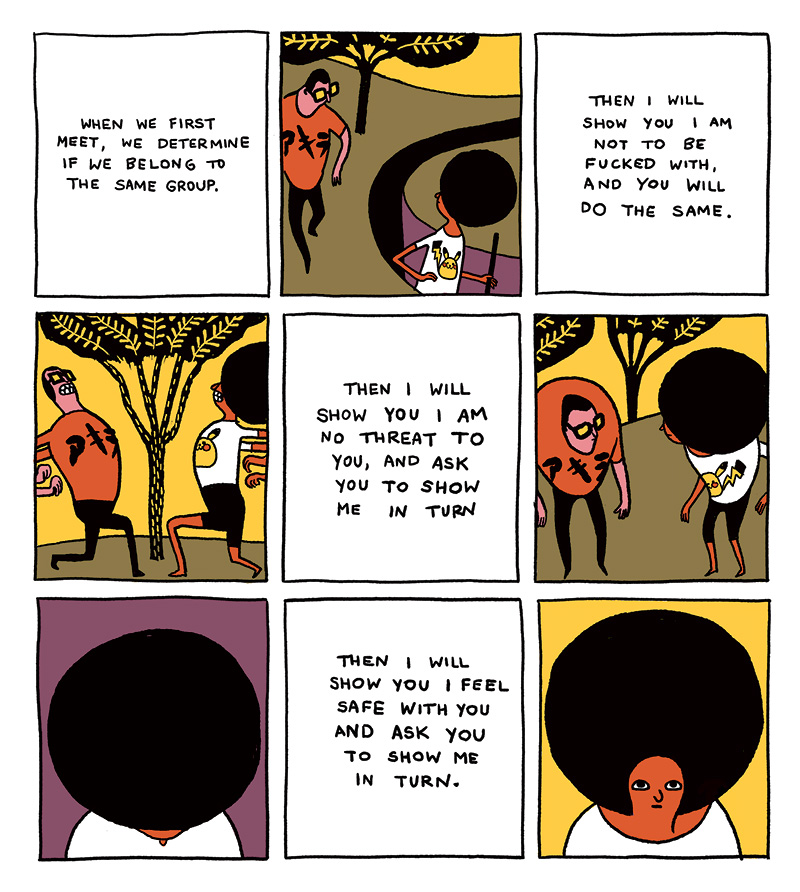 Speaking of your husband (fellow artist, Drew Weing), what was it like working with him on Flop to the Top!?  
It was super fun! We fought a lot over that book, of course, but we laughed a whole lot too. Drew was a trooper to work entirely digitally, which is something I already was comfortable with but was new to him. Drew is an amazing cartoonist and we basically both work together on everything we do; the main difference here was sharing billing!
Also, you mention in your "About the Authors" section of the book that you and Drew own three cats.  Is there something that you especially love about having cats? 
I'm afraid my favorite of the three cats died last Spring! Now that she's gone I don't like owning cats any more. But Drew loves the remaining two cats, and I love that he loves them.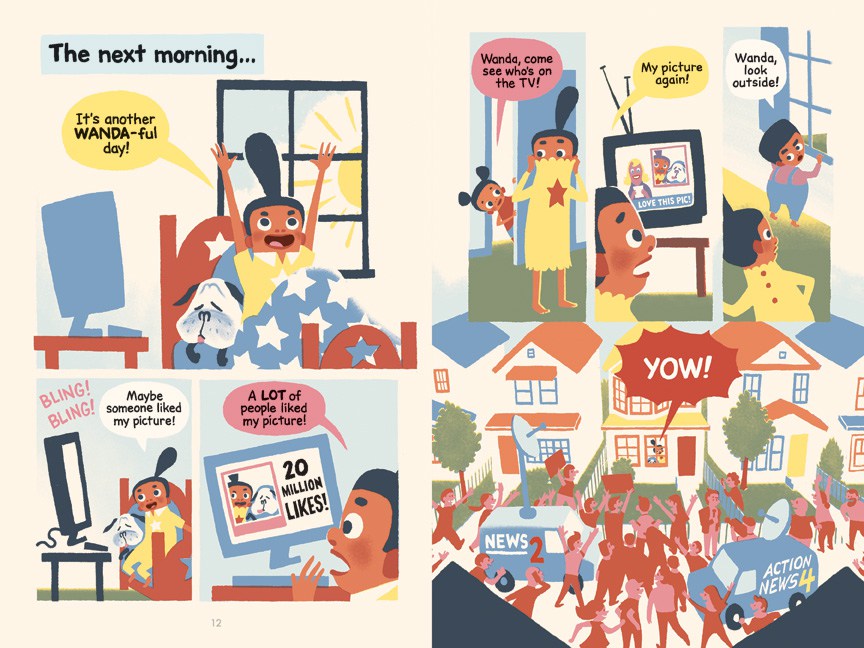 You have said that you are still at a place in your life where you feel you are establishing yourself. How do you handle a project that you aren't particularly excited about doing but need to accept in order to financially support yourself?
This is a good question and one I'm still trying to figure out! I'm not good at working on things that aren't exciting for me. I've been trying to aim higher and focus on personal work so that this job I love so much never turns into a slog. I can't make good work when I'm slogging!
In a fight between red and black, which would win and why?
They shouldn't fight! They're the perfect match for one another!
You live in Athens, Georgia. What are some things you love about living there?
Lots of water and green, growing things. Our good house. Our friends.
Much of your work is influenced by fairytales and mythology.  Do you have a favorite myth or fairytale?
I love the D'Aulaires' books of Greek & Norse mythologies; they're magical. I did a lot of fairytale comics when I was younger, but mostly because I was attracted to the aesthetic and universality, the ability to work with characters without a specific time or place, who use a simpler language and feel less messy. But then I started to realize I liked the mess of modern people, and I preferred telling more complicated, less universal stories.
If you could design a t-shirt, what would you have on it?
I did a little modern Tijuana Bible recently for Horizontal Press that had an image I would love to make a shirt of. It's of two massive people wrestling around with a super-long-extra-plastic-penis. I don't know if anyone would buy it, and I don't think I would leave the house wearing it.
Speaking of adult content, you just released a new comic BDSM through Frontier – Youth in Decline's quarterly comic monograph series. It's about two porn stars.  Why did you decide to write it?
It's been a story I've been working on for a long time. Originally the women weren't porn stars, just friends, but then I realized the hyper-sexualized world of porno was a good way of talking about gender roles, self-hate and women navigating the patriarchy.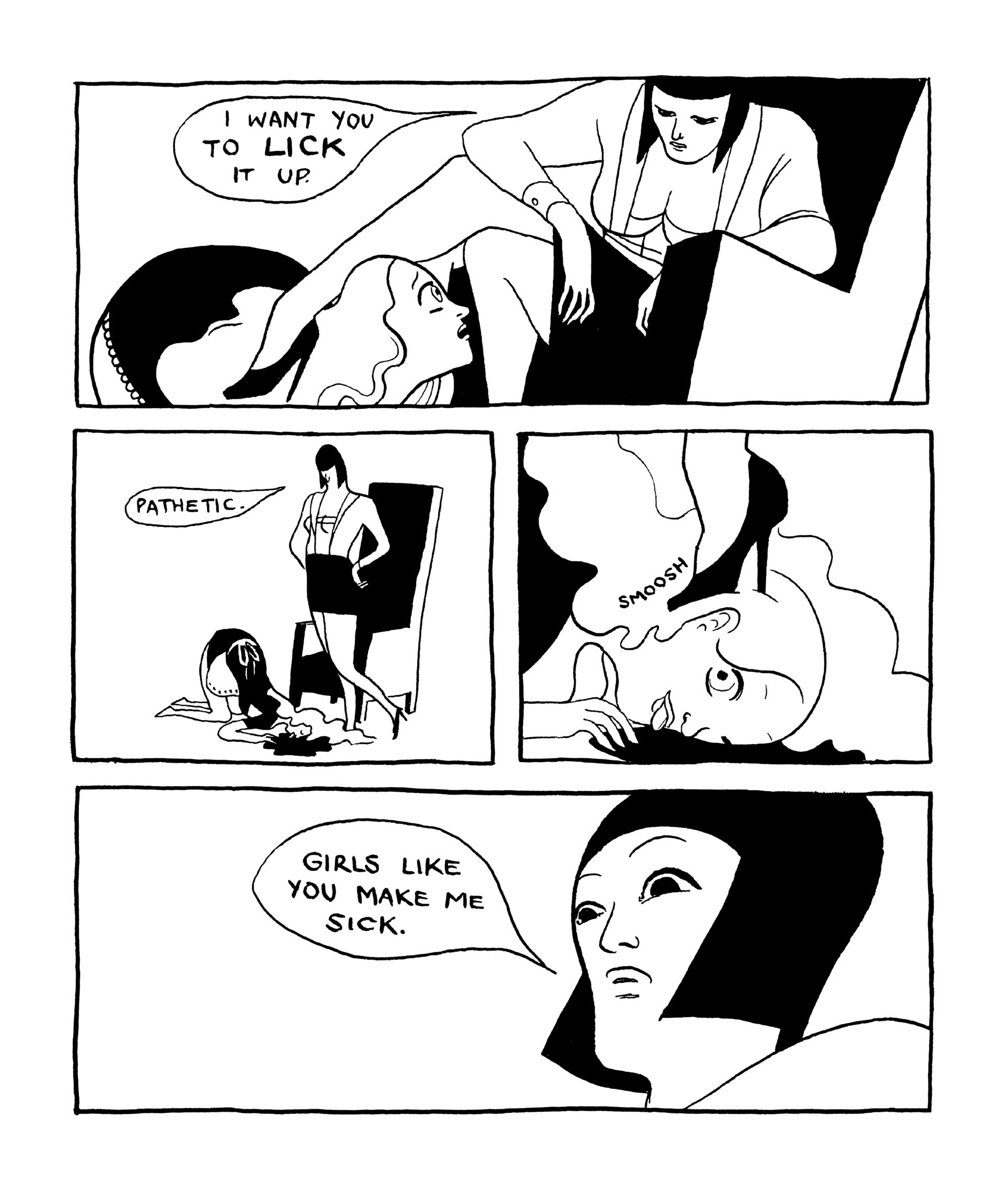 Do you have a profession, outside of your own, that you admire?  
Therapists! In another life I think I would have liked to try being a therapist. It's a really primal way to help people feel better, just by listening to them. Being heard is a basic human need, like eating and sleeping.
What are you currently obsessed with?
Planning a two-month bike tour for this Spring. Poached eggs in soup.
Do you have a favorite comic that you've done over the years?
I'm proud of all of them, and disappointed in all of them, in different ways. I am fond of my No Tears, No Sorrow comic. I think it works well, and I am happy with the love story I hid inside it.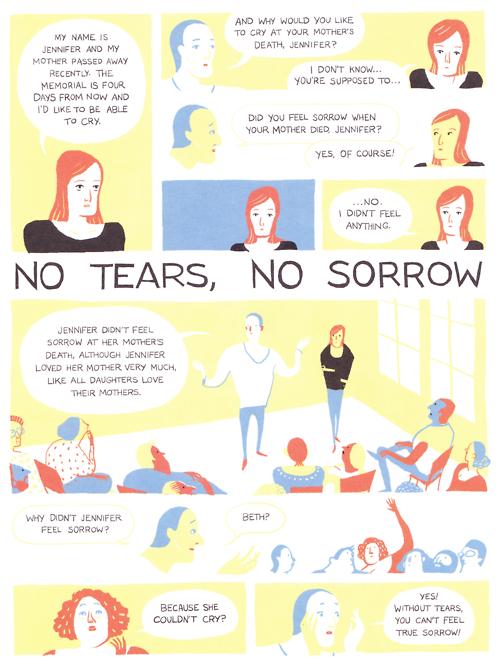 Do you have a favorite word?
Lately it's been "poison." Useful. It comes up a lot in discussions about bias.
Do you have a contemporary issue or cause that is particularly important to you?
Oh gosh. I've been moved and excited about Black Lives Matter. I am passionate about women's rights.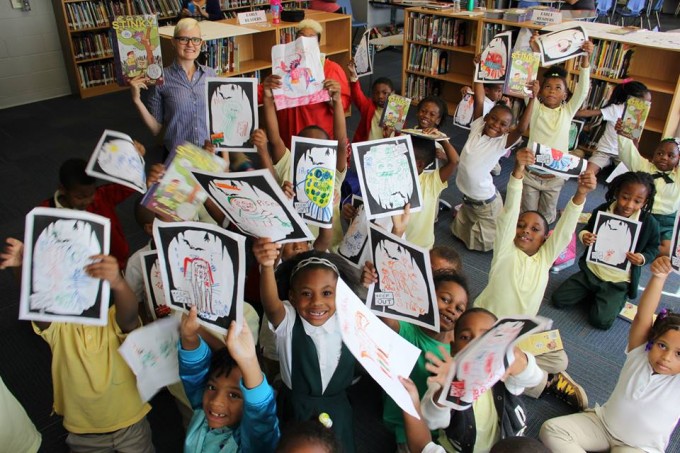 What is it about Black Lives Matter that excited you so much?
White folks in America told one another that racism was over for a long time. It was what I was taught in school. However, it was always painfully obvious that white America was still horribly, horribly racist, and that cognitive dissonance, of knowing one thing while everyone was saying another, was awful and damaging. Black Lives Matter and the events that were a catalyst for it have brought racism and especially police brutality against black people to light in a undeniable way. I am so grateful to Black Lives Matter for fighting for both truth and justice.
What artist, writer, or totally awesome person are you a fan of or inspires you?
My best friend Katherine Guillen is a big one. She's been huge influence on my life from when I was just a little baby of 14. She got me into minicomics and zines. She's an amazing fine artist today.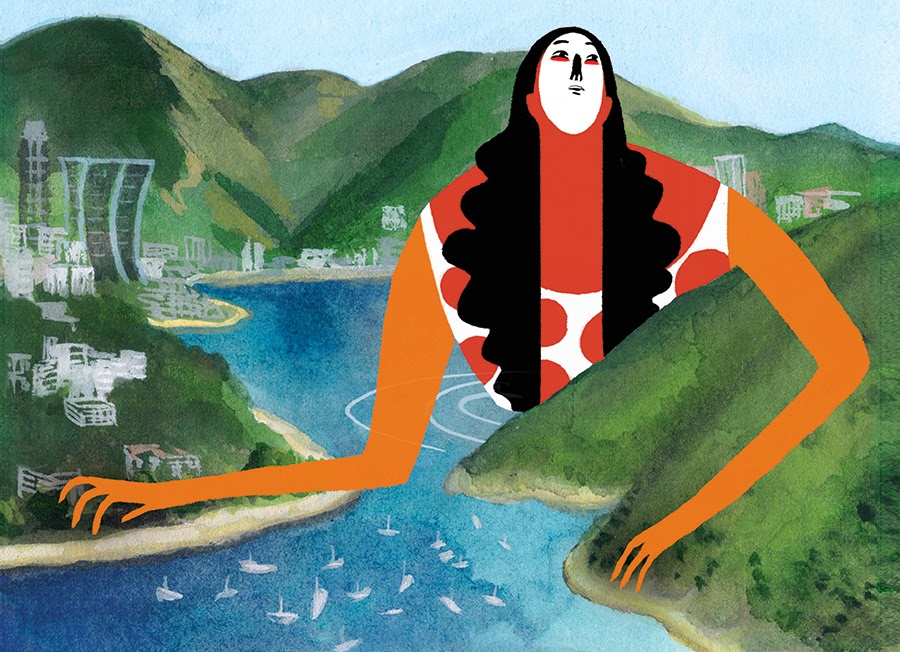 As an illustrator, you do a lot of portraits. Do you have a favorite portrait artist or portrait that inspires you?
Oh, good question! I really love Alice Neel.
Lastly, do you have anything else you are working on that you would like to share with us?
I just finished a short comic called Libby's Dad that should be coming out from Retrofit in the Summer.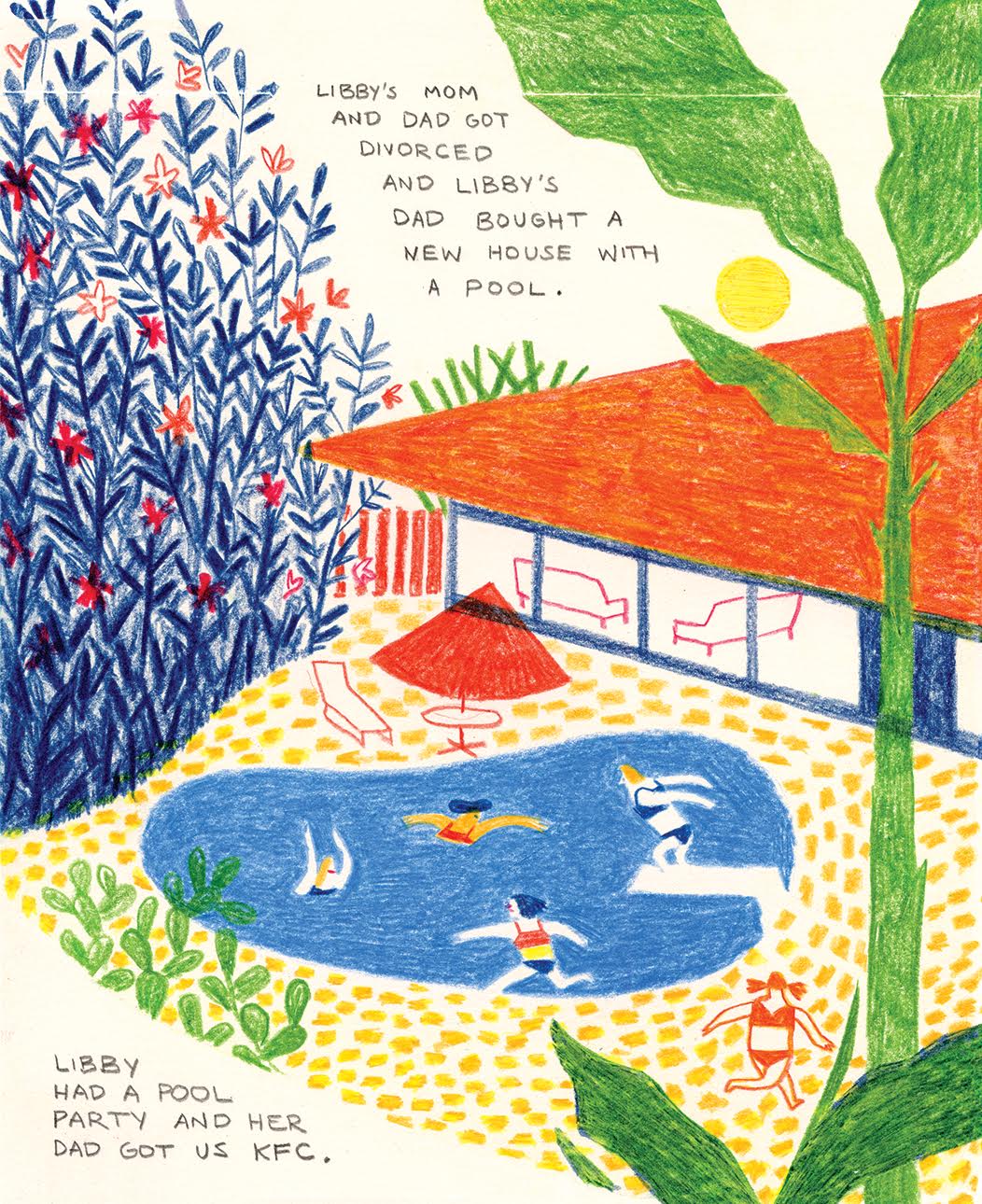 Note:  Normally, I discuss the creative process during my interviews. However, Eleanor has talked quite a few times before about her creative process, so we decided it would be more interesting to focus on other topics. If you would like to learn about her creative process, you can go here and here. I also highly recommend listening to her presentation given at the Small Press Expo from 2014.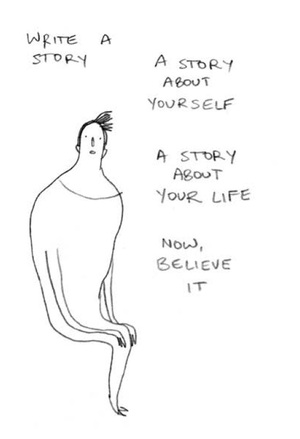 Cover Image:  Eleanor's illustration for Stephen King's NYT Op-ed, Can a Novelist Be Too Productive? 
---
Women & Comics is a monthly interview series. You can read past interviews with Nicole J. Georges and Lucy Knisley.