Remember way back in the day, when an hour of school was actually dedicated to playing sports, running laps, skipping rope, and whacking wiffle balls? Whether you loved it or hated it, gym class was likely a big part of your childhood, and there was no avoiding it. To celebrate all things physical and the long ago kickball memories of yesteryear, we launched the Gym Class design challenge, and to put it bluntly, you all stepped up to the plate. Today we announce the winner: Brazilian artist Rodrigo Ferreira for his design "Dodgebolus of Gymron"! Read on to learn more about Rodrigo and shop his winning design, and then say "Dodgebolus of Gymron" five times backward to become the ultimate gym class champion.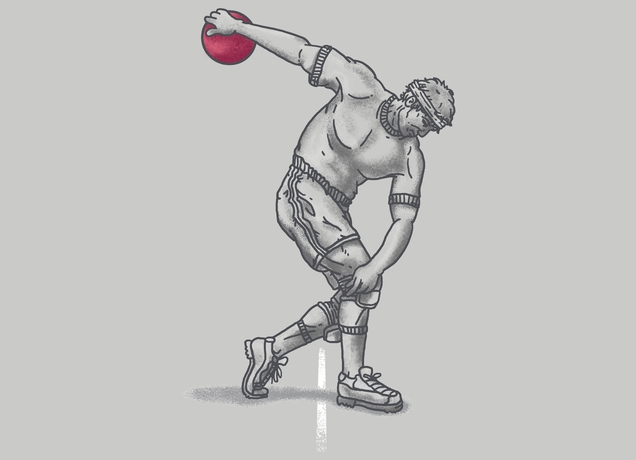 Congrats on your winning "Dodgebolus of Gymron" design for the Gym Class challenge! Why don't you tell us a little bit about yourself?
Thanks! I'm thrilled to have won this challenge! I'm a graphic designer based in Belo Horizonte, Brazil. I've been drawing since I was a little kid, but never took drawing classes (I'm pretty sure you already noticed xD). I'm married with a beautiful and funny girl and we have the cutest dog in the world – a Papillon with HUGE ears called Gael who thinks he is a kangaroo (as you can see in the picture below).
Let's cut to the chase: Were you a gym class lover, or a gym class hater?
I only loved Gym classes when I played football (soccer), basketball, or handball. I hated every other gym class, especially swimming because I can't swim. Seriously, I can't float.
What memories do you have of gym class, good or bad?
Good and bad, I guess. Good memories: I was always the second-to-last player picked on football classes (which is a good thing, right?). I was an average player who always managed to score some goals. Usually, the football classes were very crowded. For everybody to have a chance to play, rules were set: Every game lasted four minutes or until one of the teams scored a goal, and the loser team left the pitch for another team to play. If they tie, both teams left the pitch. One time, my team won four times in a row and I scored all four goals. The best thing: The girl I had a crush on was watching the game. :) Bad memories: Swim class. When the gym class went to the swimming pool, I always escaped by faking a flu or stomach ache. One time the coach didn't believed that I was sick and I had to swim with a life jacket. It was an embarrassing moment because the girl I had a crush on was watching the class. :/
When trying to come up with a concept for this challenge, what types of ideas did you explore?
I try to be funny, as it's always a good start. For this challenge, I first asked myself, "Which gym class sport is the most popular?". Dodgeball seemed to be the right answer. Then I tried to find who would be an awkward/funny dodgeball player and the Discobolus sculpture popped in my head. It was perfect!
How did you come up with the final concept?
I was playing with two not-so-different versions of this idea. In one version, the statue was wearing gym clothes and in the other one he is naked. I couldn't decide which one was the best, so I asked for help in the blogs. The Threadless community is very helpful; I can't remember how many times they've helped me with an idea. Once I decided which way to go, it was easy finishing the design.
Would you mind taking us through the creation of this design? Feel free to share any WIPs, if possible!
Sure! Let me show you how the MAGIC happens!
In what ways did the game of dodgeball help the Dodgebolus of Gymron eventually transform into the now famous Discobolus of Myron?
Dodgeball taught him to grab life by the ball!
Do you think becoming a professional dodgeball player was his original dream?
Yes, I think it was. Sometimes you mustn't be afraid to dream a little bigger, right? Sadly, he ended up stuck in a museum, naked and holding a disc.
If you became a lauded dodgeball champion, what would you say in your victory speech?
Dodgeball is a game played mostly by girls here in Brazil. It's called "Queimada" (something like "Burned" in English). And that's why I would say in my victory speech, "To play this game you need to have balls!". And I'm pretty sure all the girls will boo me.
Any other shout-outs?
Yes! I would like to say thanks to all the folks who helped me with this idea, especially Nate – aka nintechno! He gave me the AMAZING title that tied the whole concept together. I would love to give him a copy of this tee – if he wants one. Thanks a lot, dude!
Shop "Dodgebolus of Gymron" here!