There's no place like home. That's really weird to say about work, but I guess when you work at a place like Threadless, weird is the norm. This Friday marks our last day on 1260 W Madison — our current microcosm of t-shirts, art, and community is packing up and moving to a new spot.
I still remember visiting this place before I worked here when it was just all white walls and concrete. What was once a seemingly abandoned FedEx facility got restructured into this blank canvas we eventually injected with the life and love of Threadless.
"It was a space void of personality when we first moved in, the empty white walls and a grey floor felt almost like a betrayal of the Threadless mission. Over next year or two, 1260 became the place that was truly our home and reflected the beauty, passion, and craziness of who we really were."

 — Atkins Meyer, cool dude.
As an employee, one of the coolest things to witness is the look on peoples' faces when they come to headquarters for the first time. And I don't blame them — it's a sensory overload from a ceiling lined with shirts, to street art covering the walls, to the occasional Bandit submission at your feet. There aren't many places like here, and I'm sure many people can attest to that.
"My first time walking in was heart-stopping. my neck nearly broke from looking up at all the wonderful old shirts hanging from the rafters." 

— Wally
Whether you came from the corporate world or straight out of college, the consensus will always be the same: the work culture here is an anomaly. The mere mention to friends that we have breakfasts on Mondays and breaks mid-day to listen to a band always provokes an eye-roll.
Don't get me wrong, lots of work gets done, but I think we've gotten pretty good at balancing a little fun in there.
In a few months, our new space will be ready, and we're all pretty excited about it. The new home at 401 N. Morgan is our next stop, and it's beautiful. Natural light pours in from the massive windows. And we have a rooftop — who wouldn't be excited about that?
Six years at 1260 has been a huge chapter for us, but we're ready to start a new one. With all the changes that happened to Threadless in the last couple of years, it almost makes sense to start anew. I think it'll be good for all of us. A fresh start for 2016.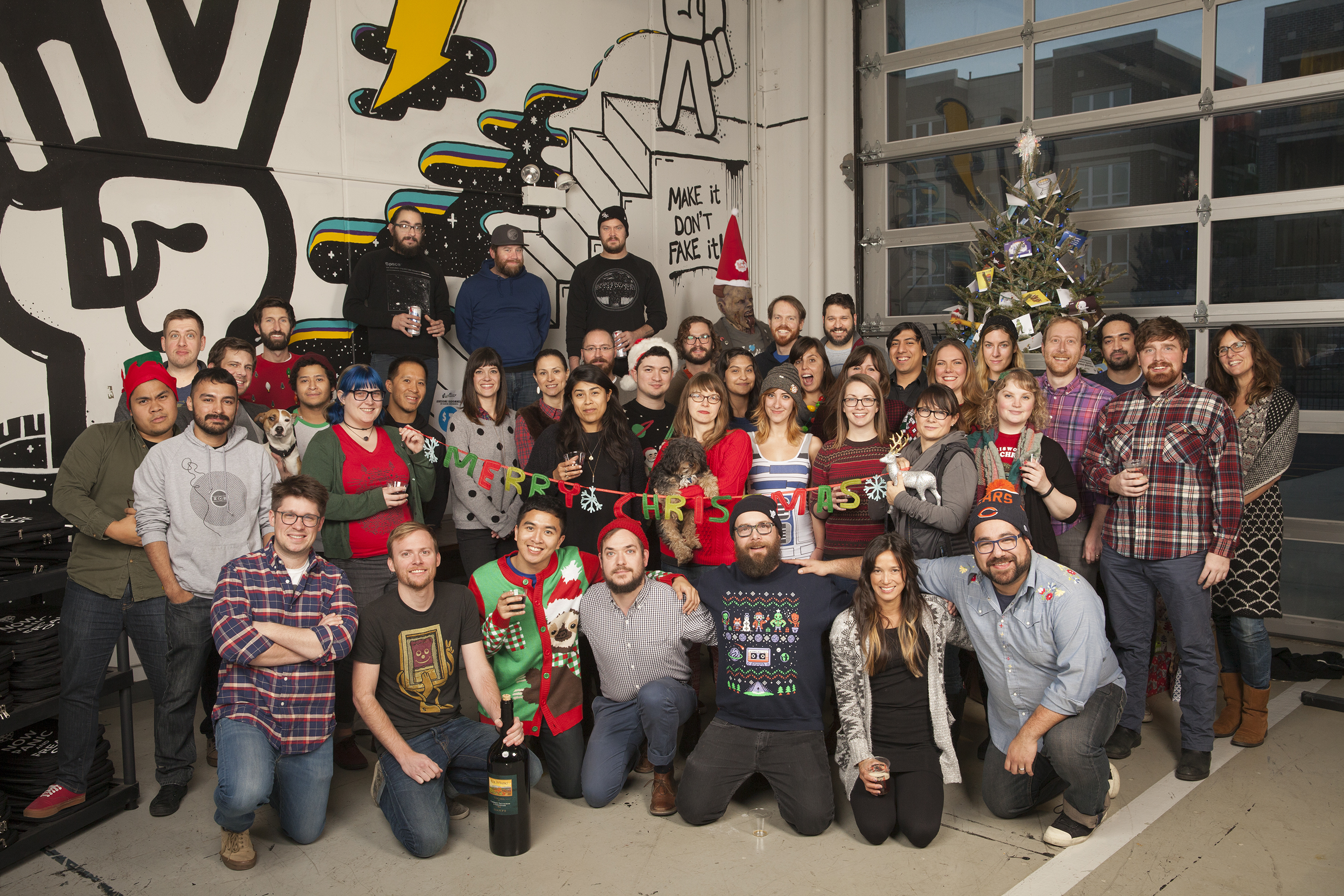 Change is always crazy, and most of the time scary. But I think we all need it. We've shared laughs, and also tears. We've welcomed new faces, but also said farewell to many old ones too. We celebrated many birthdays, tenures, and thirsty Thursdays, here. It's all part of being a family.
"Over four years ago, I stepped into this building for the first time and fell in love with the vibe, the art, the people, the community." 

— Jason M
1260 will always be the place where you'll hear screaming in the warehouse at Mario Kart Double Dash. Where Halgas woke up in bubble wrap and set off the alarms. Where everyone started their modeling career. Where Nikki made you look beautiful. Where we played endless games of Knockout. Where we partied like rockstars in the atrium. Where the fridges always smelled. Where we went water cooler bowling and then threw fireworks into said water coolers. Where we fell in love with the art, the people, the community of Threadless. Where you found Nerf darts in the most random places. Where everyone, no matter how strange, can find their clan and stay inspired. Where Jake & Jess made people drink spaghetti sauce and vodka during flip cup. Where someone consistently put boogers on the bathroom wall. Where we had a pillow fight after party drink fest. Where there was always more pizza than people. Where we were in the same room as Anthony Green and Lucius. Where soup wine was born. Where we collectively drank an ocean's worth of beer. Where we were able to make supporting artists what we do every day. Where we turned ideas into reality. Where we had some amazing times, but also really, really heart-wrenching times. Where we did a lot of growing up personally and as a company. Where we all met the morning before Wandawega. Where we dragged Jake in a recliner attached to the sticker van. Where the property, inside and out, was a work of art. Where we housed our creativity to truly make great together. Where we could call our second home.
45,932 sq ft. kept us all together. It was awesome, and it was ours.
Change is constant, but no one can take away the memories. So cheers to 1260 W. Madison — thanks for all the memories. You've been damn good to us.