British illustrator Ralph Steadman has had quite the career since teaming up with the legendary and famously unhinged gonzo journalist Hunter S. Thompson. Together, they defined a classic moment in narrative journalism, co-creating notable works including Fear and Loathing in Las Vegas and The Curse of Lono. Steadman's iconic style of art all begins with an ink splatter on a piece of white paper. Using this aesthetic, he's created ghoulish portraits of politicos, trippy scenes for Thompson's books, and hilarious depictions of American culture at its most bizarre, from bar fights to the Kentucky Derby.
And while Steadman, now 86, gained the most notoriety for his collaborations with the late Thompson, he's had an especially eventful year. He launched his own Artist Shop on Threadless, where he sells face masks that reference Fear and Loathing in Las Vegas and benefit the nonprofit organization MedShare. He also appeared in the 2020 film Freak Power: Ballot or The Bomb, which tells the true story of Thompson's run for sheriff in Colorado back in the 1970s (Steadman made some of the campaign posters). To cap it all off, Steadman also recently released an art book called Ralph Steadman: A Life In Ink, which traces 60 years of art from his early sketchbooks in the 1950s to his most recent work created under quarantine.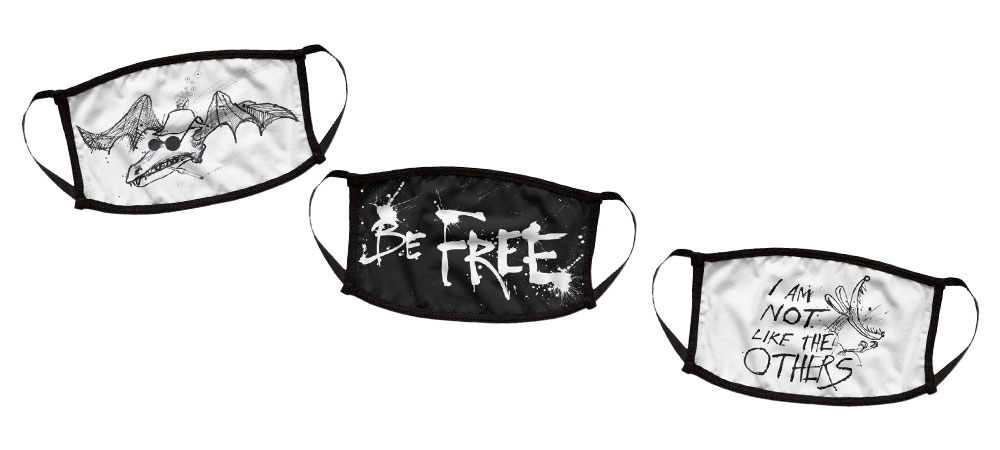 Despite what most know about Steadman, his work is more than just gonzo. He's created books about the lives of Sigmund Freud and Leonardo da Vinci, and has also designed album art for rapper and music producer Travis Scott. Adding further context to his storied career, Steadman speaks from his cozy home in Kent about the power of the Queen of England, wearing a face mask, and why good art requires no explanation.
How are you handling life under quarantine, Ralph?
Ralph Steadman: I'm really stuck at home. Mud to the front door. Walk outside into thick mud. I've drawn the virus in a piece called the "Viral Menace." The word "Covid" sounds Welsh, you know. "Oh a Covid!" This is worse than sitting in an underground shelter during the last blitz, the German blitz in 1939. We used to sit there, my mother would knit to try to keep her calm. I'd go looking for shrapnel in the morning—molten metal that went hard. I wish I kept a piece.
How did you start out as an artist?
I started out doing technical drawings. I also used to be a stock room boy at Woolsworth's. I swept the floor in a Welsh town. I wanted to build model airplanes when I grew up. But I haven't grown up yet.
What do you want to be when you grow up?
Let me see. I want to find out something that puzzles me.
In your new book, Ralph Steadman: A Life In Ink, you created a piece called "The Defamation of the Bank Note from 1976," correct?
I quite like this Pound note that loses its value. It has the queen giving a look of "We are not amused," with a moustache drawn on the queen. She has sat 70 years on the throne. That's amazing, really. She's done her job, as it is. It's a funny job to have, isn't it? The Queen.
What do you think of the royal family today?
I don't know, I'm guessing a lot of it. I think I remember more about Hunter S. Thompson than I do about the queen. It's weird. You know what he called me when we first met? "A matted head with string warts."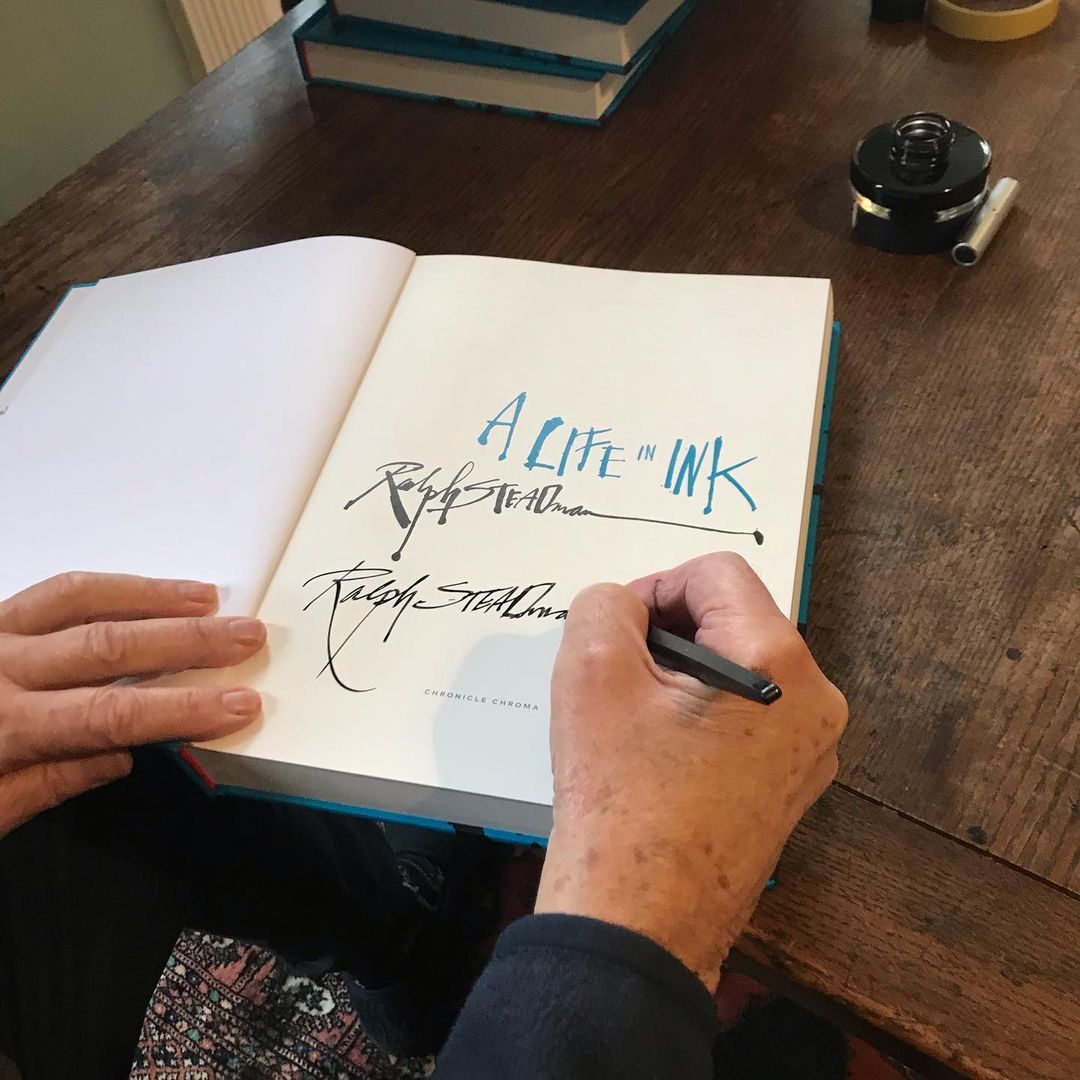 Do you remember how gonzo journalism all started?
I was rung up by JC Suarez from Brooklyn. "You Ralph Steadman?" he asked. "How'd you like to go to Kentucky and meet an ex-Hell's Angel who just shaved his head?" Hunter had ridden with the Hell's Angels—that was his first book. Hunter always used a typewriter. I don't think he ever got used to a computer. I don't use a smartphone or a computer, but I don't use any of that. It's funny Steve Jobs was named jobs. He really took away jobs. Hunter loved to fax.
For one of your other books, The Curse of Lono, did you go with Hunter to Hawaii in 1980 to cover the Honolulu marathon?
Yes, I went to Hawaii with Hunter in 1980. We ran the first couple of miles as fast as we could down the road. People take their time when they do a marathon. We got to where we had a lorry truck waiting for us to take us the rest of the way, to the bottom of Heartbreak Hill. The last part of the race. We got to the end with a truck and had drinks waiting for us. We cheered on people coming to the finish line. "You lousy sports!" we were laughing. That was a mean trick we played. I'm not proud of it, really. Hunter used to drive a car with one hand and put his other arm over the car passenger seat, where he kept his bottle of whiskey, and he drank whiskey as he drove.
Were you in the car with him? Were you scared?
Not really, no. Hunter was a good driver. He was the weirdest man I ever met. Odd as hell. He did everything in his own way. Fishing was one of them.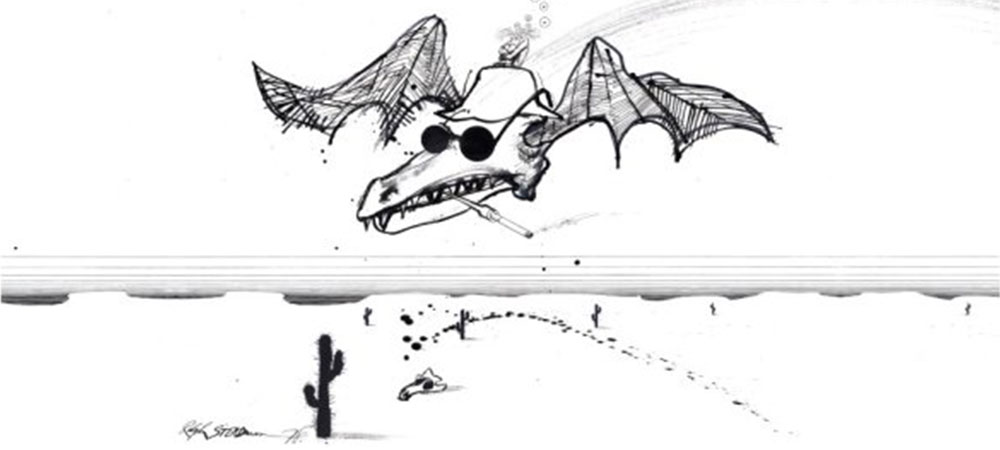 How much of gonzo is about humor and spontaneity? Is it alive today?
I don't really know. Bill Cardoso was the one who set up our first piece where we worked together. It was pure gonzo. Hunter said, "Gonzo? What the fuck is Gonzo?" It's just what it is.
Just as Hunter S. Thompson was a gonzo journalist, you have been called a gonzo artist having worked with him. What makes something gonzo?
It's a Portuguese word for hinge, so I guess it means unhinged in a way. If you interpret it correctly. Hunter said, "Oh, I like that word gonzo. That's what it is. Gonzo journalism." That's how it was born. And it went like that. We became gonzo journalists. Gonzo artists. Very strange. It was my first time to America in 1970. I even met Hunter's mother and she had a booze trolley. She thought that's what he would like to see. And he did.
Why did you do a self-portrait of yourself wearing a mask?
Yes, I even made a picture of me wearing a mask. It defeats the art of the object of it, really.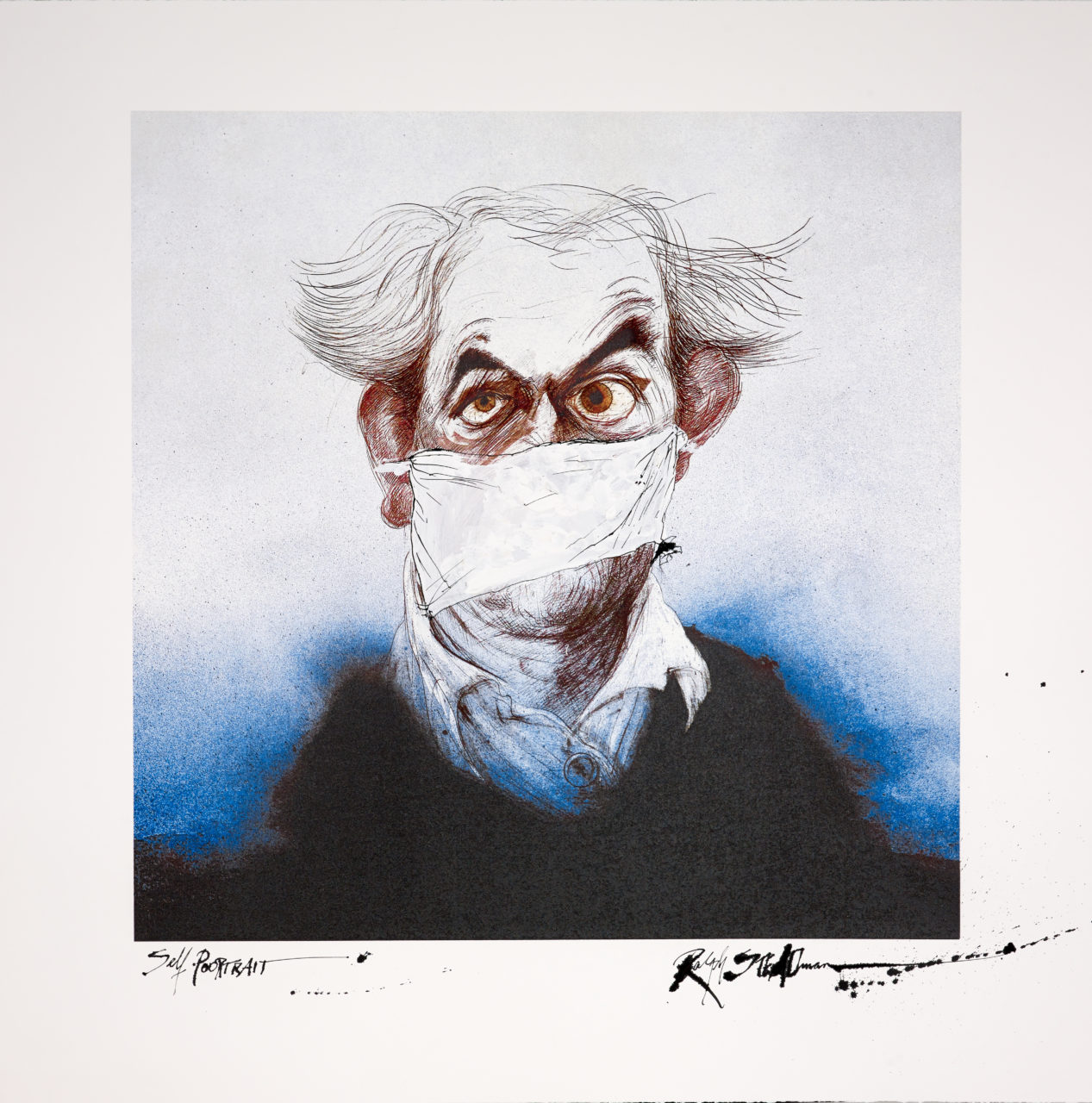 You are known for using inks for your drawings and illustrations, which all begin with a "splat" on an empty page. Are you often asked to explain your art?
Well, a wise man once said, "Anything of value is anything you cannot say. But if you can see it, it explains itself to you." If you see a picture, you know what it looks like. It's interesting being able to do that, rather than explaining it in words.
---
Find Ralph Steadman's face masks in his Threadless shop. To learn more about the history and evolution of his art, grab a copy of his new book, Ralph Steadman: A Life In Ink. You can also view his work in person at the Gonzo Gallery in Aspen, Colorado.