Let's help each other and show just how connected we really are
Things are getting real out there and we'll be honest – it's pretty intense. We're all working from home and doing our best to create a cozy and productive workspace all the while thinking of creative ways to practice social distancing and playing it safe, which is pretty much just staying home. Given the state of things, we can't help but think about our friends in the Threadless artist community and across the world that are deeply affected financially by the COVID-19 pandemic. Independent artists, musicians, and small businesses are all getting hit pretty hard, and all we want to do is help. So we came up with a plan and a few ways to help make us all feel a bit more connected.
Our Community Action Plan
For the last 20 years, Threadless has helped humans express their emotions, individualism, and rebellion through art and design. Now more than ever is the time to fill the world with art, and bring joy, entertainment, and a bit of relief to everyone.
UPDATE as of June 1st: We're excited to announce the extension of one component of our Community Action Plan – the ease of getting your Artist Shop online by simply emailing your logo to start@threadless.com. From there, our team will be in touch and will quickly get to work getting your shop set up. We'll also collaborate closely with you to make it awesome. Have a friend who could use help with an online shop, not to mention some extra income? Spread the word because we're here to help!
Through May 31st, we significantly increased the amount our Artists earn from each and every sale.
Each and every time you purchase from Threadless, you're directly supporting independent artists and small businesses around the world. That's powerful! Whether you're looking to show off your unique style or enhance your living space, the designs you choose to buy are supporting the artists that made them.
Do you have a friend that's struggling financially, or know of any restaurants, bars, coffee shops, and other small businesses that could use a leg up? We can get them set up with an Artist Shop! All we need them to do is email their logo to start@threadless.com and we'll set them up with a merch store so you can support them by buying their designs. Spread the word, and let folks know about this initiative!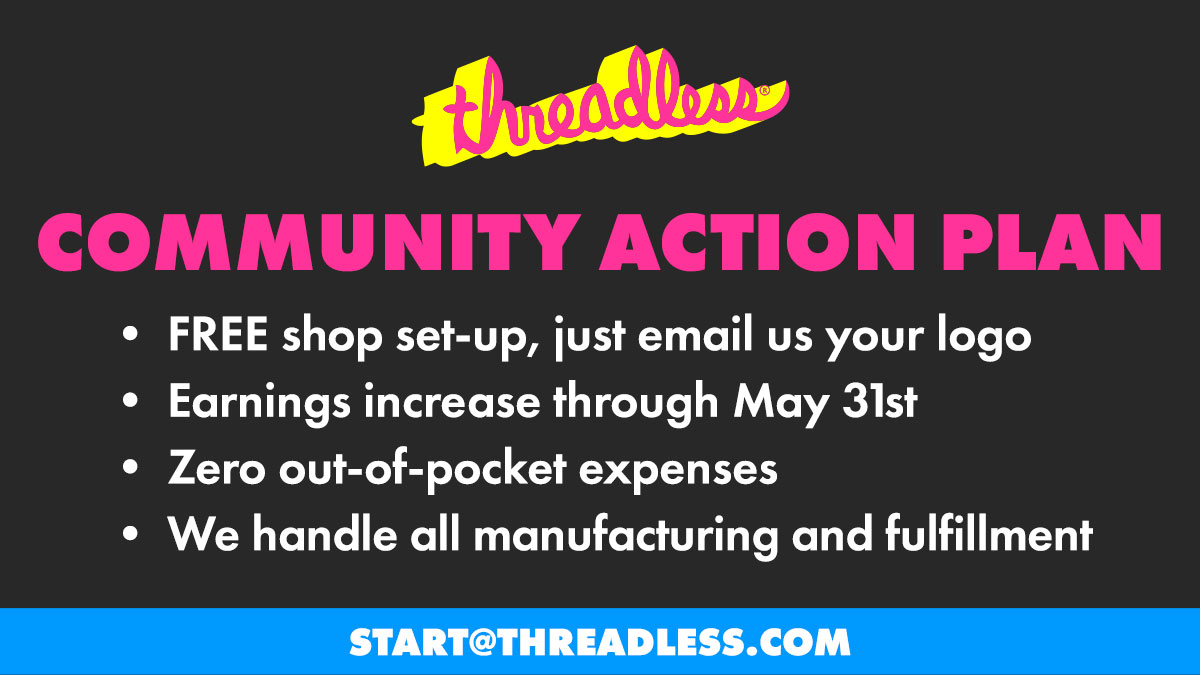 *This discount applies to Artist Shops only and does not apply to items sold in the Threadless Marketplace.
Let's do something fun together
What was the first Threadless tee you ever bought? Do you have something else you purchased from Threadless that's your go-to favorite thing? Put it on, grab it, or snuggle up and snap a pic or shoot a video! Tell us how art is helping you be yourself even during this crazy time. Post your picture or video on social and tag @Threadless, and the artist that made the design, and let's spread some love, y'all. Want us to post it instead? Email us or send us a DM on Instagram. Let's flood the social feeds with art!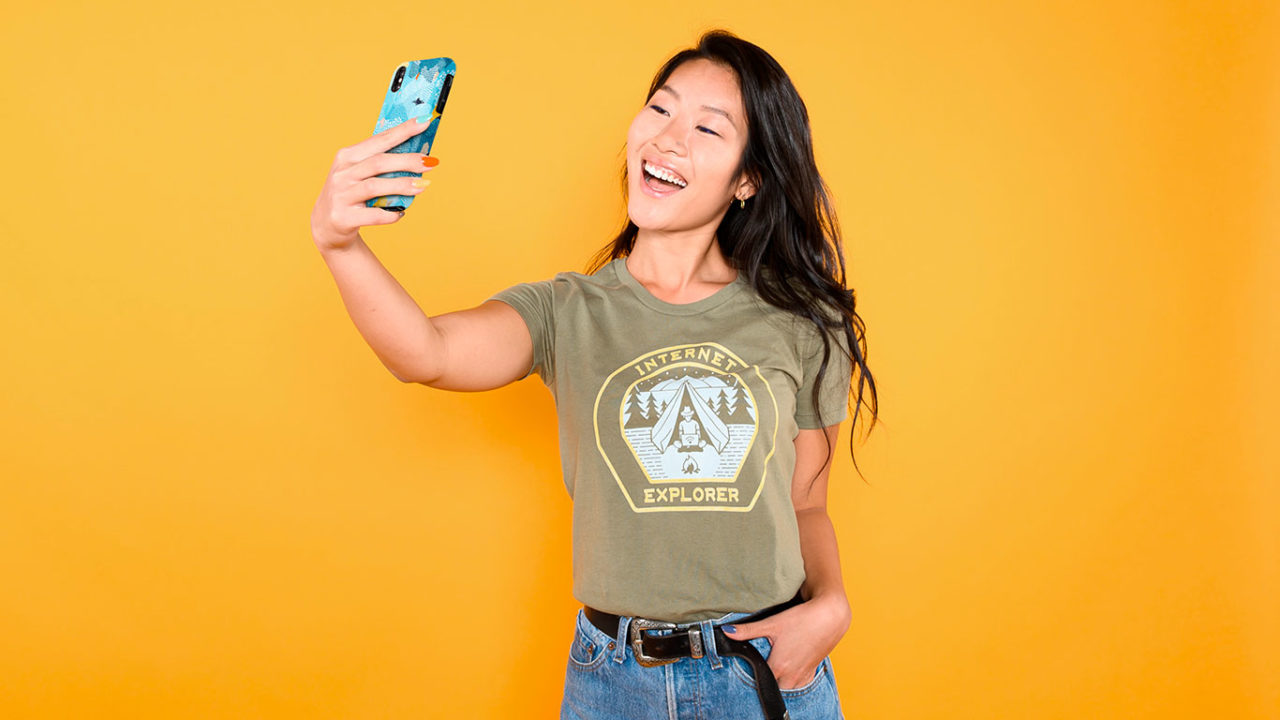 Tips on power-lounging from home
Since most of us are working from home and staying indoors (playing it safe, right?) that might be testing your patience and boredom threshold. We're home, you're home. And when you're not home, you kind of just want to be. We get it. Let us help you get into Lounge Mode™ with comfy threads and home decor. They'll refresh your vibe, and even make being home all the time a little easier. That pillow pile and blanket fort is just begging you to climb inside. Bonus points if you make it for your best animal friend.
Surf's up – but, like, with clicking
There's no shortage of scary news. Sure, it's important to stay informed, but it's also important not to doomsurf. If you're looking for something positive and social, we've got you covered. Did somebody say Netflix Party?!
And here's a couple of big ol' lists that have all sorts of useful info and links, especially if you or a friend is an indie creative.
In this time of social distancing, we must remember that we're all still connected. Art may not save the world but it sure does help. Be well and stay safe friends!