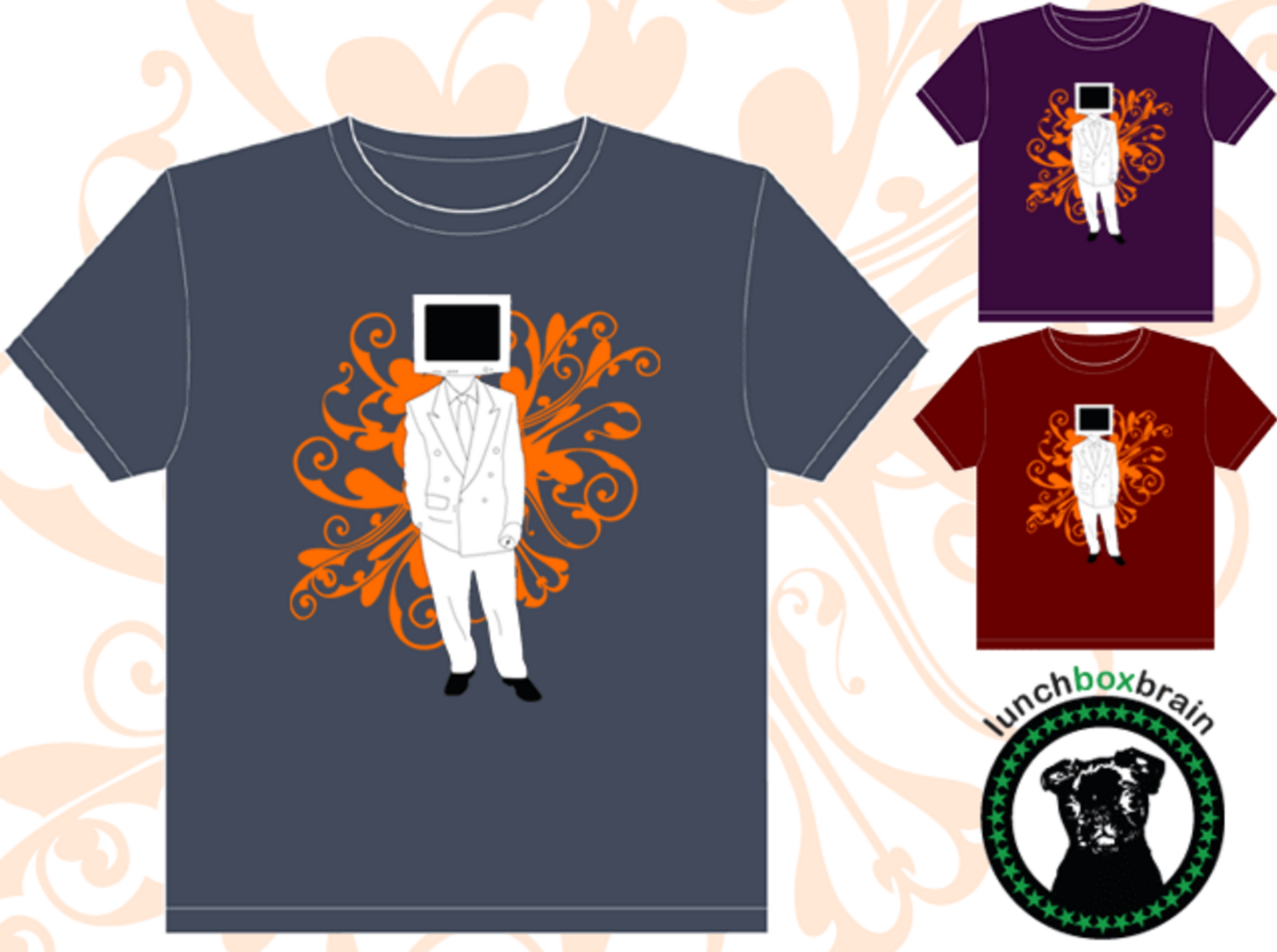 10 years ago, my first Threadless sub went live. Mr. Monitorhead (left) was a complete dumpster fire of a design.
While I cringe at it now, I've come to appreciate that it was a first step in a long journey into the world of design.
I'd like to take this opportunity to share a few thoughts about my last 10 years as a member of the Threadless community.
.     .     .
This community is incredible. Like Mr. Monitorhead, my early subs were terrible. But the feedback I received from designers and non-designers was extraordinarily helpful and kind. Those are two words you don't often hear when discussing online communities. I took the critiques to heart and tried to make each sub better than the last. Sometimes I reached the goal and other times I failed. No matter what, it always felt like you were out there, rooting for me to do better. Without the support from this community, I'm not so sure I'd be the designer I am today. Infinite thanks from me to all of you.
Keep honing your craft, fellow designers. Don't worry about scores and comments. The Threadless crew is looking for kick-ass designs. View other artists' work (but don't steal!), check out some tutorials and commit yourself to making the best designs you can. That's how you get better, and patience pays off. Trust me…it took me 6 years and 100+ subs before I was printed. Even now, with a few more prints under my belt, I continue to try new styles and techniques. There is no growth without change, friends.
Speak up and be heard, non-designing voters! Like I mentioned before, the feedback I received early on was invaluable. It seems like the number of comments on subs has dropped dramatically over the last 10 years. I know it's not always convenient to write a brief critique, but it's essential to the development of artists and this community as a whole. You want incredible shirts, hoodies, phone cases, etc. etc. and there are TONS of Threadless artists who want to make those items for you. So next time you score a design, please take a moment and share your thoughts with the artist.
The Threadstaff squad is the BEST SQUAD. Whatever issues I've encountered here – delayed subs, late order shipments, etc. – you've taken great care of me and I truly appreciate it. Special thanks to those of you who have I had a chance to interview for the "Gettin' The Skinny" series. And don't think for one second that I'll ever forget the cookie bouquet you sent after my wife gave birth to our first child. WHAT COMPANY DOES THAT!?! THREADSQUAD FOR LIFE!
The future of Threadless is interesting. From Select tees, to incredible challenge partnerships and now Artist Shops, Threadless knows how to keep things interesting. The big question is WHAT'S NEXT? Shoes? VR swag? An animated series featuring crazy characters (think The Interstellar Adventures of Mr. Mittens and Captain Funkalicious)? Whatever Jake & Co. have mind for the future of Threadless, I'm sure it will be great.
Shop Lunchboxbrain's Artist Shop here!