Summer is here and it's time to lose the sleeves, and rock out with your arms out again! To maximize your summer style refresh, we talked to wardrobe stylist & fashion expert at thepaillette.com, Gloria Cospito. We asked Gloria how dudes and ladies can style and wear a tank anywhere, anytime, and she totally schooled us with her fashion eye. Get the looks below!
.     .     .
The seasons may still be roaring like a lion (at least on the East Coast), but soon it will be snuggling up to you like a lamb. And for that, I want to be ready with some warm weather looks for every occasion. In my closet, the printed tank is a spring and summer staple because it adds an element of casual coolness to any look. Really, any look. If you thought you could never do a tank for a fancy dinner or night out, I'm here to prove you wrong. To further illustrate my point, I partnered with Threadless and roped Jon (hubby) into this post to show how anyone can wear a tank anywhere.
Night Out: Her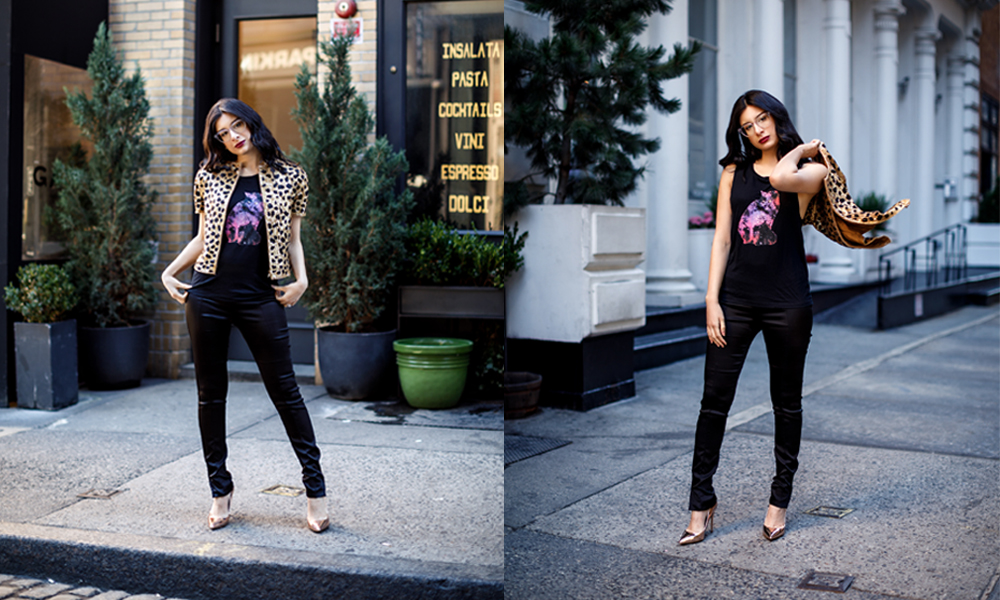 Everyone knows the NYC uniform is all black. Generally, I don't abide by this standard and live in color, color, color. On nights out, however, it's a different story. There's something powerful about inky black pieces that I am here for, especially when I get to put my own fun spin on them. Take this tank, for example. The "Celestial Cat" is somehow cute, glittery, and groovy all at once. And, if your nights out include chatting up cuties, it's definitely a conversation starter (is that a constellation kitty on your shirt? Why, yes, it is). To lengthen my shape with a continuous dark line, I went with black satin skinny pants on bottom. I added a sequined leopard print jacket on top to play with the sparkly feline theme. Complete it all with rosegold heels to pick up the pink in the print and we have a funky but still sexy night-out look. Plus, with this tank, I'm wearing my cat lady-ness right out there in the open so no one will be surprised when I'm out by 9pm to hit my bed.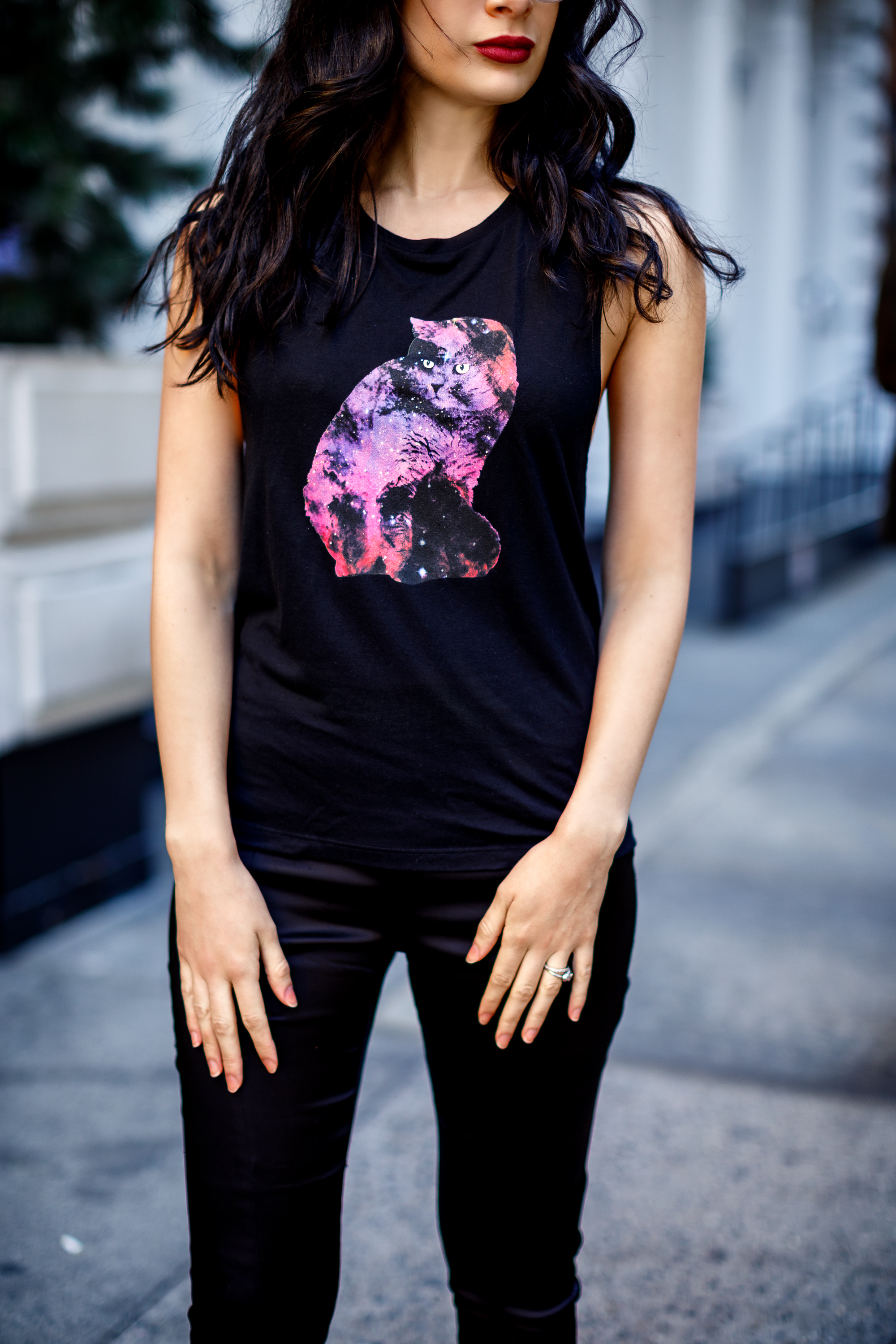 Night Out: Him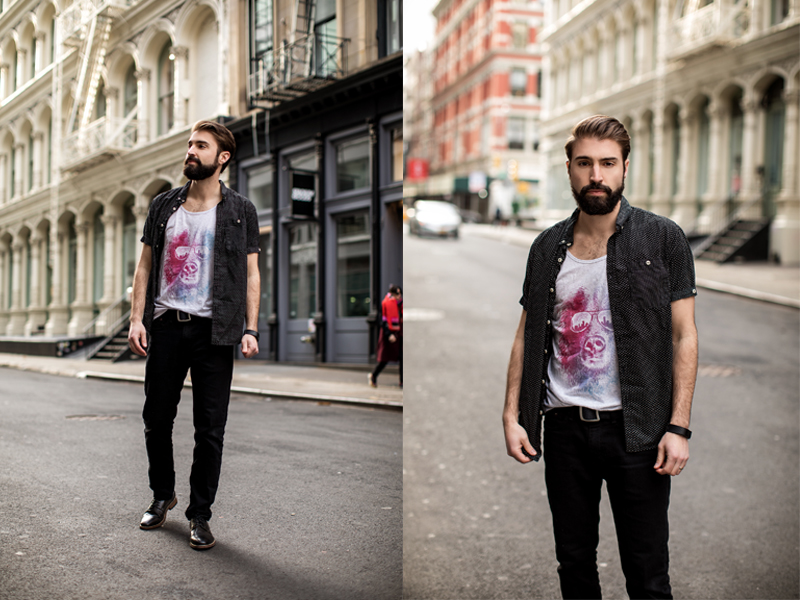 Not to be outdone by my galaxy kitten, Jon stepped out in a "Call of the Wild" tank that stole the show. Against an all-black palette, the colorful bear design infuses the outfit with a burst of personality.
Important Dinner: Her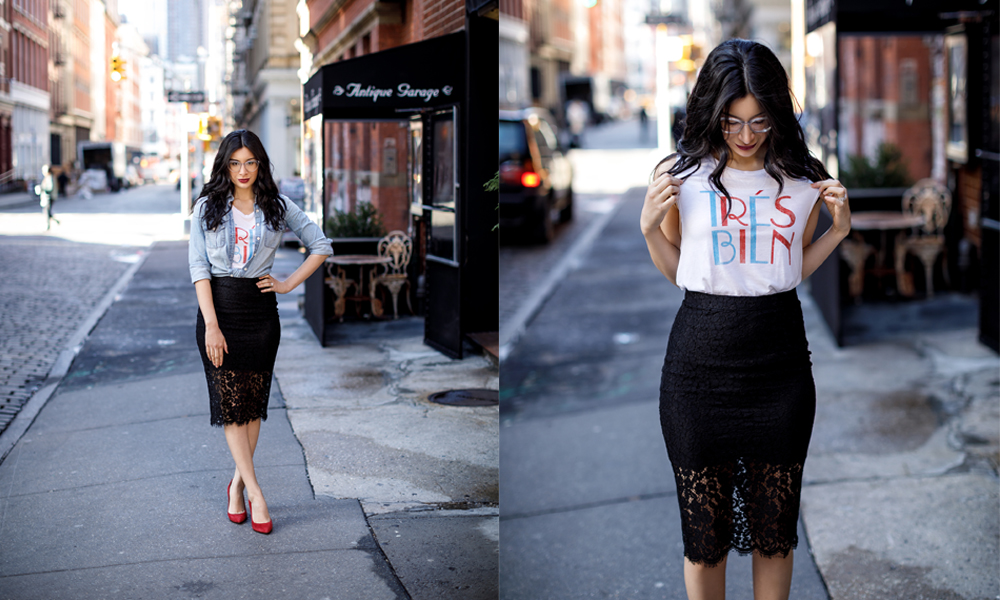 An important dinner could be anything from meet-the-parents to a catch-up with your boss from a former internship (look who I became!). For those meals, a tank with upbeat text can add the perfect positive vibes. This "Tres Bien" tank in a retro typography is classic but sweet. I played off of the blue and red letters in the rest of the look with a chambray shirt and red suede heels. The black lace pencil skirt adds a touch of formality and elegance making it right for all sorts of settings. If it gets warm, ditch the topper and you have a graphic black and white look with pops of color.
Important Dinner: Him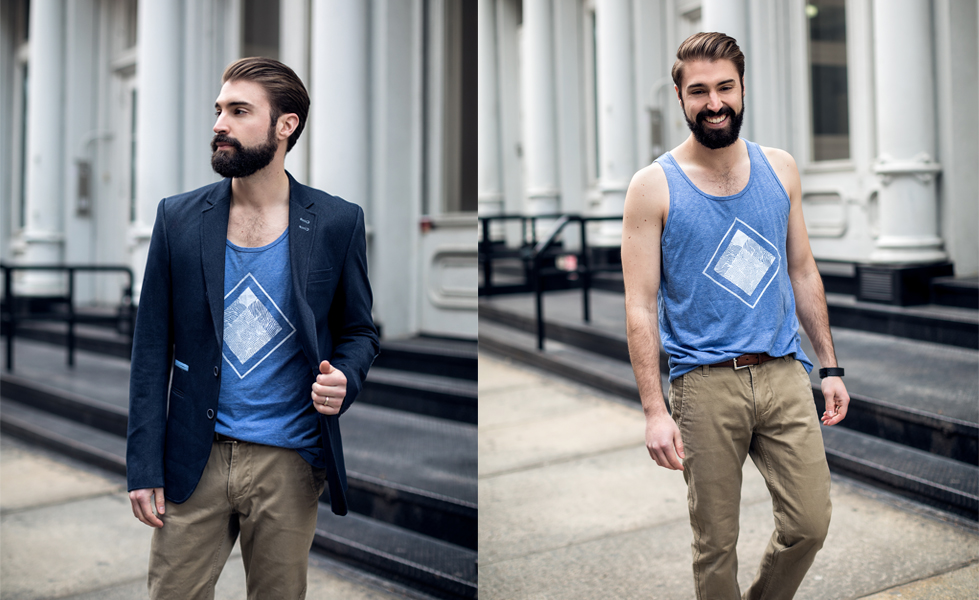 A dark denim blazer for men is so right in spring and summer. Jon put his over this "Layered Stripes" tank to compliment and contrast with the bright blue fabric and geometric white print. Khaki pants and brown leather driving shoes make the look laid-back yet sharp.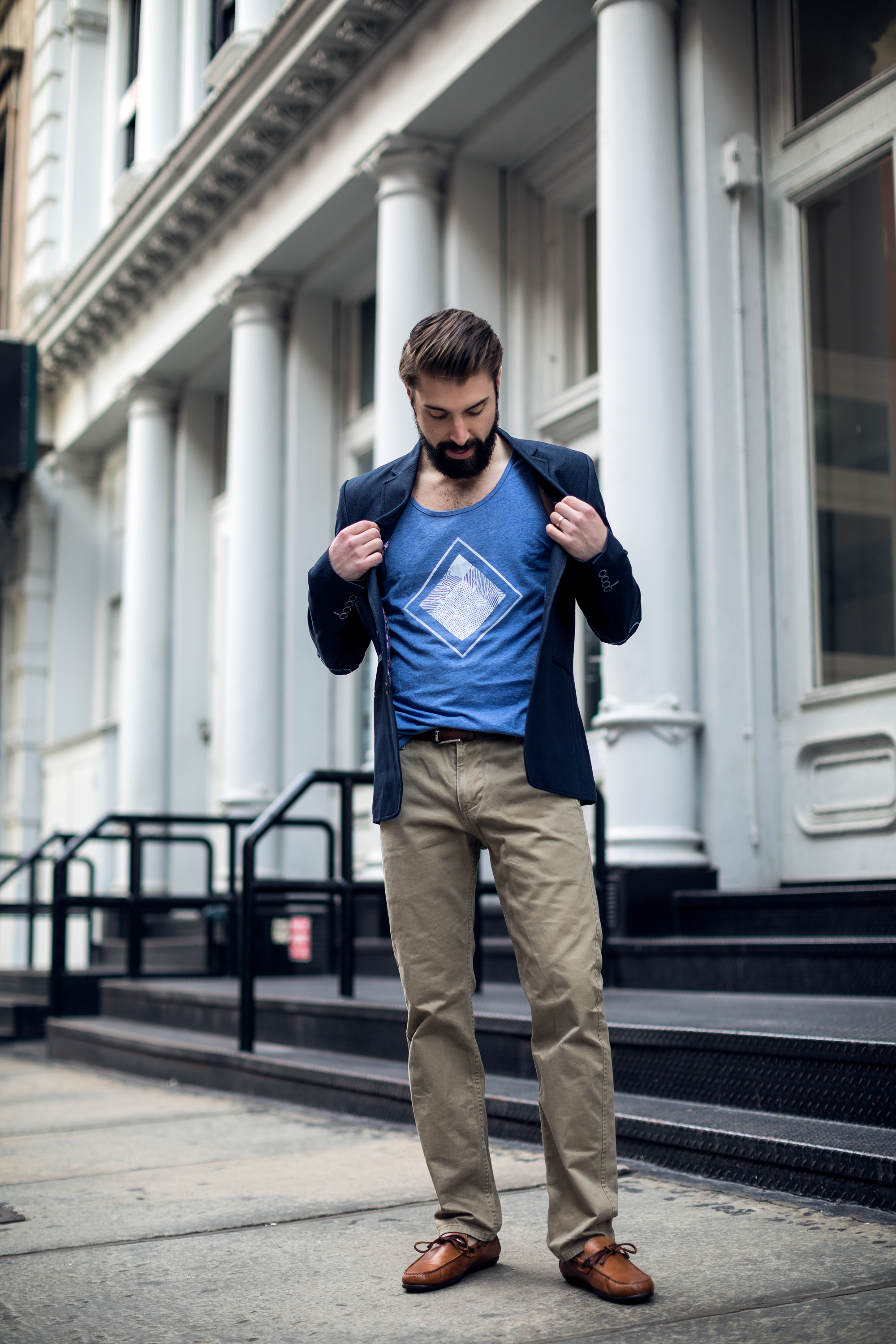 Work: Her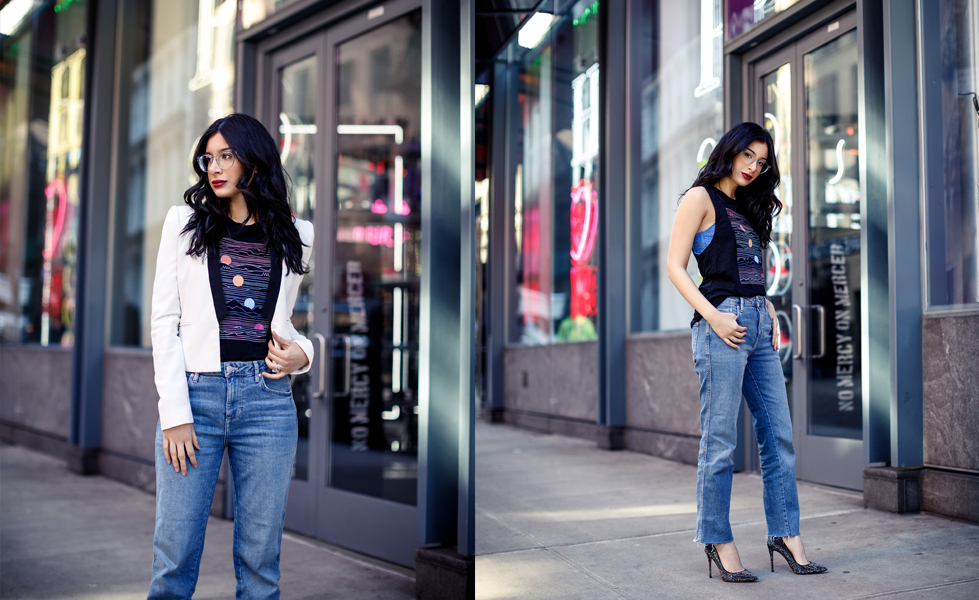 If you work in fashion or a creative industry like me, you can have a little bit more fun with your work wear. Here, I styled up my "Many Lands Under One Sun" tank for the office. The design is beautifully colorful so I kept the rest of the outfit minimal. Slouchy straight-leg jeans, a cropped white blazer with angular shoulder pads and a slim black collar, plus studded black heels make the look crisp and cool. Because the armholes of the tank are slightly long, consider adding a bright bralette underneath like I did (you can see it on the sides when I turn). That way, if the blazer comes off, you're still covered while adding an extra style element to the look. This is an ensemble I would walk into a client meeting wearing and feel truly like myself, professional with a little edge.
Work: Him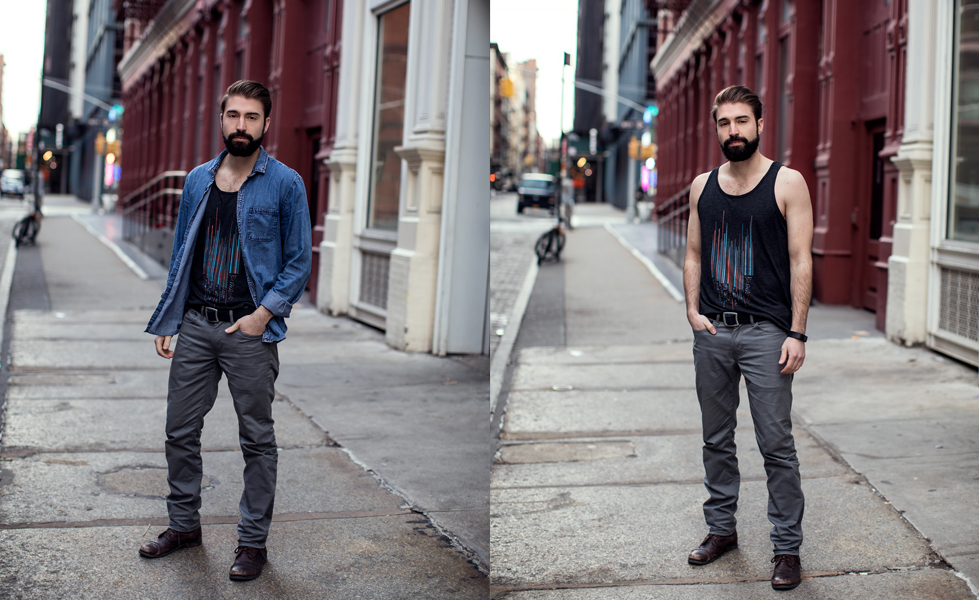 Jon works in production as a cinematographer and photographer so his day-to-day look is pretty much this. A dark blue work shirt brings out the colors of the "Urban Oscillations" tank while the gray jeans and brown boots are work-ready.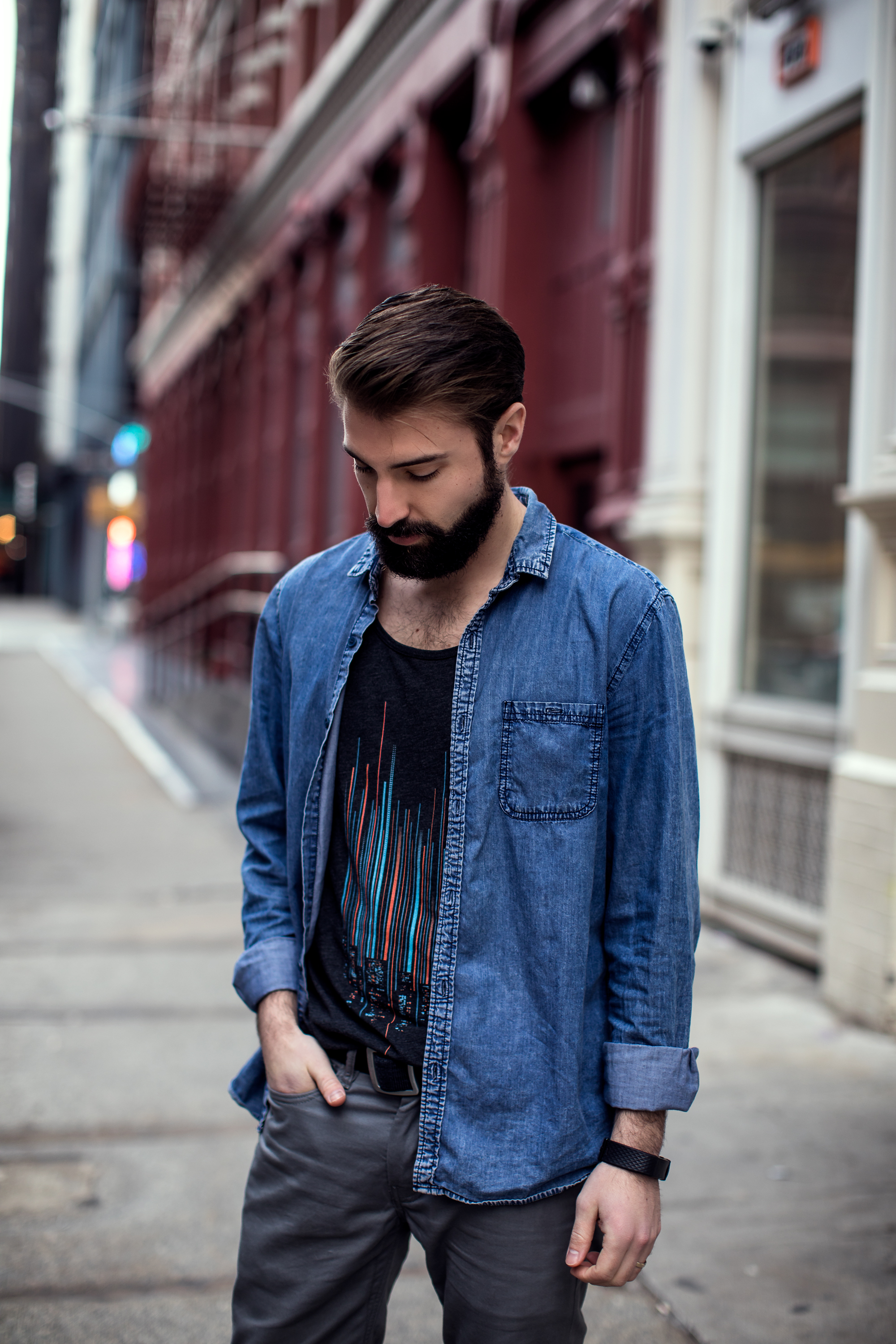 Photography: Jon Cospito and Gloria Cospito.