Metal energizes music fans like no other genre can. It can make you feel like sprinting into a mosh pit and colliding with oncoming traffic. Straight from the PCH, three-piece rock band OTTTO gives you a release for your chaotic energy with their electrifying mix of thrash, funk, and skate punk.
In 2020, the band laid the foundation of their sound with their self-titled first EP. Today, they put their foot on the accelerator with Life is a Game, a fresh batch of songs that shows that their songwriting has only gotten more refined.
---
Featuring blistering singles like "Skyscraper," their new album feeds metalheads what they crave. Singer and guitarist Bryan Noah Ferretti delivers nasty riffs that'll make faces scrunch up like they've smelled something foul. Patrick "Tríko" Chavez keeps the train from flying off the tracks with punctual, hard-hitting drumming. And of course, bassist Tye Trujillo, son of Metallica's Rob Trujillo, lays down infectious grooves to get heads nodding. Watch their new music video for the song "Dance of the Dead" to get a taste of what they've cooked up.
In celebration of their new album and the launch of their Threadless–powered merch store, we caught up with OTTTO to pick their brains about writing music, touring, and how they get in the zone to perform live.
---
Tell us about the genesis of OTTTO. How did the band come together?
Bryan: OTTTO formed in late 2017 and when Tye, Jonah Abraham, and myself started playing some new original songs. Tríko joined in 2021 as our drummer and our lineup became solidified.
What did you learn from the recording sessions for your self-titled first EP released in 2020? How did this experience help prepare you for your first full-length album?
Bryan: We learned how to collaborate and develop songs, and we got time to do that while recording. It helped in our songwriting process and made our tunes more fluid.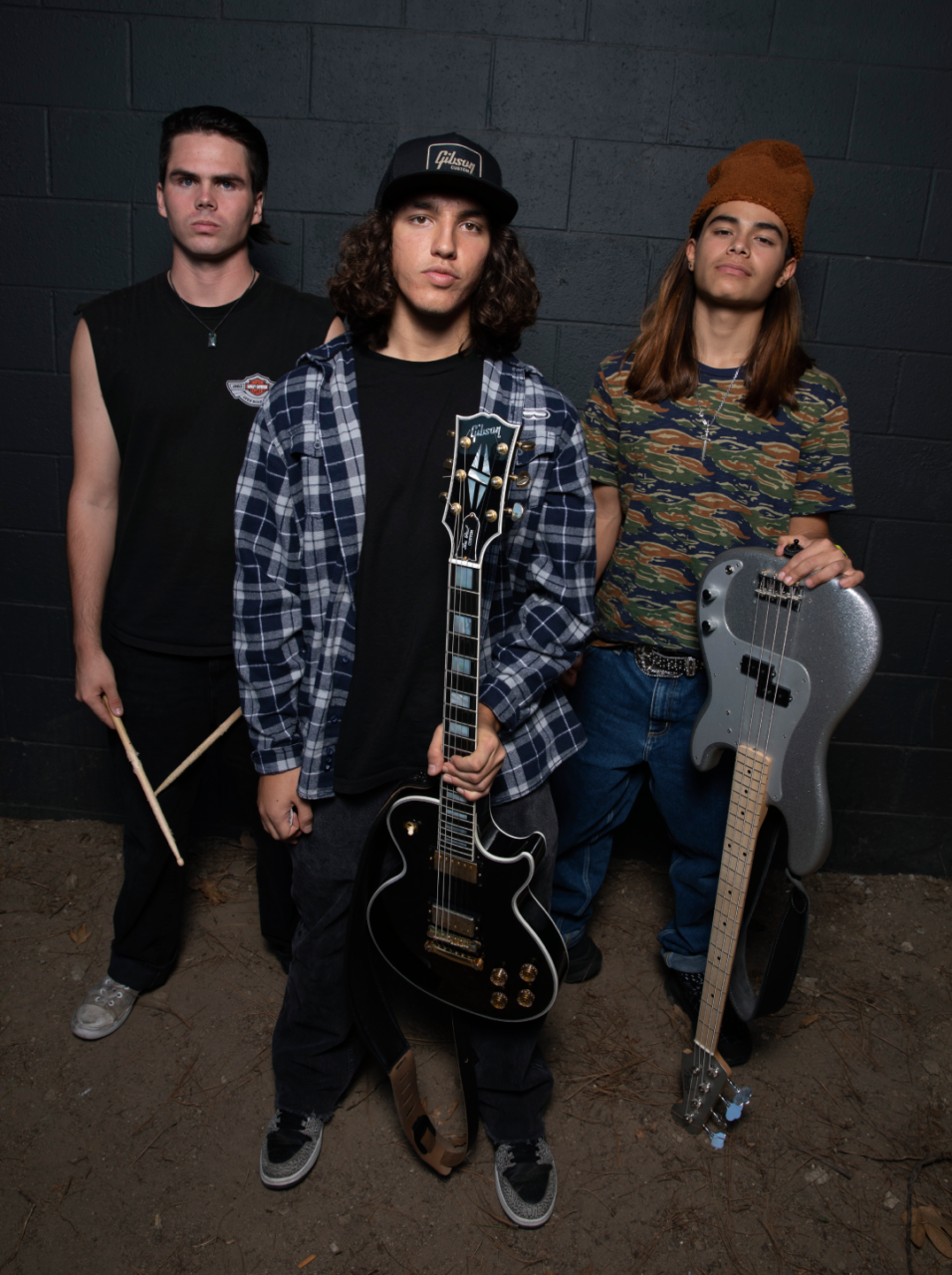 ---
Life is a Game just dropped on all major platforms today. Which song on the album do you think is the best gateway to your music for those unfamiliar with OTTTO?
Tríko: There are two songs that I think are great gateways for those unfamiliar with our music. Those songs being "My Pain" and "Skyscraper." They were the first two singles we dropped from the record and they both have a great combination of our influences, including rock, funk, punk, and metal.
What's your creative process like when you're writing and composing music? How much of it comes from being in the same room and jamming together?
Bryan: One of us will come up with an idea, then all of us will meet up and we will start writing around it.
---
The thrash riffing and dramatic tempo shifts of songs like "Skyscraper" will make a metalhead feel like they can climb a literal skyscraper. In a time when metal largely exists in the underground, what draws young musicians like yourselves to this style of technical, heavy music?
Tríko: We are drawn to this style of music because it is aggressive and takes a lot of time and dedication to be able to play, and as musicians we really are drawn to playing and performing to the best of our ability, and heavy music brings that out in us.
In your music video for "My Pain," you're skateboarding, tagging buildings, and running from authority. Are there any fun stories you can share from the making of this video?
Bryan: Tríko and I switched off playing the security guard and chased each other around, so that was really fun.
In your experience touring so far, what city has given you the biggest mosh pit? What song in your setlist usually gets the wildest crowd reaction?
Tye: We played in Houston at a dope venue called The End. The crowd went insane, especially for our song "Rising Machines."
You're scheduled to perform at this year's Sonic Temple Art & Music Festival and Welcome to Rockville with massive acts including Tool, Godsmack, and Avenged Sevenfold. What excites you most about playing big festivals like these?
Bryan: It's a great opportunity to play to a more diverse crowd.
Tríko: It is an honor to share the bill with some of the biggest names in rock and heavy metal.
Tye: It will be great to finally be playing a lot more festivals since we have only played a couple in the past.
---
How do you get in the headspace to perform on stage? Do you have any rituals or routines that help calm your nerves or get you in the zone?
Bryan: I like to have a cup of tea.
Tríko: I like to stretch and jump up and down a little bit and think about pit bulls.
Tye: Before a show I'll sometimes warm up backstage or have a bottle of water.
Tye's dad, Rob Trujillo, has been playing on the biggest stages all over the world for decades. If you're willing to share, what's the best advice he's given you guys, an up-and-coming band?
Tye: Just to keep writing new material no matter what!
Bryan and Tríko: All of our parents are super supportive and helpful, we couldn't do this without them!
---
Your Threadless Artist Shop is full of new merch for Life is a Game. Are there any band tees in your collection that are particularly special to you? Any favorites?
Bryan and Tríko: The classic OTTTO T-Shirt is cool because it really makes the name pop.
Are there any plans to tour in support of Life is a Game? If so, will there be a Chicago stop? (Asking for a friend.)
All: We have a lot of one-off shows coming up including the festivals. We're sure a tour will be on the way.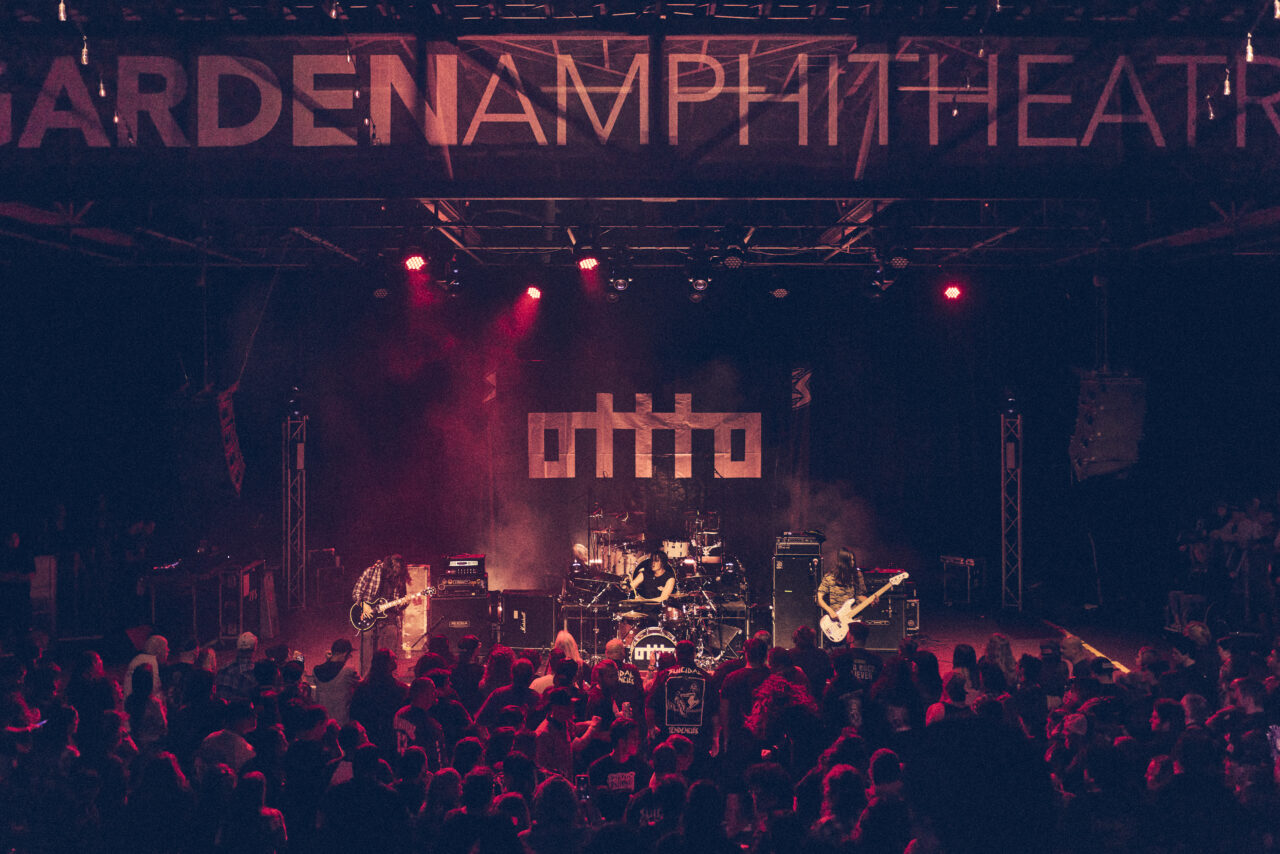 ---
Thanks and congrats to OTTTO on the release of their latest album! Listen to Life is a Game now on all major streaming platforms, buy official merch at their Threadless Artist Shop, and follow them on social media. Also look out for upcoming tour dates.
---
---
The photograph featured at the top of this post was taken by Edgar Barradas.