If you could embody the sound and feel of a bass drop into an image, it would no doubt look like the art of Luis Colindres. You can't look at this Chicago artist's work without immediately getting a mental injection of music festival and rave-worthy vibes. His psychedelic style was most recently noticed by EDM artist REZZ, who hired Colindres to create everything from her debut album art, tour posters, even a comic that he co-created to go along with her "Mass Manipulation" tour.
We talked to Luis about the horror inspiration behind his work, how he developed this trippy style, the rave gear he offers in his Artist Shop and, of course, about what he listens to when he's getting into the zone.
. . .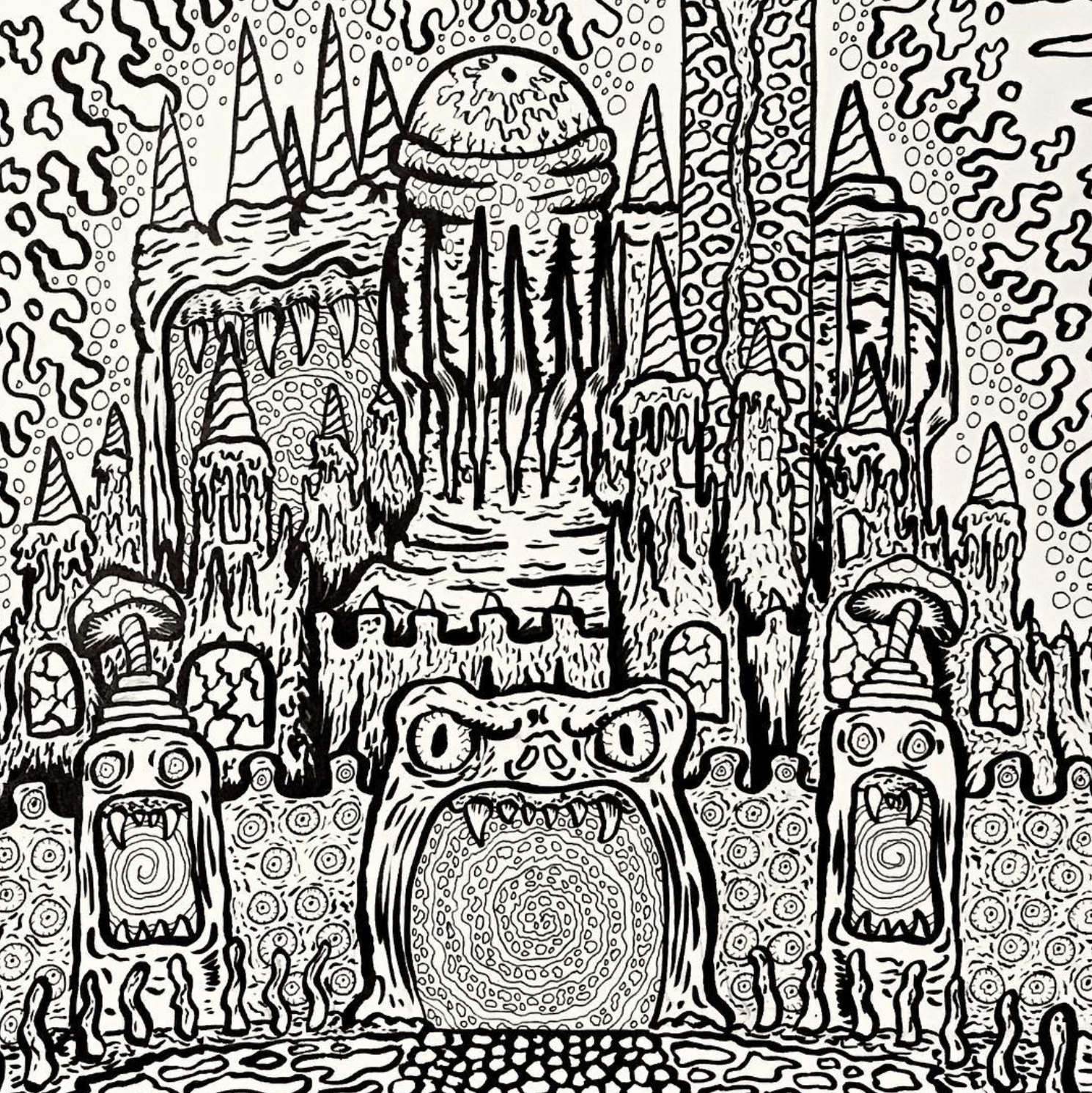 First things first, tell us a little bit about yourself! Favorite horror movie? Favorite EDM artist(s)?
Hi! My name is Luis Colindres and I was born and raised in Chicago, IL. My art style consists of fluid linework, psychedelic patterns, and vibrant colors mostly dealing with horror-esque themes. I have tons of favorite horror movies, but the two I tend to go to the most is the original Evil Dead and Blair Witch Project. My all-time favorite movies in general are Jurassic Park and Lord of the Rings! My favorite EDM artists are The Glitch Mob, Zhu, Knife Party, and of course, REZZ. My all-time favorite song is "One More Time" by Daft Punk. On my free time, I enjoy playing Rocket League on PS4 and patiently wait for the next Naughty Dog release.
A fellow Chicagoan! How's the art scene in Chicago for freelance illustrators?
Yes! Chicago is great because there is so much inspiration and galleries happening all the time. Plus, because I went to Columbia College Chicago, I can go to the Art Institute for free! We also have the Museum of Contemporary Art. They recently had the Takashi Murakami exhibition, which has been by far my favorite art show! He is also one of my favorite visual artists.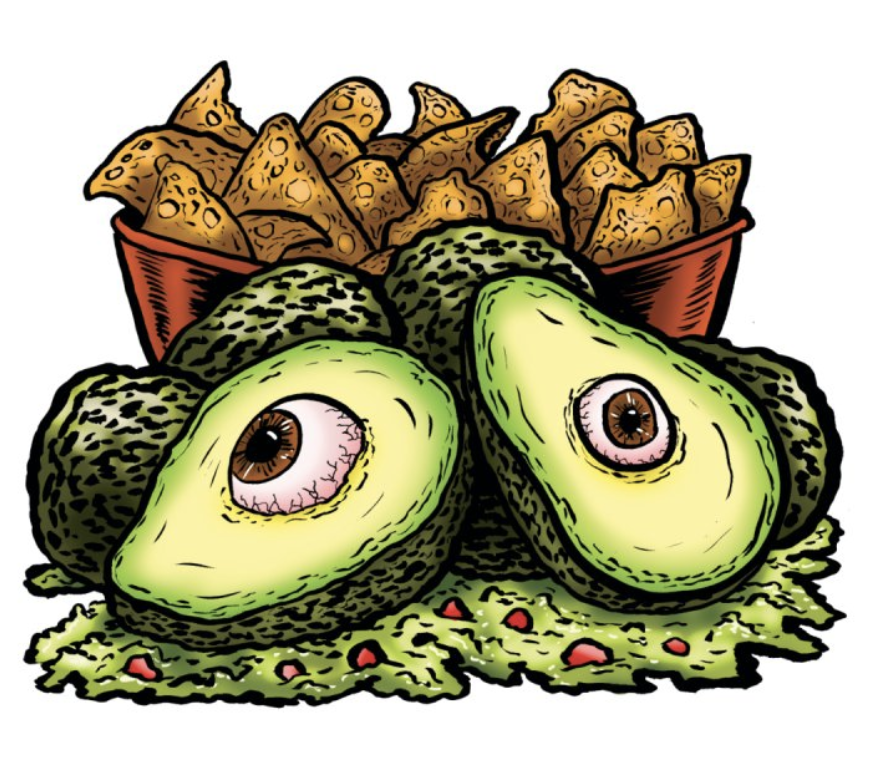 You have such a unique style! Your About page says you focus on fluid line work and psychedelic patterns – what first got you interested in playing around with this style?
Thank you! Towards the end of my college career at Columbia, I discovered a brush pen and have stuck to it ever since. I feel like the brush pen gives me so much rhythm and unique weights to my linework. I can make all the lines I want with it, whether they're thick strokes or tiny details. I was really inspired by comic book artists who have very fluid strokes when they draw their characters and I wanted to add that element to my own art. The psychedelic patterns came from the EDM scene with all the lights and vibrant colors I've experienced going to shows and listening to the music. My artwork itself started to get more vibrant when I started illustrating for music.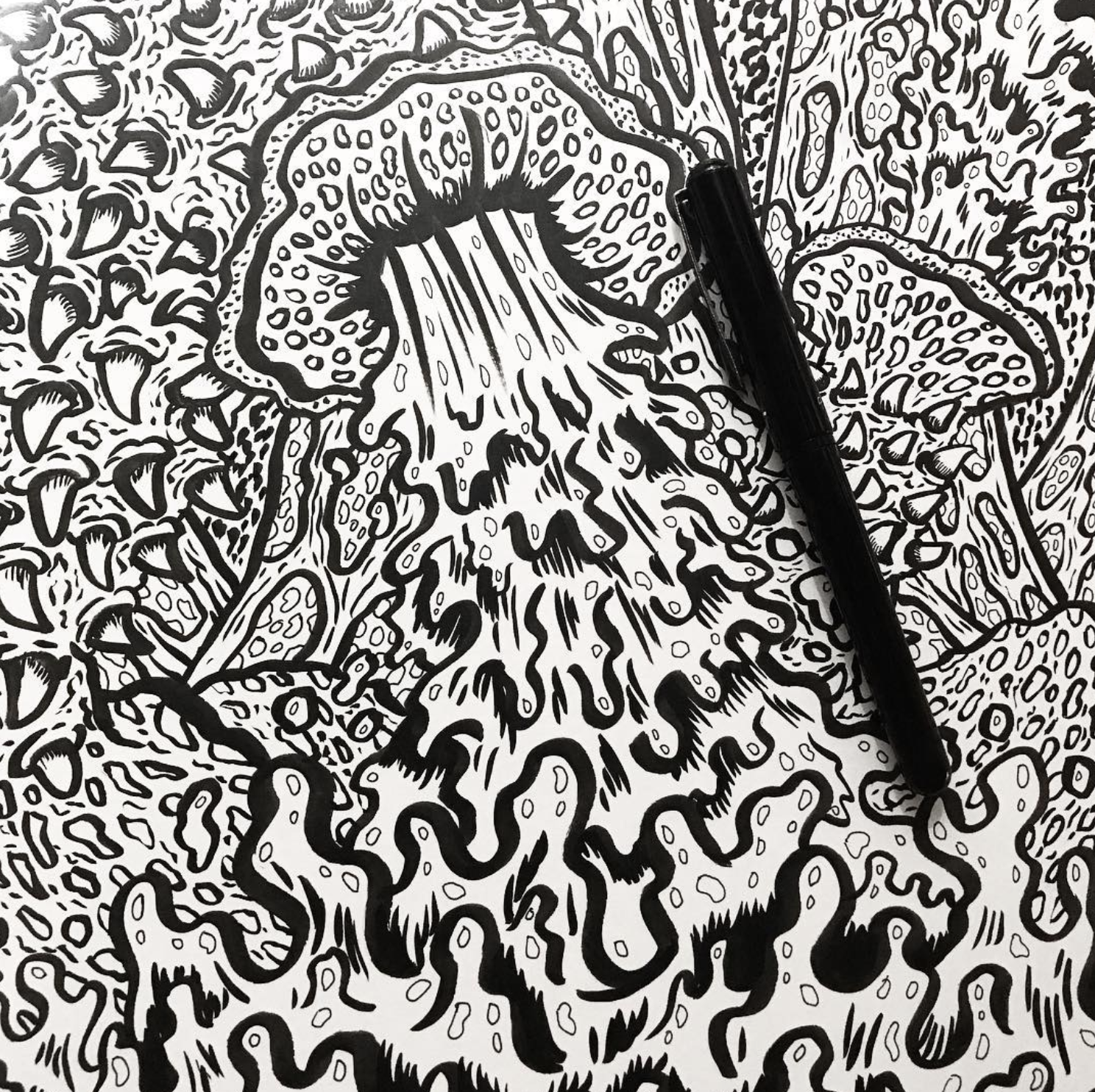 What artists are you influenced by?
I adore Takashi Murakami and it was an incredible experience seeing his work here in Chicago over the summer. He definitely changed the game in modern art with his psychedelic visuals. The cover art he made for Kanye West's Graduation is like the holy grail to me. I also love Robisrael on Instagram. I obsess over his pieces where he takes pop culture characters and completely grosses them out! Lastly, there is a poster artist named Dan Mumford and his linework is absolutely insane. I aspire to be as good as him!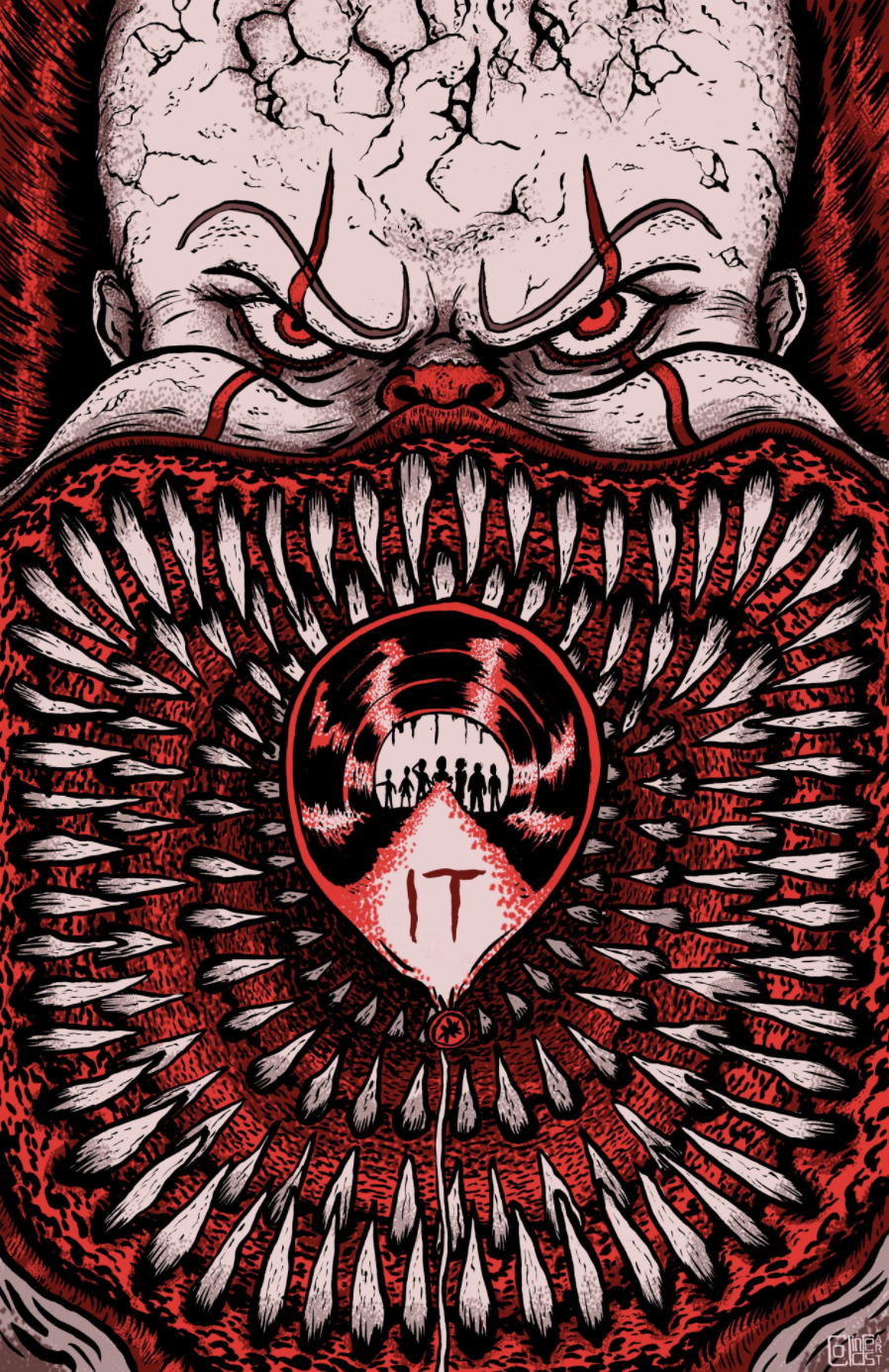 A lot of your work has a horror element to it – is the horror genre a big influence on you? What horror films/stories have had the greatest impact on you?
Yes, I love all things horror! I love watching horror movies (even the bad ones as a guilty pleasure) and going to haunted houses during Halloween. I think it all originated when I was very young and went on road trips with my parents to Niagara Falls every year. On the Canadian side, there's a place called Clifton Hill and they have year-long haunted houses! One time we went during the Christmas season and you would see a Frankenstein with a Santa Claus. Going there was something I looked forward to every year and all the horror visuals they had stuck with me. I think that might be why I now draw "scary" things in my art even though it's all bright and colorful; because, to me, horror is fun, not scary.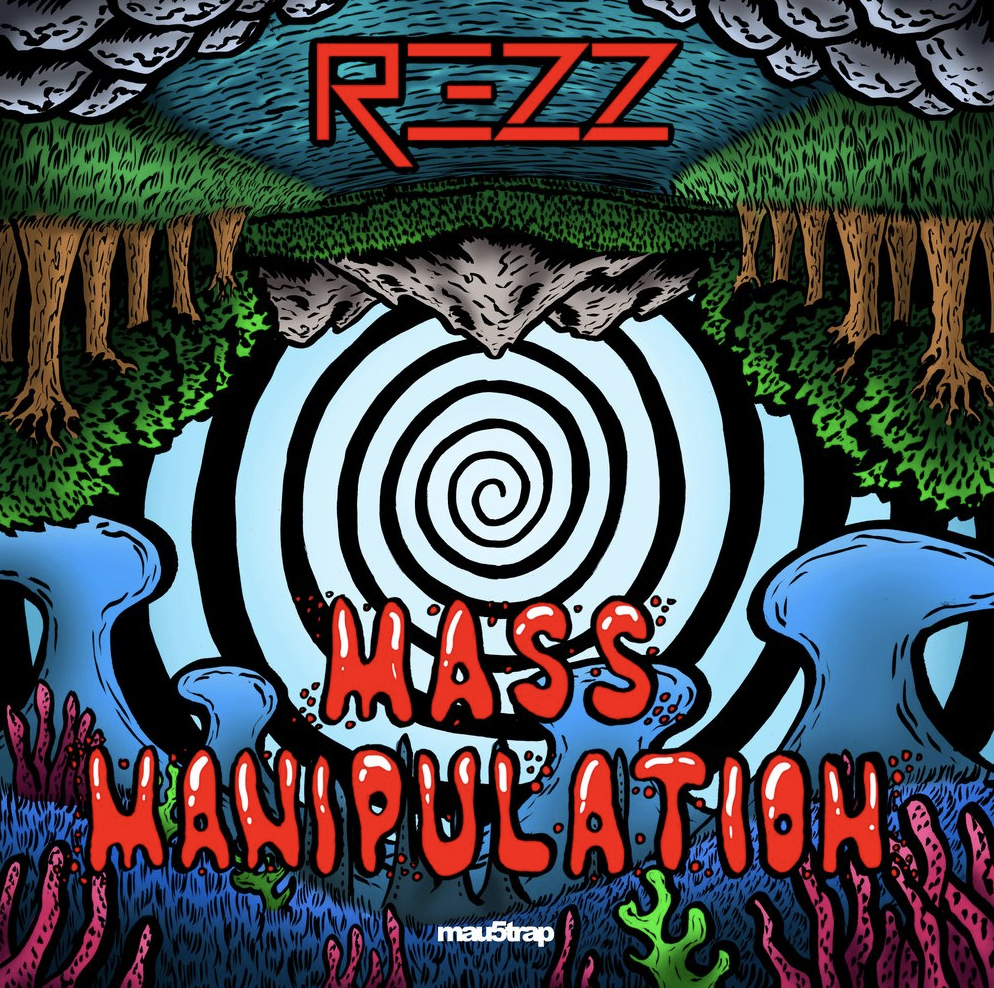 You recently did some awesome art for REZZ! How did this collaboration come about?
In the summer of 2016, I was able to contact one of her managers and asked if I can do artwork for REZZ. They looked through my portfolio and liked what they saw, so the first thing I did for her was the cover art for her free single "Alien." Ever since "Alien", she's been contacting me to do all her major releases like the Something Wrong Here EP and her debut album, Mass Manipulation, along with all additional assets like the tour posters, social media banners, and a billboard in Los Angeles! We even collaborated on a comic book, which I co-wrote with her and did all the illustrations. I'm incredibly grateful that we have a great work relationship and she truly is an awesome and genuine person.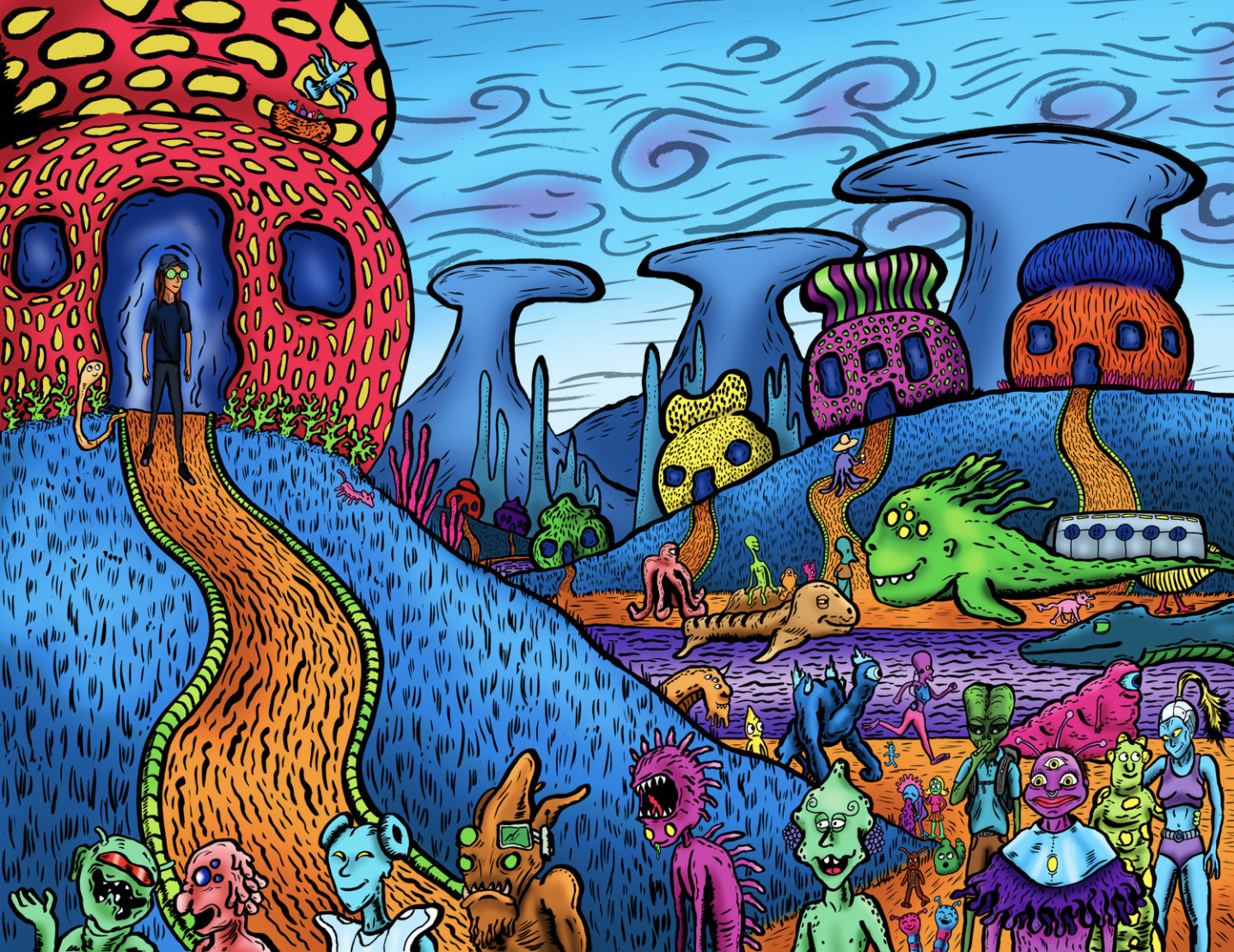 Is EDM and the visual art that often goes along with the music a big influence on your style?
You nailed it! Yes it is, as I ironically mentioned earlier. I love the colors at EDM festivals, the art that accompanies the stages, and even the fans who dress up in their own unique ways. There's so much self-expression in the EDM community. A lot of my horror pieces aren't really meant to scare audiences, I just see it as another perspective of looking at things. The music itself gives me a lot of inspiration as well. Well, music in general, but especially EDM because that's my favorite genre and I associate the visuals from the festivals by default haha.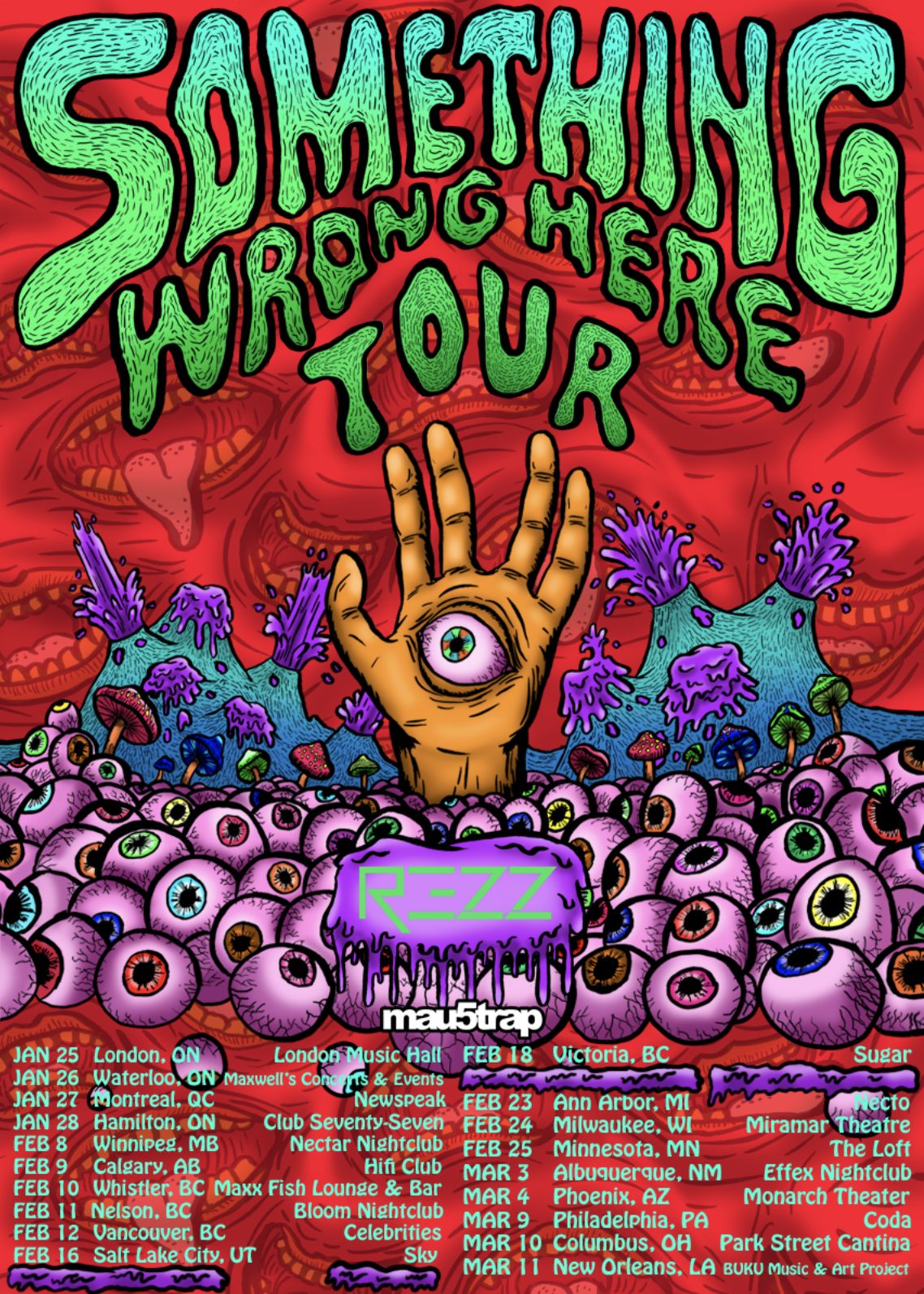 Tell us a little bit about your Artist Shop! Is there a theme to the designs you offer in your shop?
I always thought it would be fun to make "rave gear" and I feel like Threadless gives me the platform to make that happen. The designs stick to my usual style but are simpler in the sense that they're illustrations with no background. Now that my shop is live though, I want to start making work specifically for apparel along with adding more of a narrative to them.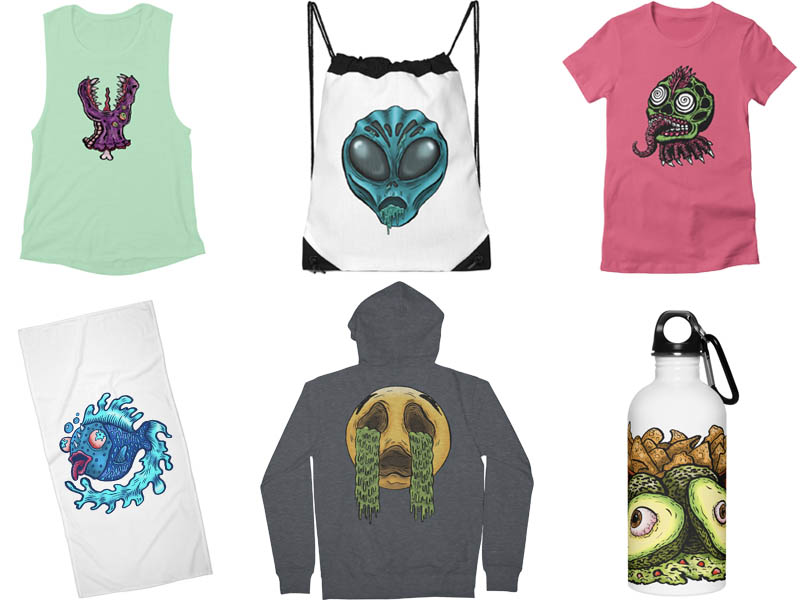 Have you offered your art on apparel and accessories before?
I have for a short period of time when I worked with a small apparel company earlier this year. However, the difference with them was that their clients asked for specific visuals whereas here, I can make my own work.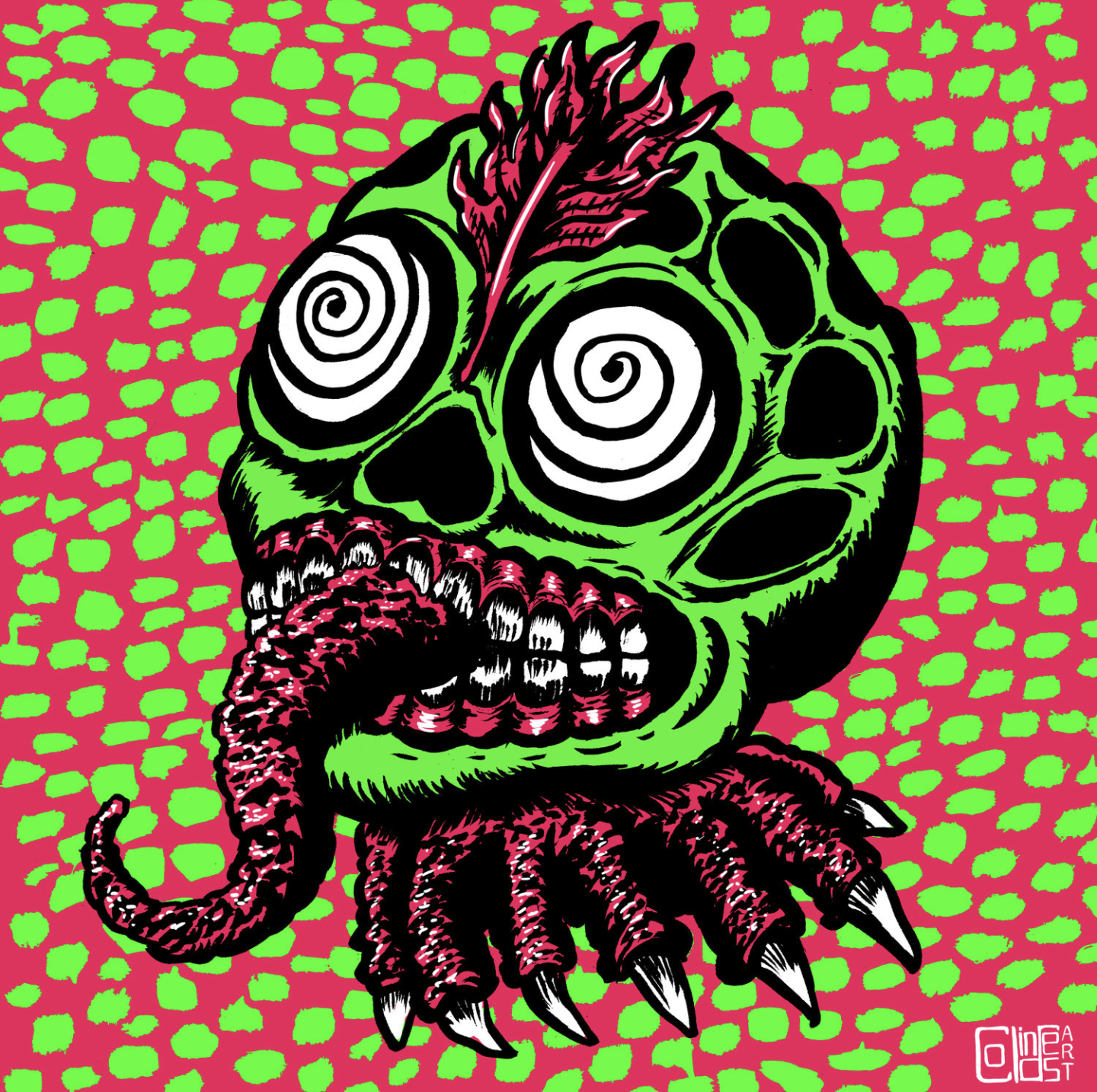 What's an example of an EDM playlist you typically put on while you're doing art?
The playlist varies depending on what kind of project I'm doing. For example, if I were doing something that is a little more lighthearted, I would put on my tropical house playlist! If it's something that deals with monsters or something grotesque, I headbang to my dubstep or trap playlists. But for the most part, I just play a playlist that has a little of everything, along with songs that aren't EDM. If I'm working on something tedious late at night, I play more calming music like Chromatics, Daft Punk, or Zhu.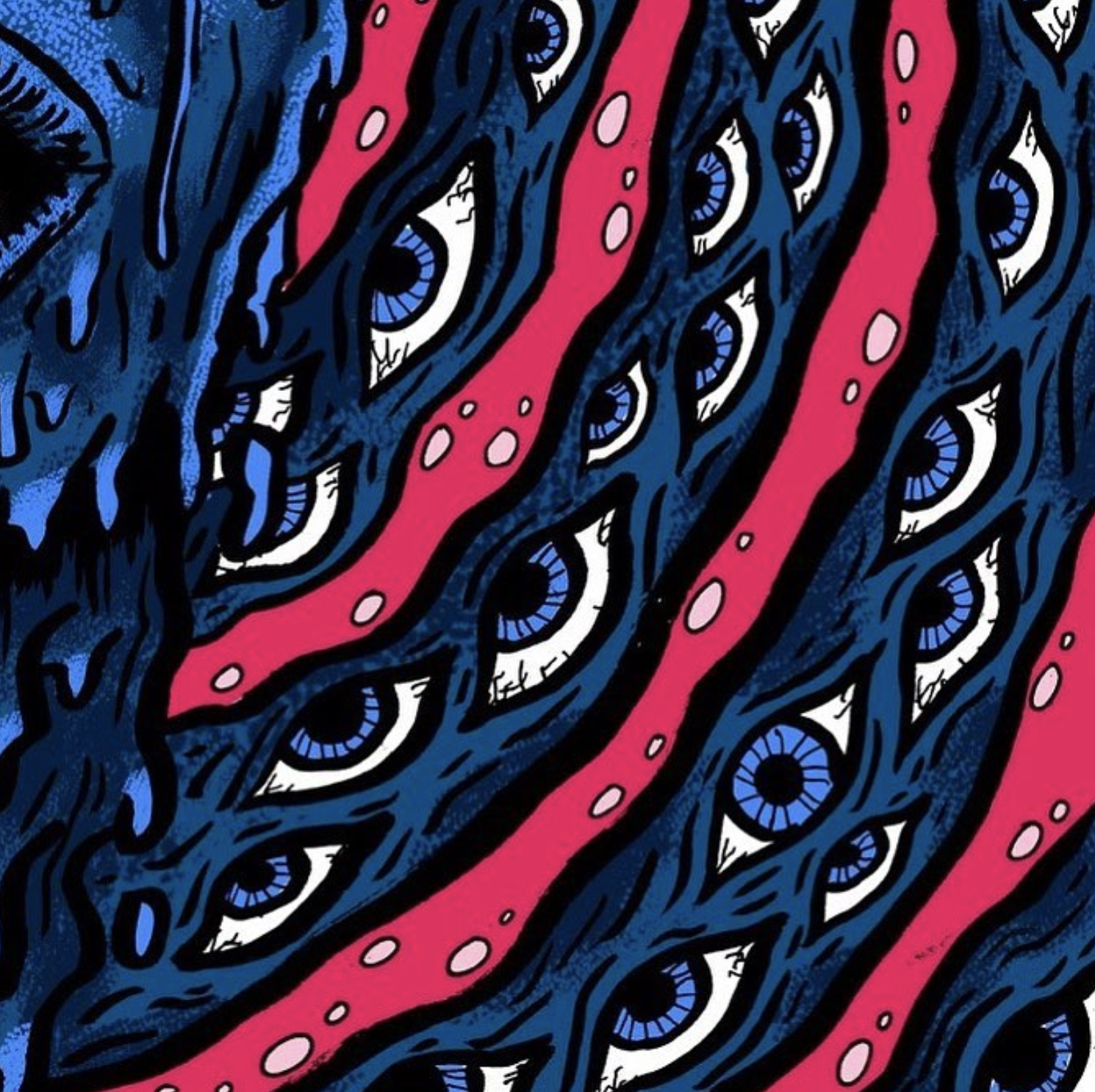 What's your artistic philosophy?
I just want to make artwork that people can enjoy as much as I enjoy making it. I also want to show them a different perspective on horror that can be fun and vibrant rather than scary and dark. Don't get me wrong, I still occasionally make work that is meant to scare you, but I like to do both scary and nice!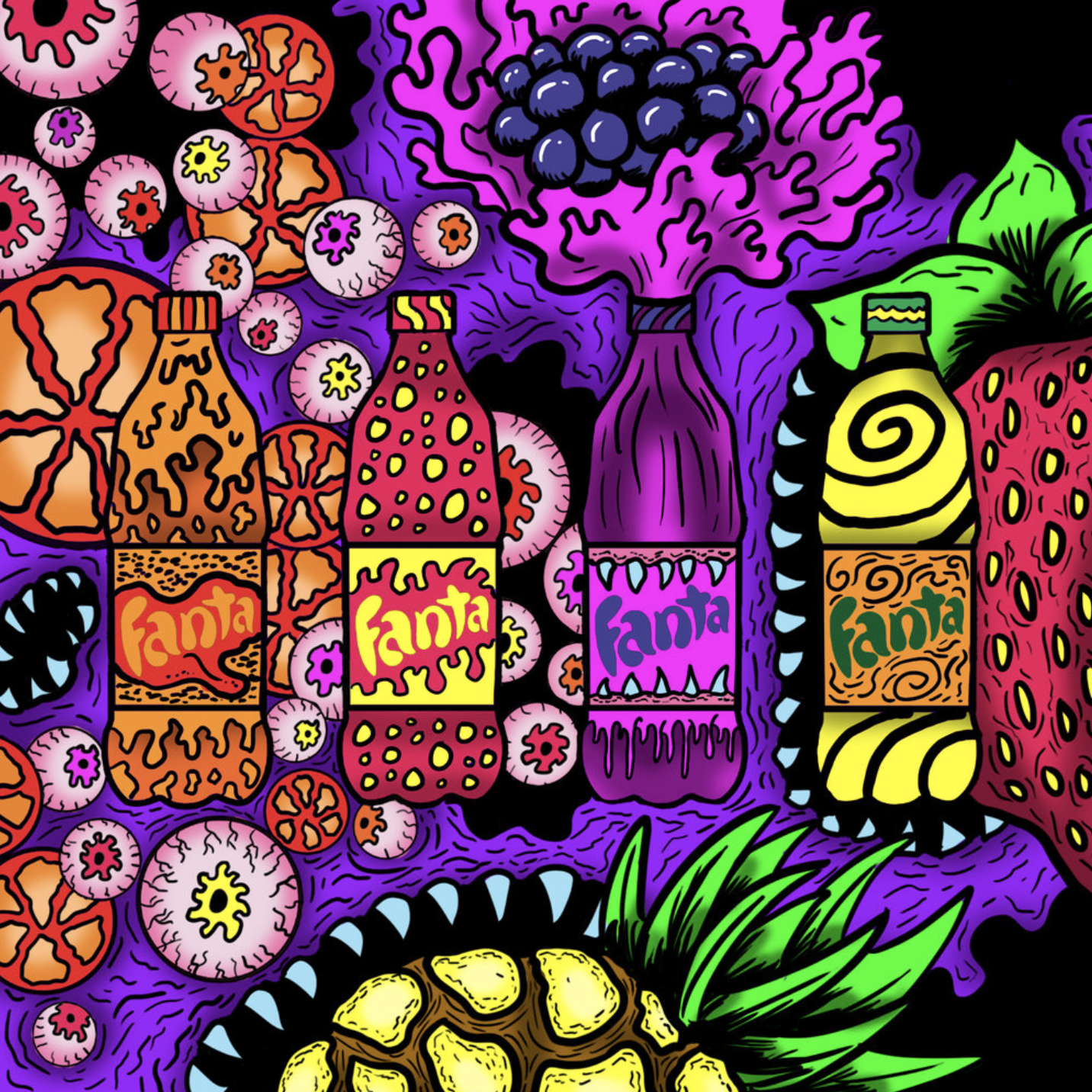 Anything else you'd like to share?
Catch me at the next EDM show in Chicago or the next horror movie premiere!
Don't have an Artist shop? Click here!