We've got exciting news today: our awesome Big Hero 6 designs have arrived from our Big Hero 6 design challenge! Before you check them out, word of warning: you'll need to prepare yourself for mind-blowing awesomeness. In fact, they're so awesome, that we're asking the community help us choose the winner! We've got 15 designs contending for the grand prize, and to help you determine your favorites, we've asked the artists to name the inspiration behind their design as well as why it deserves the victory. Read on to find out their answers, and don't forget to snag their tees (and share your faves like crazy!) here!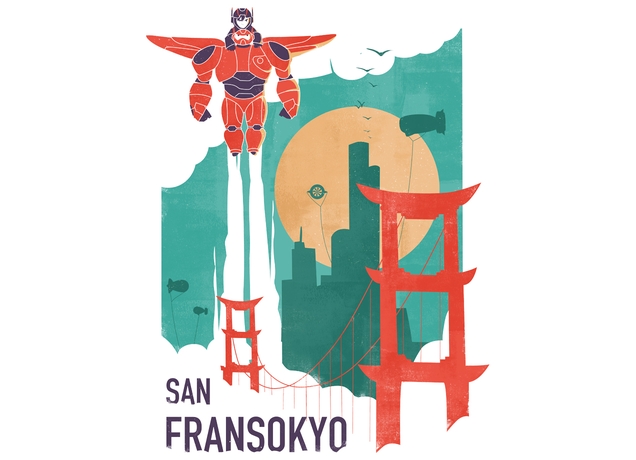 "I didn't know much about the movie pre-release, and wasn't familiar with the comic. I did some research and looked at concept art; much of it featured the city of "San Fransokyo", and it blew me away. The setting was completely charming; a mix of two different cities and cultures that came together as a unique and beautiful whole. I wanted to capture that in my design, but was also limited by the amount of detail that works best for a tee and the fact that I definitely wanted to include the main characters. I think my final design is a winner because of the solid composition, colors, and the way it all comes together, with both main characters against the backdrop of the city (another main character, in a sense)." – "San Fransokyo" artist Jay Fleck, from Shorewood, IL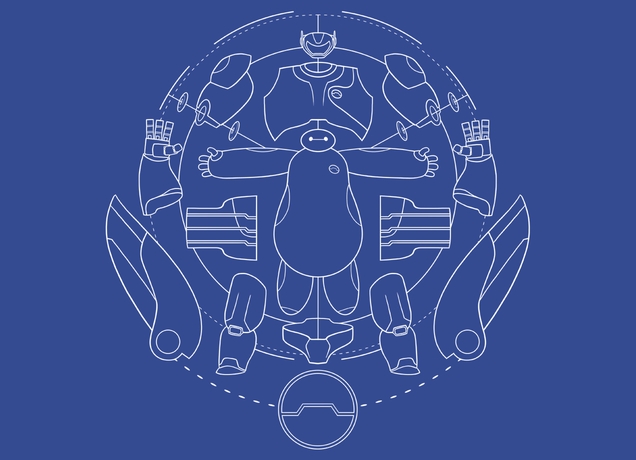 "My design is inspired by the theme of innovation and creativity running through the film. I decided to present Baymax as a blueprint, given that he is a work-in-progress prototype. There's something about blueprints that I find aspirational; they outline the ideal version of the thing you want to make. To ram this concept home, I arranged his component parts in a crest-like manner meant to honour both Tadashi's achievement in building a revolutionary healthcare robot and Baymax's success as a hero, selflessly helping those in need." – "Baymax Blueprint" artist Joe Wright, from Macclesfield, Cheshire, United Kingdom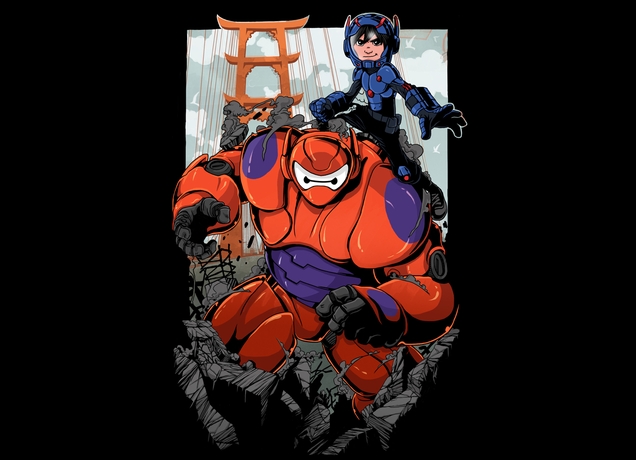 "My inspiration for creating my Big Hero 6 design came from my 2-year-old son. He really loves Baymax. I don't know what's up with Baymax, but my son's obsessed with that big, fat, fluffy robot. He saw the movie like a trillion times already, so I came up with a design focusing on Baymax, and how he's both strong and cute at the same time. As for deserving the win, I put all my time and energy in it, and I believe it looks great. My son loves it also, but the most important reason for why I should win the contest is because I enjoyed every second doing it." – "Heroes in Action" artist Daryll Garcia, from Cebu City, Philippines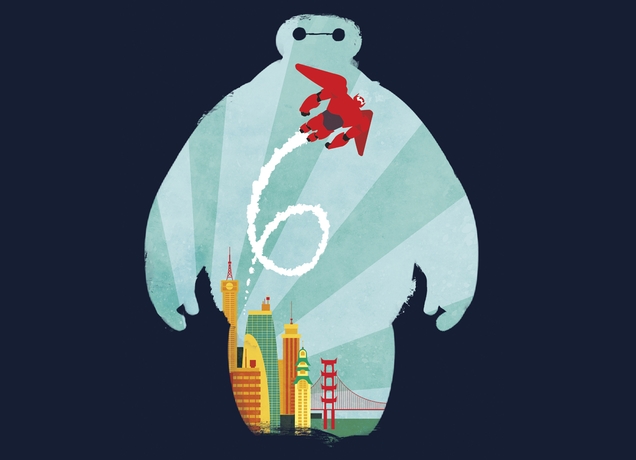 "I wanted to show the transformation between big, squidgy Baymax and the armor-plated badass he becomes. And I also felt it was really important to get the look of San Fransokyo in there too, as it looked just stunning in the film. I think it deserves to win the prize as I, too, want to form a bond with a high-tech medical robot and I need the money to upgrade my creation as it's currently just a balloon with googly eyes. More than anything though, I would absolutely love to have a piece of artwork from the movie." – "Baymax Soars" artist Michael Buxton, from Kettering, Northamptonshire, United Kingdom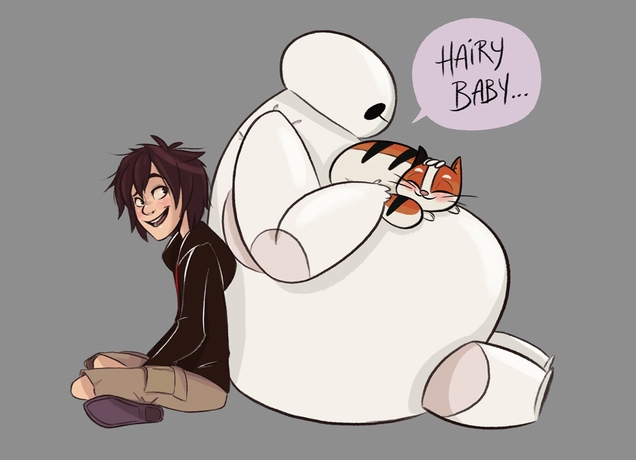 "Truth be told and as cliche as it sounds, I've always been a huge Disney fan. My style, illustrations, and animations are heavily inspired by Disney, and when I heard that they were in production for Big Hero 6, I was overjoyed! Before the movie came to theaters, I saw a little clip of the trailer online, and that's when it hit me: "Hairy Baby"! I found that scene utterly adorable and sweet, and it stuck. it showed how Baymax can not only be an awesome superhero, but also caring and gentle towards little creatures, and it inspired me to draw the scene. I myself could relate to it, and it makes me smile and melts my heart. Even in the theater, I could hear the whole cinema exchanging giggles and "awe's". Looking at it from a new angle, I wanted to make a shirt with a simple, sweet design that could emulate that warm fuzzy feeling inside. This is why I feel that it deserves a chance to win the Big Hero 6 design challenge! :)" – "Hairy Baby" artist Samantha Germaine Sim, from Singapore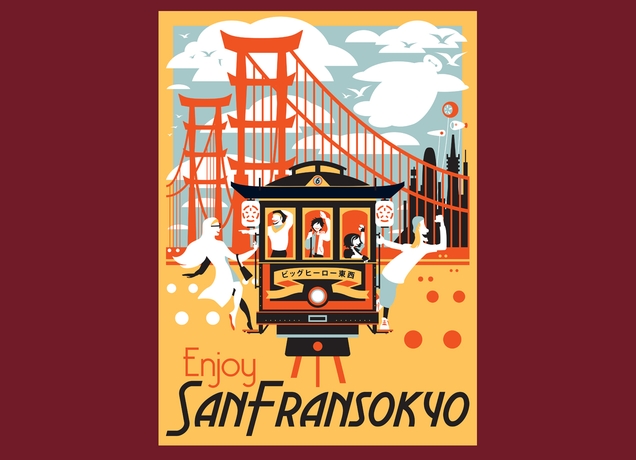 "In a rare and unusual film occasion for me, I had to explore and discover as much as I could about Big Hero 6 before seeing the film itself. I had fallen in love with the movie, even before experiencing it in theaters! It's an inspirational film for many reasons. When researching the making of the movie, I was intrigued by the filmmakers' decision to create an entirely new city called San Fransokyo as the setting of the film. I was very impressed to discover how the city was so vast, intricate, and alive! I believed that San Fransokyo was a real place worth booking a flight to! It was also satisfying to discover how the ideas of family, friendship, and teamwork were going to be an important part of the film. To later see all of that depicted in a diverse and a lovable circle of characters was even more satisfying. For the design challenge, I wanted to create something that really represented the film. I explored the idea of all of us having a special place to go; a place where you can be among friends and family – your squad of heroes. Even when certain friends are not there to give you a hug, you know that they were wishing to hug you. A place where you can be "satisfied with your care." Your own city to, well… ENJOY!" – "Enjoy San Fransokyo" artist John (Viet Triet) Hoa Nguyen, from Fountain Valley, CA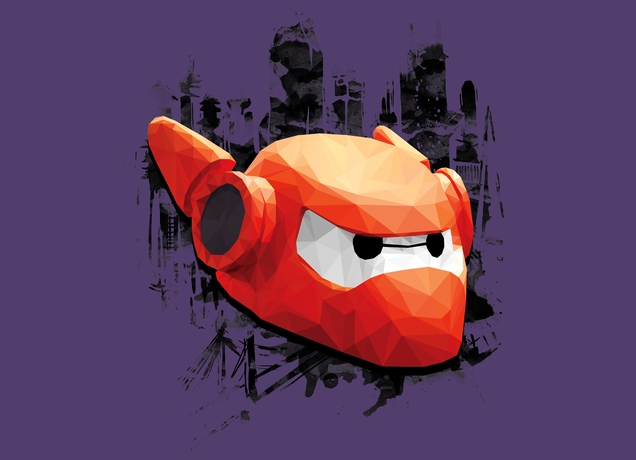 "My design was inspired by the fusion of San Francisco and Tokyo for the city's name: San Fransokyo. I also tried to mix two styles, with the polygons and the watercolor. I think my design deserves to win because it jumps out from the rest of the designs, feautring a unique style that nobody else is using in the contest, and it's a design that can be easily enjoyed by kids and adults alike because of the fusion of styles." – "Hero of San Fransokyo" artist Karlos Maldonado, from Puebla, Mexico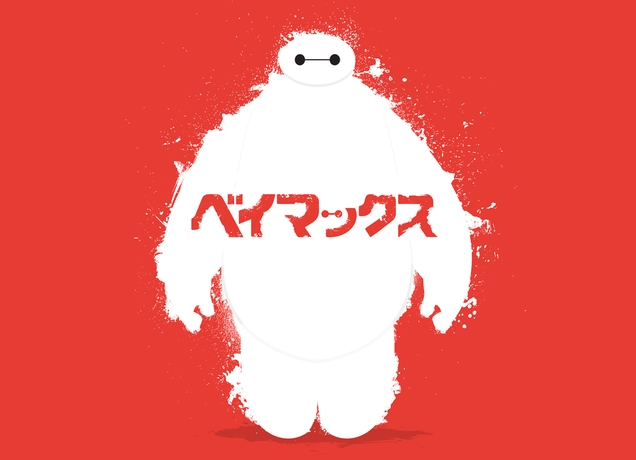 "When I saw the announcement for the Big Hero 6 Threadless competition, I started researching the origins of the film and learned that It had been inspired from Marvel's comic of the same name. I extensively read about both Disney's animated film and Marvel's comic book team. Big Hero 6 is, in my opinion, a fusion between western comics and Japanese anime. I grew up reading and watching both these cultures and I tried to capture this fusion in my design. I also tried to capture the duality of Baymax, being loving and powerful at the same time. I think my artwork deserves to win because it wasn't as easy as it appears. It is the outcome of very deep thinking and consideration as well as hard work. It also represents very well, in my opinion, the comic and the movie." – "Big Hero 6 Ink" artist Sedki Al lmam, from Uppsala, Sweden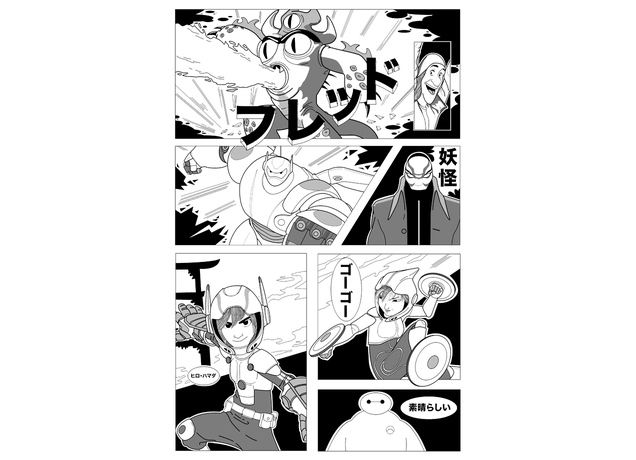 "The inspiration for my design came from Manga books. I noticed that Big Hero 6 had a lot of Japanese influences in the story and design, so I tried to make it very similar to a Manga strip. I don't know if it deserves to win, from what I've seen in this competition there are a lot of good designs. So far, simply being one of the chosen is already an honour." – "Big Manga 6" artist Tiago Lopes da Conceicao, from Lisbon, Portugal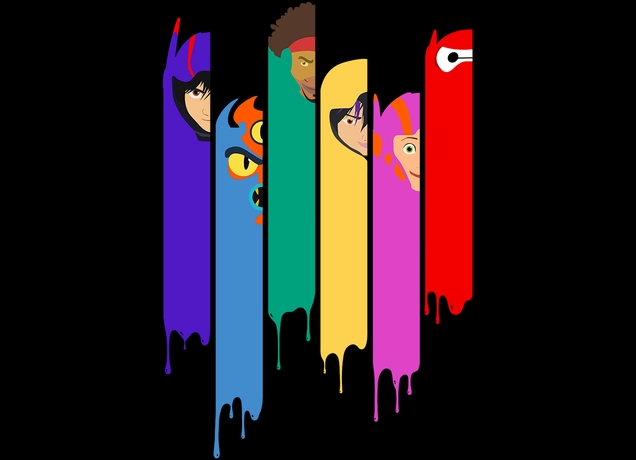 "Many creations have inspired me. When the challenge began, I looked at other designs that were on Behance and Abduzeedo for inspiration. I wanted to represent all the characters of the movie in a fun way, and the idea for this design finally came after awhile. I think this illustration deserves to win because it shows all six main characters. The movie is Big Hero 6, so it's a team! It's also a very simple and colourful composition. I am already super proud and happy that my design has been selected by Threadless, for me it does not matter if I win the challenge or not. But if I do, I will be the happiest man in the world!" – "The 6 Heroes Flow!" artist Missaire Julien, from Fexhe-slins, Liège, Belgium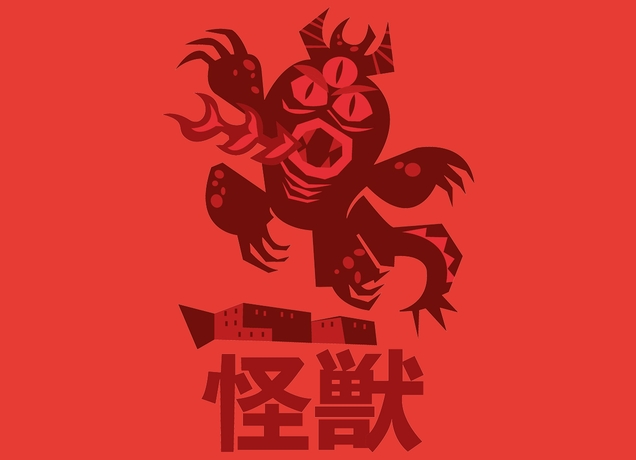 "My design was inspired immediately upon watching Big Hero 6. The second Fred came on screen, I thought to myself, "I need that shirt!" Fast forward to discovering the Threadless design challenge for the movie, and at that point, I still had not seen the shirt anywhere. Being a fairly impatient guy, I couldn't wait any longer for a retailer to make Fred's shirt, so I decided to make it myself! Why does it deserve to win the challenge? Because Fred is the leader of the group! After all, they are called Fred's Angels. . ." – "Super Jump" artist Will Guy, from New City, NY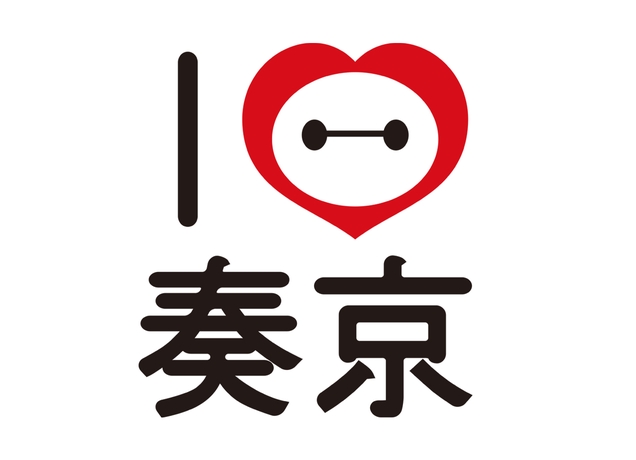 "I became a big fan of San Fransokyo after seeing Big Hero 6. Because I live in Tokyo, I feel very close to the city based on San Francisco and Tokyo. I want to visit there and meet Baymax and the big heroes and enjoy sightseeing, buying souvenirs, and more… so, this tee's concept is a souvenir of San Fransokyo. Don't you think it's a hot item at the gift shops? Many people might have seen a similar tee and I suppose some people feel familiar with this tee. I think that's why this tee should be chosen. I want you to feel as if you have traveled to San Fransokyo when you wear it." – "I Love San Fransokyo" artist sai_yasai, from Tokyo, Japan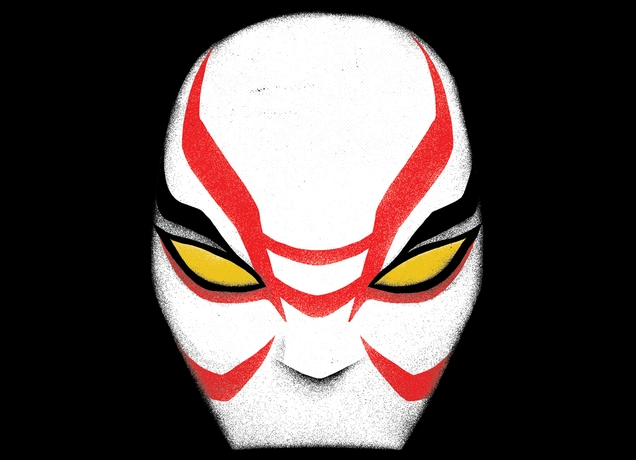 "I was a big fan of Disney's design for Yokai and the entire aesthetic of the movie. I thought the mask lent itself very well to a nice simple design, and the airbrushed look was inspired directly by the nanomachines he uses in the movie to create trouble for our heroes. It's the villains that make the heroes, and I think some spotlight needed to be shined on such a menacing looking character." – "Yokai" artist Luis Romero, from Chicago, IL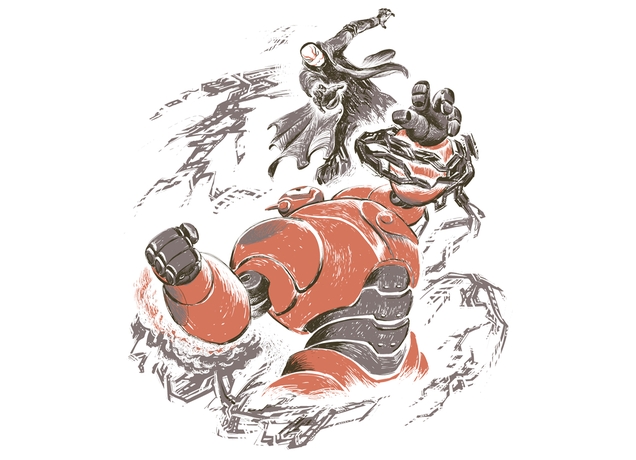 "When I learned that Big Hero 6 would be featuring the synthesized city of San Fransokyo, I was excited to portray an image as uniquely inspired as the story itself. My concept: Create a dynamic comic-book composition with the influence of traditional Japanese wood-block printing. I feel that my design successfully evokes a dramatic narrative that is hallmark to Disney storytelling and a reverence for Japanese culture, which I personally identify with. Having grown up overseas in Japan, I hope my piece resonates with others in the same way the film did with me." – "Bot Fight" artist Nick Danzi, from Virginia Beach, VA
Shop Big Hero 6 designs here!