Pizza, ice cream, tacos, coffee. What's the only (and we mean ONLY) thing that could make these already perfect things better? BUTTS. And Brian Cook – the artist with the cheekiest sense of humor – is making it happen. He's been doing his art series #ButtsOnThings – the butt version of "put a bird on it", if you will – for two years now with designs that are equal parts hilarious, adorable, and downright fun. And now that he's become one of our four Artist Shops Accelerator selectees, we're gonna be seeing a lot more butts on everyday things.
We talked to Brian about the 'assthetic' of his work, the mini screenprinting business he started called Teeny Press, and all about what's next for him.
.     .     .
Hey there! Tell us a little bit about yourself!
I grew up in a small town in the frozen tundra of West Michigan. I liked artwork from a very young age. My parents were SUPER supportive. Comic books and comic strips were how I learned to read. My favorites were Calvin and Hobbes and Uncle Scrooge (anything by Don Rosa or Carl Barks!). I spent all my free time drawing – all my notebooks from school were filled with doodles. I got my first professional job as an artist doing caricatures for Remax Realty when I was a Sophomore in high school (one of my art teachers – Mr. Slachta – recommended me).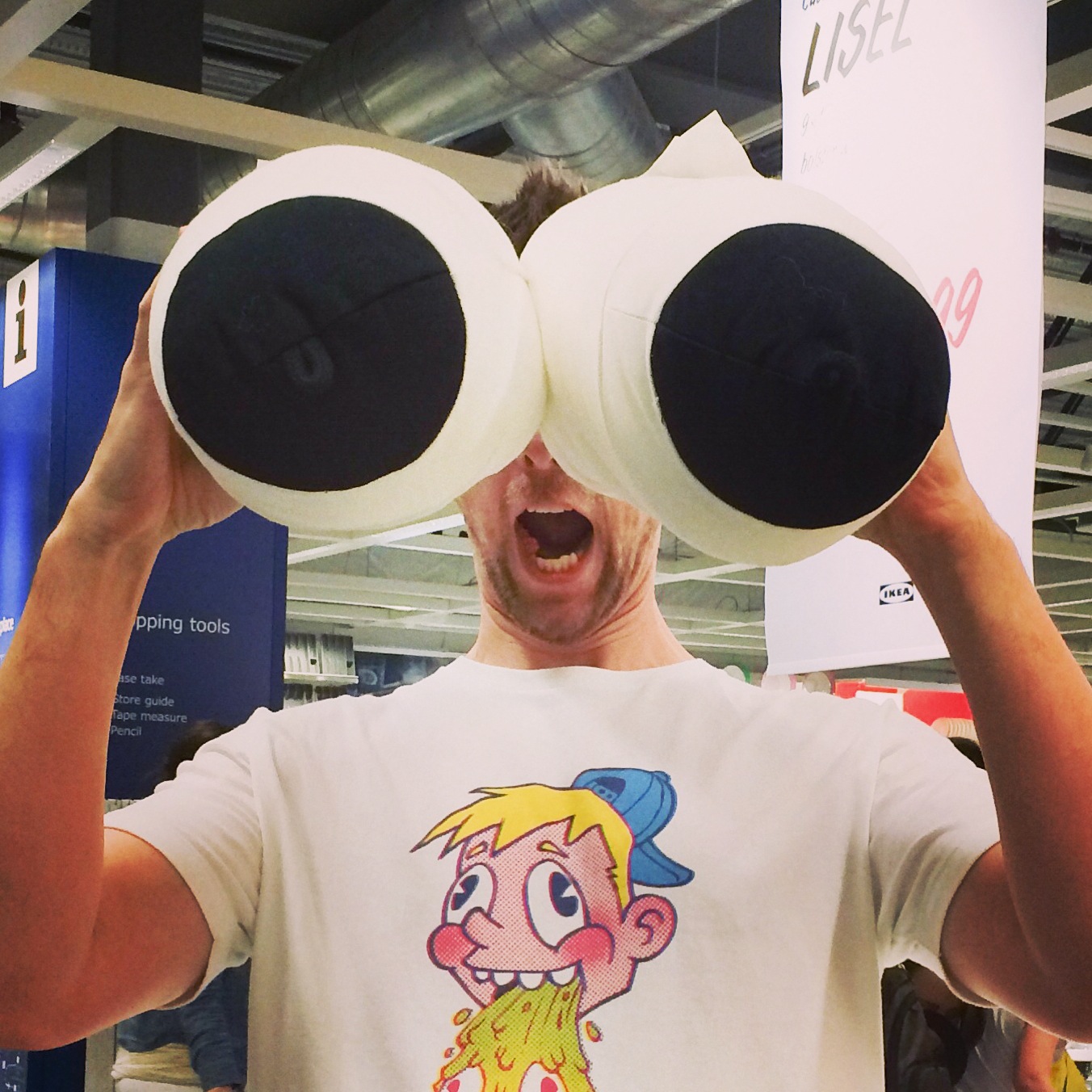 I always knew I wanted to go into art; I took every art class in high school and then applied to art and design schools. I got a degree from Kendall College of Art and Design and then a master's in Illustration from Savannah College of Art and Design. I paid my way through school doing freelance work and illustrating for Wireman Comics. At the same time, I started submitting t-shirt ideas to Threadless. I got involved in the forums here and met soooo many talented artists and designers all over the world that I still keep in touch with. It challenged me and pushed me to keep making art outside of my regular freelance work.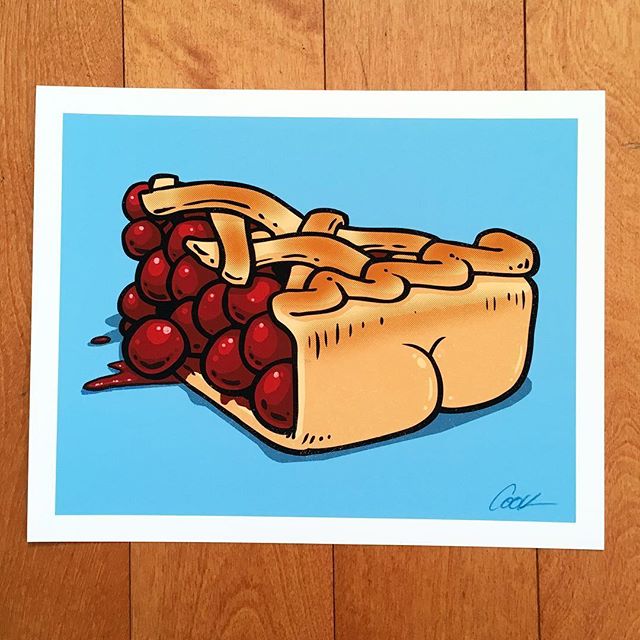 More clients and companies started contacting me after seeing my work on Threadless, and my business grew from there. I'm definitely a workaholic when it comes to art. There's always a new stupid idea popping into my head that I have to get out on paper. I've always known that art was what I wanted to do and I've been blessed to have so many opportunities come my way.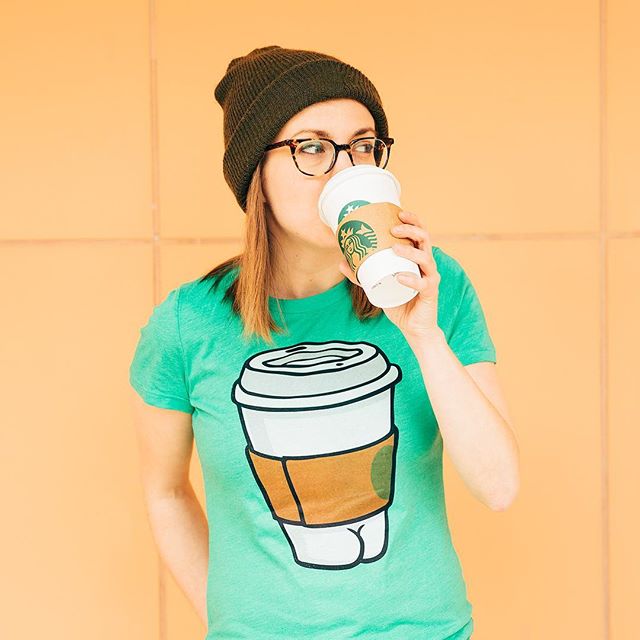 I just gotta dive right in and ask: how did #ButtsOnThings start?
I do little warm-up doodles sometimes just for fun. One Friday, there was a coffee cup on my desk and I was going to draw it as a little character. I was going to make the hot sleeve a little shirt…but then I realized that was creepy because it would have a shirt but no pants…which also seemed funny to me. I did a silly little doodle of the coffee cup back with a little booty sticking out under the hot sleeve. I posted it on my Instagram and hashtagged it #buttsonthings because I thought it was funny and obvious. People loved it and I started a Friday tradition of doing a new object with a butt every week.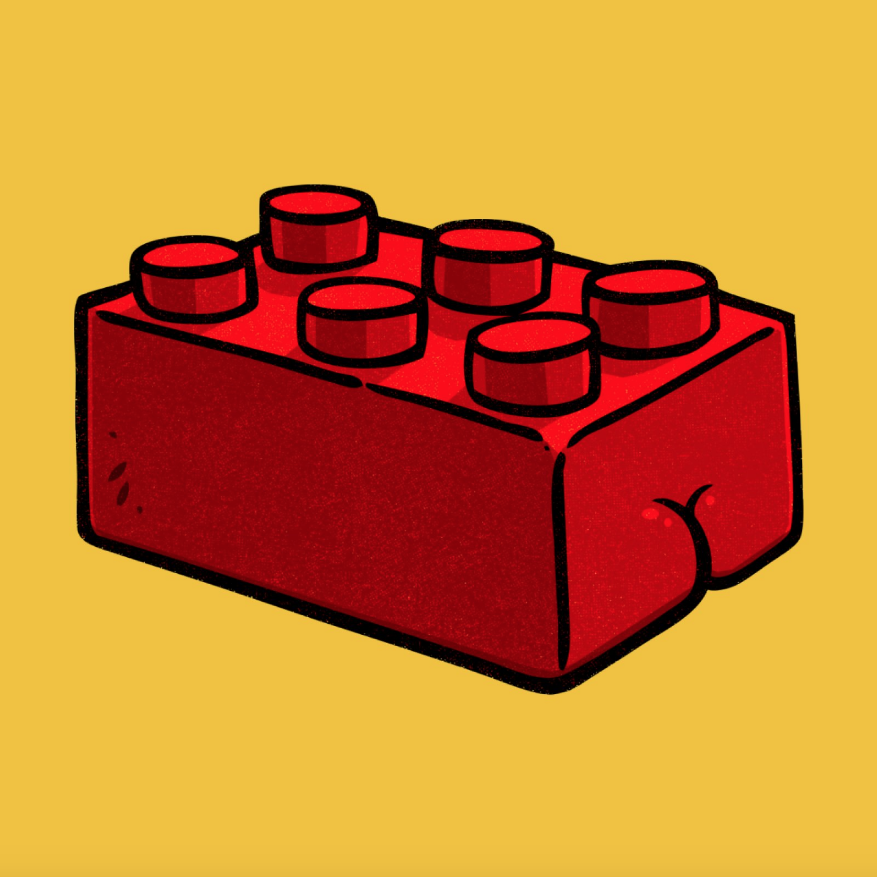 A few weeks later I drew a taco with a butt and it exploded with like 16k views, which was a ton for me. The name stuck and I have kept up with drawing a new one every single Friday ever since. It's such a silly simple idea and it always amazes me how much people like it. I mean, I think it's funny and entertaining…but people don't always share my sense of humor. When I meet people at shows some of them are SO EXCITED. It's really fun. We definitely need more smiles in the world right now, and if drawing butts on random objects makes peoples' day incrementally better I'm definitely willing to help!
We definitely need more smiles in the world right now, and if drawing butts on random objects makes peoples' day incrementally better I'm definitely willing to help!
How many things have you drawn butts on so far?
I just passed the two-year mark! As of right now, I have drawn over 120…but there are a lot more things in the world!
If you could draw a giant butt on one classic piece of art, statue, etc., which would you choose?
Oh man! There are so many good options out there I don't know what I would choose. I was joking with my sister last year and telling her that my new series was going to be called #buttsoffthings – we had a good time coming up with classic examples of butts that I would erase. One of them was Michelangelo's "David" which was pretty funny. Andy Warhol's soup cans wouldn't look too bad with some booty though…hmmmmmmmm.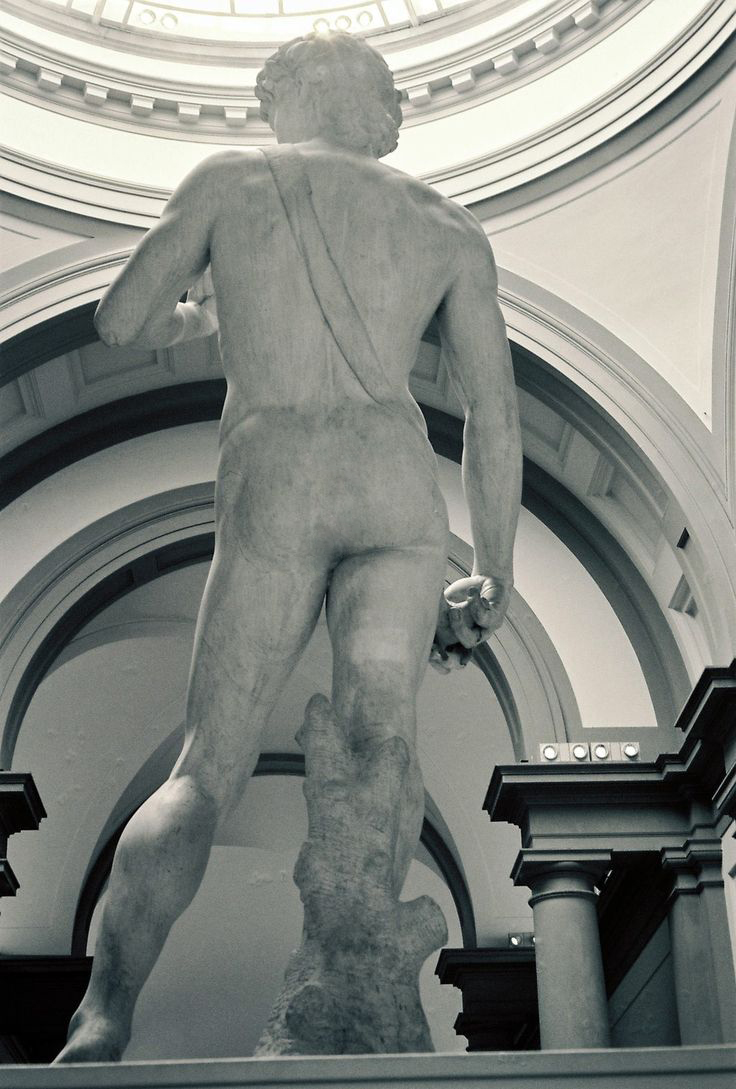 Ok, enough about butts (for now…). How did you get started in the illustration business? What were some of the challenges?
We live in a world where it is REALLY easy to get noticed. Instagram, Tumblr, Facebook. YouTube, etc. were not avenues for artists to promote themselves years ago; you used to have to submit samples to companies or hire an agent to network for you. Nowadays it is SOOO much easier and creatives have way more control. However…that also means there is a LOT of competition. So the tricky part now is standing out in a sea of other artists.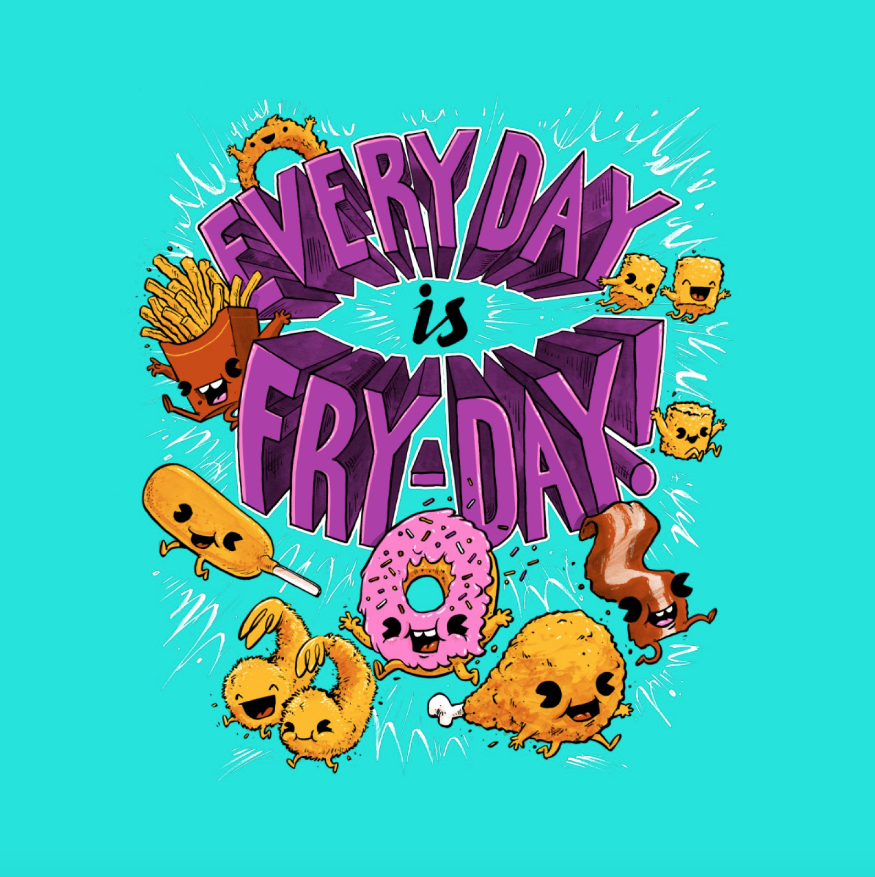 My philosophy has always been to just keep making stuff and putting it out there. I think Austin Kleon wrote this in his book Steal Like an Artist. He said you can be the most talented artist in the world, but if you don't put your artwork out there then it basically doesn't exist. It can be frustrating, but sticking with it and not letting rejection get to you definitely helps. I have three Children's book manuscripts completely sketched out that I have sent to a TON of publishers that have been rejected. Eventually, I just bypassed them and took my work to Kickstarter and got the funding myself! There are lots of people who won't like your stuff…but there are just as many who will; you just gotta be patient.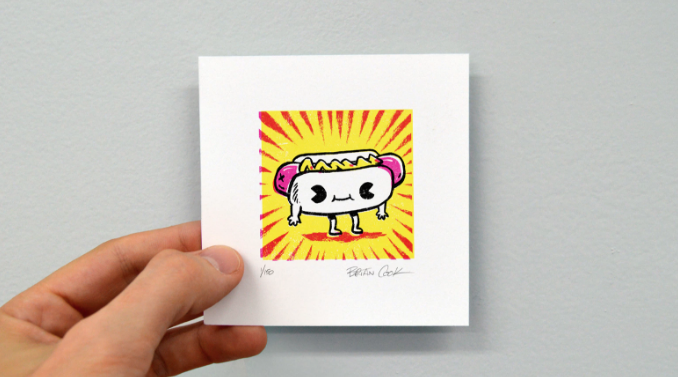 You created the tiny screenprinting business, Teeny Press! You had some amazing marketing as well as manufacturing methods for Teeny Press – what have been some of your biggest learnings from it?
I wanted to launch Teeny Press because I was tired of all digital printing. However…traditional printing is time-consuming and equipment can be expensive. So I designed a SUPER small version of a printing press and worked to develop these little original food prints that I wanted to make super affordable for people. 
It was a really fun and challenging project, but EXTREMELY intensive. Getting the press to register correctly at such a small size was very challenging and then the actual printing was very time-intensive. Each little print had 3-4 colors and I was doing editions of 150. That meant to print all original six illustrations, I had to handprint over 3,000 impressions. My wrists were destroyed by the time I was done! I learned so much about the printing process in the time I was working on Teeny Press. It was very intensive but REALLY fun to get back to some traditional art making.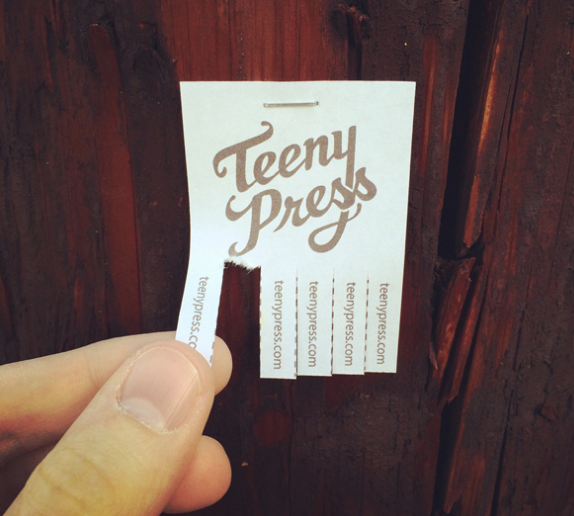 What are some of your main goals now that you've been selected for the Accelerator program! What can we look forward to seeing?
Lots of new work! One of my big goals is to focus on making new fresh artwork to continue to add to my shop on a consistent basis. I'm pausing all my other outside freelance work and focusing all my energy on making new stuff! I already have some really fun stuff in the works! In addition to the new stuff, I am planning to make some of my old out-of-print shirts from my early Threadless days available as well! I want to let people get involved early in the illustration process, too. I want to let them vote on what doodles will become finished illustrations and will make it into the shop.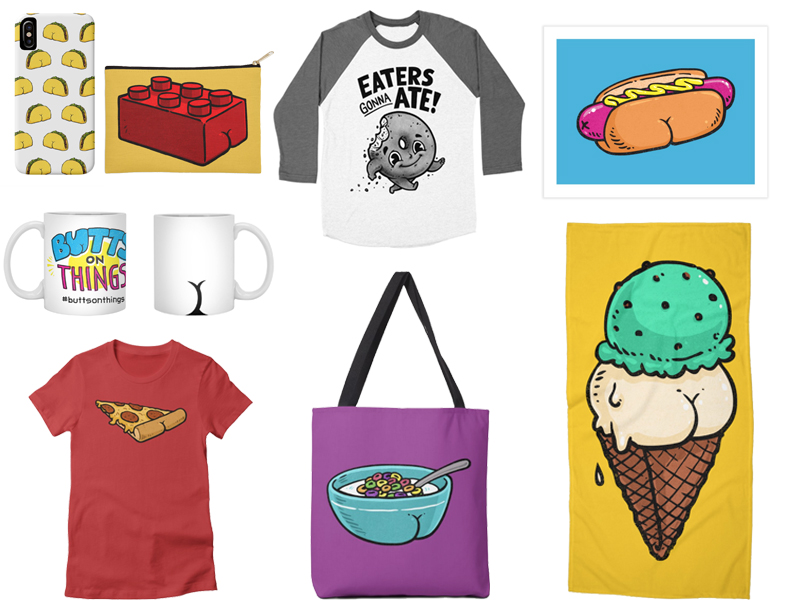 Is there something you're particularly excited about that you can try out now that you're in the Accelerator program?
I'm excited about so many things. The funds from the program are going to give me the freedom to take some fun risks in promoting my brand that I might not take otherwise. I want to sponsor some coffee shops to start giving away to-go cups with butts on them, I will be doing lots of fun giveaways for my followers, and let's face it – at some point, I think I HAVE to make a giant butt billboard somewhere. There's just no way around it, hahaha.
Who are some of your inspirations and influences as an artist?
Bill Watterson, above all. But also…Don Rosa, Carl Barks, early vintage cartoons, Looney Tunes, John K., Chris Sanders, N.C. Wyeth, and Edward Gorey.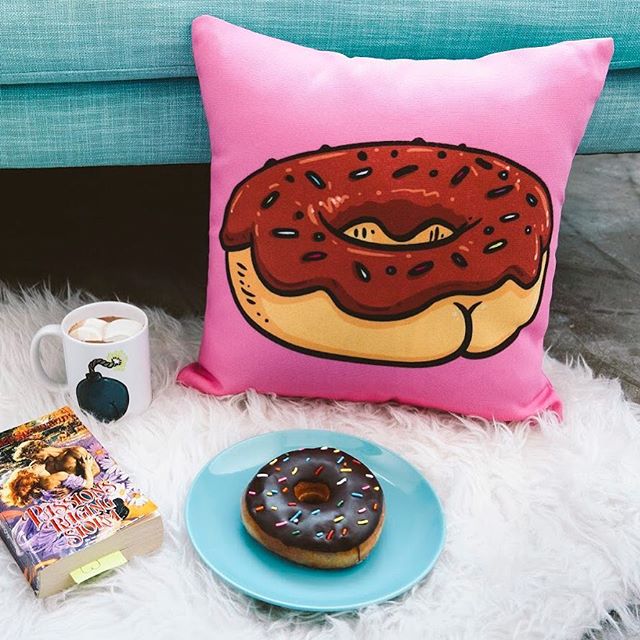 What's your artistic philosophy?
There's too much negativity in the world. I want art to be fun. I want to enjoy looking at it. Our current culture puts an insane amount of emphasis on what separates us, how different we all our. But we all want to have a good time. We want to laugh. We feed on negativity but it's not good for us. I want people to enjoy my work. I want them to smile. I want them to laugh. I want them to show it to other people so they can laugh together. It's ok to laugh at a dumb joke, smile at a silly pun, or giggle at a butt drawn on a coffee cup. In fact, it's good for you!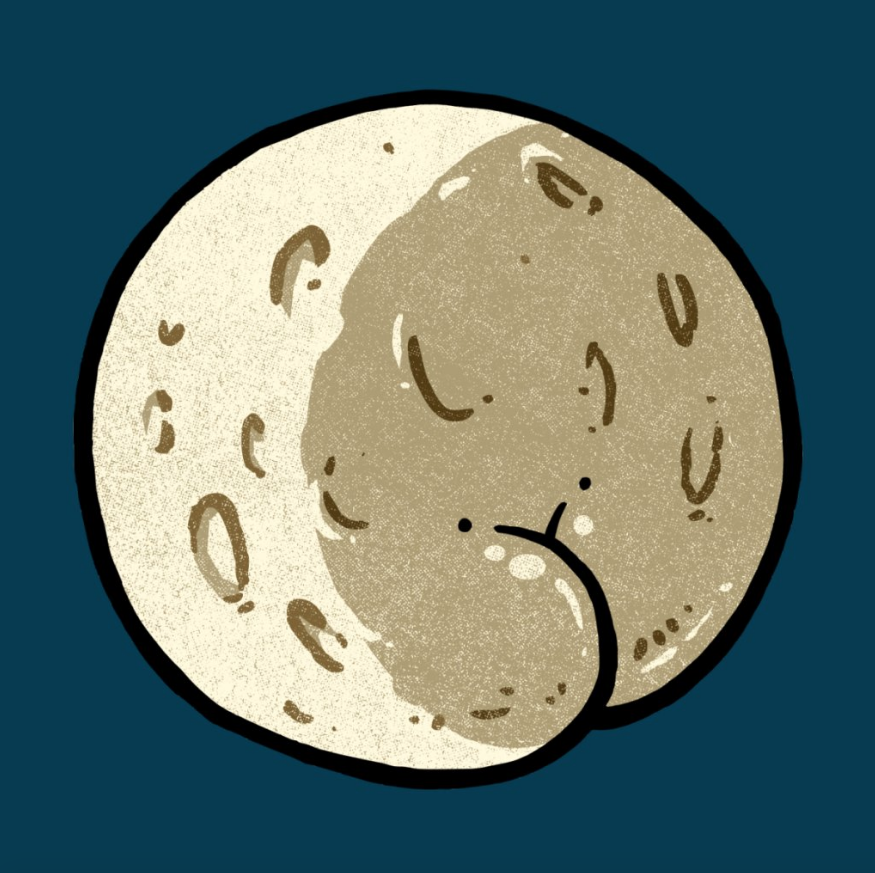 Anything else you'd like to share?
Thanks to everyone and everyone who has followed, looked at, liked, shared, or cracked a smile at my work! Art doesn't exist if people don't look at it. Thank you!
Curious about the other Accelerator selectees? Check out Ego Rodriguez's spotlight here and Tobe Fonseca's spotlight right here!
Don't have an artist shop? Start one now!
Featured image is "Taco Butt" from Brian Cook's Artist Shop.
Content & Strategy Manager at Threadless by day, dad joke aficionado, cartoonist, & contributor for sites like HelloGiggles and The Mary Sue by night. When I'm not writing or drawing, you can find me in my cave of a room hanging out with my boyfriend, Netflix.