Some people see the world in a "glass half full" way. Some see it "glass half empty". And others? Others are more the "pfft, half full? Fill that glass to the brim with rosé all day" type. And the winner of our One-Panel Comic challenge, Hillary White (@wytrab8), has us totally seeing the world through rosé-colored glasses (#ThatWordplay). Her designs range from funny mini-comics reminiscent of Lichtenstein's pop art style to '80s-fueled designs and dad jokes that guarantee a laugh. We talked to Hillary all about this winning design, how it came together, and where she finds inspiration. See more of her amazing work below!
.     .     .
First things first, happy October! You have lots of awesome spooky designs – are you big into Halloween?
I do love to get down with the spooky! I don't really go out trick or treating or to haunted houses… But I enjoy the overall vibes of October and the accompanying horror movie marathons. The weirder and creepier (and sometimes the cultier) the movie. the better!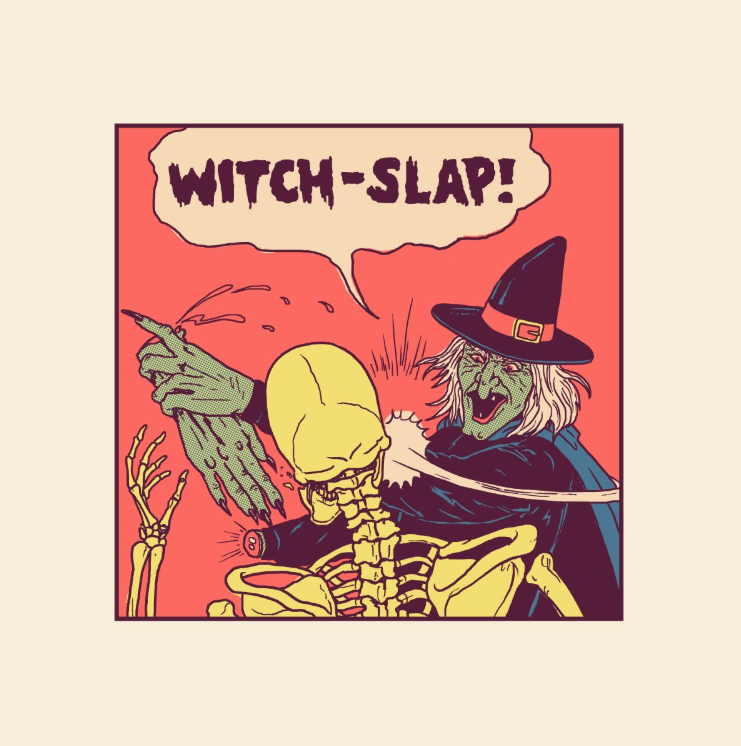 Are you working on any exciting projects right now?
I am but unfortunately, I'm not allowed to share. I occasionally do officially licensed designs, usually for horror properties. ;)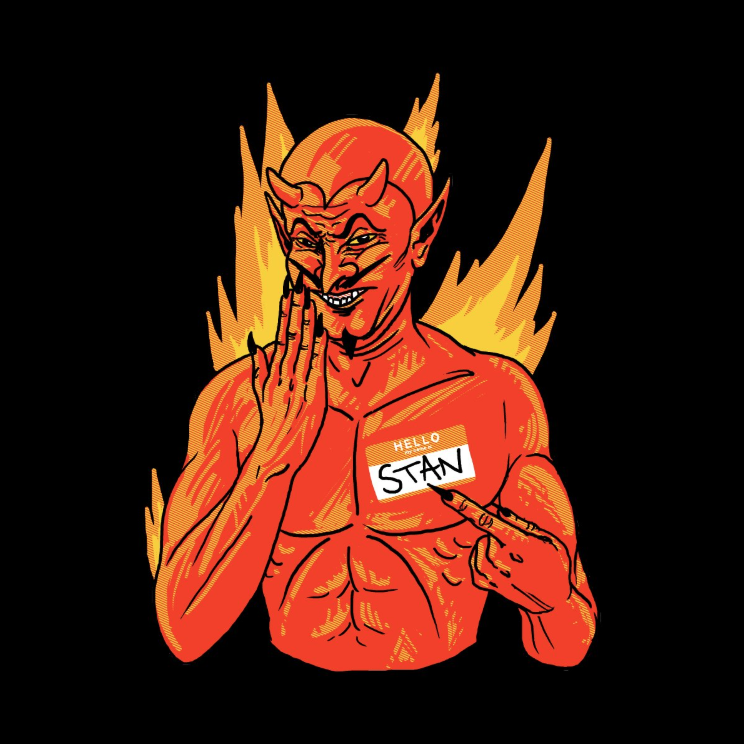 Have you dabbled in one-panel comics before? If so, do you have a favorite?
A little bit for other shirt designs prior to this – I'm a fan of bad puns, silliness, and sometimes dad jokes, so several favorites.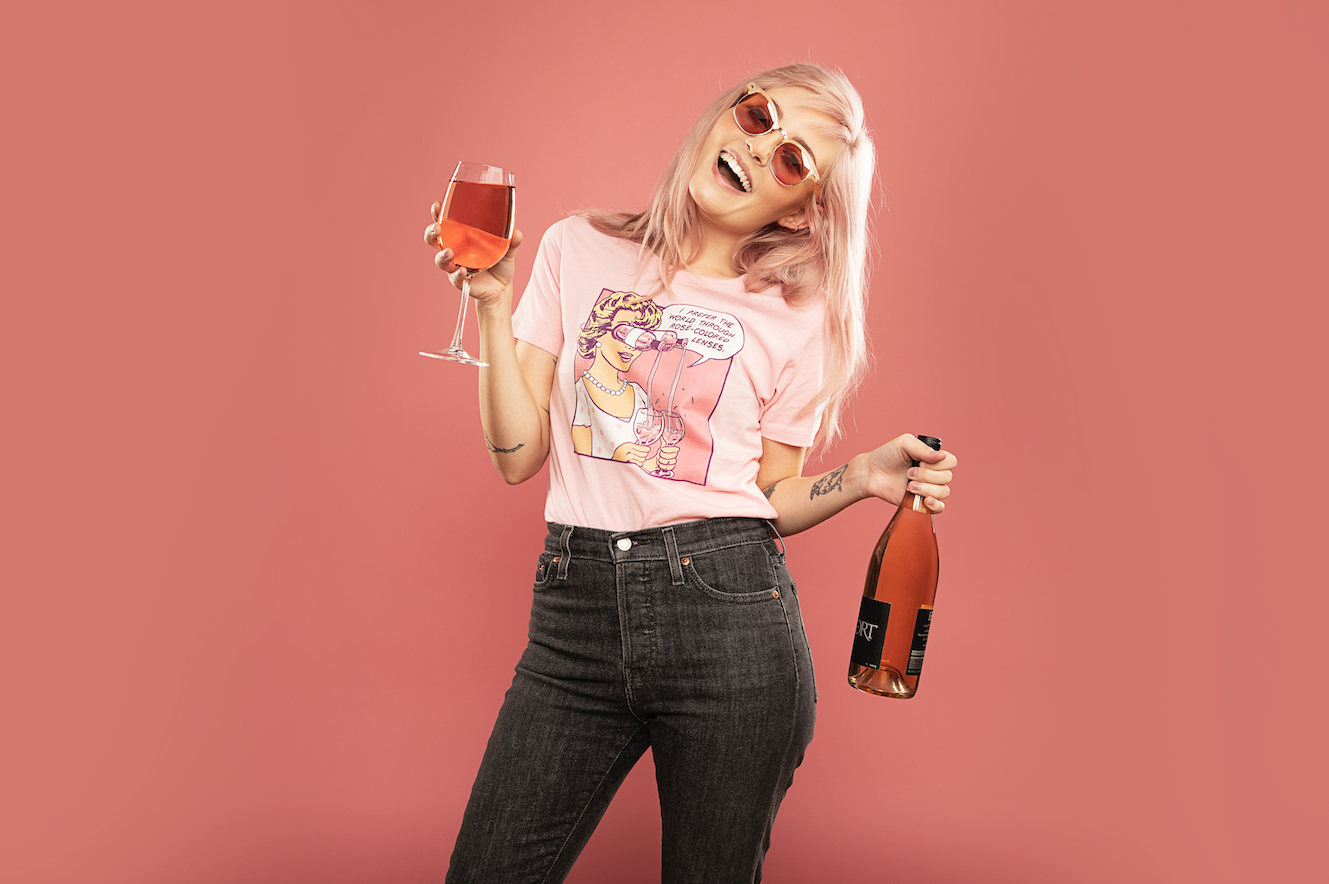 Tell me a little bit about this design! How did the idea come about?
I was one glass into a fermented-grape-inspired libation (relaxing, not brainstorming) when the idea hit me. I guess my subconscious is just full of bad puns waiting for escape. (Thanks, rosé!)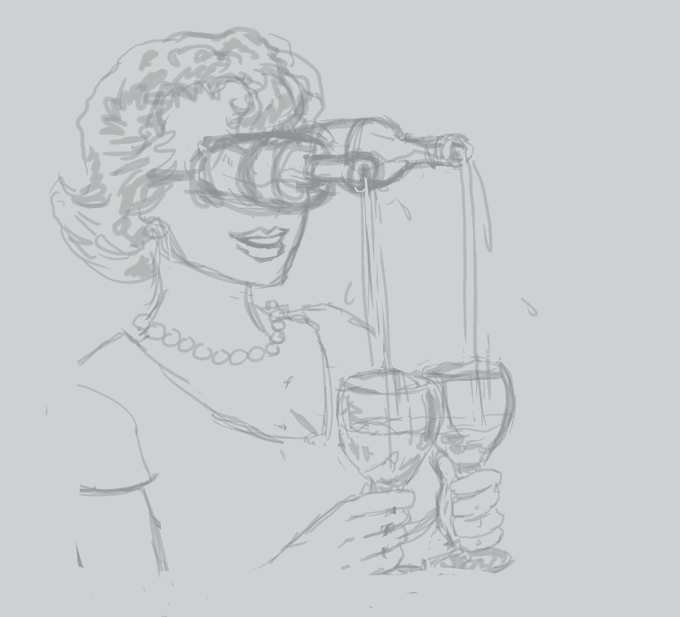 What's your creative process? How did this design come together?
Idea/mental image, sketch, linework, coloring, voila! (Sometimes there's various refinements/edits in between these stages… Not always an uninterrupted path.)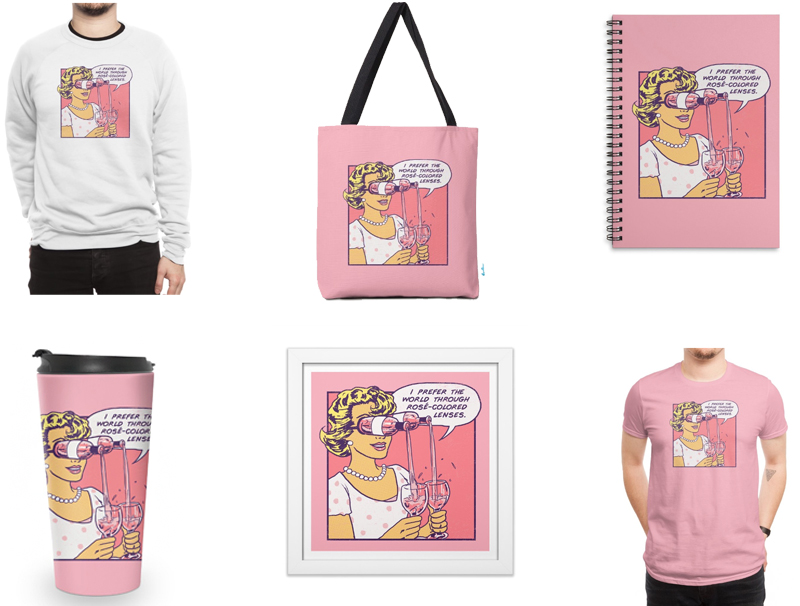 Did you have any other design ideas for this challenge?
"Mail, Satan!" was another entry that ended up getting selected for print (thank you), and that viral article about how men prefer debt-free virgins without tattoos was another entry – It featured a crying unicorn (parody of the first world problems meme).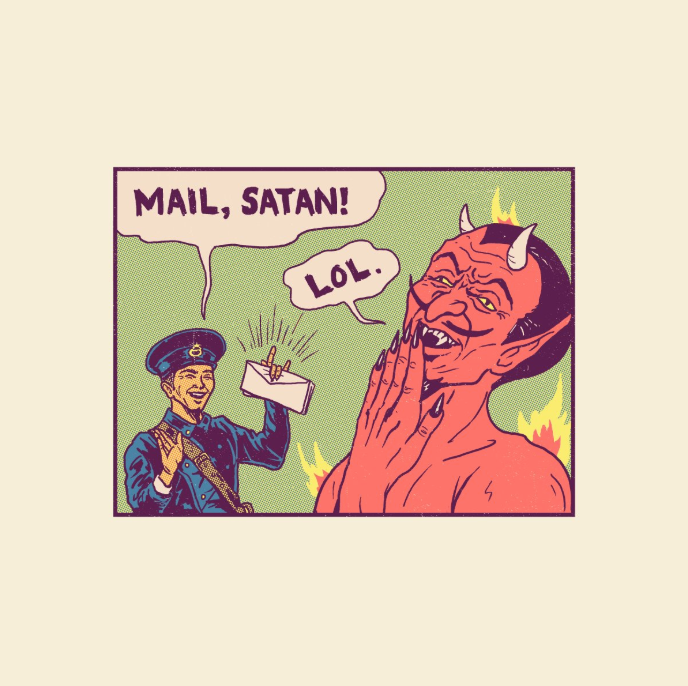 A lot of your designs have an amazing '80s vibe to them – what movies, album covers, tunes, etc. inspire you from that decade?
I love just about every popular '80s song there is. Favorite artists include: Heart, Belinda Carlisle, Bon Jovi, Journey, Madonna, Cyndi Lauper, Duran Duran, Big Country, Aha, The Outfield, the list goes on… Movies: The Neverending Story, Return To Oz, Labyrinth, Ferris Bueller's Day Off, TMNT, Working Girl, Flashdance, Legend, Willow, Innerspace, Breakfast Club, Howard The Duck… (this list also goes on awhile.)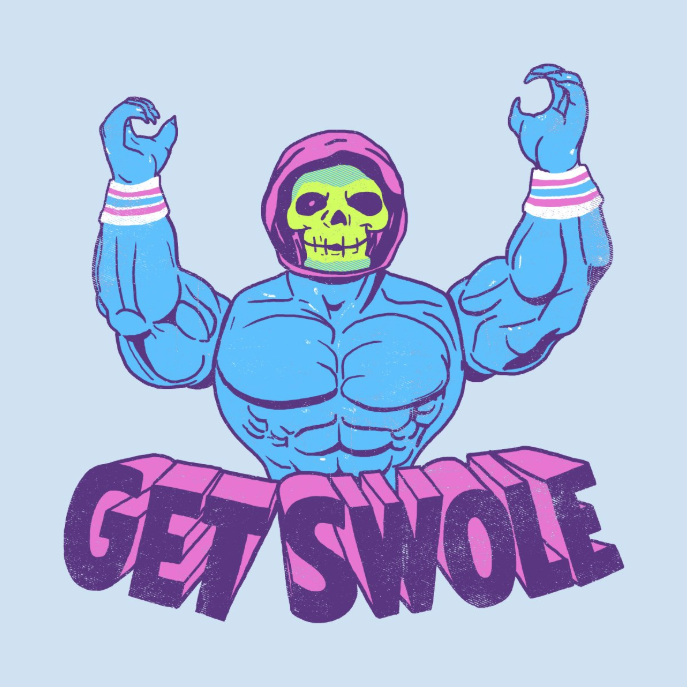 Is there any design in your Artist Shop that has become a surprise favorite of your customers? Which one?
It seems "Get Swole" is my top earner that isn't in the Threadless Catalog.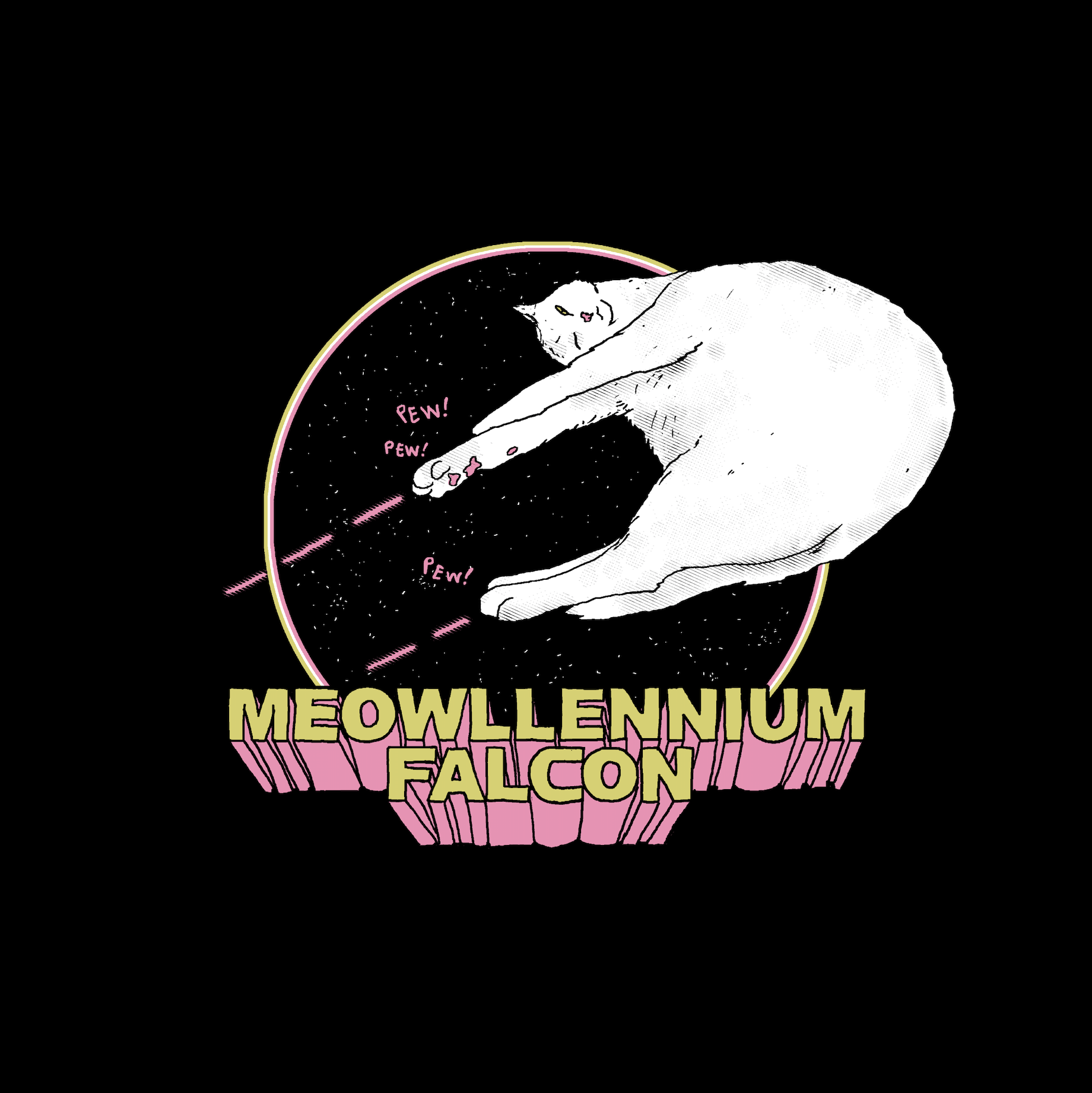 What's your creative philosophy?
Follow what makes you happy but work hard…and don't be afraid to make something ridiculous!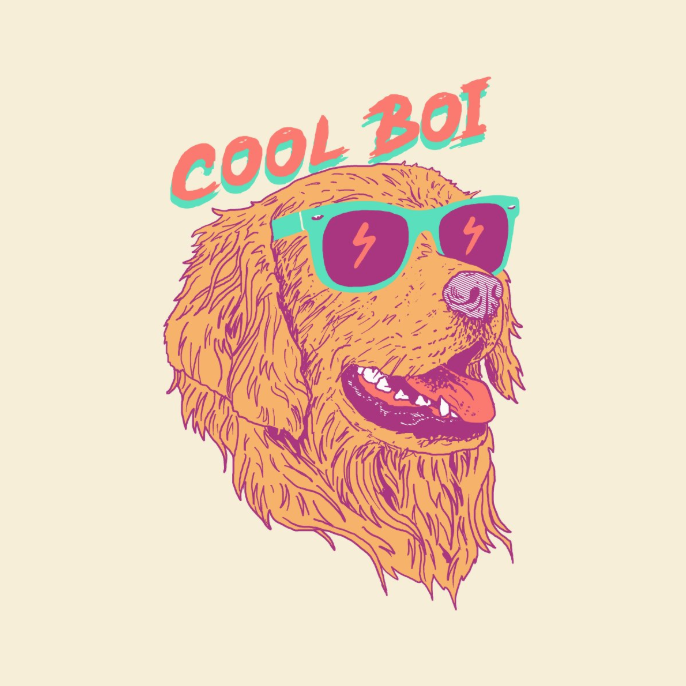 Do you have any favorite books, podcasts, or movies that inspire you?
I don't really listen to podcasts and haven't read a good book in a long while (that's embarrassing but true)… Occasionally I'll binge a Netflix series like Stranger Things, Glow, etc. (That cascade of '80s movies I mentioned helped influence me a great deal.)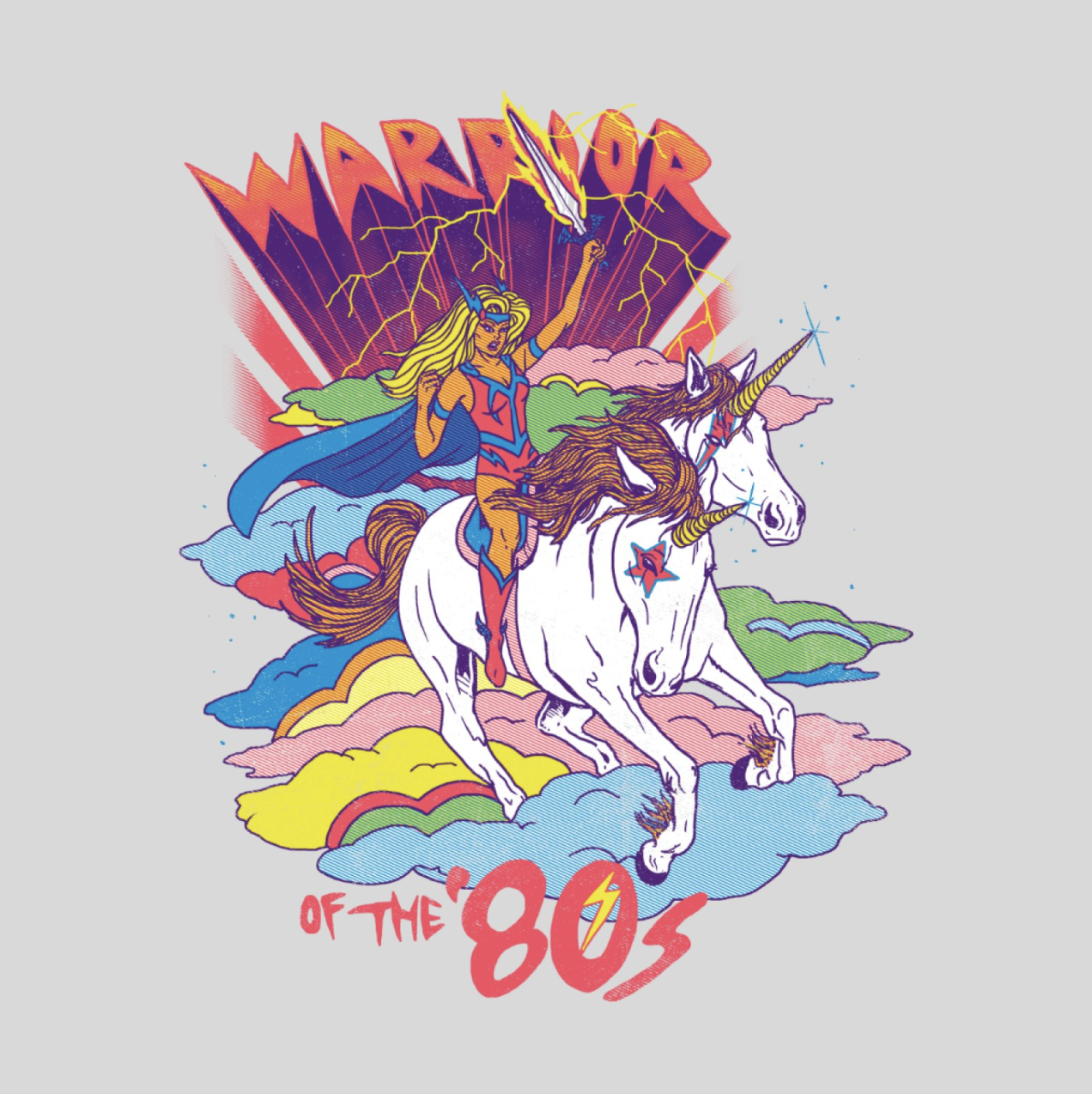 Anything else you'd like to share?
Follow me on Instagram if you'd like to see the eventual reveal of the aforementioned things I can't share yet: @hillarywhiterabbit :)
See More of the winning design!