What says "Dystopian" to you? George Orwell's writings? Or just the idea of a world without wifi? C'mon – we all wonder what it would be like to escape to a super dark world of tomorrow once in awhile (but, like, just for a second through a movie or something – not permanently). And the artist behind the selected design of our Dystopian Challenge – Yuri Shwedoff – has given us a whole new post-apocalyptic world to get lost in. Shwedoff's super atmospheric digital paintings are a one-way ticket to the ominous future landscapes of your dreams. Is it a version of Earth that humans left behind? A brave new world we're only just exploring? Or are these visions of something, somewhere, and somewhen entirely new?
Just one look at Yuri's work will get your storytelling gears turning. We talked all about whether these paintings are connected by story as well as by atmosphere, about the process behind the selected design "White Castle", and about what stories serve as inspiration towards these pieces. Read more below!
.     .     .
First things first, tell us a little bit about yourself!
My name is Yuri Shwedoff, I'm 26 years old and I'm an artist. I was born in a family of artists – Alexander Shwedoff and Zinaida Korotkova. I was lucky and all my childhood, I was surrounded by creative people in a creative atmosphere. At the age of eight, I entered art school. After graduating from the Art Institute, I worked a lot in game development and was a decorator on the set of several TV series. I spent four years in offices, worked on concept art, character design, and environment design. I also was a comic book artist and tried to make music (not very well). Now I'm a free artist, and I can sleep half a day without any remorse.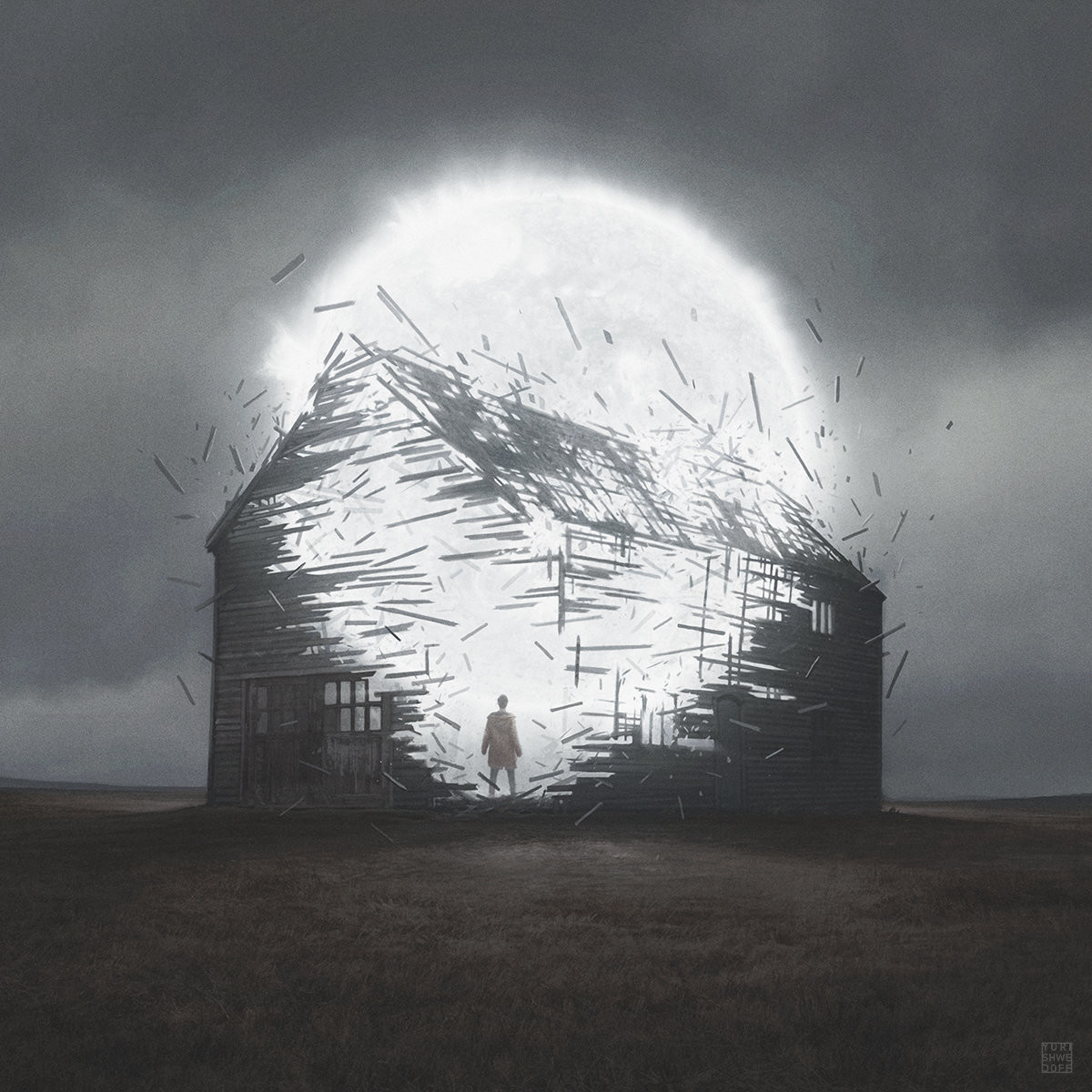 Your work has such a consistent look and atmosphere – how did you first start exploring this style?
My interest in the post-apocalyptic and a monochrome color palette was formed during my studies at school. This was largely influenced by the nature of the places in which I lived. I loved to travel far from the city, in the mountains and steppes, forests and fields. I was also interested in Soviet architecture, abandoned buildings, the huge scale of giant monuments of the past era.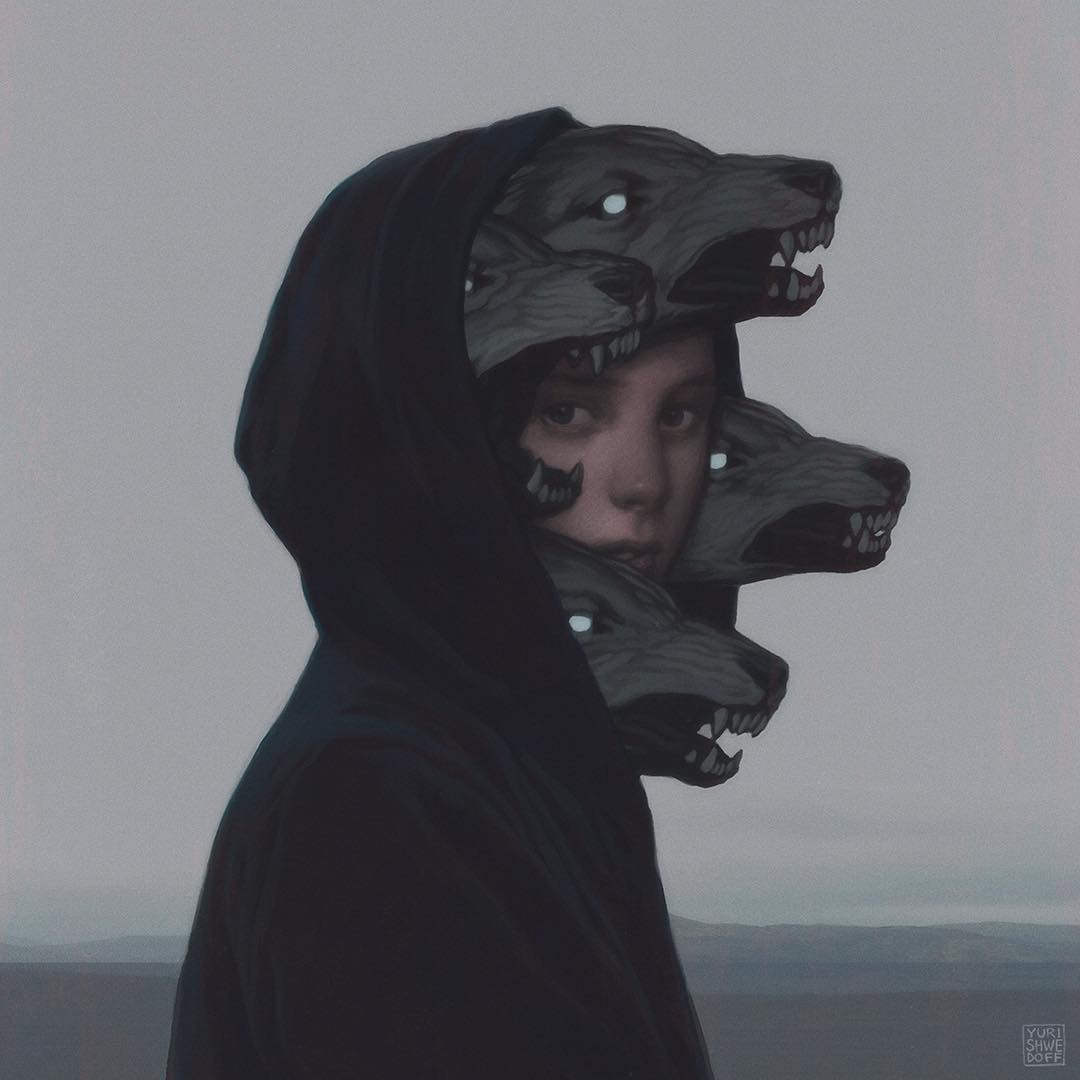 I love the post-apocalyptic look of your art. Do all of your paintings take place in the same universe? 
Yes, all these pictures are part of one universe. I wanted to make a story about the journey to the origins and reasons of the end and civilization. All the characters of my paintings live in a world of silence and emptiness. They travel among the remains of buildings, spaceships, and mysterious technical structures. They don't know anything about why these buildings were built or about the people who lived in this world before, just as we do not know much about the world in which we live now. I would like one picture to be a continuation of the other. But I lost direction and was too carried away by inventing stories and a new style. So now these pictures are just a set of photographs from a vacation in the post-apocalypse world.
https://vimeo.com/152142106
Tell us a little bit about your winning design, "White Castle"! How long did it take?
This picture means a lot to me. This was a turning point for my work. When I drew it, I realized that people are interested in what I'm doing and want to see more. I quit my job and decided to devote all my time to work in my home studio. Then the whole post-apocalyptic series began. The creation of this picture took 12 hours. I think this is my fastest picture. It was easy and pleasant. It seems this picture has always been inside me. But now I would have done it differently.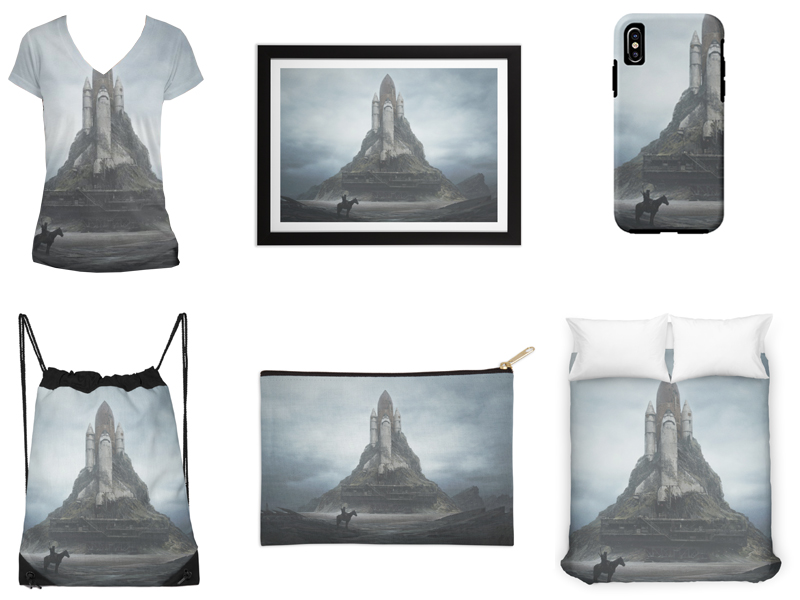 Does this piece have a story behind it?
At that time I rented an apartment with my friends – Ilya Kuvshinov, Ilya Brovkin, and Sergei Sorochkin. They are also artists. We used to have a lot of guests, parties, and sleepless nights at work. It was a good time. Many ideas and plans, many achievements. There is no special story here, just one of these days everything turned out well.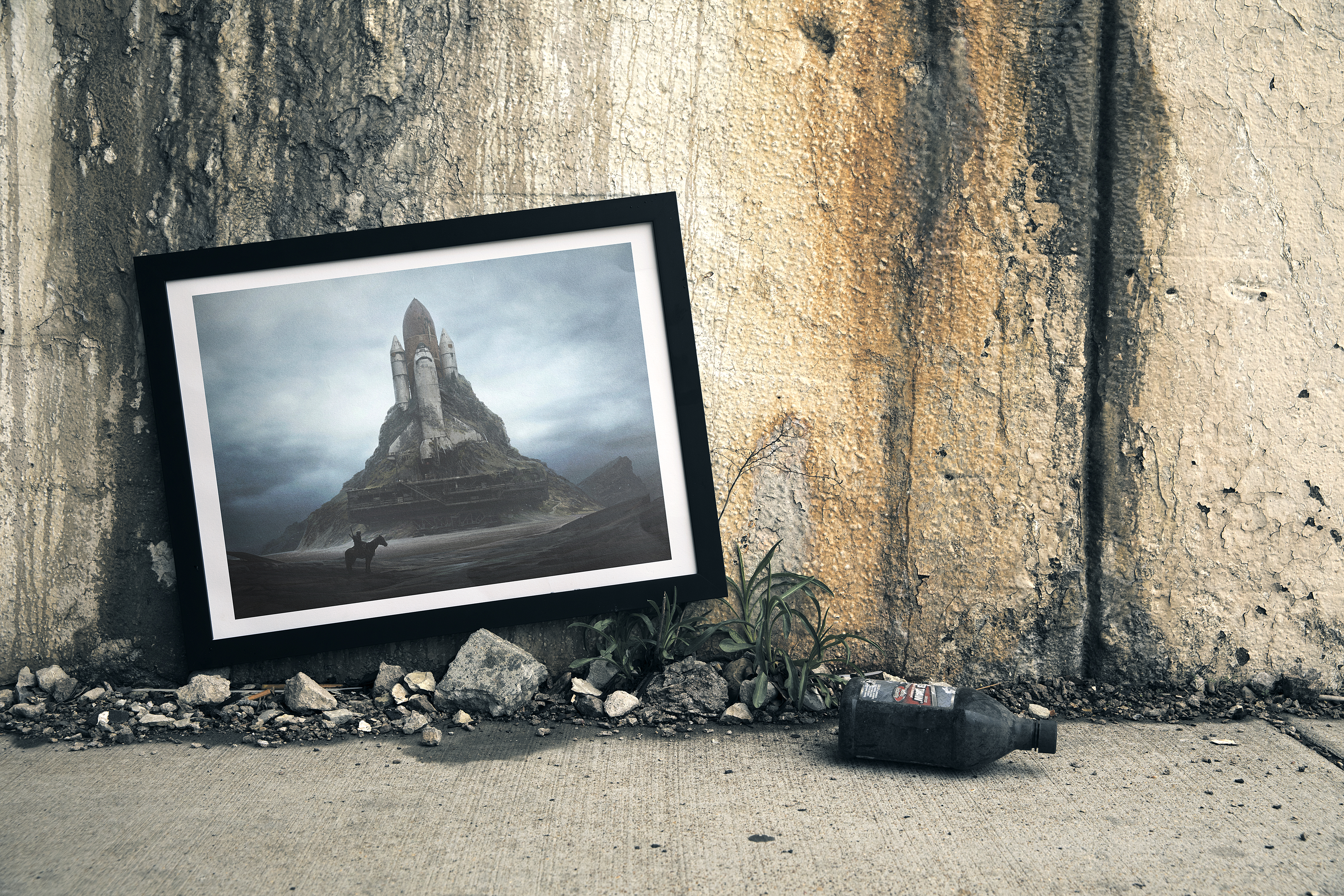 What are some of your favorite post-apocalyptic/dystopian stories?
I'm a big fan of movies. Planet of the Apes, Space Odyssey, Mad Max, Forbidden Planet. I also like old Soviet films about space – Moscow-Cassiopeia, Solaris from director Andrei Tarkovsky. And of course, Stalker.
How long does a typical digital painting take to finish? What's your artistic process?
It depends on my mood and the time that I can spend. Usually, it takes 4-5 days for one picture. And then I can rest and think about a new idea. It takes a couple of days, in which I see my friends and have fun. Then everything starts from the beginning. Usually, I try to work without interruption. My usual working day lasts 10-12 hours. It's not very healthy, so I want to start working less but more often. I watch films and listen to music while drawing, so I never get bored. My girlfriend and our cat always sit on the couch next to me. So my workflow is very cozy.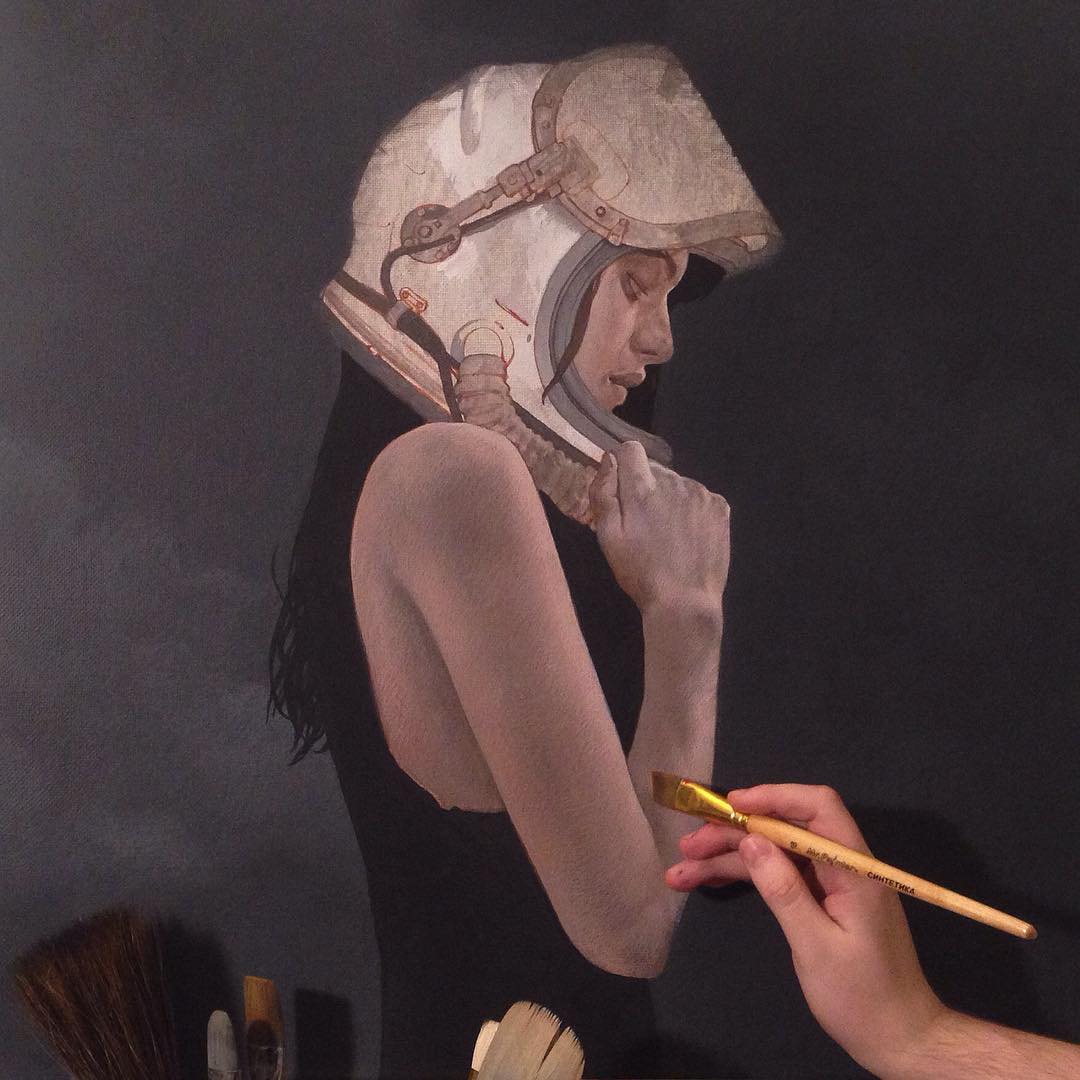 Do you prefer digital painting or traditional?
Now I'm a completely digital artist. But I try to keep a couple of brushes and pencils nearby. I have a dream that I will start painting on large canvases, but now my rhythm of life does not allow it. Or maybe I'm just lazy. Earlier, I worked with canvases, printed techniques – etching, engraving, and lithography. This knowledge helps me in digital art, so in fact, I'm a traditional artist who spends too much time in front of a computer.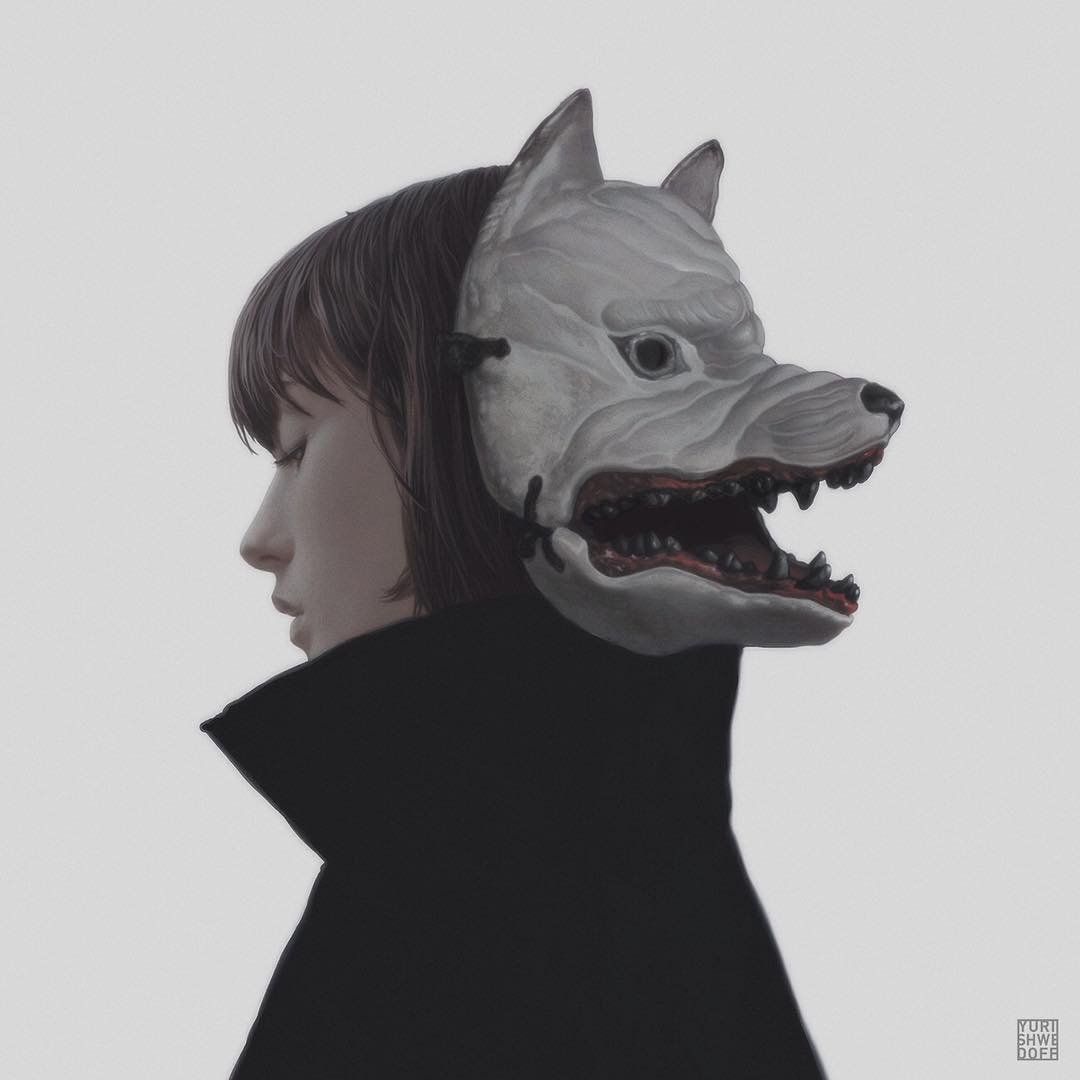 Masks make a lot of appearances in your work. What do you find so interesting about using them?
I like references to various cultures and mythologies, so I try to fill my works with these elements. I've liked masks since childhood. Rituals of ancient peoples, theaters, horror films, comics – masks were always with us in culture and history. The mask expresses the idea and the inner world of its carrier. And sometimes the mask is the face of a phenomenon, an abstraction, or even an entire epoch. In general, I like to draw textures and materials, and masks are great for this.
You worked at Game Insight as a lead artist – how did that help build your artistic skills? What kind of projects did you work on?
It was difficult but interesting. My friends worked there with me. We spent hundreds of nights in the office. We worked 24/7, drank 10 cans of cola a day, and had fun at corporate parties. We did multiplatform motion comics and all related materials. I do not think that I would like to work in the office again. It was too dynamic. But I am grateful to these years. I learned Photoshop and had a good time. And I miss the parties after work. Now everything is not the same.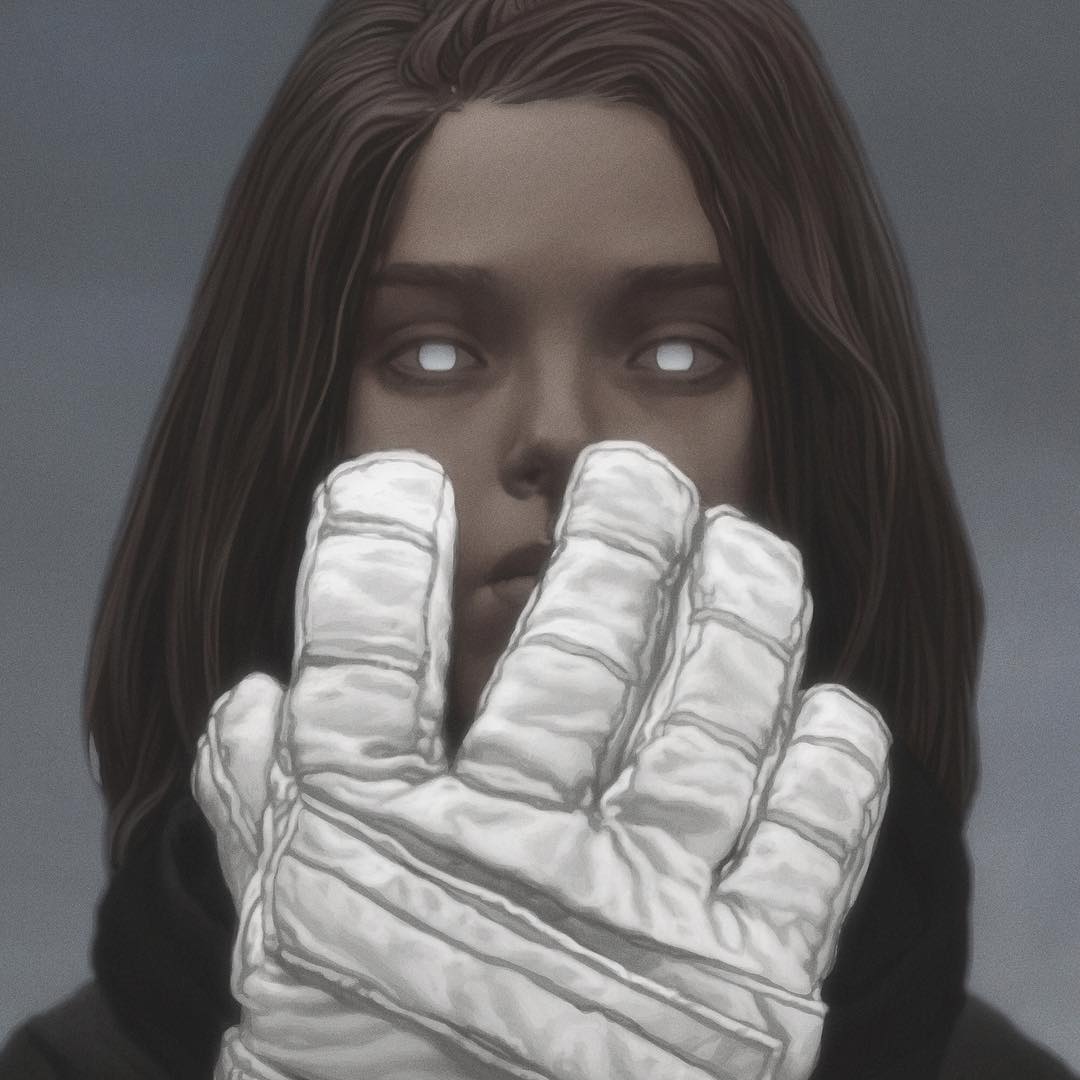 How has your style evolved?
There was no such fundamental evolution before. But this whole year I've been working on a complete change of style. I want to change the direction of my work. I think that this will help me to reach new heights and do something new. I used to change the format, color, or composition, but now I'm ready to change everything. Perhaps this is the moment of my evolution. The first of its kind. And I hope not to screw up with this.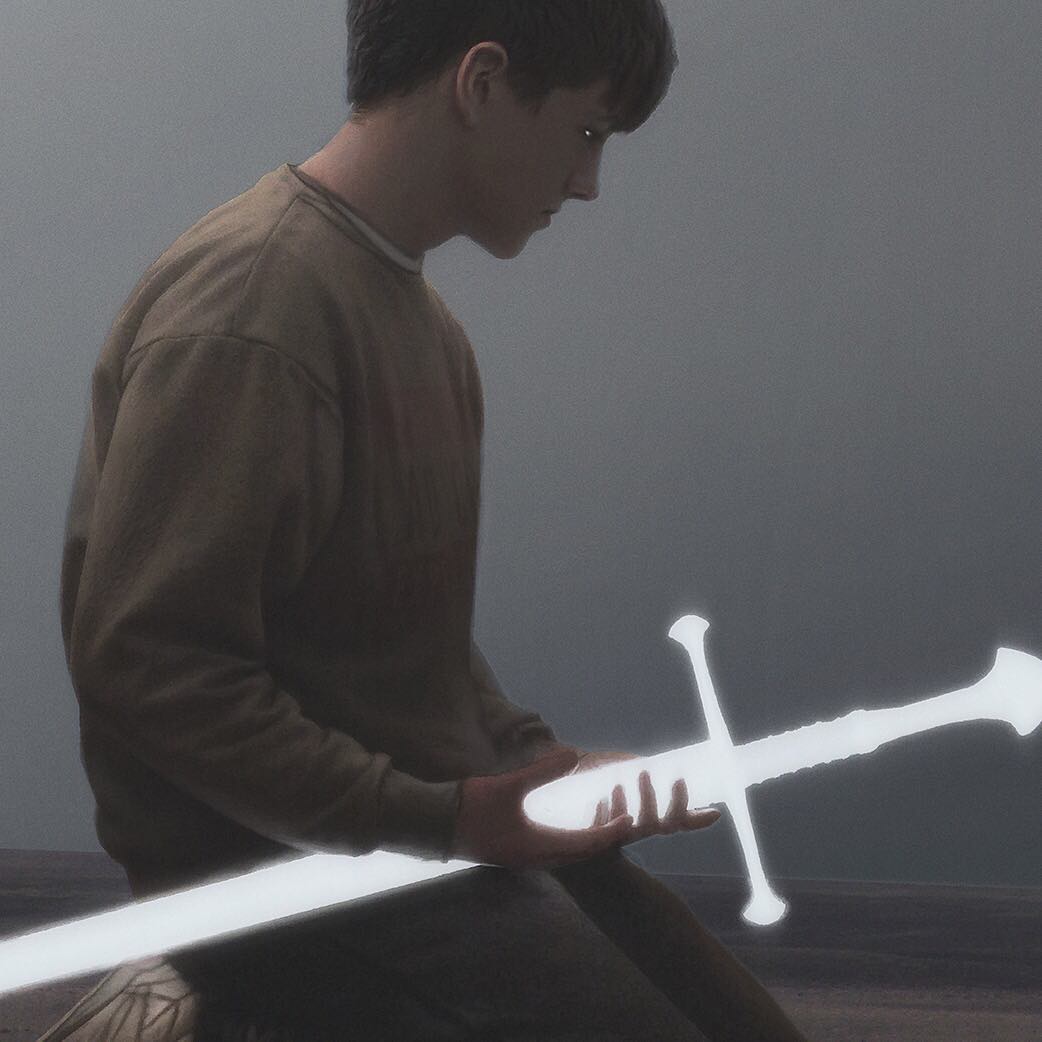 What's your artistic philosophy?
This is a difficult question. I love being an artist. Probably because I do not know how to do something else. Or because it helps me create something new and express myself. But the main thing for me is that art helps us think about life, eternity, scale, and our place in the universe. We live in a dynamic world full of problems. Every day is a struggle with circumstances. Art helps us forget about it and understand that the world is huge. The universe is huge. And we are very small but smart enough to realize this. Well, art is fun. I don't know how to do anything else.
Anything else you'd like to share? Exciting projects coming up?
Now I'm working on a new series of paintings, I hope it will work out well. Maybe I'll paint a couple of oil paintings. I also plan to organize several exhibitions this year. I think everything will be cool. The main thing is to walk more, eat well, and love your loved ones. Peace for everyone!
See more of the winning design!