What's your favorite fantastical world to tumble into? Alice's Wonderland? Oz? The Wizarding World? Before you choose, there's one more you've gotta see: enter the fantastic world of artist Matt Dangler. This artist creates insanely detailed fantasy images that immediately transport you into another realm faster than you can fall down the rabbit hole or take the red pill. Looking at his super-realistic paintings gives you that similar pang of wonder that reading about hippogriffs or watching The Neverending Story did the first time. And from gallery shows to book illustration, this artist has been spreading the word about the worlds he creates far and wide.
We talked to Matt about whether he has stories for his wonderful worlds and creepy creatures, about his own favorite mythical stories, and about his process. Check it out!
.     .     .
First things first, tell us a little bit about yourself!
Well, I've dedicated myself to art professionally for about 10 years now, but imaginative creatures and their worlds have been a focus of mine as far back as I can remember. Growing up in New Jersey by the shore and hiking many trails through the woods has inspired a lot of the imaginary oceanic and woodland creatures that appear in my art today.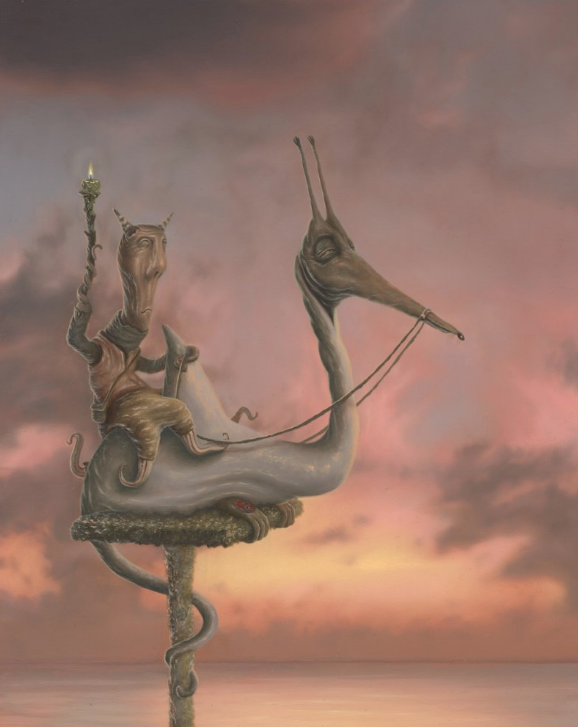 I love the mythical creatures you create – growing up, did you like mythical creatures and stories?
Yes, I've always felt kindred to the mythical and fantastical. I suppose it's the focus on spiritual and emotional dimensions that get overlooked in society, particularly. Art in general gives us a place to experience these things within ourselves.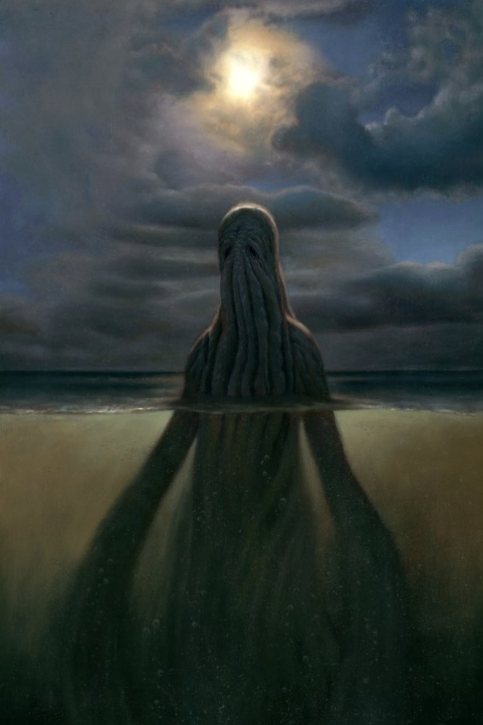 Who were some of your first favorite artists? What artists inspire you most now? 
It had to be around age seven or eight that I found a sacred VHS box titled  Labyrinth at the local movie store. The movie triggered some real transcendental stuff…not just because of David Bowie's formidable hair or outfit. How could such goofy and/or sad imaginary creatures bring forth such enchanting vibes and mystery within me? Started a lifelong pursuit. So I looked further into Brian Froud (Labyrinth concept artist). Also, not related to the movie, I was particularly fascinated with the hidden details and storytelling of writer/illustrator Graeme Base.
Now there are so many inspiring artists it's hard to even select a few…it changes frequently with all the access to incredible art on social media.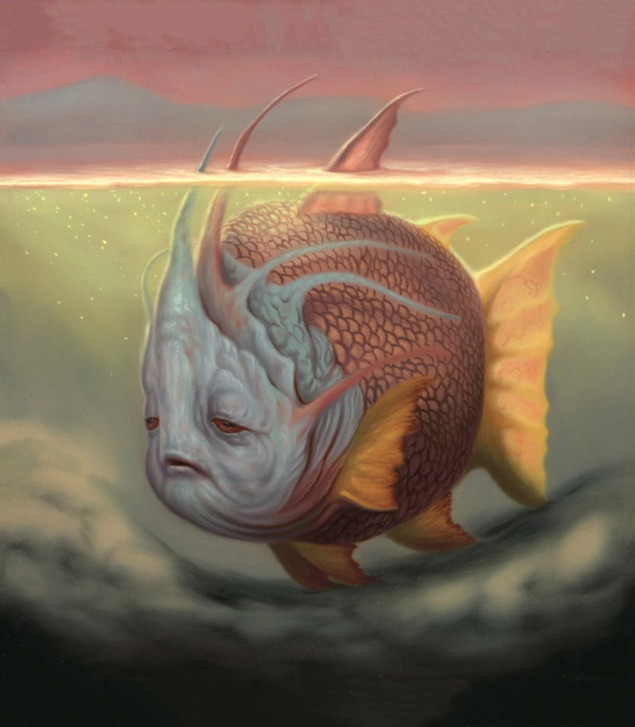 Tell me about the works you offer in your Artist Shop! (FireSnail is my favorite!)
In the past, people have asked me for the works currently available in my shop to be on t-shirts, so I figured they would be a good place to start. I'm planning to release a new design the first of every month.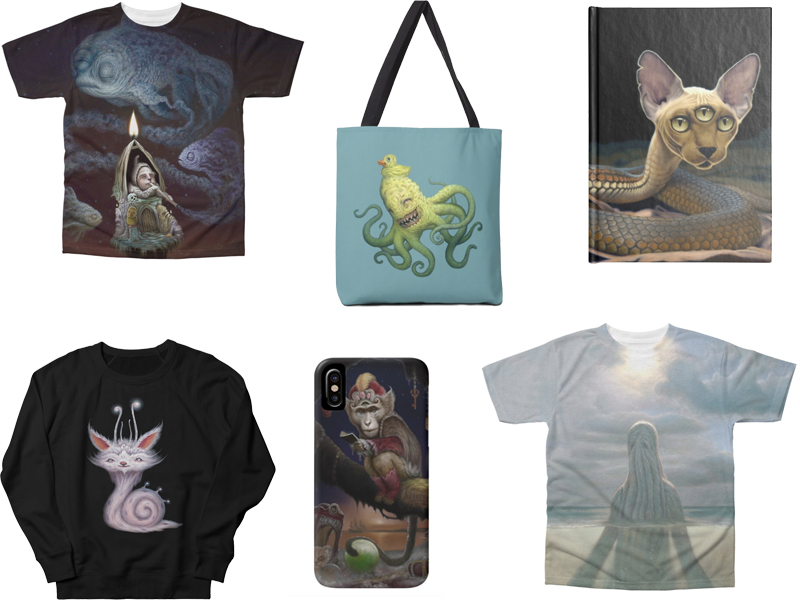 Have you offered your work on apparel before?
No, I haven't…and I've tried many times. Something always just didn't line up; quality of the print, the material used, etc. That's why I was thrilled when I had a Threadless sample in my hands and saw not only was the ordering process easy, but the product is top quality.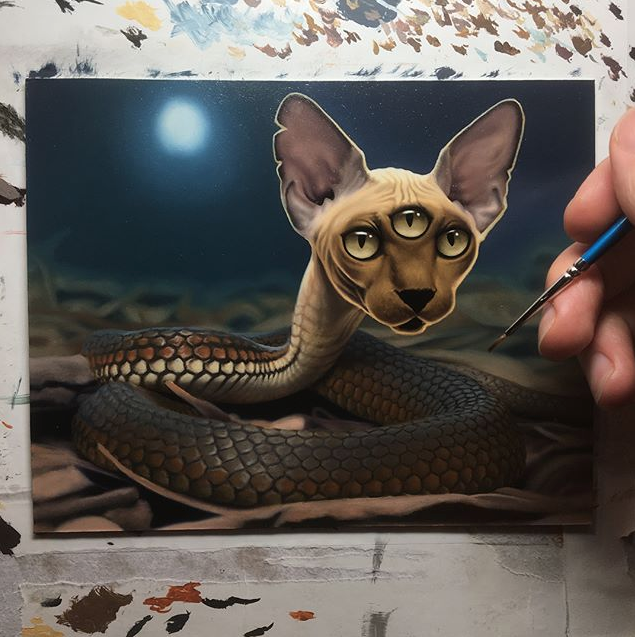 Your work is so realistic, what medium do you use?
I use thin glazes of oil paint, but it's often a combination, starting with a pencil drawing and acrylic glazes. Each medium has its own purpose to enhance the believability of the finished image.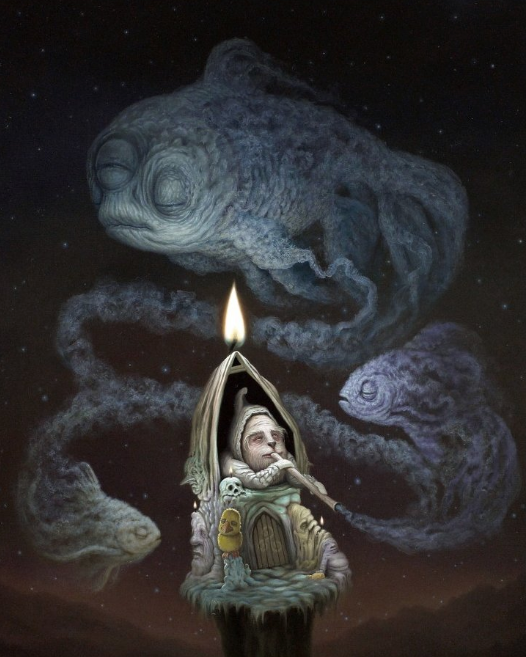 I LOVE how your work combines real creatures with mythical ones – is this kind of the goal when you create a creature?
Actually yes, I'd say so. If something gets too fantastical it loses its familiarity. Finding the balance between reality and fantasy creates a bridge to another world.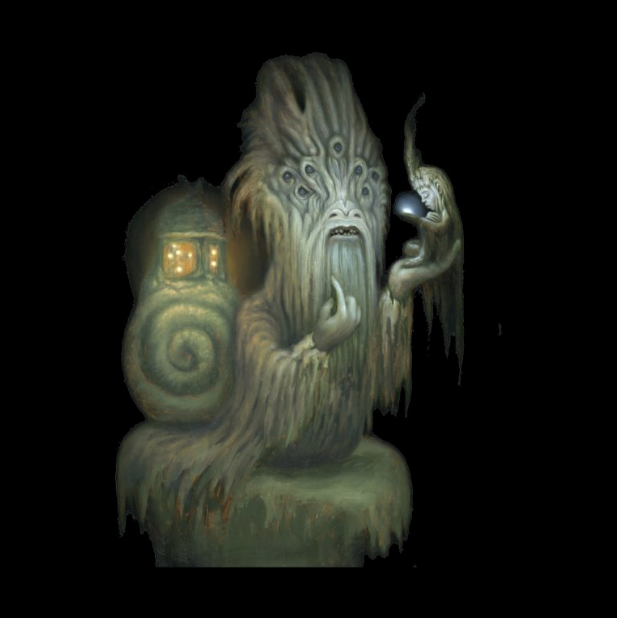 You illustrated "Faeryland: The Secret World of the Hidden Ones" and "The Secret History of Mermaids", those sound awesome! What are some of your favorite stories and shows?
Generally, Wizard of Oz, anything 'Wonderland'…but lately, my obsession is the storytelling in video games such as The Witcher. Absolutely brilliant work goes into games these days.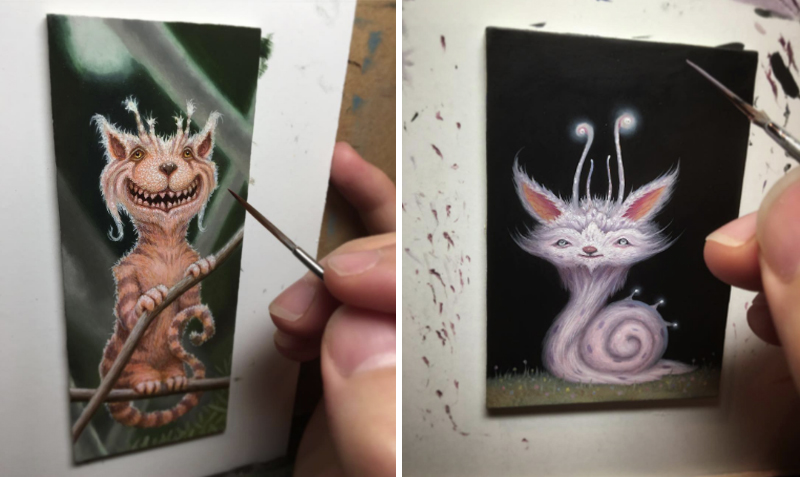 Have you created any stories for your characters and paintings?
I have created stories in my head for just about all of them, but putting it out on paper will take much more time and effort than I can currently give. Hopefully, someday it will come together. I have a particular goal of seeing these stories of my art unfold through video games.
Don't have an Artist shop? Click here!