While we all have music we need to get up and dance to, some of us have music that we just need to sit down and draw to! Artist Ailadi came up with her design "I Feel Like Dancing" while cutting a rug at a party in Shanghai. From art inspired by her world travels to her 'GIF journal' project where she creates a daily GIF as a way of journaling, her various styles capture moments of everyday life in a wholly unique way.
We talked to Ailadi about her "one drawing a day" and "create one GIF a day" self challenges, about how travel influences her art, and about her experimentation with artistic style. Check out the interview below!
.     .     .
First things first – tell us a little bit about yourself!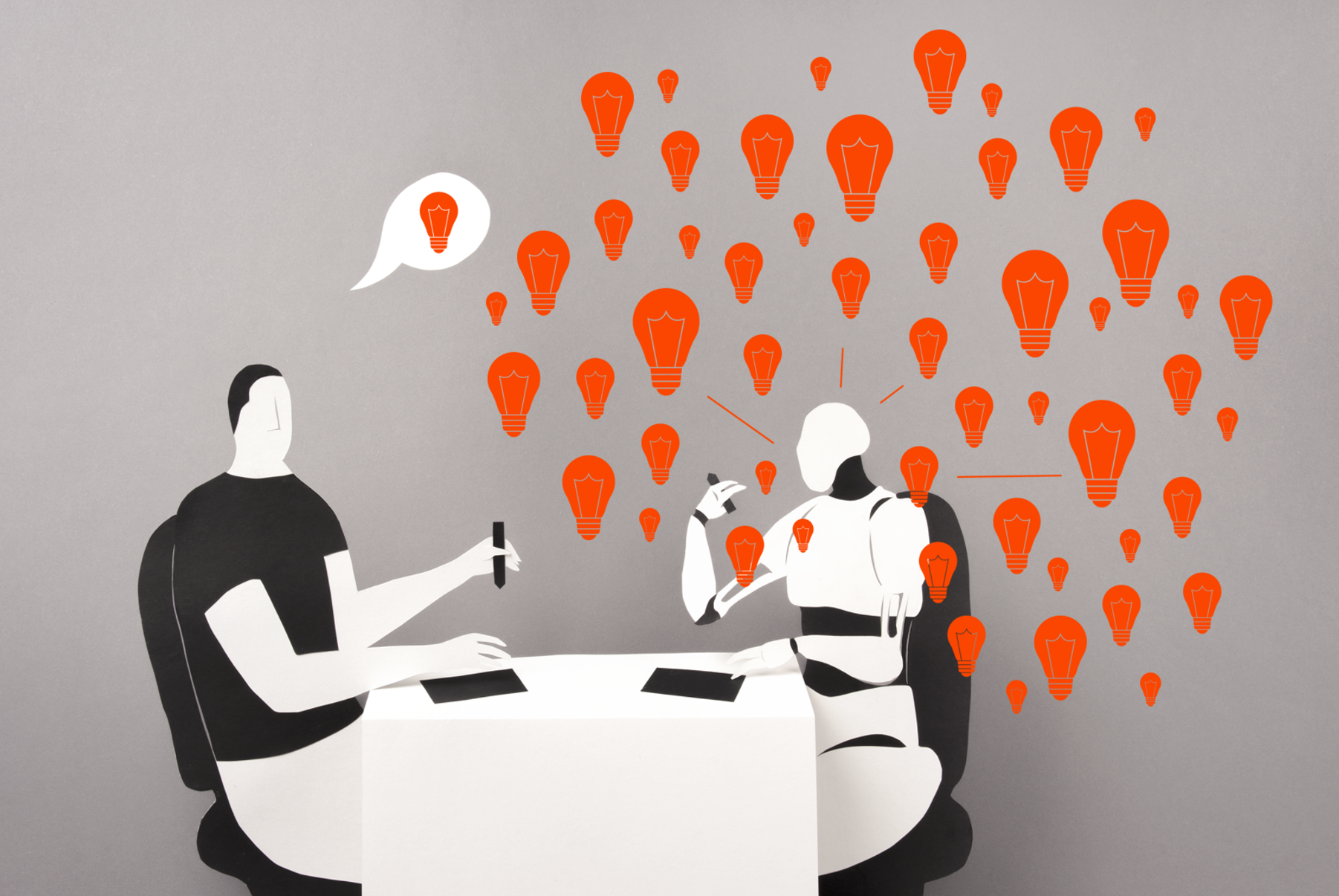 I'm one of those that enjoys the rollercoaster freedom of freelancing. I work on different commissioned projects like nerdy info-visualization, editorial illustrations, visuals for interiors, storyboard & animations to explain stuff, VD.
Then my personal projects are often developed under self-imposed constraints, but there isn't a consistent thread linking them. I guess that's because what interests me keeps changing, but I'm fine with it :-) As Huxley said "The only completely consistent people are the dead."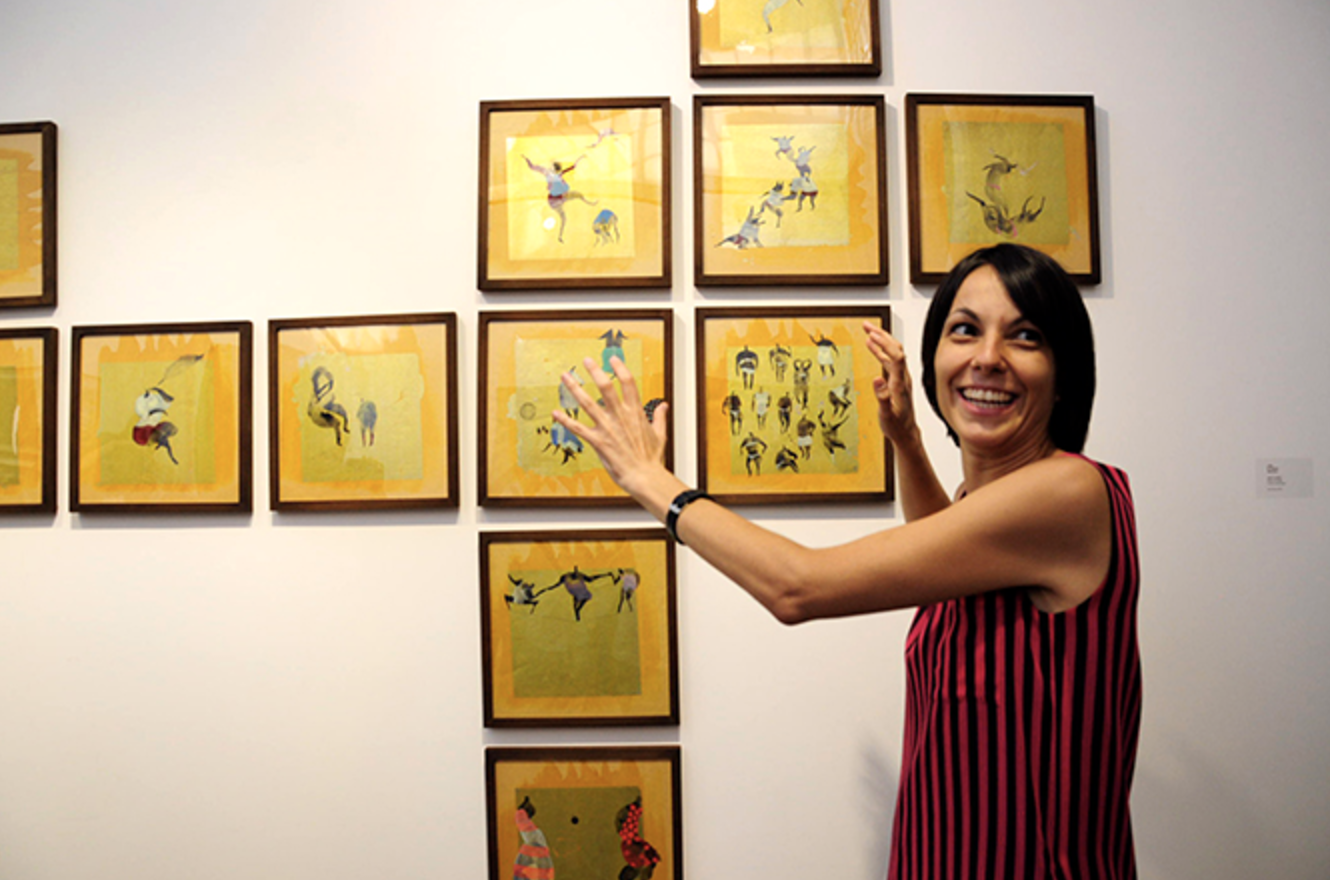 You were born in Italy and now live in Hong Kong – has travel and living in different places influenced your style and artwork?
Yes, I like to live abroad :) During university, I attended two years abroad in Cologne and Paris, and that was enough to get me hooked. "EXPLORATION MODE ACTIVATED" echoed in my head and I never found the OFF switch.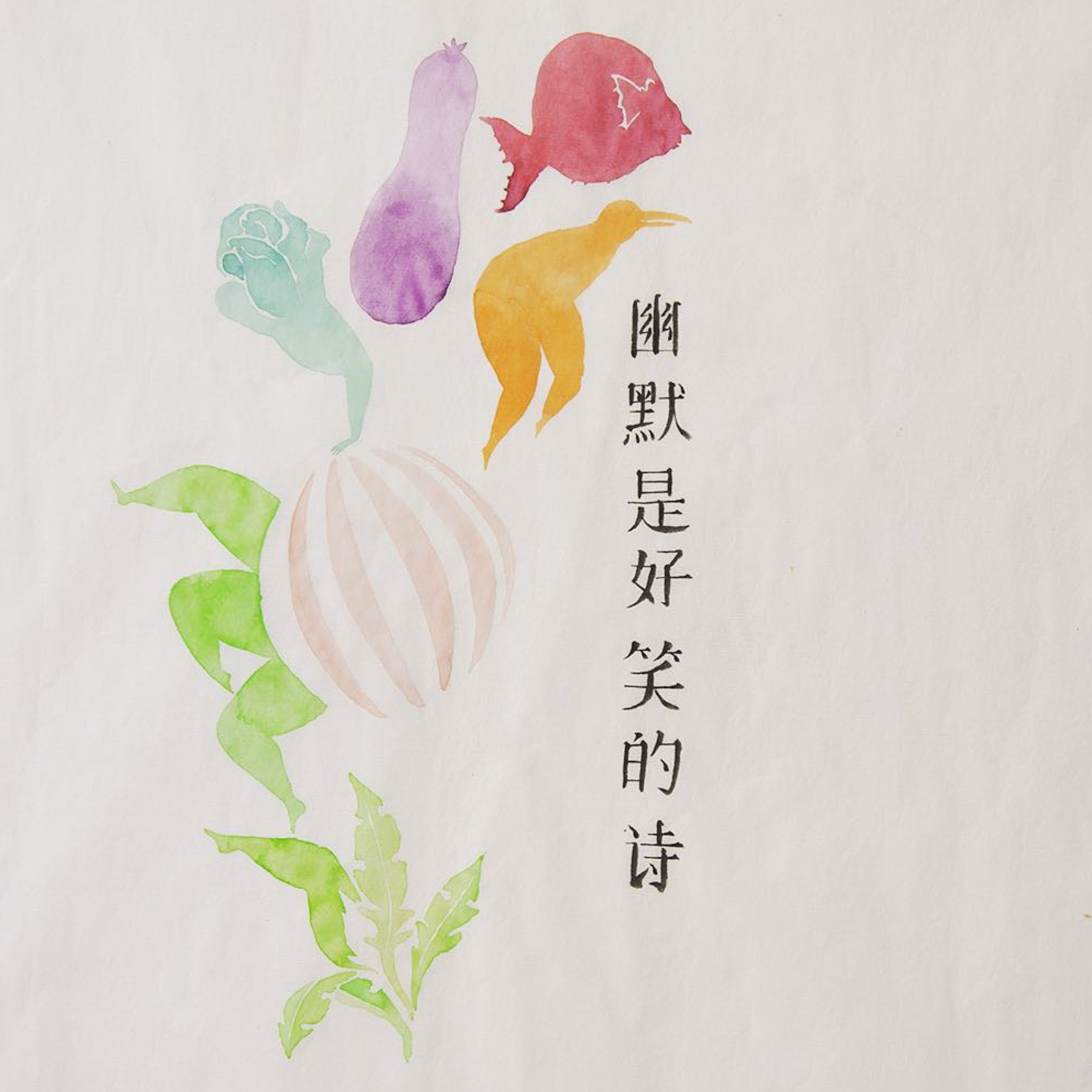 Before HK, I was living in Shanghai and this city in particular had an impact on my work. Style, poverty, cricket fights, street food, wechat, flashy colors, 7-Eleven, radio on scooter, digital money, fashion, Chinese opera, 3-gen family on scooter, open air dance…My eyes and mind got invaded by an exotic aesthetic and a bunch of adorable/weird/sad stuff happening 24 hours a day. That influenced both how and what I drew, the projects I did. I still love Shanghai :-) Go visit it!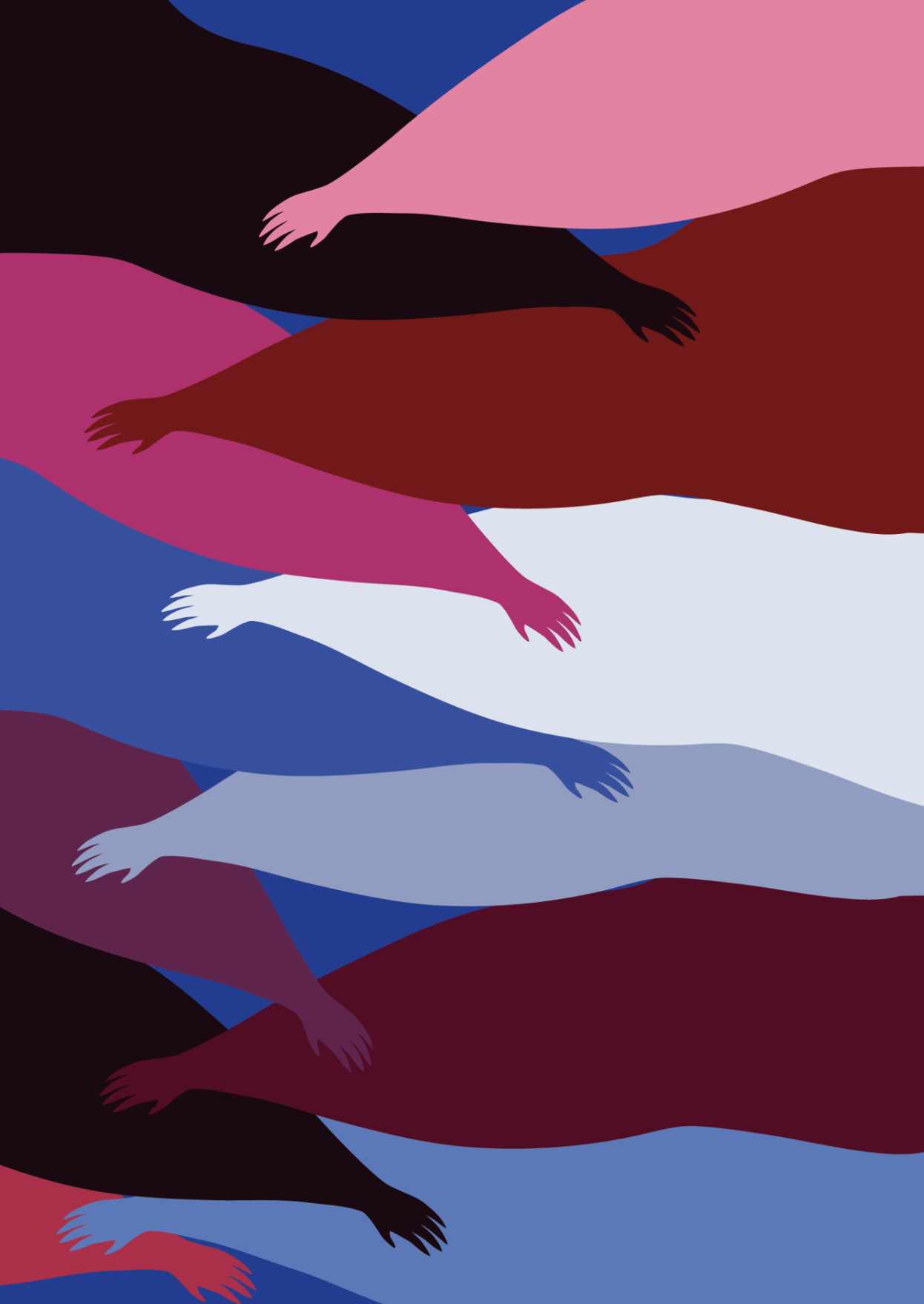 You do some AMAZING gifs! I love your "1 year of a daily GIF as a journal" idea! How did this start!
Thank you! Happy you like it :-) Well I guess it's a recurring sickness. A few years back I did the same with one drawing a day for one year. This GIF series is a reiteration of this documentation exercise and an excuse for me to explore a medium I really like.

How long does each GIF take? How do you make them?
That really depends; roughly an hour, but I spent already a whole afternoon doing one. Sometimes it requires longer to draw it, as it's frame by frame animation. Other times I was struggling finding the idea of what to illustrate. Each GIF is inspired by something that happened that day, but sometimes all that happened was "working at the computer". I could draw that one time, but as I'm a designer; spending my day in front of the computer happens quite often, so I had to better look at my day to remember other details that passed in the background.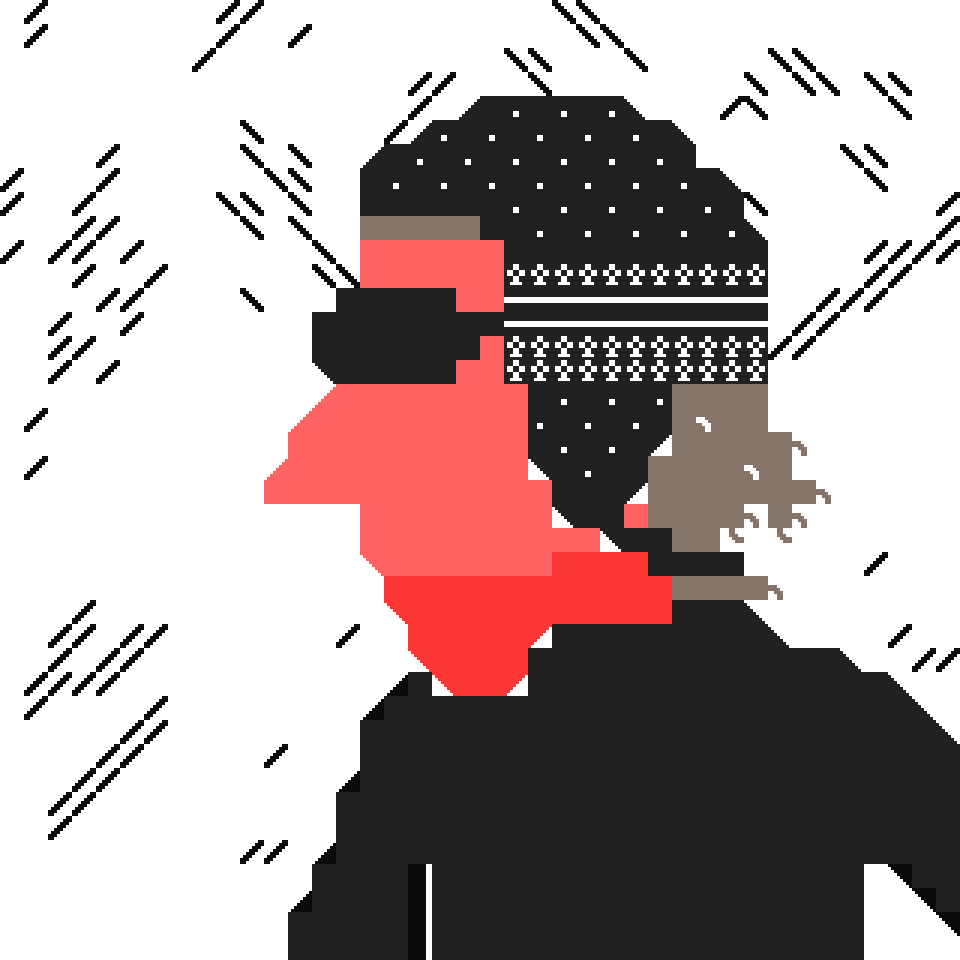 The GIF series is the first outcome of a collaboration started a couple of years ago with Jambonbill that created the tool I'm using to draw with PETSCII. We are working together to make more stuff. It's taking its time, we are still exploring what we can do together :)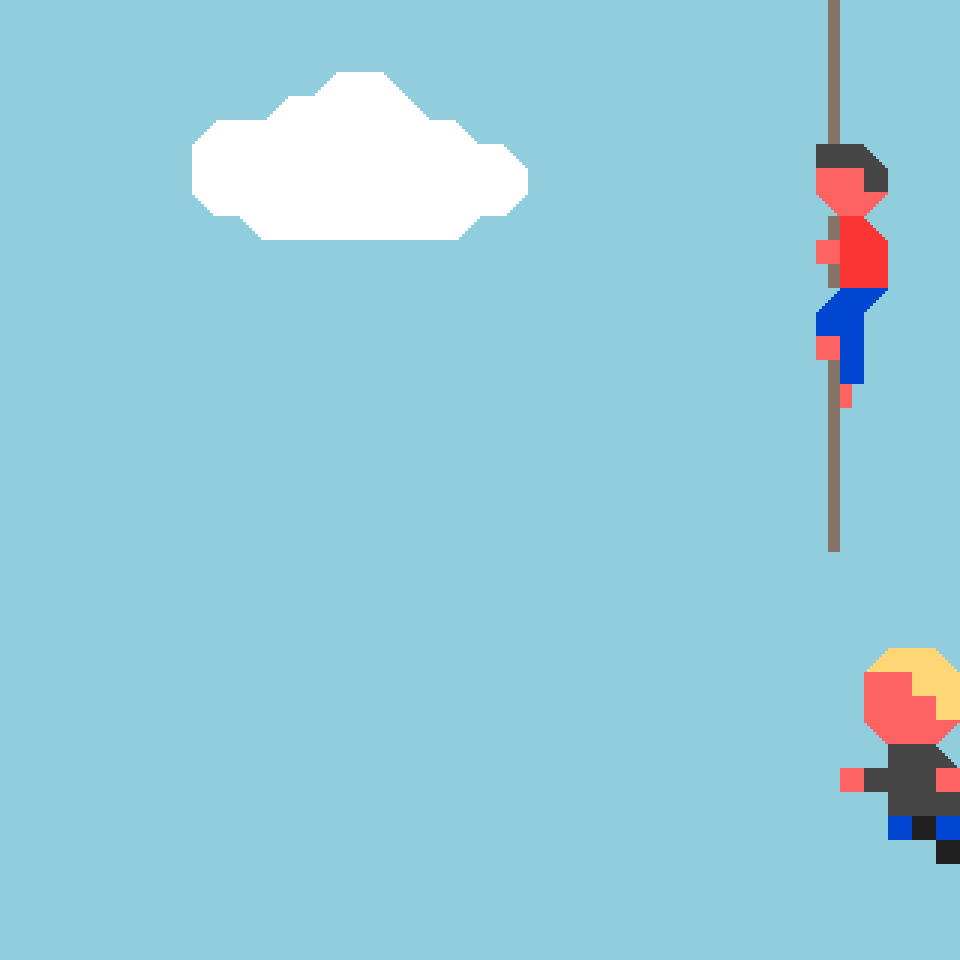 Tell me a little bit about your style! It seems like you have two very different styles that you work with – how did you start experimenting with each? 
I might have a complex personality :D Guess if you like to draw and like the feeling of exploring, you end up with different styles. I didn't go to an art school, so I learnt trying to reproduce cartoons I really liked, but once I managed, at least in my opinion, it got boring so I gave myself challenges to keep it interesting. That's how I end up drawing for a couple of years just with one continuous line or doing miniatures on a 4x4cm of colored paper or cut-out collages…Each style has its beauty and its flaws, and I don't want to cage myself into one.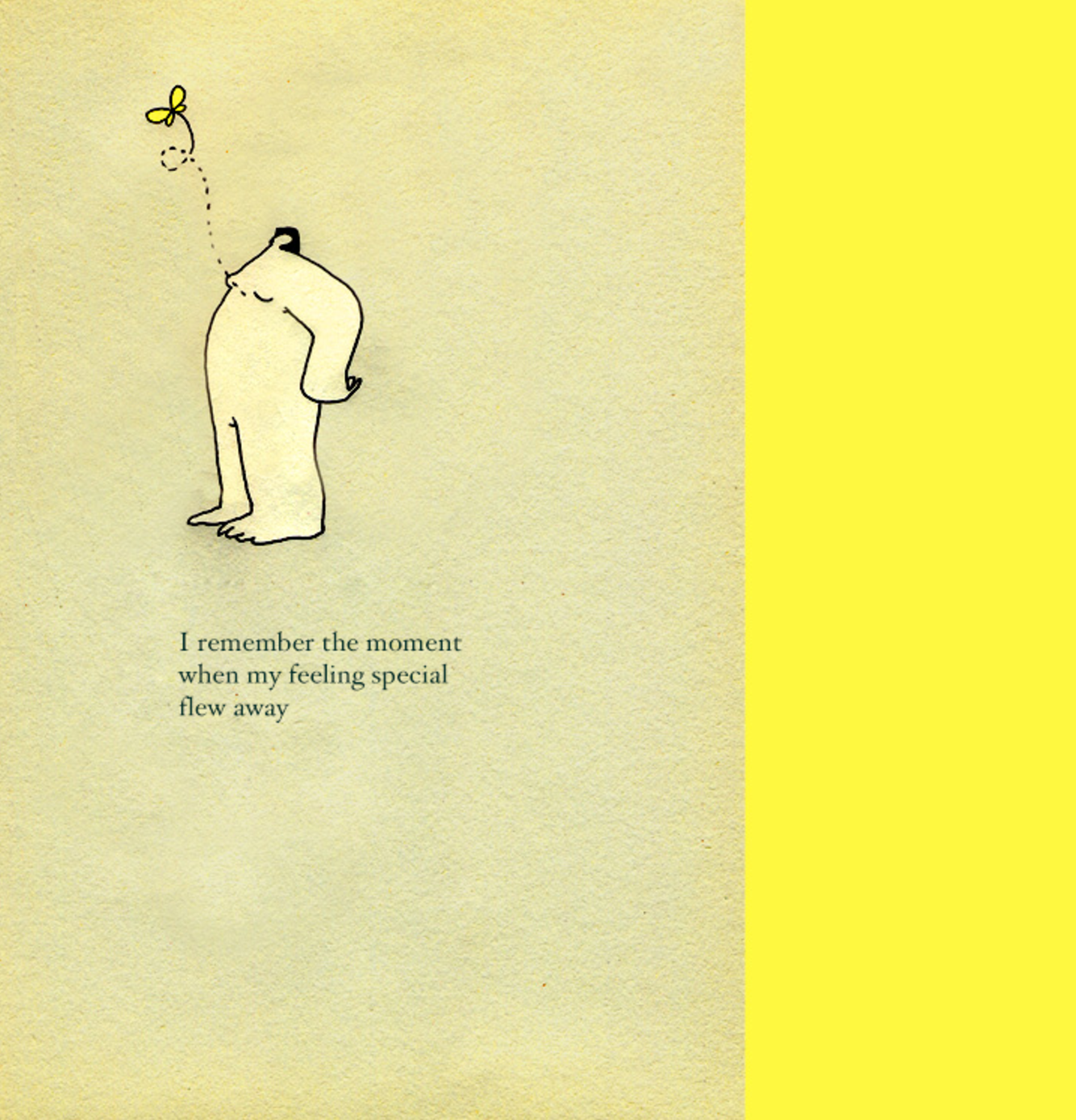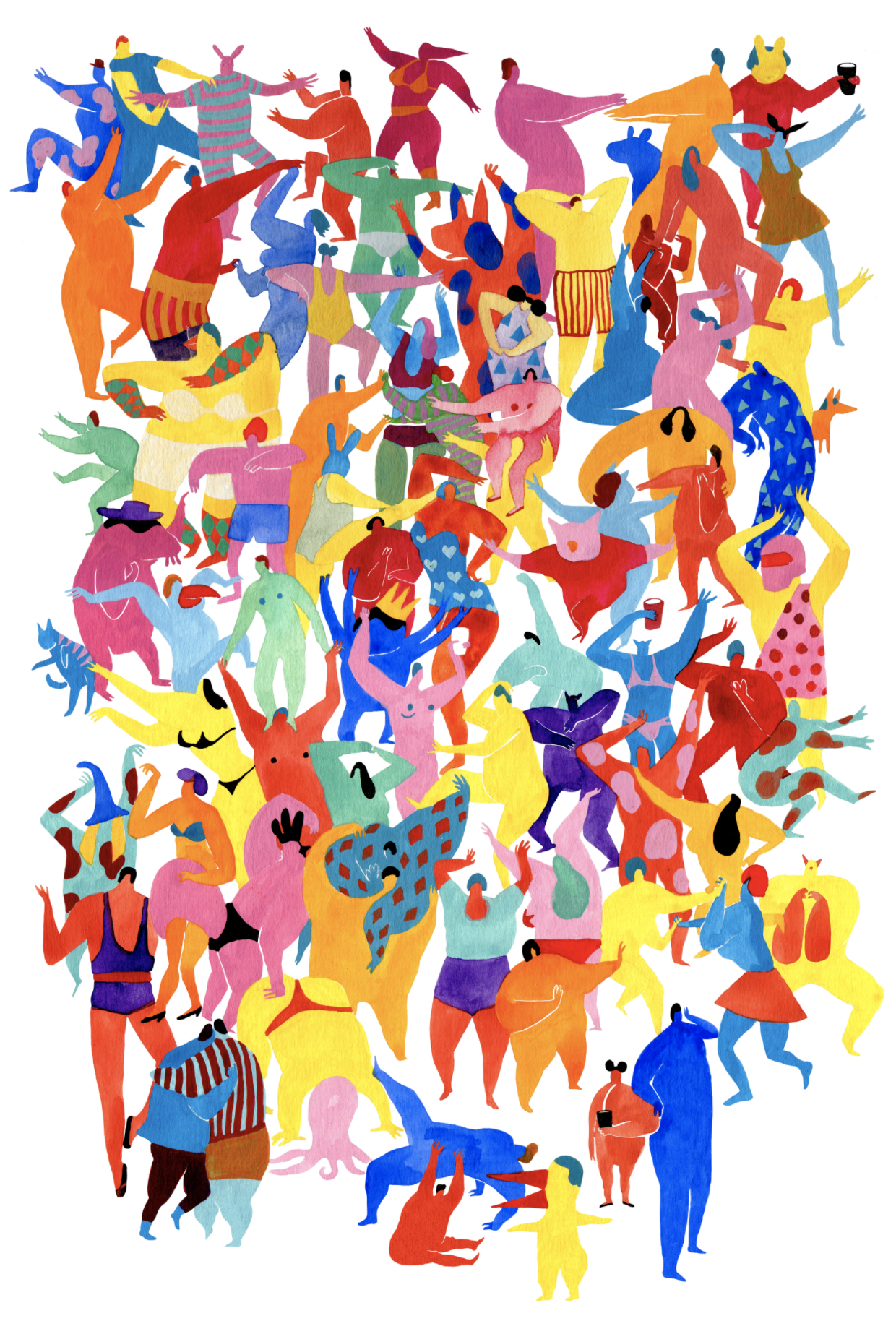 How did you come up with your design, "I Feel Like Dancing :)"!
This design was initially done for a poster for a DJ night by a friend of mine, Santo Chino.
I wanted to reproduce that atmosphere of a shanghai crowd of crazy people dancing, so I drew while listening to his mixes. Here's one.
What music makes YOU feel like dancing?
Mmmh that music keep changing, currently I'm hooked to chiptune. Here's a Gameboy song by Sidabitball.
This is your first Threadless print, congratulations! Have you ever put your work on apparel before?
A couple of years ago I printed some of my patterns on textile and then found a tailor to make a few clothes, but as only me and my mom wear them I'm not sure it counts :)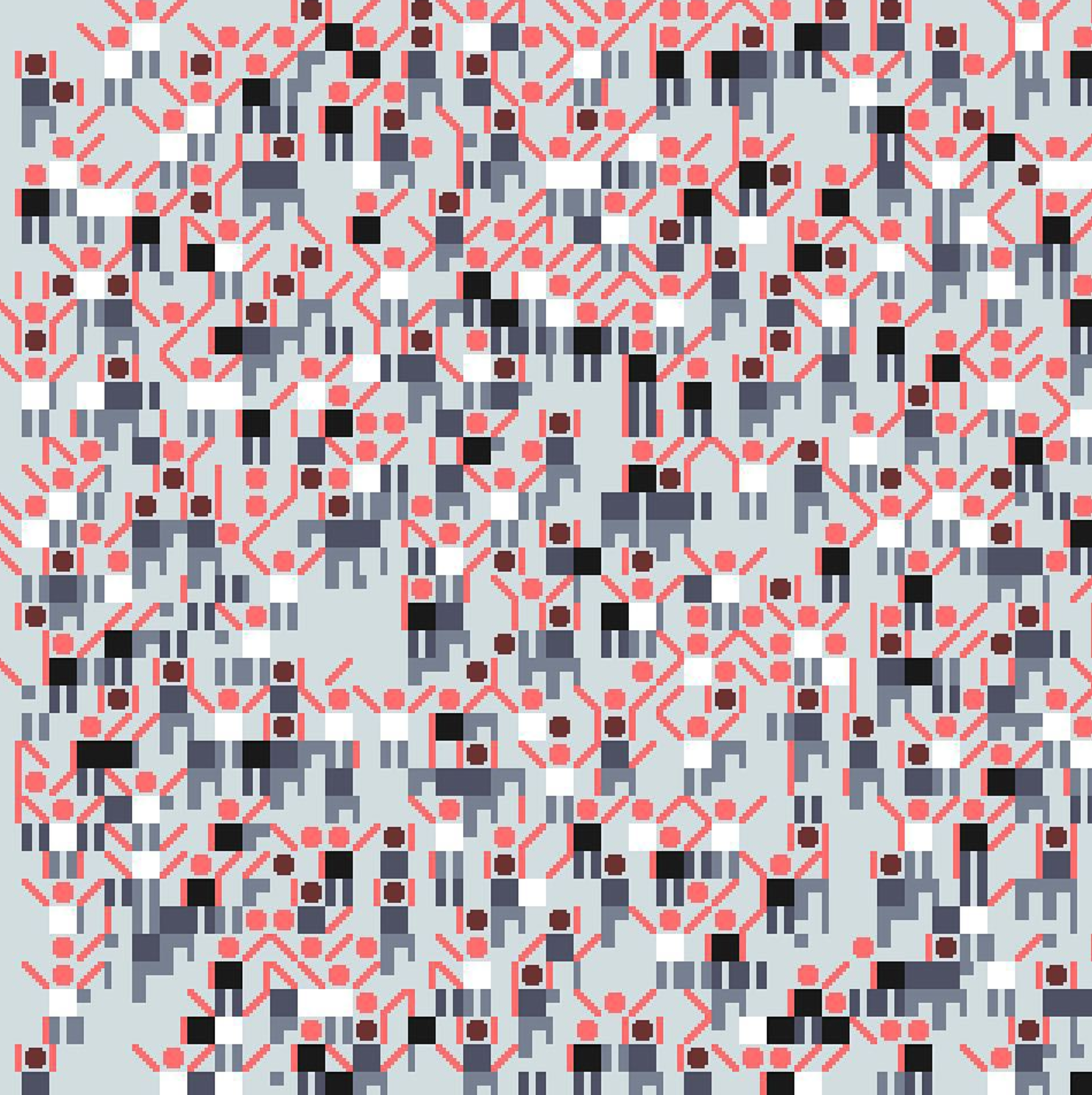 I'm so looking forward to see this t-shirt. I think I heard of Threadless first during university, I thought it was great but it took me years to finally submit a design. Very happy I finally made it :-)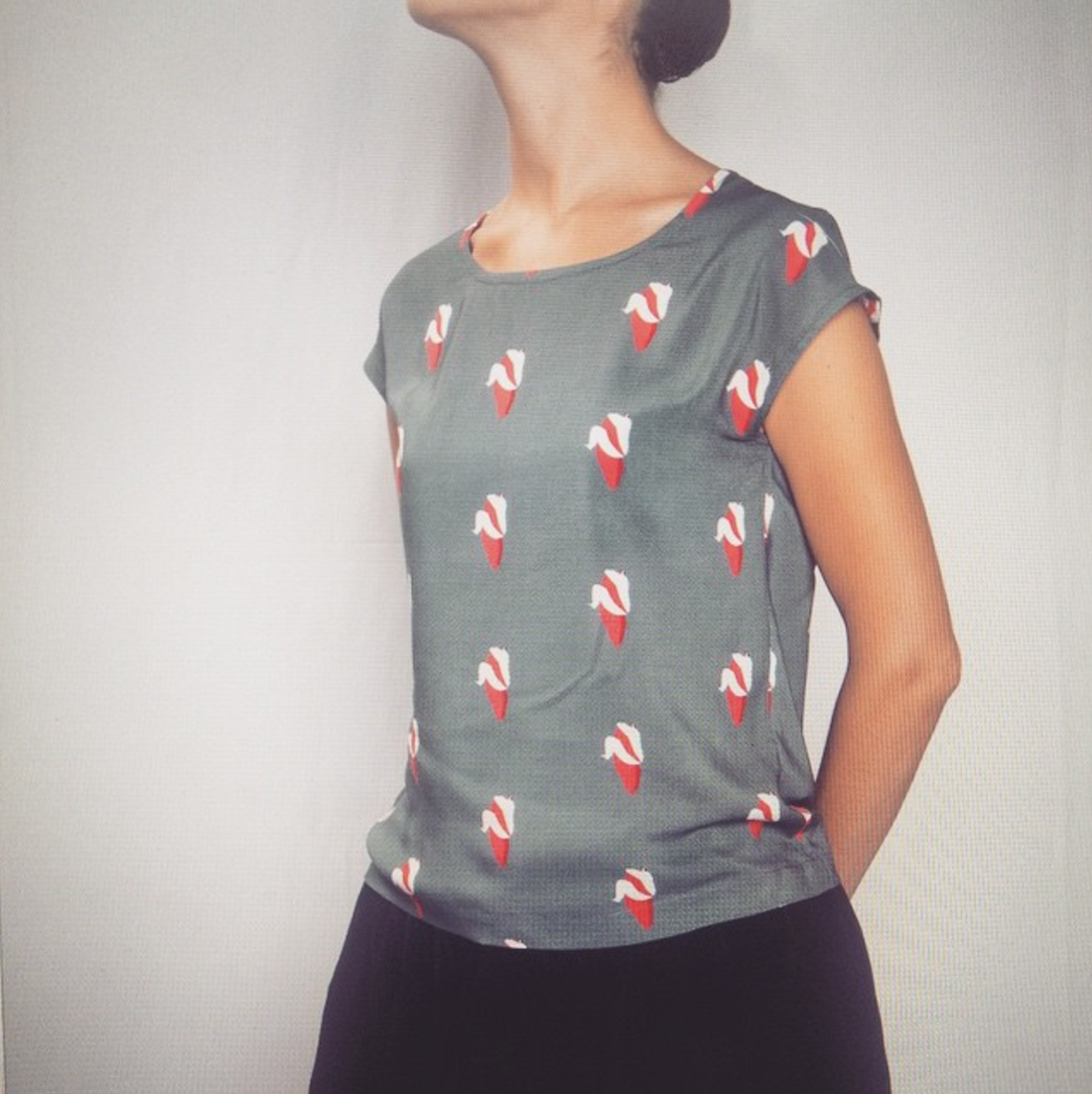 Anything else you'd like to share?
I'm working on some design for the Artist Shop on Threadless – stay tuned :)
Shop "I Feel Like Dancing!"!