Much like the weather, comic convention season is just starting to warm up here in the Windy City. And one of my favorites to check out is the Chicago Alternative Comics Expo (aka CAKE) – an awesome indie comic expo with an (almost) even better abbreviation. It's a great way to discover new artists, stories, and zines that might otherwise fly under your radar (and pins. SO many pins).
From a comic telling the story of one man's experience teaching English in Japan, to a zine all about traveling around Japan, to grappling with being mixed race through a Middle Eastern celestial sci-fi adventure, many of the stories found at CAKE are deeply personal and wholly unique. Check out a few artists we dug at CAKE 2017 and the cool work they do!
.     .     .
Kevin Budnik's Booth
Follow Kevin on Instagram | Follow Meredith on Instagram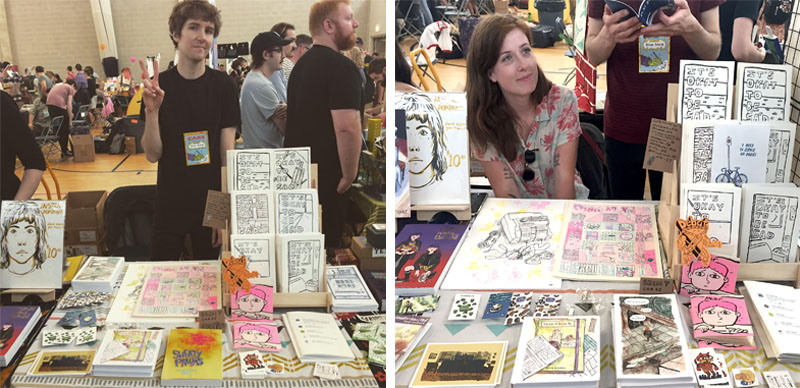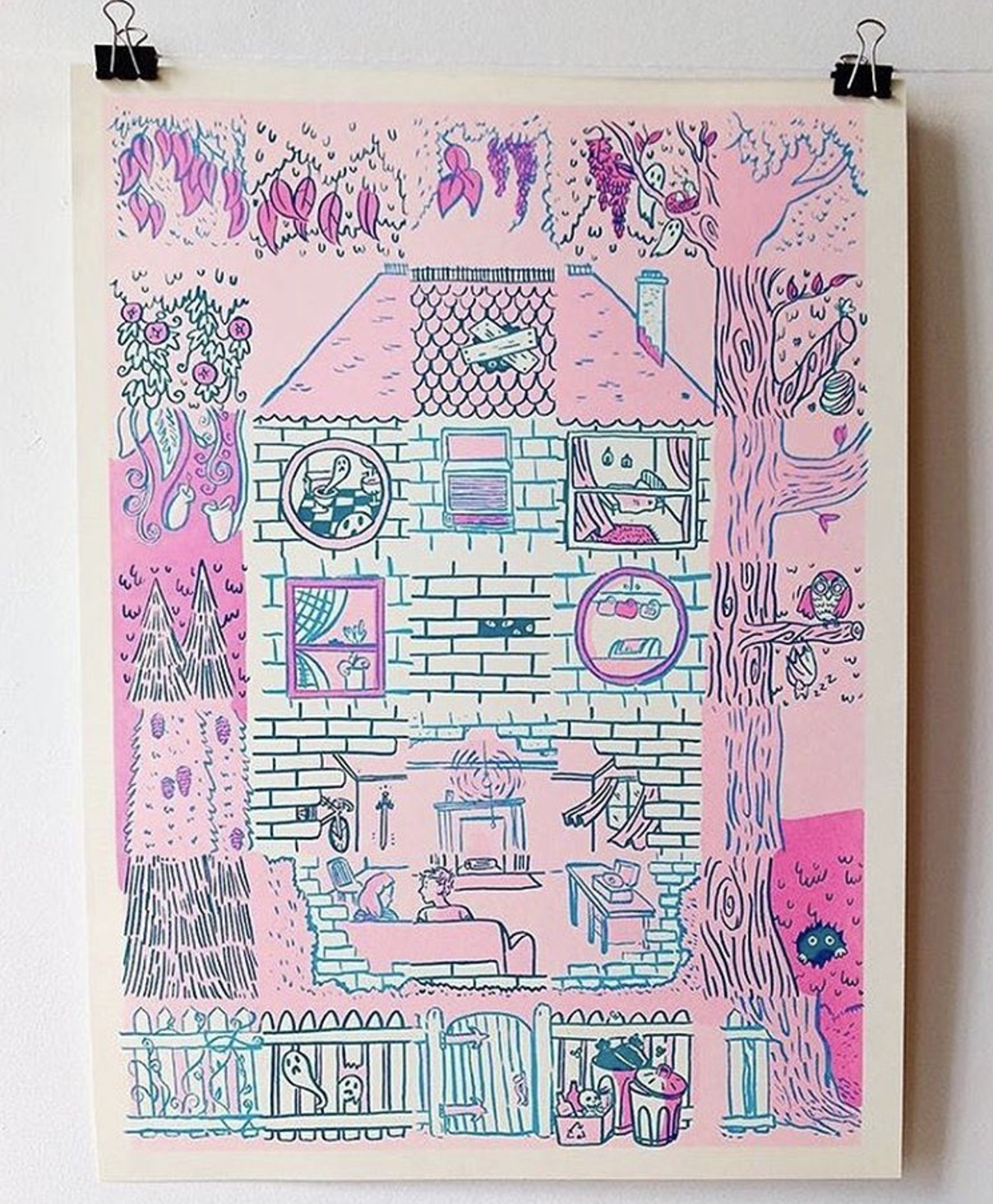 I've always really enjoyed this special CAKE guest's mini personal comics. But my favorite part of this booth is the pink and blue print in the middle of the table. It was a collaboration between Budnik and the artist you see in the picture above, Meredith W. Park. They each illustrated a square panel to make one full image!
Ann Ryan & John Wilinski
Follow Ryan on Instagram | Follow John on Instagram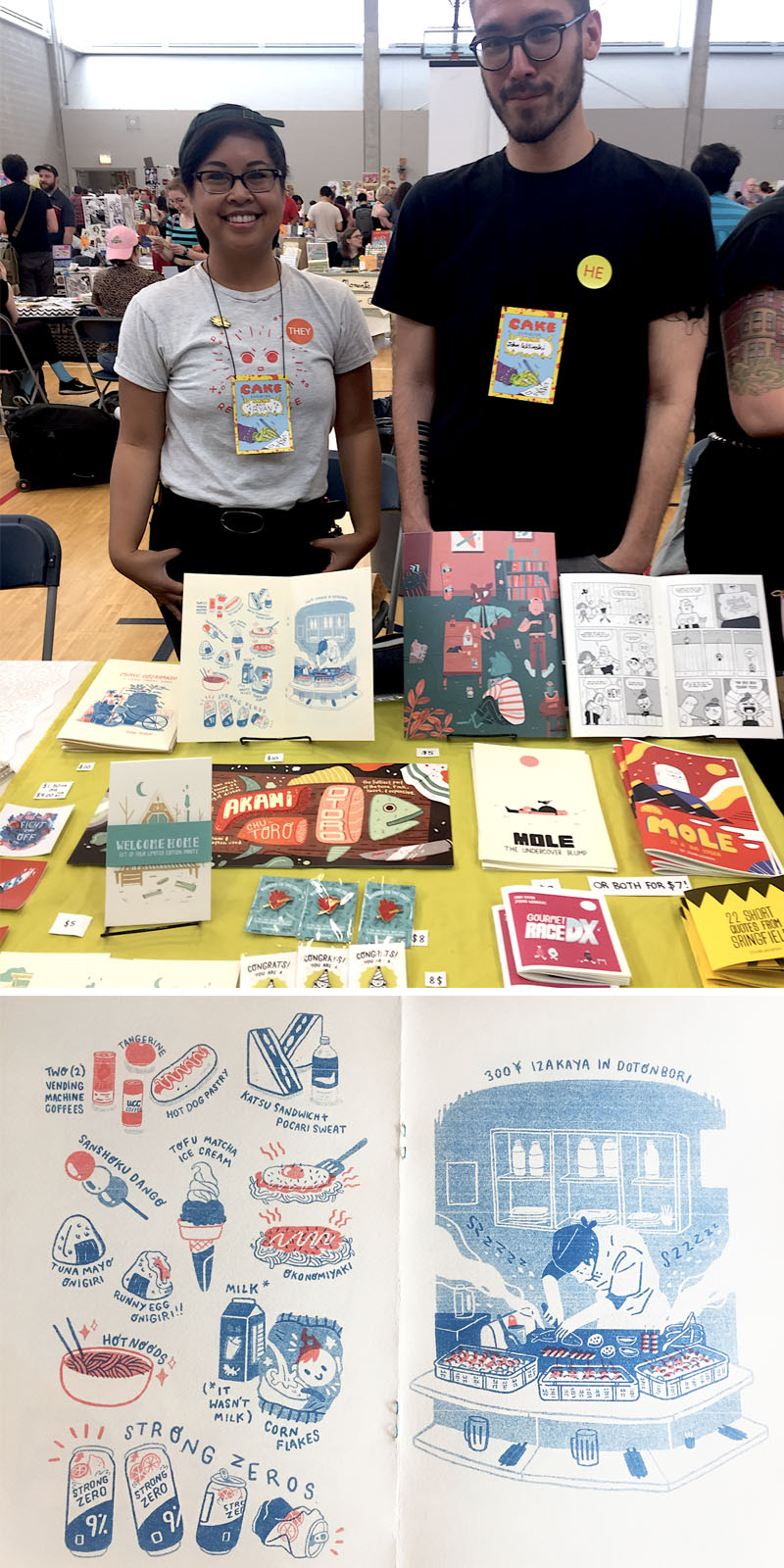 Ann Ryan and John Wilinski's art styles together at one booth made for some serious artistic eye candy, and I couldn't stop hovering. My favorite piece was Ann Ryan's risograph printed Japanese Travel Zine – it has such a cool visual texture and uses just two colors super effectively.
Isabella Rotman
Follow Isabella Rotman on Instagram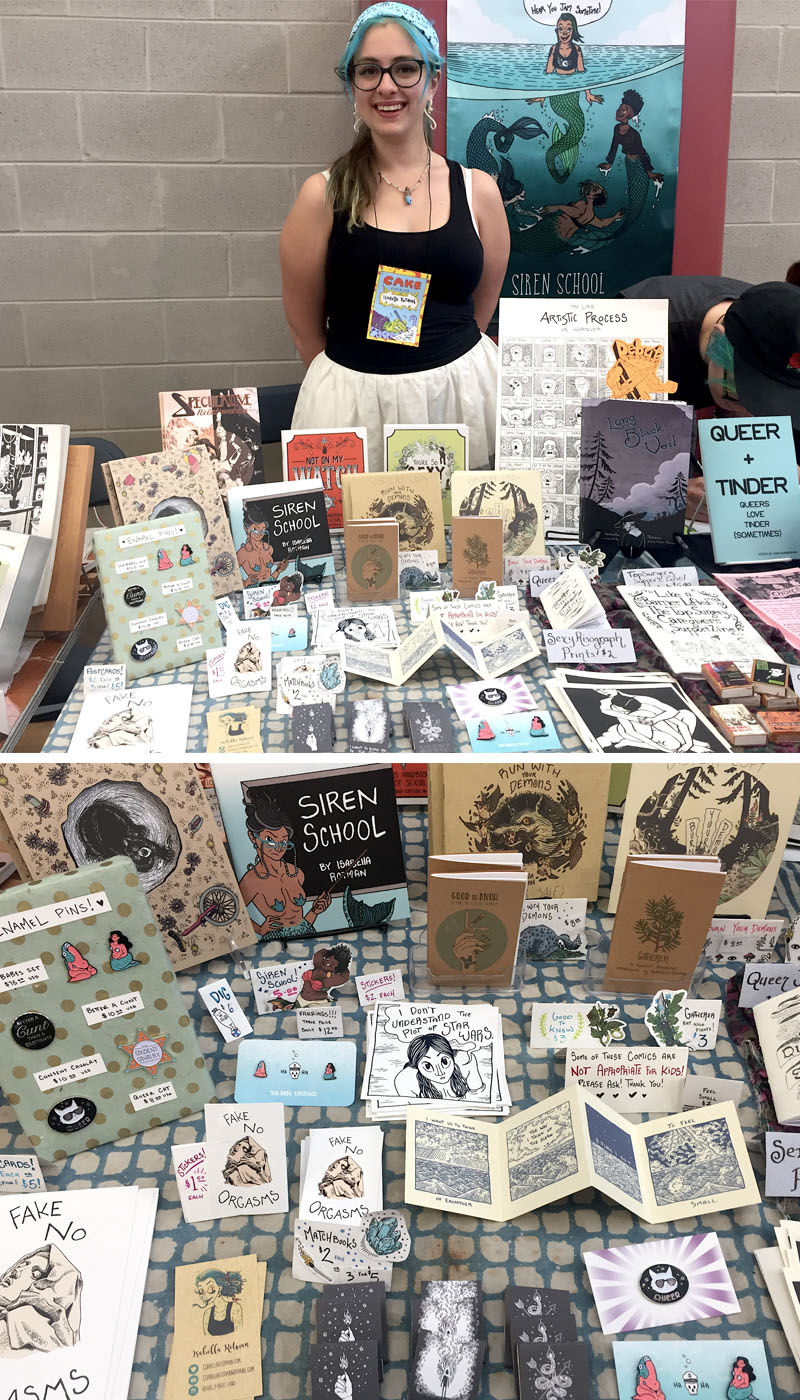 Huzzah! A Threadless artist! Besides her amazing zines and art that delves under the surface of the ocean, into the woods, and 🎶talks about sex, baby🎶, this Chicago-based cartoonist and self-proclaimed snake person's standout booth item (to me, anyways) is her double mermaid pin set featuring one mermaid with the typical mermaid fishtail lower half, and another with a human lower half and a fish head.
Alan D. Caesar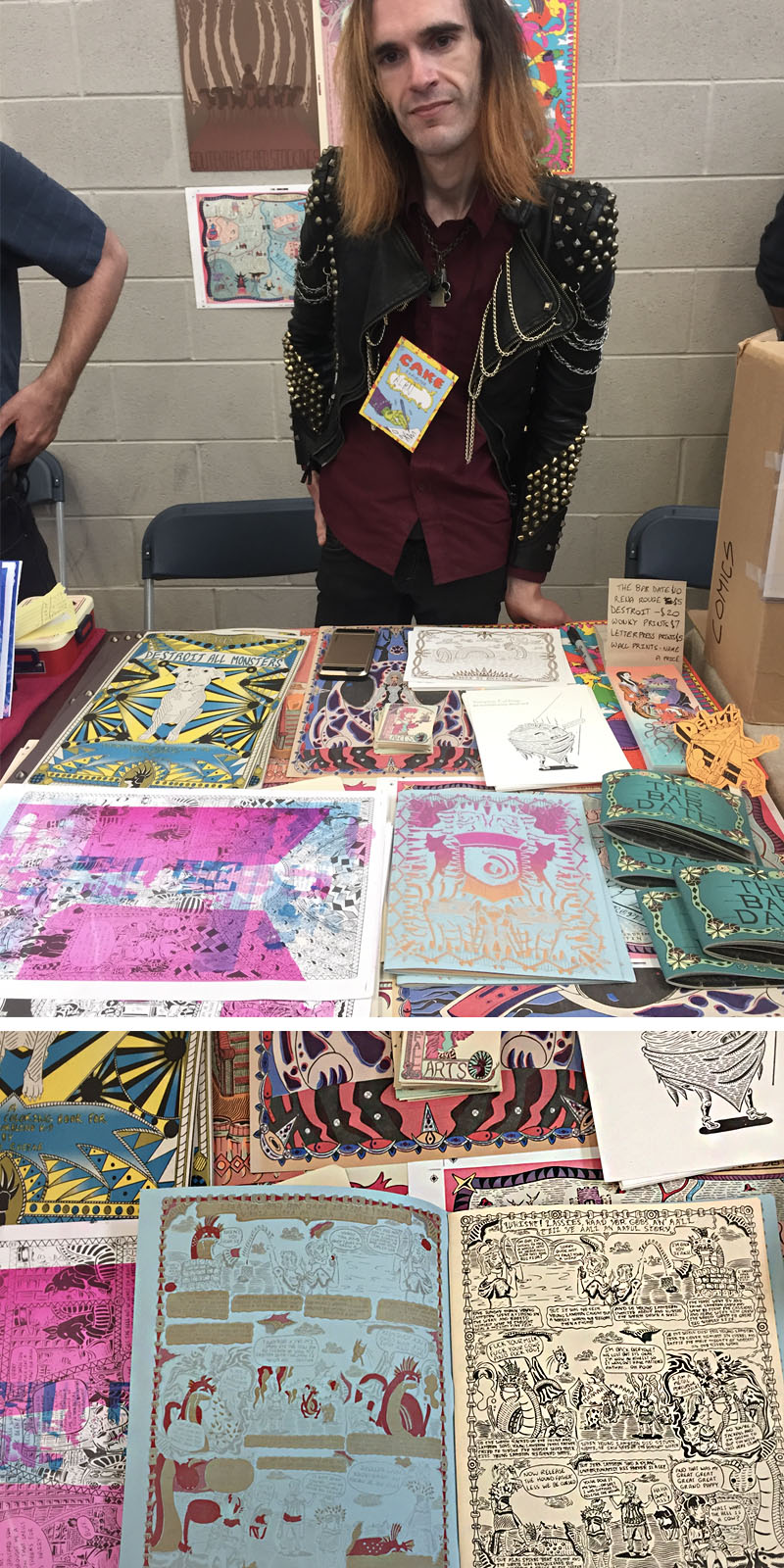 Alan's work blew me away because of how intricate it is (look at that one page!) Every panel is insanely packed with detail. In fact, he told me that a single page can take around 16 hours to complete, and you can see why!
Vreni Stollberger & Iasmin Omar Ata's Booth
Follow Vreni on Instagram | Follow Iasmin on Instagram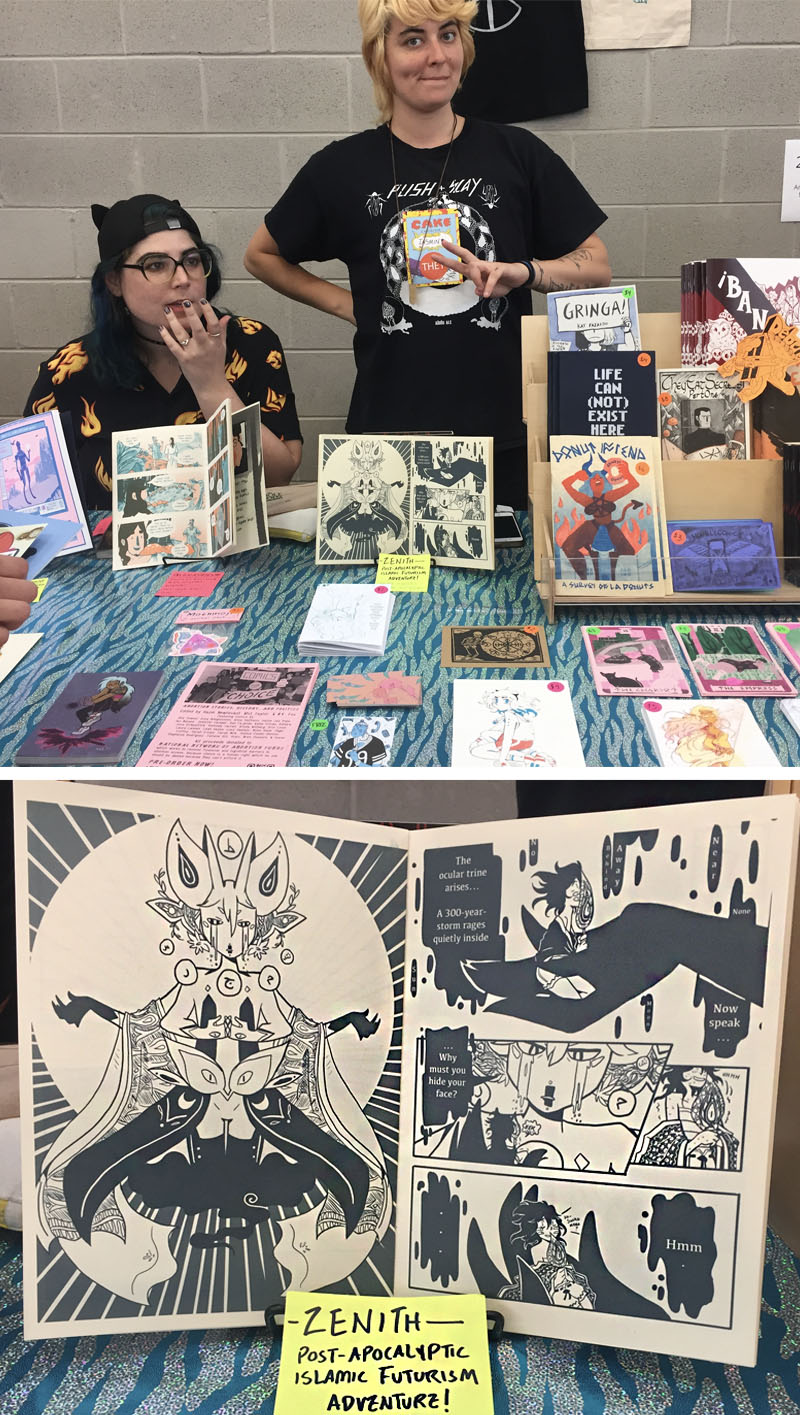 Seeing "Zenith: a post-apocalyptic Islamic futurism adventure!" is what made me make an immediate beeline for this table. How can you not be hooked? The artist and writer, Iasmin Omar Ata, is a middle eastern game designer (aka all-around badass) and told me that Zenith was conceived as a way of exploring their own identity as a person of mixed race. And Vreni Stollberger's art had me mesmerized as well – her use of color and her style have an amazing aesthetic effect.
Beth Hetland & Kyle O'Connell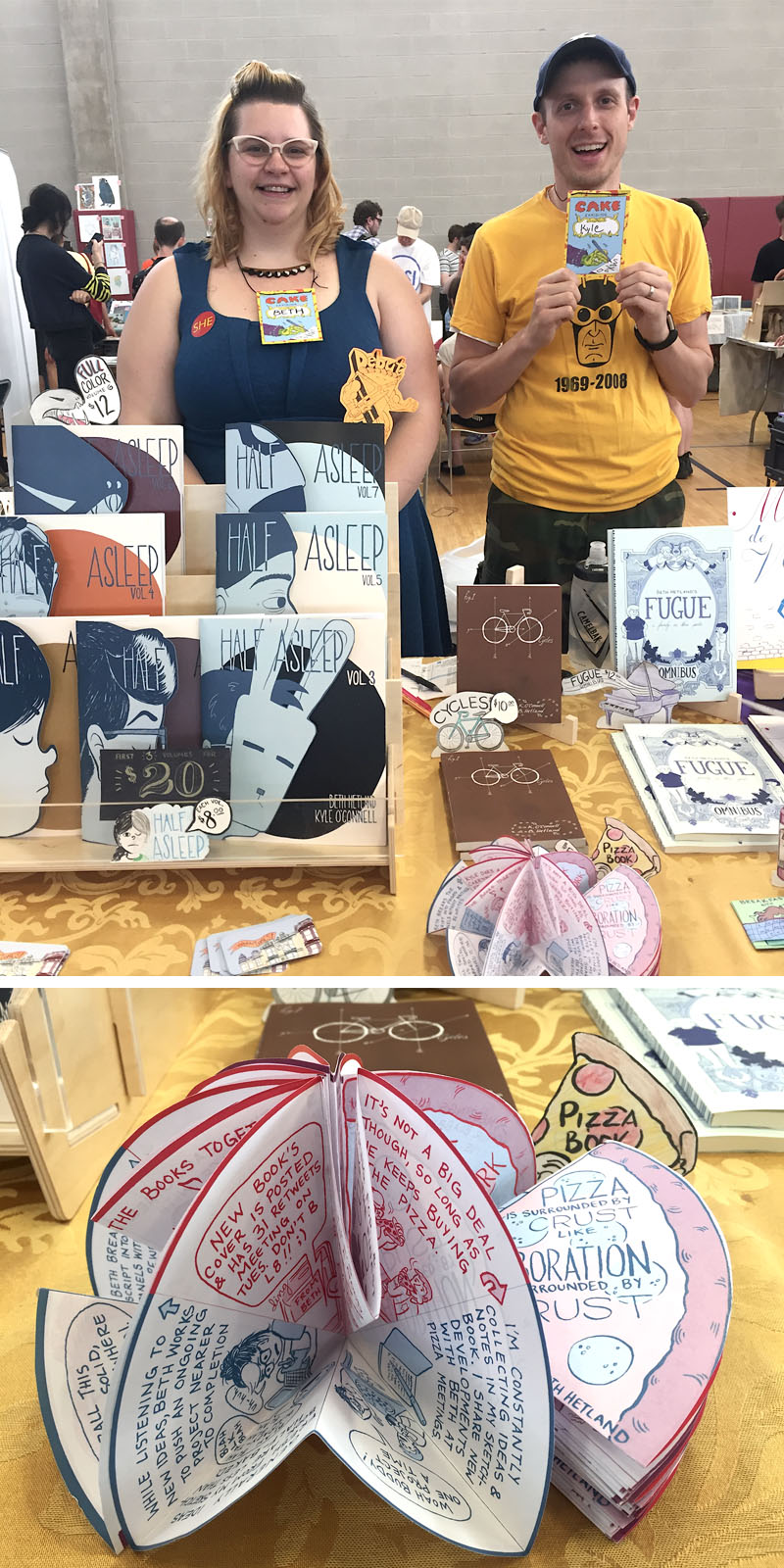 One thing that's super unique about mini comics and zines is the variation in how they can be presented, and this pizza book by Beth Hetland and Kyle O'Connell is a prime example. One either side of the this origami-esque book, you have a story in either red or blue, the color representing who created the story – Beth or Kyle. And then if you open it up into a full circle, you get a purple story that they both worked on together!
Andrea Bell
Whether it's a "Mix CD" zine that also tell a story, an awesome pin, or a full-on comic, I'm a fan of pretty much anything Andrea makes. Her art style and light color palettes come together to create a super engaging aesthetic.
Lars Martinson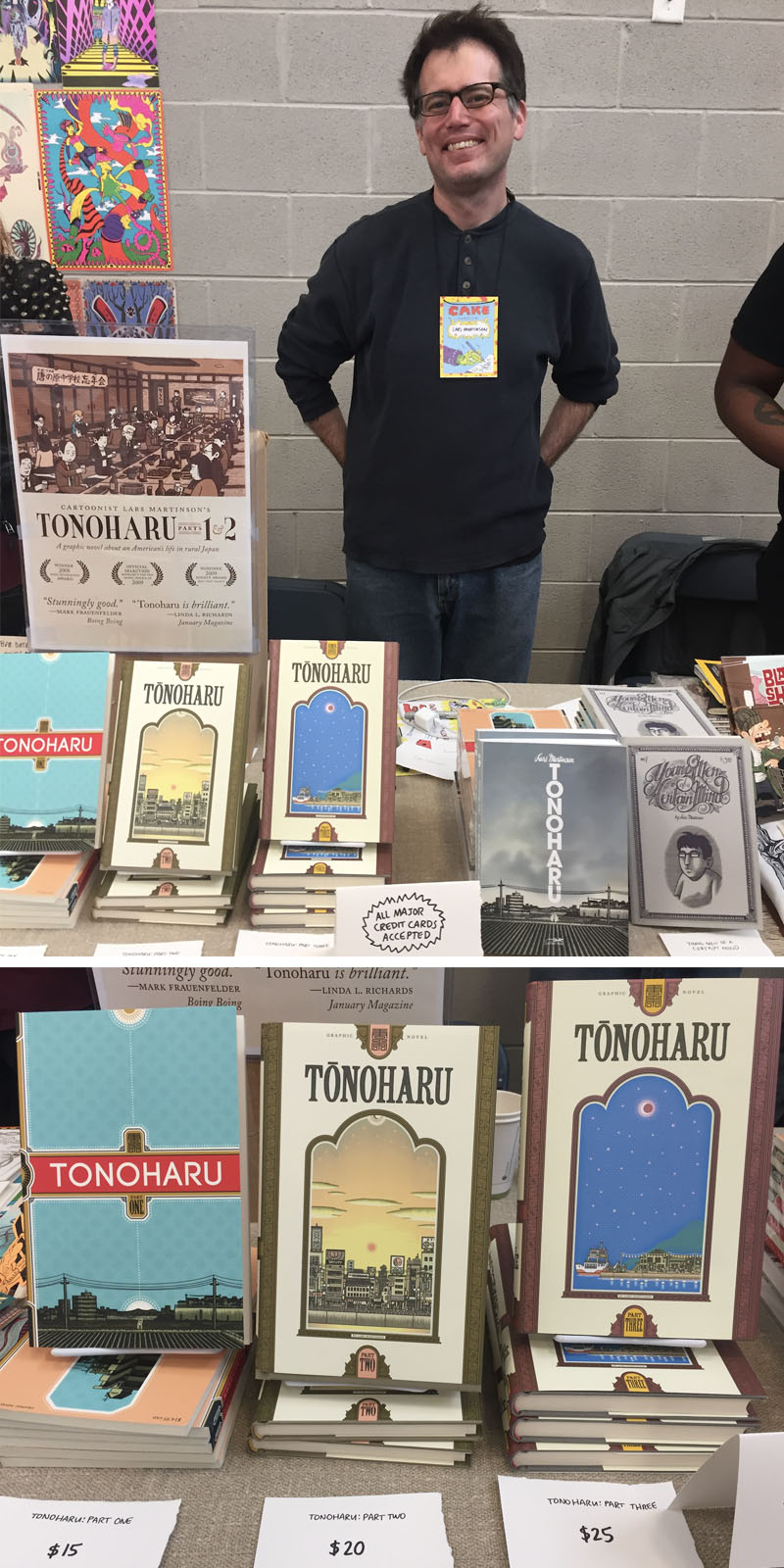 Tonoharu – Lars' personal comic reflecting on his time teaching English in Japan – got some serious critical nods in publications like Entertainment Weekly and Boing Boing. The incredibly detailed pages are beautiful to look at and satisfy a certain amount of wanderlust (or cause it).
Amber Huff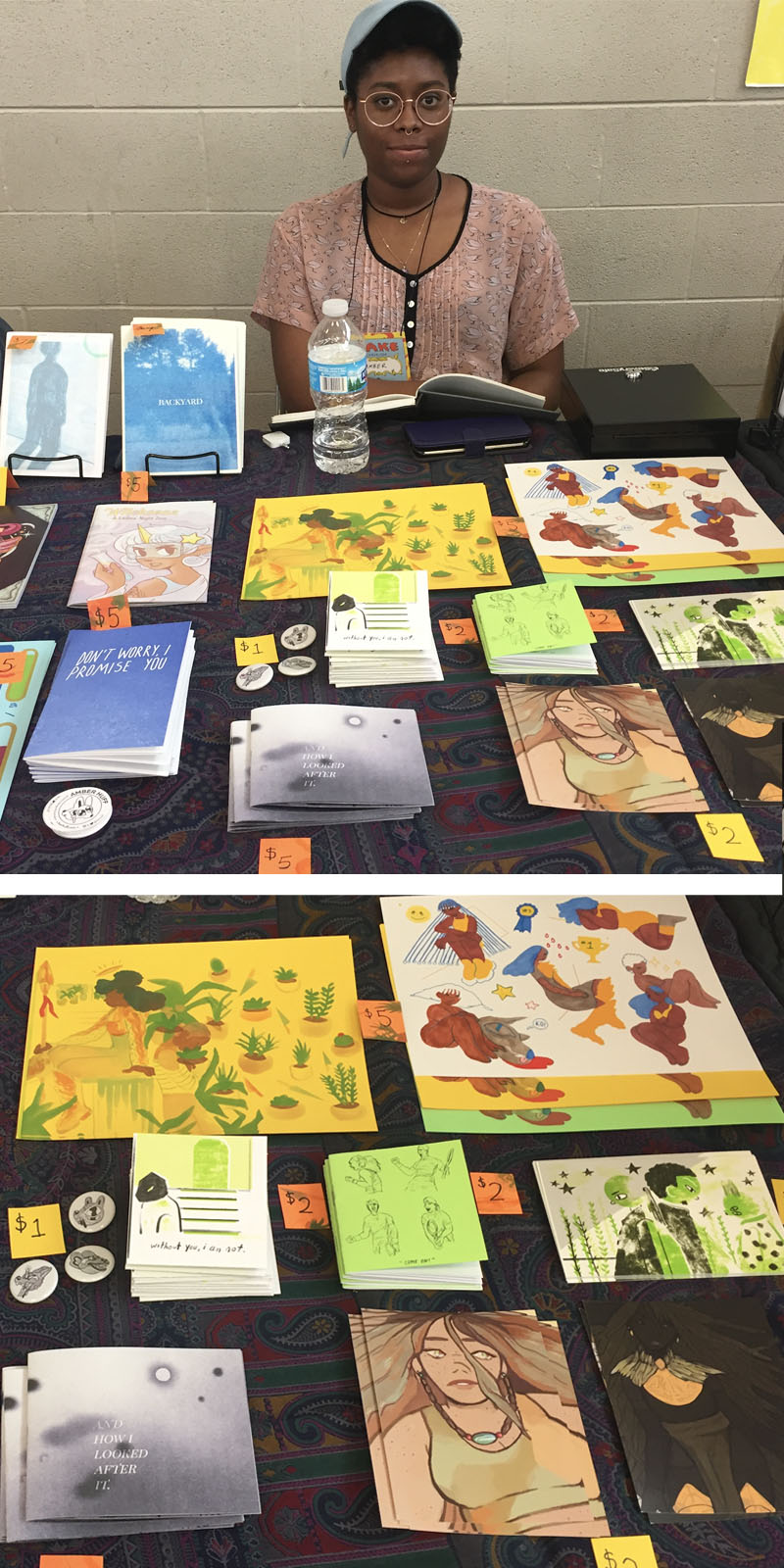 Amber's booth is one I just kept circling back to. I love her art style, use of visual texture, and the color palettes of golds and blues she uses to bring her art to life. And her sculpture work on her Instagram is pretty cool as well!
Kate Lacour
Kate mixes biology and Grey's Anatomy (the book, not the show) level human anatomy art with celestial, tarot card-esque imagery in a way that is wholly unique.
Shari Ross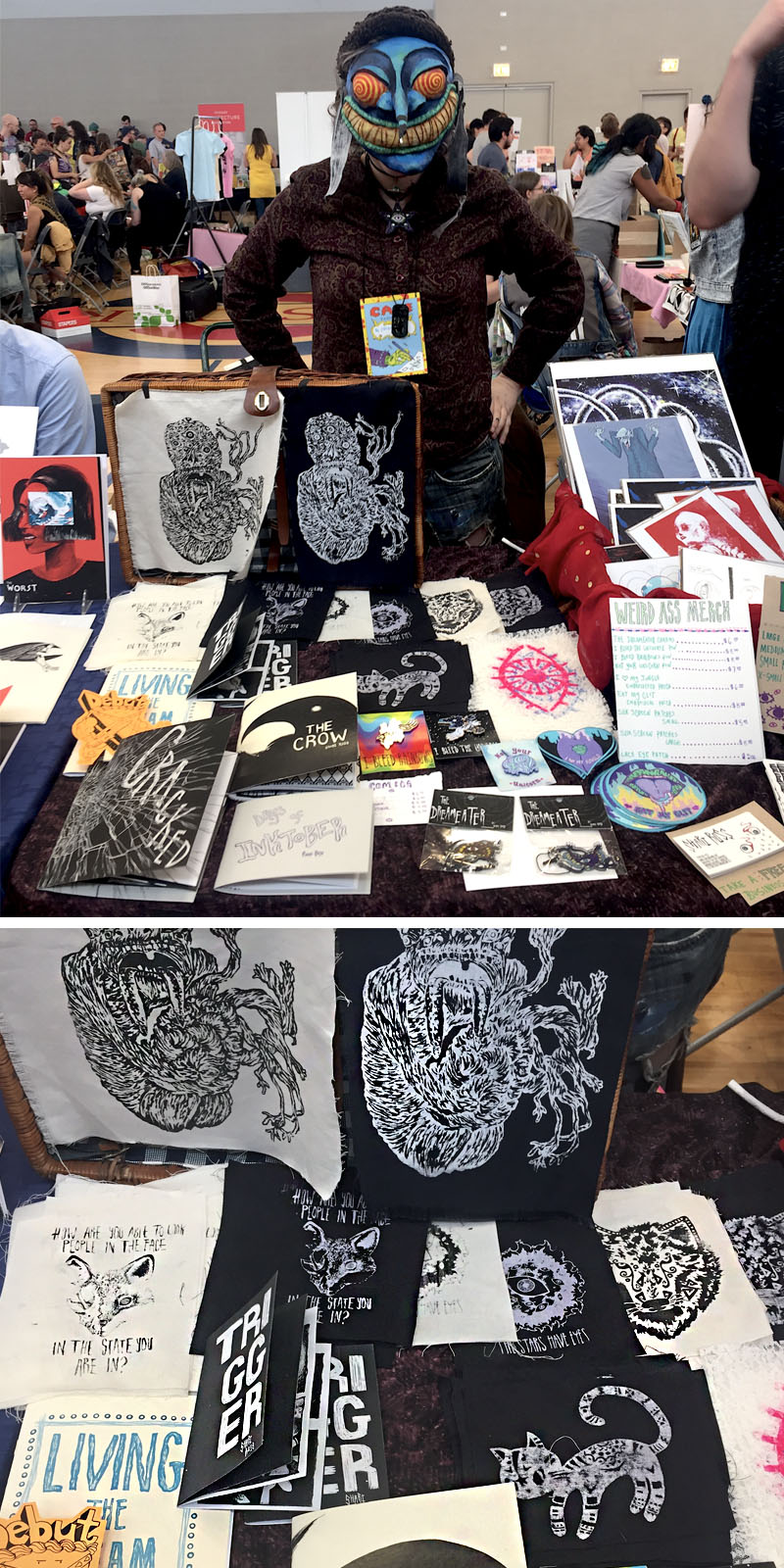 Shari's intricate black and white lineart designs made her booth stand out in the best way (as did her rad mask). Her style is so unique, detailed, and requires a second look to catch all of the details in the linework, which is pretty cool.
Furious Flair
Follow Furious Flair on Instagram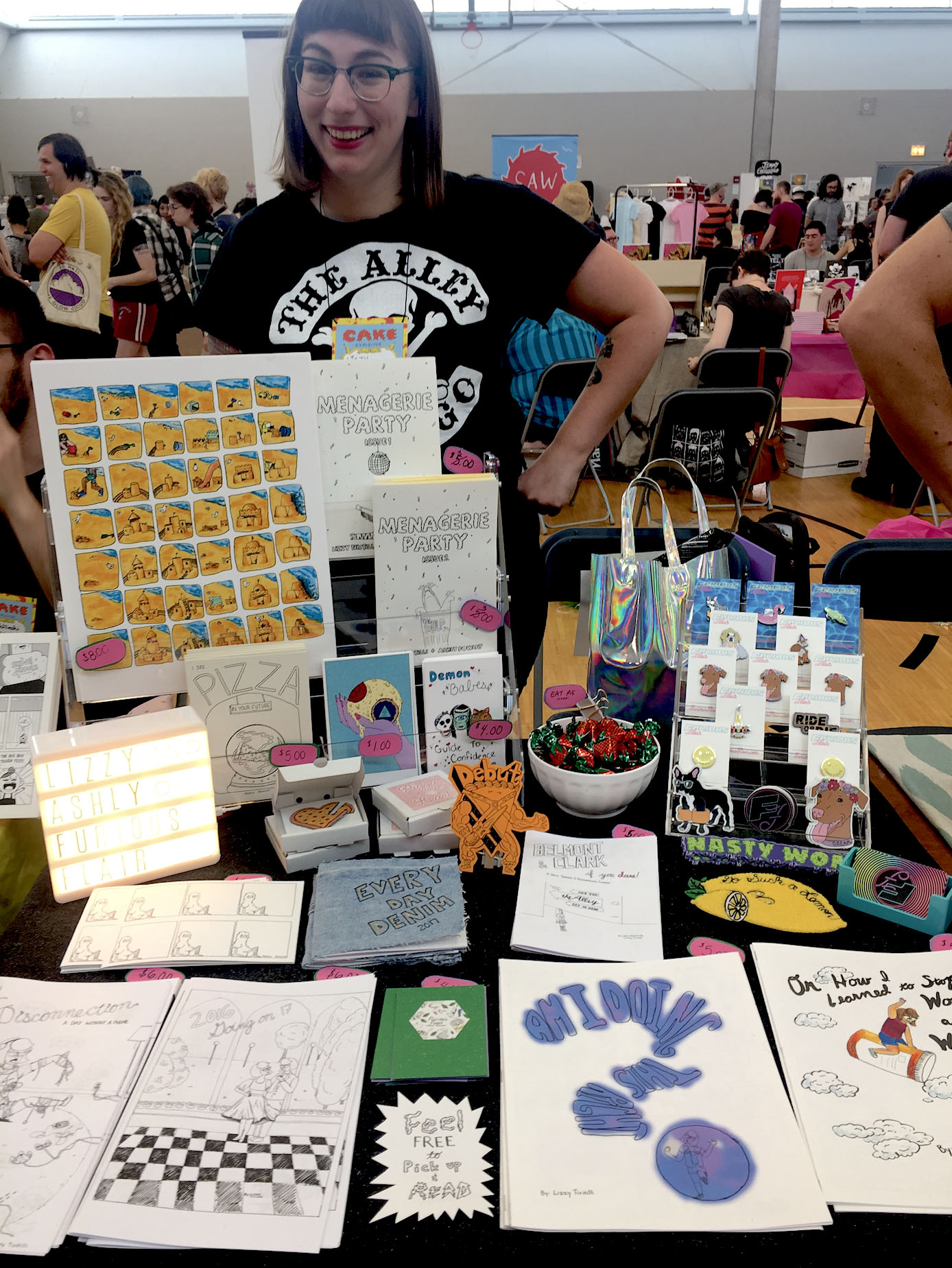 Run by three awesome ladies – Lizzy, Jeanna, and Ashly – Furious Flair is an artsy girl gang that always has a rad new pin, patch, or zine way worth checking out. Their staple piece, IMO, is their pizza pin – a giant, heart-shaped pizza pin with a second, mini pizza slice pin that breaks off of it. The best part? It comes in a teeny pizza box. When it comes to coolest pin packaging ever? They win.