Ahh yes, the holidays. Jolly music is playing, snowflakes are falling, the gathering of loved ones is nigh. But last year, we learned that not all is 'merry and bright' when the Krampus movie introduced the mainstream to the demonic anti-Santa that gives "you'd better watch out" and "he sees you when you're sleeping" a terrifying new level.
The Krampus is an ugly twist on "the most wonderful time of the year"…but when you think about it, is that not what ye olde ugly Christmas sweater is all about? The winner of our ugly Christmas sweater challenge, Brian Walline, embraced all of the above to create something beautiful. We talked to Brian about his travel posters, Artist Shop designs, and about the fact that the Krampus is wearing an ugly Christmas cardigan in this design, which is pretty great. Check out what he had to say below!
.     .     .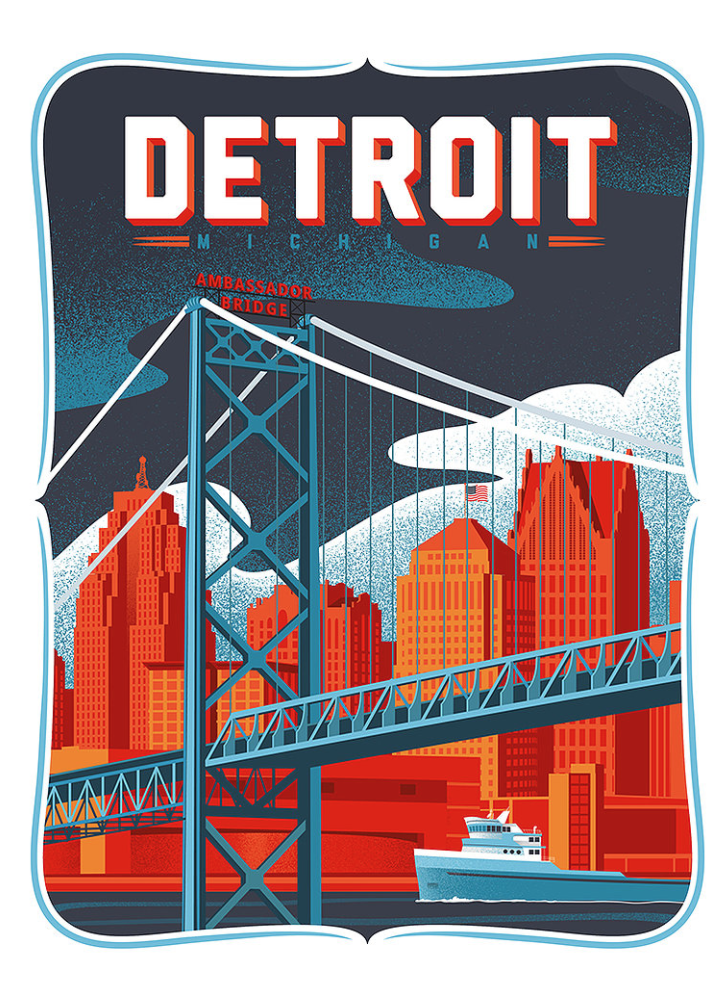 Tell us a little bit about yourself! What do you do for a living? Where are you from? What's your favorite kind of pizza?
Hello!  I'm from Ann Arbor, MI and I create and sell Michigan-themed travel art prints for a living on my site. Yes, we Michiganders (Michiganians, if we're being proper) have enough love for our pleasant peninsulas to support a whole year-round industry of professional Michigan celebrators. And rightfully so; it is a unique and beautiful place.  I also have a Chicago print, if that's more your speed ◔_◔ And favorite pizza? Detroit style!  
Your Ann Arbor inspired designs (and all of your professional designs) are beautiful – what's the most exciting project you've worked on?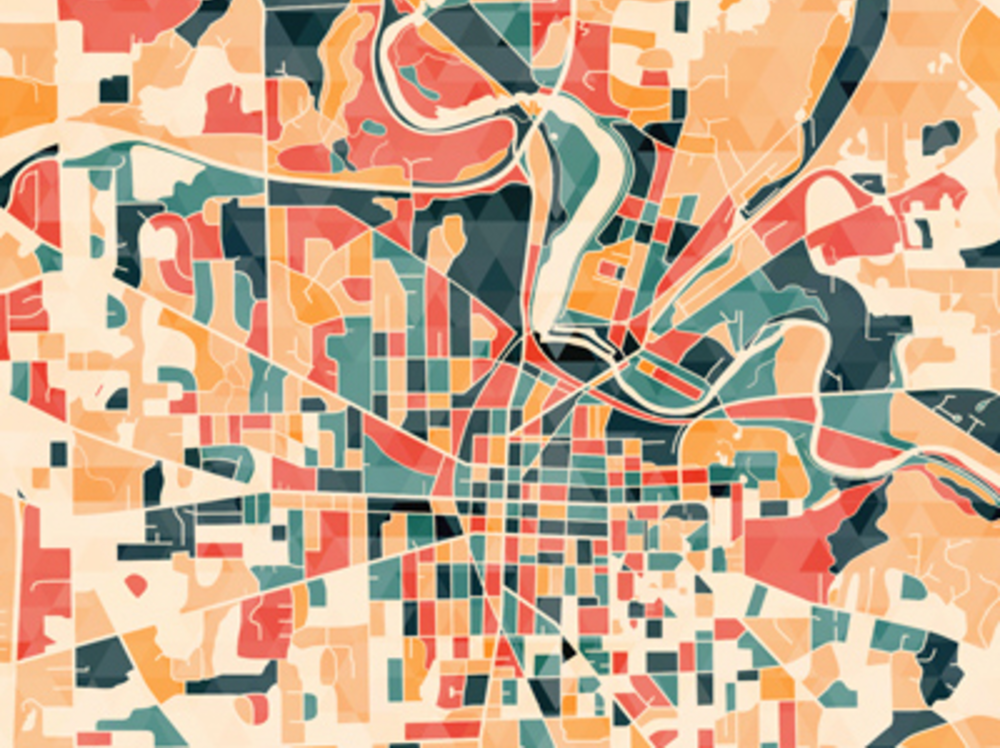 Thank you! The most exciting project is usually just the current project :-)  In this case, I've been working on some typographic pieces from famous literature, the proceeds of which will be donated to some of the organizations that I feel could most use a boost during the next few years, such as the American Civil Liberties Union, the Southern Poverty Law Center, and the Natural Resources Defense Council.  The first two pieces are the Litany Against Fear from Frank Herbert's Dune and George Orwell's Six Rules for writing, the former of which can be found in my Artist Shop.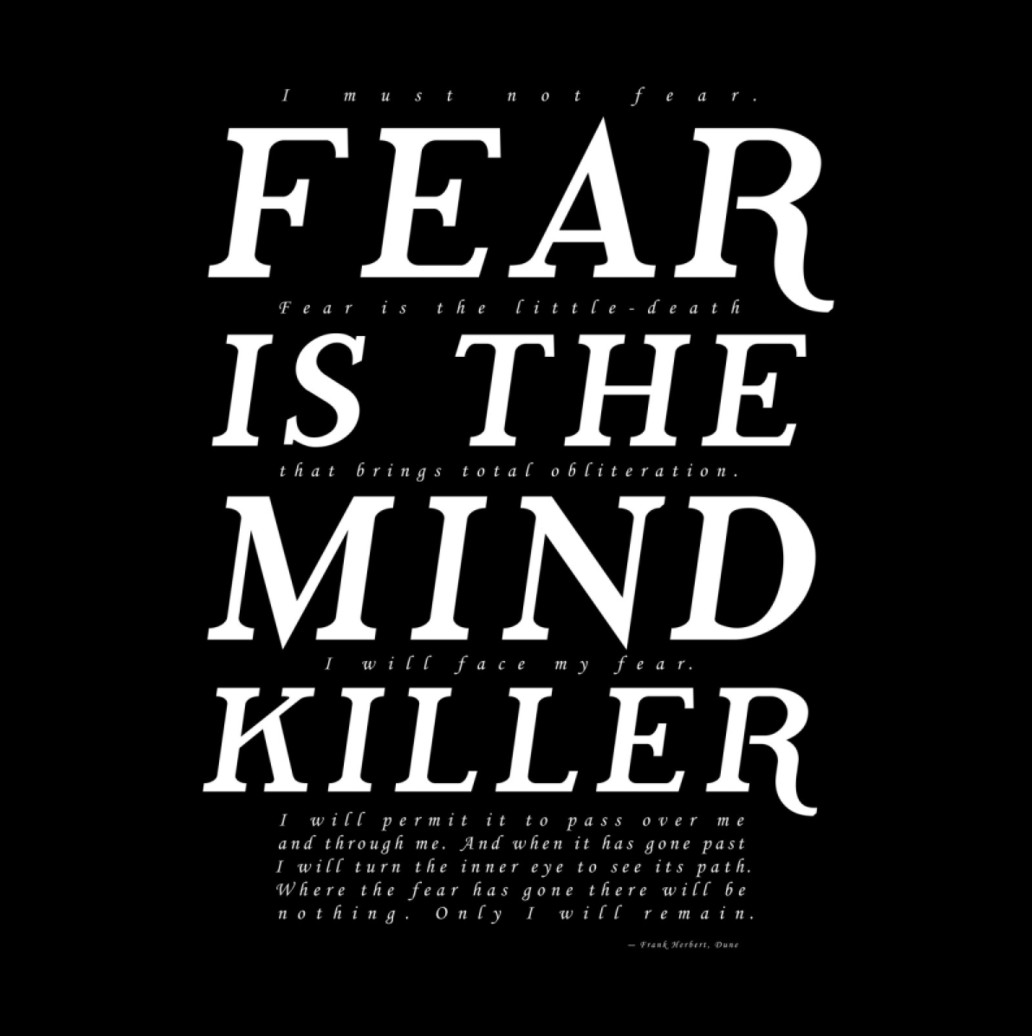 Your winning 'ugly Christmas sweater' is beautiful. Tell me…is the Krampus wearing an Ugly Christmas Cardigan?
Thank you!  And yes, he most certainly is.  It's made from 100% ethically harvested, homespun Krampus pelvic fur and natural dyes. Hand wash in the tears of naughty brats. Do not bleach. Tumble dry on low.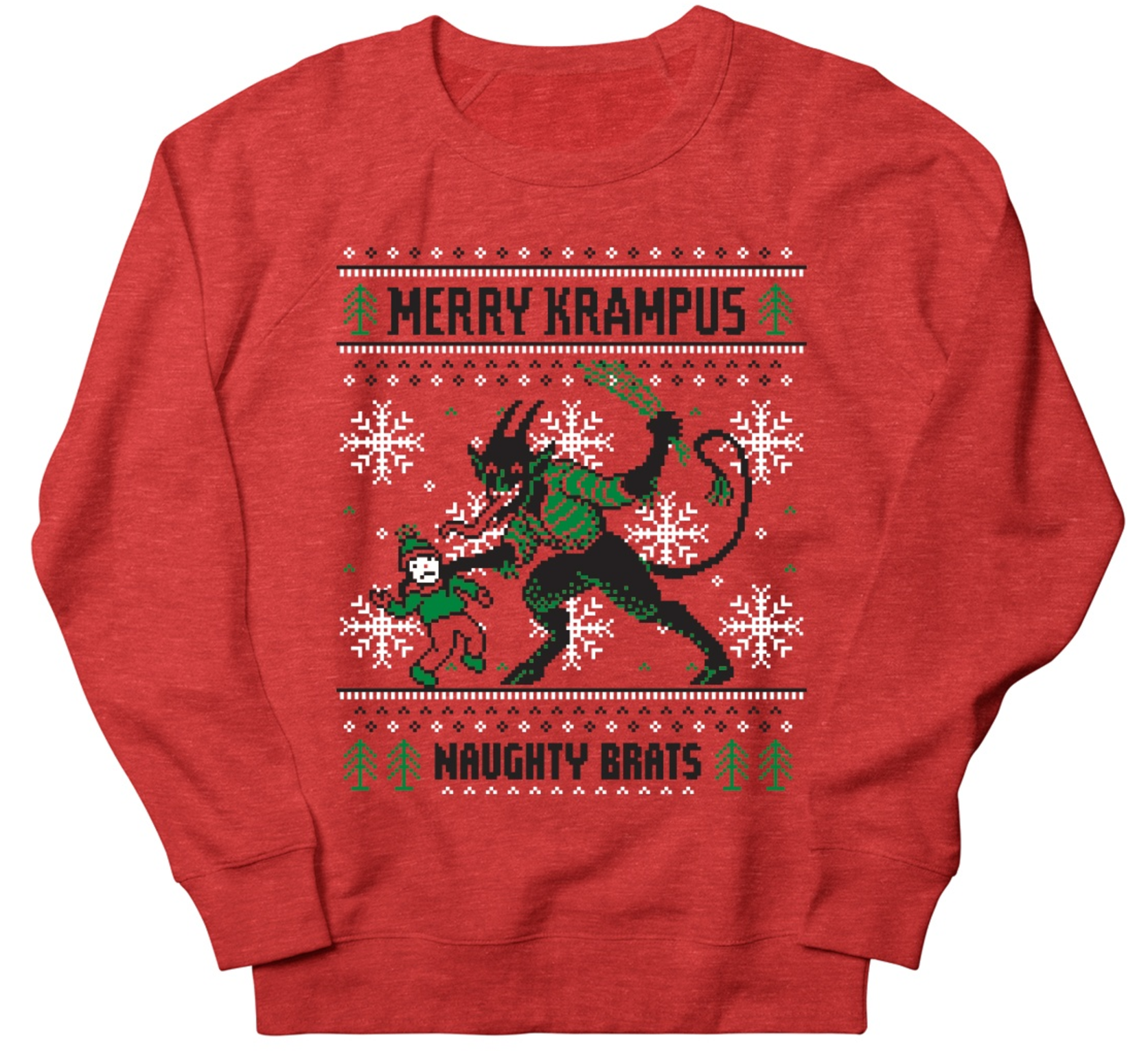 Have you ever made an Ugly Xmas Sweater design before? If not, what was learning the technique like?
I tried once before, but it was hard, so I gave up.  In the end I chose to do it on a grid in a similar fashion to 8-bit pixel art I've done before, which is always difficult because you can have very little detail and you have to make a lot of tough choices about what is going to read the best from a distance, even if it looks like garbage up close.  It sort of works, but next time I'll actually try to make it look like thread instead of pixel blocks.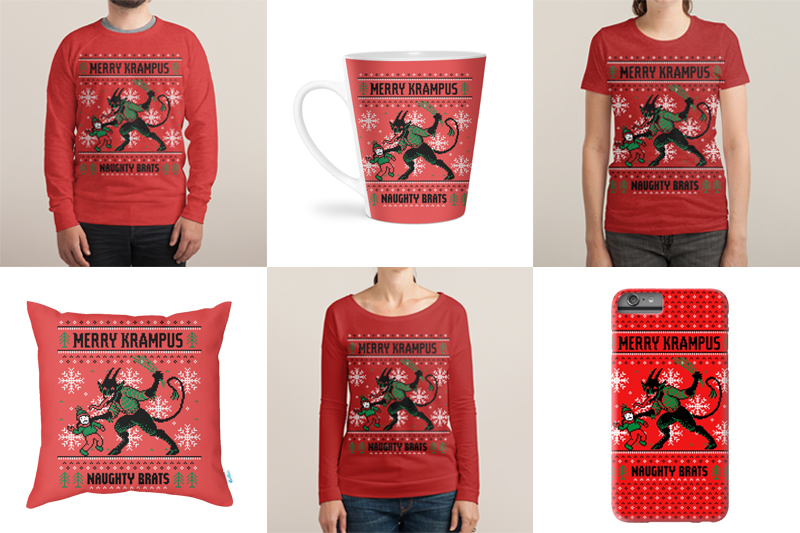 What was your creative process for creating this design?
It seems like so few people get what they deserve, especially during the holidays, so the creation of this design really centered on pinpointing the exact emotional location where Christmas and comeuppance intersect.  It's all about righteous application of nonlethal violence in service to a more just and accountable world.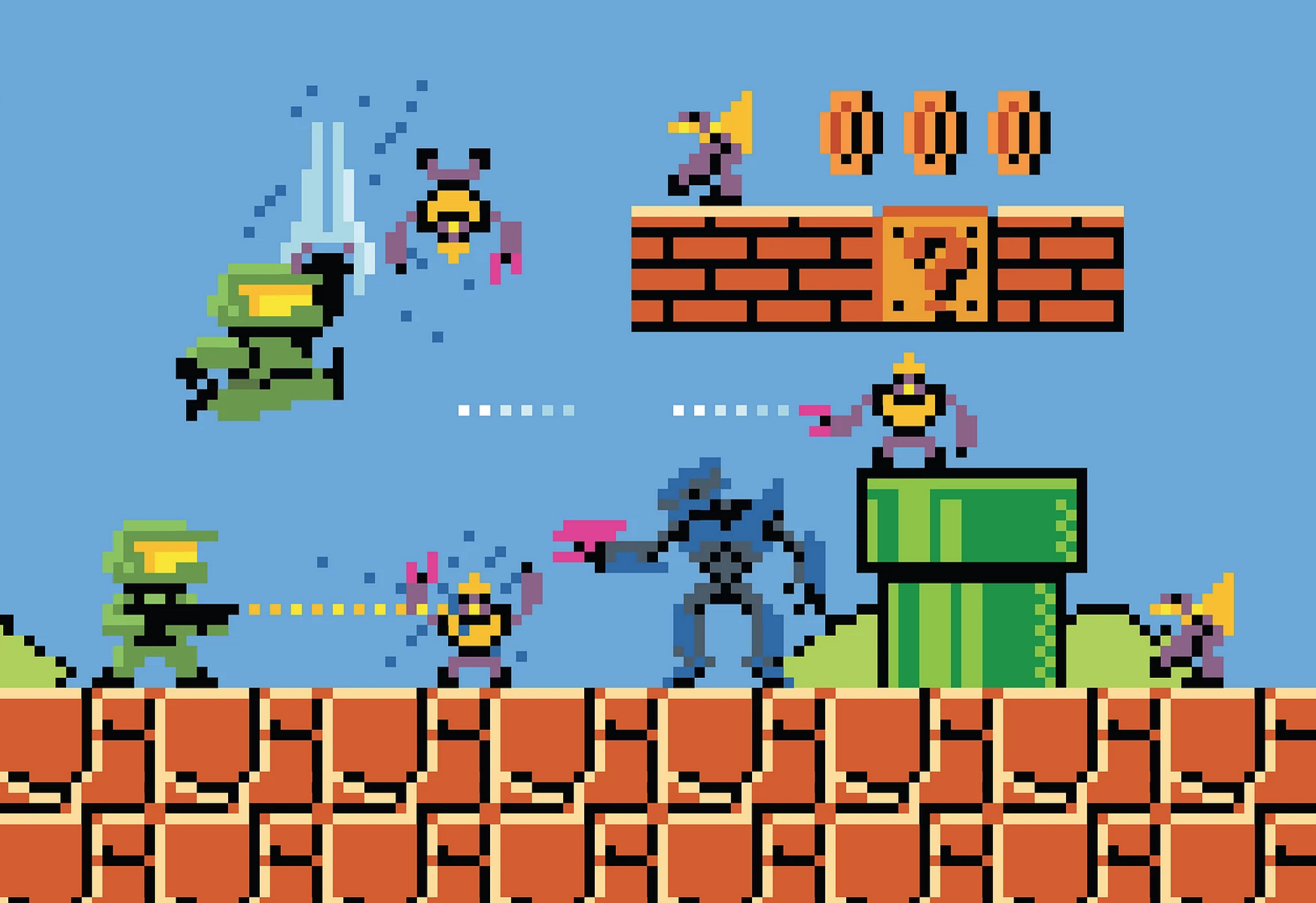 Would you rather talk to Santa about his life or Krampus and why?
I bet Krampus has all the dirt on Santa. Goldmine.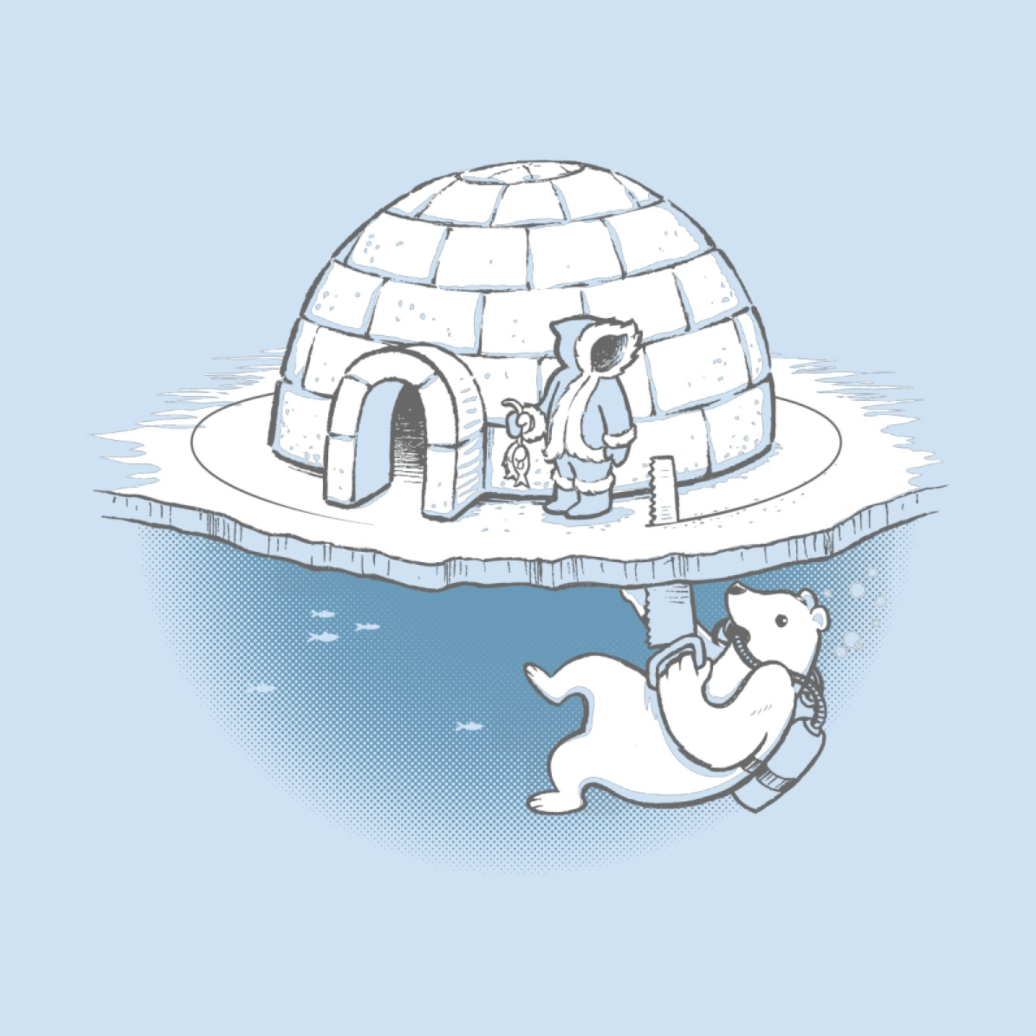 Do you have any holiday traditions?
I love snow and gloom and stereotypical midwest winter vibes, so my most reliable tradition is probably complaining about the weather. I get bent out of shape if it's not "Christmas-y enough," which is most years.  Also I visit with family and argue with my dad about politics and the weather.
Anything else you'd like to share?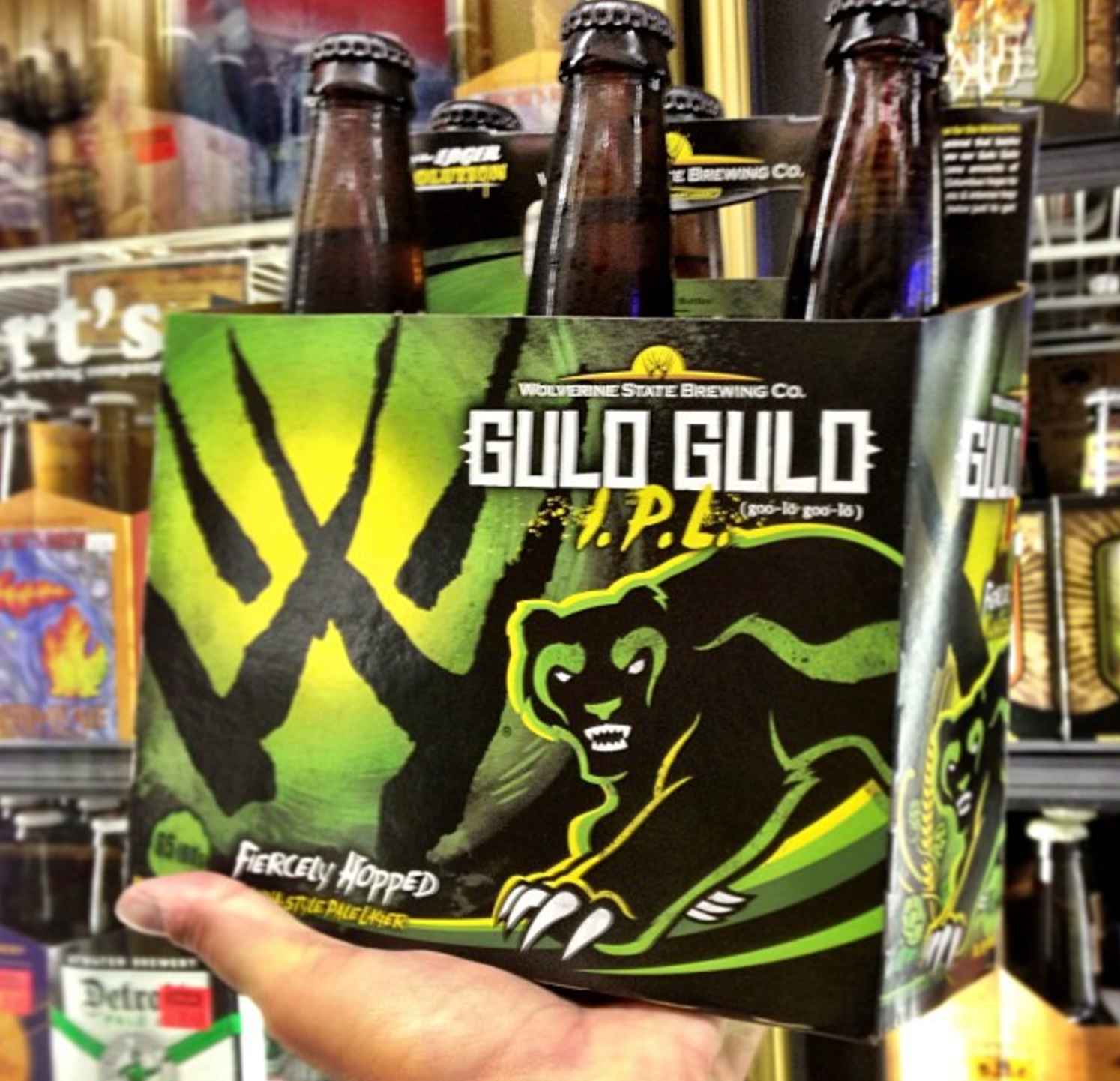 I'd just like to say thank you to Threadless!  It's hard to believe it's been ten years since my first Threadless win. Back in the day, I put myself through a whole year of school because of Threadless wins; it's great to think that we're still helping each other out after all this time :-)
In related news, I'm embarrassed to be credited on this design as "brian walline, aka the abominable crow man."  I think that's a holdover from the old way Threadless profiles worked, and also a holdover from how my ten years younger self worked…
Shop all Ugly Christmas sweater t-shirts now!