Welcome back to Tuned In – an ongoing series that highlights the best concert posters of the month (if you missed September's roundup, check it out here!). These limited edition posters are typically available for purchase at each band's merchandise table during the show, with a smaller portion sold directly from the illustrator or design studio.
Any number of factors can contribute to what makes a poster great; overall design and color, quality of paper, the chosen ink, etc. The value of a poster can fluctuate based on size of the edition, the concert venue, or significance – if it represents an anniversary, record release, or reunion.
No love for the Midwest this time around as a number of groups complete their tour and head home (or hopefully, into the studio). But we had plenty of posters to choose from, and a couple of new illustrators to welcome to the series.
Tame Impala by Justin Helton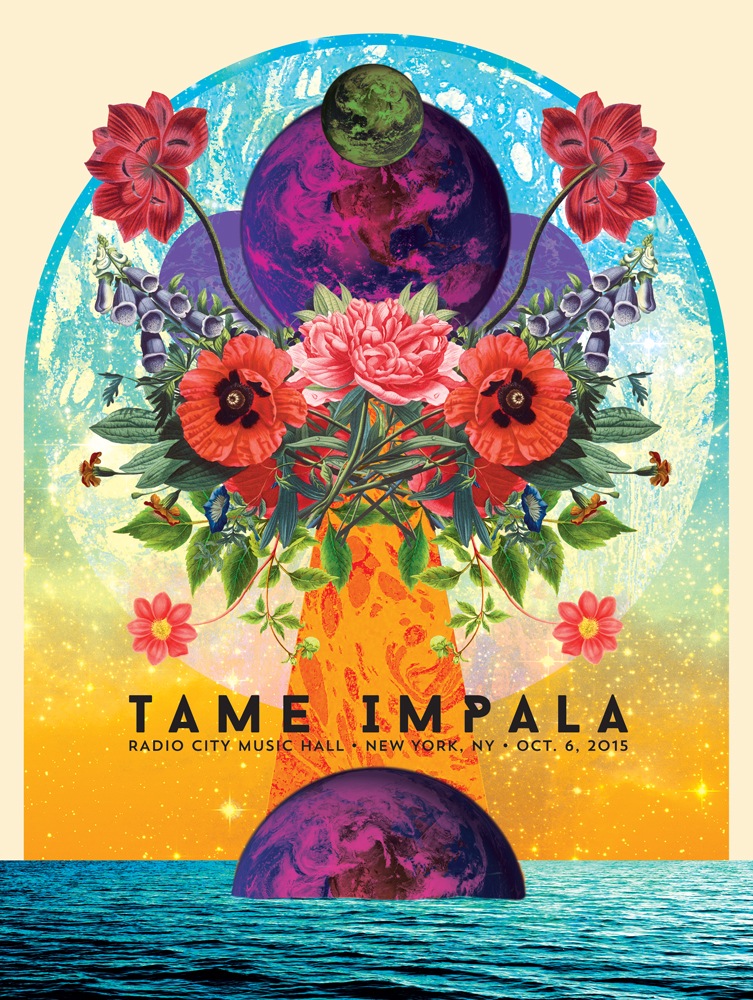 Have you heard Tame Impala's latest album, Currents? It sounds a lot like this poster from Status Serigraph looks – trippy and out of this world. After teasing it on his Instagram account, Justin Helton debuted his poster for Tame Impala's show at Radio City Music Hall, and a new direction in style.
The 4-color screen print has a show edition of 400, and an artist edition of 50. Also, if you have the holographic foil, maybe you'd like to send it my way?
My Morning Jacket by Dumbgun

I used to tell friends visiting New York City, "Go to Brooklyn Bowl. Good food and great tunes." That remains true, but the bowling alley/restaurant/live music venue recently branched out, and now I guess the same can be said for Las Vegas and London. Dumbgun's latest poster for My Morning Jacket marries the venue and location so well I'm bummed I skipped this show. The 4-color print is limited to 143 and available now.
The Avett Brothers by Miles Tsang

After finding their way into April's post, the collaboration between The Avett Brothers and Miles Tsang is back again. New album or not, the Avett Brothers continue to tour and gain fans with every city they play.
The 6-color print has a regular edition of 200, with an additional run of 65 as a variant, titled "Moonshine".
As usual, both prints glow in the dark, turning the band into skeletons. Miles' posters tend to sell out immediately, so if you're looking to get one, you should probably sign up for his mailing list.
Leon Bridges by Nate Duval

Barely a few months since his debut album was released, Leon Bridges is everywhere, selling out dates across the US with plenty more to come. The soul singer best known for his smash single "Coming Home" is wrapping up his fall tour and already has a spring tour on sale. He's graduating from intimate spots to some of the best venues in the US (The Ryman, Chicago Theatre, The Wiltern).
Nate Duval hooked up with Leon to create this poster for three East Coast dates, using metallic gold and silver inks to really make this poster (and dress) pop!
Mudhoney by Malleus

Up next, we go from a relatively new artist to a band that has been rocking for over 25 years as one of the biggest influences in Alternative music – Mudhoney. The boys from Seattle just finished the last leg of their 2015 tour, with more dates promised in 2016. Italian trio, Malleus, was asked to create the poster for a stop in Sacramento and the results were so great, they made two! The original version, printed on cream paper is limited to 100 and includes the band's name and venue.
An artist's version, titled "Hanami", is printed on gold paper and limited to 53.
Next month we head into international waters, as one major act hits up Latin America, and another wraps up their most successful tour in the UK. Any guesses? Until then, keep supporting live music and your local artists.